Looking for Meaningful Jewelry? Check Our 10 Key Necklace Picks!
last updated:
Oct 24, 2019
If you're looking for a meaningful piece of jewelry to give a close friend or member of your family, a key necklace would make a very special gift.
When it comes to key themed jewelry, these necklaces are a great gift to give someone.
Not only are there plenty of styles to choose from, but giving a key necklace as a gift to someone is the perfect way to show them how much they mean to you. It can hold lots of meaning and carry many connotations.
It can symbolize the love you have for someone and act as a romantic gesture. Giving someone a key necklace could be interpreted as asking them to open up their hearts and let you in. It can also signify new opportunities and beginnings.
Whatever the reason you want one, we put together a list of fantastic key necklaces for you to browse!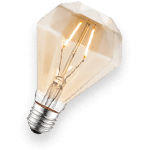 History of the key necklace
You may be surprised to hear that the key necklace has been around for many years. Traditionally it has been given as a present on a young adults' 21st birthday.
This relates to a time when a young adult would become the key holder of their first home at the age of 21.
It is also commonly given on graduation day. The key is known for marking new beginnings in a person's life.
The symbol of a key has also traditionally believed to hold or carry magical powers. On a deeper level, a key is believed to carry the power of opening spiritual, intellectual and physical barriers that may have been closed previously.
The key has been thought to reveal new opportunities in a person's life which may have been previously closed. They are also classed as a symbol of good luck.
Giving a key as a gift can be known for passing on or sharing your good fortune with a loved one, wishing them every success in the world, whether it be their love life, career or health.
Keys as a jewelry accessory
Even though the key necklace has always been a firm favorite when it comes to special milestones in a person's life, in recent years, it has moved firmly into the mainstream market as a popular accessory to have in your jewelry box.
It's now available in different materials, colors, sizes, designs, and shapes. It can be worn with a top and jeans, a pretty dress, to the office or out to dinner.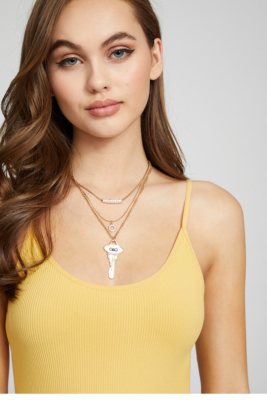 It is not just a key on a chain, a key necklace can carry special powers, beliefs and good luck vibes. We love that it looks great and carries inner meanings!
To help you out we've selected some of the best key necklaces available. This way you can buy more than one necklace, you can treat yourself to a different one for each day of the week or a different style key necklace depending on your outfit.
The choice of key necklaces is endless!  So without further ado, let's get started!
Finally...
A key necklace is much more than just a pretty piece of jewelry. By getting one or gifting it to someone, you are gifting a symbol that holds a deeper meaning.
Our selection of 10 key necklaces comes in all styles and price ranges as we wanted to make sure to give our readers a wide selection of designs to choose from!