Looking for Meaningful Jewelry? Check Our 10 Key Necklace Picks!
last updated:
Oct 24, 2019
If you're looking for a meaningful piece of jewelry to give a close friend or member of your family, a key necklace would make a very special gift.
When it comes to key themed jewelry, these necklaces are a great gift to give someone.
Not only are there plenty of styles to choose from, but giving a key necklace as a gift to someone is the perfect way to show them how much they mean to you. It can hold lots of meaning and carry many connotations.
It can symbolize the love you have for someone and act as a romantic gesture. Giving someone a key necklace could be interpreted as asking them to open up their hearts and let you in. It can also signify new opportunities and beginnings.
Whatever the reason you want one, we put together a list of fantastic key necklaces for you to browse!
Our Top 10 Picks!
1

. Devuggo Mabella Heart Key Necklace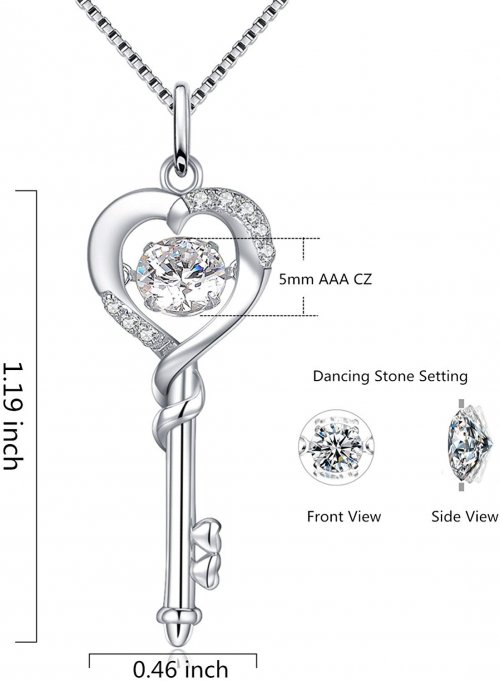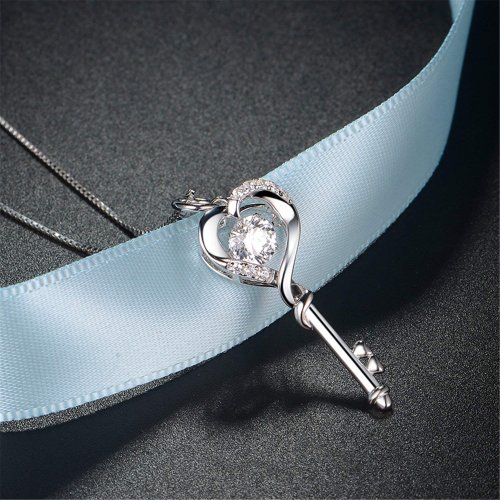 If you like a bit of sparkle, you'll love this pick! The gorgeous necklace has been crafted from white gold-plated sterling silver which looks very shiny.
Read more
One of the great things about silver is that it's very durable. The metal is also cadmium-free, lead-free, nickel-free and anti-allergic, making it safe for you to wear if you have sensitive skin.
What makes it unique and stand out is the sparkling stone in the center of the key. This sparkle is then continued along with the structure of the key.
The round stone in the center of this necklace is a cubic zirconia gemstone. What's interesting about this piece is that the stone actually floats inside the metal cage, creating a glittery effect.
To give you an idea of the size of the pendant, it is approximately 1.19 inches by 0.46 inches by 0.2 inches. The pendant also comes with a sterling silver chain that is approximately 18 inches long.
You'll be pleased to hear that this beauty arrives in a lovely blue gift box.
If you're not 100% satisfied with this necklace the jeweler also offers a 60-day money-back refund which is great news; however, we don't think you'll need to use this option.
The beautiful piece is being sold by jeweler Devuggo for a low price.
2

. SKA Jewelry Key Necklace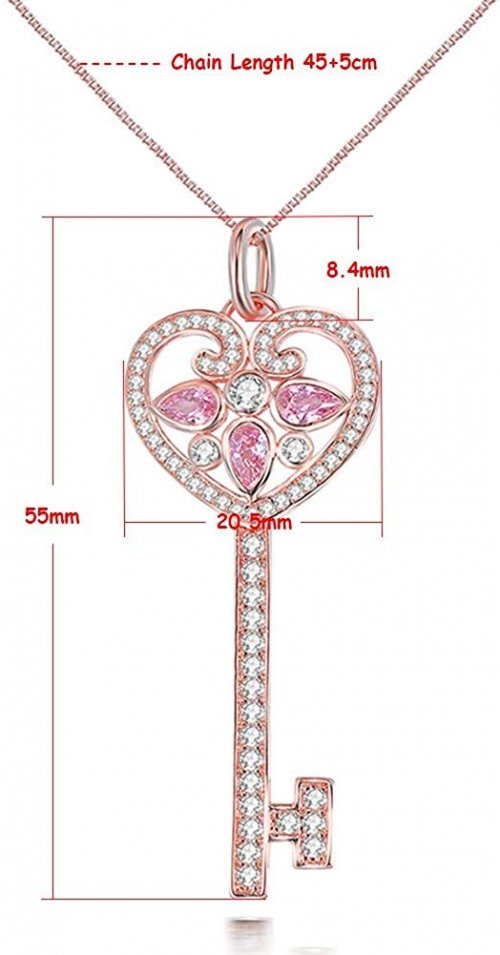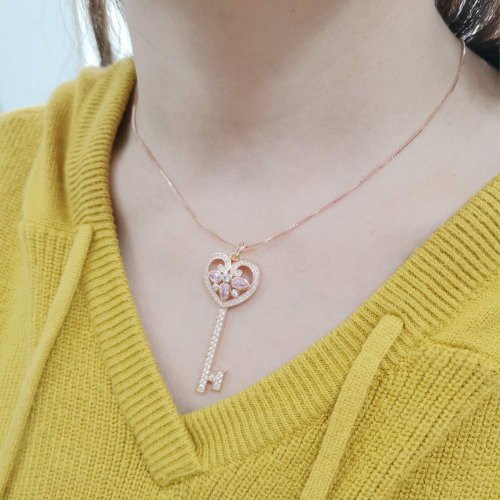 For all those ladies out there who love pink, this sparkly pink necklace would brighten up any ladies' day.
Read more
Shaped into an iconic key design, the pendant has been decorated from head to toe in sparkling white diamonds.
In the center of the handle, the piece includes a lovely design that is similar to a flower.
This gorgeous element not only adds some extra color to the piece in the form of a pink diamond but also adds an extra bit of detail which makes it unique.
The color pink is continued throughout the necklace in the form of the rose gold metal. When looking at the pendant, it has been crafted to a decent size, making it a great feature piece that people won't miss.
The size of the key charm is approximately 20.5mm by 55mm.
When commenting on gemstones, it features lots of it, in particular, 3 pear-shaped pink cubic zirconia stones.
These stones make up the main image of the flower featured in this piece. The necklace also features smaller clear cubic zirconia stones throughout the key pendant.
The great thing about cubic zirconia stones is that they are very affordable, which lowers the overall price of the necklace.
Some other features that we'd like to point out are an extendable chain, approximately 5cm.
The piece of jewelry will arrive in an elegant jewelry gift box, making it a lovely gift to give as a birthday present.
Plus, the jeweler offers a 30-day money-back guarantee if you're not happy with this necklace.
This key necklace is being sold by SKA Jewelry for a low price. If you take a look at their extensive collection this is not the first piece of jewelry in pink.
All of the jewelry has been created with a unique design and a large amount of attention to detail put into the piece.
3

. Sable Pendant Necklace with Floating Crystal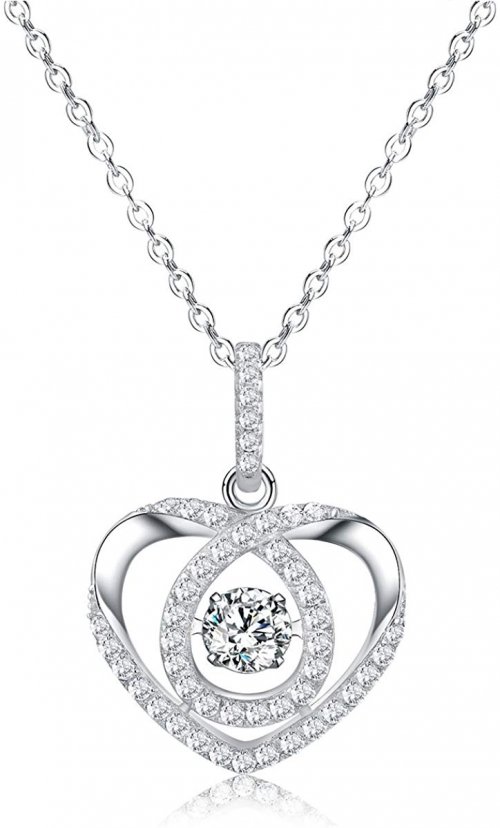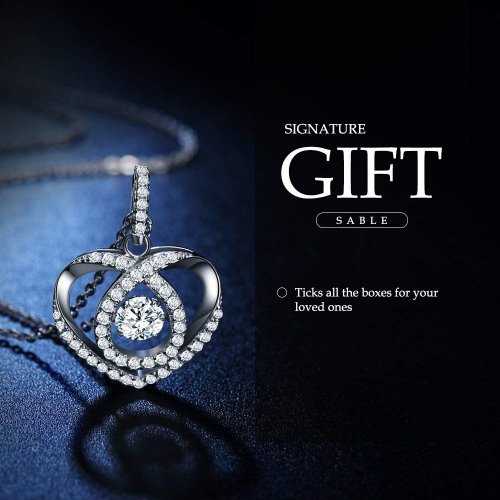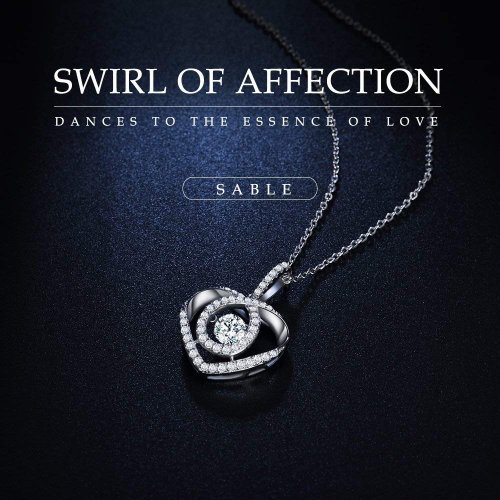 Every girl likes her diamonds, and this key style necklace is no exception! The gorgeous piece has been designed to include a flower-shaped key that is covered in sparkling diamonds.
Read more
You could go as far as to say that this necklace has a secret garden vibe to it.
When it comes to the design, it includes a garden-style key lock. What makes it really unique is the flower-shaped handle. The pendant has been created using a copper metal which is rhodium-plated.
AAA zirconia crystals cover the entire key giving it a mesmerizing effect. To give you an idea of the size, the pendant is approximately 1.88 inches long by 0.69 inches wide.
The necklace also includes an adjustable 18-inch long box style chain that has a spring ring style clasp.
What's great about this jewelry accessory is that it would suit both a day and night outfit, making it versatile for any occasion.
The gorgeous necklace will also arrive in a lovely gift box. Take a look at this stunning piece, you'll simply love it as we do!
4

. Presentski LongKey Pendant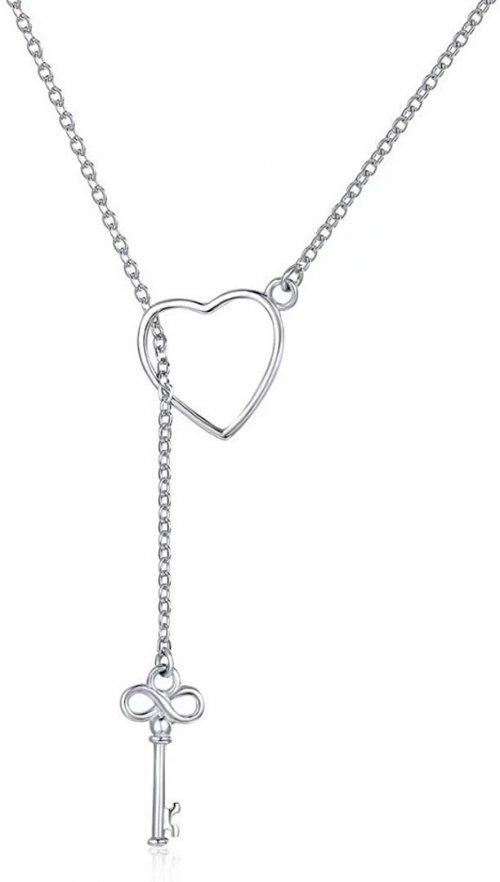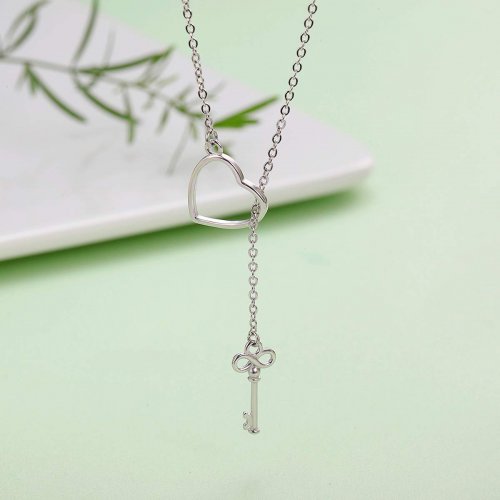 We felt that this classy key style necklace had to be included in our list! It has been designed with a simplistic and minimalistic vibe to it.
Read more
The necklace has a circular hollow handle that has been covered in cubic zirconia diamonds and a narrow key end featuring a tiny white pearl.
Within the handle of the key, the pendant cleverly features a larger circular pearl, making this piece look extremely elegant.
One of the things that make it stand out is the shine coming from the pendant, it really is something beautiful!
It has been created using an allow metal, which is nickel and lead-free. What's great about this alloy is that it won't rust or tarnish when in contact with water.
The size is approximately 3 inches by 1 inch and includes a 26-inch chain that has a 2-inch extendable part so you can make it longer if required.
The necklace is a lovely eye-catching and sparkly piece of jewelry that deserves to be worn.
What's great about it is that it complements a dress or long top and will transform a boring, bland outfit into something quite special. It is so beautiful we love it!
5

. AngelStar Courage/Strength Key of Wisdom Pendant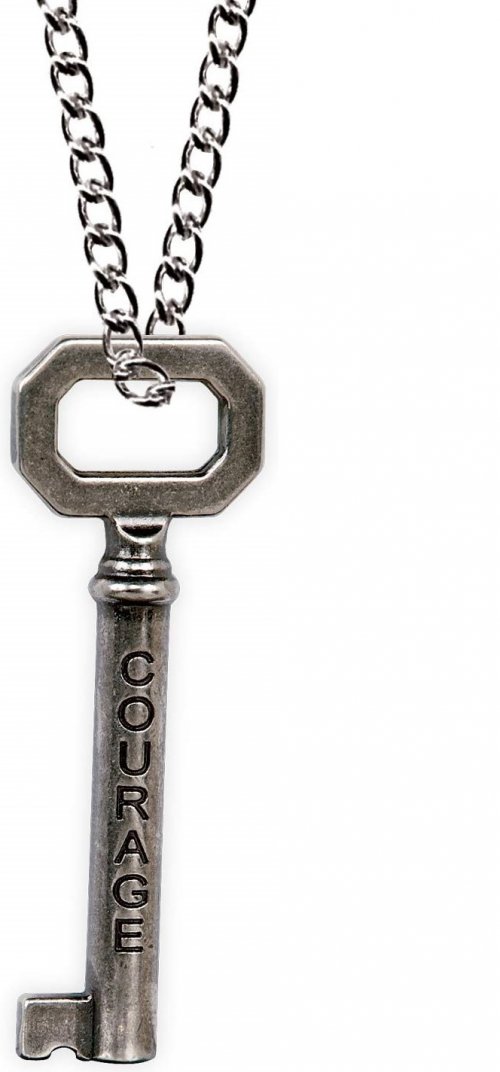 If you're looking for a more masculine, rustic style key necklace then this piece of jewelry may be just for you.
Read more
A lot of thought has gone into the design of this key-shaped necklace to give it a masculine feel and make it suitable for a man to wear.
The key has been designed with straight lines and with pointy corners and a chunky base to it. The metal tone also gives this piece an aged and worn look.
Interestingly, this is a key of wisdom which is supposed to give you courage at a time of need. The chunky key pendant also comes with a 21-inch nickel-free chain.
The piece of jewelry is being sold for a low price by AngleStar which makes it a bargain piece.
6

. ANAZOZ 925 Sterling Silver Necklace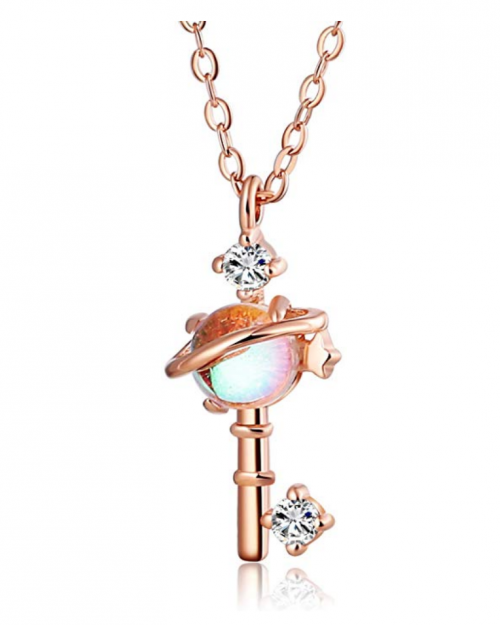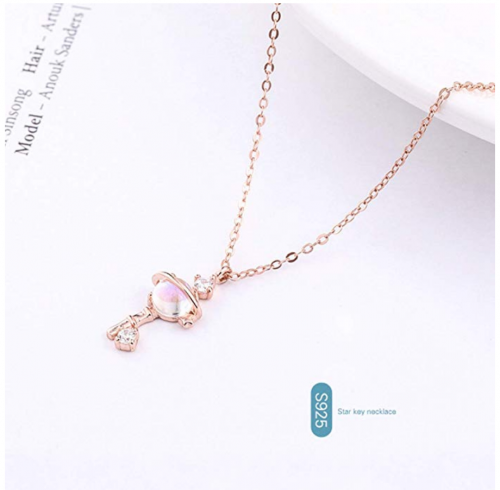 The dainty style pendant features a heart-shaped handle for the key which includes a sparkling half-moon shape inside.
Read more
The lock part of the key also features a decorative shaped star, full of diamonds.
The join between the head of the key and the lock part feature a rose gold detail, giving the piece a lovely and unique combo of metal colors.
The beautiful necklace has been crafted using sterling silver, which makes the key pendant look shiny and smooth.
The detail under the heart handle has also been crafted using a rose gold plated silver, giving it some lovely detail.
We think that the combination of sterling silver and rose gold plated silver look lovely together.
The necklace comes with a box-style chain that has a spring-ring clasp, making it very easy to put on and remove from your neck.
One of our favorite aspects is the use of shapes and symbols. Interestingly, the heart includes a small half-moon within it.
This, in turn, contains sparkling diamonds. The key also has a small star-shaped jewel with sparkling diamonds.
This pretty piece of jewelry is being sold for a medium price by ANAZOZ. It will arrive in a lovely gift box which makes this great for a birthday present for someone special in your life!
7

. Valyria Stainless Steel Personalized Key Necklace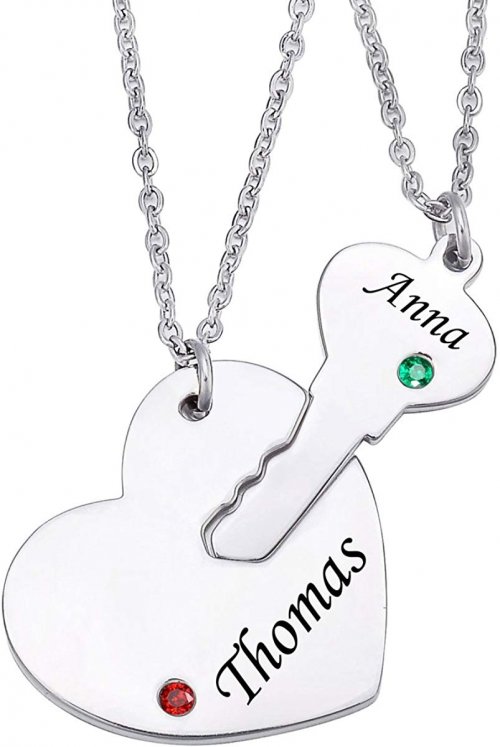 Another interesting key style necklace has been created by Valyria, who has created two necklaces.
Read more
One includes a stainless steel heart-shaped pendant that features a colorful gemstone and personalized name on the piece.
The second necklace has been created using stainless steel to form a key shape. This pendant also features a colorful gemstone and personalized name on the key.
It's important to point out that when placed together, the key pendant actually fits inside the heart pendant.
This two-set makes a lovely duo and is great as a gift so you can wear a necklace and your loved one can as well!
What's great about these necklaces is that they can both be personalized with any 2 birthstones and any 2 names, making them a lovely gift for an anniversary or Valentine's Day present.
They'll also arrive in a gorgeous gift box, which means the gift is already wrapped for you!
These pieces not only look great side by side but the connection can act as a relationship on a deeper level.
8

. T400 Purple Blue Lock And Key Pendant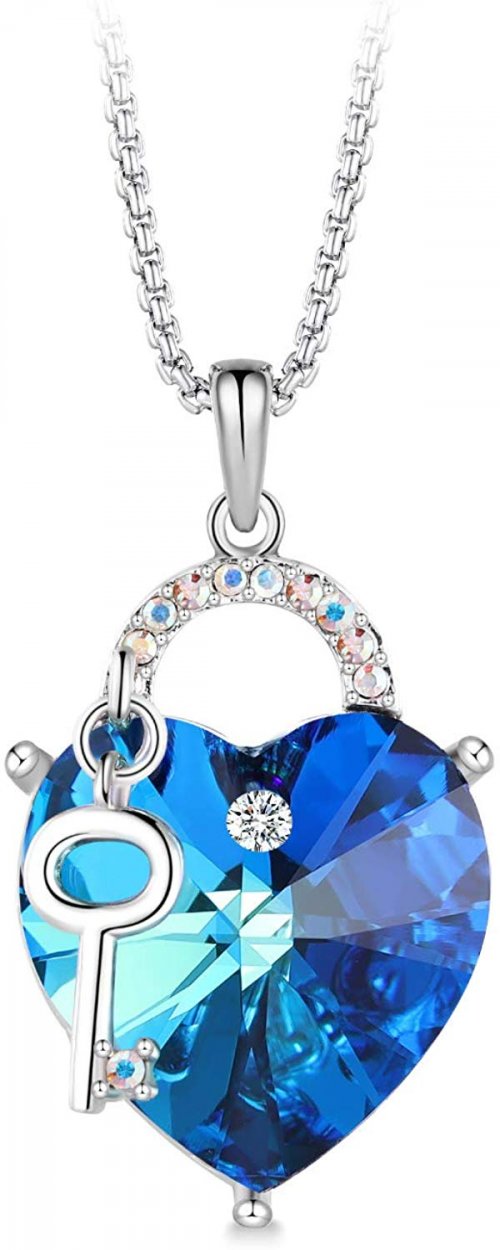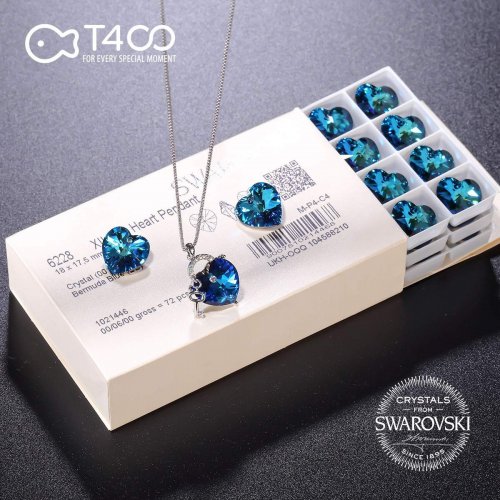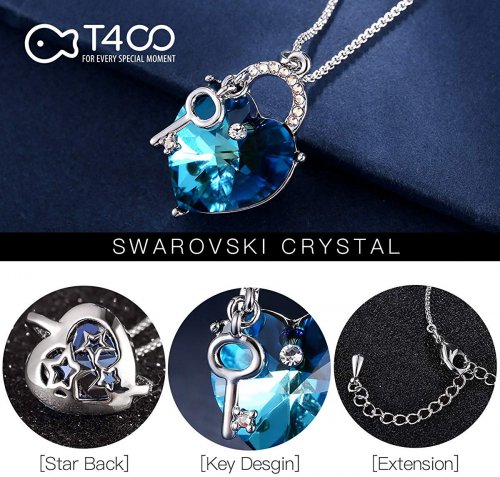 If you're looking for something a little bit different then this purple heart and silver key pendant is just that!
Read more
The beautiful necklace consists of a striking purple heart with a sparkling stone in the center of it and row of shimmering stones that make up the loop that joins this jewel to the necklaces chain.
Alongside this heart-shaped chain, the necklace features a tiny key, which is almost half the size of the heart. The two charms complement one another well.
If you want a couple of words to describe this piece we'd use shiny and bright! The stunning necklace has been made using Swarovski crystals.
A large purple crystal shaped into a heart and smaller white circular crystals give this piece that extra bit of sparkle.
What's great about the crystal is that it looks very beautiful and achieves the highest levels and strict certification standards.
When it comes to the structure, the size of the crystal heart is approximately 0.67 inches by 1 inch and has been positioned into a flat-top setting. It also comes with an 18-inch long chain and a lobster claw clasp.
It's important to point out that this piece of jewelry has been created using a lead-free rhodium plated alloy, which is very high quality.
This means it's suitable for people with sensitive skin, and you can enjoy wearing your piece for years to come with the reassurance that it'll need no maintenance.
The necklace also comes with a 12-month warranty, and a 30-day money-back guarantee if you're not 100% happy with your purchase.
A lovely touch is that this piece includes a pretty little jewelry box. The necklace is being sold by T400 for a low price.
T400 is one of the largest manufacturers of jewelry and focus their designs on day and night jewelry. All of their pieces are extremely charming, attractive, and very elegant.
9

. Shop LC Amethyst Rose Quartz Pendant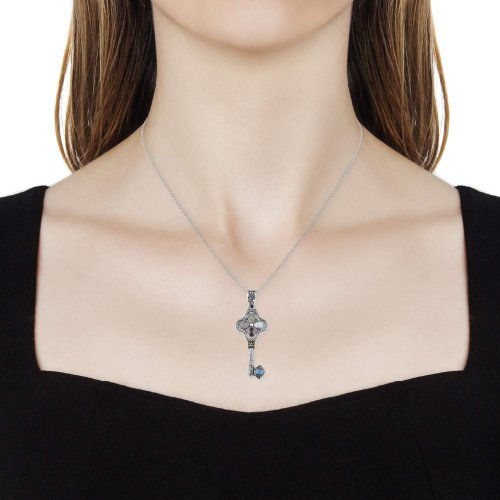 The first and most striking feature of this necklace is its use of gems and stones to create the memorable pendant.
Read more
The key, which has been crafted in the shape of a flower head, includes a combination of different gems and stones, giving it lots of colors.
Amethysts, rose quartz and aventurine stones are featured as part of the flower, ranging from purple, white, and grey.
Stainless steel metal has been used to create the main structure. This is a great metal to use because it is very strong, making the piece very durable. The material is very good for molding.
You can see from the image that this key has a lot of beading detail in the head which has been created solely using stainless steel.
The pendant also comes with a cable-style chain that ties in with the style of the rest of the necklace.
This necklace is being sold for a low price by Shop LC. The piece will arrive in a cute navy blue jewelry box that has a white satin bottom to it and white satin bow around the entire box!!
10

. Alex and Ani Raven Key Pendant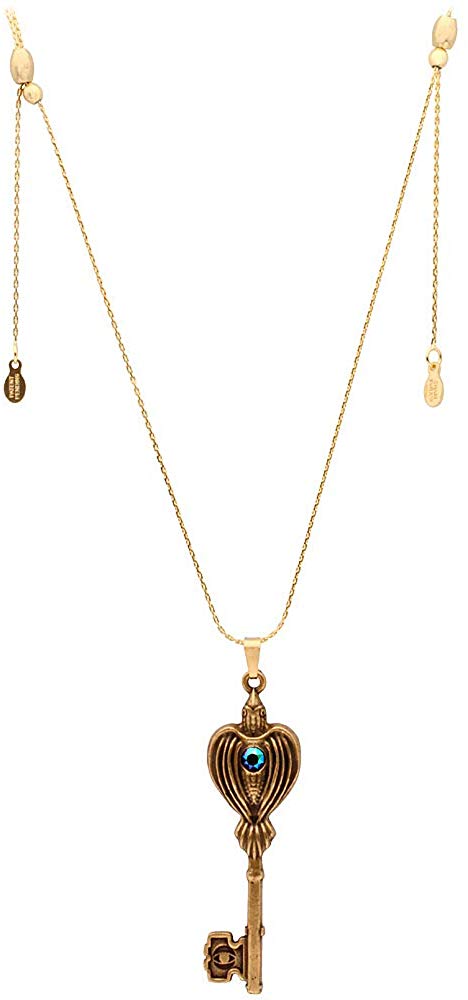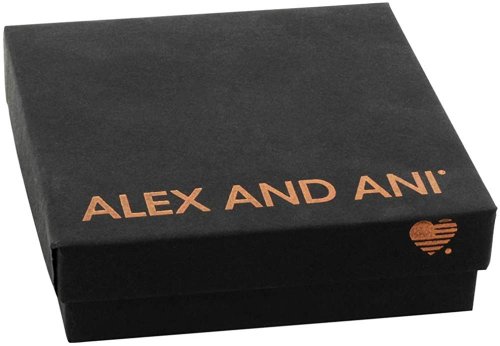 To give you the variety, we decided to include this necklace because it's extremely eye-catching and features a brass-like color, unique style, and individuality.
Read more
The unique key pendant has been designed with a heart-shaped handle and a small blue jewel in the center. The key was made from alloy metal with a brass plating.
You'll notice that the key has a textured surface giving it a lot of attention to detail. You could say that the textured surface and brass-tone gives this piece a vintage vibe.
This gorgeous key necklace piece comes in a classy black velvet branded box. It is being sold by Alex and Ani, a brand known worldwide for its cute jewelry!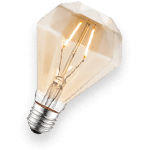 History of the key necklace
You may be surprised to hear that the key necklace has been around for many years. Traditionally it has been given as a present on a young adults' 21st birthday.
This relates to a time when a young adult would become the key holder of their first home at the age of 21.
It is also commonly given on graduation day. The key is known for marking new beginnings in a person's life.
The symbol of a key has also traditionally believed to hold or carry magical powers. On a deeper level, a key is believed to carry the power of opening spiritual, intellectual and physical barriers that may have been closed previously.
The key has been thought to reveal new opportunities in a person's life which may have been previously closed. They are also classed as a symbol of good luck.
Giving a key as a gift can be known for passing on or sharing your good fortune with a loved one, wishing them every success in the world, whether it be their love life, career or health.
Keys as a jewelry accessory
Even though the key necklace has always been a firm favorite when it comes to special milestones in a person's life, in recent years, it has moved firmly into the mainstream market as a popular accessory to have in your jewelry box.
It's now available in different materials, colors, sizes, designs, and shapes. It can be worn with a top and jeans, a pretty dress, to the office or out to dinner.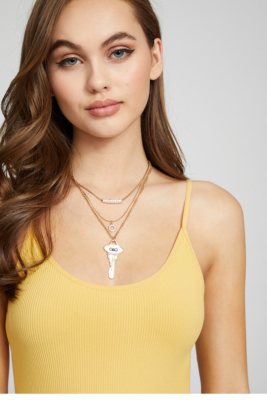 It is not just a key on a chain, a key necklace can carry special powers, beliefs and good luck vibes. We love that it looks great and carries inner meanings!
To help you out we've selected some of the best key necklaces available. This way you can buy more than one necklace, you can treat yourself to a different one for each day of the week or a different style key necklace depending on your outfit.
The choice of key necklaces is endless!  So without further ado, let's get started!
Finally...
A key necklace is much more than just a pretty piece of jewelry. By getting one or gifting it to someone, you are gifting a symbol that holds a deeper meaning.
Our selection of 10 key necklaces comes in all styles and price ranges as we wanted to make sure to give our readers a wide selection of designs to choose from!