Mix
Best Kids Jewelry (Spoiler: All Picks are Perfect for Adults As Well!)
They say, kids say the darndest things. We think, however, kids can wear the darndest things. Did you ever purchase a kids jewelry item, and wonder if you could wear it yourself?
Who's to say adults can't accessorize as kids do. Especially when it comes to jewelry. And, if celebrities can do it, so can we. We found some items we think both grown-ups and kids can wear!
Think back to yester-year and conjure up the memories of childhood as you view these pieces. The picks on our list are perfect for your kid as a gift, or for a grown-up girl who loves quirky and girlie jewelry.
We made sure to include items which can be worn not only by girls but boys as well!
10 Kids Jewelry Pieces We Fell Inlove With!
1. Disney Birthstone Women and Girls Jewelry Minnie Mouse Necklace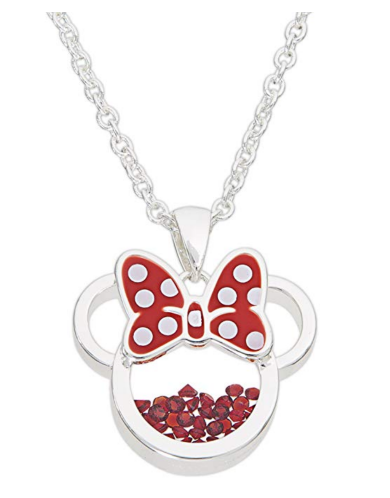 Get your kid packed, put them the mouse ears on and head to Disney World…or not. But, regardless of where you go, pack this piece in your jewelry pouch as it's perfect for both a little girl and you as well!
This silver necklace is 18 inches long and has a 2-inch extender chain. When using the 2-inch extender chain, it makes the necklace 20 inches long. The pendant is about ¾ inches wide and about ¾ inches tall.
The chain is a cable chain and perfect for the pendant it displays. It is just the right chain for this adorable Minnie pendant. Not only is the chain perfect for the pendant, but it's perfect for an adult!
The pendant is a Minnie Mouse silver-plated, shaker pendant. It's called shaker because there are tiny birthstones encased in the necklace. They move when you shake it. It is so fun!
Choose whatever color you like; it doesn't even have to be your birthstone. You can choose a color just because it matches an outfit.
You know it's Minnie Mouse because of her playful big silver and a red bow. The bow is red and is outlined in silver; it also has silver polka dots. The clasp is a lobster clasp and it is perfect for a child to maneuver.
At this price point, it would make a great gift as well. Gift it to yourself, a friend, or to someone who is a devoted Minnie Mouse fan.
It isn't cheap, but it isn't hugely expensive either.
2. SOLOMIYA Silver Angel Evil Protection Lucky Charm Bracelets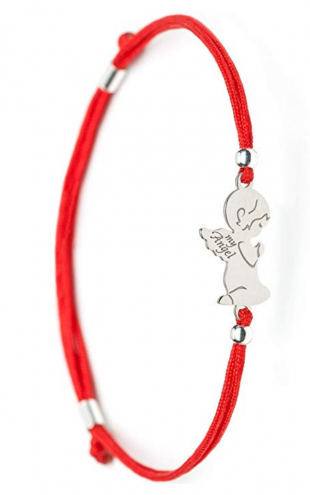 With this bracelet, there is no chain involved. What you get is a comfortable sliding bracelet made of red string rope. The little person wearing it will be reminded that angels are watching over them when wearing this red string angel bracelet.
This comfortable piece has a simple angel design which is made of.925 sterling silver and has smooth edges. It is a unique bangle celebrating angels and symbolizing protection.
It is so easy to wear. All you need to do is slide the string for a custom fit. This angel is on a red rope that's held in place by two sterling silver beads. There are knots at both ends of the cord to keep it from sliding too far and becoming undone.
We like this bracelet in an ensemble and paired with other silver and red bracelets. With the red color, we think this would be a great stocking stuffer!
This piece has an affordable price point. We think it might be a nice Christmas or birthday gift for a daughter.
The bracelet is totally adjustable from 5.12 inches to 9.76 inches. The pendant is 0.68 eight inches tall. That is a little less than a US quarter.
3. Happy Kisses Flower Girl Necklace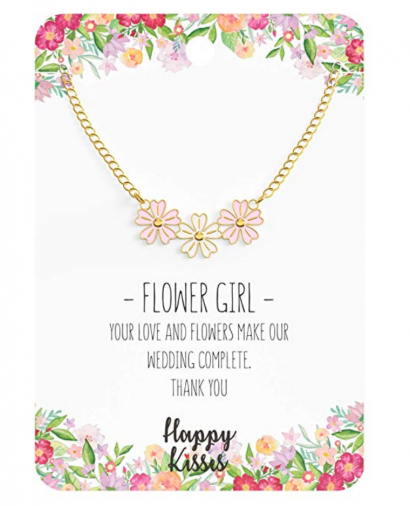 If you like dainty daisies, this necklace is a perfect choice. And, if you have a very small neck, you may be able to wear it as well as its 15 inches long. However, we are happy to say, this cable chain is adjustable to 18 inches.
The chain is 18 karat silver with a gold plating. It is nickel-free and is hypoallergenic. The beautiful pendant on this piece has three daisies in pink and white. All of them are outlined in gold with a gold dot in the center. Each daisy is attached to jump rings connected to the chain.
This piece would be great worn with a simple sundress, weather the cute dress is on you or worn by your little girl. If you're wearing this necklace, you can combine it with another chorded necklace that has some stones of complementing color.
This piece is called Happy Kisses for a reason. Anyone who wears it will feel kissed by a daisy; now this is a great story to tell the kid you gift it to!
This necklace is very affordable. Get one for you and your kid; she will love it!
The chain is adjustable from 15 to 18 inches. The pendant is 1.19 inches by .52 inches.
4. Disney Minnie and Mickey Mouse Silhouette Pendant Necklace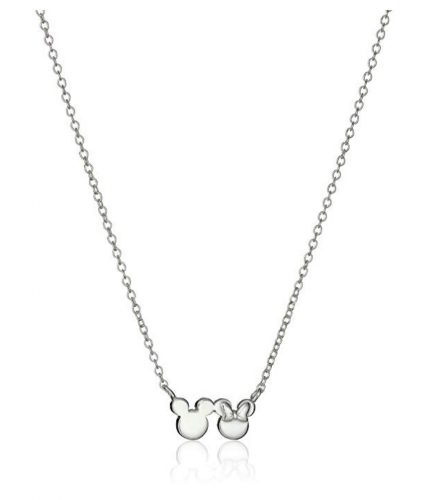 If you are going to Disney with your family, this necklace would be such a sweet gift for your little girl. It is a very simple, silver, Mickey and Minnie necklace.
A dainty .925 sterling Mickey and Minnie pendant silhouette hangs from a cable chain also made of .925 sterling silver. Mini is wearing her bow of simple silver and the couple is attached at the ear. The clasp is a simple spring-ring clasp.
This is such a sweet, simple, and uncomplicated piece. It would also be a great necklace for two people in love. It's simple enough to wear every day no matter the age of the person. It's Mickey and Minnie have been together for generations and this would be a great piece to symbolize togetherness.
We like this necklace by itself or layered with the other longer silver chains.
The price for this adorable necklace is affordable and you can expect to pay about the cost of dinner for two!
The chain is 16 inches with a 2-inch extender, making it adjustable to 18 inches.
5. Pura Vida Riviera Stone Bezel Braided Bracelet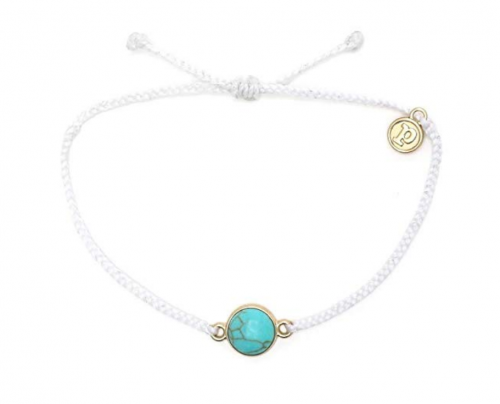 Pura Vida means Pure Life in Spanish, and that's what you get when wearing this super-cute bracelet. The best thing about it as that there is no need to take this bracelet off. The band is wax coated and is waterproof. It can be worn when swimming and showering!
Made in Costa Rica, the Pura Vida bracelet has an artisan vibe, because, well, it is made by artisans. It's handmade and it's perfect for a boho look and a beachy feel if worn by an adult, or as a sweet bracelet for a teen who loves Pura Vida jewelry.
This adjustable bracelet is on a durable, white, braided cord. it's a sliding bracelet. Just pull the ends through the knots and you can make it fit any size wrist.
On the cord is attached an iron-coated, copper, "P" charm. The P stands for Pura Vida. That's not all you get, however. You also get around Riviera stone made of turquoise.
this piece is perfect for layering with other Pura Vida jewelry pieces or boho styled bracelets. When it's on your wrist, use it with as many other bracelets as you feel comfortable. How many? That's totally up to you.
Because of the price and how easy to wear, and versatile it is, this just may be our favorite pick!
For what you get, you can't beat this price. It is very affordable.
6. Ivy and Max Gold Finish Pink Hearts Bangle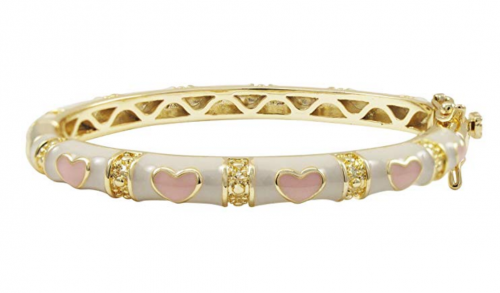 This is a pretty pink and white bangle bracelet and is as unique as it is pretty. If you are looking for something different and want to be pretty in pink, this is the bracelet for you.
Pink hearts go all the way around this oval-shaped bracelet. The hearts are outlined in gold and each heart is separated by a gold bar. They are set in glossy white enamel.
Underneath of all this, is beautifully crafted brass with gold finish. The bracelet opens with a hinge on one side and closes with a gorgeous gold box clasp and two gold safety clasps. The safety clasps are on the top and the bottom of the box clasp.
It is very elegant looking, yet sturdy. If you are looking for a bracelet that stands out, this is the piece for you. It is very simple and very rich-looking.
This bangle bracelet has a simple price as well!! It is affordable but honestly, looks more expensive than it is.
This bracelet sits a 5-inch wrist or a 6 ½ inch wrist.
7. FOREVER QUEEN Mermaid Tail Ring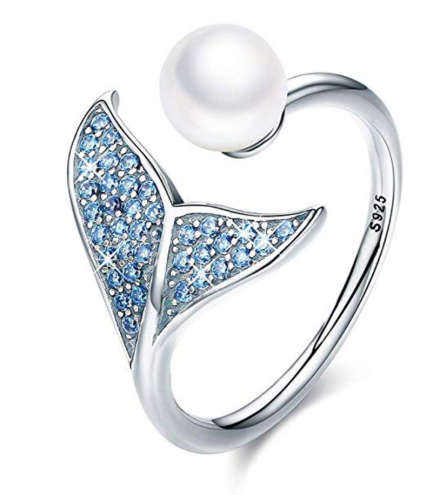 This is the perfect ring for the kid who loves the ocean, or the sea, or even if they are just a fan of the Little Mermaid. It is charming and looks just like a mermaid tail on one end. There is a pearl, set on a base, at the other end.
There is open space in the middle, making it totally adjustable. It is made from stamped 925 sterling silver, sparkling diamond cut cubic zirconia and a shell pearl. Cubic zirconia fills the mermaid tail and it's an aqua blue color. It's so shimmery it may even look as though it's moving.
It has depth and simple elegance that even you'll enjoy and that's why you'll probably wear it as well. This ring is oh, so pretty!
The pearl is of a round, synthetic, quality cut and set in a designer setting. You don't need to be the queen of the sea to afford this ring. It is very affordable.
This ring ways 2.25 grams, or 0.079 ounces. The size can be adjusted to fit size 6 through size 9.
8. Lotus Fun Bee Kiss from a Rose Ring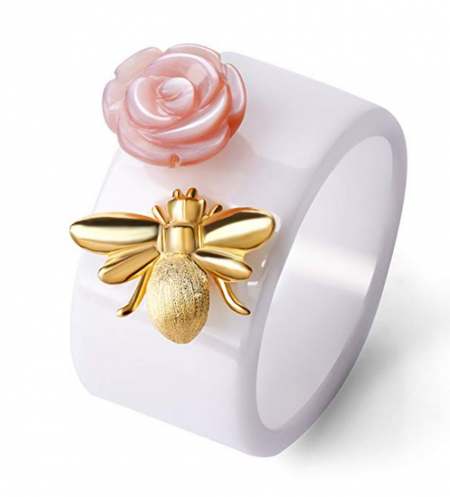 This one-of-a-kind ring features both the animal kingdom and the plant world. The animal kingdom is represented in the form of a bee and the plant world is represented by a rose. This is a unique ring and the design is stunning.
The bee is solid 925 silver plated 18 karat gold and the band of the ring is made of white nano-ceramic. The rose, which sits next to the bee, is made from natural shell. This is a beautifully feminine piece.
It's definitely a distinctive ring and though it's presented as a thumb ring, we think it can be worn on whichever finger it feels comfortable.
This piece would be really cute with a pair of bee earrings on a post and a bracelet with some roses on it. We also would try a white leather necklace with a rhodonite gem.
This pretty little ring has a pretty little price and you will definitely be able to afford it.
The sizes of this piece are 6 through 9. There are no half sizes.
9. KUIYAI Hakuna Matata No Worries Macrame Bracelet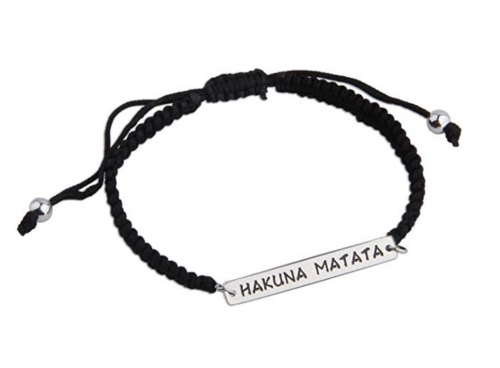 Sliding knot bracelets are all the rage and we are giving you another one. The Hakuna Matata bracelet will definitely give no worries when worn.
First, it's hypoallergenic and it will not rust, or tarnish. Then, the sliding knot enclosure is adjustable, allowing for the bracelet to fit a wide range of sizes. It feels secure when on.
There are two stainless steel balls, one at the end of each macramé rope, so they cannot slide through the knots. It is made of black macramé cord and attached to it is a stainless steel bar.
Engraved on the bar are the words Hakuna Matata, which means "no worries". We really like this piece for its versatility. It can be worn by both girls and boys.
We also like it layered with other silver or leather bracelets, but it also looks cool worn by itself.
This is a very inexpensive pick. It would make a great gift for a teen birthday party or a simple friendship gift.
One size fits all for this piece and it is very lightweight. It weighs less than half an ounce.
10. Pori Jewelers 14K Solid Gold Ball Stud Earrings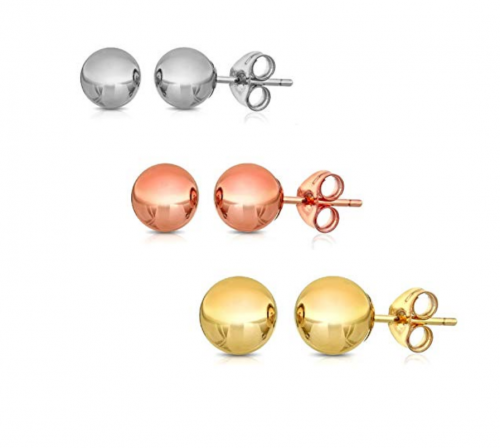 These are the perfect earrings to wear for every day and special occasions. You can never go wrong with ball stud earrings; they are as timeless as they are beautiful.
These pretty earrings come in three different sizes. They are made of 14 karats solid rose gold, white gold, and yellow gold. The earrings are nickel-free and lead-free, making them hypoallergenic.
They can be worn one pair at a time or mixed up all together. While all the colors are gorgeous, we think the rose gold color is stunning!
You get three for the price of one when you buy the whole set. While we consider this price to be "upper affordable", you do get three pair of earrings instead of only one.
The largest stallion is 5 mm, or 0.19 inches and the next size down is 4 mm, or 0.15 inches. The last pair of earrings is 3 mm, which is 0.11 inches.
Style Tips
A good many of our picks can be worn with each other. Try the Hakuna Matata bracelet with the silver angel bracelet and the Pura Vida Riviera bracelet. Or, how about the Happy Kisses necklace, with the set of three earrings and the Lotus Fun ring?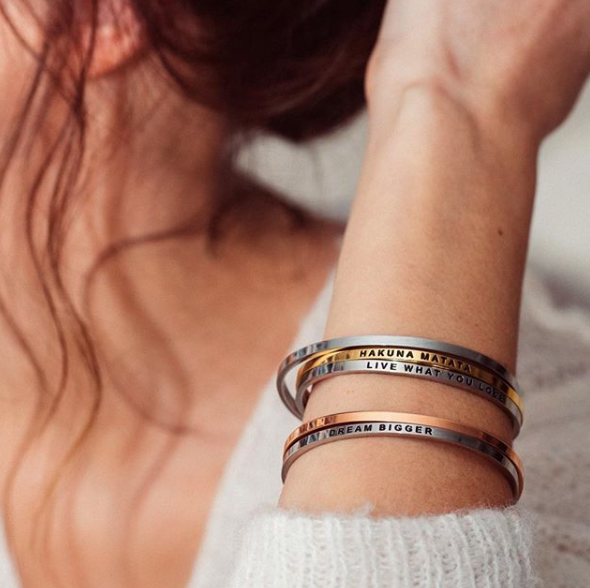 You could even keep it all Disney and pair the Mickey and Minnie necklace with the Hakuna Matata bracelet and the small silver stud earrings. Your imagination is the limit; Have fun mixing and matching.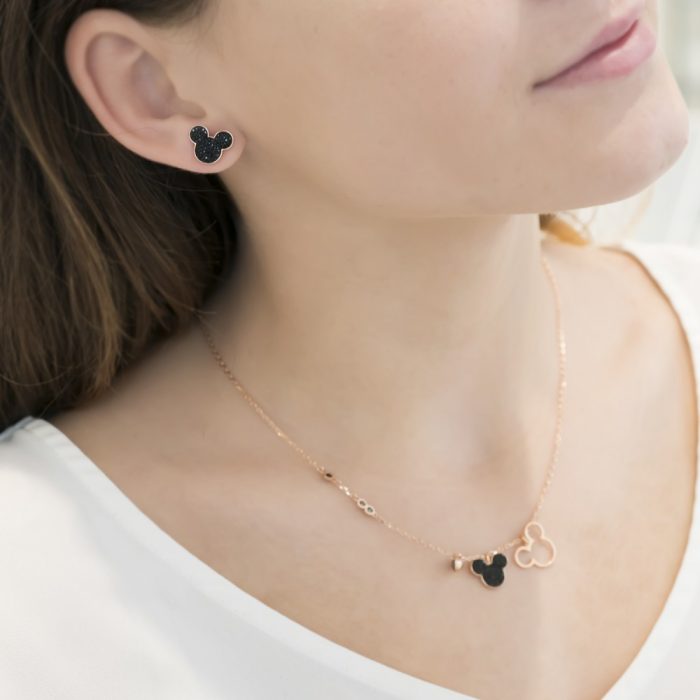 Whatever you do, you are sure to project your own style and individuality.
Criteria for Evaluation
Children will not wear uncomfortable jewelry and as adults, we are the same way. What we wear must be comfortable and fun to accessorize. We wanted to show you pieces that would be great for every day and also would work well for special occasions.
There is nothing worse than having a piece sit in your jewelry box because you can't wear it and it doesn't fit.
We have another reason jewelry would simply sit in the jewelry box. If it isn't sturdy, or durable, the piece is useless. It will break and be a waste of money.
Another factor in durability is the quality of the material. If the piece is made from quality material it will last you a long time and give you years of happiness.
FAQs
1. Q. Can adults where kids jewelry?
A. Yes, but you have to make sure it is sized correctly. Often times, designers make children's jewelry smaller. Just make sure it will fit you before purchasing the piece.
2. Q. Can you add charms to a necklace?
A. By all means. There is a stipulation, the jump ring on the charm must have room for the chain to fit through.
3. Q. What is a sliding bracelet?
A. A sliding bracelet is one that is totally adjustable and will fit almost any wrist. They are usually made of leather or some other fiber.
These bracelets do not have a clasp, but instead, the cord is pulled through square knots that act as the closure instead of a clasp.
4. Q. Does enamel contain lead?
A. Yes and no. Some enameled pieces do contain lead. It is always good to check the source of the enamel on your jewelry before you buy it.
5. Q. What is an earring post?
A. The post is the part of the earring that goes through the hole in your ear. Attached to the post is the gem, the stone, or the bangle of the earring.
6. Q. Can I or my kid wear more than one earring at a time?
A. If you have multiple holes in your ears, yes, you can wear more than one earring at a time.
7. Q. Can you use super glue to replace a stone on a jewelry piece?
A. While it is possible, we highly suggest you take your peace to the jeweler and have it fixed professionally.
Conclusion
There is a little bit of child and all of us. Some of us have memories of favorite places, movies, and books. We may grow taller and wiser but, inside, many of us wish we could be like Peter Pan and never grow up.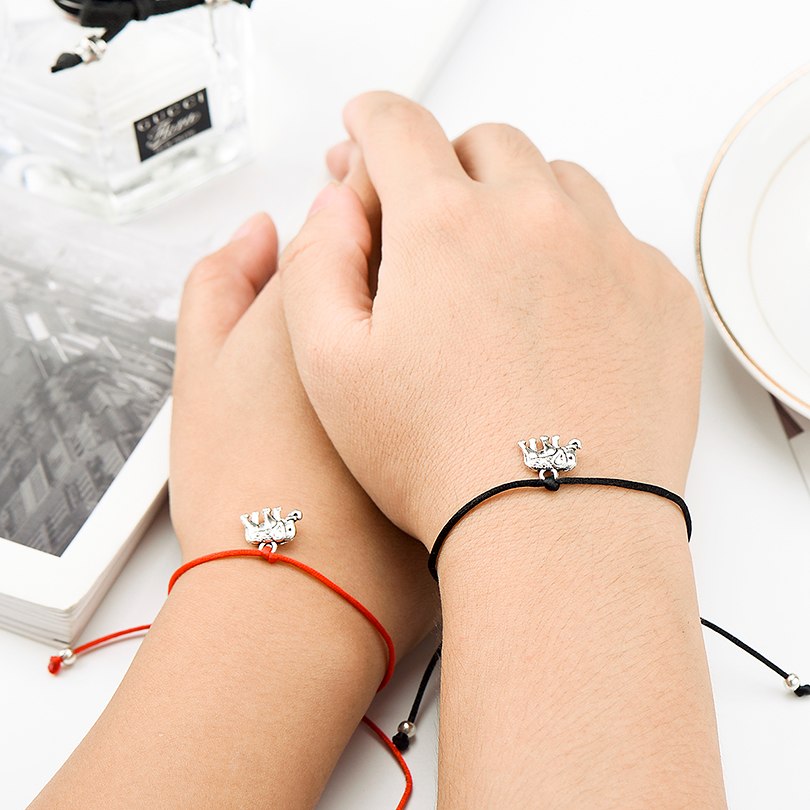 We didn't include any pieces with Peter Pan and Tinkerbell, but some of our pieces are themed like Mickey and Minnie Mouse and the famous quote Hakuna Matata from the Lion King. You don't have to be in a Broadway show to get these pieces though. They are very affordable and fun as well.
Speaking of Broadway, we've seen celebs sporting jewelry that looked as though it could be worn by a child (at least we remember wearing things like it when we were kids). We saw Sarah Jessica Parker, Carrie Underwood, Katy Perry, Kim Kardashian, and Gigi Hadid wearing cute name necklaces, and we all name and initial jewelry is probably the most common kids' jewelry around!
We saw Meghan Markle, Taylor Swift, Ashley Benson, Katie Holmes and Kourtney Kardashian wearing an initial necklace. If you enjoy any of these or the picks we presented, these pieces could be for you.
There is no mousing around when it comes to taking care of your jewelry. Kids, as well as adults, should take care of all of their pieces. If they do, it will last for a very long time.