Mix / Necklaces
10 Boys Necklaces to Gift Your Favorite Boy!
Who says that jewelry is just for girls? Not us! Boys and men have always received some scrutiny for wearing jewelry that some people seem to believe are strictly for females. We know that the truth is that jewelry on men is a bold statement that can display confidence and masculinity perfectly. Displaying masculinity is best done with boy necklaces.
Necklaces seem to be one of the toughest sales on boys and men, but we found these 10 amazing options that the boy or man in your life is sure to rock! Honestly, anyone that believes necklaces aren't for men is probably pretty closed-minded. Boys can accessorize just as well as girls with the right choices. We think that you and your favorite guy are sure to love these strong, attractive, and sometimes even functional pieces below!
Our Favourite Picks!
1. Lifetime Jewelry Gold Rope Chain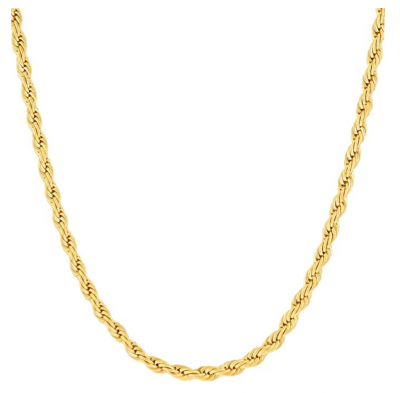 You can't go wrong with this classic look from Lifetime Jewelry. Our first pick for our favorite boy necklaces is this incredible gold rope chain. The simplicity of this gold chain is versatile and timeless. Really, anyone could wear it and look absolutely stunning, but we adore the way it helps to compliment and bring out the masculinity on any man wearing it. Another great benefit is that your guy can wear it with practically anything.
It goes great paired with a casual day-to-day look or formal and professional attire. Solid gold can be unattainably expensive for many while typical gold plating may not stand up to wear and tear over time. That's why we chose this specific option. They really do make jewelry that lasts a lifetime and at prices most people can afford! Most gold-plated jewelry has only a very thin coating of real gold, which leads to wear and chipping much too quickly.
Fortunately, Lifetime Jewelry uses an impressive 20 micro inches of gold layering on top of a semi-precious core of jeweler's bronze. That's another thing that sets this necklace apart from seemingly similar options. The core is made of semi-precious metal. Most other gold-plated jewelry uses things like pot metal as the core. That's part of the reason that cheap jewelry can actually turn your skin green, which is something your man will never have to worry about with this necklace.
It would be nearly impossible for the average person to even distinguish this chain from a solid gold one. You even get the satisfaction of supporting a family owned business that proudly makes their products in the USA. The 3mm necklace features a French rope design with a special diamond cut that gives the chain a beautiful twist. This catches the light and provides a gorgeous glistening shine that is sure to catch eyes and turn heads.
When you go to buy this necklace for the boy in your life, you'll get to choose between 7 different lengths ranging from 16 inches all the way up to 30 inches.
2. Reve Stainless Steel Black & Silver Cross Pendant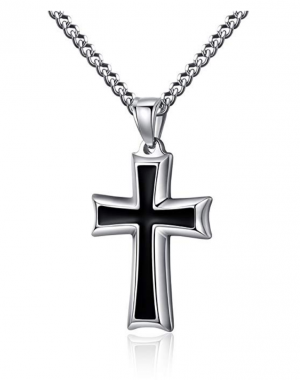 Here is another great look that has become very popular among men and boys. A simple cross is a perfect way for your guy to quietly share his spirituality with the world. This cross has a very strong and masculine appearance perfect for any boy. The cross is a strong symbol within the Christian religion and speaks loudly of the convictions of the wearer.
So, this necklace is one that will have deep meaning for the boy you give it to. He is sure to appreciate you showing him you understand how important his beliefs are to him by giving him the perfect necklace to display those beliefs in a simple and meaningful way. The necklace is made of high-quality 316L stainless steel that is completely safe and even hypoallergenic. This means it will work great for all skin types.
The cross pendent comes on a curb chain with beveled edges. The chain also features a high polish for a beautifully shiny appearance. You can choose a 20-inch, 22-inch, or 24-inch chain for your guy's cross necklace. All lengths of the chain are 3.8mm in diameter. Lobster claw clasps work incredibly well and are so easy to use. The cross itself features a Latin-inspired design. The ends curve in just slightly to give it a quality, sharp appearance.
With a width of 1 inch and length of 1.5 inches, the cross pendent is the perfect size to capture attention without overwhelming the rest of your boy's wardrobe. You also get to choose the coloring of the cross pendent.
The many options include a variety of combinations using silver, gold, black, white, and even red. This makes it easy to find the perfect option for the boy you're shopping for. It is even super affordable for practically any budget! This necklace won't work well within more professional settings. However, it is completely ideal for more casual environments and day-to-day wear.
3. Lolly Llama Dark Cherry Baltic Amber and Turquoise Necklace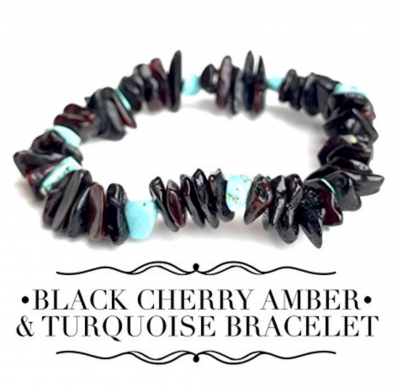 If the boy in your life suffers from any type of reoccurring pain, or even from anxiety, you can choose a necklace for him that doesn't just look amazing but also helps improve his symptoms! Baltic amber has been used to help treat various ailments for many years now. Lately, though, it is starting to go more mainstream as more people see its awesome benefits and just how beautiful it really is.
Baltic amber is a versatile jewelry option perfect for all people regardless of things like gender and age. We happen to think that this particular Baltic amber necklace from Lolly Llama is the ideal choice for boys and men alike. Lolly Llama makes a variety of different amber products that are great quality with impressive prices. This necklace isn't super cheap, but for quality amber, it is extremely affordable.
It contains a naturally occurring substance called succinct acid. Succinct acid can have many benefits for the body including boosting the immune system, anti-inflammatory properties, and even lowering anxiety levels and fatigue. With so many possible health benefits, it would be hard to not give a Baltic amber necklace a shot. This particular piece is perfect for men and boys thanks to the rugged, bold appearance.
The rugged look comes from Lolly Llama's choice to use semi-polished chip beads as opposed to fully polished and rounded beads. It has a more natural look that is actually more effective overall compared to fully polished beads that are over processed.
We specifically chose the dark cherry amber necklace because the darker coloring is bold and strong – perfect for men. This necklace also features turquoise accents that give the perfect touch of color to the necklace without detracting from the overall masculinity. This boy's necklace is available in 18 or 22 inches and comes in a convenient storage pouch!
4. Sport Ropes 2 Rope Titanium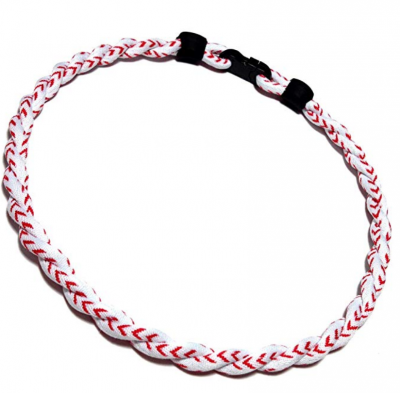 You've probably heard of titanium sports necklaces and how they can help improve athletic ability and reduce pain in an all-natural way. The concept is that the titanium within the necklaces provides magnetic therapy to your body. This is supposed to help your nerves communicate within your body better for less pain and improved performance. We love these 2 pieces for their relatively affordable price, high quality, and variety of great colors.
This is a perfect choice for little boys and grown men alike. It is great for sports players and sports fans. It doesn't just have the potential physical benefit, but it also looks super cool, too! The 2 ropes of the necklace twist around each other for a cool and simple pattern. The tons of different color options allow you to easily find the perfect color to best support your boy's chosen team!
Colors like blue, red, black, white, green, orange, purple, and even pink are combined in a variety of ways to best fit with any color scheme you're trying to match. The ropes are soft and comfortable on the outside to ensure they are not distracting. This makes them perfect for everyday use. Obviously, this won't be a good choice for any slightly more formal setting, though. This is strictly a casual piece.
The lightweight design is convenient and won't add any weight to slow your boy down when he plays. He's actually likely to get so used to the necklace that he doesn't even notice it anymore! Two different sizes of 18 inches and 22 inches further help to make this a perfect option for any age. Highly durable and even waterproof, this is a necklace that is sure to stand the test of time.
For safety purposes, the necklace features an easy-to-use breakaway clasp. This means that if the necklace gets snagged or pulled on for any reason, that the whole necklace will come right off to help avoid injury to the wearer and damage to the necklace itself. These are especially popular for baseball players but work wonderfully for all sports!
5. Munchables Camo Chew Necklace for Boys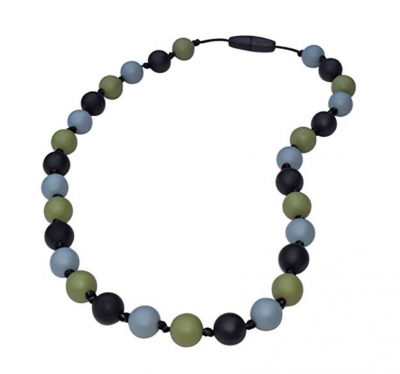 This innovative company makes this adorable Camo Chew Necklace for Boys. This is a necklace specifically for little boys and not so much for adult men. The Munchables company came up with the idea of chewable necklaces for children that have chewing problems. It is very common for children of varying ages to chew on things like their finger nails, hair, shirts, pencils, and other various things. Sometimes this chewing may come from stress, restlessness, sensory overload, or another unidentified cause.
While it is great if you are able to address the issue directly, this chewable necklace provides a helpful solution to chewed up pencils and clothing while you try to figure it out. Some kids just need a good sensory aide to help them relax and focus. This necklace is the perfect sensory aide as it is discreet and stylish. The necklace is made up of a durable cord with 100% food-grade silicone beads. Soft, safe, and durable, these beads provide the perfect oral sensory experience for your child.
With the Munchables piece, your child can possibly learn to focus better, stay still when needed, and even process information better with less sensory overload and distraction. The necklaces are about 21" long. This gives plenty of room for your child to play with and chew on the necklace. Multiple color options are available to best fit your child's specific style and likes.
We chose this fun camo option that features grey, green, and black beads because we feel like it is perfect for little boys and matches a variety of styles. You can also choose this same necklace in styles that include colors like blue, red, grey, black, and green in different combinations. The necklace is fairly priced and lands in the middle of our list when it comes to the cost. A breakaway clasp on the back of the necklace adds an important element of safety to the necklace. This helps give you peace of mind and keeps your boy safe!
6. überleben Leicht Fire Starter Necklace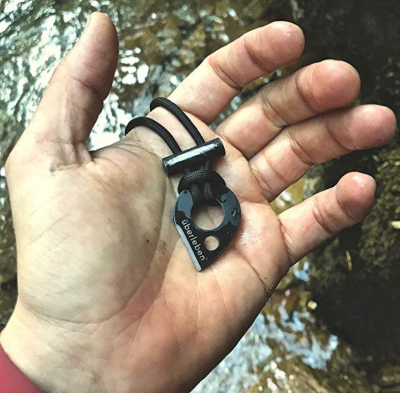 Men are all about functionality. If an item that is generally just about looks can also provide an important function, men are sure to be all over it. This incredible necklace from a company called überleben is unlike any others we found. It combines style and functionality perfectly. This is a fire starter necklace that can do just that – it lets you start a fire!
With this piece, your man will always be prepared wherever he is. The necklace consists of two important pieces that are strung together in a very stylish manner on the durable paracord necklace.
Hanging from the bottom, the first thing you'll notice on the necklace is the specially designed striker. An ambidextrous design allows the durable striker to be used easily with either hand. It has a nice, sharp edge that keeps it working quickly and efficiently even over time. Just above the striker on the necklace, there is a small rod. This is known as a ferro rod, or ferrocerium rod. This one happens to be a micro ferro rod as the small size fits perfectly on the necklace without being so small that it can't be easily used.
The ferro rod is a very popular form of fire starter and is the perfect material to strike the starter against. Softness and durability mix perfectly to create the ferro rod allowing it to work efficiently for 12,000 strikes! Together, the ferro rod and striker can create sparks of up to 5,500 degrees Fahrenheit! This will help your man start a fire in no time regardless of location, weather, and conditions. Quick release clasps are easy to use and come off quickly when needed.
You are also able to take the clasps off to let you cut and burn the paracord to your desired length before simply putting the clasps back on. This lets you have a customized length perfect for your needs and desires. Before customizing, the length of the paracord is a generous 34 inches. Obviously, this option is not for young boys and specifically for men. The necklace has an outdoorsy and rugged look that is sexy on any man! Shockingly, this is also one of the most affordable necklaces of all of our top picks!
7. exoticdream Real Shark Tooth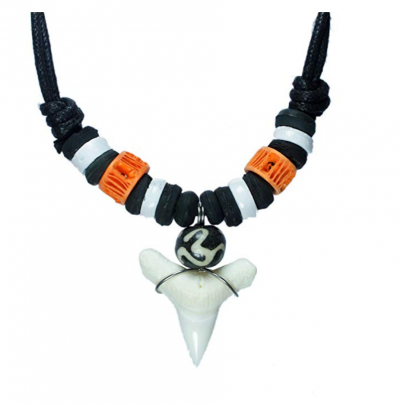 This fun piece is great for all ages. Children will love this necklace, but it can definitely be worn by a full-grown man as well. This necklace features a genuine real shark tooth as the main piece. Shark teeth have long been seen as a symbolic item that protect the wearer, so it doesn't just look cool but also holds a loving meaning. Give it to a boy that you want to know is well-protected and tell him the special meaning the shark tooth holds.
Since it is a real shark's tooth, it will vary slightly in size from necklace to necklace. Typically, the tooth is between 0.5" and 0.8". The tooth is wrapped in copper wire that keeps it securely in place and adds to the tough look you get with this necklace. It is strung on black cord in a special way with barrel knots that allow the necklace to be fully adjustable.
When fully extended, the necklace is 26". Then, when completely tightened, it is just 16". This gives a lot of versatility to the shark tooth's necklace to allow your boy to wear it however long he prefers. It also allows anyone to put the necklace on without the need of a clasp of any sort. To adjust, you simply slide the barrel knots closer together or farther apart. Stylish accent beads are black, white, and blue to compliment the tooth and overall look perfectly.
Of course, if you prefer, you can actually choose the necklace with yellow, orange, or even a natural wood look instead of the blue beads. The different beads are made of different things like wood, coconut shell, and bone! This adds an even more authentic feel to it and gives it that perfect exotic look that you go for with a necklace like this one. It is extremely reasonable priced, so it makes a perfect gift that will be well-loved regardless of your budget.
8. JAOYU Essential Oil Diffuser Wolf Necklace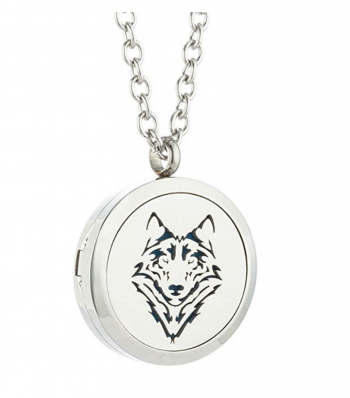 Here is one more awesome necklace for boys and men that has a really beneficial and cool function to it. This is actually an essential oil diffuser necklace. Essential oils are excellent for aromatherapy purposes as well as to simply enjoy lovely smells. They are known to have all sorts of health benefits ranging from better focus and attention to strong pain relief and healing. With this incredible necklace, the boy or man in your life can enjoy these wonderful benefits all day long regardless of where they are or what they are doing.
The way the necklace works is simple. It opens up with a locket design to reveal a small space inside where you place one of the included cotton pads. It comes with 8 of these cotton pads all in different colors. The colors included are purple, red, black, green, white, blue, yellow, and pink. This lets your guy choose whatever color he wants or even change the color each time he wears the necklace.
Once you have placed the pad inside it, you simply drop a couple of drops of whatever essential oil you want onto the pad. Then you close the necklace and enjoy long-lasting fragrance and aromatherapy benefits! The necklace is made of stainless steel and closes via strong magnetic clasps that will hold the oil pad in safely away from skin or clothing. A 24" chain is the perfect length for this necklace and lets the wearer slip it right over his head without having to undo anything.
The coolest part is the super tough and sleek looking wolf design that is cleanly cut into the front of the necklace. This is where the scents of the oils are able to escape the necklace for your enjoyment. The wolf is a strong and manly symbol that he is sure to love! Of course, if you don't think he will like it for whatever reason, you can choose this piece with a variety of other designs including a cat, horse, musical symbols, and a paw print.
9. Reizteko Stainless Steel Byzantine Chain

Since cross necklaces are one of the most popular looks for men and boys, we chose to include a second cross necklace pick. This option is a bit more expensive but is definitely still reasonably priced. It includes some really great detail and has a very bold and strong appearance. The stunning and eye-catching cross pendent on this necklace is constructed of 3 layers of stainless steel for a detailed and high-quality look that your guy will love.
The layers alternate in color – the top and bottom layer are plain stainless steel with the typical silver appearance while the middle layer is black stainless steel. This provides a nice contrast that lets you see all the beautiful details of the necklace. The outside edges of the cross are perfectly pointed to give it the incredible look it has. The pendent is a nice, large size that captures the ideal level of attention at 55mm long and 40mm wide.
It comes on a unique chain that features alternating black and silver stainless steel links. The chain is thicker than most options further adding the strong masculine appearance while also increasing overall durability. The clasp is strong too and very easy to operate. You can choose to get this cross necklace on chains of different lengths including 22", 24", 26", 28", and 30". This is a fantastic gift for a man or younger boy. It is a great way to display spirituality proudly and it has a high-quality design that will last for years to come.
10. i1it Personalized Bar Necklace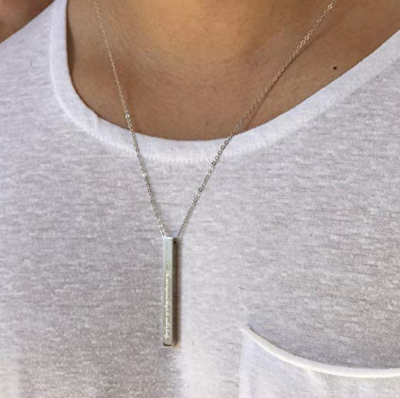 Last but not least is this lovely bar necklace. It comes personalized, so it can really be a highly meaningful and heartfelt gift for your guy. The personalization also means that it has a ton of versatility and can be given as a gift for practically any occasion imaginable. The necklace has a chic and modern look to it that will complement the style of the man in your life perfectly.
The bar pendant is 5cm long and 0.5cm wide. You can choose between 3 different plating types – yellow gold, rose gold, and silver. Once you choose the plating you prefer for the necklace, you'll be able to choose how you'd like it personalized. There are 4 sides on the bar, so you can choose to just add personalization to one, two, three, or all four sides.
Each side can hold up to 15 letters (including spaces). You also get to choose if you would like your lettering to be vertical or horizontal on the bar. If you choose horizontal, you can also choose if you want it in a handwritten font opposed to the more standard gothic font. Finally, on the front side of the bar, you can choose if you want to include a heart symbol at the bottom or not.
What you can choose to have engraved on your bar is almost endless. One of the most common options is to place names. Depending on your relationship with the man, you could have your names engraved together or have his children's names engraved or anyone else in his life that is very special to him. The bar pendant comes on a 22" chain with an easy-to-use lobster claw clasp.
Male Celebrities Rocking Necklaces
If you think a man or boy in your life would really enjoy wearing a great necklace, but you also think he may worry about what it will do to his reputation or say about his masculinity, you should remind him of all the celebrities that do it. Jewelry among male celebrities is actually quite popular and nobody is questioning their masculinity.
Here are some great examples of popular celebrities that rock necklaces without worrying what others may think!
Regularly spotted wearing various necklaces and often times even stacking multiple necklaces at once, Johnny Depp is a heartthrob across generations of women.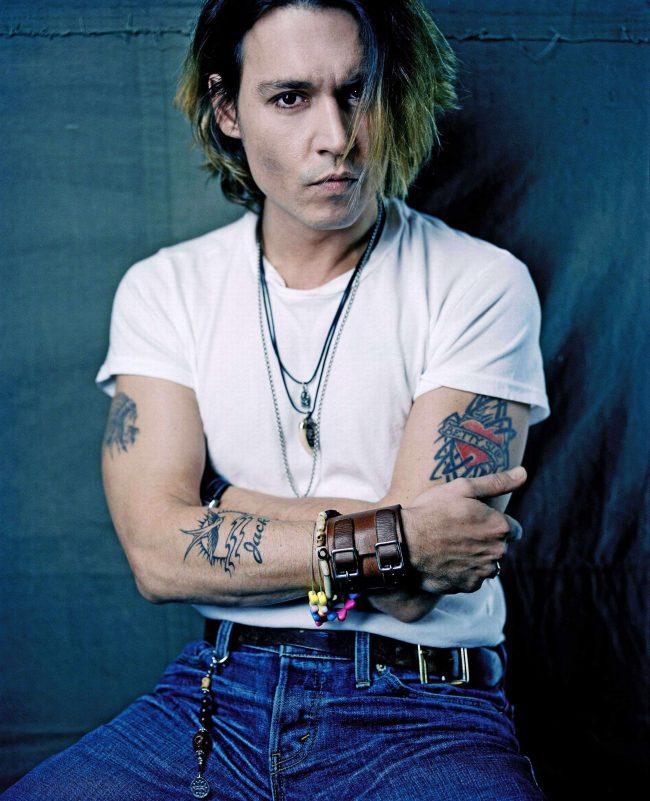 Johnny has been seen wearing many different types of necklaces from simple chains to huge pendants. Why not follow the style of a man that is so coveted among thousands upon thousands of women?
Brad Pitt is a popular male celebrity that has sophisticated and masculine style. He doesn't wear jewelry all the time but does occasionally sport a simple and stylish necklace. When he does wear one, you can see that it compliments that manly style excellently.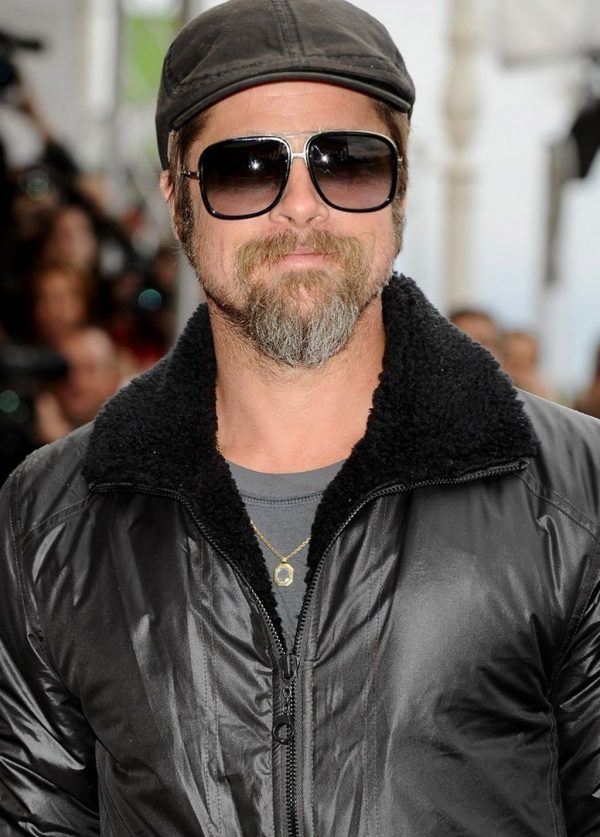 Another heartthrob male celebrity that likes to keep it simple with his jewelry is Leonardo DiCaprio. Now, we know nobody is questioning this man's masculinity. Leo likes simple chains and small pendants that add the perfect accent to his more casual outfits.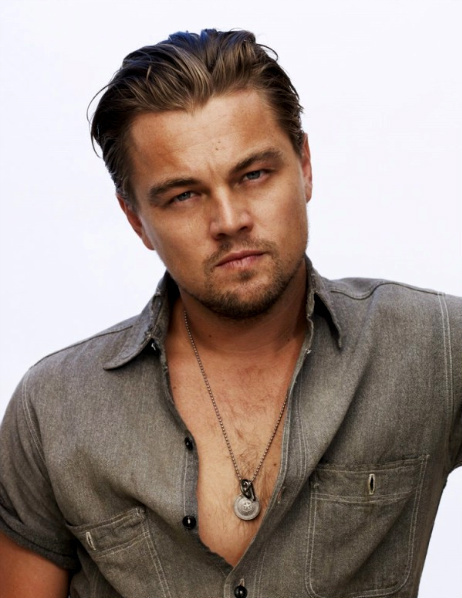 Now here is a man that loves his jewelry. In case you somehow didn't already know, Steven Tyler is an insanely talented musician from the well-loved band Aerosmith.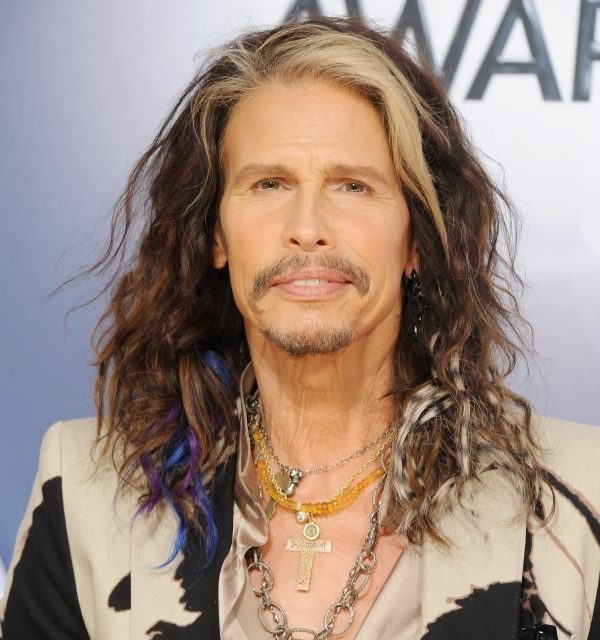 He is well-known for layering lots of necklaces together for an incredible look with tons of style. He wears all kinds of necklaces and seems to especially enjoy big and bold pieces.