Necklaces / Personalized / Women
Our Favorite Letter Necklaces We Will Be Spending Our Money On
Letter Necklaces are all the rage right now.  Everyone from Meghan Markle to Taylor Swift has been spotted sporting a single letter pendant or charm framing their collars.  Letter necklaces are a fantastic, subtle way to celebrate a relationship, true love, or passion. Whether you want to wear someone's initials or combine pieces to spell a hobby or work near and dear to your heart, letter necklaces are so very versatile. Even if you are still searching for that special someone or waiting for your precious angel to arrive, you can still show off these amazing necklaces to appreciate your fur-baby or even yourself.  
There's nothing wrong with a little self-care in the form of jewelry therapy. Whether you choose to wear your own initial, the initial of their child, significant other, parents or other loved one or a letter standing for your passion, there is no wrong choice. You carry a tiny reminder just above your heart. Right now the trend is to sport the initials in yellow gold, but any color or type of metal that suits your fashion tastes will work wonderfully.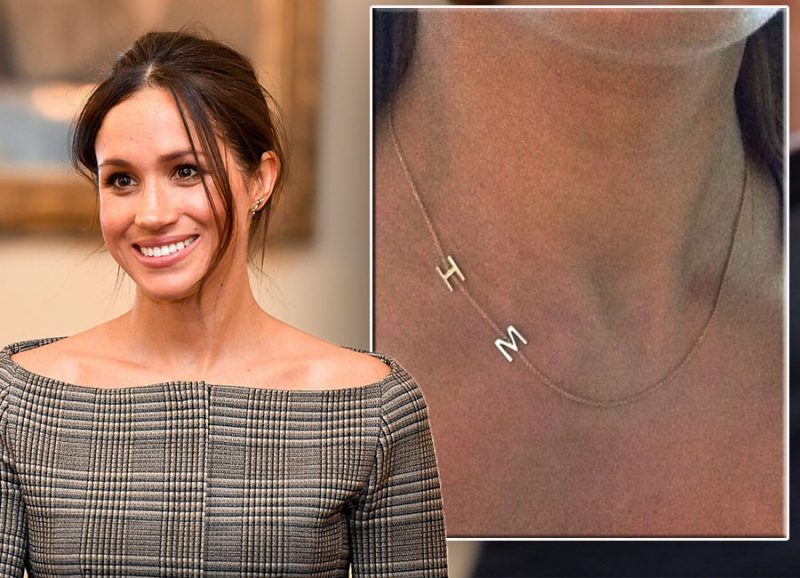 Plus these letters can be a letter charm, imprinted or stamped onto a pendant of any shape, and blinged out with everything from semi-precious stones to fine diamonds. The options are limitless and we are in love with all of them. We've compiled a list of our very favorite letter necklaces, including some celebrity favorites, to get you started on finding your perfect letter-shaped homage to loved ones near and far.
Our 10 Favorite Picks!
1. Lowercase Letter Initial Pendant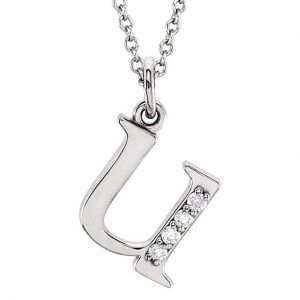 This 14k white gold letter pendant is an absolute treasure. The letters are a great thickness but not so large as to be distracting or hang clumsily. Several of the letters will hang at an angle from the chain creating a playful sense of whimsy. Each letter is presented in a wonderfully classic serif font, meaning they feature the little flicks and tails on the ends of the strokes. Once considered a bit archaic if a classic choice, serif fonts have recently fallen out of favor for printing needs. But the tiny little tails on this letter pendant are absolutely perfect adding a lighted-hearted detail.
Presented by Dazzling Rock, the initials include prong held white diamonds, totaling 0.05 carats of conflict free stones. The dazzling shine of the round cut diamonds rated at least IJ for color and I1-I2 for clarity, even small stones can be stunningly perfect. This necklace includes an 18 inch chain for a hang right at mid-chest. The letter necklace is too beautiful to be a secret homage, tucked discreetly under a top.
It positively begs to be displayed for all to see with its dainty row of diamonds glittering. Dazzling Rock even adds a ninety day warranty so if a stone is lost or a setting is damaged during normal wear, you can have it replaced. We love this as it means the creators take pride in their work and guarantee it will hold up through the stresses and strains of everyday life. Mistakes happen and things don't go according to play. But Dazzling Rock has promised to build their Initial Pendant sturdily enough to cope with that. Yeah, it is a short window but ninety days of daily wear is enough for a flaw in construction to reveal itself.
2. 14k Hammered Gold Twin Pendants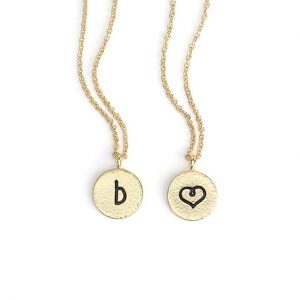 There is something genuinely appealing to a hand-written style font. It adds a distinct feeling of the personal touch with a vintage feel without looking too old fashioned. These twin pendants definitely give us those warm, fuzzy feelings of vintage charm with a modern aesthetic and skirt that very thing line of not being too childish. The lettering used looks authentic as opposed to seeming as if someone handed their toddler a crayon before making the stamps.  
It is a delicate line to be sure but one of these twin necklaces walk like an expert. The first charm features the initial in a handwritten font in the lowercase letter of your choice while the second holds a simple heart with the most darling little loop for a little flair. The endearing pair of charms can be worn in tandem, perhaps stacked with other chains for a layered look. But we love adding a more sentimental feel and sharing the love, literally.  For a truly sentimental touch you can use the pair as a friendship or family set. You can wear the initial of your loved one while that loved one wears the heart pendant.
This way you have a secret connection even when you are apart. The charms are quite dainty, measuring at 12mm so the necklace will not be overly assuming. The come standard on a sixteen inch choker style chain, hanging just above or right at the hollow of the collar bone. But you can elect to have the charms sent with a sixteen, a seventeen or an eighteen inch chain. This clever little offer by jewelry purveyor KISSPAT creates the perfect opportunity to wear a tiered creation, each chain holding a different letter. Sport the initials of your first, middle and surnames or wear some love for three of your cherished relatives or friends. If you want to be really playful with it, use the three lengths to proclaim your love for all things CAT, DOG, SEA or TEA.
3. Alex Woo's Little Letter Slide Pendants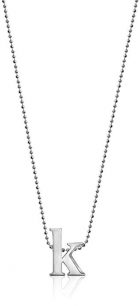 The courier type font reminds us of the old typewriters with their clunky letters and heavy ker-chunks of the keys tied to letter arms. It is so old fashioned that it has come back around to represent a vintage fashion and feel. Alex Woo's adorable "Little Letters" collection strikes the perfect balance between vintage courier lettering and the ultra-trendy letter necklace rage. Another on our list featuring lower case letters, we can't help but love how these are styled. Created in 925 Sterling Silver, these slightly chunky letters still retain their elegance.
Most impressive is the choice to forgo a bale or loop attachment and thread the chain through the letter. This will make sure the letters hang flush and straight at the collar bone from their 16 inch ball chain. Typically we aren't big fans of the ball chain for most looks. They normally scream dog tags and grunge scene and unless we are aiming for that look, we tend to stay away. But Alex Woo is able to take the industrial feel of the ball chain, thread it through a polished silver letter and create something absolutely stunning. The use of the ball chain also means this piece is easily translatable across almost all levels of dress, from casual to business formal. Throw this slide pendant on with a t-shirt and leggings with a low draped soho style scarf and some chunky sunglasses for a very "star grabbing coffee" look.
Alternatively you can hang this piece under a collared shirt for just a peek of shine and subtle reminder of the love of your letter's meaning.  You can also add other charms of varying sizes and styles to create a sort of charm necklace. Don't be afraid to be bold with those charm choices either. Because the letter is a slide style charm, load up your extra charms on just one side to create that asymmetrical look that is trending right now.
4. Asymmetrical Mini-Letter Chain Necklace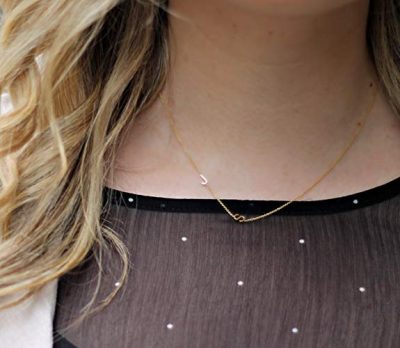 Did you know that we got to witness a real life fairytale all because of a necklace?  In 2016 a relatively unknown Meghan Markle was skirting rumors of a relationship with Prince Harry of England.  The truth came pouring out when someone spotted the most darling letter necklace around her neck featuring mini-letters, H and M. Questions were asked and the couple tried to play it off for as long as they could. Eventually Miss Markle had no choice but to admit the H and M did, in fact, stand for Harry and Meghan. The rest of the whirlwind romance story unleashed a whole cadre of adoring royal fans and one of the most gorgeous royal weddings.  
Meghan's timeless taste still rings true and we've added this handmade mini-letter necklace to our list as a result. We cannot get enough of this piece either. There is nothing more romantic than pairing your initials with those of your true love. This piece is custom made by an artisan out of Turkey with up to four letters and a length by request. For the Meghan Markle look alike, choose two letters on the same side and select a 16 or 17 inch chain to keep the hang close to the collar bone. If you want to take the inspiration and make it more your own, consider using all four letters, your first and surname initial on the right side of the necklace and the first and surname initial of your true love on the left.  
We recommend using the left as that is the side of the heart. Traditionally things worn over, near, or on the same side as the heart represent a deep, romantic love. Just as wedding rings are worn on the left hand, your bae's initials would look amazing hanging on just over your heart.
5. Sterling Forever Gold Letter Disk Necklace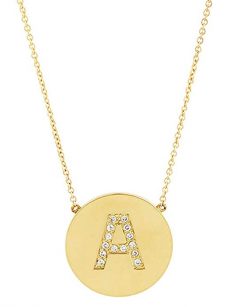 Another of our star-inspired additions to our list of favorite letter necklaces is this golden letter disk with black letters blinged out with cubic zirconia. Katie Holmes has been repeatedly photographed wearing a gold disc with a sparkling letter S emblazoned with diamonds, likely for her precious daughter, Suri Cruise. We love this selection because you can wear a necklace with all the style, taste and sweetness of Katie Holmes without price tag shock Katie Holmes wouldn't bat a perfect eyelash at.  
This reasonably priced lettered disc by Sterling Forever uses features 925 Sterling Silver and plates it with gorgeous gold vermeil. The block style letters are set with lab-created cubic zirconia so you get all the brilliance of the diamonds without having to worry if they are conflict free or fret about losing a precious stone. The chain this darling necklace comes with is just 15 inches so it is ideal for children or a choker style look with the charm cinching up to just above the collar bone. The gold disk is emblazoned with a mantra "Shine Bright" on the back so this piece can hold a double meaning of love. First, it is the initial of someone or something you love and there is a reminder to shine as bright as the jewelry pressed against your chest.  
The necklace is perfect for layering and since it is a shorter piece it just begs for a ribbon choker above and a few delicate chains below. Not all layered looks need to be bold and insistent. We love the more subtle layers of simple chains, maybe a long textured chain and a few feature charms, pendants, beads or baubles for emphasis.
6. AJ's Collection Monogrammed Pendant with Birthstone Charm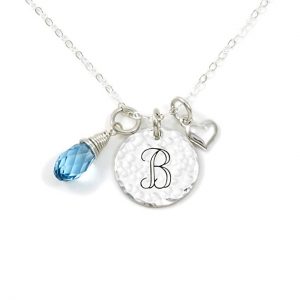 This piece is as customizable as they come. You select the script-style initial on the disc charm and your birth month (or that of your loved one) as well as the chain style and length, with options ranging from a 16-inch collar bone lay all the way down to a lengthy 24-inch rib cage hang. The options are positively limitless for styling. The multiple charms on this necklace give it a very eclectic sort of feel. We would be tempted to add more charms to it. Customizable birthstone pieces are wonderful because it is not necessary to choose your birth month unless you want to.  
Instead, you have the chance to choose from the twelve months to have your favorite type of stone or color included on your purchase. If green is your color and you absolutely adore emeralds, choose May. If you prefer to keep things lighter and airier, October's Rose Quartz or March's Aquamarine might be more in line with your fashion preferences. Birthstones each have a fascinating history and explanation as to why they correlate to the month they do. According to the American Gem Society they may have dated back to Biblical times, each stone representing a different tribe of Israel but no one can say for sure. Nevertheless, you can pick your birthstone but you don't HAVE to pick your birthstone if you just aren't feeling the look.
Plus the months of March, June, August, October, and December have more than one birthstone and not all variations of those multiple stone months are always presented. You may love your birthstone but if yours is not an option, just pick the stone you like and make it yours! No one has to know that ruby pendant next to the initial charm was supposed to be your birthstone. And we'll never tell!
7. Gemmance Rainbow Jeweled Rose Gold Letter Necklace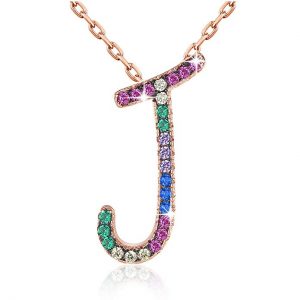 This one is by far our quirkiest pick and perhaps the most fun. This stylized block letter is another font use that is reminiscent of a handwritten script but once again is able to avoid looking childish. The 18k Rose Gold plated letter is then adorned with a veritable rainbow of colored AAA grade cubic zirconia. Cubic zirconia is a lab created gemstone that, because it is crafted in highly controlled conditions, usually comes out flawless and with the perfect coloration of the lab technicians choice.  
In nature yellow, blue, chocolate and pink diamonds are technically flawed diamonds, the color created by inclusions and chemical reactions during their forming – although in recent years their popularity has grown. However for cubic zirconia any color created does not affect the quality or beauty of the stone as these were very much intentional. Diamonds are forever the standard of gem beauty but cubic zirconia is the budget friendly option. The palette of the gems is broad and while this piece might not be for everyone we love how much it stands out. Most letter necklaces are subtle and subdued and this one with its right separate jewel tones has no choice but to be a bold, statement piece with all the sentiment of its quiet counterparts.  
Those cubic zirconia glisten in the following colors: Amethyst Pink, Bermuda Blue, Sapphire, Deep Purple, Fuchsia, Emerald Green, Topaz, and Citrine Yellow. With this many colors set in the warm 18k rose gold this piece can be worn with almost any color top. It is strong enough to even be worn with big, peppy prints and holds it's own. It hangs from its eighteen inch chain on a very smart hidden loop so the letter will appear to magically hover over its chain. This just adds to the quirky charm of this Gemmance piece.
8. Maren Elena Alphabet Letter Pendant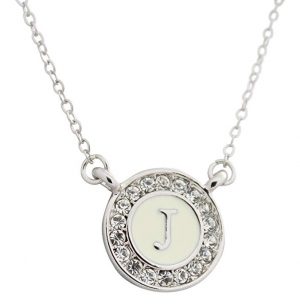 This pendant is more intricate than the others we've highlighted so far but the most reasonably priced on our list. It is also one of the most classically styled.  That term "classically style" should not be taken as out of date or out of fashion. The beauty of classics is that they never truly go out of style. Just like the little black dress for ladies or the polo shirt and khakis for gentlemen, enameled pendants are stunning no matter the style or aesthetic of the wearer. The Maren Elena pendant features a silver letter on an enamel background, all surrounded by genuine Austrian crystal. All of this comes at a remarkably reasonable price point.
Hanging from an eighteen inch chain with a lobster claw closure the 15mm pendant is a static attachment, meaning it is anchored to the chain at two points. This prevents the charm from spinning around to get caught in collars or hair during regular, daily wear while the weight of the pendant itself keeps the closure from rolling around from behind the neck. Silver jewelry tends to run on the cool side of the color wheel but the pool of creamy enamel warms the entire piece up nicely. While the pendant is a little less subtle due to the size but the ivory color still keeps this necklace subdued. The Austrian crystal surround adds a beautiful sparkle and really completes the overall look of the piece. Austria is famous for its crystals. Originally called rhinestones, the very first of these were actually chips of rock taken from the Rhine River in Austria.
They sparkled so beautifully, people began embellishing jewelry and clothing with them. As time moved on Austria began producing more fine crystals, including the now world famous Swarovski crystals with quality so fine they can be mistaken for diamonds. While normally we are big proponents of layers pieces, this pendant is best worn as a solo necklace because of the fine detail and complex simplicity. This particular item will make a perfect, unobtrusive gift for mothers, mother-in-laws, sisters and other relatives who enjoy classically styled jewelry as it is such a timeless look it can lack or proclaim romance depending on how it is presented to the recipient.
9. Lori Bonn Sweet Initials Pendant Necklace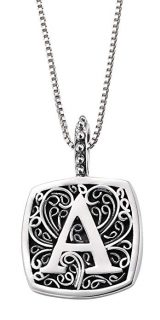 Lori Bonn's sweetheart of a letter necklace is by far our favorite on this list. She combines the delicate allure of an initial necklace and combines it with a locket-look pendant and a swirling, twirling background that highlights the bold letter it surrounds. The name she has given her piece really is appropriate. The paisley like curlicues seems to explode from the letter almost giving the piece a sense of perpetual motion as the eye travels across each curl, staying moving constantly. It should be noted these are not considered scrolls.
Scrollwork in metallurgy and jewelry refers to a specific, mathematically verifiable pattern. These are best described as curlicues. Even with the busy background, it still does not distract from the bold serif style letter featured in the square pendant.
Additionally the square shape is a nice departure from the more common free standing letters or the circle charms with stamped or relief letters.  The pendant measures a full half inch and comes on an eighteen inch box chain, a choice of chain style that compliments the square pendant wonderfully. A more typical link style chain though strong and classic, just would not do this piece justice.
The eighteen inch length will hang the pendant right at center chest, near the heart, for most people. Due to the complexity of the piece it might feel a little overmuch if paired with any sort of pattern. This is best worn against the skin or with a background a solid colored top. The 925 Sterling Silver will look most stunning when draped across a darker, deeper color such as burgundy, black, or emerald as it will really highlight the contrast between the darkened, burnished background and the brightness of the sterling. This piece is also perfect as a gift for the upcoming holiday and the price is right for it!
10. AFFY Blue Diamond Initial Necklace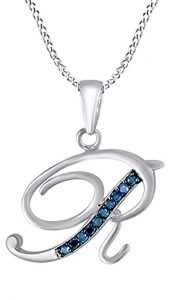 Our final pick is a bit of a bolder statement than some of the others, although by no means does it have to be a statement piece. It can be equal parts bold and still subdued just by the nature of its design. A flowing script font grants an immutable elegance to the piece while the row of round-cut I2-I3 blue diamonds glittering against the white gold plate grants an inescapable brilliance.  The stones are inlaid on one bar of the letter of your choice.
Those letters are crafted out of 925 Sterling Silver and plated with 14 karat white gold. This means you get the strength, durability, and affordability of the sterling silver with the polish, gleam, and richness of the white gold. The conflict-free diamonds are all guaranteed as a "Very Good" cut, meaning that light enters the facets, the angled faces created during the cutting, and bounces back correctly. This promises that sought after glittering effect that everyone looks for in a diamond. The diamonds are also conflict-free so you can present this initial necklace as a gift guilt-free. Whoever receives it will really feel the love. The stunning pendant comes on an eighteen-inch chain, so mid-chest again.
This piece is another that is best worn as a solo piece and wearing it against the skin or on top of a solid top will give those blue diamonds center stage. Do not be afraid to pair this necklace with blue pieces either. Since the blue diamonds are surrounded by the bright white gold, a blue blouse or sweater will only make those diamonds pop even more. As a bonus, the diamonds and the flowing script font means this necklace can go from the office to your best red carpet ready look effortlessly.  
—-
The beauty of initial and letter necklaces is that they never really go out of style and they will always have significance, especially if purchased as a gift to celebrate or memorialize a loved one.  Everyone from your grandparents to your grade-school family members can successfully wear a letter necklace without it being age-inappropriate. We feel that our favorites contain something for every age.