Our Favorite Letter Necklaces We Will Be Spending Our Money On
last updated:
Mar 03, 2020
Letter necklaces are all the rage right now. Everyone from Meghan Markle to Taylor Swift has been spotted sporting a single letter pendant or charm framing their collars.
Letter necklaces are a fantastic, subtle way to celebrate a relationship, true love, or passion.
Whether you want to wear someone's initials or combine pieces to spell a hobby or work near and dear to your heart, these cute necklaces are so very versatile!
Right now the trend is to sport the initials in yellow gold, but any color or type of metal that suits your fashion taste will work.
We've compiled a list of our very favorite letter necklaces (including some celebrity favorites!), to get you started on finding your perfect option!
Our Top 10 Letter Necklaces!
1

. Dazzlingrock Collection 10K Diamond Letter Necklace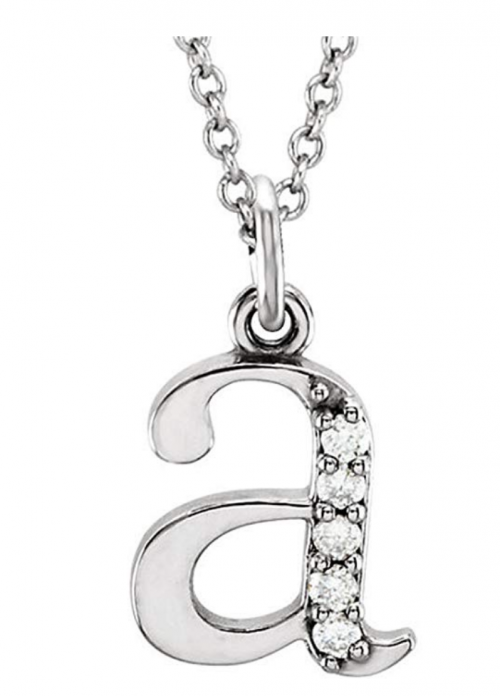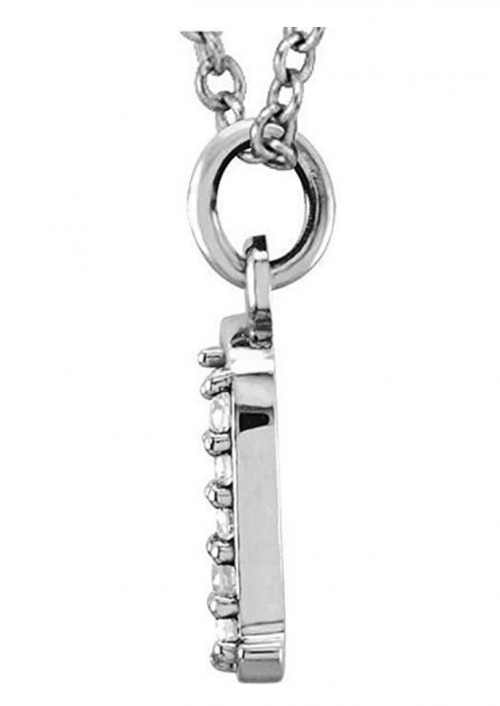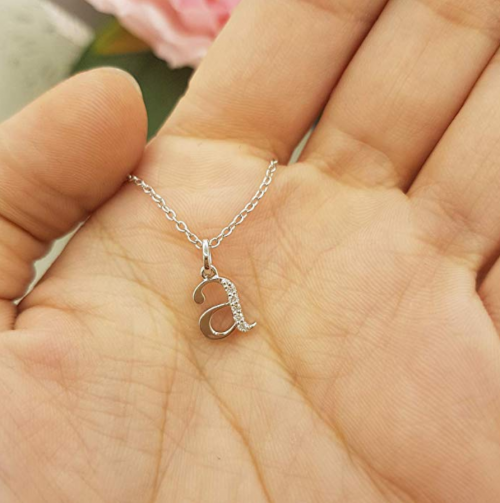 This 14k white gold letter pendant is an absolute treasure. The letter pendant is of a great thickness but not so large to hang clumsily.
Read more
Several of the letters will hang at an angle from the chain, creating a playful sense of whimsy.
Each letter is presented in a wonderfully classic serif font, meaning they feature the little flicks and tails on the ends of the strokes.
Once considered a bit archaic, serif fonts have recently fallen out of favor when it comes to printing.
But the tiny little tails on this letter pendant are absolutely perfect, adding a lighted-hearted detail.
Designed by Dazzling Rock, the initials include prong held white diamonds, totaling 0.05 carats of conflict-free stones.
The dazzling shine of the round cut diamonds are rated at least IJ for color and I1-I2 for clarity; this means you're getting super sparkly stones of the highest quality!
The necklace includes an 18-inch chain.
Dazzling Rock even adds a 90-day warranty so if a stone is lost or a setting is damaged during wear, you can have it replaced.
2

. VQYSKO 18K Gold Pleated Heart Letter Necklace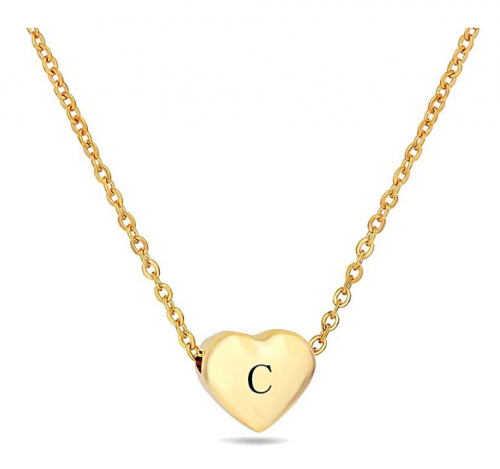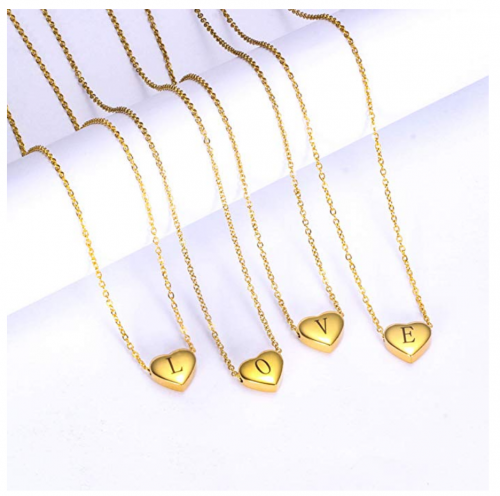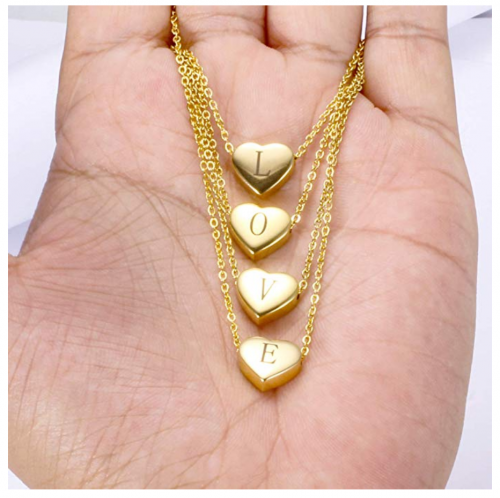 There is something genuinely appealing when it comes to a classic style font. It adds a vintage feel without looking too old fashioned.
Read more
This sweet heart pendant definitely gives us those warm, fuzzy feelings of a vintage charm with a modern aesthetic.
The lettering used looks authentic as opposed to seeming as if someone handed their toddler a crayon before making the stamps!
This is an 18K gold-plated stainless steel necklace meaning it incredibly resistant and won't tear easily. It also won't tarnish or cause any skin allergies.
The fantastic heart-shaped charm can be worn at once stacked with other chains for a layered look.
The pendant is quite dainty measuring 11*12mm, and that's why we think they are perfect for layering.
You also get a 17.2" stainless steel chain with a 2.8" extender.
3

. Alex Woo's Little Autograph Necklace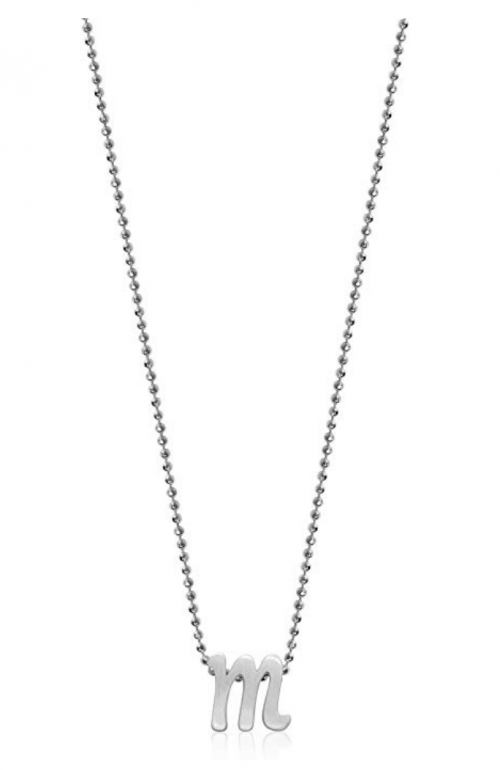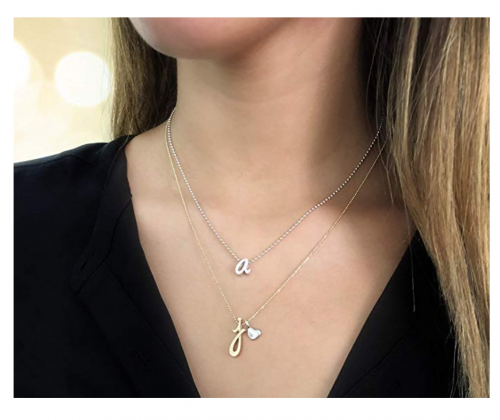 This pendant's courier type font reminds us of the old typewriters with their clunky letters and we love it!
Read more
Alex Woo's adorable "Little Letters" collection strikes the perfect balance between vintage courier lettering and the ultra-trendy letter necklace rage.
Another option featuring lower case letters, we can't help but adore how these letters were styled.
Created in 925 Sterling Silver, the slightly chunky letters still bear elegance.
Super impressive is the choice to forgo a bale or loop attachment and thread the chain through the letter.
This will make sure the letters hang straight at the collar bone from their 16-inch ball chain.
Typically we aren't big fans of the ball chain since they normally scream dog tags; however, Alex Woo managed to take out the industrial feel of the ball chain just to create an absolutely stunning combo with the vintagy letter pendant.
Don't be afraid to be bold with your charm choices either. Because the letter is a slide style charm, you can add more charms to your chain for the perfect layered look!
4

. Jeulia Initial Necklace
Our next pick features an initial disk necklace, and to be honest, this piece is as graceful as they come. We must admit it is subtly flashy, however, that's exactly why we like it!
Read more
What we love most about it is the fact that you can design it to be your own piece.
When we talk customization, this option is it! You get to choose the number of disks and inscriptions, chain length, and even the metal color.
It comes with medium round discs that are super cute and you can go for a single disc, doubles, and triples. This means you can have up to three round discs, each carrying its own letter.
The necklace is available in silver-plated, gold plated, and rose gold metal.
The 12mm round discs are designed with a small ring, and that's where the delicate cross-chain runs through with elegance. The available chain length ranges from 14", 16", 18", 20" to 22".
This necklace is dainty, beautiful, and versatile for both everyday wear and special occasions.
We believe it would be a great choice as a long-distance relationship gift, a birthday gift, or something special for anyone who loves dainty jewelry.
It is medium priced, which is not bad for a piece backed with a 30-day return policy and a one-year warranty.
5

. Sterling Forever Gold Vermeil & CZ Round Initial Necklace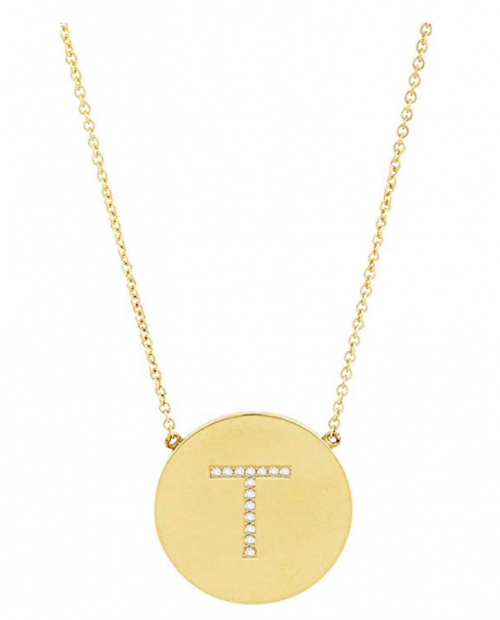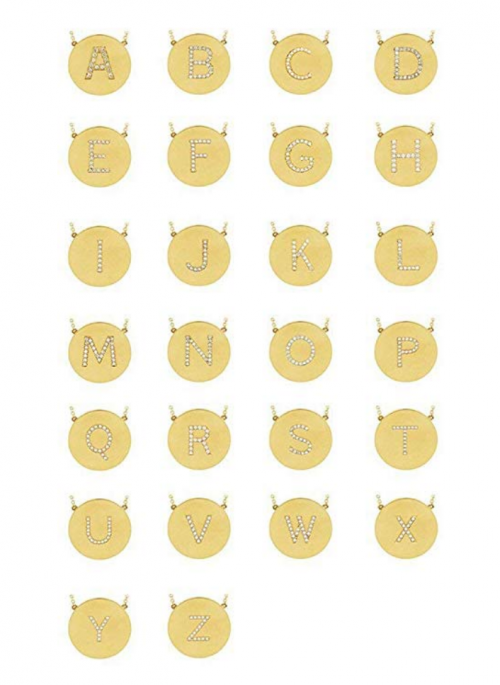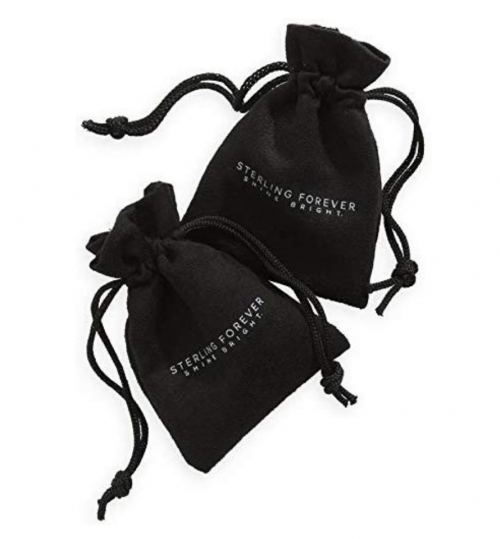 Another perfect pick on our letter necklaces list, this is a gold letter disk with classic font letters blinged out with cubic zirconia.
Read more
Katie Holmes has been repeatedly photographed wearing a gold disc with a sparkling letter S emblazoned with diamonds, likely for her precious daughter, Suri Cruise.
This reasonably priced lettered disc by Sterling Forever features 925 sterling silver plated with gorgeous gold vermeil.
The block-style letters are set with lab-created cubic zirconia, so you get all the dazzle of diamonds but you only pay a fraction of the price!
The chain is just 15 inches, so it will hang just above the collar bone.
The gold disk is emblazoned with the messaging "Shine Bright" on the back which is perfect if the letter necklace is meant as a gift for someone in your life who does shine bright!
The necklace is perfect for layering, and since it's a shorter piece it will sit well with longer 18'', 20'' or 22'' charm necklaces.
6

. Jeulia Rose With Initial Necklace
This is a fantastic nature-inspired piece by Jeulia. It's just so delicate, feminine, and pretty much the right choice for any woman out there. Who wouldn't like it?!
Read more
We can't get enough of the masterful design that includes a sculptured rose pendant and a cute leaf charm.
The elegant piece comes in 925 sterling silver and hangs on a dainty cross-chain that gives it a classy appearance.
It is a highly customizable piece where you get to choose any letter of the alphabet, chain length (size guide included), and the color.
It is available in rose gold, silver or gold plating.
This option upper affordable, but then again, so much worth splurging on.
Perfect as a gift as well as your new everyday wear letter necklace!
7

. Gemmance Rainbow Letter Necklace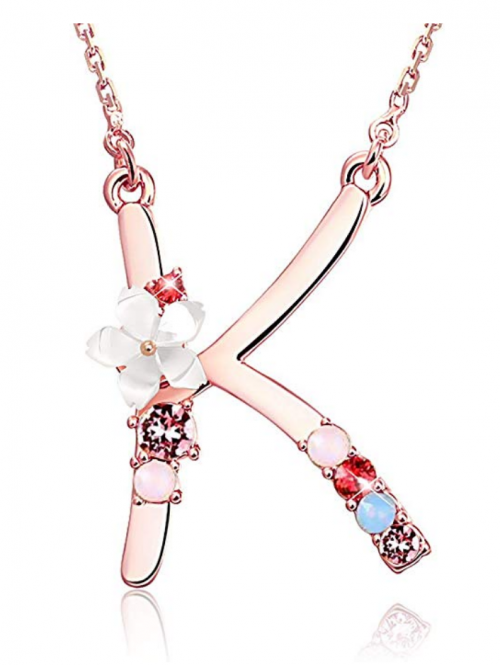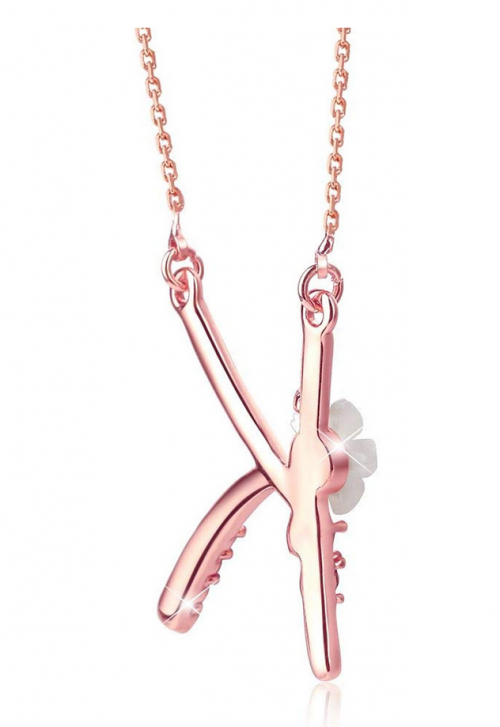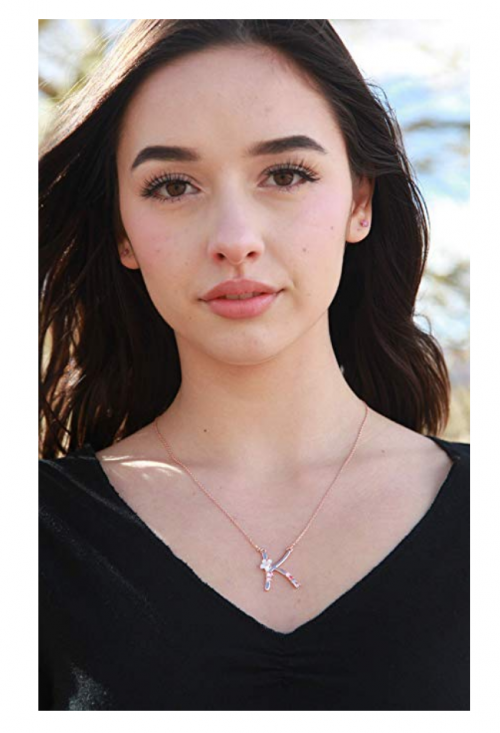 This one is by far our quirkiest pick and perhaps the most fun! The 18k rose gold plated letter is then adorned with a veritable rainbow of colored AAA grade cubic zirconia.
Read more
The letter is splashed with super colorful and sparkly cubic zirconia.
Keep in mind that in nature, yellow, blue, chocolate, and pink diamonds are technically flawed diamonds, since the color is created by inclusions and chemical reactions during their forming.
However, when it comes to cubic zirconia, any color created does not affect the quality or beauty of the stone!
Diamonds may be forever; however, cubic zirconia are your diamond alternative with a budget-friendly price tag.
Most letter necklaces are subtle and subdued, but this one is bold and we love it!
With this many colors set in beautiful 18k rose gold, the necklace is super unique and would work well as a solo accessory around your neck.
8

. Charles and Colvard Personalized Script Letter Necklace
The Forever One personalized script letter necklace is an outstanding piece of jewelry. If you are looking for a romantic, dainty letter necklace with a diamond-like stone and one oozing class, this is your choice!
Read more
We love the simplistic design; it's minimal, yet still catches our eye thanks to the super sparkling gemstone encrusted in it!
The designer made this piece so sweet by engraving the disk with one initial at the center and dropping a heart cut-out just below the letter.
The letter is presented in a modern script font, which gives it a whole lot of personality and adds a playful touch to it.
The letter disc, which measures approximately 2/3 inch in diameter, is crafted from sterling silver.
The disk pendant hangs on an adjustable 18-inch cable chain accented with a sparkling Forever One moissanite gemstone.
Moissanite is your perfect alternative for a diamond being just as hard and as sparkly as one but more affordable when it comes to prices!
We must say this is an outstanding little necklace worth every penny. What more, it's backed with a lifetime warranty and a 60-day return policy.
9

. Lori Bonn Sweet Initials Pendant Necklace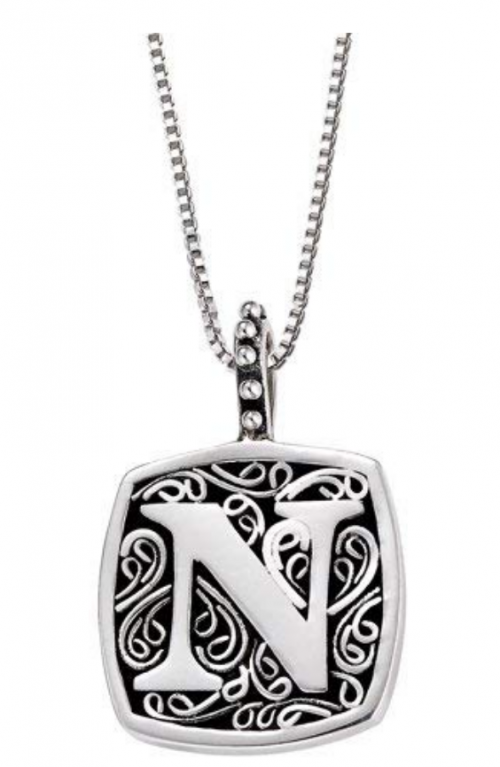 Lori Bonn's sweetheart of a letter necklace is by far one of our favorites on this list. She combines the delicate allure of an initial necklace with a locket-style pendant and a swirling, twirling background that highlights the bold letter it surrounds.
Read more
The curlicues seem to explode from the letter, almost giving the piece a sense of perpetual motion as the eye travels across each curl.
Even with this type of background, it still does not distract from the bold serif style letter featured in the square pendant.
The square shape is a nice alternative to more common free-standing letters or the circle charms with stamped letters we've seen so far.
The pendant measures a full half-inch and comes on an 18-inch box chain, a choice of chain style that compliments the square pendant.
The chain will hang just at the center of the chest, near the heart, so this is the perfect letter necklace if you're wearing the initials of a loved one!
10

. AFFY Blue Diamond Initial Necklace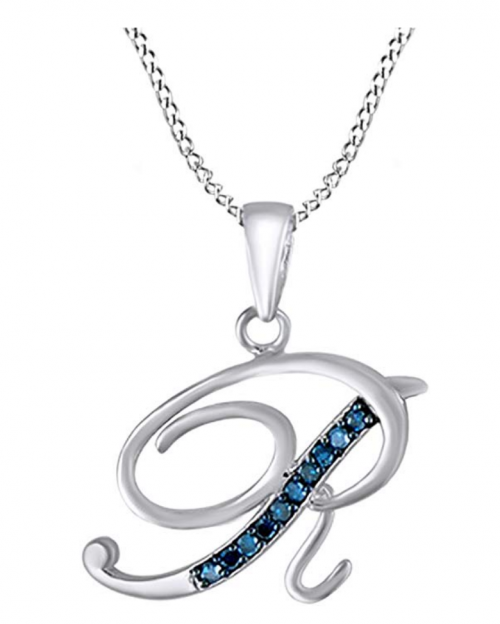 The gorgeous flowing script font in this pick is adorned with a row of round-cut I2-I3 blue diamonds glittering against the white gold plate.
Read more
The stones are inlaid on one bar of the letter of your choice. The letters are crafted out of 925 sterling silver and plated with 14 karats white gold.
This means you get the strength, durability, and affordability of the sterling silver with the polish, brilliance, and resistance of white gold.
The conflict-free diamonds feature a great cut, meaning when that light enters their facets they sparkly gorgeously!
The stunning pendant comes on an 18-inch chain, so mid-chest again.
Solf by Affi, a US-based brand, the necklace will arrive in its own gift box so if you're looking to gift a letter necklace no worries about having to get a box or jewelry pouch as well!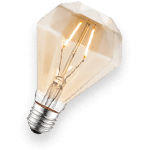 Styling and layering tips
Letter necklaces are such a sweet accessory that looks good, is personalized and is also the perfect gift for pretty much any occasion!
Meghan Markle, Tailor Swift, Chloe Grace Moretz, and Sarah Hyland are just some of the people who love letter necklaces just as much as we do, and that should tell you something!
The letter necklace can include your initials or those of your loved ones such as family members (like Beyoncé has).
It could also have the initials of your significant other like the letter necklace seen on Taylor and Chloe.
Letter necklaces have a delicate appearance, and they look amazing when worn on their own.
Styling and layering tips
You can keep things simple by wearing a single piece. Choose silver or gold or rose gold and match it with your other accessories and complement your skin tone.
You can also mix things up a bit. Most of the letter necklaces we featured in our picks are stackable and can be layered for a stylish and unique look.
Wear different lengths so that one letter lays on top of another. You can even make your look more exciting by adding a third necklace with a sideways letter.
Shorter pieces can be layered with a ribbon choker above it and other chains below it.
Finally..
The beauty of initial and letter necklaces is that they never really go out of style, and they always bear significance, especially if purchased as a gift for someone close to your heart.
We made sure to include letter necklaces in various designs and price ranges, meaning no matter what you're looking for, there is something perfect for you in our list.
We also paid attention to select necklaces made of high-quality materials and best grade gemstones for an accessory that will not tear, scratch or break easily!