Mix / Rings / Women
The Most Gorgeous Pearl Rings Selection
Pearls are so beautiful with their bright beauty and the natural ambiance they carry all around them. You definitely would love to have one of these radiant pearl rings shining right there on your finger and causing the whole world to feel right.
We have some very amazing pieces for you that would go well with any outfit you have chosen to go for. The price of the rings are not out of your budget, so don't need to also worry about that.
We are always out to give you the best at jewelry jealousy, and that is why we deliberately scoured through the internet to provide you with the best of freshwater pearl rings. They have all the features to make you look outstanding and can even work as gift items. Just keep reading follow the thread and see our exciting list.
Our 10 Favorite Picks!
1. Sparkling Statement

We wanted to kick-off with something nice, chic and beautiful. And this ring from Moon Magic combines these three features perfectly.
There is the freshwater pearl that makes it look remarkable perch right at the middle of the band, and the quality of the build is not only outstanding but also dazzling. You wouldn't want to part with this one, and it's straightforward to get hook on it.
A band crafted with 925 sterling silver is also the best for any ring item. This material is one of the best hypoallergenic materials that you can buy, and it has an excellent sparkle that complements the beauty of the pearl.
The main attraction, however, is the authentic freshwater pearl used for the ring; it is designed to draw attention and makes more of a private statement with its simplicity.
There is also a bit of undulation at the two sides of the pearl to symbolize the calm aura that the ring exudes.
Beautiful detailing matched with perfect layers, Moon Magic has expert craftsmen that take time to make sure that this piece was prepared to perfection.
You can get the ring at an affordable price and rock it to any event you have. Whether it's a casual outing or a formal event, you can trust that you won't go wrong with one of this on your finger.
Other info: the ring is available in different band size, and they come with a stone size of the 4-millimeter sphere.
2. Rolling Tide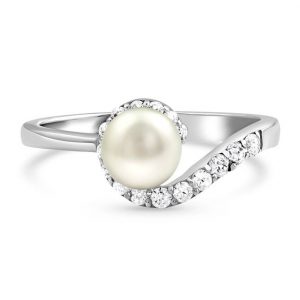 There is a lot of freshwater pearl on online shops and retail outlets, but what you get when you search for this item might not be as lovely as you need it to be. Well, you need to seek no more with the beautiful collections we have set up for you.
This ring is aesthetically pleasing, and it would make sure that you have the attention of everyone right there on your fingers. The ring was complemented with the best of sparkles, and it's strikingly detailed.
The band of the ring was made with 925 sterling silver and has the rolling tide name because of the curve that defines the middle section of the band. There is a freshwater pearl set into the center of the rolling tide and to complement it, the wave has shimmering rhinestone to create a vintage feel and caress the eyes of the beholder.
You can be sure of the quality of the material and each component added has been refined to be the absolute best. For those that want to have engagements ceremonies, this rings would also serve well for your forever vows, and it's durable too.
Hardships are a part of life, but with the gentle waves of the rolling tide on your fingers, the calmness and clarity will be there to guide you. The piece comes in a lovely package, and it makes it perfect if you decide to give it out as a gift.
Other info: you can get the ring in different band sizes, and they also come with a 30-day free return policy.
3. Ahava

We found a freshwater pearl ring that breaks out of the norm, and we want you to take a peek at it. The ring comes with a unique pearl and has a band that includes three super sparkly stones.
The design is top-notch, and we have no doubt that you will love having this piece on you for any outing you intend to attend.
Like the first two items, the band of the ring comes with a hypoallergenic 925 sterling silver that won't peel or cause any blemish on your skin.
The freshwater pearl has a youthful design and complements the cubic zirconia at the other end of the band.
You also have the illumination that defines the whole ring. This is a slice of perfection that will fit any one's finger with profound grace.
Two distinct elements so wonderfully combined is not so easily achieved, so when we found an ornament that does it so well, we couldn't help but bring it to you. The price is in the affordable range and won't cost you your paycheck.
Other info: you can click the link and choose the best band size for you.
4. Entirety

If you are a lover of all things gold, then this is the piece that you want to buy. The product comes plated with rose gold to make the quaint look much appealing.
There are also shinning rhinestones to compliment the already beautiful jewelry. So if you want that special touch that would add the needed ambiance to your outlook, then nymph is the right accessory for you.
The first thing about the ring is the pearl that forms its centerpiece. It stands for harmony and wisdom, to help you through difficult decisions. You can use it for engagement rings, and it can also help you when you need something to component your outfit.
Take a close look at the image of the ring, and you would find yourself clicking the link to order. You can trust that you wouldn't be disappointed with the quality of the ring and when it comes to price, you won't have to break the bank either.
Other info: the ring has a bandwidth of 3 millimeter and different band size for different fingers.
5. Companion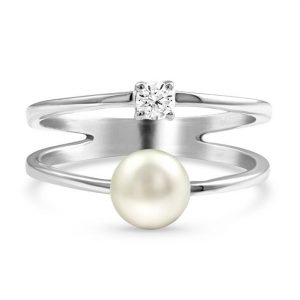 Moon Magic is one of the best jewelers that you can find on the market, and when it comes to gemstones like moonstone, pearls, and crystal, they do not disappoint.
This piece from them is exceptional, and we have taken time to check through all the features to make sure that it is perfect for you. The ring has a layered setting that looks amazing when you put it on.
With a vertical arrangement that symbolizes a path from earth to heaven, the radiance of the ring can be noticed at first sight. For the first layer, the ring has a freshwater pearl while the other one comes with shimmering cubic zirconia.
You can trust that the band won't harm you at all since it was crafted using 925 sterling silver. All the sophistication you need is right here in just one piece.
With all the layered design of the ring, it is still simple enough to fit your ring without causing any disturbance.
You can wear it for almost any event, and you definitely wouldn't love to take it off once you get used to the compliment that comes your way when you have it on. Check it out by clicking the link and get one for yourself.
6. Reign

What we have here is an excellent piece of jewelry that is fit for the fingers of royals. The ring is a stunning accessory that will go a long way to make sure that you look your absolute best.
It has a fantastic build, and the combination of freshwater pearl with the silver plating and cubic zirconia stones is nothing short of excellent balance.
The sweet shell stands for a fountain of energy to keep you going when everything else seems to fail.
Made with a band of 925 silver, the ring has a nice feel to its look. At the center of the ring, there is a clamshell design done with the same materials as the band. And right there at the opening of the clamshells is an authentic freshwater pearl.
You don't want to miss the allure that you get when you wear a ring like this to parties or dinner. The bandwidth is perfect for your fingers and no matter the size of your fingers, moon magic has one of this beauties for you.
With such uncompromising quality at your fingertips, the ring is not pricey at all so you can get one for yourself and another as a gift for your loved one.
Other info: the ring is available in different sizes, you can check the link to see them.
7. Two Fingers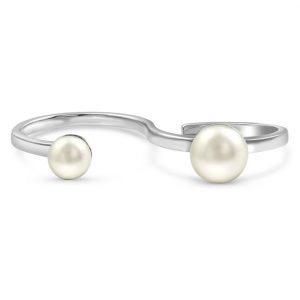 Each item you buy from Moon Magic gives a chance for them to send funds to help charities. So they are not only about making sure that you get the very best of jewelry but also allow you to help people. This ring we have here is excellently built to beautify your finger.
It is a ring that can be worn on two fingers and there are two separate freshwater pearls to accent it.
The rings are crafted in an S-shaped design that allows it to fit into two fingers. It has sterling silver, and that is safe for the health of your skin and quite durable too. At each end of the s-shape, there is a freshwater pearl that makes each of the finger you wear them on t glimmer on their own.
This is one piece that you can use to add the needed spark of life to your fashion collection. The ring serves as a reminder that the relationship cannot be broken by physical space.
For Christmas, Hanukah, New Year, Thanksgiving, and birthdays, this is an excellent option for gifting. So if you haven't gotten something for her birthday yet, get this and thank us later. The ring is also tarnish-free, nickel-free and has a price that is a great deal for the quantity.
Other info: the ring is available in different sizes for all finger size range.
8. Amoria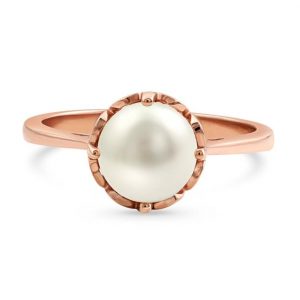 With all the rings we have listed, you might have found them on that you wanted. But if you haven't, then don't worry we have still had some pretty lovely piece lined up for you in this article. Amoria is a ring that sits atop your fingers with such prestige that taking it off seems difficult.
This one comes with a rose gold design believed to have healing effects while encouraging self-reflection.
Crafted with a base metal of 925 sterling silver, the metal has a plating of 14kt rose gold vermeil. The quality of the ring is such that you don't have to worry about replacing it soon. The bandwidth is small so that the pearl can be the main attraction of the product. From its freshwater culture, the pearl itself is as authentic as they come.
Let a picture paints more than a thousand word for you, so check out the fantastic picture, and you will fall in love with the perfect curves of the ring. You can get it for yourself and rock it out to various parties and just casually as you go about your day. Or get it in a gift wrap and sent it to the one special to you.
Other info: the rose gold plating is perfect for those allergic to other metals, and you can get our band size when you order.
9. Royal Swirl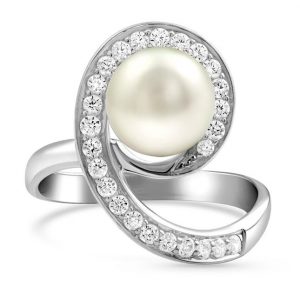 If you are all about flashy rings that glam up your finger, then this delightful piece of jewelry would suit you perfectly. The design looks like a swirl that has beautiful stones added to it to make it fit for royals.
With the combination of the freshwater pearl, it's like one unusual blend of materials to create something that fell out of the extraordinary. There is something beguiling about the whole jewelry, and good people won't be able to help being drawn to you.
With a band made with 925 sterling silver, the ring has an immaculately smooth surface. Where the beauty starts from is the cubic zirconia that is arranged along with the swirl of the ring. This shape captivates you and the freshwater pearl right there at the middle of the swirl will definitely be the one to draw you in finally.
The look of the ring defies imagination, and even though you have seen how amazing it is, you cannot but wonder what it would look like when you finally have it on your fingers.
Style, quality and elegance are three features that can never be lacking for the items we recommended and this royal swirl has them in abundance. You can choose to get more than one so that you can share with the one closest to your heart on Valentine, wedding anniversary or her birthday.
Other info: the size of the band varies, so make sure you check for your size before getting one.
10. Bypass Ring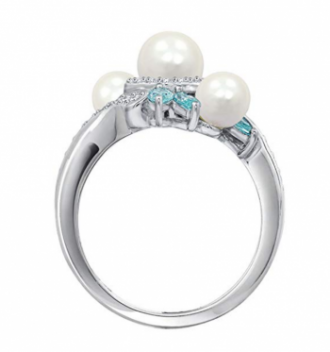 For the last item in this collection, we decided to blow off the lid. This ring from Amazon Collection features not just one but three amazing pieces of freshwater cultured pearls.
The piece is remarkably stunning with the combination of material used, and the aesthetic pleasure brought about by the combination of materials. You need something like this if you want to make a bold fashion statement.
The ring was created all around with 925 sterling silver that looks amazing. It has a center that holds three pearls and is surrounded by lots of Swarovski crystals and cubic zirconia. The beauty is quite eye-catching and tearing your eyes away can be a difficult task. We are absolutely sure that this would go well to complement any outfit you have without causing your skin any harm.
The ring is quite affordable, and there is no reason for you to get this one. You can gift it also at a different season to your family, friends or even colleagues. Rings are amazing, and with the right setting, it can be something remarkable.
Other info: the ring is available in different band sizes and also comes in different colors.
Why You Should Choose Freshwater Pearl Rings
If you check our page, you would see dozens of category for necklaces, rings, and even bracelets. But we want you to know that each of these categories of jewelry is special in their way, there is none of them that is not worth your time. And to add to the enormous collection of the beauty that you have in your jewelry shelf, we want you to take a look at freshwater pearl rings.
This is one accessory that wouldn't have you worried about getting damaged anytime soon, and they have a bit of a backstory which we would love to share with you. Freshwater pearls are usually cultured from freshwater.
They have been a thing that the Chinese have been harvesting since the 13th century, and their legend has it that pearl formed inside the head of a dragon and could only be gathered by slaying the dragon. This shiny looking accent is believed to have been left behind by sea mollusks and mussels.
There was over-harvesting of the gem for a while during the 19th century, but that was because people started to found it appealing as a fashion statement.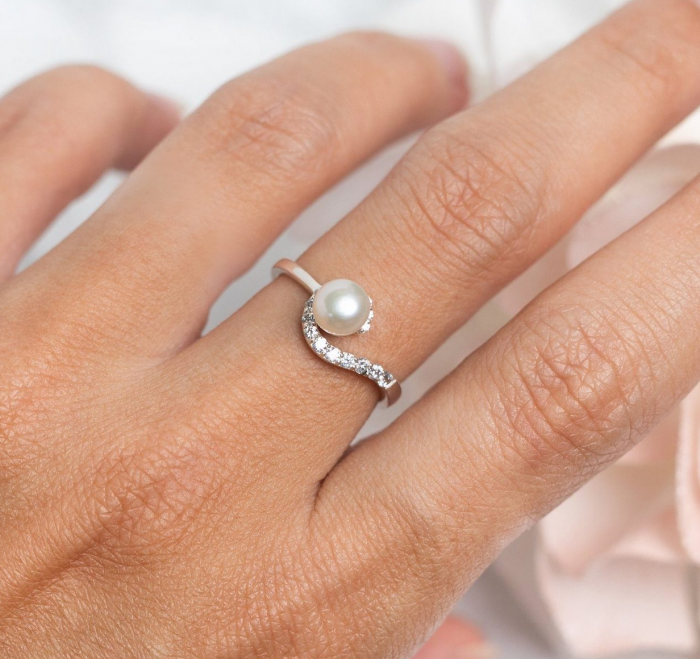 The process of getting freshwater pearls from the mussels is quite rigorous, and we certainly don't want to drag you into all the unnecessary details. So all you need to know is that pearls can be modified to have different colors and grade in the laboratory and the best of them can only be specified by how much dazzle has been infused into the gem.
Freshwater pearls are quite common in fact they have earrings, bracelet, necklace and a host of other fashion items. Some of them are even woven into clothes to cause that extra glimmer that adds grace to the outfit. Like a lot of other gemstones, some myths are surrounding freshwater pearls.
For example, it is believed that pearls keep your children safe while creating a stronger bind for you. They also stand for purity strength and loyalty. There is a lot more to be said about this fantastic ring, but don't let's keep your anticipation soaring any longer.
Frequently Asked Questions
After putting up all the exciting items we found online, we always add this section to our articles to make sure that no stone is left unturned. We want to make sure that you get the full information about any category of jewelry you are getting before it arrives in its package. So after all the products, we have listed, here are some common questions we found for freshwater pearl rings.
Are there other types of pearl that are used for accenting jewelry?
Yes, there are. There are like four other types of pearl that are equally as beautiful as the freshwater pearl. And they are also used to accent different jewelry. But freshwater pearls are one of the most beautiful in the market, and using it would guarantee the addition of dazzle to your outfit for any occasion.
What are the different grades of freshwater pearl?
There are AAA quality pearls that are sharper, brighter, and less blemish. There might be some inclusion with nacre, pinpricks and organic materials. The second grade is AA+ that has a luster that is nearly compatible, although not as crisp AAA and still have slightly higher blemish if about 5% – 10%.
Is there any unique process for cleaning freshwater pearls?
No, there is no special equipment you need to get or any special formula for cleaning your pearls. Just get soap, water, and a soft cloth to clean it. Try to avoid scratching it again a hard surface.
Pearls are solid so you can use them while swimming in the pool or taking a bath. Also, make sure that you store your pearl carefully to make sure that it doesn't get lost.