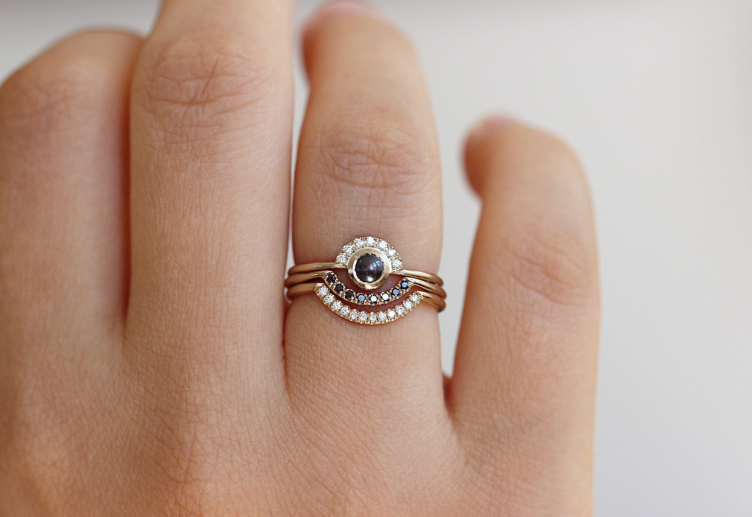 Inspiration
In love With Pearls? We Found 10 Pearl Rings You Cannot Miss!
Are you a pearl lover? Some of you out there may be new to the fascination with pearls, just starting to light the spark of loving them. While others may be completely obsessed with them and maybe you always have been. Wherever you are on the spectrum of your love for pearls, we're going to tell you more about them and show you some pearl rings that are absolutely stunning and as affordable as they come!
First of all, what exactly is a pearl? How is it made? Where does it come from? We are going to answer all of your questions about these gorgeous gems and tell you what makes them so unique.
A pearl is a hard sphere shaped gem that is formed in a shell of a pearl oyster. You won't always find a pearl in an oyster, therefore they are highly prized in the world of gems. In fact, your chances of finding a pearl in an oyster are only 1 in 12,000. Overall, there are three different kinds of pearls. These include natural pearls, cultured pearls, and imitation pearls. So what is the difference between each one?
Each of the three different kinds of pearls undergoes a different process in some way as it is created. A natural pearl and a cultured pearl go through almost the same process, with minor differences. What are those differences and what is the process?
First of all, these pearls form when there is some type of irritant in the way. Typically this is something like a parasite that works its way into an oyster. This can also happen in a mussel or a clam. The oyster, mussel, or clam then tries to find a way to fight against this irritant and coats it with a fluid to cover it. This defense mechanism of coating the parasite with fluid, called nacre, time and time again eventually turns the parasite into a lustrous pearl. So there you have it, the natural pearl is formed.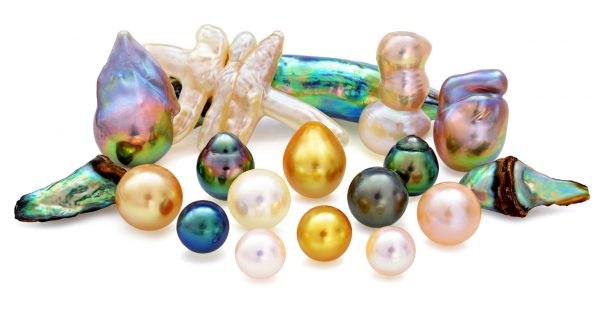 But what is the difference between that and a cultured pearl? Really there is only one small difference and that is that the irritant that disrupts the peace of the oyster is implanted surgically. Usually, in this case, some type of bead or even a piece of a shell is put into the mussel and then the process to turn it into a pearl is the same. This transformation can take more than three years for the nacre fluid to generously layer upon the bead to form it into a pearl.
Sometimes, if the bead is taken out too soon you will find a lower quality pearl because it has not had the time to form fully and therefore the nacre fluid is not thick enough. A crazy fact about these cultured pearls is that only about 5% of them are successful when implanted to then forming a true gem-quality pearl. This means that regardless of the money that is invested into farming these pearls, the chances of it turning into a pearl that top jewelry makers will actually use is very slim.

Lastly, of the three, we have the imitation pearls. These are formed in a completely different way. They are typically made from a glass bead that is dipped into a solution. This liquid solution is made from fish scales. One way that has been tested to determine whether you are purchasing a natural or cultured pearl versus an imitation pearl is to rub it on your teeth. The imitation pearls are very smooth, while the natural and cultured pearls have a bit more of a rough texture. Of course, this is something we probably wouldn't recommend walking around a jewelry store doing, testing each pearl on your teeth, but it is an interesting tactic none-the-less.

Now that you are an expert in pearls, or at least have a bit more knowledge about them, we have something exciting for you to see. Though pearls can be a bit nerve racking to look at because of the price tag you may expect to see, that is not always the case believe it or not. There are options out there for affordable pearl jewelry that is absolutely stunning and will leave you breathless. We have found ten pearls rings that are all as affordable as they come and we think you will love them just as much as we do!
Our 10 Favorite Picks!
1. Classical 925 Sterling Silver Freshwater Cultured Pearl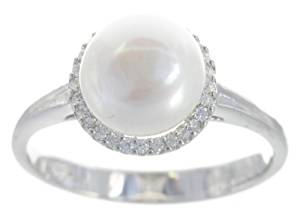 First, we have this gorgeous pearl ring that features a large pearl surrounded by shiny stones. The pearl is a cultured freshwater pearl that is round brilliant shaped. We love how large it is, measuring 8.5 millimeters. It shines so beautifully on its own, but the cubic zirconia gems surrounding it like a halo make it even more amazing.
The band of the ring is sterling silver which with proper care can last you years to come. Overall, we are so pleased with the quality of this ring, especially for the low price you pay. You will be shocked at how gorgeous it is in real life with how inexpensive it was to purchase. This is a steal of a deal ring!
2. Sterling Silver and 14k Yellow Gold, Freshwater Cultured Pearl and Diamond Ring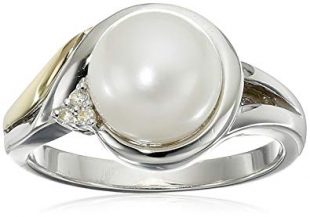 This ring is a little more expensive than the last, but still very affordable and such a great price for such a beautiful piece. We love the unique design. It is created with a single large freshwater cultured pearl right in the center that immediately catches your eye. It is then surrounded by a sterling silver loop and a small cluster of diamonds on the bottom left side of the ring. There is also a mix of 14k yellow gold that surrounds the ring and the band along the sterling silver.
The combination of the silver, gold, diamonds, and pearl makes for such a phenomenal piece. We love the way that the pearl is the main focus, but the dainty diamonds off to the side add variety and detail. The pearl has a medium-luster and with care will last you years to come. The ring is available in sizes 6, 7, 8, and 9. This is a stunning piece at a very fair price.
3. Freshwater Cultured Pearl & Cubic Zirconia Ring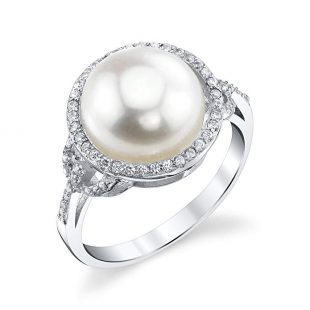 Do you like glamorous and flashy jewelry? Are you looking for something that gives you that but is still very classy and not gaudy? If so, this might just be a fantastic option for you! This gorgeous ring is all of that and more. It is perfect to wear to work or throughout your daily routine, but it will transition easily into your nightly elegant and fancier look. The pearl is obviously the focal point of this ring.
It measures about 11-12 millimeters and on the listing, you will see a diagram that shows you what size in reference to a dime. We love that it shows that so that you can get a better idea of what exactly you are buying before you purchase it. The pearl is handpicked and ensures thick and iridescent nacre. The pearl is a cultured freshwater pearl that is beautifully shaped.
Around the outer edge of the pearl, you will see a gorgeous circle of small cubic zirconia gems outlining the entire pearl. Those gems also flow down into a design on either side and then into the band as well. We are obsessed with the amount of shine that this gives to the ring. It highlights the pearl beautifully without taking away from its preciousness. The band is made of true .925 sterling silver that is durable and is the perfect setting for the pearl and gemstones. It is available in sizes 6, 6.5, 7, 7.5, and 8. It is reasonably priced for the quality of the piece and is very affordable.
It would also make a treasure of a gift, as it comes in a classy blue jewelry box. Whether it's for you or for someone special, this is a stunning pearl ring that you will be very pleased with!
4. Sterling Silver Freshwater Cultured White Pearl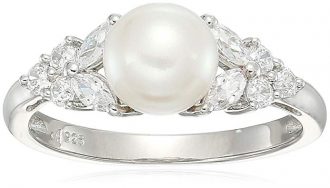 No matter how many times you see this piece, it will continue to take your breath away! This piece is absolutely gorgeous throughout every detail and the low price will shock you! We love the way that the ring is designed to showcase the pearl while still flowing together nicely.
The perfectly round freshwater pearl is the center of attention and is lined on either side with white cubic zirconia stones. We're in love with the way the cubic zirconia gemstones are different sizes and shapes and the way they appear to have a kind of braided look is so elegant and pretty.
This ring is available in sizes 6, 7, and 8. It is very affordable. It is so inexpensive that this would be a great gift or a wedding party favor. Each of your bridesmaids wearing this matching ring would be a gorgeous detail to your perfect day!
5. Cultured Pearl Laurel Ring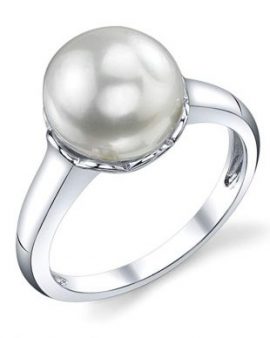 This  piece is the perfect mix of simple and classy. When we see this piece we think specifically of you ladies out there who are true pearl fans! This ring doesn't need any other gemstones or details to make it perfect because it is all about the pearl.
The cultured freshwater pearl is 11-12 millimeters in diameter and is perfectly round shaped. This would be such a gorgeous piece to add on its own or to style with a pearl necklace and earrings. It's simple enough that it can be paired with other pearls, but it is sophisticated enough that it doesn't need to be as it will stand beautifully on its own.
It is made of sterling silver and comes in sizes ranging from 5.5 to size 8. The ring is also resizable if you find you have ordered the wrong size or need a measurement that is very specific. We are loving everything about this classy piece and love that it doesn't cost a fortune to dress up and show off your pearl.
6. Clare Cultured Pearl Ring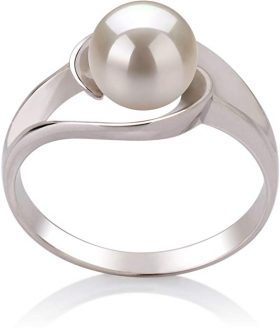 We're obsessed with this piece. We love the detail of the design that makes it so different from other pearl rings we typically see. The band of the ring twists in a beautiful way to create a circular pattern that elevates the pearl that sits in the center of it. The round cultured freshwater pearl shines elegantly against the sterling silver band.
The band is true 925 sterling silver and is sure to be the quality metal that you are looking for in a ring. It is available in sizes 5, 6, 7, 8, and 9. The pearl measures about 6 or 7 millimeters. It is a pearly white and is completely breathtaking. We love the way that this design almost represents the natural life of the pearl. By that we mean, when we see this piece, we see the pearl almost being hugged by the band to keep it safe in the center. This is similar to the process of a pearl forming in an oyster as it continues to coat the pearl with fluid and build it up over many years.
The ring has wrapped up the pearl and now that it is in its full beauty it has been elevated to be displayed. For a pearl lover, this ring is beyond special! It embodies everything there is to love about a pearl from its delicate forming process to its stunning beauty as a final product. It is truly a beautiful piece and comes at a great price for such a genuine product.
7. Oxford Diamond Co Sterling Silver Fresh Water Pearl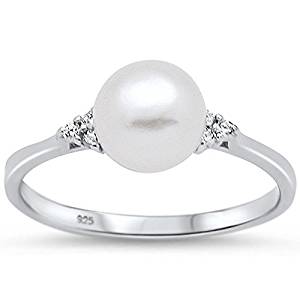 Are you looking for a piece that is even more affordable than the ones we have seen so far? These rings are hard to come by because pearls are considered such high-quality gemstones and usually come with a heavy price tag. But this option is very affordable and still looks high-end! The ring comes in sizes 4, 5, 6, 9, and 10. It is made of sterling silver which is one metal we often look for in a strong durable ring because that is exactly what you will find with sterling silver.
It is hypoallergenic and even nickel free. So if you have any sort of allergies, this might just be a great option for you. It is beautiful and comfortable to wear on top of being inexpensive! The ring features a fabulous 7-millimeter pearl and has dainty gemstones shaped into triangles on either side.
Each small triangular cluster or gemstones is made of a group of cubic zirconia gems. It is great quality and you won't be the first to fall in love with it, especially the first time you put it on your finger in real life. It would also be a great gift for Mother's Day, Christmas, Valentine's Day, or any birthday or special occasion because it is absolutely stunning, but it won't cost you an arm and a leg to gift it to someone you love.
8. Cultured Pearl Double White Ring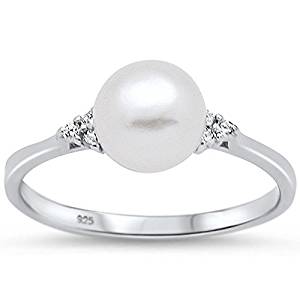 If you are a pearl lover who is looking for something outside of the box, this one will have you on the edge of your seat with excitement! This beautiful piece includes two freshwater cultured pearls. It is a little more expensive than some of the other options we have seen on our top 10 picks, but still very affordable and keep in mind that it has two pearls instead of one. The pearls are a shiny genuine white color that shimmers so elegantly. Each pearl is 7-8 millimeters and is handpicked with a thick nacre that will hold up over time and keep your pearl looking new. The band is made of sterling silver.
Aside from all the details of this ring, which of course are important, let's talk more about the design. It is stunning and will take your breath away. The sterling silver wraps around and throughout the two pearls that sit vertically on top of each other. The metal winds through them, appearing to cross over in the middle. The overall display of this double pearl ring reminds us of an infinity symbol. Of course, the symbol would be seen vertically when looking at the ring, but with that being said, the image is clear. The pearl balls sit in the middle of each of the loops of the symbol.
Now you may view this ring differently or the infinity symbol may not have come to your mind at all, and that is just fine. But we are smitten with the meaning that can be held within this piece when looking at it from that perspective. First of all, the process to form a true and high-quality pearl may take what seems like a never-ending amount of time. It is a delicate and drawn out process, but it leads to something so rare and stunning that it makes it all worth it. The same principle can be applied to our own life or even for relationships.
The infinity symbol represents commitment, a bond that is unbreakable, and patience and love. In so many ways, the pearl and it's creation have those same characteristics. The ties that can be made from such a simple gemstone or symbol to our lives and relationships are significant and extraordinary. For those reasons, and whatever other sentimental thoughts may come to your mind when you see this flawless piece, this would make such a wonderful gift to the one you love or to yourself.
9. Platinum-Plated Cultured Pearl Piece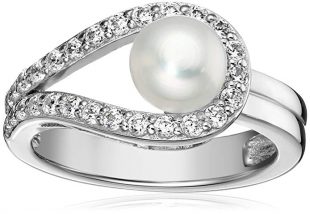 We love how unique pearls are and with that how many unique rings are out there in the jewelry world. This ring is another special piece that is so different from what you may be used to seeing in a ring.
It is made of sterling silver that forms two bar-like strands that are connected at the point of the pearl and then wrap around to split apart around the pearl back in the center. As the band appears to split, the part that loops around the pearl is beautifully lined with shiny cubic zirconia gemstones. We love how unique this set up is.
For most people who have purchased this ring, they are absolutely pleased with it. The placement of the pearl with the band wrapping around it gives it a secure place to sit in the ring and for the majority of customers, the pearl keeps its position in the ring even with daily wear and tear. This piece is simple enough that it is great to wear during the work day, but the shine also makes it an easy transition to wear in the evening or to a special event.
It fits true to size and is available in sizes 5 and 9 and every size in between. We love this ring and its individuality. Though it is made of the same things you may often see in a pearl ring, like sterling silver and cubic zirconia, this one is different. It's special and definitely stands out against others that may have some of the same qualities. This piece is pretty and the price is as well, pretty to your budget that is.
10. Freshwater Cultured White Pearl and White Topaz Ring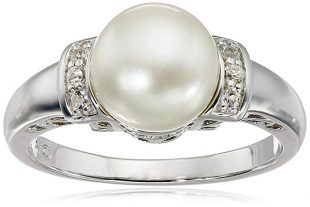 Lastly, we have this stunning freshwater cultured white pearl ring. The thing we love most about this ring, that really stood out to us, is how bold it is. Most of the rings we have seen are dainty for the most part, or maybe the more bold ones include a lot of shine and sparkle from additional gemstones. But this one is all about the pearl. The pearl is a whopping 9 to 9.5 millimeters!
This is definitely larger than the measurement of your typical pearl piece. Another thing that is unique about it is that most of the rings we see, especially with pearls, tend to be partnered with a display of cubic zirconia gemstones. This one, however, features a cluster of white topaz gems on either side of the large pearl. We love these simple differences that can give such a drastic appearance change to a pearl ring.
The sterling silver band is bold and thick, which makes the largeness of the pearl not seem awkward. It all fits together perfectly well. It is available in sizes 6, 7, 8, and 9. This ring comes at a fair price and may even surprise you, in a good way, at how low the price is. You will be pleased with the purchase of this ring and you won't want to take it off of your hand. The pictures of this ring are stunning and they are said to not do the ring proper justice, so that speaks volumes for this piece!
—
There is so much to learn about pearls and the process of creating them can be quite fascinating. Something you may have seen throughout our list is that some pearls are freshwater while others are labeled saltwater. This is because pearls can be created in either of those sources. They have some differences, but overall they are both fantastic pearls. The saltwater pearls in history have proven to be rounder and had a better nacre, the layers of fluid that form the pearl.
Freshwater pearls have been found in the past to have a more irregular shape and maybe even look like puffed rice. But if you saw that your favorite ring on our list had a freshwater pearl, there is no need to be concerned. Luckily over the years, there have been major improvements made to freshwater pearl farming techniques. These changes have made the difference in appearance between a saltwater and freshwater pearl less noticeable and freshwater pearls are now expected to be beautifully round with a deep luster as well.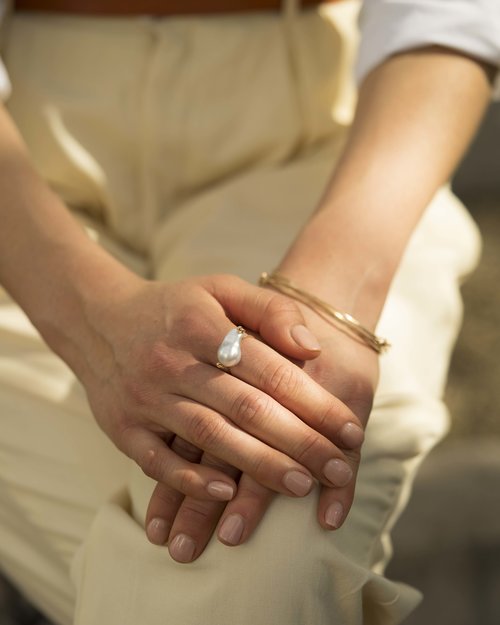 Though you love pearls, do you find yourself ruling them out when jewelry shopping because of the price they may cost you? As you probably know, pearls can range in price tremendously. With a process that can take so many years with such little chance for success, it's not surprising that these gems can have such a high price value.
For instance, a full strand of Tahitian pearls can cost anywhere from $500 to $25,000. This is an extreme example, but the point is that the cost of pearls can fluctuate greatly! With how absolutely stunning these gems are, it's no surprise that they are so sot after.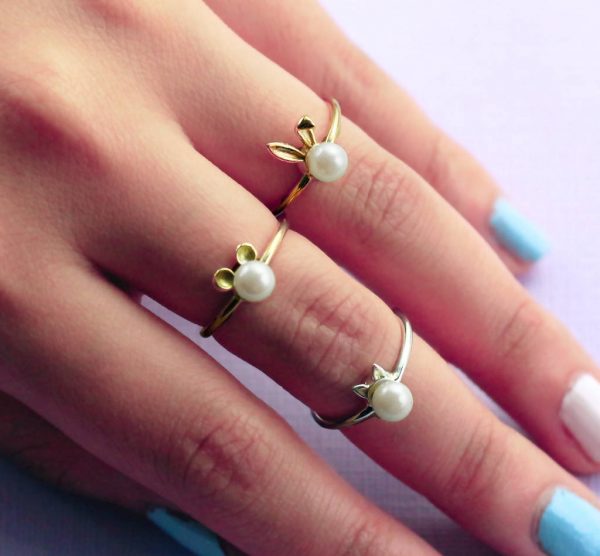 But whether you spend a small chunk of cash or turn your pearl purchase into a lifetime investment, there are gorgeous options out there for you! Don't let the price tag lead you to believe that you can't own your own pearls. There are options out there for every budget and we hope these gorgeous and affordable rings are exactly what you have been looking for because they are all incredibly beautiful and as affordable as they come!