A Super Dazzling Butterfly Ring Selection
last updated:
Aug 21, 2021
Butterfly rings are a fabulous way to showcase your feminine side with intricate detailing and gorgeous embellishments.
With artisan craftsmanship, these accessories are an iconic addition to your jewelry collection.
Whether you're shopping for yourself or a loved one, let's explore some of the most delicately designed butterfly rings.
Our Butterfly Ring Selection
1

. Pura Vida Butterfly In Flight Ring
Brass base
Rhodium or rose gold plating
10mm width and 7mm height
Polished metal band
The Pura Vida butterfly ring has everything we love in a lightweight and exquisite accessory. Its beautifully designed butterfly focal point pulls the whole piece together with its low-profile and comfortable band.
Read more
It features a delicate butterfly prepared for flight off the edge of the ring. It acts as the perfect accent when paired with other pieces, such as a solid silver banded ring.
The charming butterfly embellishment is tiny without being too small to be appreciated. It also boasts a multi-faceted design that adds depth to your other accessories, setting the perfect appeal.
We love how chic this piece looks on its own, especially if you're looking for an easy-to-wear ring.
There are two color variations you can choose from. You can opt for a shimmering silver finish or a more romantic rose gold for extra modernism.
2

. Charter Club Mother-of-Pearl Butterfly Ring
Gold plating
Available in sizes 5 through 11
Glass stones
Iridescent accent
Bypass rings have shot into popularity thanks to their effortless fashionable style. Instead of having a traditional ring, you'll have a curved band with two delicate embellishments. The Charter Club butterfly ring captures everything you'd expect from a classy accessory.
Read more
You'll fall in love with the iridescent accents paired with jewel tones that are bound to capture the light at every angle.
This entire piece is set in gold plating, which speaks to its luxury and high-quality craftsmanship.
Two butterfly accents pair perfectly together in this piece, with one larger than the other. The more oversized butterfly accent features individually set glass crystals that glisten effortlessly.
On the smaller embellishment, it features a sparkling iridescent stone that contrasts beautifully with the glass crystals.
The classic gold-toned metal is exceptional for pairing with an assortment of other pieces. You'll find it's chic with intricate details that make it a phenomenal everyday accessory.
3

. Adina's Jewels CZ Crystal Butterfly Ring
Cubic zirconia stones
Gold-plated
Sterling silver band
Stackable design
Sometimes, the best accessory you can get your hands on is something minimalistic and dainty. The Adina's Jewels CZ Crystal Butterfly Ring speaks to our inner youthfulness with its glamorous nature.
Read more
This ring is radiant and delicate, making it the perfect choice for sassy jewelry lovers. Thanks to its low-profile styling, it looks incredibly expensive and shimmers flawlessly upon arrival.
To help capture more light, you'll notice the butterfly embellishment is crafted from glistening stones.
These individually set cubic zirconia stones look sexy and elegant, allowing you to sparkle with confidence.
Instead of drama and opulence, this piece is crafted for everyday wear with an easy-to-maintain aesthetic.
4

. MIMI Sterling Silver Victorian Butterfly Ring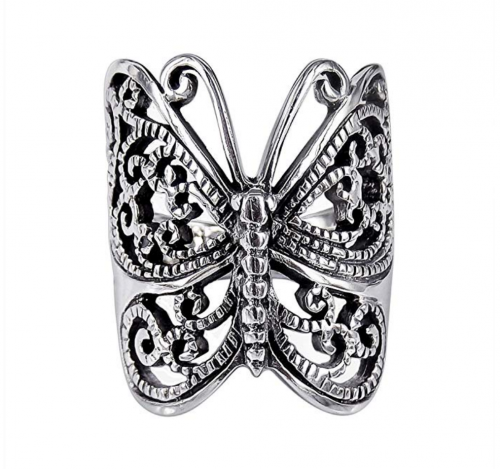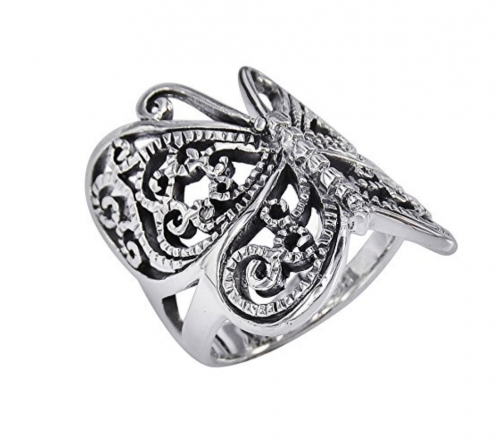 Sterling silver
30 day money back guarantee
Jewelry bag included
There are many butterfly rings to choose from, but the Mimi piece is the one you want, if you like a Boho, or "Hippie" style. It is a larger piece and it is a .925 stamped ring.
Read more
It's made from 92.5% sterling silver and mixed with an alloy to give it even more strength. The band is thick, which adds to the strength of the piece.
The scrolling in the design shows attention to detail and really brings out the character of the butterfly. The butterfly itself is 25mm, or almost and inch wide. And, because the ring is one continuous piece, there is nothing to break or lose.
With such a large ring, you might expect a large price, but not so. This isn't the cheapest ring you could purchase, but it is definitely affordable.
The Mimi ring comes in sizes 6 to10. It is not expandable, but rather one entire piece.
This is a very nice ring and suitable for everyday wear. It is reminiscent of the "Boho" style and sure to be one you will wear often.
5

. AeraVida Exotic Abalone Shell Ring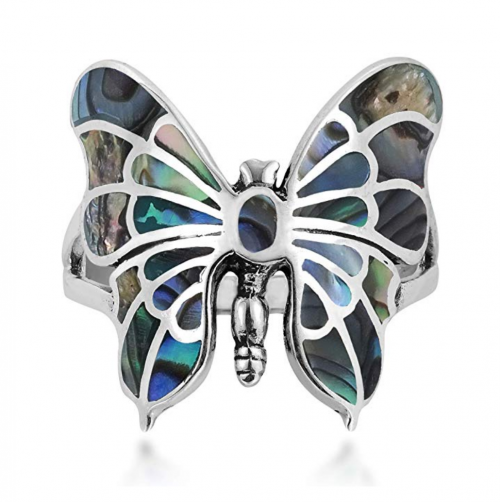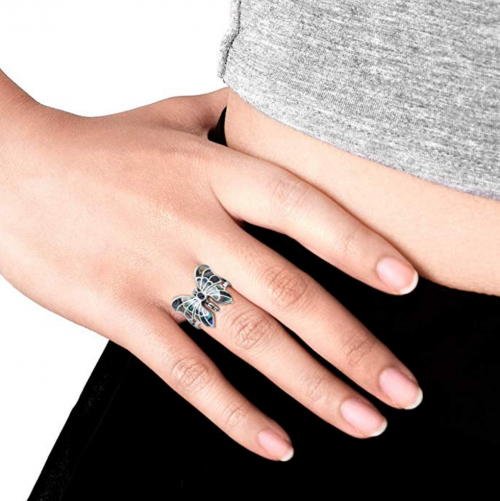 Sterling silver
Abalone shell
Handcrafted
The AeraVida Exotic abalone shell piece is designed by an artisan from Thailand by the name of Goong. Her favorite thing to do is jewelry design, because she loves using organic materials and semi-precious stones to fashion beautiful pieces.
Read more
She designed this silver ring with graceful fluttering wings, which are intricately inlaid with an abalone shell to give it an exotic, "beachy" feel.
The price point of this pretty ring isn't cheap, but not hugely expensive either. This shell ring weighs 4.27 grams and the design measures 20 mm long and 19 mm wide. It is not resizable.
It will look fantastic when worn with any other silver rings and bracelets. It has an amazing "beachy" look and would look awesome with your bathing suit and in that environment as well. Wear it out to dinner too.
The Abalone shell makes it stand out in a crowd and something a little different from many of other things you see. It comes in sizes 6 through 9 and cannot be resized.
6

. Amelia Fashion Toe/Mid Butterfly Ring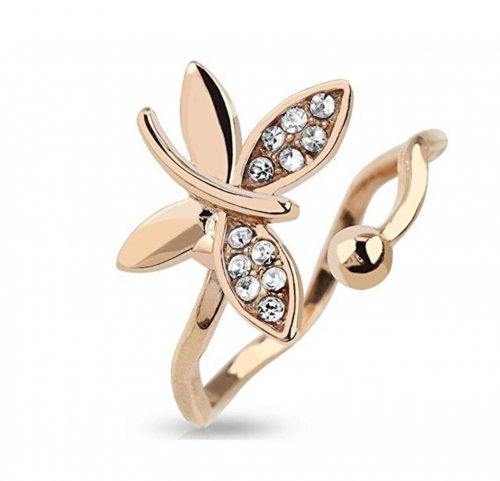 Plated brass
cubic zirconia stones
Can be used as toe ring
Who says a ring can only be worn on a finger? This pretty ring is created by Amelia Fashion and can be worn either as a toe ring or on your finger. It is a fully adjustable, rose gold, multi-gem, butterfly ring.
Read more
When you look at it, the simple, elegant, design reminds you of those same qualities in a butterfly. There is the beauty of the ring and the natural beauty of the butterfly to make your heart happy.
This piece is very affordable. It'd perfect for the budget-conscious buyer. It's lightweight, fully adjustable, allowing for a wide size range.
The ring is made of rose-plated brass. It is long-lasting and durable. Multiple Cubic Zirconia stones are inlaid in the top two wings of the butterfly. They are embedded in the plated brass.
If you are shopping for a butterfly ring, consider this one. Its simplistic elegance is truly reminiscent of the butterfly.
7

. Olivia Burton Crystal Butterfly Cuff Ring
Brass base metal
Silver plating
Sparkling crystal embellishment
Etched butterfly wings
When choosing your idea of the perfect ring, it likely contains a little bit of sparkle with beautifully polished metal. The Olivia Burton butterfly cuff ring is one of our favorites as it has a sleek and stylish appeal.
Read more
The veining on the butterfly is remarkable as it's shined to a higher tier than the rest of the
ring, adding contrast.
For an extra ounce of pizazz, there's an added sparkling crystal on the opposite end of the open-ended ring.
There's no doubt this piece will become one of your most worn accessories simply because of how comfortable it is.
We fell in love with the wing etching above all else, which adds a multi-faceted appeal to the entire piece.
Also, the silver-plated metal pairs wonderfully with an assortment of other accessories.
8

. Mignon Faget Renaissance Butterfly Ring
Beautiful filigree
Antiqued bronze
Sterling silver
Designed in New Orleans
Capturing your inner elegance has never been simpler than with the Mignon Faget Renaissance Butterfly Ring. Its classical styling brings us back to the Renaissance Period, filled with romanticism and allure.
Read more
The detailing of this piece is unlike anything we've ever seen before, with phenomenal minor details. The intricate engravings and etchings help transform this ring into more of an art piece than anything else.
All the details in this ring are specifically designed to emulate the beauty of the French Quarter in New Orleans. You'll find there's a prismatic feature with the antiqued metal that brings the ring to a whole new level.
The romantic filigree is particularly remarkable, showing that plenty of effort went into the details in this piece.
One of the more unique features of this accessory is that it boasts a bypass band. As the butterfly embellishment is modestly sized, the bypass ring makes it significantly comfortable for all-day wear.
Also, it was designed on Magazine Street, one of the most historic locations in all of New Orleans.
Criteria Used for Evaluation
Jewelry Metal & Gemstone Quality
We wanted to bring you products that would represent your feelings and emotions. We wanted to show you quality pieces you would love and be confident wearing.
This means we chose great metals, in a wide variety, and gemstones that will look stunning on you.
Sizing Options
But, a ring can't just look great; it has to have sizing options and fit well.
The rings we have presented do just that. You deserve to look fantastic and feel confident. These rings will do hat for you.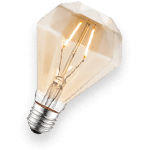 Butterfly Symbol Meaning
Butterflies have long been used as a symbol of rebirth and new beginnings. With the rings we have chosen, you can personalize them with birthstones and stones that will give you a great look.
All of them are quality cuts and the metals, in which they are embedded, are quality as well.
Style Tip
ome of these rings you can layer and others are great worn all by themselves. However you choose to wear them, you just may be the star of the "fashion show".
Frequently Asked Questions
q:

What does a butterfly ring symbolize?

a:

Butterfly rings can symbolize a variety of things, most notably rebirth and resilience. These remarkable creatures blossom from an unassuming insect, growing into a fantastically brilliant display of colors.

When you wear a butterfly ring, you're showcasing your internal strength and development, growing into a stunning display yourself.
q:

What does wearing a butterfly ring mean?

a:

Along with rebirth, butterflies are also attributed to happiness, limitless opportunities, and creativity.

They're one of the most iconic symbols for creative personalities, especially to capture the freedom of your thoughts.

If you're looking for a ring that shows how ready you are to take on the world, this symbol is one of the best to consider.
q:

What is the spiritual meaning of a butterfly?

a:

Everyone encounters a point in their life when they're ready for a significant change. The spiritual meaning of a butterfly lies within change and hope for a better, brighter future.

By transforming your current situation like butterflies, you can explore greener pastures.
q:

Are butterflies a good sign?

a:

Butterflies are often regarded as a good sign across numerous cultures. Some see it as a symbol of strength, while others recognize them as a symbol of good luck, especially if one lands on you.

There are even some groups that believe butterflies are a symbol of an impending pregnancy!