10 Affordable Cartier Love Bracelet Dupes
last updated:
Aug 10, 2021
The popularity of love bracelets cannot be understated, especially as they're a favorite of celebrities worldwide. Besides the fact that Cartier's love bracelets are iconic bangles worn by pretty much every Instagram influencer and celeb that counts, it's also a true statement piece of jewelry.
A Cartier's love bracelet replica is your affordable version of the original and to be honest, there are some replicas that look just like the real thing.
With spectacular precious stones encased by brilliant yellow, rose, and white gold bangles, they have a simplistic yet adaptable style.
We've scoured the internet to find 10 affordable love bracelet dupes to the luxuriously priced love bracelets you've always desired.
Our Top 10 Picks!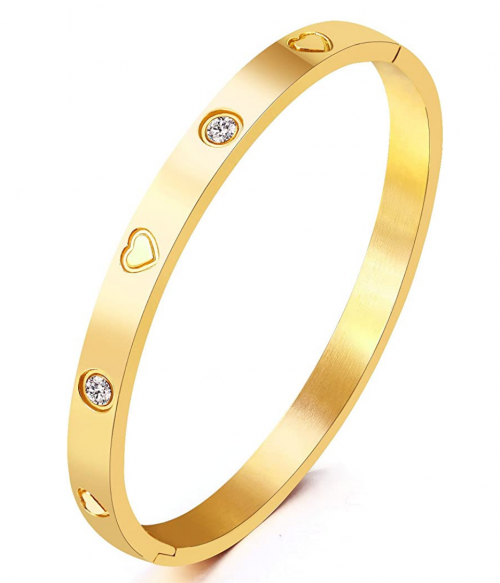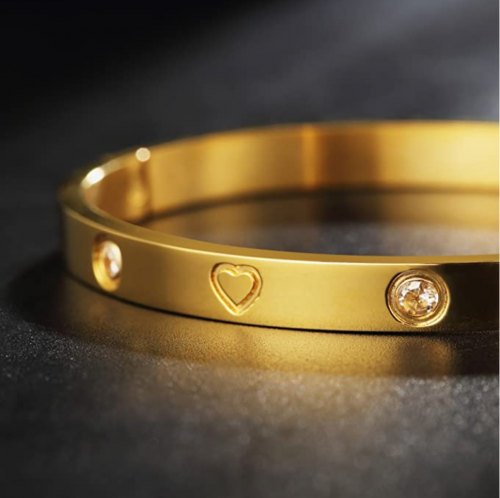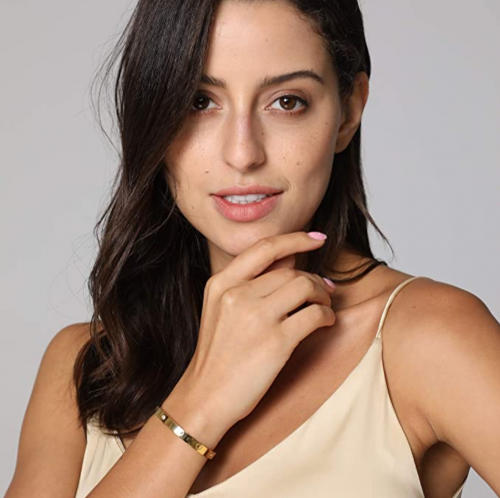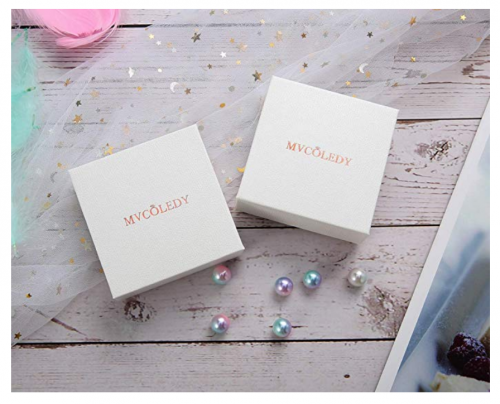 Clasp mechanism
Stainless steel
Plaited with gold
Cubic zironia stones
This awesome MVCOLEDY love bracelet replica has the same shape as the original that you love, it's just slightly larger in diameter.
Read more
It has a diameter of 2.36" x 1.97" that allows for the perfect fit. The stainless steel was plated with 18k yellow gold giving it a polished shine.
The bracelet features cubic zirconia stones which look just like diamonds but cost only a fraction of the price of a diamond.
These little gems sparkle like crazy and that is why cubic zirconias are considered a great diamond alternative.
To put it on, there is no need to unscrew it like you would with the original one. This comes with an easy to use clasp mechanism that makes things much simpler.
The price is super affordable and the bracelet will come in a fancy white gift box!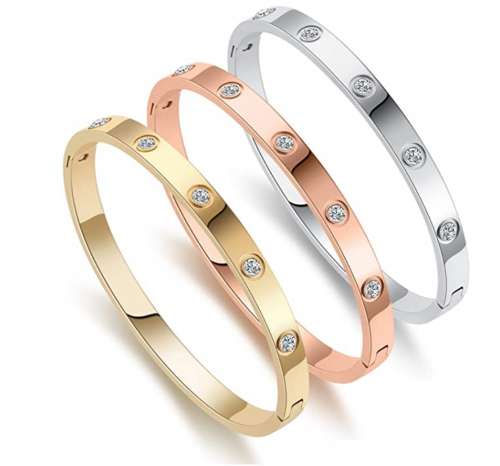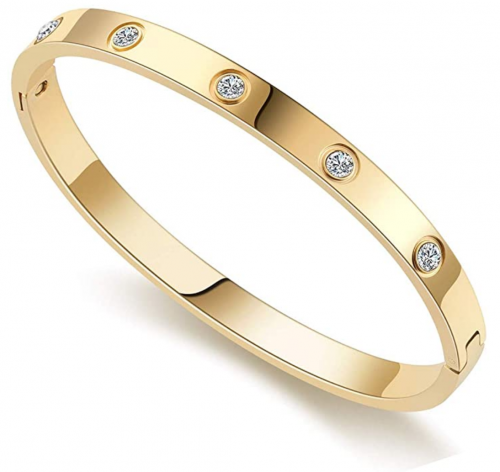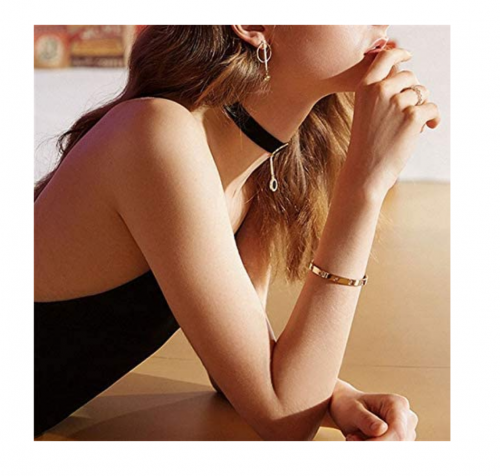 Crafted from 18K titanium stainless steel
Six layers of gold plating
Individually set cubic zirconia stones
Easy-to-use clasp
The MLOVEY love bracelet boasts brilliant cubic zirconia stones with a high-quality hinged stainless steel bangle. There's plenty to love with the authentic beauty of these golden, rose, and silver bangles.
Read more
These bracelets are perfectly sized for most wrists, between 5.7" and 6.4" in width.
Each of the unique stones is set into the bangle, ensuring they sparkle endlessly with extended wear. You'll love the brilliance of the 18K titanium stainless steel with hypoallergenic properties for all wearers.
They feature six individual layers of plated gold for an added ounce of luxury that adds a beautiful luster. Instead of diamonds, you'll have individually set cubic zirconia stones that sparkle like diamonds and add dimension to the piece.
One of the most impressive features is its hidden clasp. You can quickly take the bangle on and off with two fingers, which is far superior to the traditional love bracelet.
If you're interested in gifting it to a loved one, the bracelet ships with a luxurious gift box as well.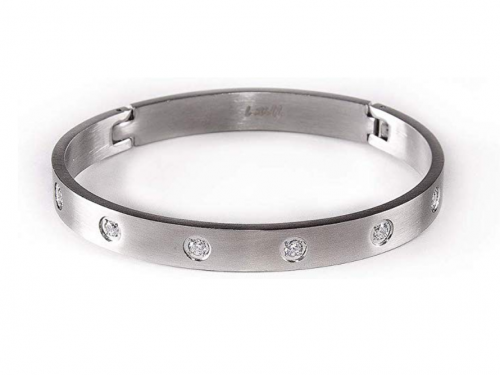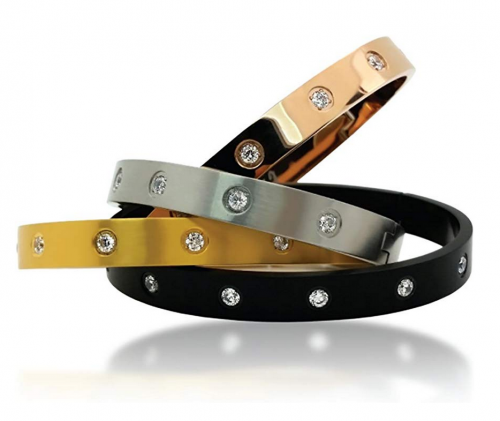 Nickel free
Stainless steel
3 sizes available
2.4cttw B.Tiff diamond alternative stones
We know this is a list of affordable love bracelet dupes; however, we just had to include this gorgeous replica which comes at a high-end price.
Read more
Even if you'll have to splurge a little to get this one, it's worth every penny! It's constructed with surgical stainless steel plated with yellow gold, gold or rose gold.
It also features 2.4cttw diamond alternative stones lab-created by the brand. The stones are super dazzling and look just like real diamonds!
There's a feature hidden clasp you can easily push on to lock and unlock the bracelet. This love bracelet replica is designed by a New York-based jewelry brand we love.
They're known for making quality jewelry pieces that are super safe on the skin and resistant to scratches and superficial damages!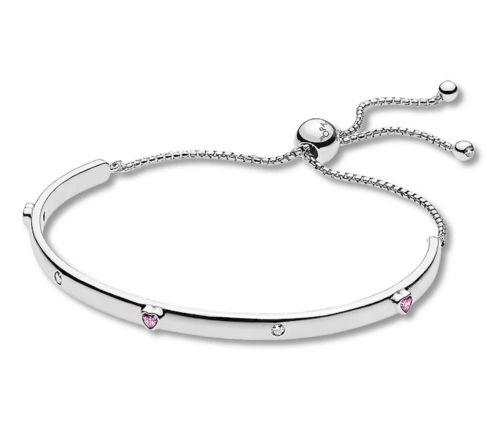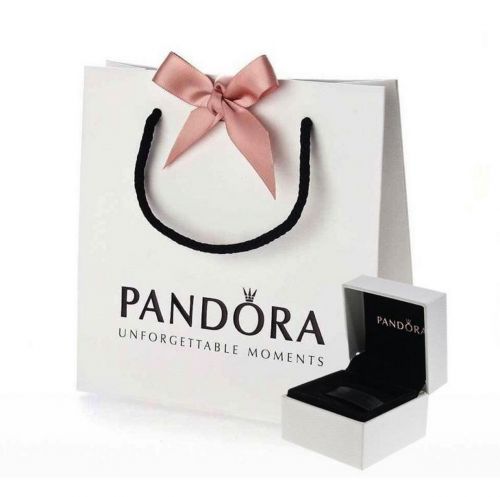 We know this option is a little bit different but that's why we love it. And on top of being a unique piece of jewelry, it's a Pandora bracelet! Pandora has made its own version of a love bracelet and you can't deny it's simply fantastic.
Read more
It's made of 925 sterling silver which means it's super shiny and won't tarnish or scratch.
The bracelet features tiny cubic zirconia stones in pink and white. The pink gemstones are heart-shaped while the colorless diamond-like ones are round.
Instead of the lock-on mechanism, it has a sliding thread type of closure which means you'll be putting it off and taking it off in a matter of seconds.
The price tag it comes with is slightly higher but hey, this is Pandora and worth every single penny!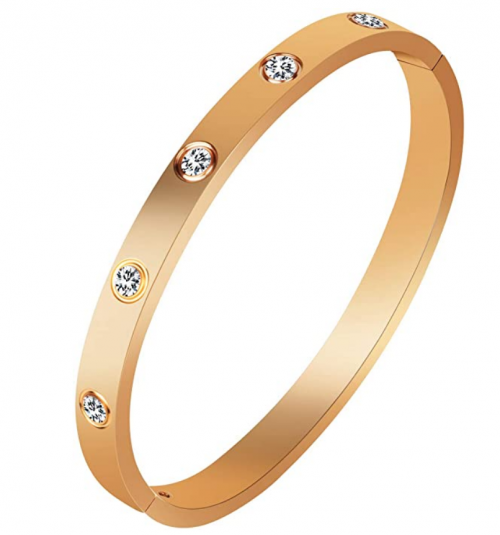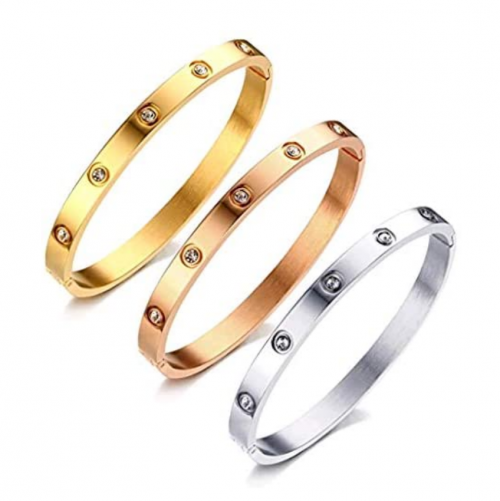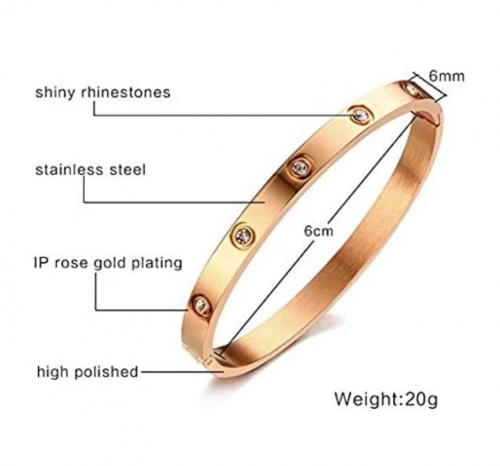 Surgical-grade stainless steel
Beautifully recessed cubic zirconia
6.7" diameter
Hidden hinged clasp
The XYZONE is an outstanding choice. It has plenty of innovative features that make it more comfortable and safe for all-day wear. The perfect styling of the piece will help you transform any ordinary outfit into something awe-inspiring.
Read more
Unlike other love bracelets, this model features hypoallergenic surgical grade 316L stainless steel. Not only is this metal ideal for longevity, but it's also ideal for wearers with sensitive skin. You'll find this is one of the few options that maintains its luster, even with limited maintenance.
With a perfectly weighted design, you'll feel like you're wearing something expensive without being burdensome.
Its thin band is also perfect for pairing with other bracelets in your collection.
Fortunately, the XYZONE love bracelet has a 6.7" diameter, which is comfortable for most wrist sizes.
The hidden clasp is another notable mention, as the closure is unseen for a seamless appeal. You can also quickly remove the bracelet with two fingers.
You'll appreciate the high-polished finish thanks to the IP gold plating, which makes the bracelet glisten in the sun. Also, the deep-set rhinestones add a particular flair that sets this bangle apart from the others.
The recessed divets bring more attention to the bracelet's gemstones, which will complement your other jewelry. Gifting the bangle is easy as well, as it ships with a quality gift box.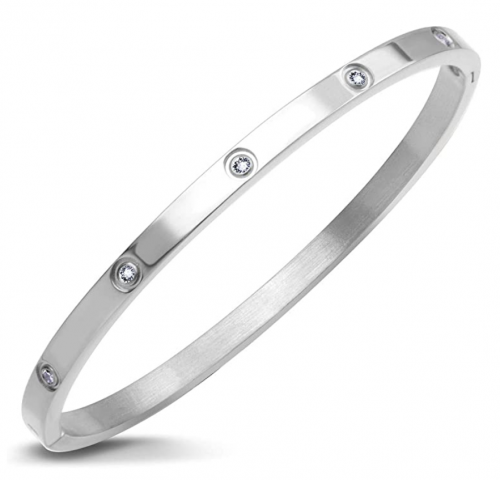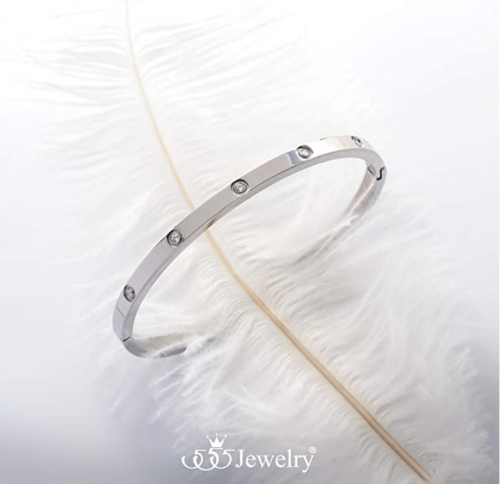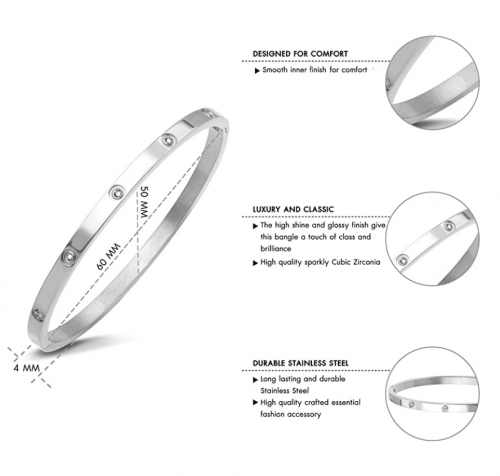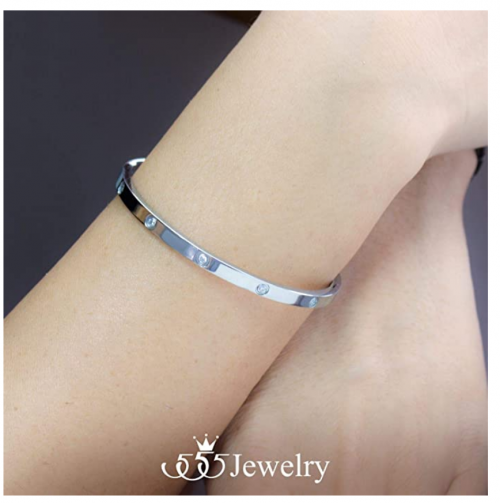 Crafted from premium hypoallergenic steel
Non-tarnish stainless finish
Sparkling white cubic zirconia
Comfortable rounded edges
If you've tried love bracelet replicas in the past, only to find they're too thick, this model is the perfect alternative. The dainty thinness of the band will fit perfectly on thin wrists without appearing too bulky or heavy. There are plenty of unique features to consider with this design that you're sure to fall in love with.
Read more
One of the most notable features of this bracelet is that it's available in several colors. For the closest resemblance to the real thing, we recommend opting for the golden or silver colors. However, you can take a non-traditional approach and consider the black, coffee, or rose gold options.
The beautiful stainless steel bangle sits comfortably on the skin with rounded edges to reduce irritation. You'll also love the hinge lock that ensures the bracelet is secure while worn.
Each of the deep-set cubic zirconia gems sparkles brilliantly against the lustrous metallic finish. If you're a fan of stacking jewelry, the thin band on this model is perfect for pairing with charms and pendants. It's also the perfect accessory for vacations, weddings, work, and casual outings on the weekend.
Fitting this bangle into your wardrobe has never been simpler, as it has a straightforward and effortless style.
We love how the bracelet is non-tarnish, meaning you can wear it in water. Also, this feature speaks to the longevity of the bracelet, meaning it requires very little maintenance.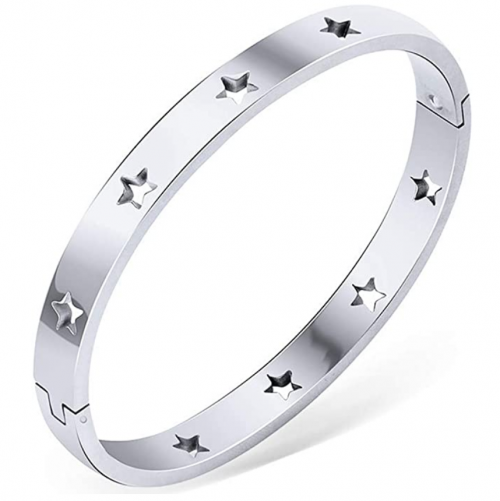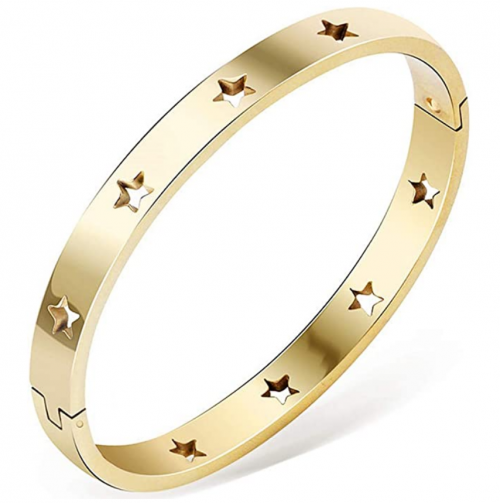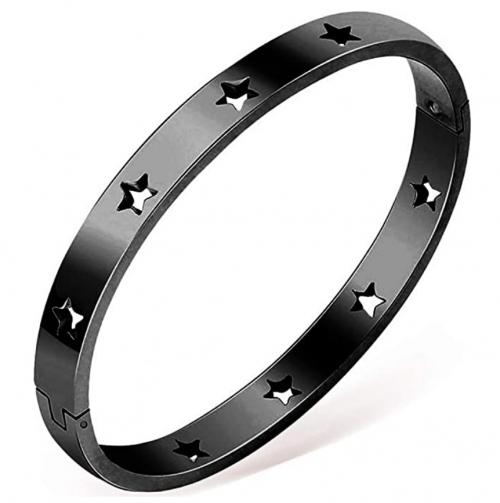 The Jude Jewelers love bracelet replica is a unique alternative to the traditional love bracelet. Instead of showcasing cubic zirconia stones, this bracelet has dainty stars carved into the bangle. You'll find its youthful aesthetic is perfect for younger wearers and women with a refreshing style.
Read more
We love how this bracelet isn't afraid to take chances by enhancing the traditional style of most love bracelets. Instead of relying on sparkling gemstones, you'll have perfectly carved stars encompassing your wrist. It helps to show off your style and flair for uncompromising fashion choices.
This bangle is the perfect option for people who have sensitive skin, especially regarding metals. It's crafted from solid 316L stainless steel, which is known to be hypoallergenic. You'll also find the bracelet is non-tarnish but isn't recommended to be worn in salt water for long periods.
The unique design of the bracelet makes it one of the most comfortable options on the market. The rounded edges don't take away from the standard squared-off style of the bangle. However, they do make the bracelet more comfortable against the skin.
You'll find the bracelet has a smaller diameter at 6.5", compared to 6.7" or larger. This feature is what makes it a fantastic present for wearers with tiny wrists or teens.
Compared to the other love bracelet dupes we've explored this far, this design has the most extensive number of colorways. You'll not only find the traditional gold, silver, and rose gold options, but black, blue, and rainbow as well.
All in all, finding the perfect accessory to complement your style has never been simpler.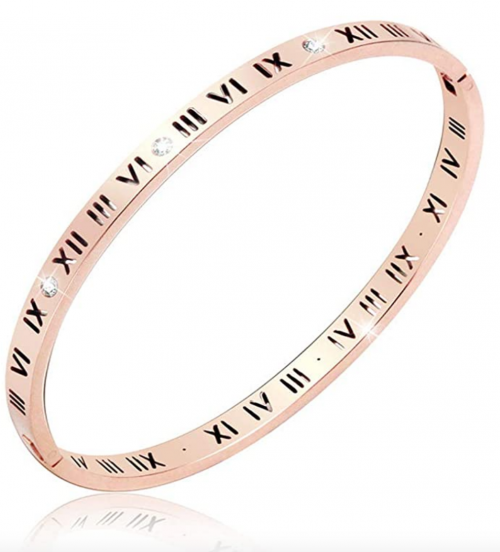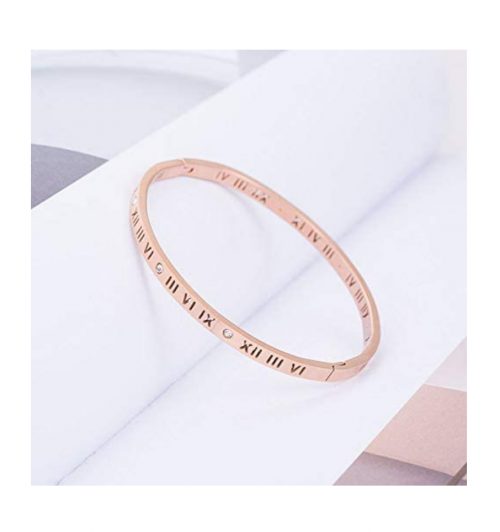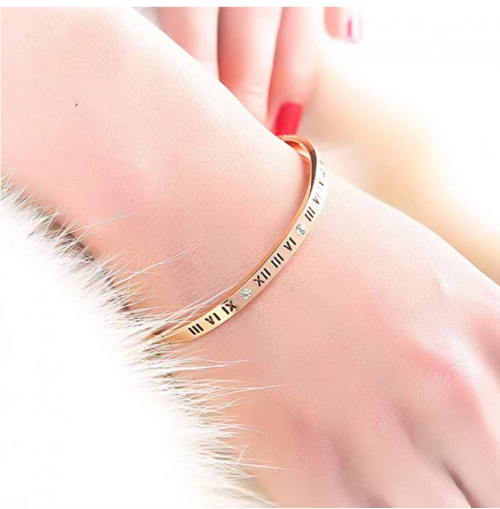 316L stainless steel
Hypoallergenic
Hidden button clasp
Adjustable to larger wrists
At first glance, you can easily see how the Arain Byqone love bracelet is elevated in style. It has an authentic design that will sit perfectly on any wrist to combine all the bangles' best features. The slim silhouette with perfectly set gemstones and engraved roman numerals is sophisticated yet simple.
Read more
Our favorite thing about this option is that it has a beautiful unisex design. The brilliantly place cubic zirconia stones are ideal for men who want to add a luxurious touch to their outfits. The thin band of the bangle complements a delicate allure for more feminine wearers.
The band is crafted from 316L stainless steel, which is ideal for anti-tarnishing properties. It's also highly recommended as a hypoallergenic option to prevent skin sensitivity. The solid material prevents fading and deformation after years of wear to add to its luxury.
Compared to a traditional hinge clasp, this bracelet has a button clasp. You'll find it's much easier to take on and off than the standard love bracelet. Uniquely, you can gently adjust the bracelet to fit larger wrists.
If you're in the market for a stunning and inspirational gift, this bracelet is ideal. It's the perfect combination of modernism with classic elegance.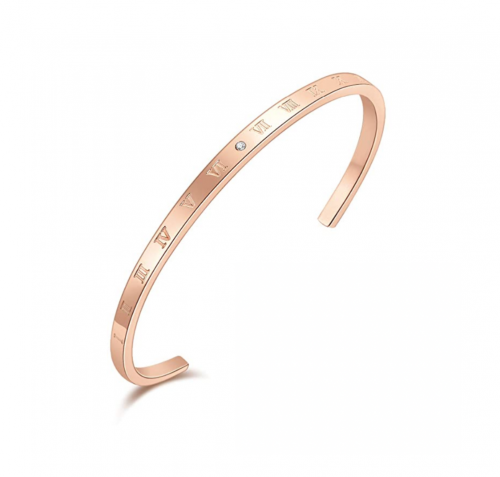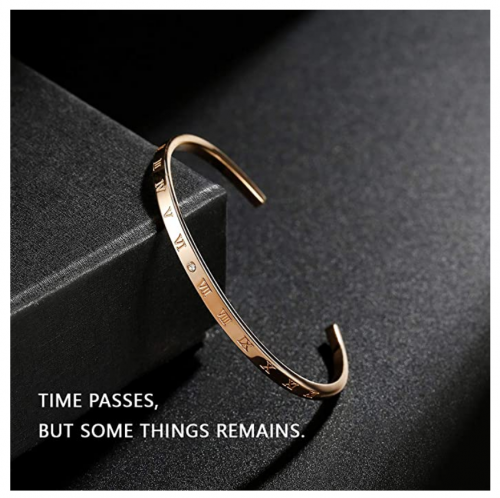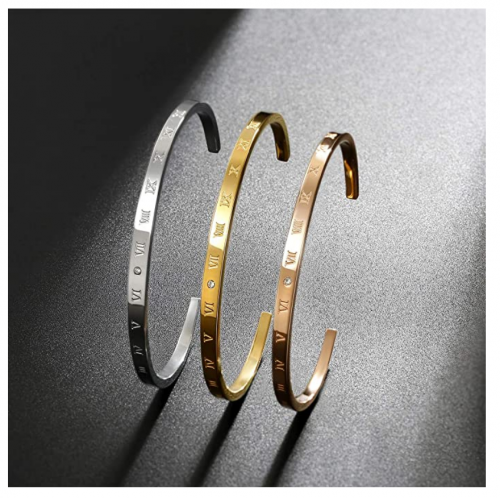 316L stainless steel
Open, adjustable cuff
Comes with a warranty
Our last pick is again a little bit different than your classic Cartier love bracelet replica. We chose to include this beautiful Sam & Lori's bracelet because it's super thin and dainty and would work well stacked with a classic love bracelet dupe.
Read more
Made of 316L stainless steel and tiny crystals, it also features roman numbers making it quite unique design-wise.
Another highlight is that it comes in different metal colors and, when we tried stacking it with other similar bracelets, the great news is that it fits perfectly since you can place it anywhere on the wrist. It's an open cuff so it's one size fits all. No screwdrivers, lock mechanism or clasps.
The price is super affordable and you'll also get a luxury gift box that works perfectly if you intend this pick as a gift!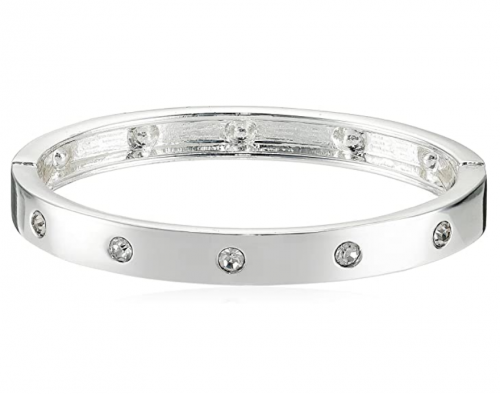 Guess is a renowned brand with unique accessories for every wearer, and this bracelet is no different. The love dupe bangle bracelet is the perfect alternative for a simple fashion statement. The silver metal offers a beautiful contrast to the sparkling crystal stones, making it perfect for formal and casual occasions.
Read more
Styling your new bracelet has never been simpler, as the sleek silver metal will fit perfectly with any outfit. If you're more of a fan of gold, there's also a golden option available to match your other accessories.
The feature you'll love the most is the sparkling crystal stone, which is perfectly embedded in the metal. The narrowed band will sit delicately on your wrist instead of feeling overbearing throughout the day.
Also, the basic clasp is ideal for taking the bracelet on and off without needing help. With the added hinge and locking mechanism, you can guarantee the bracelet will stay in place while worn.
It's a simple and stunning option for anyone searching for a high-end replica of the all-time favorite love bracelet.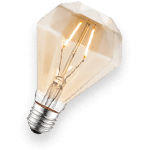 Screw and lock bracelet TIPS
Almost all screw and lock bracelets come with their own screwdriver.
This specially designed screwdriver has a flat mouth that allows you to easily remove the screw that holds the bracelet securely closed around your wrist. You obviously do the opposite to get it off.
Be careful when using your little screwdriver and make sure not to force the screws in when locking your bracelet.
Just think of Kylie Jenner and the time she had to storm into one of the love bracelet shops to get it off her wrist (yes, even the original Cartier one gets stuck)!
History background
Founded in 1874, the house of Cartier became one of the best and most respected jewelers in no time.
With designs that became the talk of the town for their inspiration and romantic accent, the house of Cartier was the go-to jewelry for royals.
In 1969, its popularity exploded all over town especially when Richard Burton purchased a 68-carat Cartier diamond necklace for Elizabeth Taylor!
With a knack for transforming the beauty of ancient into modern, Aldo Cipullo, a young Italian designer working for Cartier, created the love bracelet the same year.
The bold and charismatic appeal of the love bracelet attracted jewelry enthusiasts all over the world.
Royals and celebs went crazy for it and up to this day, the love bracelet is an iconic piece of jewelry that never goes out of style.
Interestic fact...
Did you know that love bracelets were made to replace chastity belts?
Of course, this was just the symbolism behind the design and we must admit it's such an original one.
So a lock mechanism made of a screw and a lock is a love symbol meaning 'I'm taken' or better yet, 'You have no chance at all with me'.
This is why the love bracelet is such a romantic gift for your partner!
FAQs
q:

What is so special about Cartier love bracelets?

a:

Cartier love bracelets have a specific allure to them that's unmatched by other accessories.

It shows a definitive attachment to a specific person, as they are typically gifted as a "forever present."

What makes them unique is they cannot be taken off without a specific screwdriver included with your order.
q:

What hand do you wear a love bracelet on?

a:

You can wear your love bracelet on either hand, though we recommend choosing your non-dominant hand. Ultimately, you'll want to prevent your precious accessory from getting scratched over time. On your non-dominant hand, it's well out of harm's way.
Finally..
We've included some of the best love bracelets dupes that we could find online and we think each and every option in our list is just gorgeous.
When you think about the original Cartier love bracelet, although beautiful, it can cost you up to 40,000$!
Now we don't have that kind of cash and just like many of you, we decided that a dupe works just fine for us.
Our list of dupes includes quality pieces made of stainless steel or sterling silver and with cubic zirconia or Swarovski crystals.
All options are perfect for stacking as well as gifting and if you decide you're not into the lock and screwdriver mechanism, we included picks that feature either a simple clasp or open cuff design!