The Coolest Initial Bracelets Out There!
last updated:
Jul 22, 2019
The word "Bracelet" is from the Greek word "brachile" and means "of the arm". Bracelets may have come into fashion as long as 7,000 years ago when the people of Egypt, China, and Mesopotamia wore them.
Archeologists have found evidence of bracelets made from grasses, pliable tree limbs, copper, shells, and bronze.
The bracelet has definitely evolved, since then, and here are our top picks for initial bracelets. By the way, who says only women can wear them and why are they relegated to only the wrist?
Our top 10 Initial Bracelets!
1

. Alex and Ani Wire Bangle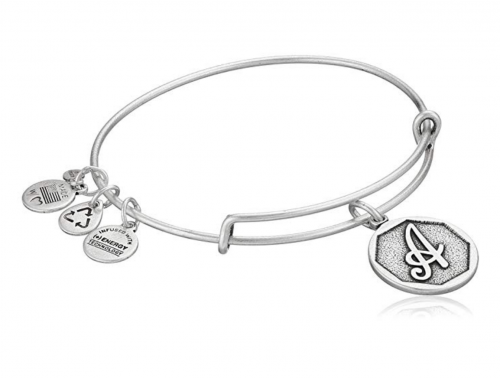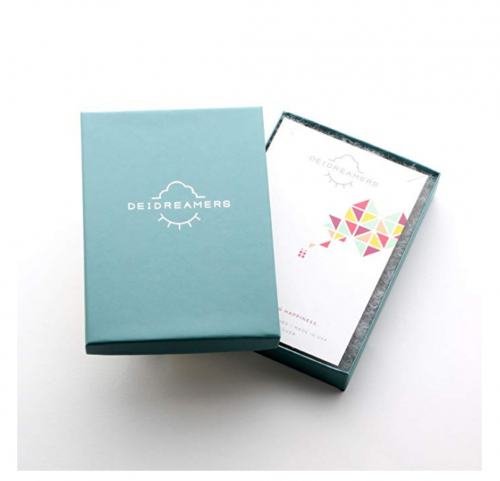 This simple bangle bracelet is one of our favorites because it's handmade from recycled materials. The bracelet is the ever popular Alex and Ani expandable and comes with more than just the stamped initial charm.
Read more
Alex and Ani are passionate about our communities, planet, and each and every individual. With this bracelet, you will also get three mini charms. They distinguish the piece as being made from recyclable material and made in the USA.
The price is definitely not something to squawk about! It is very affordable. So much so, most anyone could find the means to purchase one.
Because it is so affordable, this piece is a great gift-giving item, even for children. What little girl wouldn't love getting one for her birthday!
This expandable is 7.25 inches long and weighs 1.6 ounces. Because it's expandable, the ease getting it on and off makes it even more enjoyable to wear.
As for how to wear it, your imagination is the limit. This wire bangle is suitable for daytime, business and casual wear. We have worn them layered with: other expandables, silicone bracelets, leather strap bracelets, both with, and without, embellishments, and other metal bracelets.
You can mix and match more than one initial bracelet, or mix it with other expandables to make more of a statement. Whether wearing one, or many, they look great with both business suits and bathing suits.
The wire bangle is durable and holds up well. It's made from recycled metal and one size fits all. We love it because it's very easy to wear and oh, so, comfortable.
2

. XUANPAI Initial, Name, Date, Cuff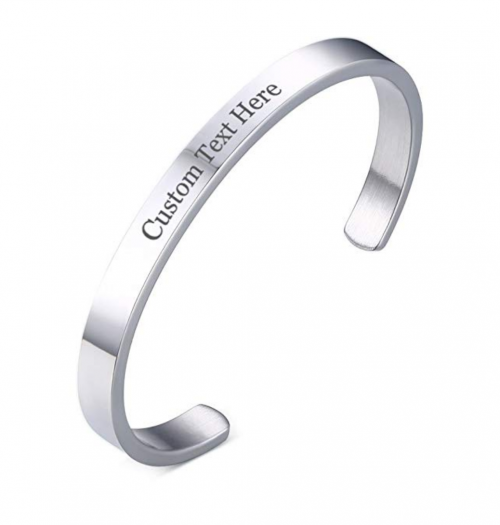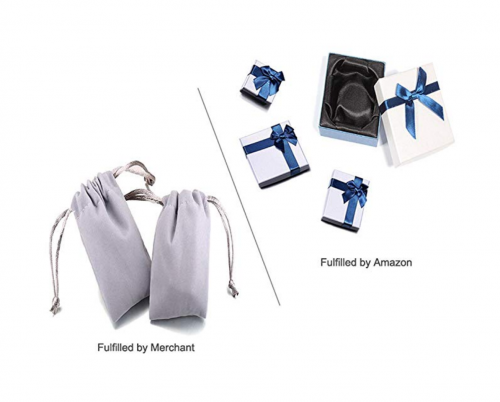 Who says bracelets are for women only! This one is a unisex piece and completely customizable. It is very inexpensive, making it a foundation piece for the wearer.
Read more
It weighs only 16 grams, or less than half an ounce, making it extremely comfortable. It's almost as though you have nothing on your wrist.
This piece comes in a variety of colors including, black, gold, silver, rose gold, and grey. The awesome thing is all of these colors come in two sizes.
Often, one size bracelet does not fit all. With this piece, you have two options for sizing. You can choose the 56mm, or 2.20 inch, or the 65mm, which is 2.55 inches.
This piece is perfect as a stand-alone piece or layered with other pieces. You could pair it with expandable, leather and other cuff type bracelets.
Add another one of these, or more, for a classier look, but feel right at home wearing this as a single, with a t-shirt.
This bangle is made from man-made stainless steel, it is resistant to rust, corrosion and tarnishing. It is hypoallergenic and lead free.
These factors, combined, make it very durable. You should, however, avoid any contact with hair spray, water, lotions, perfumes, pool water, and chemicals. Always store it in a cool dry place to keep it looking spectacular longer.
Since this little gem is so inexpensive, purchase two of them! Get one for him and one for her, or one for yourself and a friend. You'll be glad you did.
3

. Sannyra Initial Charm Bracelet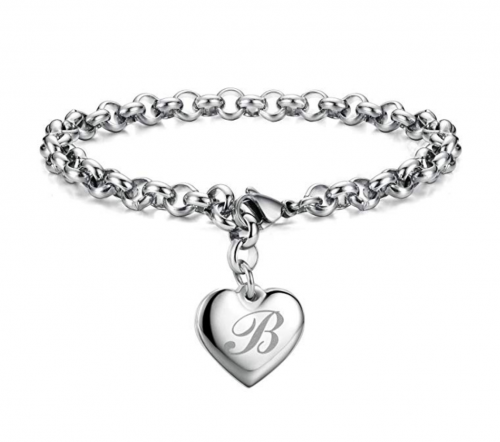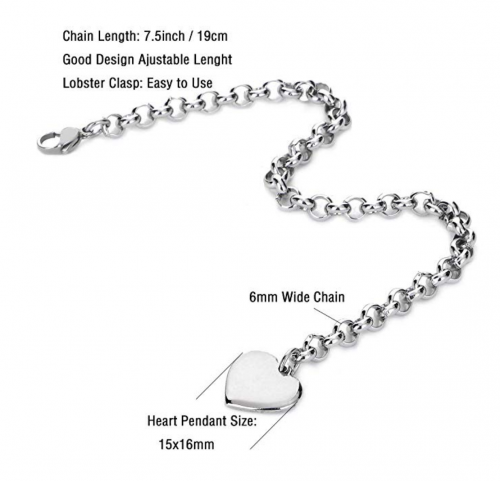 Legend says, when you wear a pendant, it brings you good luck. True, or not, when you wear this Initial pendant bracelet, it will bring you joy and a smile to your face! And, at this price point, who is going to argue?
Read more
This pretty little charm bracelet is made of stainless steel, making it durable and resistant to corrosion. It is nickel free, lead free and cadmium free.
Not including the lobster clasp and the heart pendant, the chain measures 19 centimeters, or almost 7.5 inches in length.
The heart pendant is approximately 16 millimeters, or half to three quarter inches.
This bracelet is great for layering, or you can wear it all by itself. We also like it as wedding wear for bridesmaids. The girls will certainly be in style with this piece!
Because this is made from stainless steel, it is really sturdy. The metal is hand polished and smooth. While there are no sizing options, the chain is almost 7.5 inches long and will accommodate even larger wrist sizes.
This piece has a lobster claw attachment which makes it easy to put on and even easier to remove.
This is a great product at a great price. You will absolutely love it!
4

. MOMOL Dainty Small Round Coin Disc Bracelet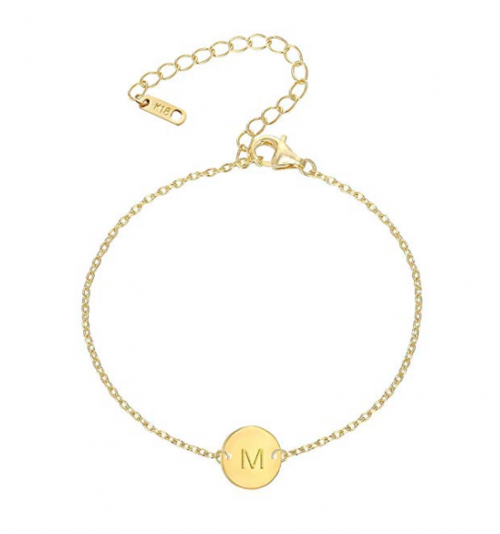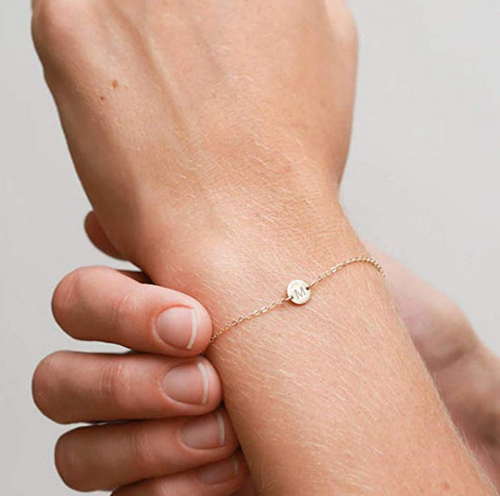 This cute little bracelet is the one any little girl will adore! It is small and dainty and the engraved letters are tiny and very cute. The mini letter, on the coin disc, can represent either your name or someone you love.
Read more
This piece is simple and elegant and the perfect gift for any child in your life. But don't stop there! Use your imagination and gift this pretty piece to your mom, wife and even that special grandmother in your life.
It would look stunning for a junior bridesmaid, or flower girl as well.
It is so inexpensive you will be able to get more than one. Make a list, check it twice and get ready to save a bundle! You will be glad you did.
This piece is so lightweight, you won't even know you're wearing it until some one gives you a compliment, or asks where you got it.
This little beauty also has a myriad of sizing options. The bracelet, itself, is 5.5 inches long. But, wait! There is a 2-inch extension chain, which gives the wearer a large variety of sizing options.
As far as wearing this bracelet is concerned, we would consider layering it with other pieces. Try mixing metals and even pair it with leather.
However, it is very versatile because it can be both layered and worn alone. Layering will give it a heavier look, while wearing it by itself will present a more dainty appearance.
The charm bracelet is made from 18k gold plated stainless steel, which makes it durable. We do suggest you follow the manufacturers advice and avoid exposing it to chemicals and water.
To clean it, just wipe it with a soft cloth and you are good to go. We also suggest you remove the bracelet during any type of strenuous, or rugged activity.
Because of the extension chain, the charm bracelet has the capacity to fit anyone from a small child to an adult. The original chain is the 5.5 inches, but with the 2-inch extension, it gives the wearer a length of 7.5 inches.
While this charm bracelet has no specific healing properties of its own, it glistens in the sunlight and the face of the recipient will glisten as well.
It has everyday style and is the perfect gift. We recommend it to anyone looking for a simple and elegant piece.
5

. CILILI 26 Alphabet Charm Cubic Zirconia Bracelet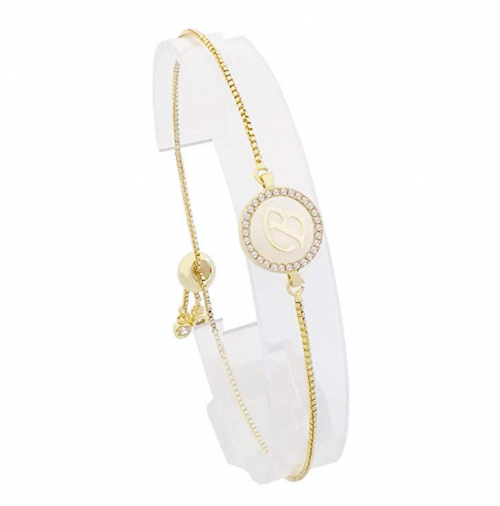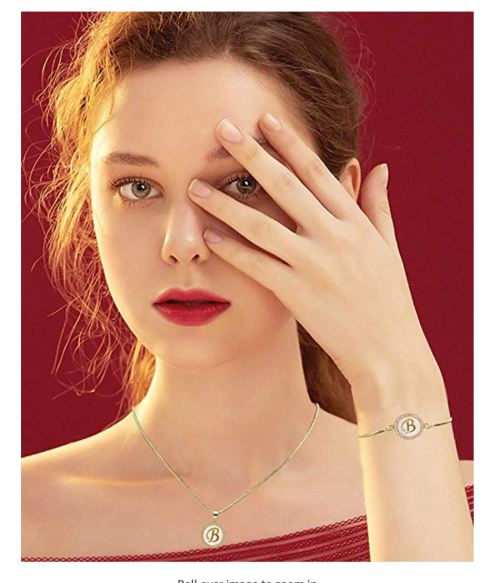 This alphabet charm option is one of our favorite picks! Why, you ask? We like it because it also works as an ankle bracelet. And it is, oh, so comfortable. This bracelet has a charm that is 13 mm. and the piece, itself, extends to 23.3 cm, or 9.17 inches.
Read more
When you talk about sizing options, the possibilities are, quite literally, endless.
It is very affordable. It would be well within reach, of most anyone's budget, to get this gorgeous piece. The lightweight chain makes this ankle bracelet fun to wear because it isn't at all cumbersome.
We would wear it alone, because we feel that adding any thing to it, would junk it up and distract from the beauty. There are a few charm style options and we like them all.
Choose either gold, or silver, for the chain and then decide which charm option you like the best. You won't go wrong with either of them.
This piece is made from a good quality box chain. The formation of box chains and the way they are constructed make them stronger than regular chains, making this bracelet a heavy weight when it comes to durability.
The white gold plating is nickel free. This bracelet's box chain is lightweight, which makes it very comfortable. It has a ball clasp, making it easy to wear and easy to remove.
At each end of chain, there is a cubic zirconia rhinestone. This adds to the super cuteness and elegance of this piece.
Not only can the bracelet initial have personal meaning, but did you know each initial of the alphabet can have other special meanings?
For example: the letter "P" can stand for Persistence. Persistence will lead to victory. Another one is the letter "Y". "Y" can mean Yes. Dare to say yes to your difficulties and overcome. By the way, "O" can mean overcome, or overcomer. What does your initial mean?
This piece is elegant and trendy. It is sure to be a hit to whomever your gifting it. We absolutely love it!
6

. GOOD Designs GER Black Onyx Handmade Bracelet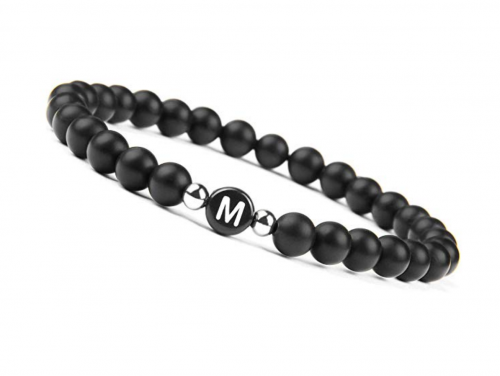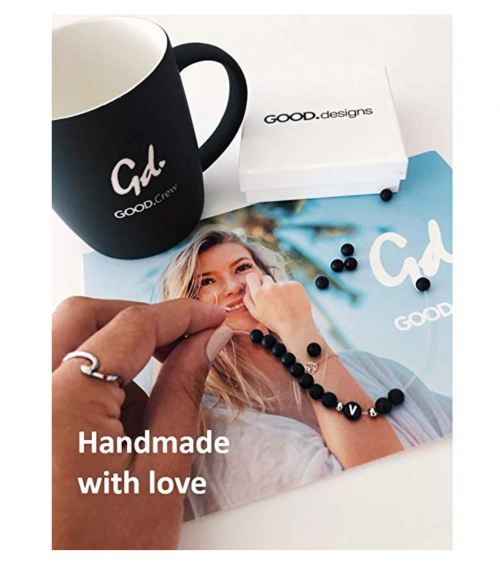 This bracelet, which is made from natural, genuine, onyx pearl bead gemstones and is perfect for men, women, or children. The pearls are black and classic, while the engraved stone is black and flat. This piece is trendy and fun and that's why we love it!
Read more
It has a stretchable wrist band, precision letter engraving, comes in a beautiful gift box and is sure to be a hit in your jewelry box.
This piece is vastly affordable and you won't need to "break the bank" to get one. It is 2.36 inches in length and stretches to a custom fit.
This black beaded bracelet would look amazing with a few other beaded elastic bracelets along with it. We think it would pair very well with a black leather bracelet and/or braided rope bracelet and some metal expandables.
The natural, genuine, onyx pearl beaded bracelet will hold up in day to day use. The gemstones are simple and each of them have their own texture, form and color, which makes each unique.
For this piece, one size fits all. The stretchy elastic makes it a popular pick for easy fit and wearability. And, because there are no sharp edges, this piece is comfortable.
Onyx pearls are thought to balance the energy of the body. It is believed they promote vigor, stamina, and vitality. They may, also, help you be at peace in your surroundings and give a sense of self-confidence.
This pick is both original and personal. It is a great choice for every day accessorizing.
7

. Monily Heart Alphabet Bracelet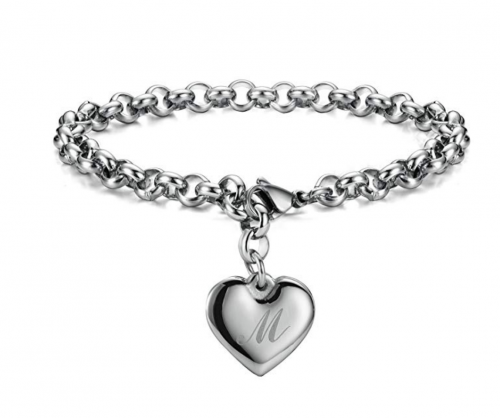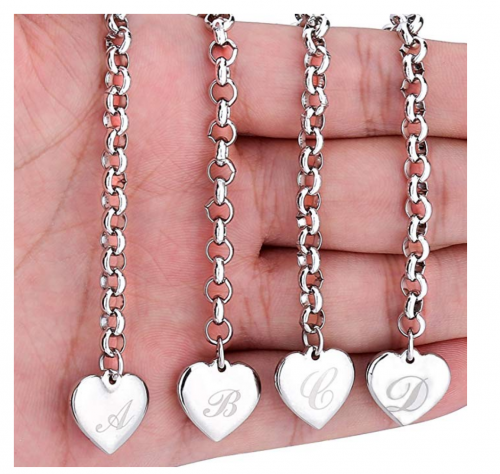 We are very impressed with this pick! Its simple style makes it great for everyday wear. It is a hand-polished initial bracelet with a Loster claw clasp, which makes it easy to wear and to take off.
Read more
We love the chunky look and this piece is great if you're looking for something informal.
The bracelet is affordable and would make a great inexpensive gift for any woman in your life. Purchase it for yourself, give it as a gift, or get one for both purposes.
It is 19 centimeters, or 7.5 inches long, but that does not include the lobster claw closure. When you add the lobster claw, it adds an extra couple of centimeters to the length. The chain is 6 millimeters wide.
This piece is completely adjustable, because of the chain construction. The lobster claw allows you to adjust to smaller lengths.This is a very attractive feature.
This bracelet is one very versatile piece. You have a few options to create your own style. First, you can wear it all by itself.
However, if you want to, you can purchase more than one, wear them all together, and create memories regarding those you love and who are important to you.
You can also create those same memories when you get additional charms for the bracelet. They do not all have to be initials. Just another reason to love this!
The Monily piece is made from steel, but looks like stainless. It is completely adjustable, which we love, because any size wrist can wear it.
Get this as a gift for your BFF, today! She won't be disappointed and neither will you.
8

. Simulated Birthstone Crystal Charm Heart Toggle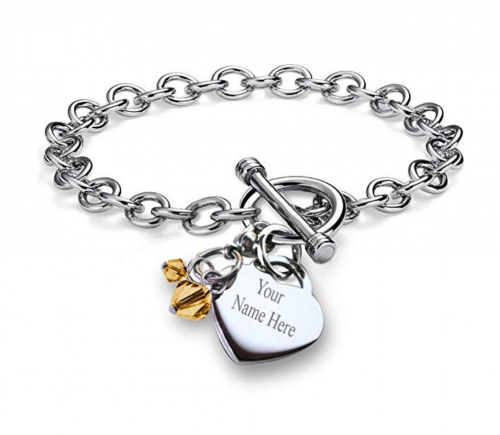 If you want an option with both an initial and a birthstone, look no further. You will get both of those in this piece. While this charm bracelet has a low to moderate price point, we believe it's worth every penny. You get two decorations in one piece and the toggle clasp is fun and easy to manage.
Read more
The chain length is 7.5 inches, which is a standard fit for most bracelets. The piece weighs 21.50 grams, or ¾ of an ounce, making it light weight and very comfortable. Each link thickness is 2mm.
This bracelet impresses us with its style and versatility. You can either layer it with other pieces of its kind, or simply add more charms. You will have a lovely piece, whichever way you choose to wear it.
The toggle clasp gives it a more dressy look and we like that as well. If that's not enough, the charms themselves have a lobster clasp and you can switch them out, take them off, and add new ones. How cool is that?
It is silver in color and made of stainless steel. It will not rust, tarnish, or change color. We like this because it is so easy to wear and looks fantastic.
This piece may be your "go-to" bracelet for everyday use. We recommend it.
9

. EIGSO Heart Charm Memory Bracelet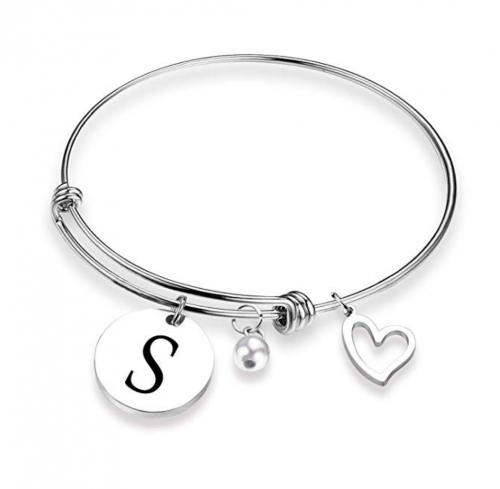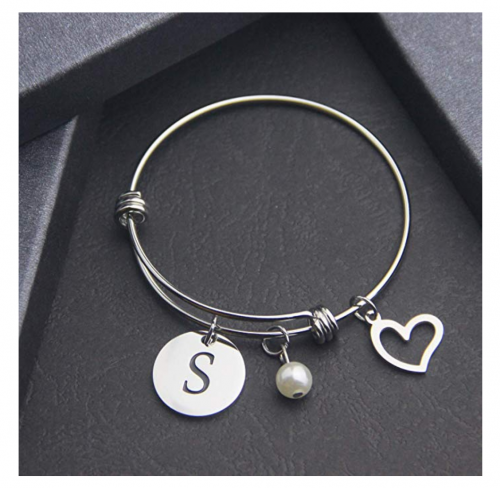 This expandable option is both an initial bracelet and charm bracelet in one. It is perfect for any occasion and comes to you in a pretty velvet pouch to protect it. It is hypoallergenic and is both lead and nickel free.
Read more
This piece has an extremely low price point and at this price, you get a lot of "bang for your buck". You can order a good number of them and give them as gifts. We think they would make the perfect stocking stuffer or inexpensive birthday gift.
The bracelet is 2.5 inches in diameter, but is expandable and is easy to get on and off. While there are no other sizing options, you shouldn't need any.
We love it for layering. Bracelet layering is very trendy right now and this one will help you look fashionable and stylish.
You can, however, wear it alone for a simple and uncomplicated look. Mix it with pieces made from other materials to create a boho look, or if you're looking for something different.
This piece is both durable and fun. It is made from recycled material, making it planet friendly, if you are ecologically minded.
It is lightweight, making it delightful to wear because it feels as though you aren't wearing anything at all.
We do suggest you keep it from getting wet, don't expose it to chemicals, and treat it nicely to get extended life from this piece.
If you are looking for a great gift, this is it. You may even gift it to yourself; no that's a concept!
10

. Deidreamers Sterling Silver Mini Bracelet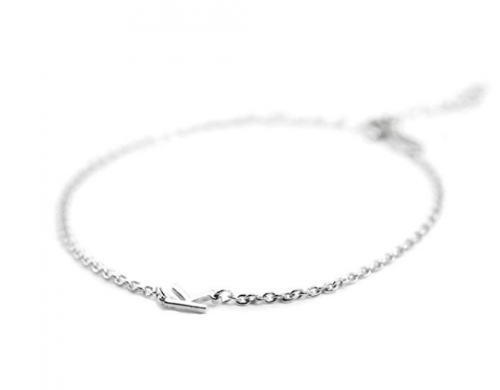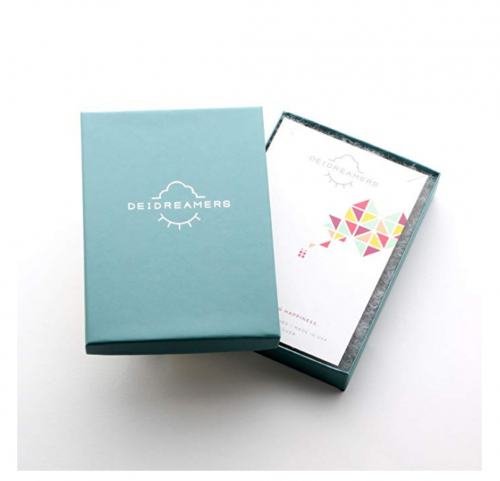 Are you looking for a handmade and hand polished bracelet that will make you feel as special as it looks? Then look at more closely at this piece. It is handmade in the United States and is 100% Sterling Silver.
Read more
The chain is dainty and the initial is actually part of the bracelet and not a bangle. It is elegant and modern and you make it unique when adding a customized initial.
This design is created for you and you may want to wear it constantly and never want to take it off!
While this piece isn't cheap, it won' t clean out your wallet either. We recommend it for Mother's Day and bridesmaid gifts and for the more special people in your life. It will, however, look fantastic on your daughter or niece.
For special occasions, such as weddings, we like this bracelet to stand- alone. It has an elegant look and tells the story of sophistication.
For a more, every day look, layer it with some other metal bangles. If you like leather, pair it with a leather piece that you love. If it makes you smile, you can rock the style. Choose an initial A through Z for your special piece.
To get the most use from it and to keep it looking luxurious, we suggest you remove it before swimming and bathing, when working with chemicals, or paint, and not to use harsh cleaners on it. Only use a soft cloth to clean it.
This pretty little piece is made of sterling silver and carries the .925 metal stamp. Simply put, this means the metal is 9.5% fine silver metal, with very few impurities. Three-stage polishing procedure giving it a high-quality finish.
While this initial bracelet, may feel right at home on your wrist, we highly recommend taking it off to preserve the life span of this very special piece.
The piece is 4 inches long but boasts an adjustable extension for a perfect fit. Whether you like your bracelets snug or loose, this one will give you those options. It is so comfy, you won't even know you have it on.
The design of this piece will make a statement and say a lot about who you are. We never thought a piece of jewelry could say so much. What a find!
Criteria Used for Evaluation
Jewelry Metal & Gemstone Quality
When looking for products to present you, we searched for items you would not just love, but those that will stand the test of time.
We want to present you with pieces made from good, quality, metals and gemstones giving you confidence in the quality as you wear the piece(s).
Sizing Options
It's our goal to make sure you get a great fit by presenting products with great options for sizing.
When you combine all of these, there's no doubt you will select a piece that brings you the comfort and pleasure you deserve.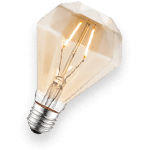 Why Choose Initial Bracelets?
We think initial bracelets are the "Cat's Meow"!
You can personalize them with not only your own initial but of those you love and care for. This brings such meaning and gives the piece purpose.
How to Wear One?
It isn't just a pretty piece of jewelry, but something you will treasure. We especially love them because they can be worn for special occasions, but also look great with a t-shirt.
We think you should try layering and adding more than one at a time. Mix the metals for a playful look, or stay with one color for a more rich presentation.
Conclusion
To sum it all up, you simply cannot go wrong with initial bracelets! Everyone loves them and they make splendid gifts.
Try gifting one to yourself and make your heart happy. Initial bracelets sure to be a foundation piece in your jewelry box and you will treasure it for a long time to come.
The fact that they are so versatile and easy to wear makes them something you will want to wear daily. They range in price, from very inexpensive, making them affordable to just about everyone, to what some might consider, a small fortune.
This, however, makes them perfect for individual personalities. Of the chain makes it possible, another great tip is to add your own charms.
This makes your piece even more individual and, truly, a one of a kind piece. Really, there is no excuse to not own one, or a whole bunch! We just can't say enough and absolutely love them.