7 Marquise Engagement Ring Options We Think Are the Bomb!
last updated:
Dec 24, 2021
Finding the perfect engagement ring is easier than you'd think with fabulous diamond cuts such as marquise.
A marquise engagement ring has the traditional beauty paired with a unique cut suitable for any jewelry lover. It's a phenomenal way to showcase your undying love, as the design itself has transcended through centuries.
Let's explore some of the most fabulously designed marquise engagement rings to help you get started. We guarantee there's something for everyone in our curated list.
Our Top 7 Picks!
1

. Houston Diamond Marquise Ring
Now, if you do have a larger budget and are looking for a truly gorgeous ring that is high-end and top-quality, this is one of your ideal marquise diamond rings! Every bit of this ring is real and genuine with the highest quality materials available.
Read more
The center stone of the ring is a jaw-dropping 1.6-carat marquise-cut natural white diamond. This sparkling stone is mounted perfectly with 6 white gold prongs.
The prongs on the pointed ends of the stone are even special protective v-shaped prongs that help to prevent possible chipping of your precious stone.
The entire ring is made from solid 14k white gold with a nice thick and wide band that not only provides a durable setting but also adds weight to the ring that adds even more to the quality look and feel of it.
In the center of the white gold band, there is a row of channel-set baguette diamonds placed flush against each other on each side of the marquise center diamond.
The different cuts of diamond add more interest and value to the ring while also providing multiple textures for a very pretty and intricate design overall.
2

. Blue Nile Petite Micropave Diamond Engagement Ring
There's a unique level of elegance the Blue Nile Petite Micropave Diamond Engagement Ring brings to your engagement. Its petite style is the perfect option for minimalistic jewelry lovers. You'll find it captures a luxurious setting without being too over-the-top, perfect for everyday wear.
Read more
Just because the Blue Nile Petite Micropave Diamond Engagement Ring is petite doesn't mean it still won't capture attention. Its details are simplistic and refined, making it ideal for every jewelry lover.
You'll fall in love with the remarkably polished 14K white gold band as well as the small diamonds that encrust the band.
Set in the direct center of the ring is the fabulous marquise diamond, obviously the ring's focal point.
It's .09 total carats, the perfect size for a ring that means you're ready to spend forever together. You'll also find you can purchase the piece in numerous metal types to match your wedding band.
The half-circle of sparkling diamonds on the band creates the perfect setting for the centerpiece. The entire ring glistens effortlessly and has many complementing accents that work perfectly together.
3

. Helzberg Diamonds Light Heart Marquise Ring
The Helzberg Diamonds Light Heart Marquise Solitaire Engagement Ring is simple, straightforward, and delicate. It has a feminine glam that sets the stage to be paired with a fabulous wedding band or worn on its own. With a perfect level of glisten, this is one of our top choices for a memorable engagement.
Read more
It's easy to fall in love with this engagement ring because of its classical styling. A single diamond on the band is located directly in the center. If you want a ring that shows off the brilliantly styled marquise diamond, this is the piece for you.
One of the more unique features of the ring is the diamond itself. The diamond is lab-grown, ensuring you're getting a conflict-free diamond hand-picked for your specific ring. It has also been expertly graded, ensuring you have an identical sparkle to natural diamonds.
We love the drama the polished white gold adds to the piece without too much contrast. If you're looking for a contemporary diamond engagement ring that sets the stage, this piece is it.
It's fabulous for unconventional brides looking for a vintage and ornate wedding band that will capture their hearts forever.
4

. Brilliant Earth Waverly Diamond Engagement Ring
Brilliant Earth engagement rings are some of the most popular because they allow for ample customization. Instead of sticking to traditional jewelers, you can craft the perfect ring for your loved one online. With the Brilliant Earth Waverly Diamond Engagement Ring, you have glitz, glamour, and everything your partner deserves.
Read more
The authentic styling of this engagement ring is what sets it apart from the rest. You can see how easily the high-quality diamonds sparkle in the light, even in pictures.
With a show-stopping marquise cut diamond in the center, all the other accents work perfectly together to create an art piece.
Undoubtedly, the hidden accents on the Brilliant Earth Waverly Diamond Engagement Ring take it to a new level. You'll have the large marquise diamond in the center paired with dozens of smaller, inlaid diamonds in the setting. Even the band itself boasts an assortment of perfectly curated diamonds.
At first glance, this piece is bound to take your breath away, especially with the polished 18K white gold. Alternatively, you can customize the ring and choose from 18K yellow gold, 14K rose gold or platinum.
5

. Hafeez Center 1 Carat Marquise Cut Engagement Ring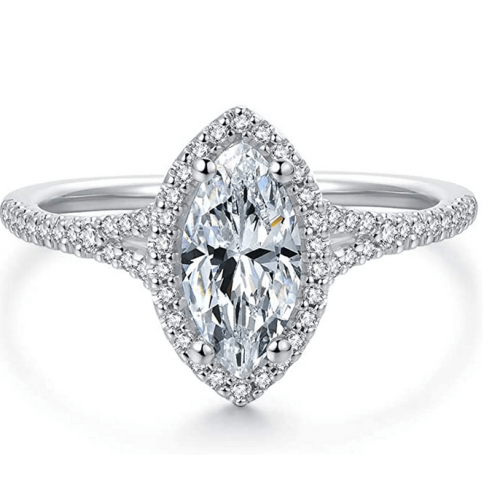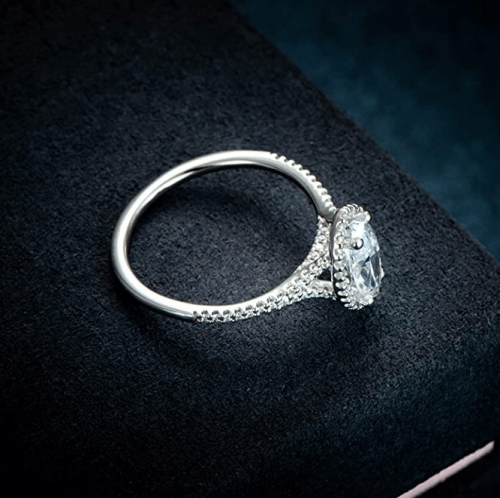 This is a lovely piece with a nice classic look to it. The metal of the ring is 925 sterling silver, but there is actually more to it than just that. The silver used in this piece of jewelry is recycled. This doesn't take away from the durability, quality, or beauty in any way.
Read more
It does, however, make you feel that much better about this smart purchase! The recycled sterling silver is also plated with rhodium.
This adds an even nicer shine to the finish of the ring while additionally increasing overall durability. The marquise stone at the center is a brilliant simulated diamond, also known as a cubic zirconia stone.
It has amazing sparkle to it just like a genuine diamond but is much more affordable. The stone is surrounded by a halo of additional cubic zirconia stones.
These little simulated diamonds are very small and are actually set using micro paving technology. This gives even more sparkle and detail to the ring. The band is very thin and dainty with a rounded edge.
There is a total of 72 of the sparkly round-cut cubic zirconia stones. The elegant ring box that is included with your purchase of this option is also made to be easily recyclable allowing you to more easily support the preservation of our environment when you are ready to get rid of the box.
6

. VASHI Classic Solitaire Engagement Ring
If you're a fan of the Helzberg Diamonds Light Heart Marquise Solitaire Engagement Ring but want something more contemporary, this ring is ideal. The VASHI Classic Solitaire Engagement Ring perfectly matches yellow gold to a marquise diamond. It's a glamorous display for yellow gold lovers searching for an unforgettable ring to show off.
Read more
There's no doubt this engagement ring will impress even the pickiest jewelry lovers. You'll have the classic silhouette of a 2mm band paired with a solitaire marquise diamond that makes all the difference. It has a graceful aesthetic that combines modernism and traditionalism for everyday wear.
This is a romantic shape to consider with a diamond cut attributed to King Louis XV of France.
Marquise diamonds were initially designed to emulate his lover's lips, speaking to the undying romance you hold for your partner. The beautifully polished 18K yellow gold band only adds another level of glitz to the entire piece.
With .3 carats of diamond weight, your partner will have a ring they can be proud of. The diamond quality is also guaranteed to be VVS2, which has microscopic impurities unseen to the human eye.
With a "Very Good" cut, the diamond will capture the light from every direction, offering impeccable brilliance.
7

. Clara Pucci Marquise Brilliant Cut Solitaire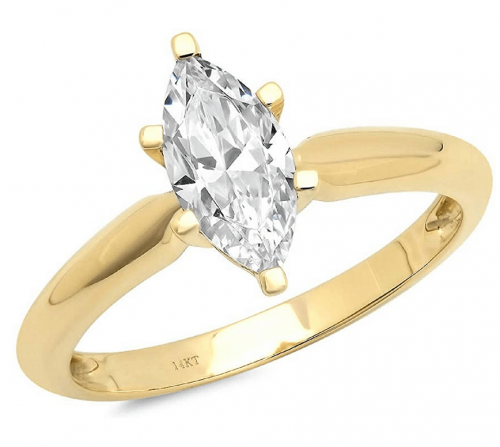 From Clara Pucci comes this very sweet and simple option! This ring is about mid-priced. The band of this Clara Pucci ring is made from solid 14k yellow gold. It is a fairly thin band with a dainty and very feminine feel about it.
Read more
The band stays one consistent width all the way around lending to the simple and clean look of the ring. You will also see that there is a 14k stamp on the inside of the band for authenticity purposes.
Right at the center, there is a single stone making this one of the most perfect solitaire marquise engagement rings! The stone is a simulated diamond cubic zirconia stone. It is 1 carat in size and prong-set with 6 solid yellow gold prongs.
All of these details – the 1-carat size, the yellow gold band, the solitaire simulated diamond – come together to create a very nice classic-looking piece of jewelry.
The marquise cut of the simulated diamond gives it that one perfect unique touch to help make the ring your own, but overall it is very nice and traditional for anyone that loves that classic feeling!
An elegant ring box adds to the value of your purchase and gives you a great presentation method for proposal.
Frequently Asked Questions
q:

Are marquise diamonds more expensive?

a:

One of the most important things to consider when shopping for diamonds is cost. Of course, you'll want the most beautiful diamond cut, but it should also fit in your budget. Marquise diamonds are surprisingly less expensive than other diamond cuts because of their shape.

A general rule is that less waste produced while cutting diamonds results in less expensive stones. Marquise diamonds take advantage of most of the entire stone, helping to reduce their cost per carat.
q:

Are marquise diamonds out of style?

a:

Marquise diamonds have moved in and out of famous fashion circles for decades, as with other diamond cuts. There's no doubt it's one of the more traditional diamond shapes, but it's also one of the most elegant. It's often referred to as a diamond cut suitable for royalty.

When paired with other embellishments and stones, marquise-cut diamonds can look a little more modern.

However, they are often picked as preferred vintage cuts that look great on every finger. Undoubtedly, it's a jaw-dropping option if you're looking for something a little more unique than usual.
q:

What is special about a marquise diamond?

a:

One feature that makes marquise diamonds stand out is their unique drama. They're a fabulous design for luxurious jewelry lovers with their pointed ends.

You also capture the dimensional beauty of the ring in the rounded center.
q:

Is marquise a good diamond cut?

a:

Marquise diamonds are often considered a fantastic diamond cut, provided they're handled professionally.

Ideally, both of the pointed ends should be symmetrical with one another. Also, the diamond's center should be round and soft to offset the sharpness of the top and bottom.
q:

What does marquise diamond ring say about you?

a:

The vintage allure of marquise diamonds shows that the wearer has a passion for authentic fashion.

Dating back to the Victorian era, it's a fabulous and romantic diamond cut that works well for anyone. It is also related to French nobility, where the design was initially derived.
Celebrities with Marquise Engagement Rings
Engagement rings featuring marquise stones may not have the same popularity as round-cut, princess-cut, or oval-cut, they are still an incredible choice that holds a special place in the world of engagement jewelry.
They're actually even well-loved amongst various celebrities. Check out these celebrities below that have received marquise engagement rings!
Victoria Beckham
Victoria Beckham, the wife of famous soccer player David Beckham, really loves her engagement rings. That's right, rings, as in she has 14 of them!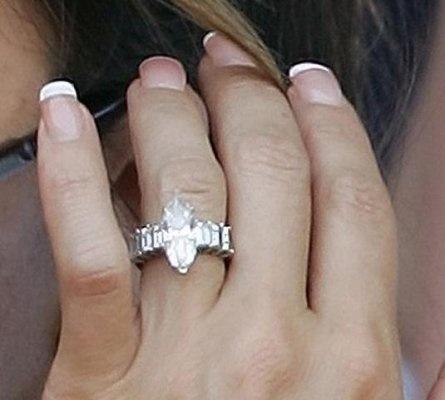 Throughout the years, Victoria has created quite the collection for herself as just one engagement ring wasn't enough. However, that first ring that she had that David proposed to her with back in 1998 was a stunning 3-carat marquise-cut diamond ring with a lovely yellow gold band.
Ashlee Simpson
Now if you want to talk about a really unique engagement ring, just look at Ashlee Simpson's ring finger. Her incredible engagement ring given to her in 2014 by Evan Ross is one-of-a-kind. At the center, it features a 5-carat marquise-cut diamond!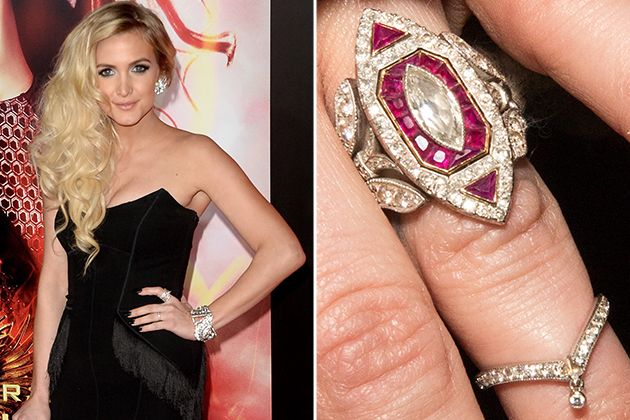 The diamond is surrounded by inlaid ruby stones and the rest of the large ring and band is covered in 140 individual tiny diamonds. It is impossible to miss this incredibly beautiful ring!
Catherine Zeta-Jones
The biggest marquise diamond ring yet belongs to Catherine Zeta-Jones. Reports say that Michael Douglas spent a whopping $1 million on this ring. It features a whopping 10-carat marquise diamond that is uniquely side-set into the lovely ring.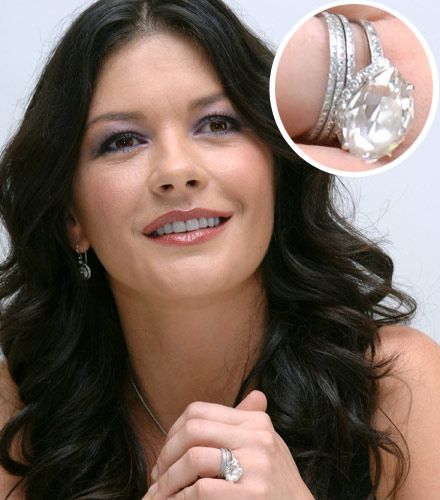 You don't often see the marquise-cut set sideways like this, so it just adds to that much more to how unique this ring really is. The center diamond is also surrounded by 28 additional diamonds in a blinding halo!
Portia de Rossi
The last celebrity marquise stone we want to share with you is the ring that Ellen DeGeneres proposed to Portia de Rossi with in 2008! It features another side-set marquise diamond – which again, is far from the norm.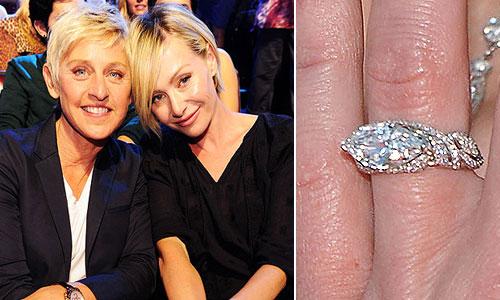 This one is a 3-carat beauty that is accented perfectly by plenty of tiny little pink diamonds that wrap around the ring in a very elegant way. It is definitely a very lovely celebrity marquise engagement ring!