7 Marquise Engagement Ring Options We Think Are the Bomb!
last updated:
Dec 24, 2021
Finding the perfect engagement ring is easier than you'd think with fabulous diamond cuts such as marquise.
A marquise engagement ring has the traditional beauty paired with a unique cut suitable for any jewelry lover. It's a phenomenal way to showcase your undying love, as the design itself has transcended through centuries.
Let's explore some of the most fabulously designed marquise engagement rings to help you get started. We guarantee there's something for everyone in our curated list.
Frequently Asked Questions
q:

Are marquise diamonds more expensive?

a:

One of the most important things to consider when shopping for diamonds is cost. Of course, you'll want the most beautiful diamond cut, but it should also fit in your budget. Marquise diamonds are surprisingly less expensive than other diamond cuts because of their shape.

A general rule is that less waste produced while cutting diamonds results in less expensive stones. Marquise diamonds take advantage of most of the entire stone, helping to reduce their cost per carat.
q:

Are marquise diamonds out of style?

a:

Marquise diamonds have moved in and out of famous fashion circles for decades, as with other diamond cuts. There's no doubt it's one of the more traditional diamond shapes, but it's also one of the most elegant. It's often referred to as a diamond cut suitable for royalty.

When paired with other embellishments and stones, marquise-cut diamonds can look a little more modern.

However, they are often picked as preferred vintage cuts that look great on every finger. Undoubtedly, it's a jaw-dropping option if you're looking for something a little more unique than usual.
q:

What is special about a marquise diamond?

a:

One feature that makes marquise diamonds stand out is their unique drama. They're a fabulous design for luxurious jewelry lovers with their pointed ends.

You also capture the dimensional beauty of the ring in the rounded center.
q:

Is marquise a good diamond cut?

a:

Marquise diamonds are often considered a fantastic diamond cut, provided they're handled professionally.

Ideally, both of the pointed ends should be symmetrical with one another. Also, the diamond's center should be round and soft to offset the sharpness of the top and bottom.
q:

What does marquise diamond ring say about you?

a:

The vintage allure of marquise diamonds shows that the wearer has a passion for authentic fashion.

Dating back to the Victorian era, it's a fabulous and romantic diamond cut that works well for anyone. It is also related to French nobility, where the design was initially derived.
Celebrities with Marquise Engagement Rings
Engagement rings featuring marquise stones may not have the same popularity as round-cut, princess-cut, or oval-cut, they are still an incredible choice that holds a special place in the world of engagement jewelry.
They're actually even well-loved amongst various celebrities. Check out these celebrities below that have received marquise engagement rings!
Victoria Beckham
Victoria Beckham, the wife of famous soccer player David Beckham, really loves her engagement rings. That's right, rings, as in she has 14 of them!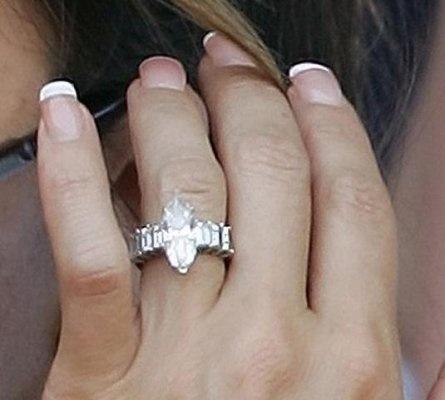 Throughout the years, Victoria has created quite the collection for herself as just one engagement ring wasn't enough. However, that first ring that she had that David proposed to her with back in 1998 was a stunning 3-carat marquise-cut diamond ring with a lovely yellow gold band.
Ashlee Simpson
Now if you want to talk about a really unique engagement ring, just look at Ashlee Simpson's ring finger. Her incredible engagement ring given to her in 2014 by Evan Ross is one-of-a-kind. At the center, it features a 5-carat marquise-cut diamond!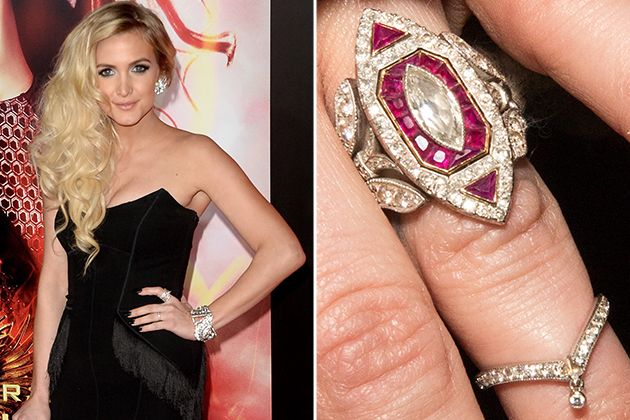 The diamond is surrounded by inlaid ruby stones and the rest of the large ring and band is covered in 140 individual tiny diamonds. It is impossible to miss this incredibly beautiful ring!
Catherine Zeta-Jones
The biggest marquise diamond ring yet belongs to Catherine Zeta-Jones. Reports say that Michael Douglas spent a whopping $1 million on this ring. It features a whopping 10-carat marquise diamond that is uniquely side-set into the lovely ring.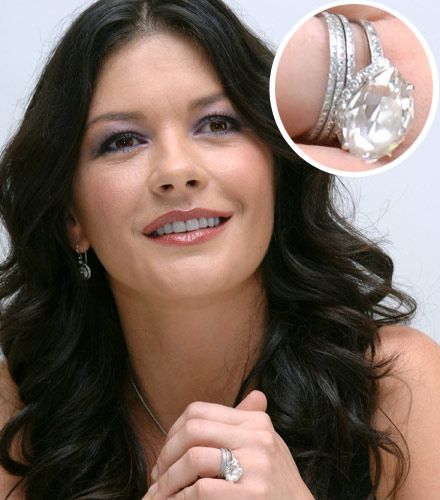 You don't often see the marquise-cut set sideways like this, so it just adds to that much more to how unique this ring really is. The center diamond is also surrounded by 28 additional diamonds in a blinding halo!
Portia de Rossi
The last celebrity marquise stone we want to share with you is the ring that Ellen DeGeneres proposed to Portia de Rossi with in 2008! It features another side-set marquise diamond – which again, is far from the norm.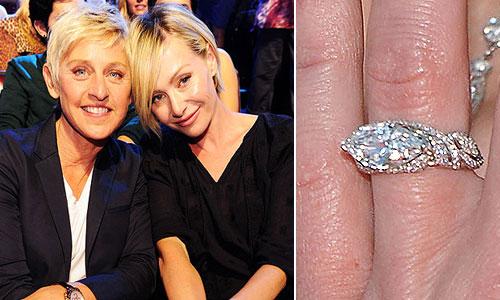 This one is a 3-carat beauty that is accented perfectly by plenty of tiny little pink diamonds that wrap around the ring in a very elegant way. It is definitely a very lovely celebrity marquise engagement ring!