Men / Mix
The 10 Cuban Link Bracelets Trending on Amazon
Cuban link necklaces are one of the most popular necklaces that can ever appear on anyone's neck. And that's for good reason due to the looks. Cuban link itself features close-contact gold pieces, attractively arranged to create a pattern that looks kind of segmented. Now, because of that aesthetic appeal, it's certainly no surprise to see shrunk down versions of the chain, that'll fit on our wrists. To that, we decided to check out the best Cuban link bracelets!
If you wear a Cuban link bracelet, you're definitely trying to make a statement. It can be made in white, rose, and yellow gold, and depending on which one you choose, the meaning changes slightly. For white gold (looks like silver, shines like gold), you're going inconspicuous and most eyes attracted to your wrist might not know what it is. For rose gold, you're going for a look that's sophisticated and also represents your mood at the same time. Finally, yellow gold is the classic, and you're either being flashy or it just fits your mood too. Now, you'll agree with us on two things.
– You have occasions or settings which are perfect for at least one of the three
– One of the colors fit your personality
If not you personally, then someone you know which literally makes that all of us. So with this kind of potential, we've compiled 10 Cuban link bracelets for you go through. It either includes classics, that are done right or designs with the manufacturer's own spice added in.
Our 10 Favorite Cuban Link Bracelets
1. Aiyo Nice 18k Gold Plated Bracelet with Clear Rhinestones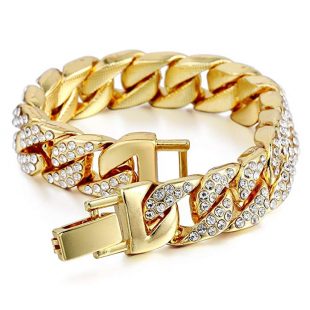 As we found, the Cuban link bracelet's appeal can be divided into 2 sectors. The hue and the clear rhinestones embedded in the bracelets give a look that sums up to scream "Class". You can take the bracelets in the 2 colors; gold and silver— while the clear rhinestones are simply one of the top choices for diamond imitations. There's nothing wrong with not playing by the book since diamonds are usually nowadays too expensive without a reason. There are man-made crystals that are far more beautiful and even cheaper than this.
So, when we saw a combination of gold (in our own unit) and clear rhinestones, we were really impressed. It's the perfect choice for any setting you have where you need to make a statement. And that's regardless of gender. If you have a guy friend or maybe your partner who loves dressing for the trill it brings, or maybe he just has a party coming up and you've decided to become his dresser for that day, this Cuban link bracelet was created for just that.
The bracelet is made from stainless steel, due to its characteristics. The one that's well-loved by many is its durability. From resisting the occasional falls that'll cause a dent or two, to holding up against scratches, it's the perfect amalgamation of performance and beauty. So it's worthy enough to be on your wrist or on anyone else's that you know.
2. Trendsmax Boys Chain Cut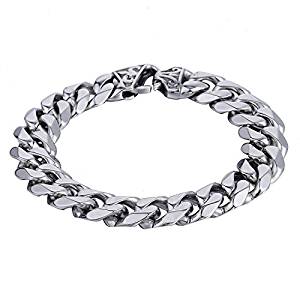 Unlike the previous bracelet, this one is strictly for men alone. And unlike that one also, it doesn't have any crystal embedded on any part. Instead, your man gets polished stainless steel that has been reformed into segments that form the famous Cuban links. There is no gold alternative, though you can choose between different lengths for any look that you prefer. It's either you're going for a tight look or a carefree vibe may just be better for the occasion.
Now, with all of these things discussed, let's answer the famous question, "Who is this bracelet for?". To that, you have to take into consideration the fact that this Cuban link bracelet takes a lot from the original design. There's nothing intricate except the somewhat flashy clasp that's included. That's the only thing that hints at its good quality.
What all of these things now means is that it fits literally anyone. The only limitation it has is its color (silver), which will be unsuitable for high-class activities that you have. On the other hand, it's perfect for anything that's not related to that. That means dinners, dates to a small restaurant, to work, or simply when he's just out for a bit of man-time. You can either apply this to yourself or give it to any man/boy you know whose birthday (or anything of such) is coming up.
It's certainly budget-friendly and it even represents masculinity in a bold way, so it'll easily stroke any guy's ego. This makes it the kind of gift that's bound to be used, due to the good looks and because it's a gift. No one can say they bought it for themselves since they have you as an excuse.
3. Loveshine Silver-Tone Bracelet Necklace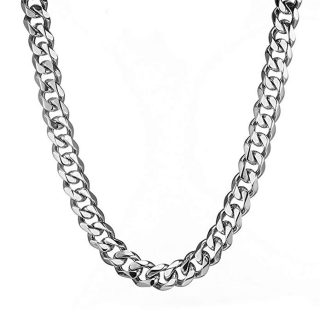 In a lot of ways, this piece looks a lot like the Trendsmax bracelet above. And that's because both come made with stainless steel. That means on a scale, the toughness is off the charts, the aesthetic appeal is sophisticated since it's clean and simple, and cumulatively, they combine to give the bracelet a lot of flexibility. There's most likely, no outfit that the bracelet doesn't go with. If you're going for a simple long sleeve shirt, it's presence makes you look chic. On a dress, it looks classy and thus, easily sets a statement without loudly announcing its presence.
The same thing applies to any man or boy you know. Though, in the case of the latter, you may have to cut some of the links off. You could style the remaining into an anklet if you like something like that. Or even create a choker for your daughter with it.
Now, having said that, we must say the similarities end there in terms of who you're giving it to and which form they may take. This is a good enough spot to talk about the occasions or scenarios where it can be used. One example that we can make straightaway concerns both your partner and your daughter. If they're both the type to stay secluded and awkward due to their very similar personalities, give either of them the idea of using this bracelet as a gift to the other.
That should convey their intentions well, don't you think? Alternatively, you could try a more hands-on approach. Buy each of them, and put engravings on both. "Love Dad" or "Love Your Little Girl" is a nice idea if you want to be sweet and a bit comical.
4. Men's Miami Cuban Link Chain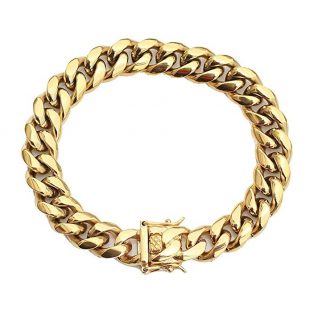 In terms of purely aesthetic appeal, we give this an impressive 9 out of 10. This Cuban link bracelet comes at a size of 8.5 inches, but the real gist is that it's colored in really bright 14K gold. As a matter of fact, the gold coating is pretty much a thick layer from our findings, and that's a really good thing. One advantage is that the paint job lasts a long while before you'll be needing any repainting.
So when you're talking about where you can apply it, go for anywhere. With a suit, either you or maybe your partner will look playful. Wearing a simple t-shirt (maybe black, gray, and other neutral colored ones) with bracelet makes you look cool. Now think of the other combinations in your wardrobe, with it staying on your wrist and not losing its paint despite the somewhat rough usage. That's some good performance no matter how you look at it. And considering the fact that the metal underneath is steel, it's not breaking just because it dropped from a few feet.
It could be a gift to your son to show he has a backup, a sign of love if shared between you and your partner, and even as just a piece of item to make a fashion statement. If you want to go for the second one and wear it as a kind of lover's badge, you can go for any of the silver colored ones above provided the look doesn't quite agree with you due to how flashy it is. Silver is inconspicuous and still manages to make a statement in any scenario that you go to.
5. Men's Diamond Chain Choker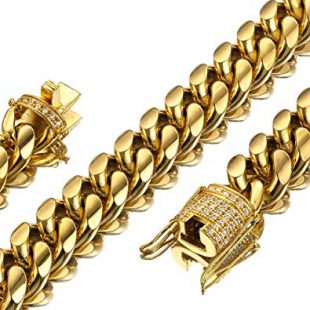 We actually didn't notice the links right away due to the amount of attention Jxlepe put into the clasp of the bracelet. On all sides, the clasp is embedded with Cubic Zirconia, which is one of the hardest and thus, most durable types of crystals you can use. In fact, we can even say it holds more shine than diamonds itself, and that's at a far cheaper price. This immediately makes the Jxlepe bracelet a great choice for anyone looking for a gift but is operating on a budget.
This is for any man or woman (maybe yourself) that you know. It easily inflates anyone's ego since that much bling must count for something. And on that note, let's talk about the gold spread on top of the metal. 18K yellow gold creates a firm layer on the surface and it can take a lot of beating. Nothing short of intentional scraping will peel off the paint. This means it's going to stay in use for a really long time. It's a good feature to have in the case you're giving the bracelet to your daughter or son as a surprise present on children's day. Certainly fits the relationship and mood, without being underwhelming in potential.
6. Harlembling – Lab Diamonds – 14k Gold Plated Stainless Steel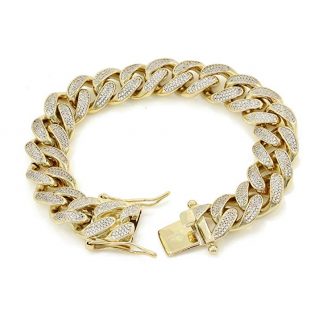 If we were to take a page from the description, the Harlembling is completely iced out. The surface is covered with tiny simulated diamonds to give a lot of shine. After this, the metal itself is stainless steel and it has been electroplated with 14K gold. This essentially makes the Cuban link bracelet a perfect mix of beauty and thus performance, and toughness and hence longevity. Either of the two can be applied anywhere you want.
If you think gold looks good on you and you don't mind the attention it carries along, it's worth investing in it. The paint isn't fading or changing anytime soon and it can take some beating since it's made from steel. Alternatively, you might not like that amount of stones and hue, but you know a person who'll immediately fall in love with the mix. They'll easily apply it to all occasions that may need them to be casual or classy. If they're going for a professional feel, we think ones with a silver hue will be better. Now, one feature that holds all this potential together is the durability. And like we mentioned, it's great, so you have a gift that won't disappoint in terms of lifespan.
Just make sure that the bracelet is applied to special occasions if you have the chance. Make it romantic too, if you can, since that amount of appeal says a lot about what you can do for your partner. Otherwise, you can try giving the idea to your brother or boyfriend to use. In the case of the latter, he could give the bracelet to his little sister or mom. By doing this, you're being extremely thorough in your approach to things that concern him.
7. Sabrina Silver Sterling Silver Heavy Curb Bracelet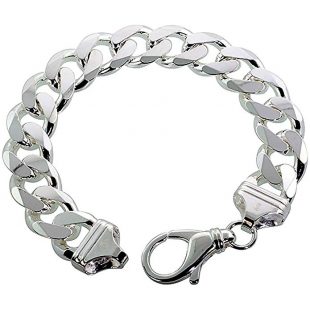 Get It Here
If you don't like the attention-calling nature of gold, silver is the perfect color you should pick. This is why we picked an option made completely out of Sterling silver. The price certainly tells the same story but that chitchat pales in comparison to what you feel. The weight is comfortable, the color is right, and the design is definitely unique. Albeit, in a way that it's rough and thus, bold. That goes to say that the bracelet is ideally for men, not women.
And because of that fact, let's tell who you can give the bracelet. Your Dad is a good candidate to consider seeing as it'll definitely surprise him if you think enough about him to influence his fashion taste. Alternatively, you could give your partner the bracelet or even give him the idea to give his own Dad or yours the piece of jewelry as a gift.
Nevertheless, let's move on from who you're giving it to. Let's talk about the durability of Sterling silver. To that, we can say it's of those perfect metal mixtures for making good jewelry. In other words, Sterling silver is really tough and no electroplating of gold takes place here. This means any scratches found on the bracelet will be kept to a minimum since it's one type of material throughout. And that's without considering the fact that Sterling silver itself is no beginner when it comes to resisting scratches and wears.
You have a gift that's perfect for literally any kind of person. It looks good enough to grace any wrist in even the poshest of settings (most may assume it's white gold and who're you to no welcome such warm thought), it's tough enough to be worn by anyone who gets physical a lot, and it's wholly perfect for a mix of both worlds.
8. DubaiLink 18k Gold Plated Cuban Link Chain + Gift Bag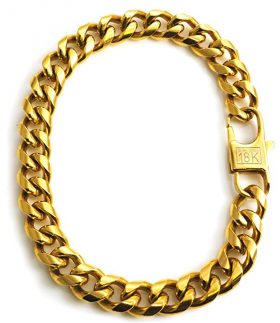 What caught our eyes the most was the yellow glow that the bracelets emit. It's certainly surprising considering the budget-friendly price attached to the bracelet. Still, we had to move deeper and see if it works as much as it speaks.
Fortunately, as you now have another option to consider, the bracelet is certainly durable. That ticks 2 major boxes in our book since those ones alone are enough to make a decision whether or not you're buying a particular product or not.
If you're giving the bracelet as a gift, the build quality makes sure it'll be worn and thus, you're making sure your presence/influence will be felt. It's a gift that means something better than wealth and even appeal. It can very well pass as a sign of love, and that's applicable to everyone you know (familial or otherwise). You leave one with your son/daughter and even engrave one for your partner.
If all of this doesn't appeal to you, you can wear it by yourself to most places you know of. That may be work, a simple dinner, or even some light shopping. It's just one of those pieces of jewelry that can become the equivalent of a pair of earrings. It'll always be worn and the durability gives it enough resistance against wear of any kind (fading or another).
9. Lifetime Jewelry Gold Over Semi-Precious Metals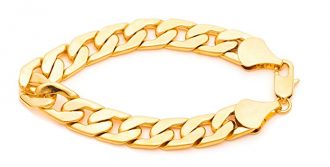 Ideally, we think this Cuban link bracelet from Lifetime Jewelry is mostly tailored to be a gift. It has a somewhat hefty price tag (at least compared to the others on the list) that makes It perfect for occasions like birthdays, anniversaries, etc. After this, it has the necessary durability to keep up with anyone's activities. In other words, if the person you're giving the bracelet works in settings where he or she needs to get physical a bit, the bracelet is good to go. And if you plan on using it occasionally due to the beautiful looks, that's easy to pull off as well.
Likewise, gold is a metal that means wealth and class. And not a lot of clothes do not go well with that kind of healthy combo. Also, the different settings, both formal and informal that the bracelet finds itself in—it easily sets the wearer apart from all others. That's the kind of attention that you want for some that you know, but that's only if it agrees with their style. If it doesn't, consider ones with other hues or better yet since we've suggested that idea multiple times, find a way to convince them to wear the bracelet. That can be through an emotional gift card or maybe through engravings of your personal details (your zodiac sign or chic names like "Boo" or "Be Good" depending on who you're giving) on the bracelet and giving him/her.
10. Lifetime Jewelry 24K Gold Overlay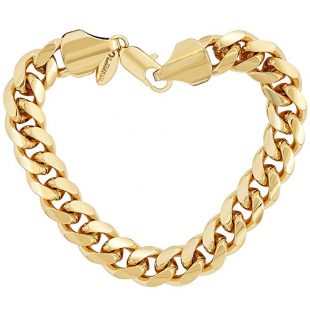 Like most of the other bracelets on the list, this one is also made from yellow gold and we actually chose it because of the price and choice in gold quality for plating. For the first one out of the 2, you'll be surprised to find out the price is actually more than that of the previous Cuban link bracelet which we tagged with 'hefty price'. The reason for the increase in price is why we like it in particular since it directly concerns the second part. In other words, the quality in the gold used for plating increased from the highest that we previously mentioned (18K) to 24K. That, in turn, means better glow and thus attractiveness.
You can give it to anyone who's related to you or maybe your friends. If you don't have a cousin whose birthday is coming up soon, it might be better to give your daughter a reward if she does well in school. Or maybe your friend has a birthday coming up and she's running low on ideas, you can pass this gold to her and let her read about the quality.
Certainly shaves off a lot of trouble. On another hand, if you're looking for a graduation present for a friend or family member, you can give her this bracelet. The quality it speaks means you're giving her a gift that she could buy personally for herself to use if she saw it first. You can buy the bracelets in different sizes. Choose one that firmly fits you or better yet looks compact on your wrist. We say you do this because of the links' width. That kind of look fits the most.
Q&A
Who are the celebrities that have worn Cuban link bracelets?
As is the norm nowadays, most trends start somewhere and celebrities always constitute a huge chunk of the reason. So it's absolutely normal to see Cuban link bracelets on different celebrities online. If you remember Robert Pattinson from the Twilight saga, he has been noticed wearing a Cuban link bracelet that's even chunkier than most of the ones we've shown above.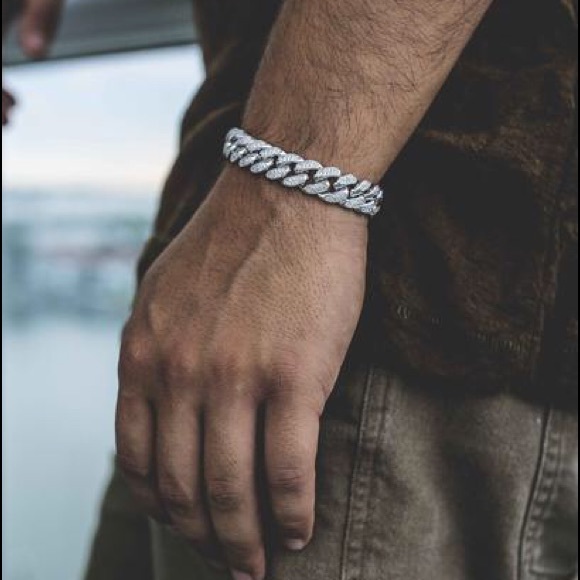 After him, Jay Z who is always likened to a fish in the water (its elements) is occasionally seen wearing the bracelets. Cuban link chains are classics anywhere you go.
Can I wear matching Cuban link bracelets with my partner?
Yes, of course. In fact, we think you should engrave the links with a few romantic texts to each other. It's not too much gold to have on your wrist if that's what you're thinking about. The meaning, in this case, particularly counts more than the price. This should help make it a habit which you'll have to wear just like your wedding ring.
What did we consider for selection?
If you want to pick your own Cuban link bracelet other than from the ones above, you only have to go through a few simple boxes. Or better yet, you have to tick the boxes if they pass with flying colors. During our selection process, we checked the price, the material used in making it, and then the quality of the coating. The price is always important since the budget for every buy is different individually.
You might just be looking for a budget-friendly bracelet to wear since you've grown too used to the old one. On to the materials, will the Cuban link bracelet stand wear? Do you think the stainless steel, silver, gold, or platinum will be strong enough to easily stand use, in proportion to the price they're asking? Finally, a high quality of the coating is a must when it comes to electroplated jewelry. It must be thick enough to avoid scratches and also be of rich quality to really bring out the Cuban link design. Accordingly, go for bracelets with smaller widths if and a duller shade if you're trying to be inconspicuous.