Inspiration / Trends
The 5 Jewelry Fashion Statements We Are Seeing on Instagram This Month!
Marianne 20 Mar 2020
2966
Social Media has so many fun aspects that make keeping up with family, friends, and trends simple. One popular social media platform that people are loving is called Instagram. There is a good chance that most of you are probably familiar with it unless of course you have never owned a smartphone or you live in a cave. We're kidding! But this app is currently one of the biggest social media platforms out there and it's not foreign to many. So what is so great about this app?  Instagram is also, a very famous way to showcase jewelry fashion statement for everybody to see.
One thing that we absolutely love on Instagram is the hashtag. The pound sign, or number sign, has evolved to be known as the hashtag in the past generations. The hashtag is used to clump similar things together. For instance, if you post pictures of your spring break vacation you can add a specific hashtag to the end of the post. By clicking on that hashtag, it will take you to all of the photos that have used that hashtag. What is the purpose of that? With this ever-evolving feature, you are able to search hashtags to find specific photo albums or even trends. So with your spring break hashtag, you can click on it and then you will see all the pictures from your vacation that you have tagged with this name. Pretty cool right?
But that's not all! Our favorite thing about the hashtag feature is that it makes it easy to track trends that you see from celebrities, companies, and even your friends. Simply type in a hashtag into the search box, and it will show you all of the trending hashtags under that name. Pretty fascinating right? Whether you're looking for recipes, wardrobe tips, or the hottest jewelry of the season this is a great way to track the trends! Anyone can post hashtags, so you will get a wide variety of options and trends when you search.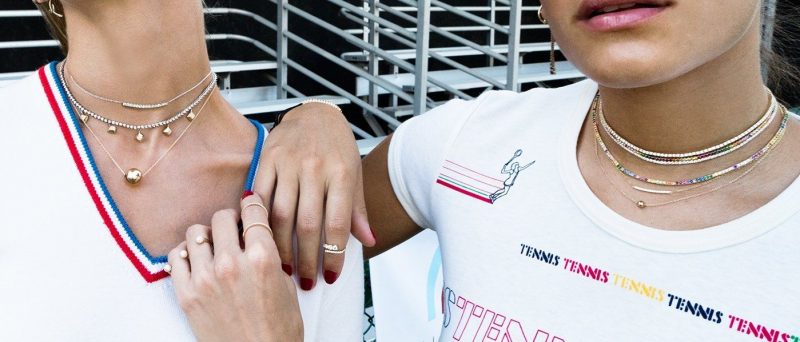 Let's say that you are looking for jewelry trends from a specific group of people from a certain season or year. If this is the case, how do you narrow it down? One way that we suggest is by being more specific in your hashtag search. Instead of searching for jewelry, search #falljewelry or #jewelrytrends. You can do this with a celebrities name, a brand that you love, or your magazine obsession. There are so many ways to search Instagram and through hashtags is a great way to find exactly what you are looking for! If you are anything like us, that search will often include jewelry because we absolutely love to see what is trending, what's out, and what is here to stay! Now that you are a pro at searching Instagram, whether it's to stalk your celebrity obsession or to find hot trends in the fashion world, let's talk about some jewelry that we love that is trending on Instagram recently!
What jewelry fashion are we seeing this month? There are a plethora out there and it can be difficult to select just five. But overall, there were 5 trends that we think stood out more often than any others. These are all over Instagram and you won't do a single search about current jewelry fashion that doesn't include at least one of these special 5 styles. Well, at least none of our searches about jewelry trends didn't include at least one or two of them. So let's take a look at what 5 jewelry trends we are seeing on Instagram this month.
1. Bracelets are totally in
First of all, bracelets are totally in right now. There are a few different styles that we have seen trending lately, but there is specifically one style that stood out to us the most on Instagram this month. What bracelets can you not live without this season? What are you seeing on your favorite celebrities and social media icons? The trend that we are seeing the most is the thin stack bracelets. We're seeing them in gold, silver, and a range of fall colors that are stunning with the fall wardrobe!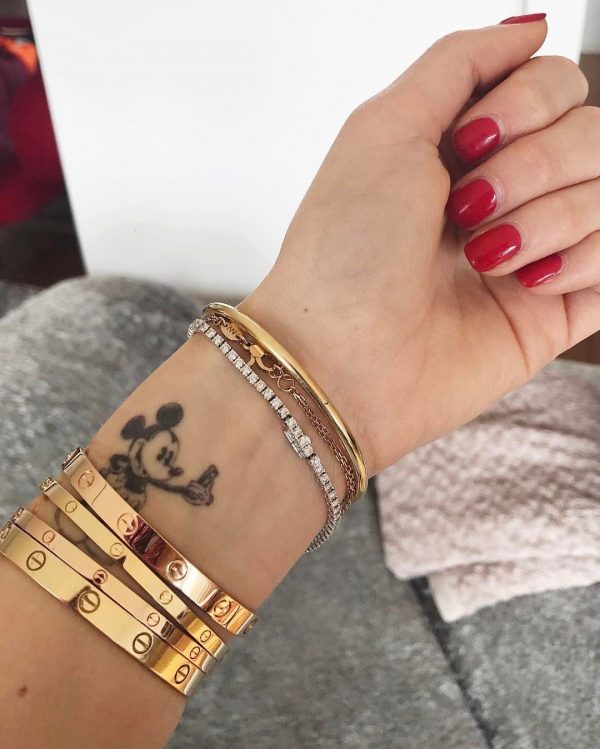 You may be wondering exactly what these thin stack bracelets look like. The best part about Instagram is that it is made up of digital photos. So it's like searching through a jewelry portfolio when you search for trends. We are loving quite a few of these darling pieces. For example, there is a classic and simple bangle bracelet set. This typically comes with 3-5 bracelets that are solid in color, shape, and texture. There isn't a ton to these bracelets, but the way that they all lay together and move with the wrist is so cute! Some of them are a solid color and texture. Others have a bit more detail. We are seeing some with textured metals that are darling. There are combinations that have a mix of solid and textured. We've also loved the ones that have little details to them like quotes, engravings, or jewels.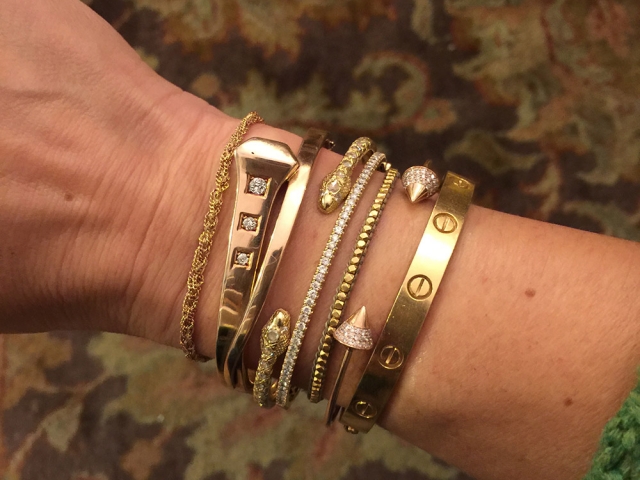 We are also seeing some that take the stacked bracelet look and give it a different variety. For example, the chain or beaded stack bracelets. These ones often look a little different between each adorable bracelet and when they are combined they make such a beautiful collection. We have found lots that are stranded with little jewels or dainty charms. Some are beaded and some are plain chains.
On top of all of the different types of metals, chains, and designs you will see with these dainty stacked bracelets, we are seeing a whole lot of sparkle trending on Instagram this month. Take a gold or silver bracelet and add in a few jewels to make it shine. We also love the look of an all-over sparkling bracelet that is either full of dazzling diamond gems or a thick bracelet that is coated with shine and pizazz.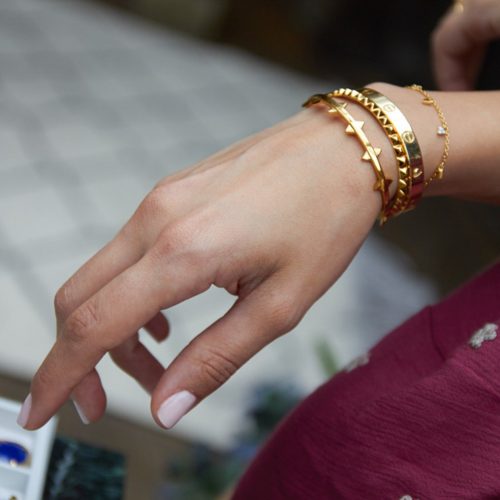 So how many bracelets can you wear with this look? Is it strictly 3-5? What are the trends like on Instagram this month? Well, whether you like more of a statement look or you're a plain and simple type of person, we have good news for you. There is no limit to how many layers of bracelet we are seeing. More times than not we are seeing about three bracelets stacked together.
However, as we said before there are so many options and different combinations for this look. For the most part, you can't go wrong with what you put together. This is a trend that you can go out and shop for, with what seems to be never-ending options. But you can also take a few pieces from your jewelry collection that will pair together beautifully as stacked bracelets. How fun is that? We love the possibilities with this trend. We think it's perfect for fall because you can wear it with a short-sleeved shirt on a warmer day and you can layer it on top of a cardigan or a long-sleeved sweater on a cool day. This look is so versatile and can make such a statement to your everyday look or your formal night out.
2. Chunky rings
Rings, rings, rings, and more rings! They are trending like crazy on Instagram this month and we are obsessed with the styles we are seeing. The easiest way to sum it up with these gorgeous rings is, "Go big or go home!" Chunky rings are totally in right now and they couldn't be any classier or more beautiful. First of all, they make such a statement.
We use our hands for a hundred things every day, right? Whether its to pay for your drink at Starbucks, type at your job, or shake someone's hand, our hands are constantly reaching out to other people. So why not highlight them with a gorgeous ring, or a handful of rings, to make them even more beautiful? They deserve to look good for all of the work they have to go through. Do you know? Well, you've been warned that this month's trend for rings is to go big, but let's talk about what exactly we are seeing trending on Instagram!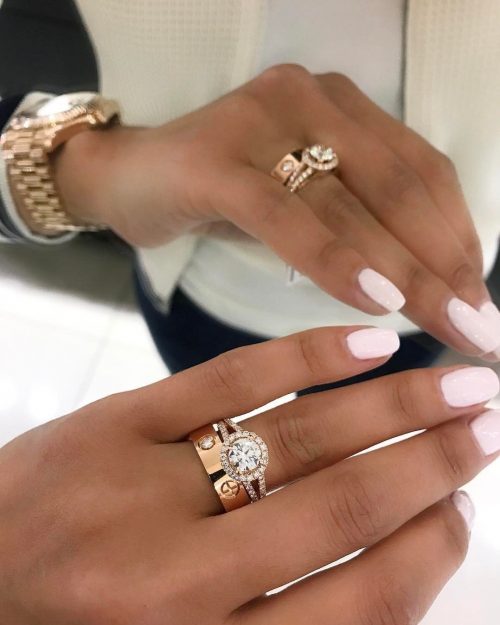 You will not want to hold back this month. Let's talk first about bold and chunky rings. For the most part on Instagram, we are seeing the trend of flaunting one or two of these large rings on your hand at a time. These rings are absolutely gorgeous for an everyday look or a classy night out. Some that we are seeing include large gemstones, glitter, and shine galore, and thick gold bands. If you are looking to jump on board with the large gemstones trend, don't shy away from color. These jewels can be colorful, textured, and as authentic as you want.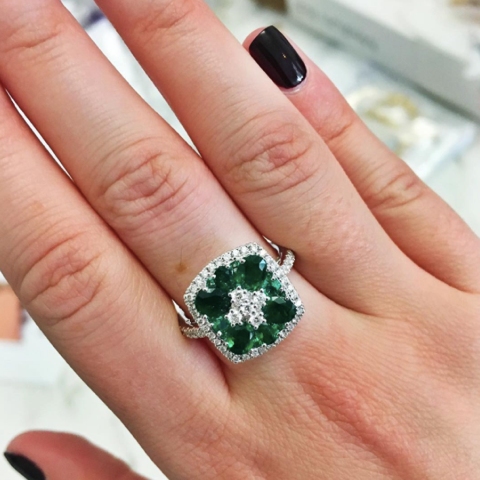 They seem to present a look that is one with nature and flaunts all of the gorgeous fall colors that we are ecstatic to see again this time of year. Find yourself a large jewel that is emerald green, navy blue, or even dark purple. The dark colors are so extravagant when you put them on a more basic ring band and draw all of the attention to the large colored gem.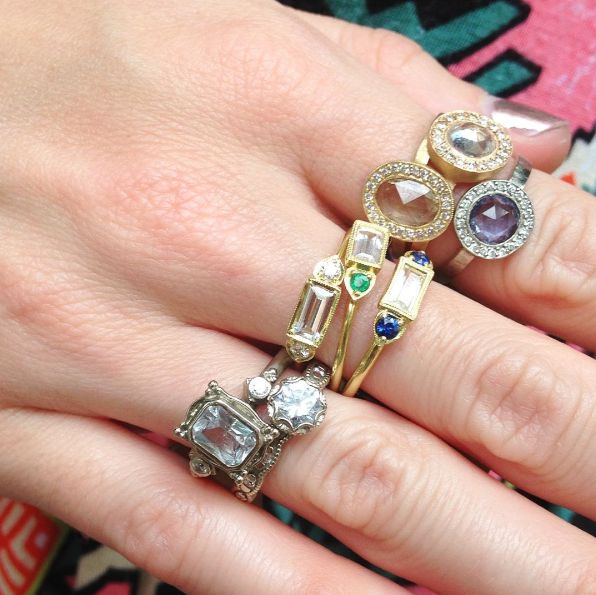 Next, we have the glitter and glam type of rings. We weren't joking when we said that sparkle is in this month when looking at trends on Instagram! Whether it's a ring that is covered all around the band with shiny gemstones, a large diamond rings, or a ring that is designed with a plethora of diamonds to create a beautiful centerpiece, this style is totally in right now!
We have seen an abundance of rings that have an initial or design in the center and they are surrounded by a large circle of diamonds to really make the initial pop out. We have also seen some that have charms or other unique designs to them.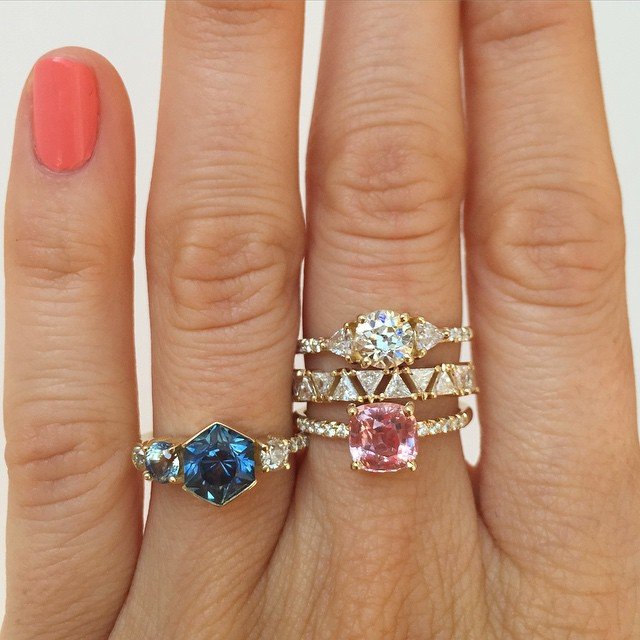 Chunky rings are in and there is no need to hold back on the sparkle! Lastly, we are seeing an abundance of thick gold bands. Now, this doesn't mean that gold is more popular than silver and you could absolutely flaunt a thick silver band, but gold is definitely trending and catching our eye. We are enthralled with the look of simple gold bands. Yes, you read that right. Bands. Get a chunky one or two on one or two fingers, and then put them together with a collection of other thin gold bands on your other fingers. This is such a classy look and we love how easily it transitions from day to night! If you are a ring-type of person, this is your month! They are absolutely trending on Instagram right now.
3. Layered necklaces!
Number three on our list of jewelry fashion that we are seeing on Instagram this month are layered necklaces. Can you hold in your excitement? Because we hardly can! This look is so gorgeous and is perfect for fall. There is so much versatility when it comes to wearing layered necklaces. We love the way that you can follow the trend, because who doesn't want to do that, yet you can still add so much of your own personality to this style! We have seen so much variety with these layered necklaces and we can't wait to tell you about our favorite looks.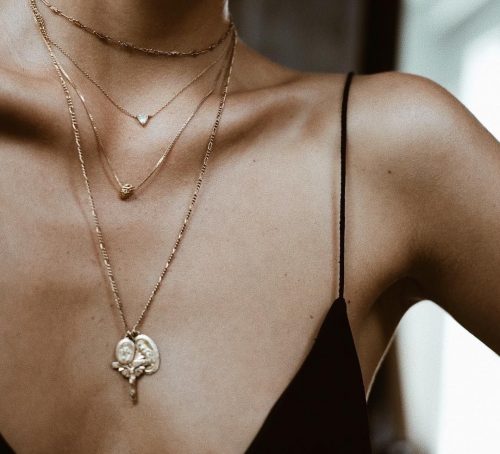 First, let's talk dainty. It may be hard to believe with all of the bulky trends we are seeing this month, but it really is still in! We love dainty necklaces layered together to form more of a statement piece. On Instagram this month we are seeing silver, gold, black, and even a range of other fall colors with these simple pieces. One style that we are seeing that we especially love is layered silver or gold chain necklaces. This can start all the way with a choker necklace and then layer one or two more times as long as you want. We love the choker mixed with the Boho style, or the initials or other engravings on the necklaces.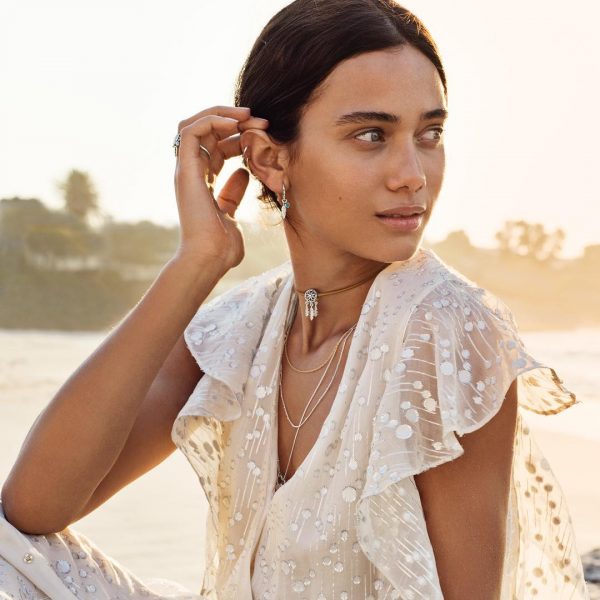 Another style of this trend that we are just drooling over is chunky. Yes, it can seem the opposite of the spectrum, but we told you that's what we admire about this trend, right? No matter what kind of style you are into, this can be totally and completely catered to you! So let's talk bulky, chunky, whatever word you want to use to describe it! Some of these that we are seeing are necklaces that are lathered in jewels, gems, or other pendants.
They flow together so beautifully and typically include two necklaces in the overall look. It is such a darling way to mix up the standard chunky necklace look! Now as you remember, sparkles are in. And yes, that is happening here too! Don't hesitate to layer diamond or other shiny gemstone necklaces.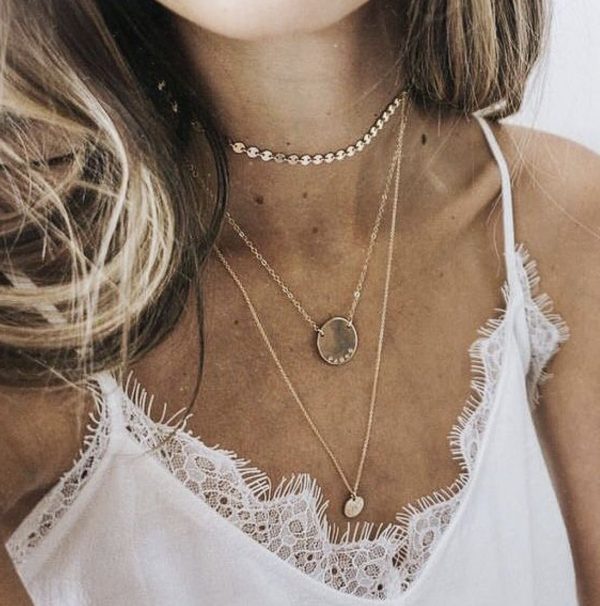 A gorgeous studded diamond choker with a sparkling silver chain and diamond pendant makes for a stunning combination. Whether you like shiny, dainty, bulky, or even pearls, this combination is up to you! The layered necklace trend is so popular on Instagram this month and it is a great way to add your own taste and style to a trending look.
4. Simple is the new rule when it comes to earrings!
Alright, this next trend is so much fun! It is cute for all ages and makes for such an enjoyable look. To us, it kind of seems to take a step back from all of the fancy, bulky, and shine we are seeing this month. Now don't get us wrong, we absolutely love all of those things. But this just has such a different vibe and it's nice to have some variety in all things in life. So this trend that we are seeing on Instagram this month is about earrings. No surprise there, right? We've told you about bracelets, rings, and necklaces that we have seen trending this month, so naturally, we need to tell you about earrings too. But these earrings might come as a bit of a surprise to you because honestly, they did to us! They stand out from other trends we see because they are youthful and so charismatic.
Are you excited to hear exactly what they are yet? Okay, fine. We will tell you. Some of the top earrings that we are seeing trending this month are small silver earrings that have some sort of symbol or character on them. Don't believe us? Go check it out for yourself and get excited because this is such a fun, casual look that is definitely trending right now!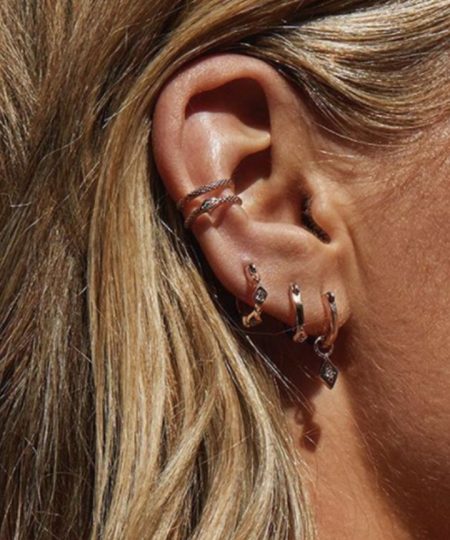 What exactly do we mean by small, silver earrings that have some sort of symbol or character on them? There are so many choices, but we do have some favorites that we want to share with you. First of all, animals. Yes, animals on earrings. This can mean a stud earring that is shaped like an animal or we've even seen dainty charm like earrings that the little animal dangles just below your ear. We're telling you, this look is darling! Some of the cutest little earring animals we have seen are a turtle and a zebra. Does that give you a taste at just how much you can customize this look? What's your favorite animal? Find it in earring form and show it off to everyone that you walk past! It's such a cute trend.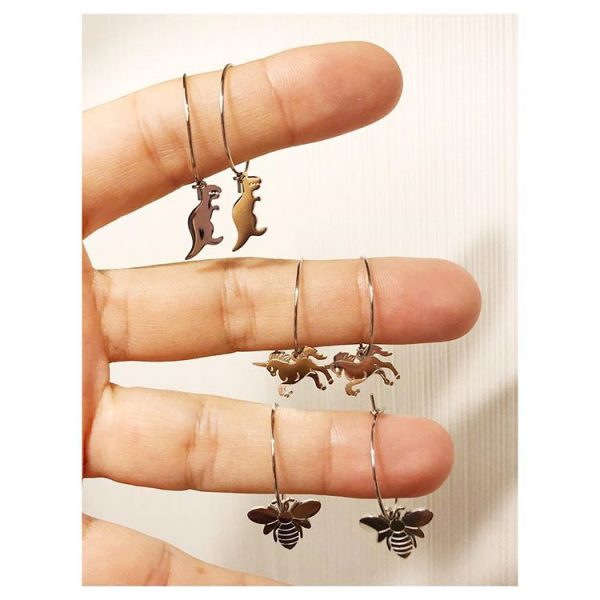 But animals aren't all that we are seeing. We've also seen things that range from a peace sign to a lightning bolt, and even music not. There really is no limit here. Also, the silver versions of this trend are definitely standing out, but you can absolutely flaunt them in gold or even dark shades of autumn colors as well. This is such a cute look and can add character to any outfit that you have on!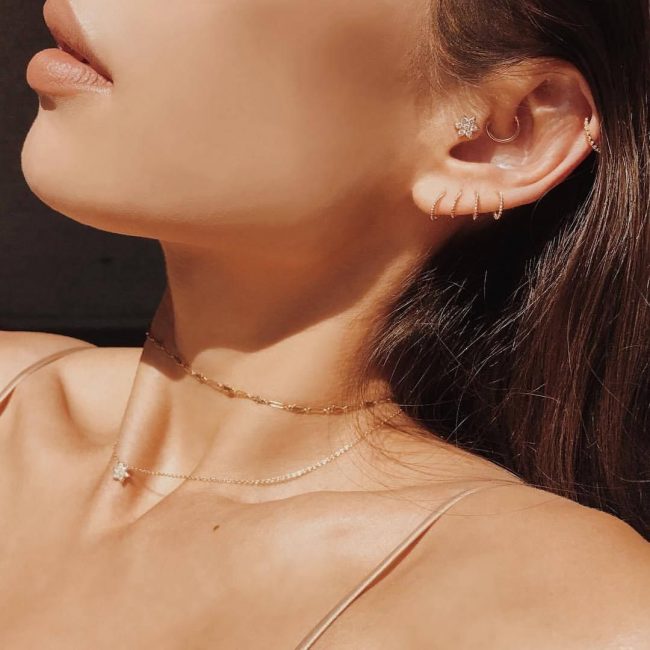 Last up on the list, we have another kind of earrings that are trending on Instagram this month. This one is quite a bit different than the dainty symbol earrings and definitely fits in with the big and bulky, even the sparkly trends that we are seeing throughout most of the trends. We won't tell you whether or not we saved our favorite for last, just like you do when you eat a pack of starbursts, but there is a chance that might be the case. Our final trend from Instagram this month are tassel earrings. Yes, you've seen them all over by now probably. They have exploded off the trend charts lately! We are completely obsessed with this look and we are so excited to share with you exactly the types of tassel earrings that we have been seeing trending on Instagram this month.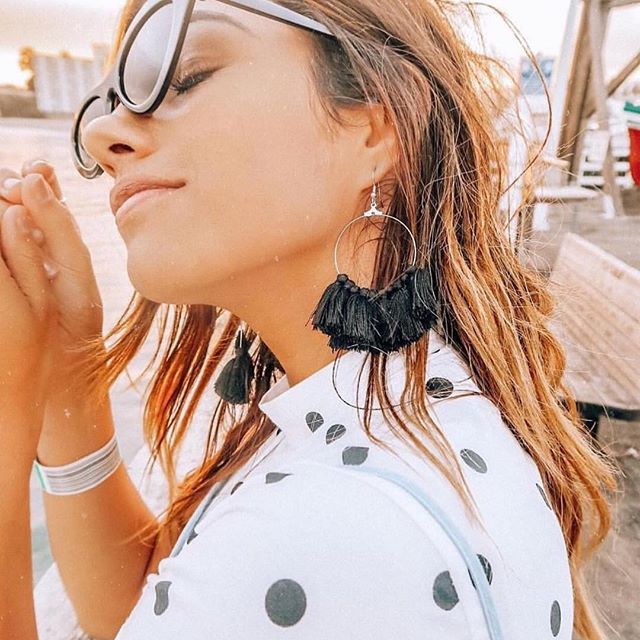 First up we have your standard tassel earring. Do you know the ones that are all about the tassel? These earrings typically have some sort of dainty stud at the top and then immediately flow into a gorgeous tassel. When it comes to tassel earrings, there is a good range of lengths that we see. Typically they are about two to three-inch tassels, but there are definitely some shorter and longer. You can totally decide how dramatic you want this look to be. Next, we are seeing tassel earrings that are full of detail and design. This ranges from a sequence of shapes that line the chain leading to the tassel, or other gemstones and beads that lead to the tassel dangling at the end of the earring.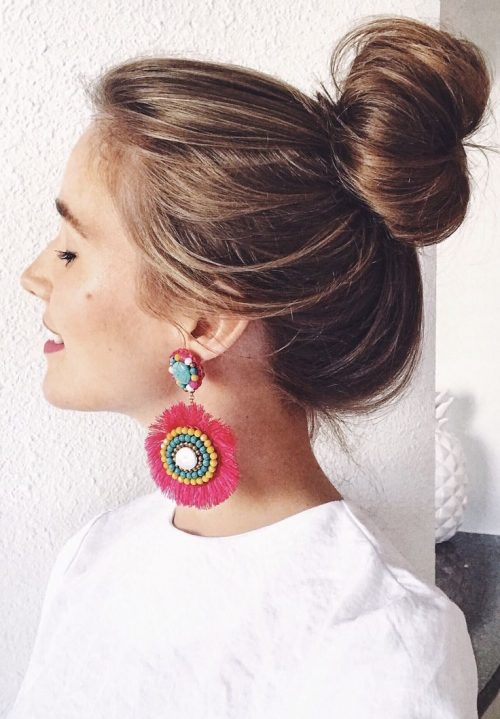 Do you own any tassel earrings yet or have you seen your friends or coworkers flaunting them? It's okay to feel a little jealous if you have seen them wearing them and you don't have any yet. But now that you know that this look is totally trending, it's time to go grab some of your own. There are so many choices when you're in the market for this style of earring and if you look around you can be sure to find one, or a full collection, of tassel earrings that are exactly what you want! Trending on Instagram right now we are seeing a variety of colors for the tassels. Most of which have a silver or gold base for the metal and then have a colored material tassel. Some of our absolute favorites are tan, emerald green, burgundy, and black.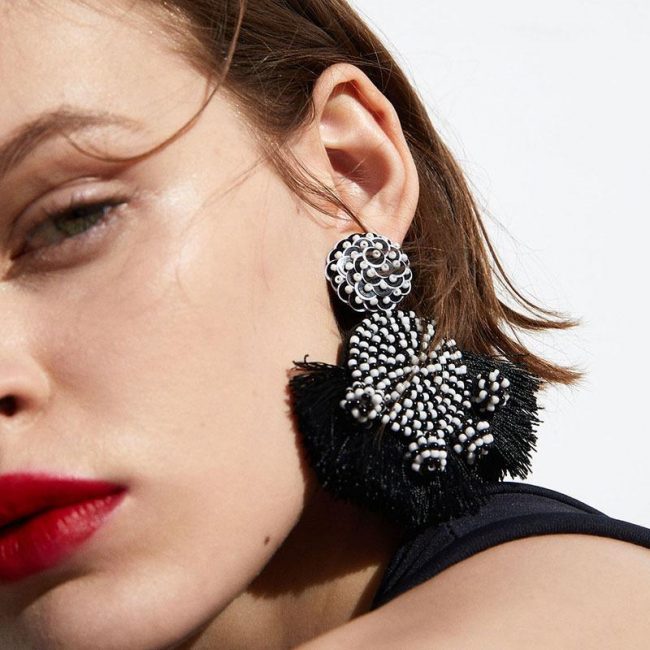 You can find something that will match your outfit or something that coordinates and pops out. If you are loving the sparkles that we have been seeing throughout a lot of the trends on Instagram, you don't have to hold back here. We are seeing tons of tassel earrings that have dazzled shapes or beads that layer down to the tassel to give it that blinged-out look that you are wanting! We love the tassel look on any face shape and regardless of your length of hair too, which is exciting!
We have seen gorgeous women with very short cuts that rock this look and women with beautiful locks that this tassel earring looks so stunning with as well. No matter your face shape or length of hair, these earrings will flatter you and make the statement that you are looking for.
Final Notes
So what did you think of these 5 jewelry trends that we are seeing on Instagram this month? Have you been seeing them too? We love when we start seeing these trends stand out more and more in person as well, rather than just on Social Media. Don't be the last to add these gorgeous items to your jewelry collection. We hope that you loved looking at this round up as much as we did! We are so excited about the 5 jewelry trends that we are seeing on Instagram this month. Each of them offers so much life and beauty and they are all the perfect transition pieces into autumn. It's time to spice up your jewelry collection and jump on board these beautiful trends we are seeing!