10 Ring Stands & Holders That Look Like a Piece of Art!
last updated:
Mar 25, 2020
It's likely that you would have chosen your rings for their beauty and style but one thing that's not always considered is how to store your rings when you're not wearing them. A ring stand offers a safe and practical way to store your jewelry. However, it's not all about practicality, we've chosen 10 rings stands that look as beautiful as a piece of art. 
All our choices range in styles but they all share one thing in common, they'll look fabulous when displaying your jewelry and in their own right as a piece of art. 
10 Ring Stands to Store Your Jewelry
1

. Tri-Coastal Ceramic Cactus Jewelry Ring Holder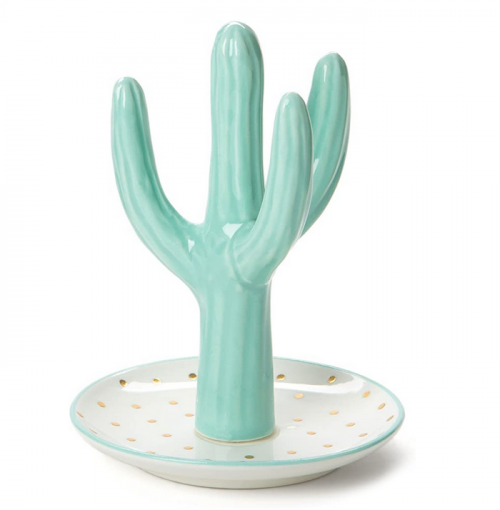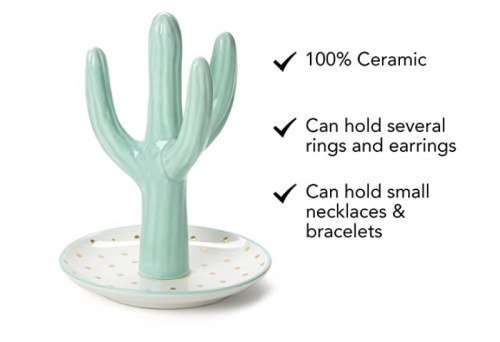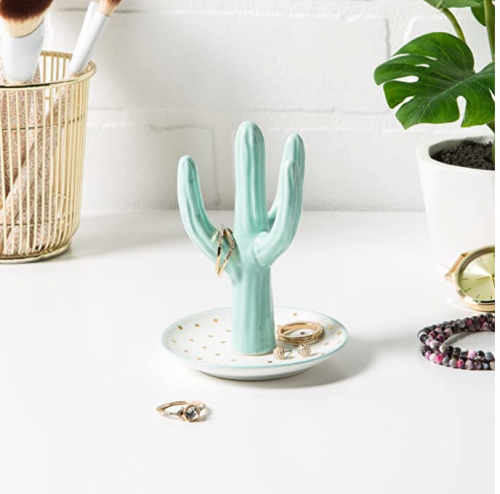 100% ceramic
Cactus-shaped stand
Trinket tray
The first item on our list is a fun and funky design, sure to brighten up any dressing table. When you think of items that would make a great design for a ring holder, a cactus tree may not come to mind. However, this is the perfect shape to provide you with lots of space to store your rings on the arms of the cactus tree. 
Read more
You won't be stung with this ring holder! It's smooth and the ceramic surface offers the ideal home for your rings. Beneath the cactus tree, you're also getting lots of space to store more rings and jewelry.
 
The tree itself is a simple design and features four branches each capable of holding several rings. Coming in at 5 inches high, this isn't quite as large as the cactus you'll find in the dessert however it's suitably sized for any dressing table!
You'll notice that the designers have cleverly added detail to the branches to give it a realistic feel and we love the shade of green they've chosen, it's almost a mint color and suits this cactus tree very well. We also like the gloss finish that gives it a super shine. 
The gold polka dots in the dish give this piece a modern vibe and almost make the cactus stand out. The green rim around the dish is a lovely detail that brings the whole stand together.
It was a good choice by the designer to keep the dish a cream white color which lightens and brightens and makes this easy to match any dressing table. 
2

. Evelots Ring Holder - Good Luck Elephant ewelry Bowl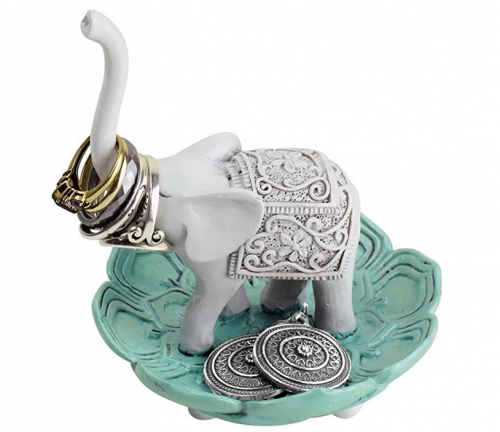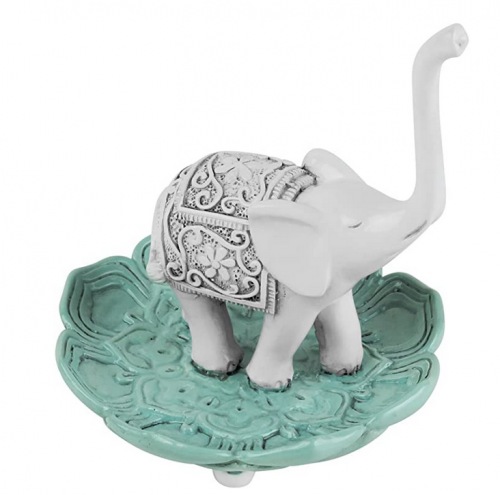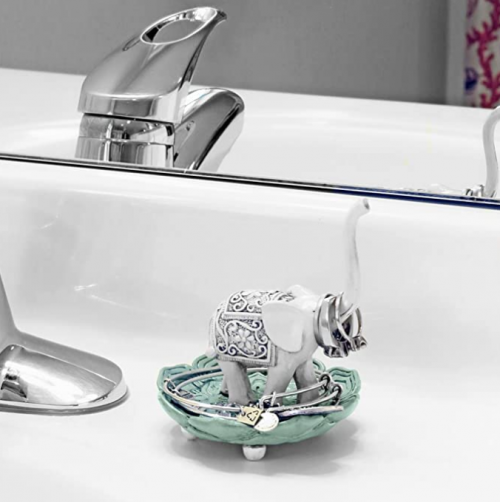 Decorative elephant
Green dish
Made from polyresin with a gloss finish
This ring holder gives you style and substance with a unique and fun design. An elephant's trunk proves to be a great way to store your rings and gives lots of space to keep them safe. We love the almost Bohemian feel of this item which has been kept nice and simple with two tones of color. This ring holder will look great in a range of settings - whether you prefer storing your jewelry in your bedroom, bathroom or even on display in the lounge.
Read more
What's striking about this elephant is the decorative pattern featured on its back. This panel features an intricate pattern that transforms this grey bland elephant into something a bit interesting. The etched pattern consists of grey and black. You'll notice that the black has been used to bring out the design on the body of the elephant. The combination of light and dark colors works well in creating this pattern.  
Extra space to store your jewelry comes in the form of a green dish that the elephant stands in. This bowl features a lotus flower design on it which like the elephant, features an etched pattern. However, this time green and black are used to bring out the design. 
The entire jewelry stand is made from a polyresin material with a gloss finish. What we like about this is that the polyresin is strong and allows for intricate detail to feature on the stand. The piece has also been given a gloss finish making it shiny and smooth.
To give you an idea of the size of the stand, it is approximately 2.5 inches long x 1.5 inches wide and 4 inches high. These measurements include the elephant's trunk. There is also the 3.25 inches which make up the base diameter. 
 
You'll notice that this elephant jewelry stand features an exceptionally long trunk. The great thing about the trunk is that it provides plenty of length for rings to be stacked on. The trunk is designed in a way that it curves at the end preventing rings from falling off the holder.
The entire piece is extremely lightweight making it easy to move and place in different rooms. Necklaces, bracelets, rings, and earrings can all be stored within the stand either via the elephant's trunk or in the green dish, giving you a couple of options to choose from.
The seller of this jewelry stand provides a 30-day easy return policy and 100% satisfaction guarantee so if you're not completely happy with your item you can easily return it. 
3

. Suck UK Skeleton Hand Ring Holder & Organizer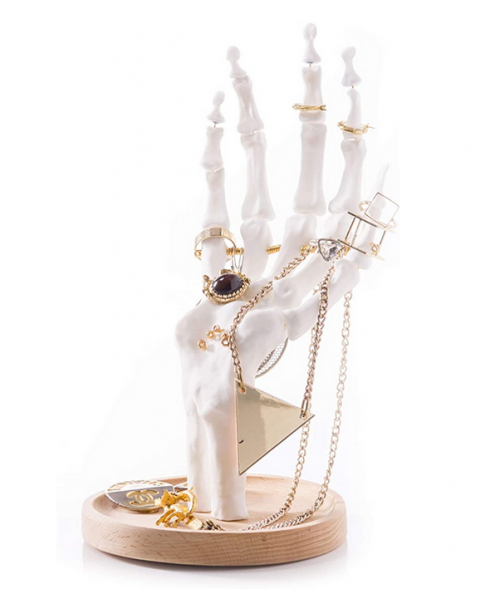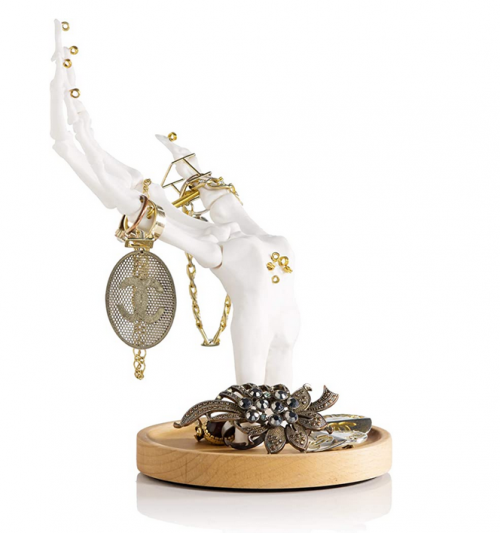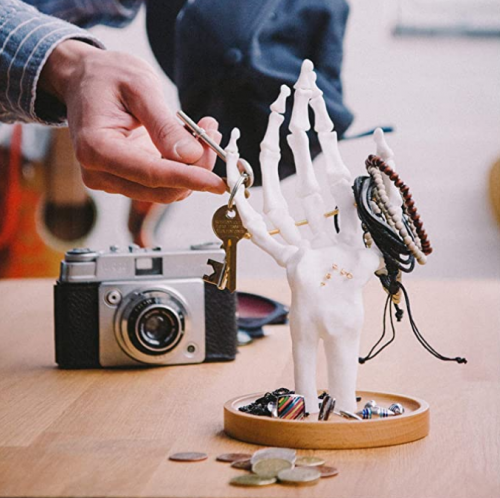 Made plastic polypropylene
Solid wooden base
Gold detail 
Where better to store your jewelry than on a hand. There's nothing spooky about this skeleton hand as it provides all the space, you'll need to store your favorite items. Moveable steel joints provide you with the opportunity to model your hand in several positions. This ring holder and small jewelry organizer takes things a step further by giving you plenty of space to store not only your rings but your necklaces, bracelets and even wrist space for a watch. 
Read more
The hand itself is made from plastic polypropylene which means that this is light but firm enough to hold your jewelry. You're likely to keep the hand in the one position that is displayed; however, this isn't necessarily a bad thing as this provides lots of room for your rings and jewelry. There's no mistaking that this is a skeleton hand and each of the bones is well defined and nicely shaped.
 
The plastic is a bright white which works well against the gold detail. The skeleton hand is fixed upon a solid wooden base which helps with making this sturdy. This also provides extra space for more jewelry. We've already mentioned that you can store your watch on this hand and there's lots more space to store necklaces, earrings, bracelets and not to forget several rings. 
This is a fun jewelry organizer and is a good choice if you're looking for something a bit different. It will also be well worth the look if you're a fan of gothic culture or similarly, it will come in 'handy' if you're on the hunt for a Halloween-themed decoration. 
4

. PUDDING CABIN Silver Cat Ring Stand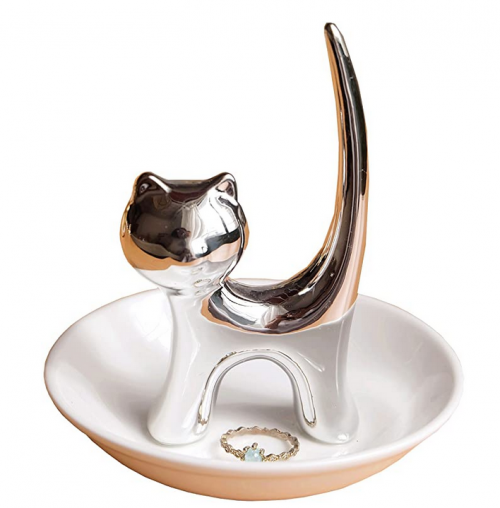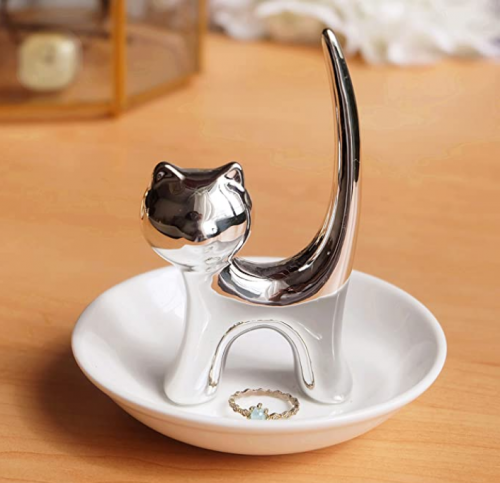 Ceramic tray
Silver finish
Long-tail for extra storage
This bold and contemporary ring stand makes the most of this pussycat's long tail. This is a striking but cute item that combines a shiny silver finish with a white ceramic dish which makes this a bright and tidy way to store your jewelry. The ring holder makes storing your jewelry great fun and you'll enjoy decorating the cat with your items. 
Read more
It's a well-known fact that a happy cat will often raise its tail high up in the air. This is one very happy cat! From the base of the dish to the tip of the tail, this holder is four inches tall. That's a nice size for a jewelry holder and means that you can store several of your rings on the cat's tail. 
The shape of the cat is cute. Its features are all quite large including sturdy legs and the simple yet attractive head. Two small ears are the only real detail, but this is none the less instantly recognizable as a cat. 
The white ceramic dish is deep enough to hold even more jewelry and offers a sturdy base that will look great whether ever you're looking to display your cat. Due to the shape of the cat and the extra space in the dish, there are lots of options for how to display your jewelry and we're confident that you could mix it up with rings, necklaces, and earrings. 
This supplier offers a variety of animals to choose from including flamingos and elephants, but our favorite has to be the cat and we're sure that this foxy feline will watch over your jewelry to keep it safe. 
You can rest assured that your jewelry stand will arrive safely as it will be delivered in sturdy packaging to protect it. 
5

. Ikee Design High Heel Shoe Jewelry Stand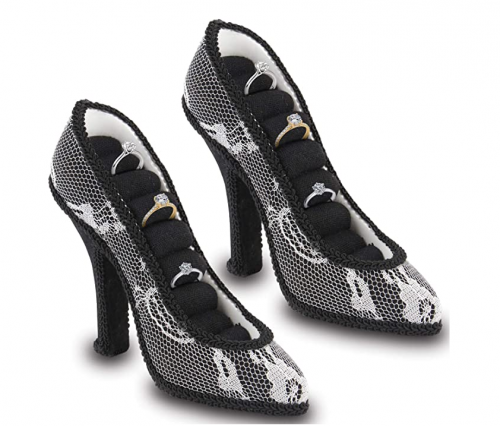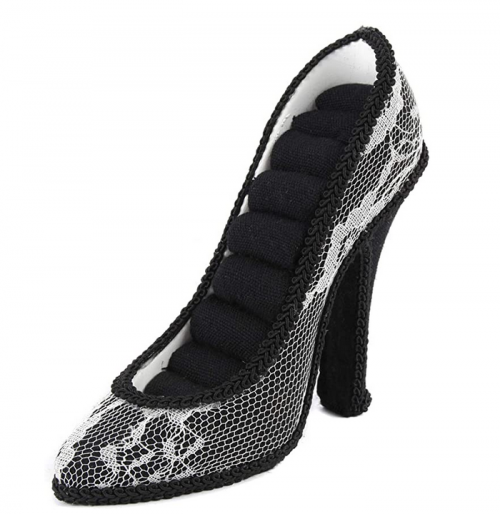 Black velvet 
White floral print
2-piece shoe set 
Everyone loves a good pair of high heels. Sophisticated and stylish, these heels offer plenty of space for your diamond rings. Not only do these store your rings securely but they're also a lovely pedestal from which you can show off your jewelry from your dressing table. 
Read more
The overall look and feel of these shoes are aesthetically pleasing and quite sexy. The designers have cleverly used black velvet as the backdrop which is matched perfectly with the white lace print. It's a very clever design because these look like a miniature pair of shoes.
Each shoe can hold eight rings which means that you have lots of space and the rings are held in place nice and tightly keeping them safe. The material in the shoes is very soft so it will protect your rings. 
The shoes come in at 5 inches in height, so they make a nice addition to your dressing table.
One of our favorite things on these shoes is the detail that's been sewn around the edge of the shoes. This lace trim gives the shoe a vintage feel and finishes them off nicely with a high-quality finish. 
6

. WELL-STRONG Tower Tree Ring Holder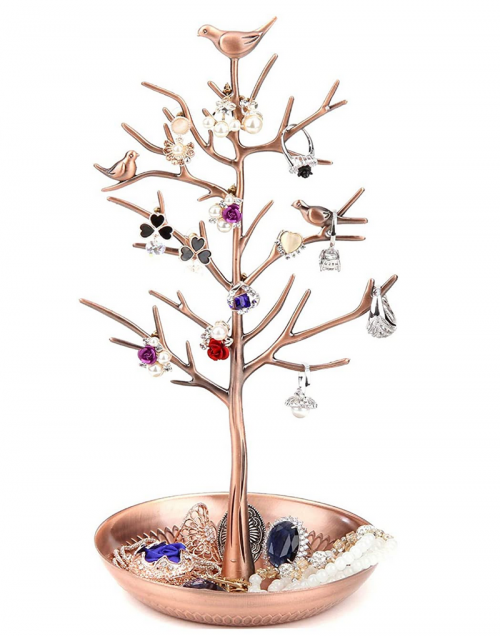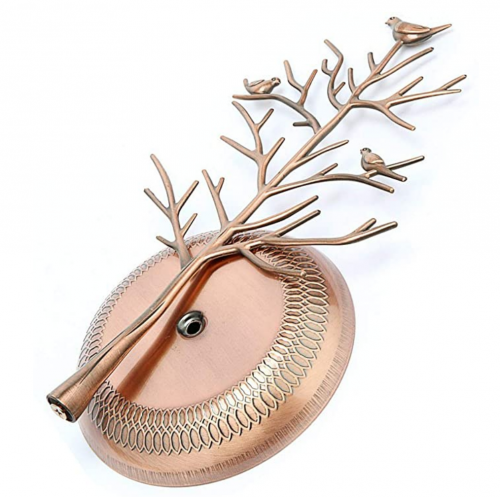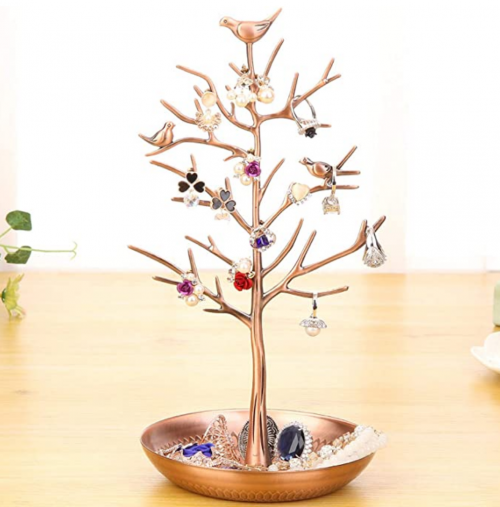 Made from Iron
Brushed bronze finish
Tray for extra storage
A tree is perhaps the most effective shape to use for a ring holder. Combining a natural and effortless look with a practical and straight forward design, this ring stand offers space for dozens of rings. The tree itself is dainty and minimalistic and includes some nice details. We particularly like the inclusion of three birds on some of the branches and think that this would make a pretty ornament when not used to store jewelry.
Read more
You can have some real fun decorating this jewelry stand and there are so many options for how to display jewelry. 
 
Made from iron, this jewelry tree is solid and durable. It arrives in two pieces and you simply have to screw the tree to the base. This means that it's very quick to put together and quick to dismantle, should you decide at any point to store. 
Beneath the tree, the attractive base has been decorated with a simple pattern that repeats around the dish. This is an attractive dish when it's empty and reminds us of flower petals growing beneath the tree. The base also allows for plenty of additional storage in addition to the branches on the tree. 
The tree and base have been finished with a brushed bronze effect which completes the overall autumnal feel. We can easily picture this tree standing in an autumn meadow having had its leaves blown to the ground. 
Once assembled, the jewelry tree is 30 cm high and comes in at 12.3 ounces so it's a nice size to allow enough space for storage. You'll also be getting a 30-money back guarantee should you change your mind or if you decide to purchase an alternative color; the gold and silver options look fantastic, but the bronze is our favorite! 
7

. Pizzazz Jewelry Catcher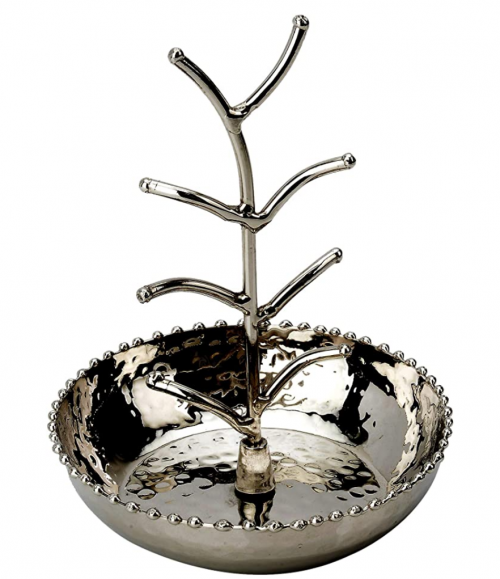 Made from stainless steel
Handcrafted
Lifetime happy shopper guarantee
This bridal jewelry tree is a simple yet attractive option if you're looking for a place to store your jewelry. At the center of this item sits the tree which is basic yet charming. The style of the piece is quite modern so it would best suit modern surroundings.
 
Read more
The shape of the tree looks like something you'd expect to see in a winter forest, bare of leaves and showing the outline of the tree's trunk and branches. There is plenty of space for several rings on each of the eight branches. You could think of this as a clothes hanger for your rings!
 
The tree stand screws into a round metal dish and when tightened up it is very firm and feels like a quality item. The dish is also very attractive, and its deep design provides ample room for even more jewelry. We like the beaded detail which has been molded into the rim of the dish. This takes the stand from a plain item to a more sophisticated one! 
This piece is handcrafted using stainless steel. The great thing about this material is that it won't tarnish. It's also a relatively cheap metal and we think that this item looks a lot more expensive than it is.
 
This jewelry stand would make the perfect present for the lady in your life whether it's your mum, nan, sister, wife or daughter.
The supplier offers a lifetime shopper guarantee with this jewelry holder. 
8

. AsherKeep Eiffel Tower Ring Holder Dish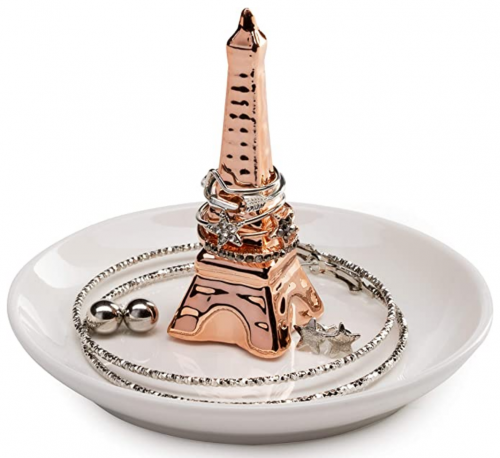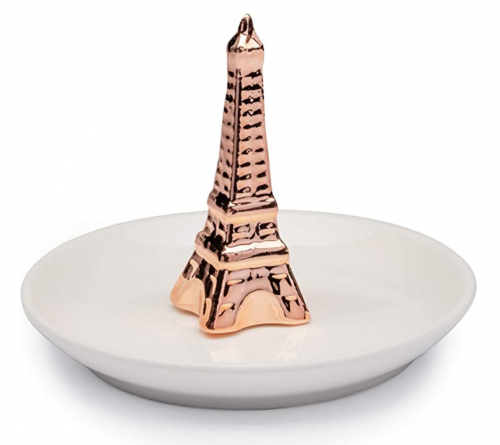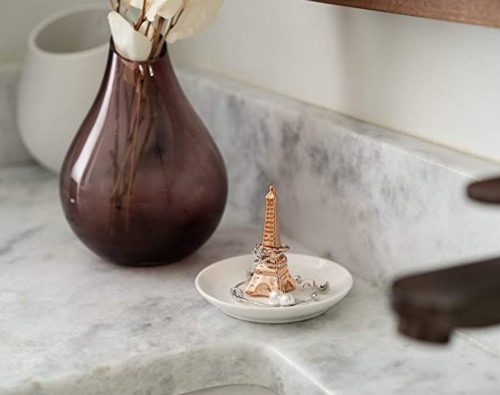 Rose gold Eiffel tower
White ceramic dish 
Full refund available
Paris is known as the city of love and with this attractive ring holder, you can have your little piece of "Paris".nWhether you've been to Paris and want the perfect keepsake for your loved one or even if you're just looking for a stylish way to store and display your jewelry, this ring holder lets you display your pieces in style. 
Read more
The star of the show in this piece is a rose gold Eiffel tower which is instantly recognizable. We couldn't help but be reminded of a detailed model you'd expect to see in a snow globe.
The rose gold color helps to bring the tower to life and gives it a lovely shine from every angle. This also provides a perfect shape on which to store your rings no matter what the size. Larger rings can be added first to the lower part of the tower whilst the upper part of the tower provides space for smaller rings. 
The rose gold color of the tower works extremely well with the white ceramic dish upon which it sits. We could picture this dish being kept in a range of locations from bedrooms to sitting rooms and maybe even in the bathroom.
The dish is 4 inches in diameter which means there is lots of room for more rings. It's also a useful size to store bracelets and earrings. If you've ever been stuck for places to store your hoop earrings, this might be just what you're looking for. A lot of attention to detail has gone into this jewelry stand. 
9

. MyGift 4-Tier Rustic Wood Ring Display Riser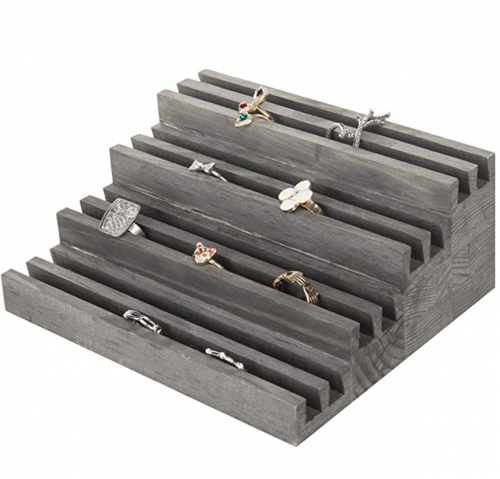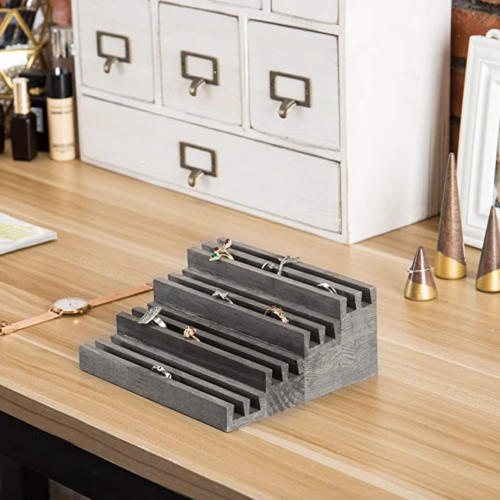 Made from wood
Holds over 30 rings
4-tier holder
Looking for something a little more rustic for displaying your rings? If so, this ring display riser provides the ultimate shabby chic option. The ring holder is a good option if you like your jewelry and have lots of rings. It's also worth considering if you're looking for a display stand to use at events.
Read more
The ring display is made from wood and features a vintage grey finish which lets the rings do all the talking. That's not to say this doesn't look great as this is a good-looking item that provides a practical way to hold your rings.
The designer of this stand suggests that there is space for well over 30 rings depending on the size and style. We think this is highly likely as there are eight grooves over four different tiers in which to store your rings.
This means that you can have some real fun in choosing how to display your rings whether this is in order of size, color, occasion or even mixing them up completely.
 
The slots that have been designed to hold the rings are approximately half an inch in depth which helps to hold them in an upright position and keeps them in full display. In terms of size, the footprint of the block is 6 inches by 7 inches, so this is a nice compact way to display all of your rings.
This item has been designed to display rings, although you may be able to store other types of jewelry in the stand. 
10

. Beth Marie Luxury Boutique Owl Ring Holder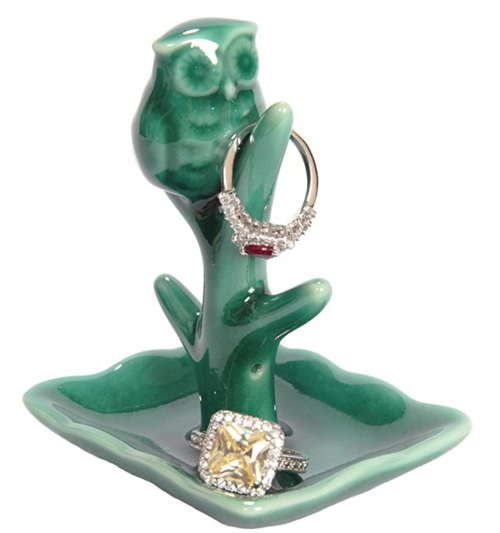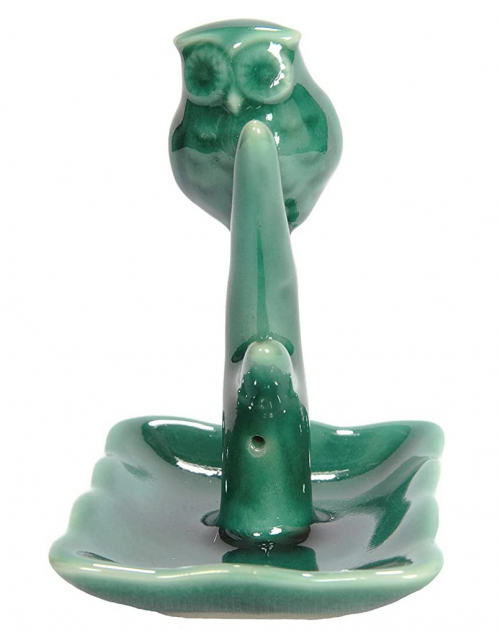 Teal ceramic
Handmade
Money-back guarantee
This luxury boutique ring stand is a real hoot. The lovely little owl will watch over your jewelry from above the ring tree. This is a ceramic ring holder which has been painted in beautiful deep teal. The designer has finished this item with a gloss effect giving it glamorous shine. 
Read more
The owl itself has a nice detail etched into the ceramic and you can make out the owl's eyes, nose, and wings.
This ring holder is a good compact size with a height of 3.75 inches which means the piece won't take up to much room on your dressing table. 
At the base of the tree, you'll find a square-shaped dish to store more pieces of jewelry, in addition to those you already have hanging on the tree. We like some of the finer details found on the dish including the tapered edge of which softens the dish.
We were also drawn to the reflective surface of the gloss which feels like the tree is floating in a pool of water. 
Evaluation Criteria
Durability
We chose 10 ring stands which are made from durable materials.
Small and large, whatever the size and style, we selected a variety of stands that will take the weight of your jewelry and daily wear. Our collection consists of stands made from stainless steel, wood, ceramic, iron, and plastic polypropylene. 
Style
We chose jewelry stands that offer different styles. From animals and nature to fashion and art, we feel that we catered for everyone's tastes and styles.
Style is an extremely important thing when it comes to jewelry stands because they'll be holding some of your most precious items. We feel that all of the stands we chose, do this in abundance.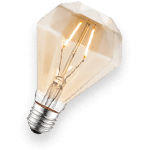 The Materials Used for Our Ring Stands - Stainless steel
This is an alloy of iron which contains varying amounts on silicon, carbon, and manganese. Molybdenum and nickel may be added to prevent corrosion. 
The Materials Used for Our Ring Stands - Ceramic
This is a solid material that is very often brittle yet hard. Examples include earthen wear which is pottery, porcelain, and brick. 
The Materials Used for Our Ring Stands - Polypropylene plastic 
This is one of the most versatile types of plastic. This plastic is used to create a variety of things including car batteries, kitchen utensils and even rugs that you have in your home. 
FAQs
q:

Do I need a ring stand? 

a:

In our opinion yes! Whether you own one or two rings or your collection is in double digits, a ring stand will offer you a secure, safe and attractive way to store your rings. 
q:

Are there different sized ring stands available? 

a:

Yes, if space is a premium for you, don't worry, ring stands come in all shapes and sizes so you can choose one that suits the size of your jewelry collection and the space that you have available.  
q:

Where should I keep my ring holder? 

a:

One of the lovely things about jewelry boxes and stands is the range of styles that are available to you. Because these items are attractive, they will look good in your bedroom, sitting room or even a bathroom. They offer a nice way to display your jewelry wherever you like. 
Finally...
If you've come across our list as part of your research to find a beautiful jewelry stand, we hope that we've provided you with a selection of stunning pieces to suit your style. Simile, if this is the first time you've considered a ring stand, we're sure that you can see the many reasons why they're so good and worth every penny.
 
This must-have accessory has gone from being a practical solution for storing jewelry to stylish accessory to complete your room. Some of the pieces we've chosen stand alone as a lovely ornament and there are so many styles that you can choose from, whether it be animals, nature, fashion or even a skeleton hand!
 
We love that these stands make displaying your jewelry fun as well as functional. It's well known that art in its many forms is an individual and subjective subject. What one person loves another person could despise.
All of our ring stands offer something unique and we feel they are works of art in their own right as they're all so different!