A Travel Jewelry Case to Invest In
last updated:
Feb 28, 2020
Women love to collect classy and beautiful items. Women also love to travel and bring their jewelry along with them. We have selected 10 beautiful travel jewelry case options that are worth the investment and make your life so much easier while on the road!
All of the travel jewelry organizers picks on our list are unique and super practical when it comes to keeping your jewelry items detangled and scratch-free.
We have researched the designers and the materials to bring you high-end jewelry travel cases that are well within your budget.
These cases can be given as gifts or you can treat yourself to something new for you.
Our Top 10 Travel Jewelry Cases!
1

. Bagsmart Travel Jewelry Organizer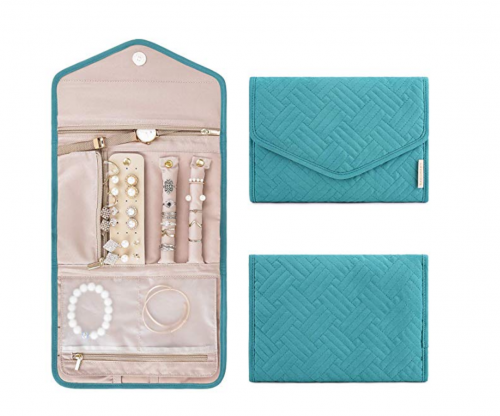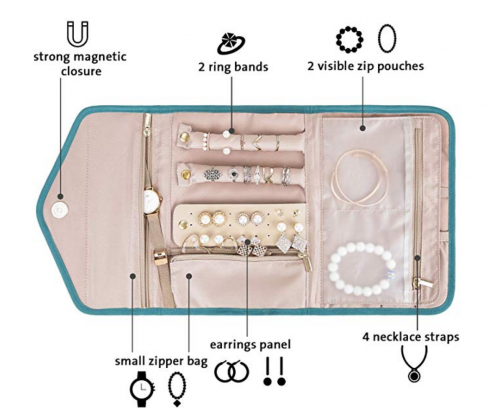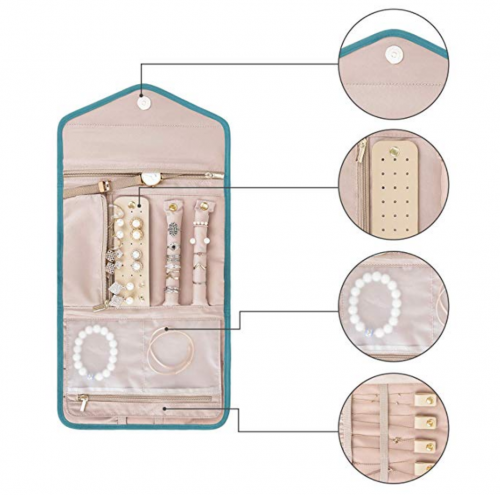 9 different colors
Compact
Free shipping
This travel jewelry case is a roll foldable organizer for rings, necklaces, bracelets, and earrings. The case is available in 9 different patterns and colors including black, rose, smoky blue, soft pink and white.
Read more
It is compact and will easily fit in the tiniest of carry-ons. The case weighs 0.26 pounds which makes it very lightweight.
When you feel the material, it's a supple touch polyester with quilted cotton and a nice stitching pattern design.
The case has 5 different compartments which consist of a long buckled band for rings, an earring panel, a strap to buckle in your beautiful necklaces with a visible zip pouch and a long zip pocket.
You can keep your jewelry well organized to prevent everything from becoming tangled with this compact case.
It is perfectly suitable for business trips and travel weekend getaways. Bagsmart is also one of the highest-rated designers of travel jewelry cases out there!
2

. WOLF 329915 Caroline Zip Jewelry Travel Case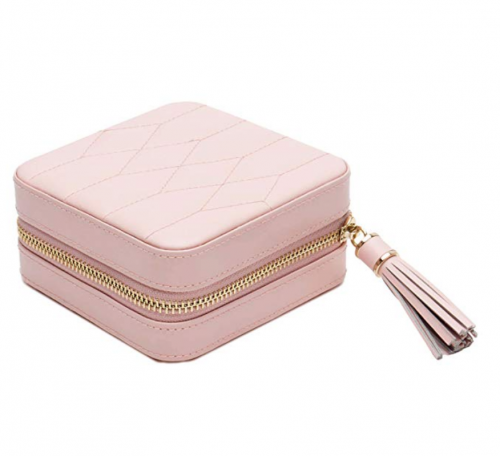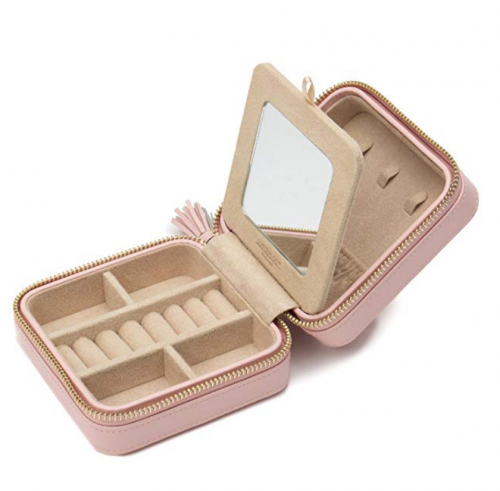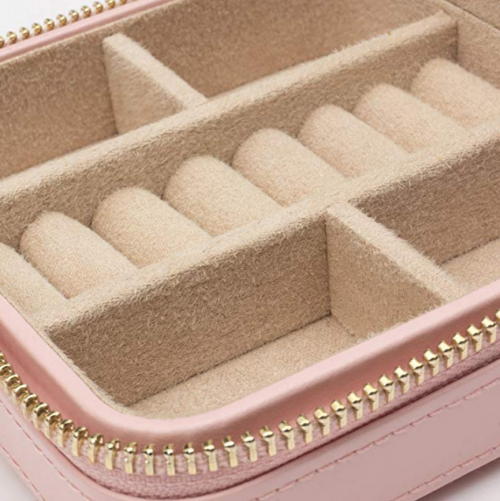 Genuine leather
Anti jewelry tarnishing
Glass mirror
This lovely compact travel case is available in dusty rose, such a sweet girly color we adore. The case is crafted in genuine leather. The lining of the case is called Lusterloc which has anti-tarnishing properties.
Read more
This case consists of 7 ring rolls for those exquisite rings you own, 4 compartments for pins, earrings, bracelets and pendants, and 3 hooks for necklaces with a pocket. The size of this travel case is 4.5w by 4.5d by 2.5h inches.
The Caroline case features a distinctive quilted exterior and the classic cube shape.
The case is made of rose quartz leather lusterloc that allows the fabric lining inside to absorb the toxic gases that cause jewelry to tarnish for up to 35 years. The case also has a leather tassel and a glass mirror.
This option is slightly more expensive but considering the anti-tarnish properties and the leather material, it's worth every single penny!
3

. Becko Jewelry Roll Travel Bag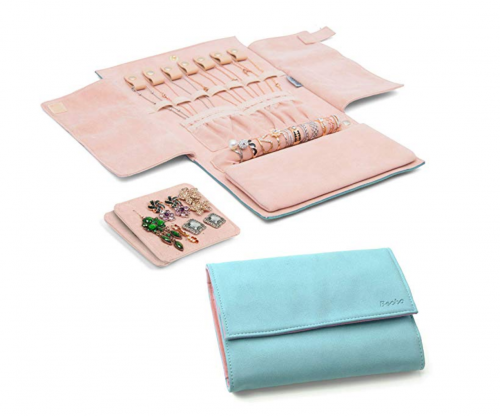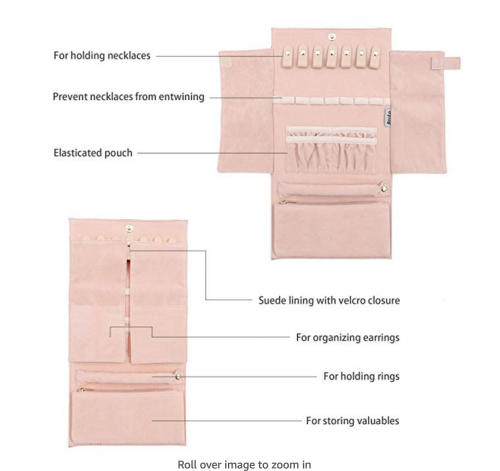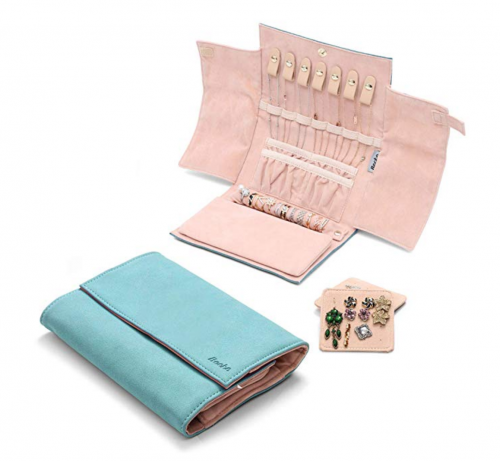 5 colors to choose from
Compact size
Innovative design
The Becko travel jewelry organizer bag is a great selection for you if you travel with multiple necklaces, rings, bracelets, and necklaces. The bag is made with supple leather and suede material and has a large capacity without a crease. It is lightweight and portable and easily fits into a hotel safe!
Read more
It's available in blue, dark blue, gray, pink and purple. Becko's jewelry roll is very graceful looking and is designed to allow you to organize your jewelry neatly, preventing any tangles.
It is spacious enough to store up to 7 necklaces, 16 pairs of ear studs or earrings, 8 rings and larger jewels like bracelets, watches, bangles, and sunglasses as well!
It has an innovative design with a detachable zipped suede pouch that can be used independently, while two side flaps offer extra protection for necklaces and prevent them from falling out.
4

. WFall Small Jewelry Box for Travel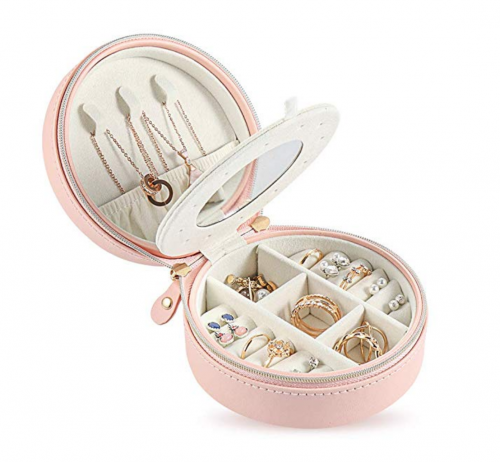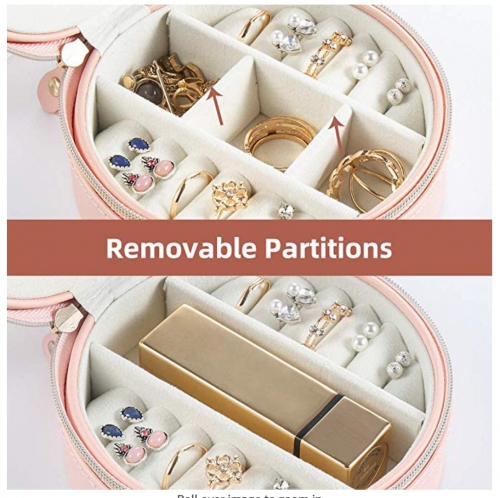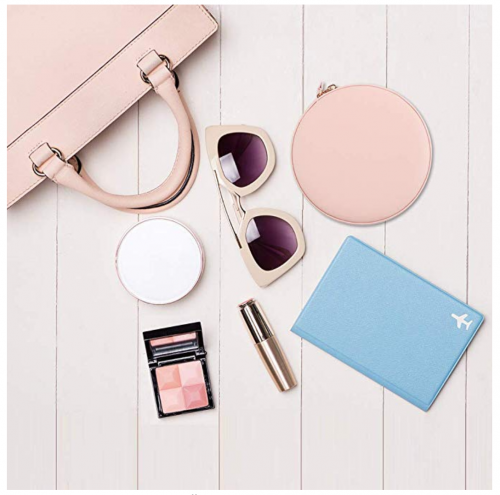 Elegant
High quality material
Super lightweight
This cute little girly jewelry box for travel makes a nice gift for teenage girls or anyone who loves for their travel accessories to look unique and pretty!
Read more
This is a travel jewelry case and display storage for necklaces, rings, and earrings. The price for this adorable jewelry box is one of the most affordable on our list!
It's made with high-quality materials and has a clear texture. The zipper is smooth, the case has a soft inner lining meaning it's perfect to store even the finest jewelry as there is 0% risk of scratches.
The travel case is exquisite and a perfect companion for business trips and overnight travel or sleepovers - it is super small and lightweight.
Our favorite highlight? There is a removable partition and changeable space that is also suitable for different sized jewelry!
5

. WOLF Chloé Zip Jewelry Travel Case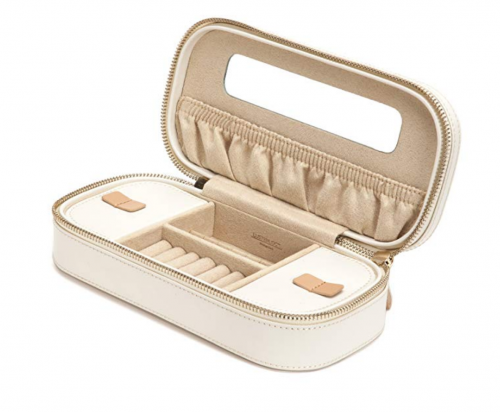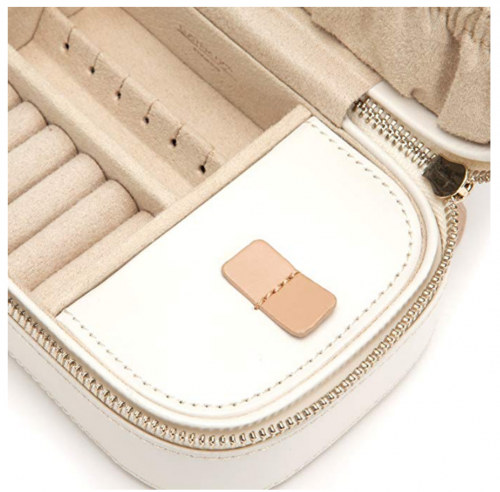 2 color options available
Genuine leather
Warranty
This elegant jewelry zip case is available in two colors: cream and black (we prefer cream, it's so elegant and classy!). They are both very nice cases and absolutely gorgeous for jewelry travel.
Read more
The size is 4.5 by 9.25 by 2.25 inches and comes with free shipping and returns.
The case is crafted in genuine leather and features the lusterloc anti-tarnishing lining that keeps your jewelry from tarnishing for up to 35 years.
The case consists of 7 ring rolls, 4 compartments and 3 necklace hooks with a pocket.
WOLF offers a manufacturer's warranty with thisd particular case!
6

. LANGRIA Lockable Travel Jewelry Organizer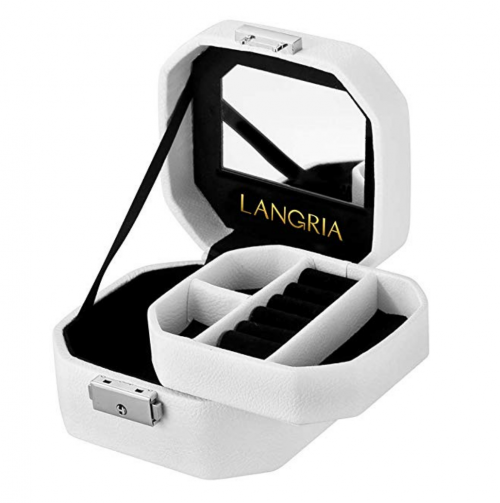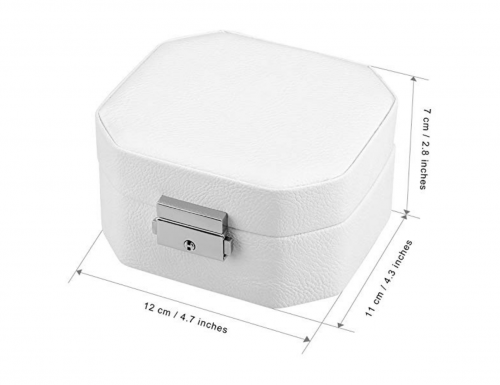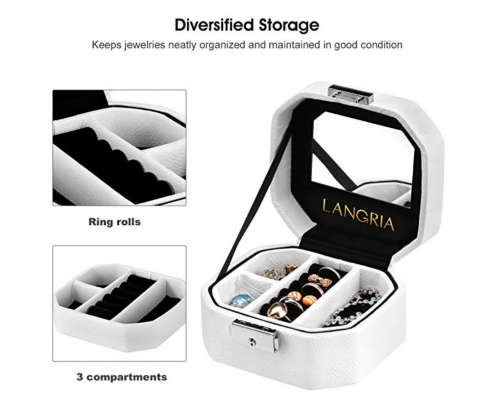 4 colors available
Comes with warranty
Langria has made a modern little geometrical white faux leather jewelry box. The box is a small lockable travel organizer and display case. The shape is octagonal with a built-in mirror for makeup and accessories storage.
Read more
This selection we chose retails for less than 10 bucks which is within anyone's budget. The case has a sturdy frame, beautiful embossed faux leather, and super soft velvet lining to protect your jewelry.
The lid opens to reveal a lift-out tray with ring rolls and 3 side storage compartments to keep your jewelry organized. Mirrors covered with faux leather can be secured and fastened to the lid.
The box is a portable size and very lightweight; it can be easily stored in luggage and is available in pale green, atmospheric grey, and classic white. A money-back warranty is included!
7

. SOUL SISTA Travel Jewelry Organizer Case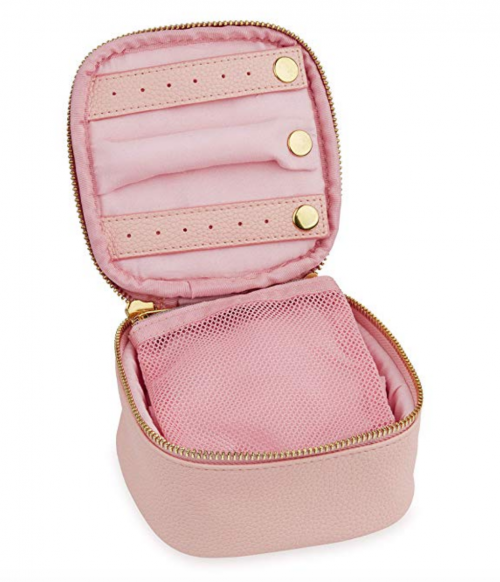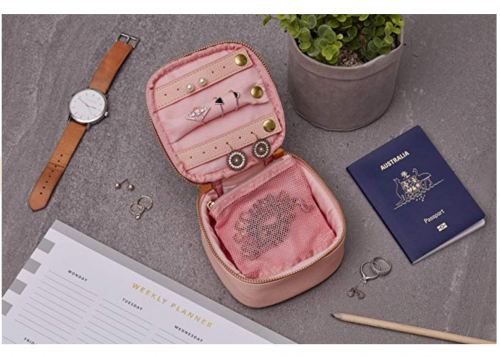 This darling little cube case selection from Soul Sista is an adorable and stylish portable travel jewelry organizer case. The case is convenient yet gorgeous looking and a great addition to have if you travel often or if you want an elegant case to store your jewelry at home.
Read more
You can travel in serious style with the leather jewelry organizer that you can store your rings, earrings, and bracelets in.
It features a high capacity lightweight design and comes in a variety of colors to choose from.
It stores your jewelry securely and is portable and easy to carry. There is little to no movement of your jewelry once you seal it shut.
This weightless, compact design is sturdy and durable with added cushioning for safety.
8

. Harley Jam Travel Jewelry Organizer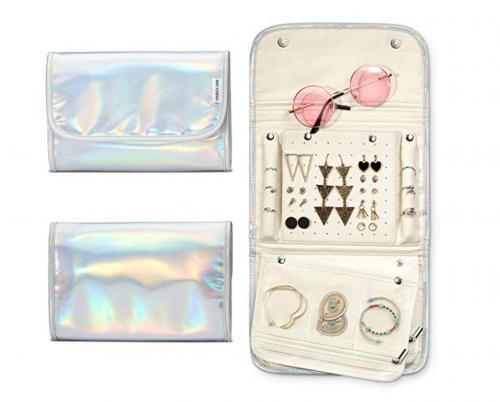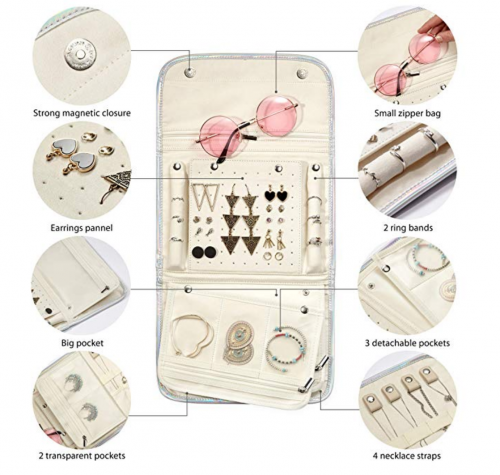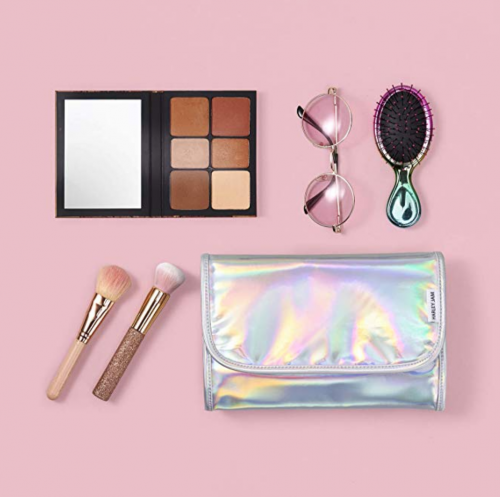 Unique holographic design
Available in 14 iridescent colors
Velvet lining
Check out this selection we hand-picked for you to view. The Harley Jam travel jewelry case is for rings, bracelets, earrings, brooches, and watches. It's designed to be a tangle-free travel carrying case for women's accessories; it's foldable and has a holographic design.
Read more
It features a panel with multiple earring slots, 2 padded ring rolls, 4 necklace straps, and 6 transparent zipper pockets in various sizes, and includes one non-transparent zip pouch.
This is not your average travel organizer since it comes in 14 iridescent colors and we just don't know which one we love the most. This travel organizer also makes a great gift for girls and women of all ages!
The unique organizer is very durable and made with vegan-friendly PVC, and the pouch is easy to wash.
The case is crafted with scratch and water-resistant material and withstands long flights and trips.
The lining is a smooth, beautiful velvet to protect your precious gems and accessories.
9

. Travel by Word Large Travel Jewelry Case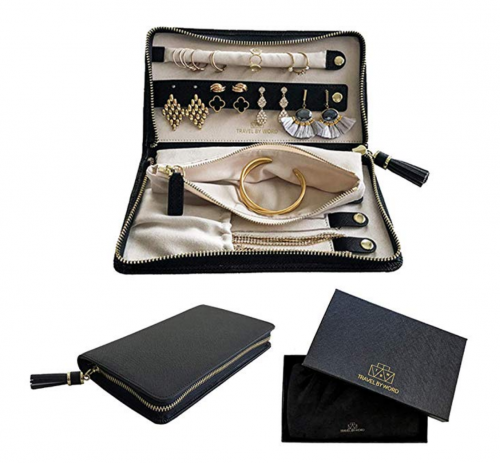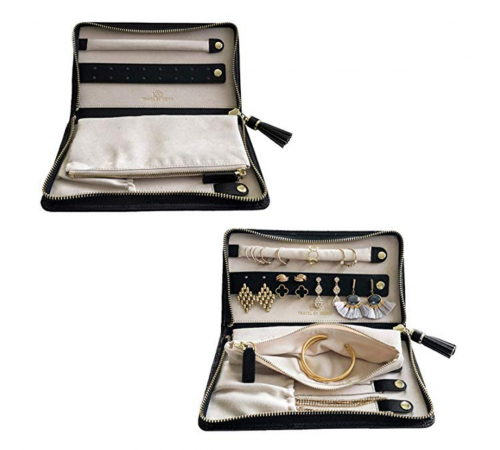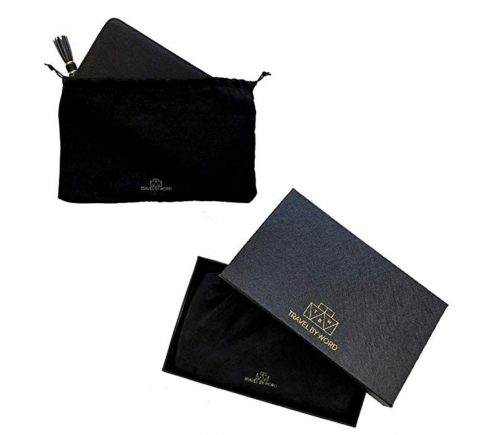 Chic design
Soft suede lining
Elegant black gift box included
This lovely large travel jewelry case is actually an organizer storage box for your rings, earrings, necklaces, and bracelets. There are two colors available which are a luxurious black and a feminine dusty rose color. The case retails for a little less than $50, which is very reasonable for this high-end travel case that's perfectly exquisite.
Read more
This selection allows you to have more storage as there are 14 hole earring clasps that hold dangly earrings as well as studs.
The 4 necklace clasps have a catching bottom pocket to hold your bulkier items, like pendants or necklaces of any length or layering.
The middle pouch holds larger hoop earrings, bracelets, and watches. The ring roll will also keep your rings secured so they don't get lost.
The design is very modern and is just slightly larger than your wallet. This classy jewelry case has a tassel zipper and fits into any suitcase or purse.
Saffiano leather is a material that the case is made out of to look and feel like real leather. The case also comes with a suede dust bag and an elegant black gift box.
The interior is made from a soft suede lining for the look and feel of true luxury!
10

. Angelina's Palace Jewelry Organizer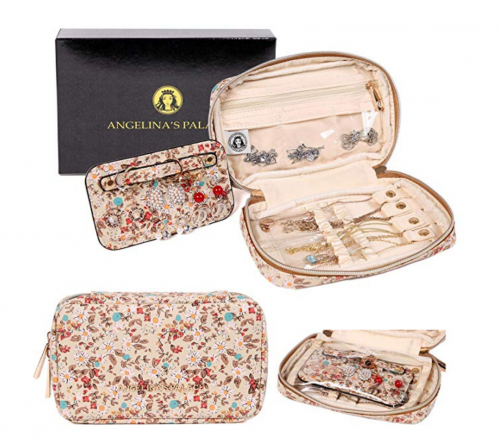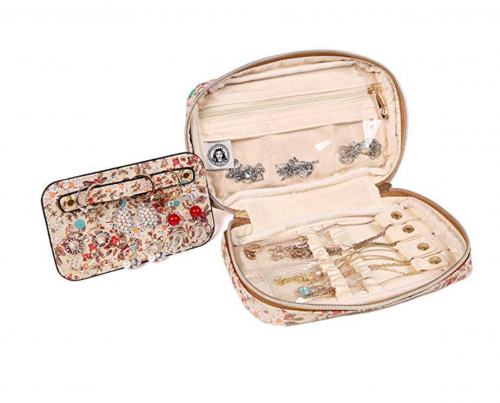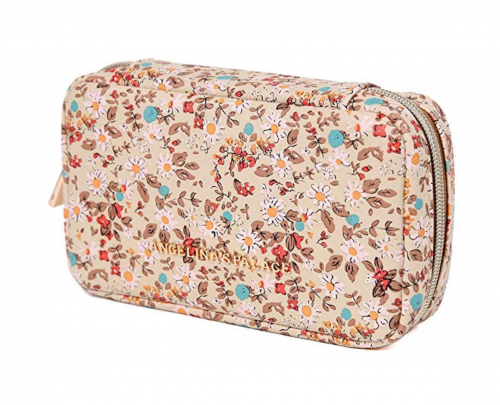 18 colors options
Satin lining
Free returns
This option is a delightful travel jewelry case and bag. A small gift box is included with this purchase. The travel jewelry bag looks quite fancy and is affordable for any budget.
Read more
It's made from vegan leather and a satin lining. Satin effectively protects your jewelry from scratches and damage.
This is the perfect size for a carry on or can be placed in your purse as well. It will keep all small trinkets, necklaces, bracelets, earrings, etc., securely placed inside the organizer.
It uses double metal zippers and has 4 stay bars that can hold 4 necklaces, the main compartment has a zippered pouch that can hold 6 to 9 necklaces, earrings, rings, watches, and other accessories. It also consists of one zippered transparent pouch with a plastic board that holds 9 pairs of earrings and 6 to 9 rings.
This particular option makes an excellent jewelry storage selection for either travel or daily use. It is also water-resistant so no risk of tarnishing your precious jewelry if you accidentally spill something over it the case!
Evaluation Criteria
Style
We have hand-picked 10 classy, stylish and modern travel jewelry cases for all you ladies to view. These are gorgeous travel bags that will match your taste and your budget.
We made sure that all options on our list are compact, lightweight and made from materials that will not damage your jewelry in any way. Most of all, we made sure all picks look beautiful!
Wear Comfort
All of the travel cases we have selected are comfortable and easy to use. They keep your jewelry secured and tangle-free. This makes it super simple to pick out the jewelry items you need, not having to worry about losing a piece.
The design of the cases and zippers are made to open with ease. Some of our picks also include mirrors and separate jewelry pouches.
These organizers slip into your bags and purses without taking too much space and are large enough to take along earrings, necklaces, bracelets, watches, and other similar accessories.
Durability
We have selected nothing but the finest materials when we chose these jewelry travel bags. The materials are either genuine leather or vegan leather for those who prefer to stick to products that don't use animals.
The linings are nothing but the finest in velvet and satin and hold jewelry securely while looking absolutely stunning sitting in each case. The pouches included in these cases are also made from heavy transparent material with secured zippers so your pieces stay in place.
Some of these cases come with beautiful gift boxes so you can store them when not in use. The materials are easy to clean and water and scratch-resistant. We look for nothing but the best quality so you are getting your money's worth and then some!
FAQs
q:

Why is it Important to use a jewelry travel case?

a:

Packing jewelry for a vacation can be risky for starters. If you don't have an excellent travel jewelry case or another foolproof solution, you run the risk of opening your luggage and seeing your gorgeous chains all knotted along with your jumbled rings.

This is why we have selected these jewelry travel cases that are specifically designed to keep your jewelry pieces safe while traveling.

There's an option for everyone and this includes small leather boxes with secured straps for rings and earrings, to travel organizers that can hold a larger collection of your favorite pieces.
q:

How do women travel with jewelry?

a:

Necklaces can be hard because they become tangled so really there is no option but a jewelry box or case.

If you choose to bring rings, use a small plastic bag or tuck the rings into one of the sweet satin-lined cases we have selected for you to view.

Some women roll up a washcloth or hand towel for bracelets and slide them over the rolled towel.

Other pack their earrings or similar items in a jewelry pouch. A jewelry travel case is your best affordable option to make sure all of your items stay untangled and scratch-free!
q:

How do I keep jewelry safe while traveling?

a:

Take your jewelry on board with you and pack your pieces in your carry on bag or personal item that you are taking on a plane, train, etc. Use an appropriate jewelry travel case, like the ones we have selected for you to view.

Make a list of all the pieces you have packed and don't leave your jewelry left unattended. If your jewelry is priceless, make sure you get jewelry appraisal and insurance; leave your most expensive pieces at home.
Finally...
We hope that by looking through this jewelry travel case guide you have found the case that's just perfect for you.
The brands we decided to feature have all received rave reviews from customers so you know your purchase is risk-free. Some of the picks on our list come with warranties and free returns so in case you're not happy with your purchase, you can always get a 100% refund.
Women love their jewelry so why not take it with you and keep it organized in a nice, compact travel case. You might be surprised at how many items such small cases can store neatly.
These travel cases also make great gifts for Mother's Day, special holidays like Christmas, a Valentine's Day or 18th birthday gift etc. There is always a reason to pack a jewelry travel bag or case!