Unique Marcasite Jewelry Under $100!
last updated:
Feb 07, 2020
Take a look at our selection of unique marcasite jewelry. We have combed the internet to find must have pieces and we promise you'll fall in love with our jewelry picks just as we did!
There is high end jewelry that includes real gems like your diamonds, rubies, emeralds and pearls; and there is affordable jewelry for all budgets that use different kinds of marketable materials that are made for luxury, style and design.
Just because jewelry isn't on the high end scale doesn't mean that it doesn't flatter women's personal style. One of our favorite, budget friendly type of jewelry is marcasite. Why?
Marcasite is a mineral that looks so refined you'd think it was among the most expensive metals in the world. And yet, it comes at such an affordable price you'd think it's an honest mistake!
Our Top 10 Marcasite Jewelry Picks!
Evaluation Criteria
Style
We selected these 10 pieces because they are versatile, vintage-looking yet contemporary.
Marcasite jewelry has an antique look to it and it is often combined with sterling silver and black onyx gemstones.
Such jewelry is perfect for both everyday wear as well as special occasions and being super-budget friendly, it is available to anyone!
Wear Comfort
The marcasite jewelry we have selected was all hand-picked for comfort in more than one way.
Our selection is meant to make a woman feel and look comfortable with the pieces she has chosen to wear.
All the picks on our list will not irritate or weigh down on your earlobes, fingers or around your neck.
We also made sure to feature jewelry that is easy to put on and take off while also staying in place securely.
Durability
We have done extensive research with every piece on our list and have found that these are made with genuine stones and sterling silver. The materials used are all quality and have great durability.
The prices fit all budgets and every piece is guaranteed and has a warranty.
Many of our picks come with beautiful pouches and jewelry boxes so you can easily store them in their original packaging and avoid any damages and scratches when not worn.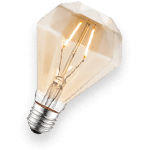 Styling our selection
You can wear any of the selection we have chosen with whatever outfit you choose.
These pieces are perfect as statement jewelry to be added to casual outfits as well as paired with a fancy LBD.
Styling our selection
If you're into chunky rings, options 3 and 9 are perfect and both combine a larger gemstone adorned with gorgeous marcasite and filigree design.
If you like black-stone jewelry, option 8 is our favorite pick since the necklace features a triangular cabochon black onyx surrounded with marcasite stones!
Styling our selection
If you're into vintage earrings, the most interesting option is number 2 since it features both a clip on and friction back post so even if you don't have pierced years, you can put these gorgeous earrings on!
Inspiration
Style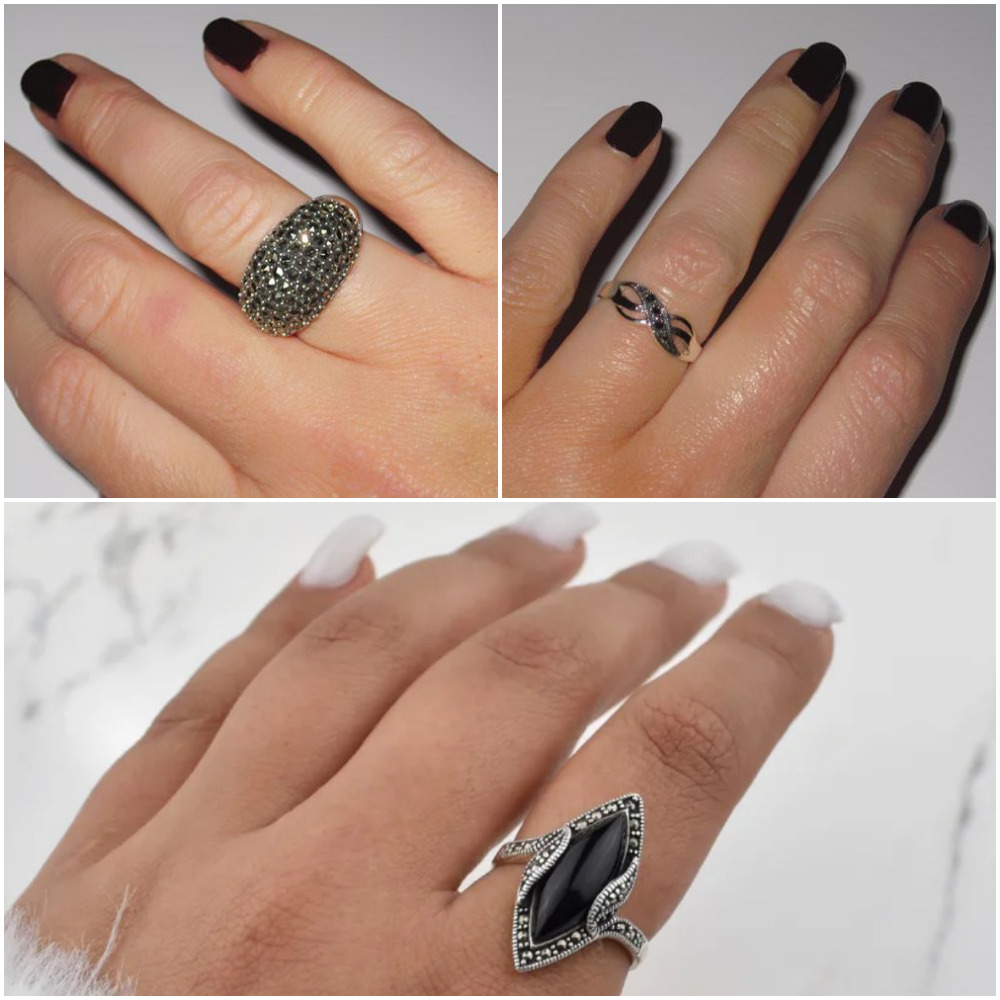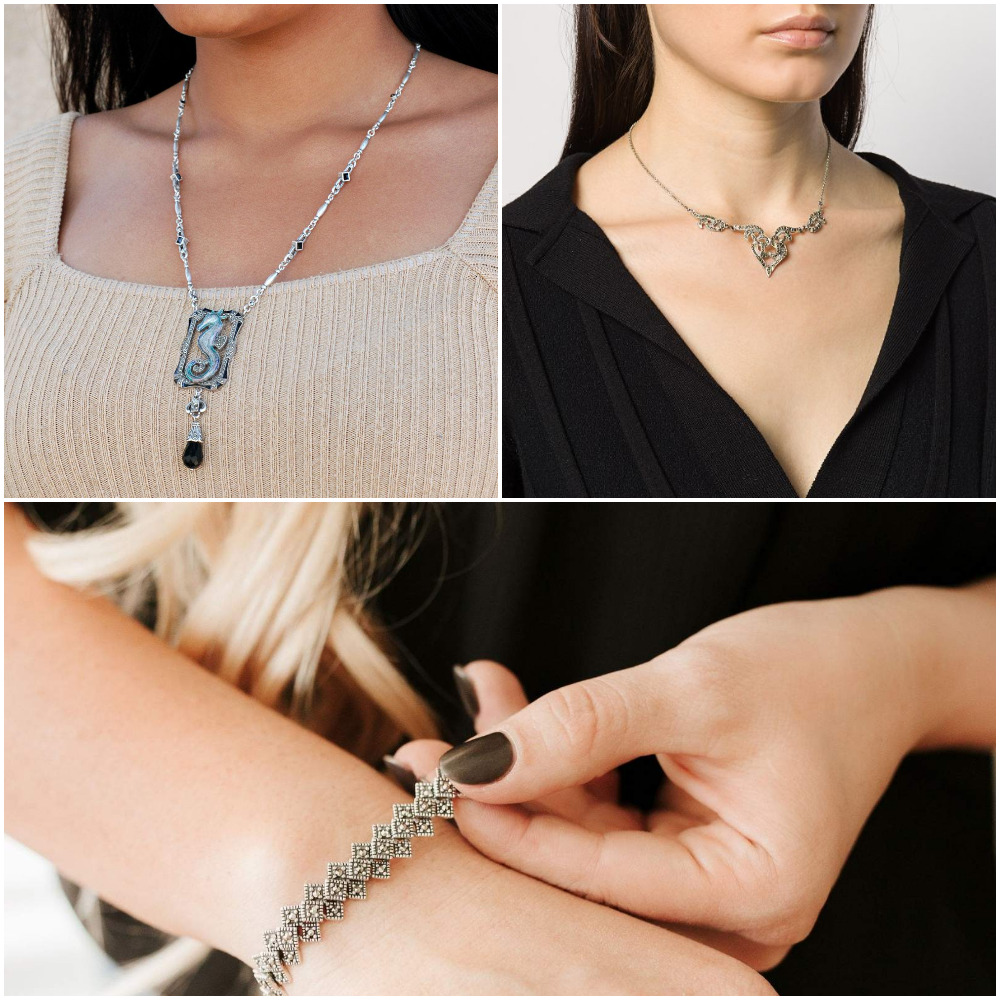 FAQs
q:

What are the customer ratings of our selection of pieces?

a:

Our selection of pieces have been receiving 5 out of 5 star ratings. There are a few pieces that are in the 4 plus rating out of 5 stars.

The overall response to our selection is 93% customer satisfaction on all pieces.
q:

What is the meaning of black onyx?

a:

Black onyx is a powerful protection stone that absorbs and transforms negative energy. The black stone helps to prevent the drain of personal energy.

It also aids with the development of emotional and physical strength and stamina.

This is very important during times of stress, confusion or grief, when support is needed.
q:

Is marcasite a popular mineral?

a:

Marcasite was a popular stone back in the 18th and 19th centuries, especially for Edwardian jewelry, when it was commonly cut into tiny stones and set in sterling silver.

This is why we selected marcasite jewelry; its antique vintage retro feel is definitely back in style and pretty much timeless.

In fact, Cleopatra was often seen adorned in marcasite gemstones because of it's beautiful metallic shine. Marcasite is also well known for its healing properties.

So ladies, when you look at our selections of pieces, remember every stone has a metaphysical meaning!
Finally...
Our selection of marcasite jewelry designed in many retro vintage and antique settings is a one of a kind.
The reason we have selected these beautiful and shiny stones that are often set in sterling silver is because this mineral is versatile, durable and comfortable to wear.
All options on our list come in a beautiful packaging and are affordable for anyone's budget.
Marcasite has been popular for centuries and adorned the bodies of some of the most powerful people in history including Cleopatra and 18th and 19th century royals.
Today marcasite jewelry is mostly combined with black onyx and sterling silver which results in a gorgeous retro style design.
The best part about this combination is that you get super durable jewelry that will not tarnish or discolor in time.
If you're looking for unique, vintagy pieces of jewelry that are also budget -riendly and look like a steal, marcasite jewelry pieces should be at the top of your list!