Unique Marcasite Jewelry Under $100!
last updated:
Feb 07, 2020
Take a look at our selection of unique marcasite jewelry. We have combed the internet to find must have pieces and we promise you'll fall in love with our jewelry picks just as we did!
There is high end jewelry that includes real gems like your diamonds, rubies, emeralds and pearls; and there is affordable jewelry for all budgets that use different kinds of marketable materials that are made for luxury, style and design.
Just because jewelry isn't on the high end scale doesn't mean that it doesn't flatter women's personal style. One of our favorite, budget friendly type of jewelry is marcasite. Why?
Marcasite is a mineral that looks so refined you'd think it was among the most expensive metals in the world. And yet, it comes at such an affordable price you'd think it's an honest mistake!
Our Top 10 Marcasite Jewelry Picks!
1

. Black Bow Jewelry & Co. Marcasite Heart Necklace
Charming antique heart
Beautiful rope chain
Faceted marcasite
This beautiful necklace is found at one of our favorite jewelry companies, The Black Bow Jewelry Co. The piece is 20 inches long and made with gorgeous antiqued stainless steel.
Read more
The design is of a vintage heart featuring delicate stainless steel details and faceted marcasite which puts together old world style in a contemporary setting.
The scroll necklace includes a polished tapered bail, furnished with a 2mm loose rope chain.
This is a piece that matches anything you would wear and with the accent on the marcasite stones, this necklace is going to be noticed.
There are only a few left in stock and this piece retails for a steal price.
All jewelry furnished by The Black Bow Jewelry company includes free shipping, money back guarantee and easy returns!
2

. Mytys Marcasite Stud Earrings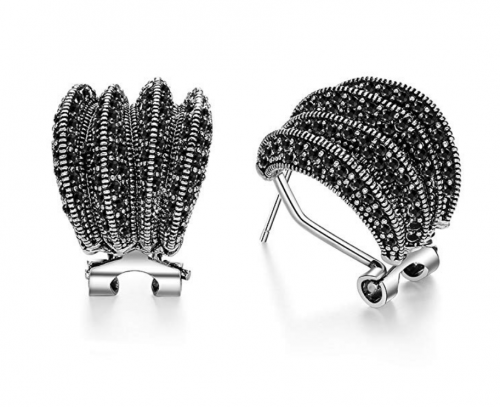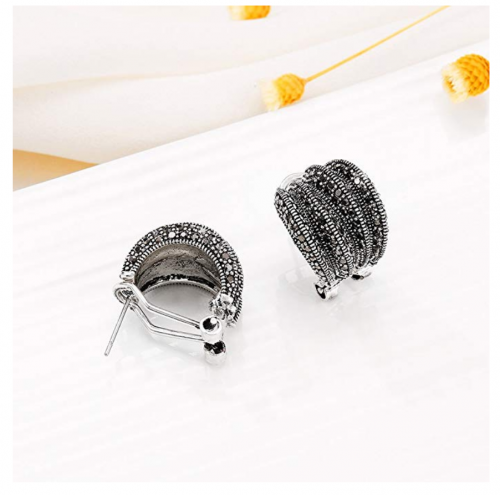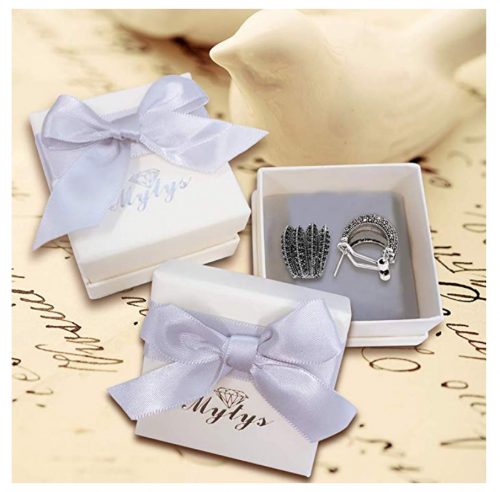 Vintage style stud earrings
Silver/black rhodium-plated
These are a beautiful vintage style, retro clip on earrings. The earrings are designed for women who have pierced ears as well.
Read more
They are made with the highest quality of marcasite. These are also hypoallergenic and silver/black rhodium-plated. This type of plating will ensure the studs will not tarnish or discolor in time.
Keep in mind the earrings are 5-6g when it comes to weight, meaning they are heavier studs.
As we mentioned earlier, the earrings have both a clip-on closure and a friction back post so you can wear them even if you're ears are not pierced.
You'll get them in a gorgeous white gift box complete with a bow, which makes them the perfect gift for anyone who likes vintage-inspired jewelry.
The marcasite earrings also include a three month warranty if there are quality control issues.
3

. NOVICA Marcasite Handcrafted Floral Ring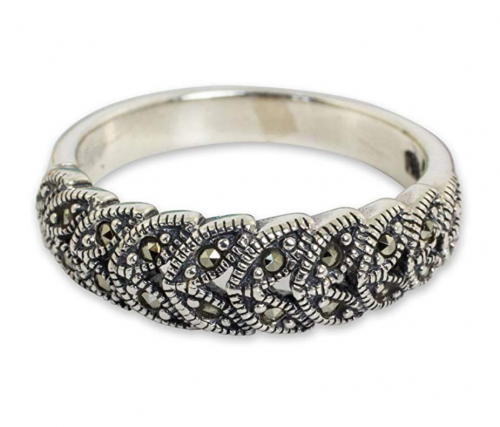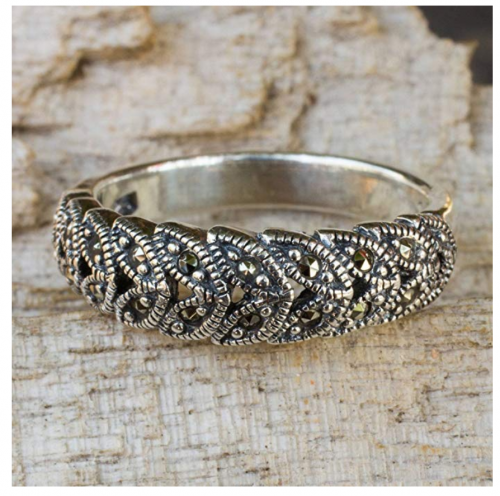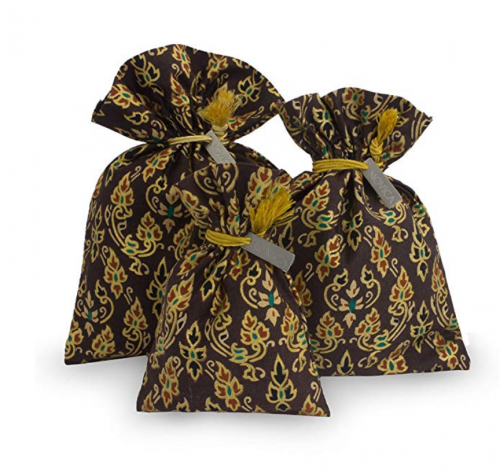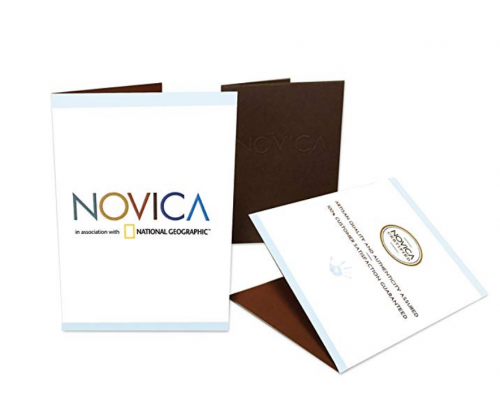 Polished sterling silver
Handcrafted floral design
3 sizes to choose from
Here is a beautiful 925 sterling silver ring, made by hand and designed as a floral cocktail ring.
Read more
The petals on the ring are tiny and intricate with an olive garland design. The highlight is the olive branches that crown the silver band with the added touch of sparkling marcasite. This ring is definitely a classic and a timeless piece.
It comes with an official Novica story card that certifies the quality and authenticity of the metals used.
The ring is also unique because you get it in a beautiful jewelry pouch inspired by the unique culture of the people of Thailand, since it was handcrafted by Thai artisans.
Each ring comes with a special storybook to bring the customer and artist closer together, by telling them small bits of information about the creator of each and every piece and what inspired them to make the jewelry.
You get to choose among 3 sizes and the price is more than fair considering what you get in return!
4

. AzureBella Jewelry Antique Drop Earrings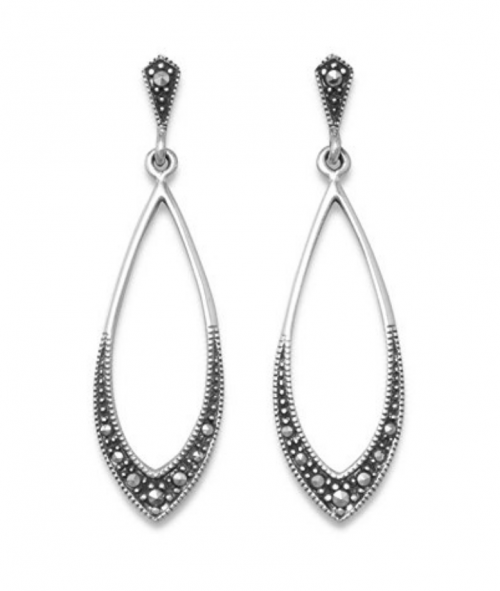 925 sterling silver
Vintage earrings
Gift box included
Vintage jewelry seems to be the style this season. It is very charming, classic and timeless, like these beautiful antique drop earrings designed with marcasite stones.
Read more
The earrings are made of 925 sterling silver and sport a soft marquise shaped drop.
Considering the metal, they are perfect for anyone with sensitive skin since sterling silver is hypoallergenic.
The length is 42mm, which is just the right size for that classic elegant look. They are also lightweight so don't worry about them weighing down on your earlobes.
The earrings come with a friction back post so they will stay in place securely.
You'll get them in a sweet gift box too!
5

. Black Bow Jewelry & Co. Marcasite Heart Post Earrings
Sterling silver
Milgrain design
These beautiful heart-shaped earrings are another antique design selection featuring milgrain details.
Read more
The earrings are made with sterling silver and faceted marcasite.
These are studs and have that sweet heart design that makes them stand out; there is something to be said about women who wear hearts for jewelry and it's all things sweet!
The posts have a friction back so they won't fall off easily. As with all Black Bow Jewelry, free shipping is included along with a money back guarantee.
This cute pair of heart earrings is budget-friendly and also makes for a great gift. There are only 8 pairs left, so hurry before they'll all gone!
6

. Gemondo Art Deco Mother of Pearl & Marcasite Ring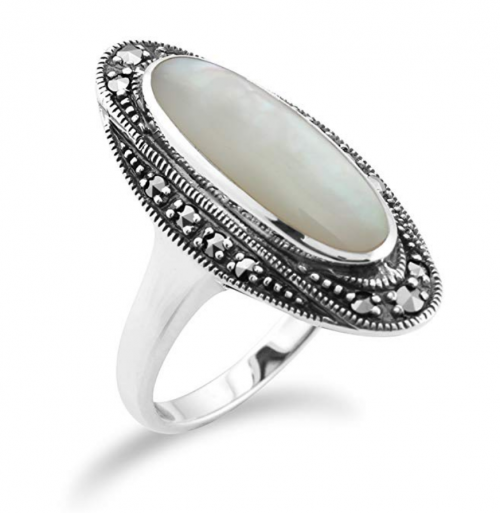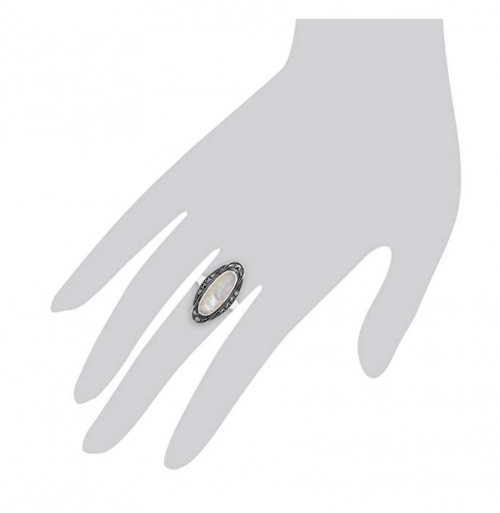 Sterling silver
Genuine marcasite
Natural mother of pearl
Ladies, take a look at this delicate and beautiful marcasite and mother of pearl ring! It is absolutely stunning, lightweight and gorgeous.
Read more
The ring is made with the highest quality .925 sterling silver and includes a plush black velvet pouch for packaging.
The mother of pearl is set in an intricate design of sterling silver. The gemstone has a beautiful iridescent color and has not been treated, meaning you're getting a natural stone.
The length of the ring is 30mm, so it will take up all the space between your ring finger base and your knuckle; it's a statement piece of marcasite jewelry that works well stacked with other iridescent gemstone rings (think opals, moonstones and labradorites)!
The only downside? It's available in a size 7.
7

. Chuvora Marcasite Black Onyx Heart Leaf Ring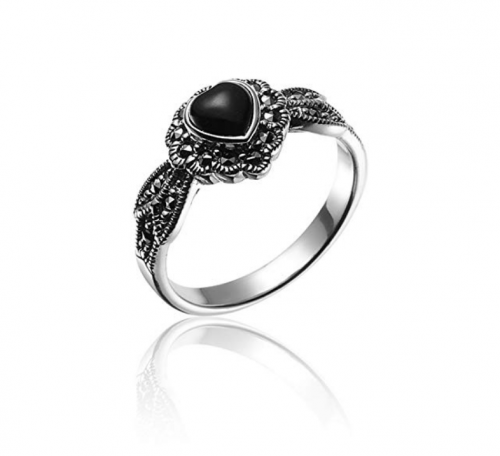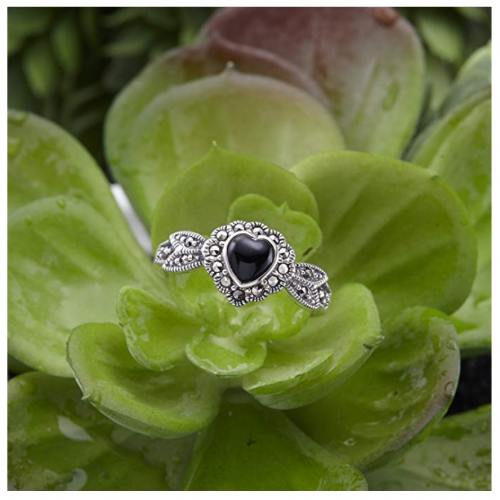 Marcasite & black onyx
Nickel free
Heart Leaf
The gorgeous heart-shaped ring comes packaged in a black velvet pouch, and is a great gift for yourself or someone special in your life.
Read more
It's made with a high quality .925 sterling silver and has genuine marcasite stones. The design of the leafs are ever so delicate.
The width is 10mm and the shape of the stone is a brilliant round black onyx.
The marcasite used is completely natural while the onyx gemstone hasn't been treated with any chemicals.
The ring is available in two sixes which are size 7 and 8. The price is affordable but you will pay a little more for size 8.
The brand behind this marcasite jewelry piece is based in Florida so you're getting a US made product.
8

. Mytys Retro Vintage Statement Ring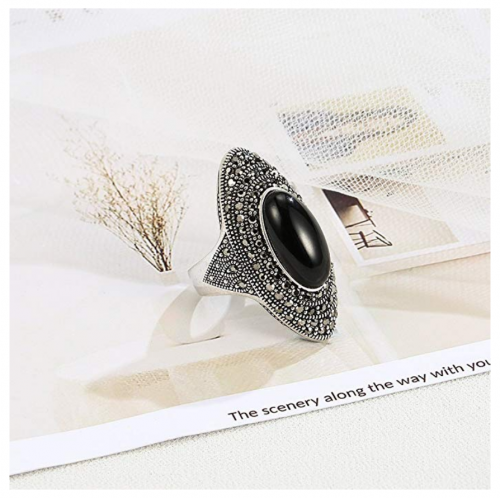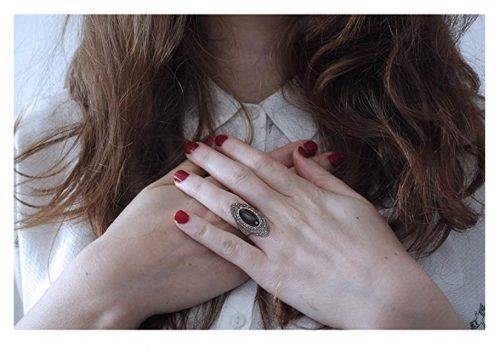 Vintage cocktail ring
Black marcasite and crystals
Antique silver look
This design is a retro, vintage style with a lot of black marcasite crystals, including a big black oval crystal imitation stone.
Read more
The cocktail ring is quite large (20x11mm) and the setting is made of lead and nickel-free copper so it won't cause any skin allergies.
It will bring elegance and grace to all special occasions and is perfect for travel, summer, festivals, weddings, parties and daily wear.
It's one of the most affordable marcasite jewelry pieces on our list and comes in 4 ring sizes to choose from.
You'll get it with a 30-day money back guarantee and a 3-month warranty. The ring is priceless and would make a great gift as well.
9

. Gemondo Marcasite & Black Onyx Art Deco Necklace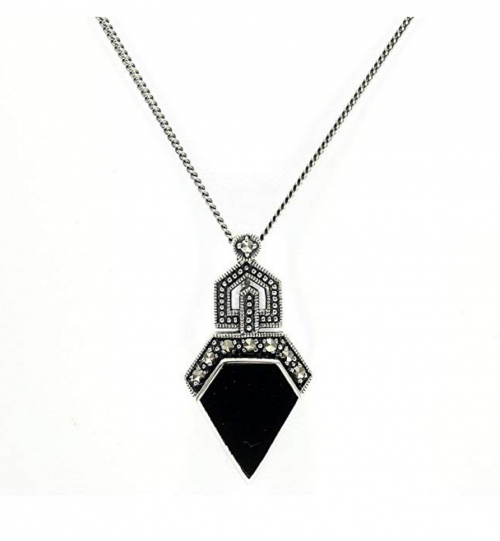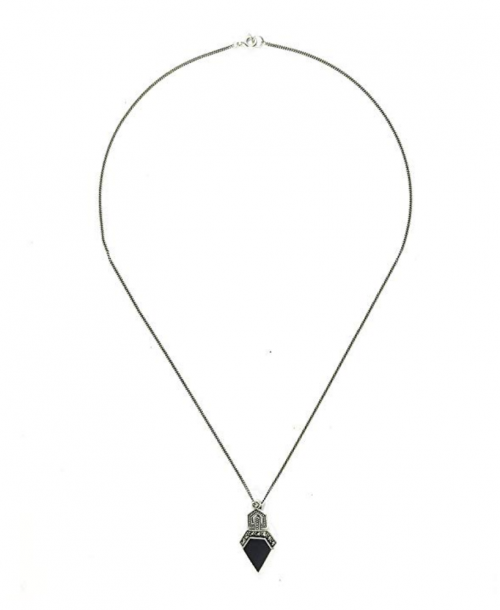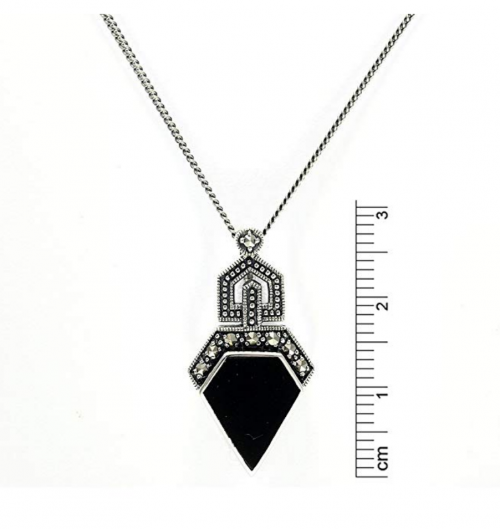 Art deco style
Sterling silver
Black onyx & marcasite
We selected this beautiful necklace because of its divine elegant look and art deco style. Any woman would drool over a necklace as beautiful and delicate as this piece of jewelry!
Read more
It is made with .925 sterling silver, including genuine marcasite stones and a black onyx cabochon gemstone. The gemset is very high quality.
This beautiful necklace comes in a black leatherette display box and measures 18 inches in length.
The marcasite stones are over a carat in weight (1.63 carats to be exact), which makes it a nice piece that is bound to get noticed.
The setting for the onyx gemstone is a claw and the chain type is a rope with a clasp closure.
This necklace fits all budgets!
10

. Black Bow Jewelry & Co. Onyx and Marcasite Heart Dangle Earrings
Onyx and marcasite
Sterling silver
Heart-shaped
The Black Bow Jewelry Company has done it again with another gorgeous pair of black marcasite and onyx heart earrings.
Read more
The dangling earrings come with antiqued heart-shaped stones and feature a milgrain and jeweled design made with sterling silver.
The beautiful faceted marcasite combined with a genuine black onyx stone is such a lovely combo that's perfect for any occasion, from daywear to LBD-wear!
This one of a kind set is 13mm by 28mm, sporting a shepards hook for security.
The earrings are made with an antiqued shiny silver look and weigh 2.6 grams.
The price tag is affordable for anyone's budget and you'll get the earrings in a beautiful, light blue signature box wrapped in a black bow!
Evaluation Criteria
Style
We selected these 10 pieces because they are versatile, vintage-looking yet contemporary.
Marcasite jewelry has an antique look to it and it is often combined with sterling silver and black onyx gemstones.
Such jewelry is perfect for both everyday wear as well as special occasions and being super-budget friendly, it is available to anyone!
Wear Comfort
The marcasite jewelry we have selected was all hand-picked for comfort in more than one way.
Our selection is meant to make a woman feel and look comfortable with the pieces she has chosen to wear.
All the picks on our list will not irritate or weigh down on your earlobes, fingers or around your neck.
We also made sure to feature jewelry that is easy to put on and take off while also staying in place securely.
Durability
We have done extensive research with every piece on our list and have found that these are made with genuine stones and sterling silver. The materials used are all quality and have great durability.
The prices fit all budgets and every piece is guaranteed and has a warranty.
Many of our picks come with beautiful pouches and jewelry boxes so you can easily store them in their original packaging and avoid any damages and scratches when not worn.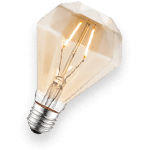 Styling our selection
You can wear any of the selection we have chosen with whatever outfit you choose.
These pieces are perfect as statement jewelry to be added to casual outfits as well as paired with a fancy LBD.
Styling our selection
If you're into chunky rings, options 3 and 9 are perfect and both combine a larger gemstone adorned with gorgeous marcasite and filigree design.
If you like black-stone jewelry, option 8 is our favorite pick since the necklace features a triangular cabochon black onyx surrounded with marcasite stones!
Styling our selection
If you're into vintage earrings, the most interesting option is number 2 since it features both a clip on and friction back post so even if you don't have pierced years, you can put these gorgeous earrings on!
Inspiration
Style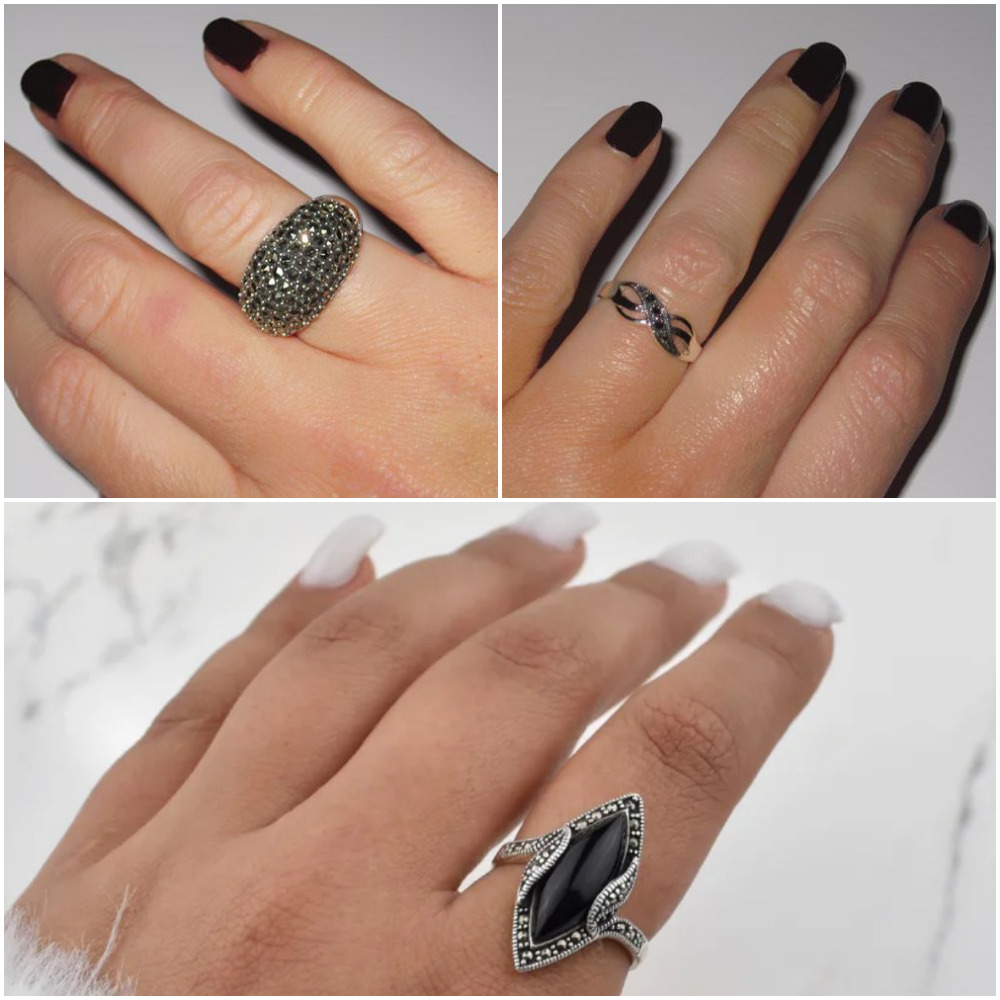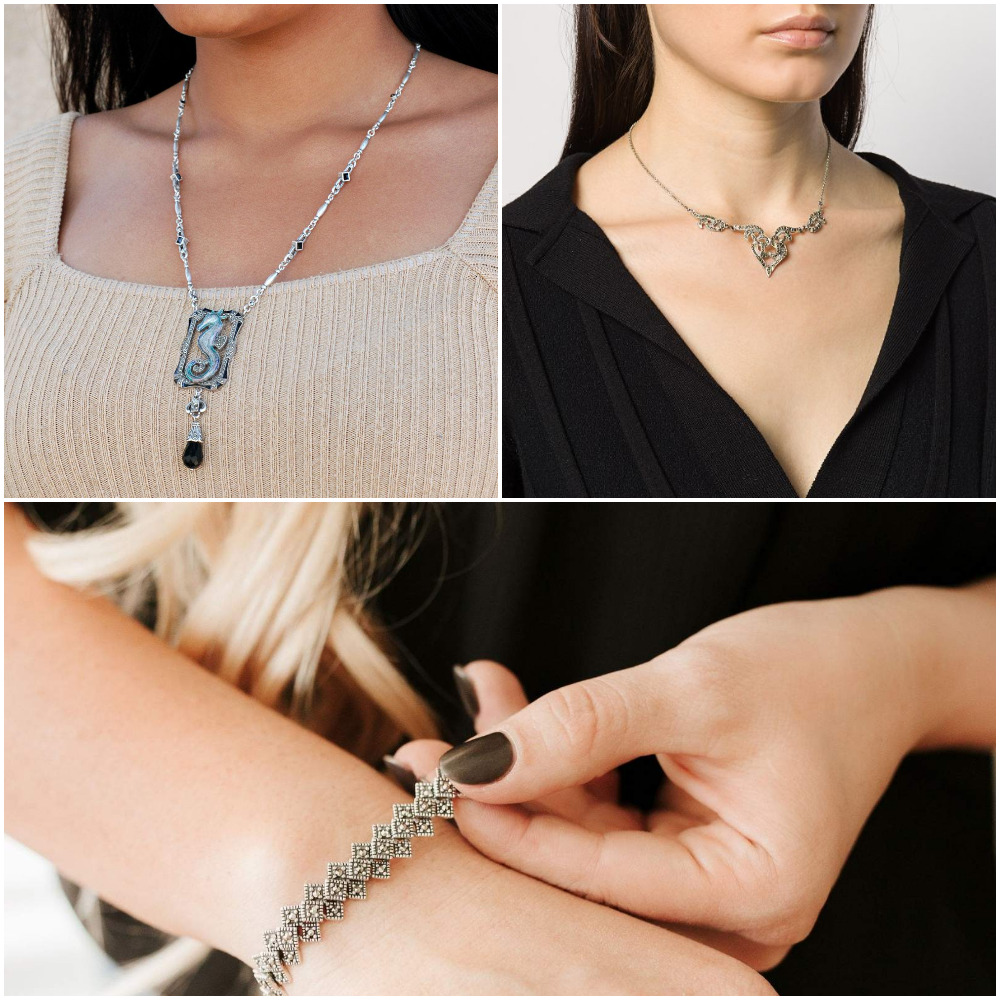 FAQs
q:

What are the customer ratings of our selection of pieces?

a:

Our selection of pieces have been receiving 5 out of 5 star ratings. There are a few pieces that are in the 4 plus rating out of 5 stars.

The overall response to our selection is 93% customer satisfaction on all pieces.
q:

What is the meaning of black onyx?

a:

Black onyx is a powerful protection stone that absorbs and transforms negative energy. The black stone helps to prevent the drain of personal energy.

It also aids with the development of emotional and physical strength and stamina.

This is very important during times of stress, confusion or grief, when support is needed.
q:

Is marcasite a popular mineral?

a:

Marcasite was a popular stone back in the 18th and 19th centuries, especially for Edwardian jewelry, when it was commonly cut into tiny stones and set in sterling silver.

This is why we selected marcasite jewelry; its antique vintage retro feel is definitely back in style and pretty much timeless.

In fact, Cleopatra was often seen adorned in marcasite gemstones because of it's beautiful metallic shine. Marcasite is also well known for its healing properties.

So ladies, when you look at our selections of pieces, remember every stone has a metaphysical meaning!
Finally...
Our selection of marcasite jewelry designed in many retro vintage and antique settings is a one of a kind.
The reason we have selected these beautiful and shiny stones that are often set in sterling silver is because this mineral is versatile, durable and comfortable to wear.
All options on our list come in a beautiful packaging and are affordable for anyone's budget.
Marcasite has been popular for centuries and adorned the bodies of some of the most powerful people in history including Cleopatra and 18th and 19th century royals.
Today marcasite jewelry is mostly combined with black onyx and sterling silver which results in a gorgeous retro style design.
The best part about this combination is that you get super durable jewelry that will not tarnish or discolor in time.
If you're looking for unique, vintagy pieces of jewelry that are also budget -riendly and look like a steal, marcasite jewelry pieces should be at the top of your list!