Stunning Swarovski Bracelet Picks We Want to Put on Our Gift List!
last updated:
Aug 30, 2021
If there's one piece of jewelry that every fashionista needs in their collection, it's a Swarovski bracelet.
As one of the most iconic accessories you can wear for any occasion, these glistening crystals surely set the best impression.
It's time for you to elevate your style with a timeless and effortlessly stylish piece you can reach for every day.
We've found some of the most gorgeous Swarovski bracelets that are definitely must-haves on our list.
Let's explore some of the most remarkably styled options.
Our Top 8 Picks!
1

. Swarovski Emily Bracelet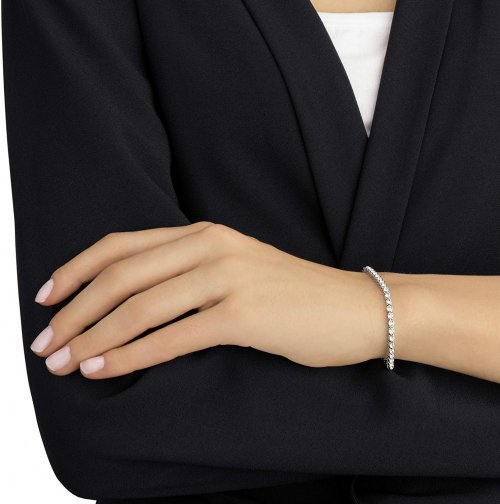 Rhodium plated
Clear crystals
Cable chain
If you like classy, minimalist jewelry that shines, you'll love the Swarovski Emily Bracelet! It features a very simple design and is extremely elegant to wear.
Read more
We think it would make a special gift for an anniversary, birthday, or a Valentine's Day gift. Whatever the occasion, this is a must-have piece of jewelry.
The bracelet has been simply designed so that it features individual Swarovski diamonds. The gemstones have been cut into a small circular shape.
When you look at the diamonds, you'll be almost blinded by their sparkles and that is truly something special!
The base has been made from a rhodium-plated crystal chain. Rhodium is known for being a super resistant material, which means your bracelet won't break or scratch easily.
When it comes to size, this lovely accessory is approximately 4.33 inches in length and weighs 6.66 grams.
2

. Disney Mickey & Minnie Mouse Swarovski Bracelet
Silver-plated metal
3/8" Mickey and Minnie icons
Swarovski crystals
Anti-tarnish protection
One of the most popular brands to work with Swarovski is Disney, as they have an assortment of exclusive pieces.
Read more
If you need something that will add a little bit of flirty fun to your wardrobe, we love this bracelet as an option.
The Mickey and Minnie bracelet is unique because it looks great on all wearers. It has a seamless bracelet design with stylish polished metal beads paired with two adorable Swarovski embellishments on either end.
You'll find a Mickey accent at one end that pairs perfectly with the opposite Minnie Mouse accent. Both embellishments feature three iconic Swarovski crystals that effortlessly capture the light.
There's no doubt this is one of our top choices if you're looking to treat yourself or gift jewelry to a loved one.
Regarding the bracelet's quality, all bases are covered with its high-quality arrangement.
Most of the bracelet features a sterling silver overlay with additional anti-tarnish protection for years of wear. You'll also have the benefit of handset genuine Swarovski crystals, making it a showstopper.
3

. Swarovski Light Purple Crystals Double Bracelet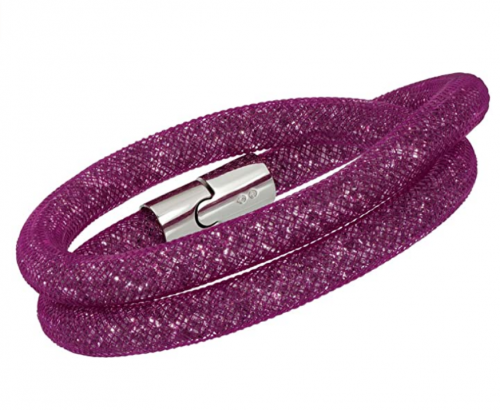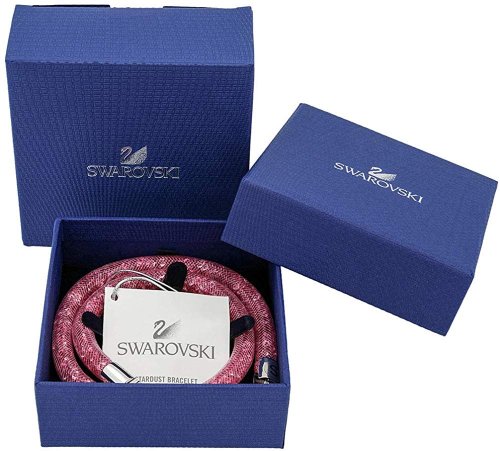 We've chosen a dainty Swarovski bracelet for those of you that prefer more delicate jewelry and also love all things purple!
Read more
The bracelet has been created using a rose gold metal and features five individual Swarovski crystals.
It includes three different colored stones, pink, silver, and purple. What's great about this mix of colors is that they subtly complement one another.
When it comes to the structure, it has been designed with a small rose chain. The tiny links don't draw too much attention but offer a strong base.
An important feature that we need to point out is that this bracelet is 100% nickel-free and hypoallergenic, which means it is safe to wear for people with sensitive skin.
It also features a clever closure fixture. When looking at it, you may be surprised to find that the solid gold circular ball is the closure and not part of the bracelet.
This invisible closure is also magnetic, which means it will easily open and close.
4

. Ted Baker Clemara Swarovski Crystal Bangle
Stainless steel base
Plated metal
Individually-set Swarovski crystals
Hinged clasp fastener
The Ted Baker Clemara swarovski bangle is a stunningly streamlined contemporary accessory.
Read more
It boasts decadence with its sparkling crystals paired with the delicate band that sits gently on the wrist.
If you're a lover of simplistic pieces that accentuate your impeccable fashion sense, this piece is ideal for you.
As an exclusive component of the Ted Baker Accessories Collection, this bangle is bound to be one of your favorites.
With a row of pristine Swarovski crystals, you'll have a glistening accent bound to impress even the pickiest jewelry collectors.
The sleek clasp fastener contributes to the minimalism of the piece while also making it easy to wear.
Compared to other Swarovski bracelets, you'll find this bangle is designed for years of continual wear.
The high-quality stainless steel metal features bronze plating, depending on the colorway you choose.
Maintenance is easy, as all you have to do is wipe the metal clean with a soft cloth.
5

. Swarovski Angelic Bracelet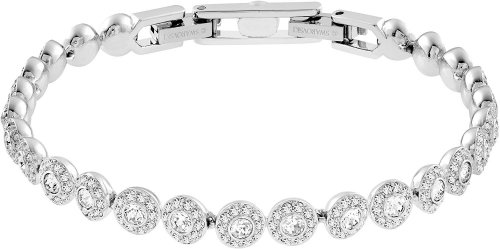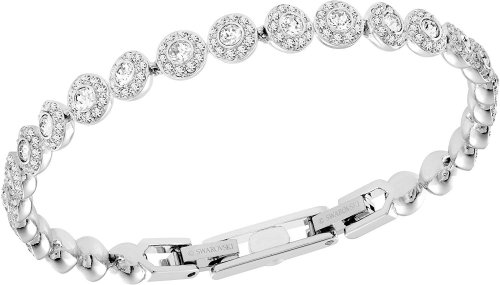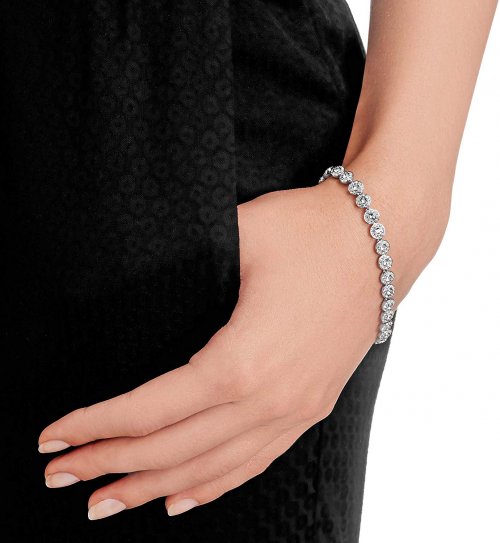 Rhodium plated
Box chain
Comes with gift box
We chose this piece as our last bracelet because we thought it was very classy and stunning. It has been created using a rhodium-plated metal, which makes it extremely strong and durable. It also won't tarnish easily.
Read more
The design of the bracelet consists of colorless round crystals. The size is approximately 7cm, making it a decent size.
The crystals used have also been cut into a round shape. When it comes to the structure, it consists of a circular jewel in the center and smaller gemstones around the edge of the center stone.
The stone layering shows how much attention to detail has gone into this piece of jewelry. It also includes a simple clasp, allowing the bracelet to be easily removed from your wrist.
This elegant Swarovski bracelet is being sold for a high price, but we feel it's well worth each penny.
6

. LADY COLOUR A Little Romance Series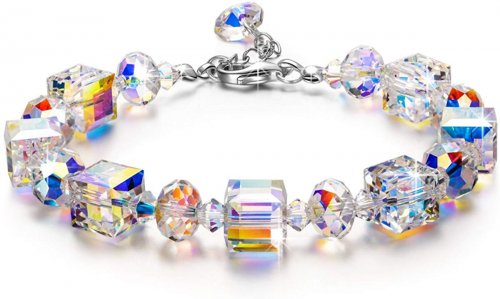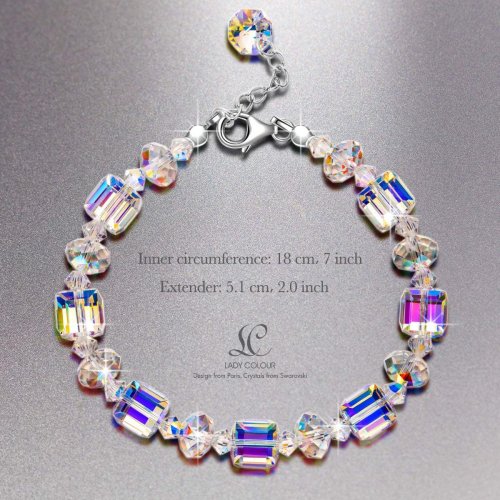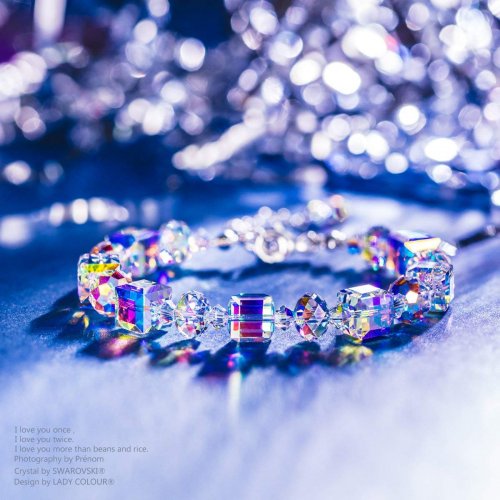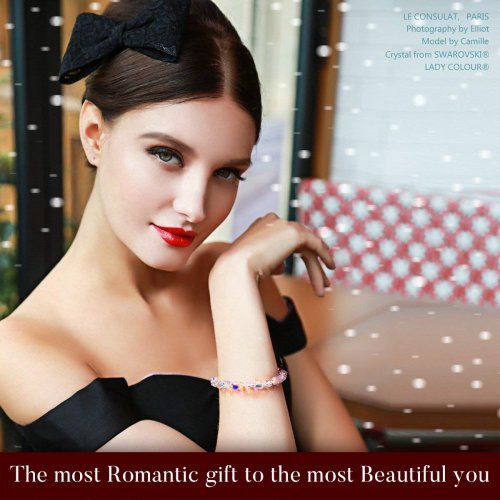 Crystal
Adjustable
12 month warranty
This Swarovski bracelet is a truly stunning piece of jewelry that you'll want to wear all day long!
Read more
What makes it unique is the differently shaped Swarovski beads; yes, you get a combination of square and circular beads!
This pattern gives it a very interesting design. What makes it stand out is that even though the Swarovski beads are colorless, when the light hits each bead reflects a color. The spectrum of colors reflected includes blue, purple, pink, yellow, and green.
To give you an idea of its size, the inner circumference of this bracelet is approximately 18cm / 7inches and you get an extendable chain 5.1cm / 2.0 inches long.
It has an adjustable, lobster claw clasp. The piece is made from sterling silver and is lead and nickel-free, so perfect for those with sensitive skin.
7

. Jomashop Swarovski Rhodium Plated Bracelet
Rhodium-plated
Silver base metal
White stones
Swarovski crystal mesh
Mesh bracelets bounced onto the market as one of the most desirable accessories. They have a uniqueness to them that makes them iconic for casual and formal occasions.
Read more
With this bracelet, you'll be able to combine function and beauty together for the most fabulous display imaginable.
The effortless sparkle of the Swarovski crystals is undoubtedly the most luxurious feature, although its design is remarkable.
This bracelet is the type of piece that you can wear anywhere and pair with anything. It looks fabulous when styled with a professional suit or when used to dress up a casual outfit.
The gorgeous crystal mesh structure gives it a unique and timeless appeal that you'll love throughout the years.
With the spectacular rhodium plating, you can guarantee it will stay in its best condition for several years.
Also, the fold-over clasp makes it comfortable to wear and easy to secure for all-day use.
8

. Swarovski Crystaldust Bracelet
Stainless steel
Affordable
The designer, Swarovski, has really done well in creating a unique bracelet that stands out among the rest. One of our favorite things about it is the sparkle that comes from the bracelet.
Read more
The bracelet has been lavishly encrusted with super dazzling leaves of crystals. It has been created using a rhodium-plated base metal covered in crystals.
The size of the bracelet is approximately 4.8cm in length, making it a good size. It's adjustable, so no worries about fitting any wrist size; since it consists of a three-spiral wrap, it's perfect for any wrist.
This gorgeous crystal bangle has been finished by including stainless steel crystal-capped ends on either side.
This super dazzling piece is the perfect accessory for an evening outfit or a little black dress.
The piece is being sold for a mid-range price by Swarovski, so once again, you're buying this bracelet from the best brand when it comes to dazzling crystals!
Frequently Asked Questions
q:

Are Swarovski bracelets good?

a:

Swarovski is one of the most notable name brands in the jewelry industry, thanks to its fashionable and functional pieces. They have an extensive collection of more high-end accessories and items that the everyday person can afford.

What makes these crystals so unique is that they're made from man-made crystals designed to replicate the glimmer of diamonds.

Through innovative manufacturing processes, Swarovski accessories are available at a fraction of standard jewelry costs. However, this point doesn't mean that they lack quality.

You'll find many Swarovski bracelets boast premium materials such as plated gold, solid gold, or even sterling silver.
q:

Why is Swarovski so expensive?

a:

Depending on the pieces you look for, Swarovski has a wide variety of affordable items to consider. When you delve into the higher-cost goods, you'll be considering collectible items or luxurious atelier jewelry.

Some of these pieces contain premium materials, such as platinum, which can increase the cost of the jewelry.

With that said, the vast majority of items are affordable, especially when compared to diamond jewelry. For the exceptional quality of the crystals, there's no doubt you'll be getting your money's worth with Swarovski pieces.
q:

Is Swarovski a luxury?

a:

Swarovski is often seen as a luxury brand as they carry a variety of editorial pieces. There's no doubt that when giving Swarovski jewelry as a gift, your loved one will feel as if they're receiving an elegant present.

If you're searching for something to truly make you or a loved one feel unique, this is the brand to consider.
q:

Are Swarovski bracelets waterproof?

a:

The most important part of taking care of your jewelry is to make sure it's not exposed to water. Swarovski bracelets can tarnish over time, and the hardness of the minerals in water can cause the crystals to dull.

You should remove your jewelry if you're washing your hands, swimming, or using alcohol-based products.
q:

Can you wear Swarovski bracelet everyday?

a:

Some Swarovski pieces are designed to be more casual, making them great for everyday wear. For example, charm bracelets and bangles are excellent wear-anywhere accessories.

On the other hand, other more luxurious pieces are designed to be worn for special occasions.

The best way to determine the versatility of your jewelry is to look at its care instructions.
If the care instructions are extensive, the type of jewelry is best saved for a special event.