Inspiration / Jewelry
Tree of Life Meaning, Symbol & Jewelry!
One of the most common symbols found in jewelry these days is the tree of life. Have you noticed it before? It's easily recognizable, but most of you probably don't know the tree of life meaning!
There is a lot of history and symbolism when it comes to the tree of life; it isn't just a pretty design for jewelry.
If you are interested in learning more, keep reading to learn all about tree of life jewelry, including the symbolism. Plus, you can even shop some great tree of life jewelry pieces that we love at the moment.

What is the Tree of Life Symbol
Before we get into the meaning and symbolism of the tree of life, what is the symbol itself exactly? There are a few different depictions of it, but you will typically see a tree with branches extending upwards and roots extending downwards all enclosed in a circle.
If you see this symbol anywhere, it is likely meant to represent the tree of life. Interestingly, it can be found pretty much across the world and does not seem confined to a certain group of people, region, or religious affiliation.
As you learn more about the tree of life, you will understand that it involves universal principles that we can all relate to.
Instead of feeling divided based on our individual beliefs or backgrounds, something like the tree of life can help keep us connected and focused on what we have in common and what we can learn from our time here on Earth. 
With that basic foundation of knowledge of what the tree of life looks like, what does it mean? There are several meanings and interpretations, and we are going to break all of them down for you! 
Tree of Life Meaning

There is not one exact meaning or symbol connected with the tree of life. Instead, there are several meanings that can be taken from the symbol itself, from the different aspects of the design, to what they all mean when connected as a whole. There is a lot more here than you might be thinking. It isn't just a pretty tree! 
Here are some of the most popular meanings that are associated with the tree of life:
✓

Connection

One main concept that the tree of life symbolizes is the interconnectedness that we all have to each other. Everything is connected in this world.

The roots extend into the ground and the branches far into the sky, symbolizing the connection that the entire world has. From a human perspective, it implies that we are never alone, but instead, are always connected to others and the world around us.  
✓

Family

As a tree grows many new branches, so does a family! The tree of life symbolizes the importance of family and how a family will continue to grow, and no matter how large the family gets, it should always remain connected, as the branches always remain attached to the tree.

Also, as a tree bears new fruit, so does a family as they grow a new generation. 
✓

Growth

The tree of life symbol always depicts a large tree with many branches. However, before it reached that point, it was just a seed! It took a lot of time, but the tree always continued to grow, and always will continue to grow.

The same is true for humans! We are constantly in a state of growth and should always focus on moving forward and growing.

Each year we experience gives us more wisdom and knowledge to guide us as we continue to move forward. Never stop growing!  
✓

Individuality

No two trees are alike. Even looking at tree of life symbols, you will notice differences in all of them. Some differences may be more subtle, some bolder, but the differences are always there.

The same is true for us- we are all unique, and that should be celebrated! The tree of life represents individuality and how important it is to be yourself.

Every tree is strong and beautiful; every tree looks different. Remember to keep this in mind even if you feel pressure to be anything other than yourself. Your uniqueness is what makes you you, and that is a wonderful thing! 
✓

Circle of Life

While it is called the tree of life, it also does represent the circle of life and how things are constantly ending and beginning. A leaf may fall from a tree and die, but each spring, new buds will appear on the tree, and new leaves will eventually grow.

Even if the tree itself one day dies, it has beared seeds that will live on to grow new trees. Life and death are both a part of life, whether we choose to accept that or not.

Instead of being fearful, the tree of life reminds us that this is what life is for all of us, and while we are here, we should celebrate how beautiful life is.  
✓

Peace

Finally, and possibly our favorite meaning, is that of peace! The large branches and leaves keep us feeling protected and safe. Even in a storm, the tree stands tall and makes it through.

The tree of life is a symbol of peace and serenity, and something we should all strive to find in our own lives.  
History of the Tree of Life 
Now that you know all about the tree of life, where did it originate, and how long ago? As you may already know, the tree of life is not a new symbol or concept.
It has been around for generations, some believing it was even first depicted back as early as 7000 BC. The oldest known instance was found in Domuztepe Mound, Turkey.
Over the years, it has remained a popular part of the culture for people all over the world. References can be found in just about any religion or culture spanning the world.
Today, it remains a popular symbol both in standard popular culture, as well as in religious instances as well.
For example, in Christianity, the tree of life is present with Adam and Eve and is the source of eternal life. It is often representative of God's love for everyone.  
In Buddhism, the Bodhi, or simply Bo, tree, is the tree that Buddha sat under when he reached enlightenment. It now is symbolic of life and the path to truth and enlightenment. 
In Islam, the tree of life is referenced in the Quran similarly to how it is referenced in the Bible, as the tree containing eternal life that Adam and Eve were not supposed to eat from. It is typically referenced as the 'tree of immortality' in this instance.  
Shop Tree of Life Jewelry
Now that you understand the history and the many wonderful meanings that the tree of life represents, do you want to invest in some jewelry pieces?
We don't blame you! Not only are tree of life jewelry pieces beautiful, but they also take on an extra special meaning once you understand the symbolism of the tree itself. 
If you are dedicated to living a peaceful, connected life, it only makes sense you would want to have the tree of life symbol close to you! Here are some excellent jewelry pieces that you can shop right now.
We've included necklaces, bracelets, earrings, and rings so that you can find the perfect piece based on your style and personality. 
Tree of Life Necklaces
1. The Black Bow Jewelry & Co 14K Gold Tree of Life Pendant
If you prefer a more simplistic tree of life design, this gorgeous 14k yellow gold pendant is perfect.
The tree itself has several simple branches and roots extending from the main tree trunk, almost looking more like simple veins than branches or roots.
This is a more modern looking tree of life symbol and will look great with a simple yellow gold cable chain.
The circle itself has some more details to it, but it remains simple and is perfect for anyone who loves minimalist jewelry.

2. Beaux Bijoux Turquoise/Abalone/Mother-of-Pearl Pendant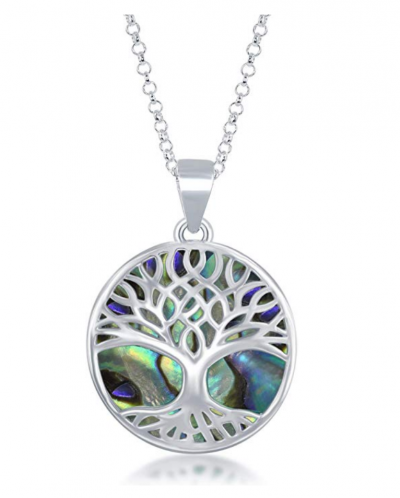 If you love Celtic jewelry, especially their knot designs that they are well known for, you will love this tree of life pendant.
The branches and roots themselves have a very Celtic look to them with a gorgeous scroll/knot-like the design to them. Behind the symbol, itself is a gorgeous backing made of mother of pearl.
This is a more detailed pendant and perfect for anyone who wants something more intricate and involved.
The mother of pearl compliments the sterling silver tree of life nicely, and this will make for a great statement necklace that is sure to receive a lot of compliments. 
3. sedmart Amethyst Rose Crystal Tree of Life Necklace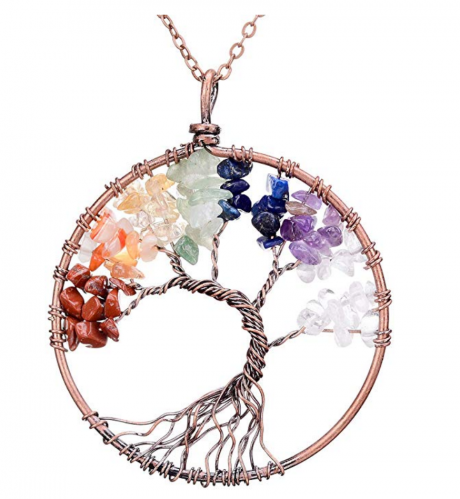 This may be our favorite tree of life necklace! While it has the same basic design to it- with the branches and the roots, it is unique from the most tree of life jewelry you will find.
The biggest difference is with the branches; they are comprised of a wide variety of gemstones, including quartz crystal, red agate, amethyst, and many more.
The branches span the rainbow and fade beautifully form the reds and oranges to the yellows, greens, blues, and purples.
The rest of the tree is made from twisted wire that resembles roots, giving it a unique yet surprisingly realistic appearance. 
4. Ross-Simons Tree of Life Pendant Necklace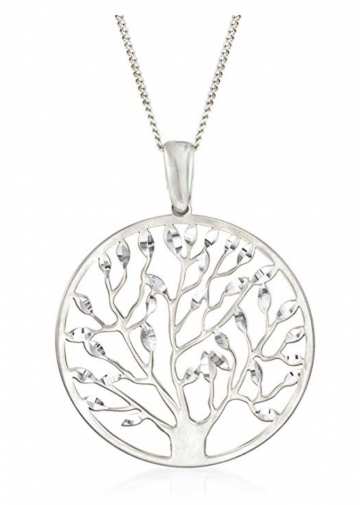 For a more simple tree of life pendant necklace, this design perfectly combines simplicity with a gorgeous design. The branches are simple, and in this case, feature leaves on them as well.
This pendant comes in sterling silver or gold and comes complete with its curb chain to wear with it. If you want more of the iconic, classic looking design when it comes to the tree of life, this is it. 
Tree of Life Bracelets
1. Jude Jewelers Stainless Steel Magnetic Tree Life Bangle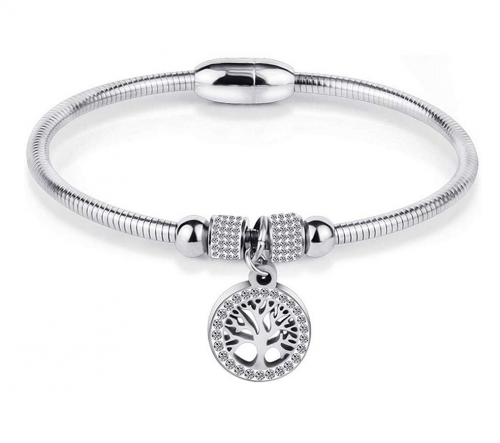 You can find the tree of life in other pieces of jewelry besides necklaces. This bracelet, for example, features the tree of life as a charm on this bangle bracelet that has an easy, magnetic closure.
The pieces all sterling silver and also features some nice cubic zirconia accent stones that help give this bracelet just a little bit of sparkle.
The stones circle the tree of life symbol, making sure all of the attention goes right to it!  
2. Jeulia Circle Of Life Bolo Bracelet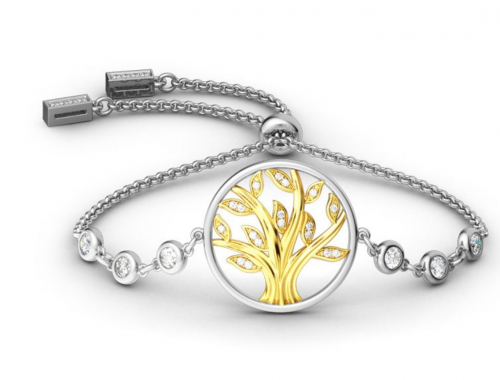 We love that this bracelet combines silver and gold, as well as gemstones! This is a gorgeous bracelet that is perfect to wear for a special occasion or a nice evening out.
The tree of life itself is gold, combined with white diamond stones that are the leaves. The chain is silver and also features a few diamond stones before changing over into a standard silver chain.
This is an intricate bracelet that is incredibly feminine and elegant, and we just love it!   
Tree of Life Earrings
1. Sterling Silver Tree of Life Stud Earrings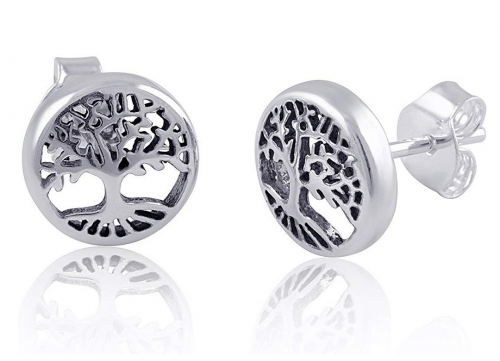 If you want to wear the tree of life symbol every day, a great way to do so is with these stud earrings. In sterling silver, the entire stud is the tree itself, complete with intricate branches and roots.
This is a great way to wear the symbol without drawing a lot of attention to it. Because these are simple studs, they also will easily go with any other jewelry you have and can be worn with almost any outfit! 
2. Agvana 925 Sterling Silver Gold Tree of Life Dangle Earrings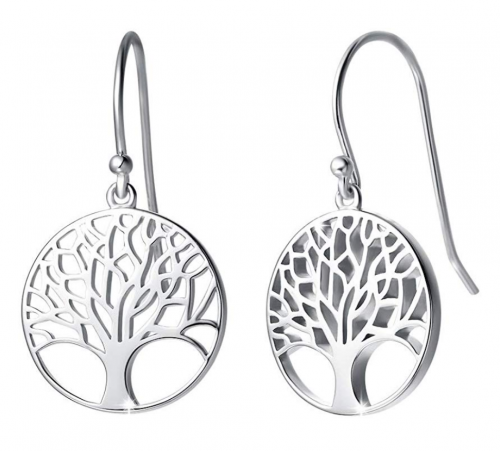 If a stud is a little too simple for you, why not invest in these gorgeous dangle earrings? These are still very simplistic but are a bit more of a statement than a simple stud.
The tree of life symbol has that modern leaning appearance with the simple vein-like branches extending up from the tree trunk.
If you prefer a more modern looking tree of life, and especially if you don't want any gemstones present, this is a great option for you.
This is still a very versatile piece of jewelry that you can wear with a lot of different outfits and for many different occasions. 
Tree of Life Rings
1. Sac Silver CHOOSE YOUR COLOR Tree of Life Ring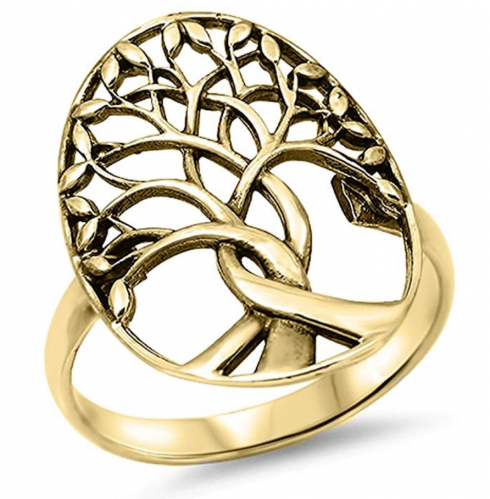 If a ring is your preferred type of jewelry, this gorgeous gold-tone ring is a great option to consider. The tree of life wraps over the finger nicely, with a gorgeous, intricate design featuring the branches, leaves, and interconnecting roots.
This is a great statement piece of jewelry that would look nice worn say on the right hand on the middle finger, as it is a larger ring that is worthy of all the attention. 
2. Rose Gold Tree of Life Filigree Ring
Finally, we love this delicate two-tone ring that features a sterling silver band and rose gold tree of life symbol!
The symbol itself is a modern interpretation of the tree, with the branches extending upwards from the trunk and no real leaf design. It is more simplistic, but the mixing of the metal types makes it completely unique.
If you prefer a rounded tree of life symbol (instead of one that is more of an oval), this is the ring for you. 
Wrapping Up
The tree of life is beautiful both in terms of its appearance and its symbolism. Representing wonderful things such as connection, growth, family, strength, and individuality, it makes sense why so many would want to be associated with the symbol and wear pieces of jewelry that contain it.
While it is present in different cultures and religious situations, it also remains neutral and has many themes that resonate with people no matter their specific beliefs. 
From earrings to rings, necklaces, and bracelets, you can easily find gorgeous jewelry pieces that contain the tree of life. From simple stud earrings to more elaborate pendants, there is something for everyone.