The 10 Wedding Tiaras & Crowns Perfect for Any Bridal Style
last updated:
Oct 15, 2019
Some brides believe that wedding tiaras too traditional, and it's an outdated piece that belongs to a bygone era.
However, we believe that every bride-to-be deserves to have the wedding of her dreams and should go all the way to look the part and feel like royalty!
Yes, you will always be your daddy's princess, but on your wedding day, you will be your husband's queen, and you should crown yourself as one.
Besides, is there any other occasion that justifies wearing a tiara crown? Slipping on that sparkling headpiece completes your wedding ensemble, and it's perhaps the icing on the cake.
Our guide today is all about wedding tiaras. So, here is a collection of the most unique and stunning wedding tiaras, carefully selected just for you!
Criteria for Evaluation
Wear Comfort
With our top 10 selection, you will see that most tiaras we picked have two loops at each end of the semi-circle. They make it easy to secure the tiara firmly to your head.
Most options allow you to use bobby pins or ribbons for fastening. This way, your tiara is completely secure.
You do not have to worry about it slipping off or spend most of your time adjusting and fidgeting with it.
Our picks are lightweight and comfortable to wear. You will even forget that you have a tiara on your head on your special day.
Style
Our picks are a good mixture for a traditional and modern bride. We picked formal tiaras, vintage style tiaras, headbands, hair vines, and floral wreaths.
If you decided to crown your day with a tiara, our picks would give you lots of options and beautiful styles to choose from.
But then again, most of these pieces are versatile, and you can create your look to suit your hairstyle, wedding gown, theme, and venue.
Jewelry Metal & Gemstone Quality
Most of our picks are made of rhinestones, alloy, and crystal. These are high-quality tiaras with excellent workmanship.
We aimed to make sure that you have a wide variety of affordable tiaras to serve the propose for the day and make you look the part.
Most have an expensive look and can easily be mistaken for super-high-end tiaras!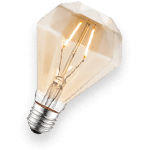 Our team's style tips
A wedding tiara might be a traditional accessory mostly associated with royalty but, lately, it has been ascending in the popularity stakes. The royal family has certainly set the trend.
The tiara is the one crowning piece that impressively stands out with these royal ladies on their wedding day. And these tiaras come with an interesting history too, passed down from generation to generation.
The most recent one was the Diamond Bandeau Tiara that Megan Markle wore on her wedding day. It is rumored that Queen Mary had this elegant piece made specifically to house a brooch (the diamond at the center) she had been given.
Thanks to Megan Markle, the elegant piece was brought out of the vault 65 years later to grace her wedding day.
We can't forget The Halo Tiara made by Cartier back in 1936. It was the finishing and the crowning touch to a gorgeous image of Kate Middleton on her wedding day.
It was originally designed for the Queen Mother for her wedding, who gifted it to Elizabeth 11 on her 18th birthday.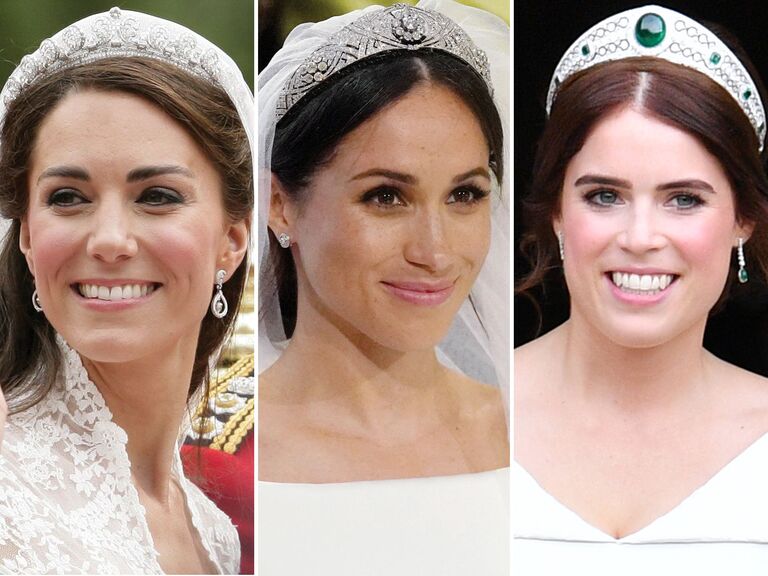 The bottom line is a woman's wedding day is special, and she deserves to look like royalty when walking down the aisle.
If a tiara is all good for royalty, then it's good for you too. We picked pieces that are gorgeous, unique, and just for you!
Our team's style tips
Most of our picks are designed to suit the modern bride. They can be worn with a veil or without one and won't ruin your hairstyle.
If you don't want your veil to cover your tiara, you can always have it attached at the back of your head with a back piece.
Crystals are currently very fashionable. We love the sparkle and the glitter. We picked options that are sure to dazzle your overall look.
So don't be afraid to pick a tiara with color accents and crystals. Among our picks, you will find one that complements your wedding gown and the accent color.
What about your hairstyle? We picked pieces that will complement not only your wedding gown but also different hairstyles.
For example, the hair vine option is extremely versatile and can be worn with half hair up half down, or, hair down, or all up!
With a classic bridal tiara, the focus is usually on the front of your head. It would look gorgeous with the hair up or part of your hair up to create a nice frame for the face.
Lastly, a tiara speaks for itself. Don't be tempted to go over large or wear oversized chandelier earrings and overly glitzy necklace.
It should complement your dress, hairstyle, and jewelry. Don't let it overshadow everything else.
FAQs
q:

How should I wear a tiara?

a:

A tiara should crown your head. Therefore, it should be placed in the correct position to bring out the crowning effect.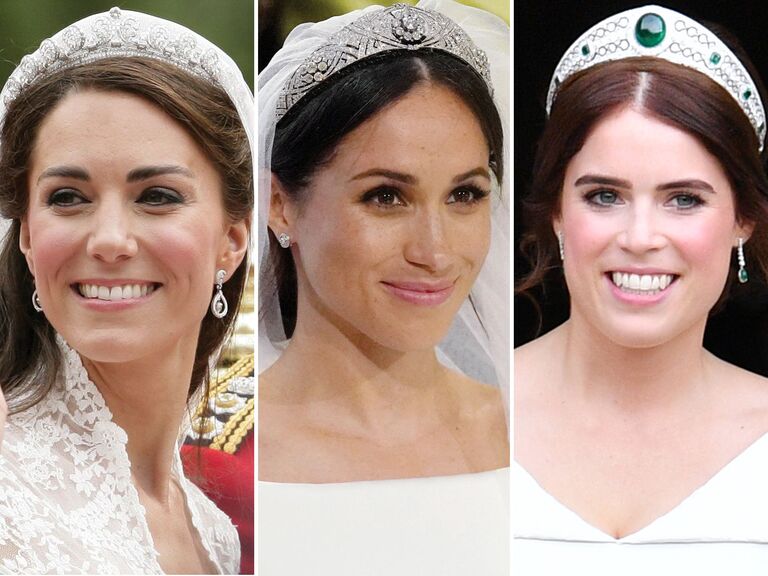 It's usually placed a little further back on your head. Your stylist will be in a better position to help you place it correctly. If you wear your hair in an updo style, the tiara should lie flat against your hair.
q:

When should I wear one?

a:

Traditionally, tiaras were only worn by married women and brides on their wedding day.

However, in today's society, the boundaries are significantly blurred, and you will find people wearing them at their weddings, balls and white dinners, pageants, photoshoots, proms, and other traditional occasions.
q:

Why do brides wear a tiara?

a:

Traditionally, tiaras were worn by brides as a symbol of the loss of innocence transitioning to the crowning of love.

Today, brides wear a tiara to enhance their look. Its a stunning addition to the bridal attire.
q:

Can I wear a veil with it?

a:

Yes, you can. However, if you go for a veil, make sure you get a tiara that works well with it. Most traditional options are designed to go well with veils.

If you opt to wear a contemporary one, you may choose not to wear a veil because the tiara takes the focal point and becomes the centerpiece in place of the veil.
Finally....
So, should you wear a wedding tiara on your wedding day? Why not?! If chosen well, a wedding crown can be the ultimate detail that sets off your overall look. It enhances and brings out the beauty of the bride and the gown.
The wedding day is truly a special day for a woman. It's the day she is crowned as "Mrs.," and nothing says it better than a tiara.
This elegant piece of jewelry evokes a sense of prestige. It is graceful and feminine and a great accessory for your wedding attire.
It is, without a doubt, a fashion statement piece. It has existed for centuries among the royalties, and we believe it's here to stay.
Whether it's your wedding day or any other formal occasion, a tiara will surely enhance and complement your attire. It adds style and elegance like no other piece.
So what do think of our picks? Which one is your favorite? Are you going to pick one? Given a choice, we would pick them all, because every woman is a queen and should look the part every day!