The 10 Wedding Tiaras & Crowns Perfect for Any Bridal Style
last updated:
Oct 15, 2019
Some brides believe that wedding tiaras too traditional, and it's an outdated piece that belongs to a bygone era.
However, we believe that every bride-to-be deserves to have the wedding of her dreams and should go all the way to look the part and feel like royalty!
Yes, you will always be your daddy's princess, but on your wedding day, you will be your husband's queen, and you should crown yourself as one.
Besides, is there any other occasion that justifies wearing a tiara crown? Slipping on that sparkling headpiece completes your wedding ensemble, and it's perhaps the icing on the cake.
Our guide today is all about wedding tiaras. So, here is a collection of the most unique and stunning wedding tiaras, carefully selected just for you!
Our Top 10 Picks!
1

. Mariell Couture Crystal Hair Vine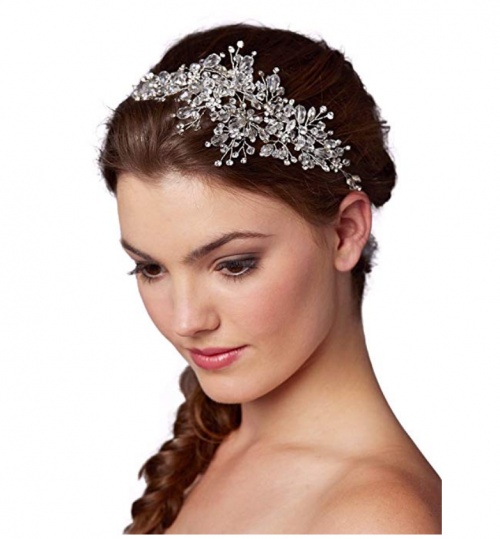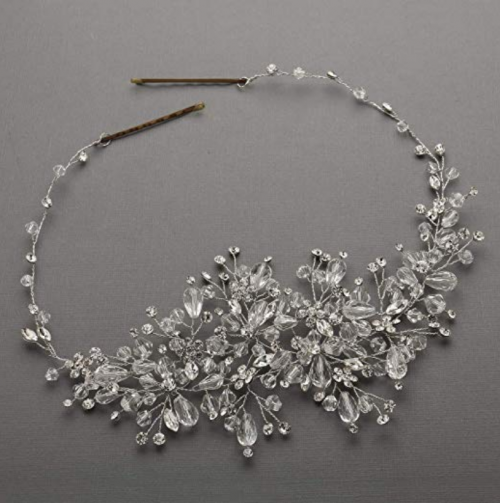 Plated in silver rhodium and embellished with European crystals
Features two silver hoops
Comes in a silver embossed gift box
Create a one-kind-of-a-look on your wedding day and make a memorable grand entrance with Mariells's couture crystal bridal hairpiece. This elegant piece gleams with hundreds of crystals and rhinestones!
Read more
It is made of top quality European crystals and plated in genuine silver rhodium. It's approximately 17" long x 4'' wide and features hand-finished silver hoops measuring 3/16".
This gorgeous tiara crown with flowing vines is absolutely easy and comfortable to wear. It is crafted with two end loops, which means it can be fastened into place using bobby pins.
Or, you can choose to add slender ribbons in any color at the loops and instantly transform this glistering piece into a stunning ribbon headband.
The loops will keep the tiara in place and hairstyle intact even after taking off the veil.
We love the versatility of this glamorous head jewelry. It can make a dramatic high-end statement or instantly create a luxurious boho style for your look. It will adorn any hairstyle you go for updo or flowing tresses.
Whether you are looking for a traditional flair with sparkle, or a celebrity kind-of-look, or a simple boho style, this dazzling headpiece has it all.
It is absolutely gorgeous and has an expensive designer look, yet it comes at a very reasonable price.
2

. SNOWH Baroque Queen Tiara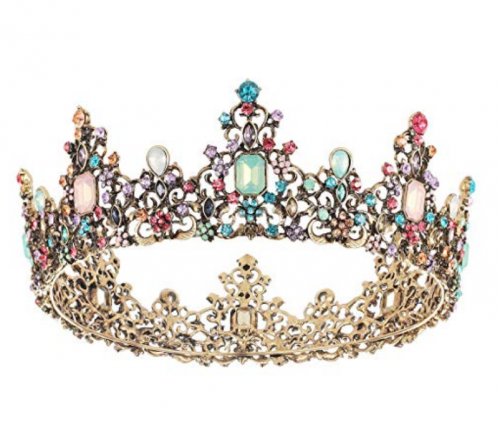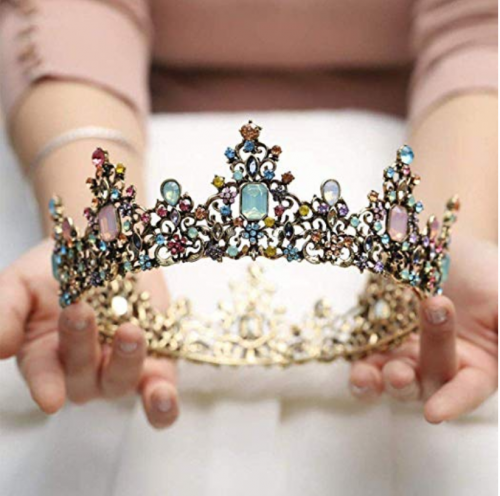 Firm and sturdy metal structure
Dotted with multicolored handmade beads
Build with a gold-plated surface
Look like the royal empress you will be on your big day with the SNOWH Baroque crystal tiara. This piece has a perfect crown design that is sure to transform you into a queen and make you look like you stepped out of a fairytale movie.
Read more
This is the perfect accessory for special occasions such as a wedding, pageant, prom, and so on. More so, it has a simple, elegant design that allows you to wear the tiara on more than just your wedding.
This tiara has a full crown design that coincidentally matches the gold-plated metal surface dotted with multicolored beads.
Standing approximately 2.3 inches tall and 5.8 inches wide, it's the size of a standard hairband and a suitable fit for most women's heads.
It is crafted with pin loops at the ends for extra fastening. You can use bobby pins (included) to fasten the tiara in place.
Alternatively, you can thread a ribbon through the two holes on the loops and tie it around your head. This way, the tiara will stay in place all day long.
We like that it has a hair comb design that gives it a distinctive vintage charm. It will catch the light beautifully and make you stand out of the crowd.
For a stunning statement piece like this, we believe the price is quite a steal.
3

. Sepbridals Vintage Austrian Crystals Bridal Crown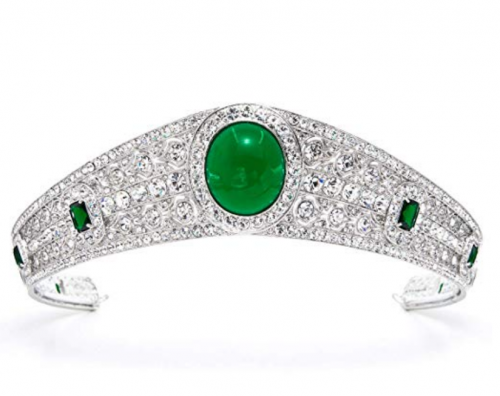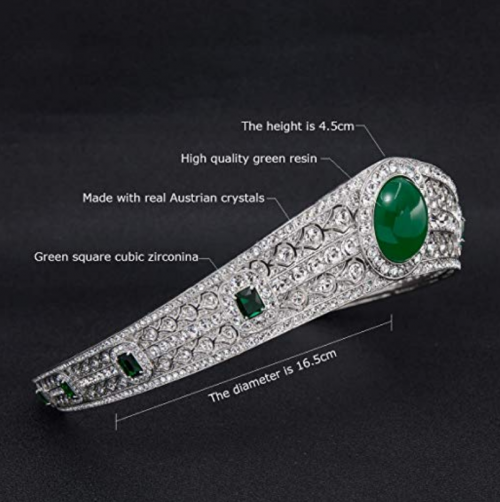 Made of real Austrian rhinestones, sparkly crystals, and CZ
Plated with rhodium
Fits most adults
This delightful Vintage Austrian Crystals bridal tiara is the perfect crown for the beaming bride. It features a simple and elegant design, which is sure to keep you comfortable and beautiful all through a day or a night of celebration, dancing, and revelry.
Read more
It is crafted using real Austrian rhinestones and embellished with very sparkly crystals and A+ cubic zirconia stones.
What stands out with this crown is the centerpiece stone, which creates a stunning contrast with the rest of the tiara.
It is plated with bright silver rhodium, which is not easy to fade. The stones will not easily fall out or break.
Measuring approximately 6 ½ inches wide and 1 4/5 inches high, this tiara is a perfect fit for most adults.
It has a classic traditional design that curves around the side, rising neatly to a high point at the front.
The vintage crown will highlight your look for the day wonderfully without being overly flashy.
When it comes to the price, this piece is medium-priced. You will be paying for absolute quality with this traditional style tiara. It is graceful, delicate, and quite versatile.
It will make a perfect accessory for a wedding, bridal, prom, or party events.
4

. KOGOGO Quartz Crystal Mermaid Tiara Crown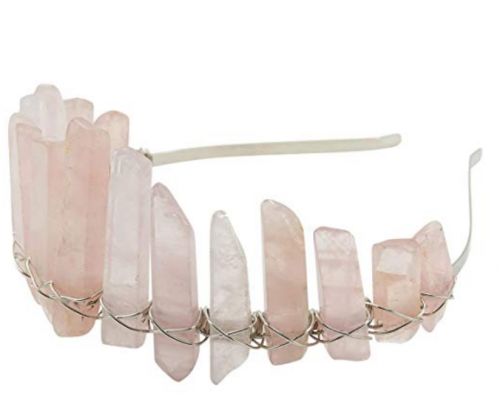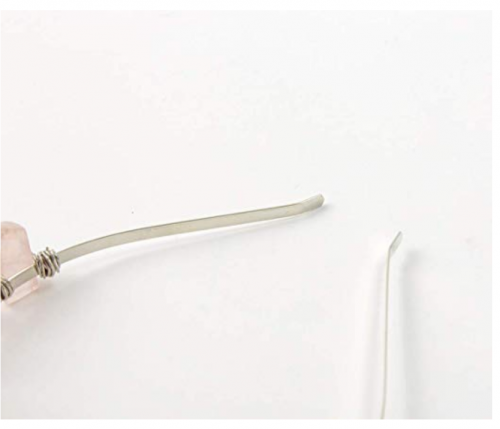 Handcrafted with raw quartz crystals
Available in different colors
A suitable accessory for different occasions
Are you looking for a spectacular antique tiara? Or, do you want a bohemian look for your ensemble? This crystal quartz tiara by KOGOGO is unique and is sure to crown your look for the day.
Read more
Be different and stand out with a special kind of beauty and simplicity with this mermaid tiara.
It takes its inspiration from nature and showcases natural stones on a metal base build with copper wire.
It is handcrafted using raw quartz crystals in different sizes and shapes to form a traditional curve with a high point in the middle.
The metal base extends into two loops at the end, which will help you secure the tiara to your head and keep it in place throughout the day.
This fairy hair crystal crown will be a great accessory to your dress. It's versatile, and that makes it an excellent accessory for weddings and costume balls.
You can wear this mermaid tiara to boho festivals, birthday parties, cosplay parties so it will be in use for years to come.
The designer has this piece in 3 different colors and sells it at a very reasonable and affordable price.
5

. Sepbridals Cubic Zirconia Wedding Bride Crown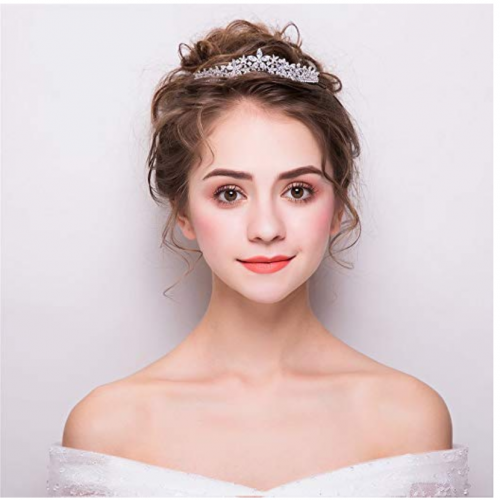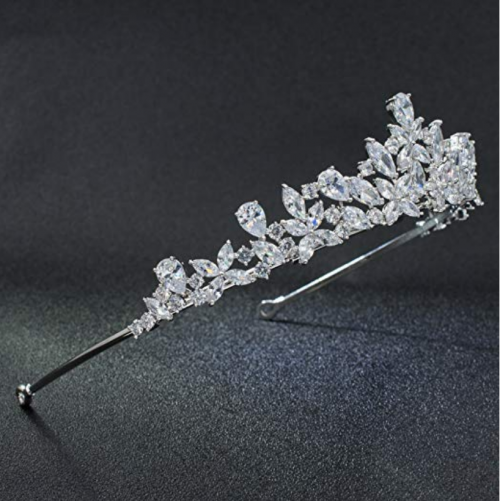 Made with full sparkling cubic zirconia stone on copper metal
Perfectly sized to fit most adults
For a glittering, sparkling, and dazzling appearance, go for this classic cubic zirconia wedding bridal tiara.
Read more
This is a classic style tiara made into a simple, elegant design for a romantic wedding. It will work perfectly as a hair crown for a Grecian goddess style wedding gown.
The wedding crown has a lovely floral design inspired by nature, and it's made to look like a vine or a floral wreath.
If you are the type that loves sparkles, then this piece is good news for you. It is full of highly sparkling cubic zirconia stones set in excellent workmanship.
The meatal used in this magnificent fairytale-like –piece is copper. It will not fade or break. The same goes for the CZ.
The highlight in this piece is the combination of copper and cubic zirconia. They create the most comfortable and durable tiara you will ever wear.
When it comes to sizing options, this tiara is a perfect fit for most adults. It measures approximately 14cm in diameter, and it's about 3.5cm high at the center.
It has loops at the end with two holes, which means you can secure the tiara firmly on your hair or thread in a ribbon to keep it in place.
This is a reasonably priced tiara, perfect for a beautifully stunning bride.
6

. Della Bridal Tiara Rhinestones Crystal Crown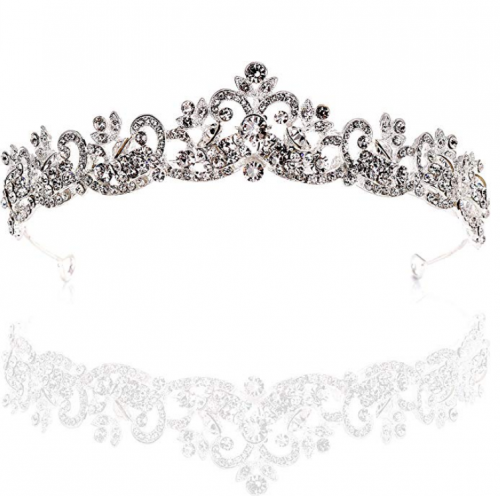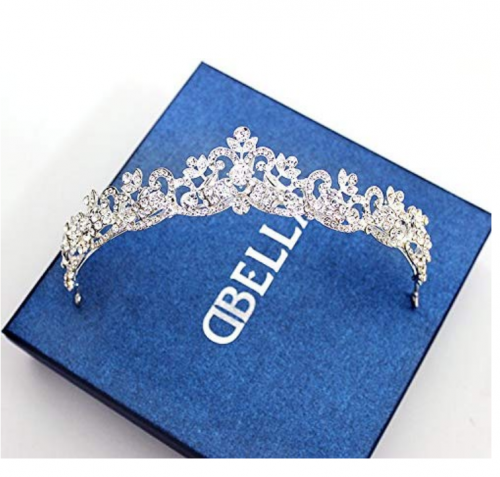 Features sparkly rhinestone crystals
Comes packaged in a premium box
Walk down the aisle, looking like a fairytale princess wearing this rhinestone crystal wedding tiara. This piece elegant with a simple design and looks superbly charming and exquisite. It is highly sparkly and has a solid structure.
Read more
The silver-plated wedding headband is made of alloy with beautiful rhinestone crystals firmly attached on the surface for a high-quality finish.
The crystals give off a lovely star-like sparkle creating a striking appearance.
It is subtle yet elegant and will look stunning with your hair up or let down for a beach-style wedding.
Moreover, it is comfortable and easy to secure to the head. Designed with two loops that make it easy for you to fasten it to your head with bobby pins (included).
When combined with a simple wedding gown, the rhinestone crystal tiara will stand out as a stunning headpiece and will create a traditional romantic look for you.
This tiara is full of sparkle and has a charming character, yet, you will not break the bank to have it. It is reasonably priced and quite affordable.
7

. Aukmla Vintage Bridal Tiara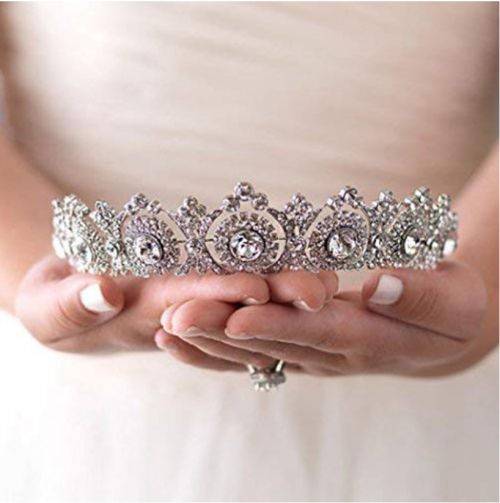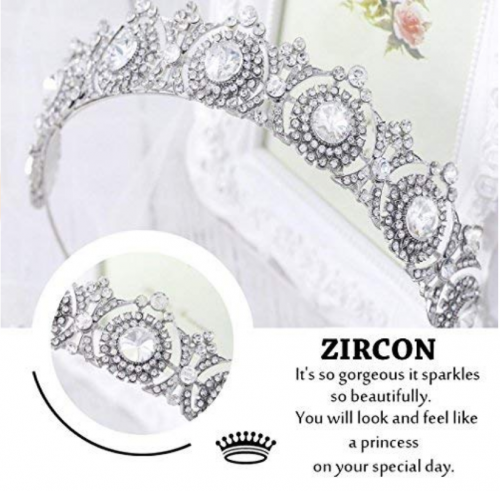 Made of alloy and sparkly rhinestones
Comes packed with four hair bobby pins for fastening
Suitably sized for girls and women
Add gleam and glam with this vintage tiara. Encrusted with sparkling rhinestones, the royal-like crown looks exceptionally luxurious and noble. It has beautiful accents and is sure to upgrade and complement your hairstyle.
Read more
It will effortlessly blend in with your wedding gown and the rest of the jewelry pieces.
We love the sparkle factor because it's simply amazing. If royalty is your style, then this vintage bridal tiara should be your perfect choice.
It is made of alloy material with glittering sprays of sparkling clear rhinestones. You will certainly set the trend with this piece because no one will be able to ignore the glitter.
When it comes to sizing, this tiara is perfectly sized to suit girls and women.
It measures approximately 1 ½ inch at the center peak and has a circumference of 10.63 inches. It can be fastened securely on your hair using bobby pins (included).
This tiara will make a suitable accessory for formal occasions such as weddings, as prom jewelry, pageants, dances, birthday, photoshoots, and that's just to give you a few ideas.
If you are a modern bride planning a beach destination wedding, then we highly recommend this wonderful tiara.
It is an exceptional piece fit for a fairytale wedding, and it's available at a fraction of the price. It's a total steal!
8

. SWEETV Gold Bridal Headband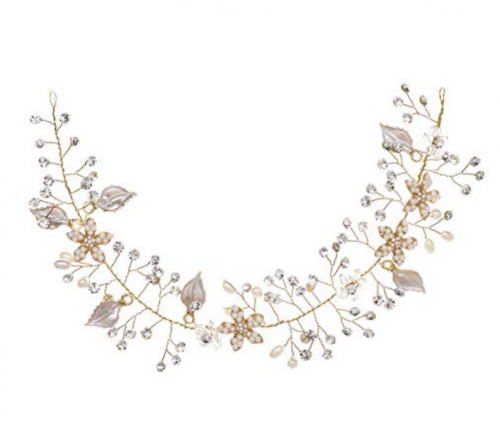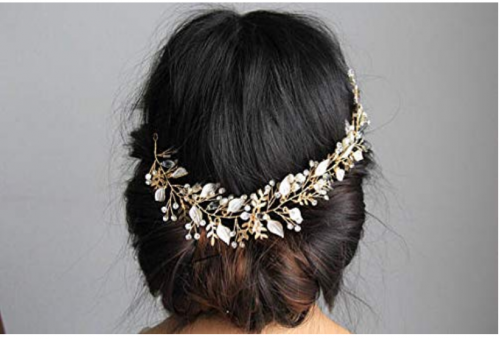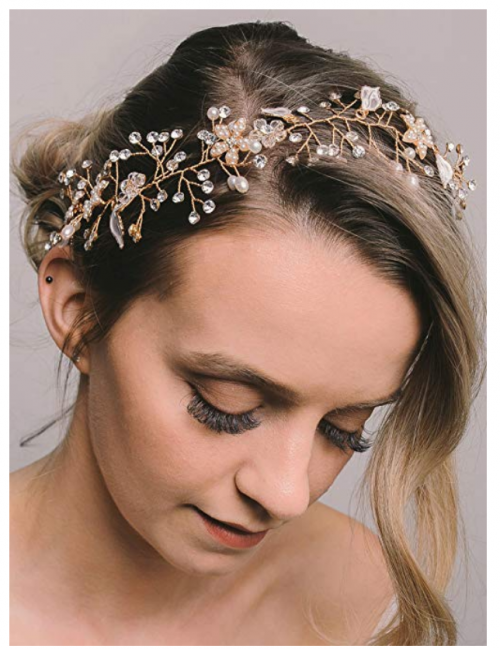 It has two end loops for fastening
It's versatile
Made of simulated pearls and crystals
Make a unique statement and style on your wedding day with this flower-inspired hair vine. One advantage of hair vines is that they are incredibly versatile. They are some of the most comfortable headpieces you can ever choose to crown your head with.
Read more
This particular piece features a bohemian style. It is highly sparkly with vivid flowers designed in pearls and dozens of crystals.
If you are doing your hair, then this the perfect piece for a DIY hairstyle. It gives you lots of wearing options.
You can pin it or tie it across your forehead as a browband for an exotic, unusual look. Or, you can wear it like a tiara to achieve a classic bridal look.
You can also remove the ribbons and pin the piece at the back of half-updo or an up-do for a remarkably simple and elegant style.
The piece is subtle, and it would suit a casual, relaxed wedding set up. It would also work perfectly with a bohemian, rustic, or woodland theme.
It's a suitable fit for most heads. Additionally, it's flexible, and you can bend it in any direction. You can use bobby pins to secure it to your hair or tie and adjust it with a ribbon.
This piece is not only the most versatile pick in our list but also the cheapest and most affordable one.
9

. Mariell Crystal Bridal or Wedding Tiara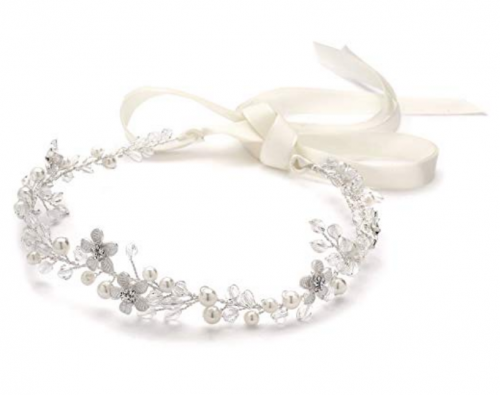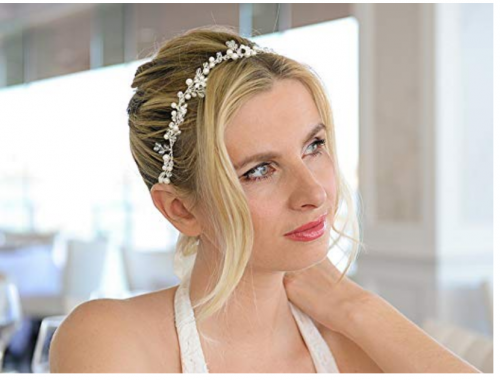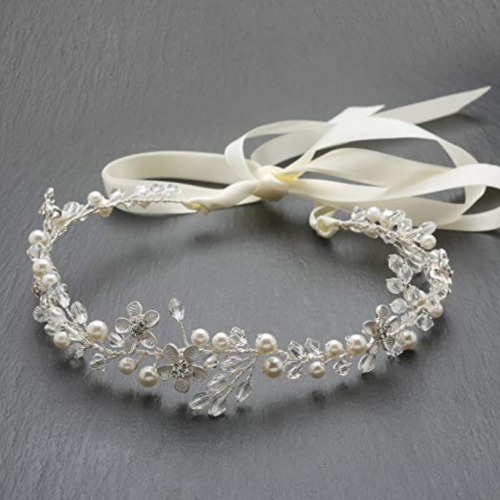 Plated in silver platinum with decorative floral motifs
It has a 16-inch satin ribbon on each side for a better fitting
Comes in an embossed gift box
Create your kind-of -style with this whimsical bridal hair vine. This is a modern headpiece featuring an enchanting floral design.
Read more
It is so unique and chic that it's bound to make heads turn over and over no matter how you choose to wear it.
It is made with a mix of simulated round pearls, freshwater pearls, and delicate seed beads all set against dazzling Austrian crystals.
This is such a simple yet stunning nature-inspired headpiece for a lovely bride. It has a girlish touch, which is great for your elegant self.
Plated in silver platinum, this decorative piece measures approximately 14" across the head and has two 16-inch satin ribbons on each side.
Just like all other options, we have listed in our top 10 picks, this delicate boho style piece is absolutely affordable.
10

. MoGist Butterfly Headband Earrings Set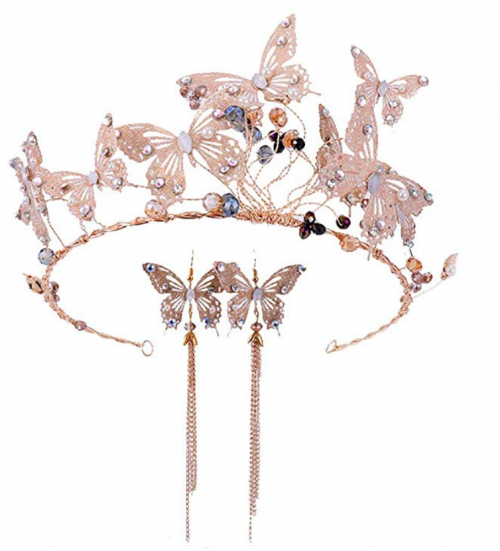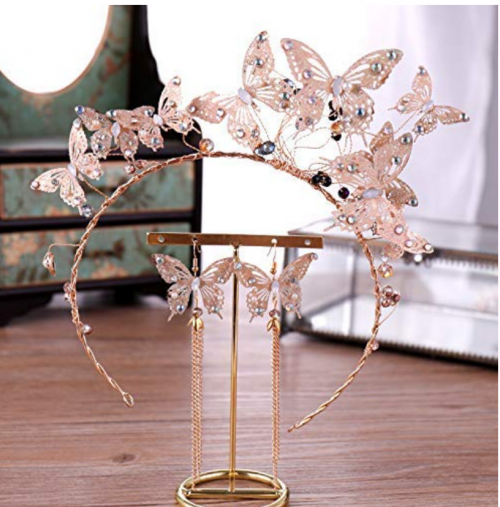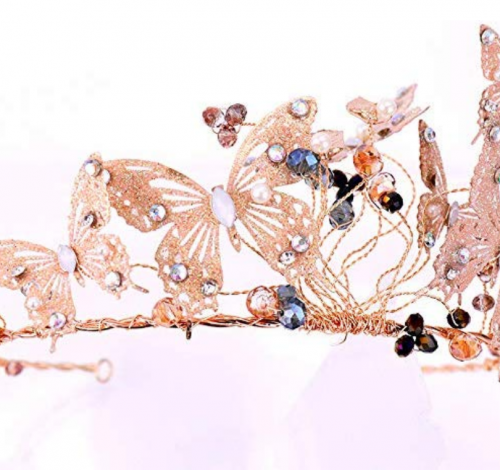 High-quality tiara made of rhinestone, alloy, and crystals
It's flexible
A suitable fit for most women's size head
Here is another vintage-inspired headpiece that is sure to make heads turn again and again on your wedding day.
Read more
Show off your charming style and bring out your unique sense of beauty with this butterly-themed romantic piece.
The lovely rhinestone headband comes with a matching pair of earrings. It is flexible and a suitable fit for most adult head sizes. The bridal crown is made of alloy, rhinestone, and crystals.
The pick is a great choice that can complement any hairstyle. It's a suitable match to almost all types of wedding gowns and attires that grace formal occasions such as prom, pageant, and so on.
Now get this; this pick is the cheapest on our list and the fact that the set also includes a pair of earrings for just a couple of bucks is amazing!
Criteria for Evaluation
Wear Comfort
With our top 10 selection, you will see that most tiaras we picked have two loops at each end of the semi-circle. They make it easy to secure the tiara firmly to your head.
Most options allow you to use bobby pins or ribbons for fastening. This way, your tiara is completely secure.
You do not have to worry about it slipping off or spend most of your time adjusting and fidgeting with it.
Our picks are lightweight and comfortable to wear. You will even forget that you have a tiara on your head on your special day.
Style
Our picks are a good mixture for a traditional and modern bride. We picked formal tiaras, vintage style tiaras, headbands, hair vines, and floral wreaths.
If you decided to crown your day with a tiara, our picks would give you lots of options and beautiful styles to choose from.
But then again, most of these pieces are versatile, and you can create your look to suit your hairstyle, wedding gown, theme, and venue.
Jewelry Metal & Gemstone Quality
Most of our picks are made of rhinestones, alloy, and crystal. These are high-quality tiaras with excellent workmanship.
We aimed to make sure that you have a wide variety of affordable tiaras to serve the propose for the day and make you look the part.
Most have an expensive look and can easily be mistaken for super-high-end tiaras!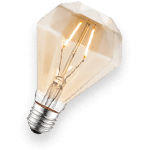 Our team's style tips
A wedding tiara might be a traditional accessory mostly associated with royalty but, lately, it has been ascending in the popularity stakes. The royal family has certainly set the trend.
The tiara is the one crowning piece that impressively stands out with these royal ladies on their wedding day. And these tiaras come with an interesting history too, passed down from generation to generation.
The most recent one was the Diamond Bandeau Tiara that Megan Markle wore on her wedding day. It is rumored that Queen Mary had this elegant piece made specifically to house a brooch (the diamond at the center) she had been given.
Thanks to Megan Markle, the elegant piece was brought out of the vault 65 years later to grace her wedding day.
We can't forget The Halo Tiara made by Cartier back in 1936. It was the finishing and the crowning touch to a gorgeous image of Kate Middleton on her wedding day.
It was originally designed for the Queen Mother for her wedding, who gifted it to Elizabeth 11 on her 18th birthday.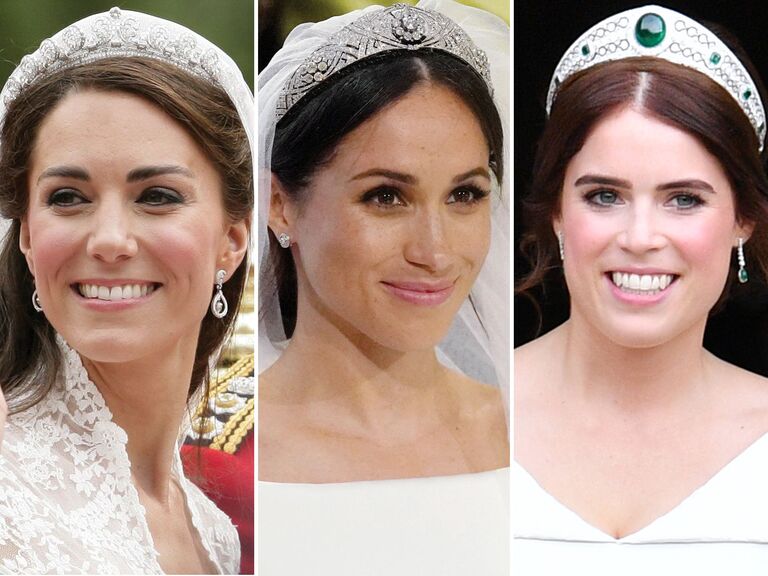 The bottom line is a woman's wedding day is special, and she deserves to look like royalty when walking down the aisle.
If a tiara is all good for royalty, then it's good for you too. We picked pieces that are gorgeous, unique, and just for you!
Our team's style tips
Most of our picks are designed to suit the modern bride. They can be worn with a veil or without one and won't ruin your hairstyle.
If you don't want your veil to cover your tiara, you can always have it attached at the back of your head with a back piece.
Crystals are currently very fashionable. We love the sparkle and the glitter. We picked options that are sure to dazzle your overall look.
So don't be afraid to pick a tiara with color accents and crystals. Among our picks, you will find one that complements your wedding gown and the accent color.
What about your hairstyle? We picked pieces that will complement not only your wedding gown but also different hairstyles.
For example, the hair vine option is extremely versatile and can be worn with half hair up half down, or, hair down, or all up!
With a classic bridal tiara, the focus is usually on the front of your head. It would look gorgeous with the hair up or part of your hair up to create a nice frame for the face.
Lastly, a tiara speaks for itself. Don't be tempted to go over large or wear oversized chandelier earrings and overly glitzy necklace.
It should complement your dress, hairstyle, and jewelry. Don't let it overshadow everything else.
FAQs
q:

How should I wear a tiara?

a:

A tiara should crown your head. Therefore, it should be placed in the correct position to bring out the crowning effect.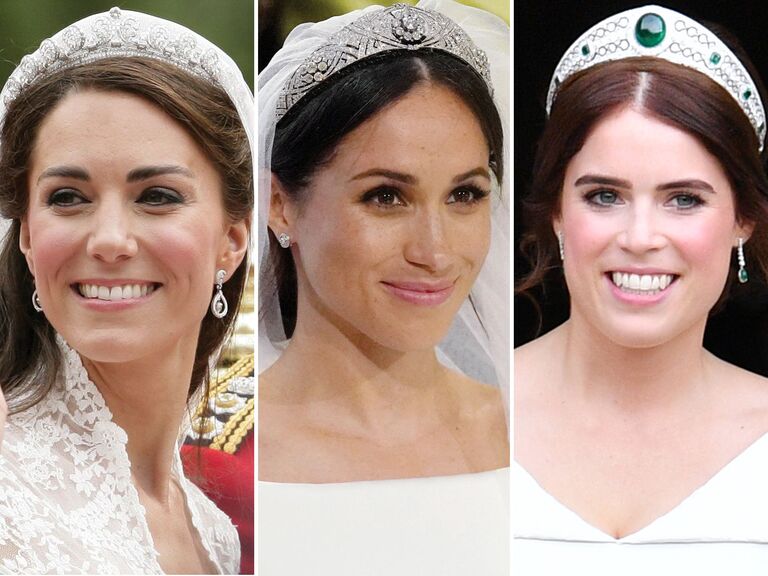 It's usually placed a little further back on your head. Your stylist will be in a better position to help you place it correctly. If you wear your hair in an updo style, the tiara should lie flat against your hair.
q:

When should I wear one?

a:

Traditionally, tiaras were only worn by married women and brides on their wedding day.

However, in today's society, the boundaries are significantly blurred, and you will find people wearing them at their weddings, balls and white dinners, pageants, photoshoots, proms, and other traditional occasions.
q:

Why do brides wear a tiara?

a:

Traditionally, tiaras were worn by brides as a symbol of the loss of innocence transitioning to the crowning of love.

Today, brides wear a tiara to enhance their look. Its a stunning addition to the bridal attire.
q:

Can I wear a veil with it?

a:

Yes, you can. However, if you go for a veil, make sure you get a tiara that works well with it. Most traditional options are designed to go well with veils.

If you opt to wear a contemporary one, you may choose not to wear a veil because the tiara takes the focal point and becomes the centerpiece in place of the veil.
Finally....
So, should you wear a wedding tiara on your wedding day? Why not?! If chosen well, a wedding crown can be the ultimate detail that sets off your overall look. It enhances and brings out the beauty of the bride and the gown.
The wedding day is truly a special day for a woman. It's the day she is crowned as "Mrs.," and nothing says it better than a tiara.
This elegant piece of jewelry evokes a sense of prestige. It is graceful and feminine and a great accessory for your wedding attire.
It is, without a doubt, a fashion statement piece. It has existed for centuries among the royalties, and we believe it's here to stay.
Whether it's your wedding day or any other formal occasion, a tiara will surely enhance and complement your attire. It adds style and elegance like no other piece.
So what do think of our picks? Which one is your favorite? Are you going to pick one? Given a choice, we would pick them all, because every woman is a queen and should look the part every day!