Mix / Women
Amazing Alex and Ani Charms Available on Amazon At Once
It was 2004 in Cranston, Rhode Island, a suburb of the capital city, Providence when Carolyn Rafaelian started a venture in jewelry design. Rafaelian had a vision "to design and create bangle bracelets, necklaces, earrings and rings that adorn the body, enlighten the mind, and empower the spirit." She named it after her two daughters, Alex and Ani. Alex and Ani charms are the best way for the company to show off its craftsmanship.
For the next decade and a half, Alex and Ani grew and grew. They opened their first store in 2009 in Newport, Rhode Island. Between 2010 and 2016 their revenue went from an impressive $5 million annually to a monumental $500 million a year. Under the leadership of CEOs Giovanni Feroce and Harlan Kent, the small company out of the smallest state in the union stretched across the globe. Alex and Ani charms, bangles, bracelets, and necklaces are available across the globe.
In 2004 the company applied for and was granted a patent for their signature style of sliding bangle. The loops in 14 gauge copper wire mean that the bracelets can be sized to fit almost any wrist size. Since that time, they've expanded their lines. Alex and Ani hold thirty different patents for their designs and engineering of jewelry.
A Rhode Island Legacy
Rhode Island has a deep-rooted history in jewelry making. It began with two men, Seril and Nehemiah Dodge. They opened a jewelry store in Providence in 1794 and began reimagining both designs and the process of creating jewelry. The idea caught on.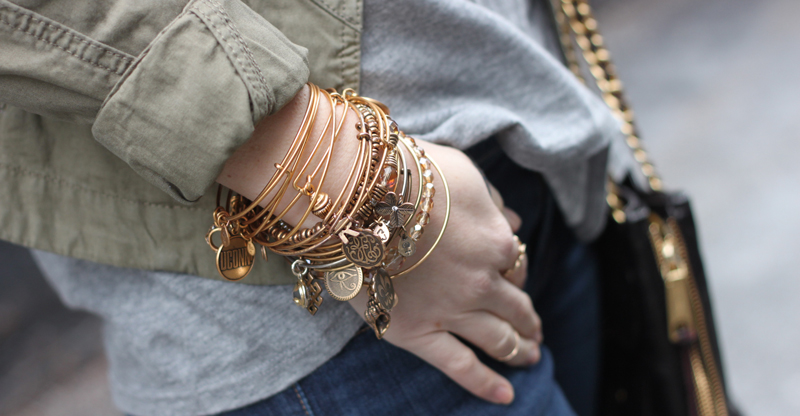 By 1890, nearly a century after the Dodges took that first step into history, Rhode Island was a mecca of jewelry making.  Over seven thousand workers staffed over two hundred jewelry production firms at the time. By the turn into the twentieth century, the demand for jewelry was on the rise and the people wanted it both beautiful and economical. Rhode Island's jewelry industry rose to the challenge.
Unfortunately, the demand grew insatiable and by the 1980s international production had ground the jewelry industry to a halt. A few hangers-on remained though, including a company called Cinerama, based out of Cranston. Opened in 1966 by Ralph Rafaelian, it would eventually become, and remain, the home of Alex and Ani production and design.
Alex and Ani Continue the Tradition
The industry was fueled by middle-class demand. That demand was met by the hard work and enduring spirit of the immigrant. Many of the factories were staffed by immigrants.
Carolyn Raphaelian is descended from Romanian immigrants who passed through the gates of Ellis Island while coming to the United States. Her grandfather, Melkon, came to the United States in 1913 and rooted his family in Rhode Island.  
Her fame all began with an apple.  In 2004, celebrity Gwyneth Paltrow welcomed a baby girl into the world and gave her a unique name, Apple. Raphaelian welcomed this world's newest human with a charm in the shape of an apple, of course. It all blew up from there. Hundreds of partnerships celebrating hundreds of events, births, celebrations, and causes have been created now.  Earring, bangles, necklaces and more celebrate so many wonderful things now.
Today the production facility employs nearly 1500 hard-working Americans to produce each and every piece of Alex and Ani jewelry. They have vowed to continue producing in the United States. In addition, they promise to remain in Rhode Island, continue a centuries-long tradition in their state.
Notable Collections & Endeavors
Early in the company's timeline, Rafaelian knew that she wanted to use her power for good.  She began Charity by Design. A portion of the proceeds of every piece in the Charity by Design line goes to a large line-up of notable and impactful charities.  Their works benefit people at home and abroad. Charities ranging from The American Cancer Society to the David Lynch Foundation enjoy the benefits of Alex and Ani's far-reaching philanthropic endeavors.  
But Rafaelian was not satisfied with just a bit of proceeds going here and there.  She wanted to be sure her legacy was not just one of style and taste but of doing good for humanity. Her company created Team (+) Impact. Employees at their Rhode Island production facility are allowed to take time off work during business hours to participate in community outreach events, service projects and humanitarian trips across the globe.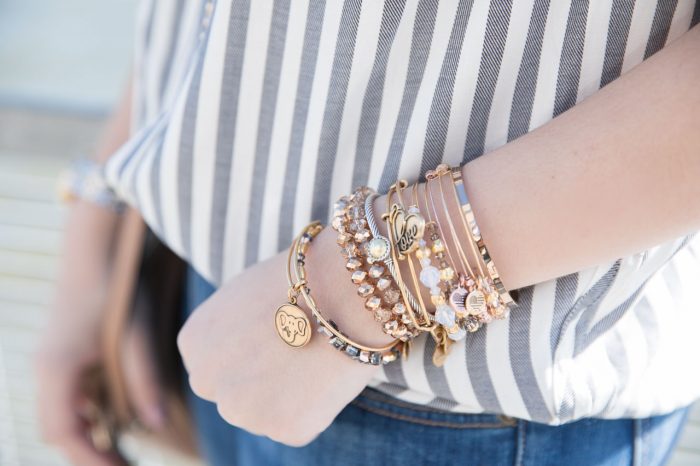 The company also partners with these charities to co-create designs that lead directly to change. A shining example of how a bangle changed the world is through the partnership with an organization called Living Water. They collaborated with the organization and created a stunning and simple charm in the shape of a water droplet. Constructed out of crystal it was a stunning piece in a beautiful blue, it went on sale and the profits began directly benefits Living Water. Alex and Ani later sent a team of volunteers into Nicaragua in partnership with the organization. They worked to bring fresh, accessible water to whole communities. The world was changed with a pretty bracelet.
Beyond her philanthropic efforts, Carolyn truly embraced her immigrant heritage and the pride in their move to better their family.  In 2016 she purchased copper from the original Statue of Liberty and began production of the Liberty Copper Collection. The copper excess was created during the restoration process of the statue. The collection features charms with copper in the shape of the iconic flame atop our Lady of Liberty's upraised torch. It celebrates the welcoming attitude of the United States as well as the enduring spirit of immigrants coming to the country.
With all that good put in the world by a single Rhode Island-based company, we are head over heels in love with Alex and Ani charms. Beyond all the charity work the jewelry is just so darn cute! Stylish and modern, subtle and sleek, you cannot really ask for more from charm bracelets.
We have found our top ten selections of Alex and Ani jewelry available on Amazon right now! We have selected five of their unique and original charm bracelets and five charming necklaces.
Our Top 10 Favourite picks!

Bracelets
We begin with the bracelets that started it all.  Alex and Ani's now-legendary apple charm on their ingenious bracelet design launched a multi-million dollar company that wraps around the globe.  While their lines have expanded to the jewelry of almost all varieties, their charms and bangle bracelets are still their bread and butter.
1. Charity by Design Lotus Blossom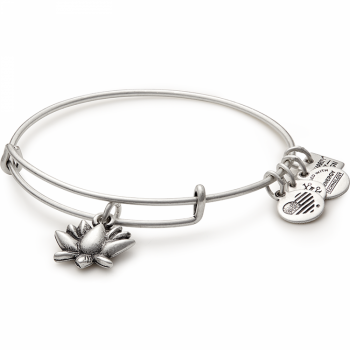 We will start with one of Alex and Ani's Charity by Design pieces. This lotus blossom charm is a beautifully sculpted representation of the lotus flower, a symbol of peace, prosperity and the strength of women.  
In the Buddhist tradition, the lotus is a symbol of beauty rising from the muddy, murky depths. A lotus flower grows on the surface of a muddy pond, its stalk and roots reaching deep through the water to the mud below. Its stalk, so little seen, must be strong yet flexible to support the beauty above.
For many outside Buddhism, the lotus is strongly associated with the strength of a woman and the beauty of fertility, pregnancy, and childbirth. The blossom begins very round and opens up into a many-petaled wonder in beautiful shades of white, pink, fuschia and magenta. While the color is not represented in this charm bracelet, it is still a reminder of the beauty and symbolism.
Alex and Ani will donate a portion of your purchase to the Women and Infants Hospital in Rhode Island. The medical facility is one of the nation's leading care providers for maternal and newborn care, at the forefront of research and pioneering techniques that save lives of mothers and babies.
This bangle is done in your choice of yellow gold-tone or silver-tone and features their patented one-size-fits-most design. As with the Alex and Ani traditions, the bracelet is made in the USA. They feature the three iconic charms of the Alex and Ani emblem, the Charity by Design proclamation, and the reminder that your new Alex and Ani creation is infused with (+) energy.  It is made with love, care, and dedication to quality in a positive environment.
2. Arrows of Friendship Charms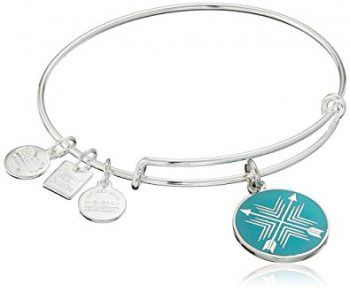 Our second selection from the Charity by Design line-up, this bracelet features an enameled charm in a beautiful cool teal. You can select your choice of a white or yellow gold tone to match. Inside the enamel charm is a beautiful marriage of chevrons and trendy crossed arrows.
An arrow can mean a lot of things where symbolism is concerned. It can represent strength, defense, strong will, protection, and sureness. When two arrows are together, it often speaks to the coming together, or crossing of two strong sure individuals. Each uses their strengths and swiftness to guide and protect the other. In this context, the crossed arrows of this charm are absolutely perfect for the charity this charm supports.
We adore the juxtaposition of the squareness of the image inside the round charm. And the color choice is beyond stunning. A perfect little disc of color will add an attention grabbing pop to your wrist. As with most Alex and Ani pieces, this is a conversation starter and for the best reasons.
This piece benefits Best Buddies International. This organization works with people with intellectual disabilities to offer training, work placement and job assistance. The group, founded as a non-profit in 1989, built on nearly two decades of efforts on behalf of the intellectually disabled community. The work to match people with a wide range of intellectual challenges with a one-on-one partnership. Once established the pair is able to perform work in an integrated work environment. Best Buddies strives to develop leadership skills with both "buddies."
3. Unicorn Charm Bangle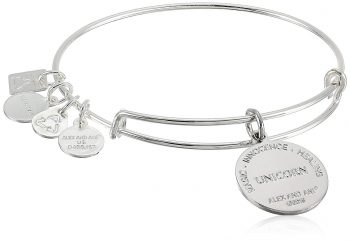 Yet another offering from the Charity by Design creations, this fun, whimsical piece reminds us of the charm bracelets of our childhood. A unicorn with flowing mane and hooves raised prances across a beautiful glittering background. You can select the yellow gold version and receive a white unicorn with a fiery mane in reds and pinks. Alternatively, choose the silver version and your will sport a teal, blue, and purple mane.
Unicorns are mythical creatures shrouded in a host of origin stories and legends. Scotland is even so taken with them and their powers, it selected the unicorn as its national animal. Real or not, the horned horse is a powerful symbol of healing, strength, and wonder. In many versions of unicorn myths, unicorns are capable of healing the sick through their magic.  
Unicorn horns are said to be a potent remedy to almost all kinds of poison. When touched to water, a unicorn horn can make it clean to drink. If ground and ingested, you are said to be immune to all poisons. Some legends say that if you can gain a unicorn's favor and it bestows its gifts upon you, you will live a long happy life, immune to disease.
It is no coincidence then that this bracelet benefits the Children's Miracle Network. Not only are unicorns traditionally beloved by children for their glittering rainbow manes and fun, whimsical tales but with their healing mythology, the symbol is perfect for the charity.
Children's Miracle Network Hospitals is a fundraising organization. It networks together 170 hospitals across North America. The funds have treated over ten million sick and injured children since its foundation in 1983. Billions of dollars have been raised, often one at a time, through their Miracle Ballon fundraisers. The funds go to research on new treatments and cures. They also help cover costs for families who might not otherwise be able to afford the medical care their child requires.  
4. Guardian Angel from Path of Symbols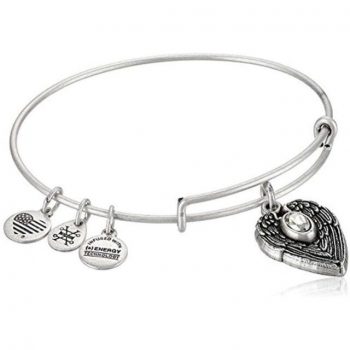 Moving away from the Charity by Design lines, we discovered this beauty in Alex and Ani's Path of Symbols collection. This bangle features a lovely charm created of two angel wings gently wrapped around a white crystal stone. The carving work is wonderfully detailed, each feather a work of art. The sparkle of the crystal is just eye-catching enough that the charm is noticeable but not over the top.
Once more you can select your choice of gold tones with white and yellow at your disposal. The three additional charms included on all Alex and Ani creations accompany the angel wings. It is on the traditional wire wrap patented bracelet design.
Guardian angels, as with unicorns discussed above, have countless stories associated with them. The most common explanation is that a guardian angel is a spirit that watches over and protects a living soul. Some beliefs lean toward a fairy godmother sort of vibe. Others believe it is the spirit of our ancestors guiding their progeny. Universally speaking a guardian angel reaches out to protect its charge in the darkest hour. They can protect from harm by helping avoid a critical mistake. Sometimes they are said to shield their person from mortal danger such as in a car accident.
Miracles of medical origin are often attributed to a guardian angel curing their ward of the disease at the last minute. One day the cancer is there and the next it is gone. Whether you believe in the power of the guardian angel or just enjoy the look and feel of angel wings in your jewelry, this is a wonderful Alex and Ani find.
5. Four Leaf Clover Bangle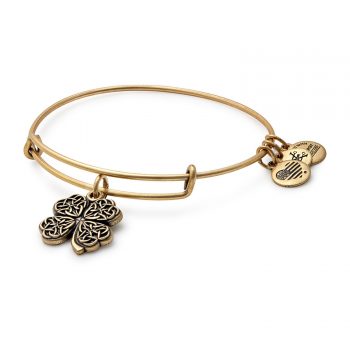 Alex and Ani recognize the wonderful elements of the four leaf clover and have offered several representations of them in their various collections. This is the fourth iteration of the Celtic based symbol. Four leaves display beautiful Celtic knotwork in your choice of gold or silver.
Once more all three brand charms and the patented bangle design are featured with this bracelet. The origins of the four leaf clover are a little murky. Naturally, the clover plant grows shoots with three heart-shaped leaves. Occasionally a fluke of development will see a fourth leaf added to the trifecta. Believed to bring good luck, it is likely that this legend was spawned solely for the rarity of such leaves.
There is a strong association of the four leaf clover with St. Patrick's Day and therefore Ireland. Although varieties of clover grow all over the world. Almost every child has a story of finding a patch of clover and setting about to find the magical four-leaf clover. Alex and Ani have taken those childhood adventures and turned it into a beautiful bracelet. On top of that, they added the symbolic and beautiful knotwork.
Altogether the charm is endearing and will hopefully bring the wearer the same luck a real four-leaf clover might.
Necklaces
To round off our top ten favorites list of Alex and Ani pieces on Amazon, we wander into a new offering of the jewelry giant.  Their necklaces come in a variety of styles and inventive closure designs, many created by Alex and Ani designers and patented by the company.  
1. Raven Key Necklace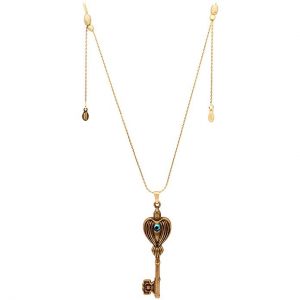 We love this creative combination of nature and old school keys. We have to admit we are a little obsessed with key jewelry right now. So this piece is likely our favorite of all the Alex and Ani finds. The head of the key is a creative take of a raven, its wings swept back and cradling a bright blue crystal. Cast in an antiqued gold tone, the blue with the aged yellow is positively perfect.
In nature, ravens are a fascinating species. Sooty black in color they are fiercely intelligent. Their flight is acrobatic with big arching swoops and gliding descents. A larger bird for North America they are the ultimate problem solvers. They have evolved to eat just about anything in just about any state so they are the ornithological survivors.
The Tower of London boasts a collection of captive ravens. It is believed that should these ravens ever be allowed to leave the Tower, it will signify the beginning of the end for the British Empire. Edgar Allen Poe's most famous work is based off the repetitive cawing of a raven, chanting Nevermore at its increasingly aggravated observer.
When combined with the stock of the key, the overall look is very steampunk and we love it. Alex and Ani assigns key meanings to all their pieces. This one represents Gateway, Mystery, and Discovery. Given the intelligence of the bird and the unlocking powers of keys, we think these are well-given.
2. Wisdom Trio Charms Necklace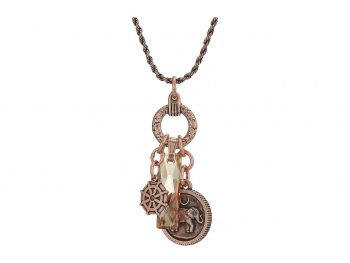 This wonder in rose gold is a beautiful collection of three charms. Hanging from a circle pendant that features a gorgeous crackled effect are three charms. There is a dharma wheel, an elephant charm, and a light-catching pale gold crystal.  Representing wisdom, luck, and prosperity, these three together are a powerful talisman for those who believe in the power of symbolism.
The charms are hung from jump rings to slightly offset from one another with a bunched aesthetic. They are not so different in height you have a calculated tiered effect but neither are they the same length creating a straight line. They complement each other wonderfully. Hung from a seventeen and a half inch chain with an optional three-inch extender, the options for styling this piece are endless.
In the Buddhist belief the dharma wheel is an illustration of the path to enlightenment. In the traditional representation, as used in this Alex and Ani creation, the eight spokes of the wheel symbolize the eight tenants of the Buddhist practice; meditation, view, intention, speech, action, livelihood, effort and mindfulness. Forever in motion and moving one forward the wheel is a wonderful reminder that all things must carry their weight equally to continue growth as a person.
The elephant is a universal symbol of luck, particularly in Asian cultures. Alex and Ani take it a step further and add a horseshoe above the carving. It is beautifully detailed and is sure to bring good fortune to its owner.
3. Sand Dollar Necklace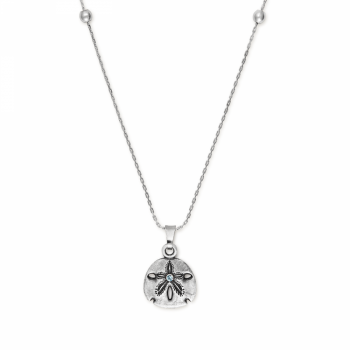 Alex and Ani know how to make great use of symbols and shape. This necklace, featuring their patented adjustable chain, shows a fantastically detailed sand dollar. Representing the ideals of thrill, mystery, and boundlessness, the fine feathering of the sand dollar five-pointed star is a gorgeous presentation.
Sand dollars have many stories tied to them, as with so many of the symbols Alex and Ani choose. It is said that sand dollars may have been the coins used by the mythical people of Atlantis, carried by the ocean tides across the world after the civilization was lost to the depths.
Other stories point to sand dollars belonging to mermaids as trinkets and jewelry.  
There are Christian beliefs that use the sand dollar as an explanation and representation of Christ and the Christian faith. Other Christian beliefs say that the feathered petals are the imprints of angel wings.
Sand dollars are, in fact, living creatures at some point. While most of the real sand dollars found washed up on the beaches, the living creatures are related to sea urchins and sea cucumbers. They are carried around on the tides with no form of locomotion of their own. For this reason, sand dollars typically symbolize exploration and a willingness to go with the flow.
4. Calavera Charm Necklace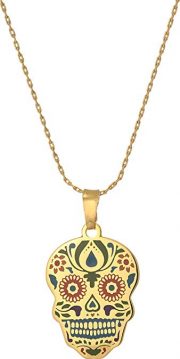 Once more we have a single charm on Alex and Ani's ingenious adjustable chain. This time it is a Calavera, sometimes known as a sugar skull. Cast in a yellow gold-tone, this charm has all the wonderful, swirling decoration of a sugar skull carved into the flat charm. Those carvings are then filled with colored enamel to add all the beautiful colors so closely associated with the icon.
Calavera is the Spanish word for skull although in most applications it refers to the beautifully decorated candies and decorative altarpieces used in the celebration of the Day of the Dead. The now-famous celebration with sugar skull masks and costumes happens on the day after Halloween. It is a day of celebration and remembrance for many Latino peoples. They gather to remember their loved ones and ancestors who have passed away from this life. In many beliefs, those family members moved on to a new, eternal life. The celebrants bring offerings of food, sweets, flowers, and candles to celebrate both the lives and deaths of their cherished humans.
This necklace might be a wonderful way to celebrate your own loved one who has passed away. Or it might be a gorgeous symbol of your Latino roots. Really, it could just be a beautiful Alex and Ani charm to add to your collection.  
5. Path of Life Charm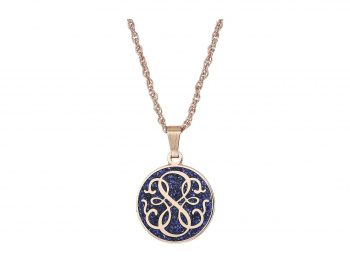 Strength, motivation, and knowledge are the three words chosen for this gorgeous Alex and Ani charm necklace. We love this round, glittering charm.  Similar in concept to the unicorn bangle above, this features a rose gold disc filled with sparkling enamel. However, in place of a fun, kid-like unicorn, a swirling rose gold filigree pattern is added.
This elegant bit of line work represents all the twists and turns life takes. We adore the pairing of the rose gold with the beautiful blue sparkling enamel. To us, it is almost water-like. We love the shapes the scrollwork creates and it rings true with the words they have chosen.
Altogether you pretty much cannot go wrong with an Alex and Ani find. They have a little something for just about everyone!