Good Luck Jewelry? Check Out These 8 Evil Eye Bracelets!
last updated:
Jun 14, 2021
The perfect evil eye bracelet can transform your style while also protecting your peace of mind.
As one of the most iconic protective symbols across numerous cultures, these accessories have boomed in popularity.
With that said, they are also some of the most intricately designed bracelets you'll be able to wear for several occasions.
We've curated a list of the most beautifully designed evil eye bracelets on the market for formal and casual pairings.
Let's explore popular and stylish options that would look fabulous on any jewelry lover's wrist.
Top 8 Evil Eye Bracelets!
1

. Liza Scwartz Evil Eye Bracelet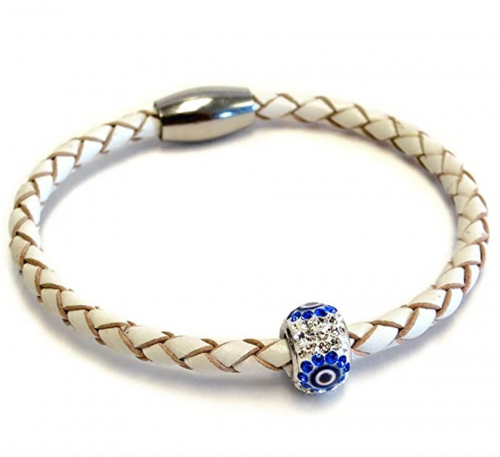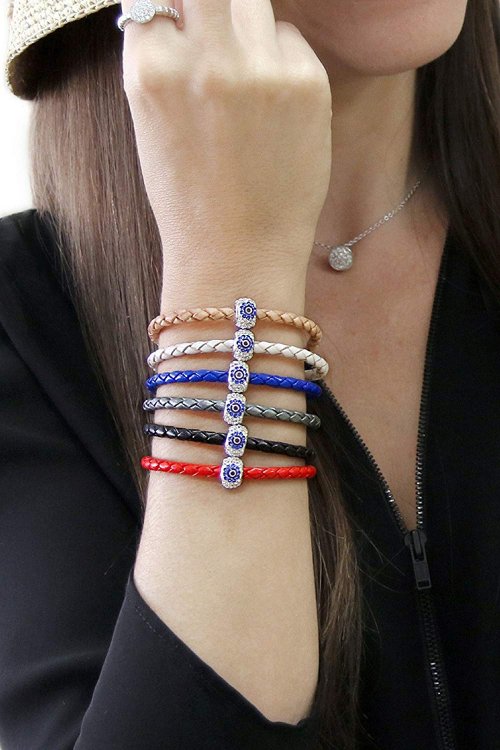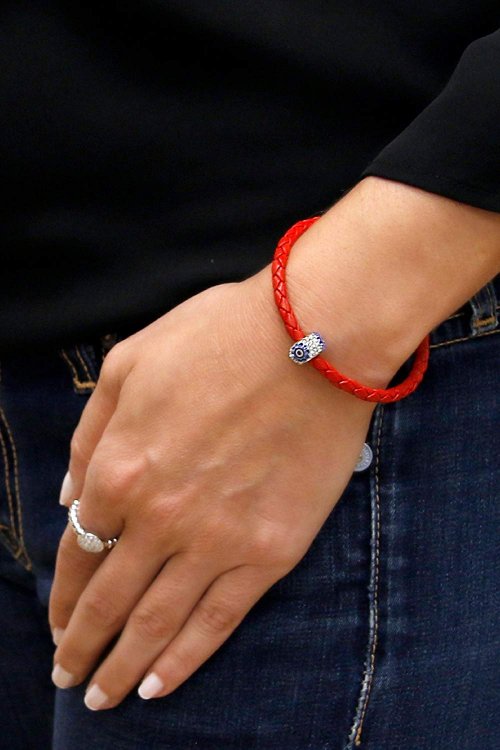 Genuine leather
Magnetic clasp
30-day no-risk return policy
We will start with the simplest bracelet on our list. Simplest does not mean any less beautiful. We love the natural look of the leather holding a single bejeweled bead.
Read more
It really brings attention to the evil eye bead, and that is the point of evil eye jewelry, after all.
The bead itself is not the classic Turkish-style glass bead but rather a crystal inlaid stainless steel bead.
The blue and white crystals glint just brightly enough to add some shine but not take away from the overall cohesion of the piece.
The crystals are set in what is known as a pavé setting. The stones are very close together in small pockets of the bead, minimizing the prominence of the prongs holding each crystal in place.
The closure is magnetic, which is our favorite. It means you can put the bracelet on by yourself; no assistant needed!
The braided leather band comes in your choice of the following colors: royal blue stamped camo, camel, white, turquoise, silver, red, and black.
We prefer blue braided leather as it complements the evil eye bead perfectly.
2

. Astley Clarke Evil Eye Biography Bracelet
18k gold vermeil
Crystal and spinel accents
Crystal and black evil eye pendant
Lobster clasp
The Astley Clarke bracelet is a beautiful piece ideal for transitional jewelry collections. You will love the versatility it offers, with an upgraded appeal that works perfectly with any outfit.
Read more
The stunning contrast of 18k gold vermeil and black crystal is what sets this part apart from others. It's bold and brilliant, with an artisan-level quality that makes it look handmade specifically for you.
There's plenty of attention to detail with the spectacular features the piece offers compared to other evil eye bracelets.
You'll especially love the comfort of the softened, rounded crystals that slide gently onto the wrist.
The added security that the chain bracelet offers adds an extra layer of distinction, adding gold into the mix.
With the coordinating black and gold evil eye pendant, it's a perfectly designed piece with any wearer in mind.
There's no doubt that Astley Clarke initially designed this bracelet for unisex wear.
It's dainty enough for small wrists without being too minimalistic to get lost amongst your other accessories.
Also, the black accents make it easy to pair with anything in your closet, as well as various metal types.
2.5" adjustability
Gold-tone mixed metal bracelet
Slider adjustment
Cubic zirconia
Slider bracelets are a fantastic accessory because of how easy and accommodating they are. With the DKNY's gold-tone crystal evil eye slider bracelet, you won't have to worry about wrist size as it's customizable.
Read more
The simple and sleek styling of this bracelet is what makes it one of our favorite options.
You will love the gold-tone mixed metal bracelet, which offers longevity and simple maintenance over the years.
The gold has a smokier color than standard gold, which makes it unique from other designs.
Also, the bracelet is snag-free, making it easy to wear alone or with other pieces without the headache of tangling.
In this piece, the evil eye pendant is crafted from premium-quality cubic zirconia. Each of the individually set stones captures the light, offering exceptional, eye-catching details.
It's by far one of the more exquisite, simplistic bracelets you can wear to protect your superstitious beliefs.
We also love that the diameter is highly adjustable, allowing you to customize the fit by up to 2.5 inches.
4

. Shashi Evil Eye Pave Bracelet
Lobster claw clasp
Vermeil metal
Cubic zirconia accents
Evil eye pendant charm
The Shashi bracelet is a beautiful addition to your jewelry collection, especially if you love sparkle. This distinctive piece is one of the more unique styles we've seen, with prismatic elements and perfectly polished metal.
Read more
At first glance, you'll fall in love with the thin, dainty chain surrounding the entirety of this bracelet. The majority of your attention will be drawn to the prismatic, glistening evil eye pendant situated in the center.
The pendant is covered in high-quality hand-selected cubic zirconia, chosen for its effortless beauty.
You will love how the stones capture the light similarly to diamonds, elevating the bracelet's appeal.
In the center, there's a single decent-sized gemstone that will quickly become the pendant's focal point.
However, the beautiful finishing doesn't stop there, as even the bracelet clasp is designed uniquely. There is a standard lobster clasp, making it easy to take the bracelet off and put it on independently.
It's crafted from higher-quality materials, including gold vermeil, which is safe for most sensitive skin.
5

. Amazon Collection Evil Eye Bolo Bracelet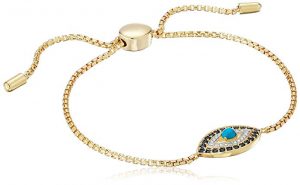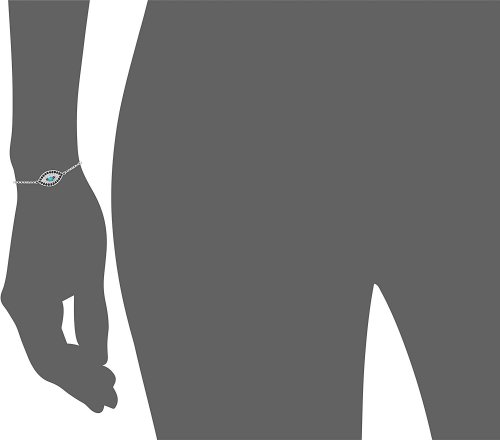 Genuine turquoise
925 sterling silver
18K yellow gold
Rhodium plating
The choice to use yellow gold for the basis of this bracelet could not have been more right. A part of Amazon's exclusive collection, this has all the hallmarks of high dollar jewelry with the price-tag of a novelty store find.
Read more
The center of the eye is a stunning cabochon of turquoise and diamond, diamond-cut sterling silver and lab-created blue sapphire stones amass around it to ward off those evil eye curses with stunning beauty.
A yellow gold plated box chain drapes off either side of the charm into a simple yet effective bolo-style closure.
Each chain is capped with a gold-plated finial whose bullet shape design will add weight and movement to the piece. No unsightly knots or lobster claw closures to spin around and snag on things.
Amazon can keep the price so low on this piece because it has cleverly given the illusion of a ring of diamonds through the eye without including many stones.
The sterling silver surround is diamond cut, so the bright white metal glints and gleams like the single I-J quality, I3 color diamond it holds.
While we love ourselves some diamonds, we also love keeping a little cash in our wallet, and this beautiful trick of the eye stunt works perfectly for both!
6

. Swarovski Duo Evil Eye Bangle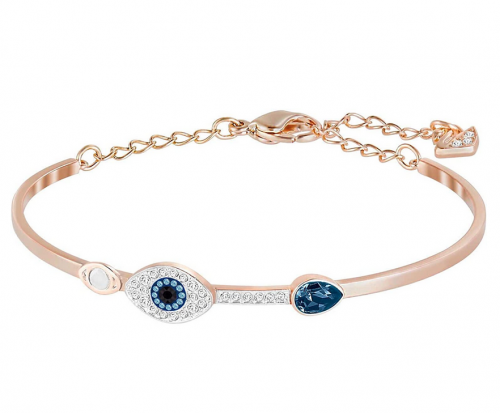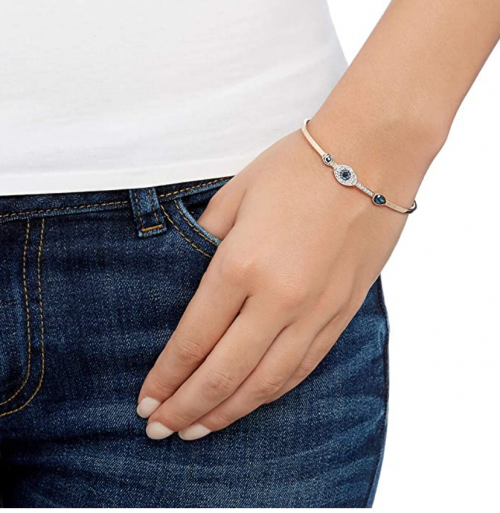 Rose gold-plated metal
Rhodium-plated accents
Lobster clasp
We opted for this stunning piece perhaps because it features not one, but two eye motifs in clear blue crystals.
Read more
If one eye is not enough to ward off the evil misfortunes and protect you from the malevolent glares, then these two brilliantly shimmering blue eyes will surely reflect the gaze away.
It has a simplistic design and just the right amount of sparkle to keep all eyes on you.
The mixed-plated bangle came from a combination of stainless steel and rose gold-plated metal. Only good stuff can come out of such a combination.
The bangle has a lovely shine, and we can't resist the smooth texture, which we are pretty sure will feel great against your skin.
We love the striking contrast between the rose-gold plated finish and the pave set Swarovski crystals. The two eye motifs take center stage within this classic piece.
This bracelet features a cuff design attached to a metal chain on each side with an adjustable closure for a secure and snug fit.
This bracelet will certainly add a pop of color and sparkle to your outfits. You can wear it solo or mix and match it with other bangles.
As for the price point, this bracelet is medium-upper affordable.
7

. Alex and Ani Evil Eye Cuff Bracelet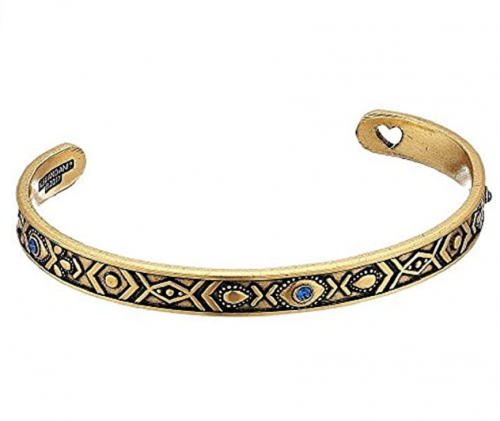 Rafaelian Gold
Expandable
Adjustable
This one is a classic cuff bracelet, thin and dainty. Made of their ingenious Rafaelian silver, the bright silver color is perfectly balanced with dark burnishing of carved and relieved decorations.
Read more
This Alex and Ani cuff features three evil eyes in the center and each side, bejeweled with genuine Swarovski crystal in a deep, brilliant sapphire blue.
The detailing on this one evokes a certain Native American, or American Southwest feel.
The angular design of the sculpting with the repeating structure of the design screams out to be worn at your next festival season.
Since the evil eye curse is bestowed by receiving overmuch compliment, this makes it all the more perfect!
Contrary to what would seem most fitting, most Native American lore doesn't seem to reference a sort of evil eye curse, nor do Chinese, Japanese, and several African cultures.
Nevertheless, this option looks simply gorgeous and has very much a boho feel to it!
8

. Tory Burch Evil Eye Chain Bracelet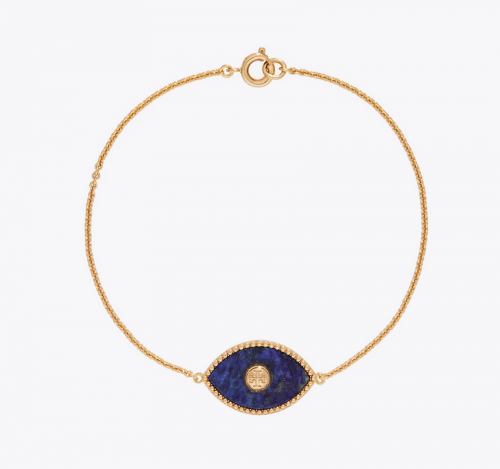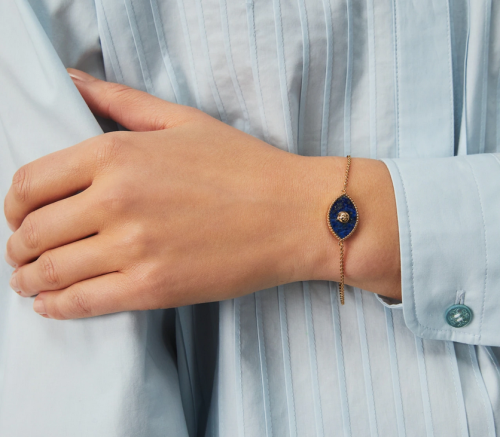 Semi-previous Lapis stone
18k gold-plated brass
Thin, minimal bracelet
Spring-ring closure
Tory Burch is a well-known designer, thanks to her modern and youthful designs. The Tory Burch evil eye chain bracelet will become a staple in your closet as it's simplistic and bold at the same time.
Read more
There is a combination of styles implemented into this piece, ranging from ornate to bold to classic. The majority of the bracelet has a minimalistic appeal with its thin, streamlined band.
However, the evil eye pendant is one of the most prominent designs we've come across.
Instead of being small and dainty, this pendant is brilliant, featuring stunning Lapis and in the center. You will also love the contrast the Tory Gold finishing brings to the piece, adding depth and dimension.
This bracelet was explicitly designed to captivate any on-lookers with superstitious sides.
Also, the polished Lapis makes it a phenomenal standalone piece or something to pair with your favorite cuffs and bangles.
The stone itself is semi-precious, helping to make the bracelet more affordable and wearable.
Criteria Used for Evaluation
Wear Comfort
We not only picked bracelets that are meaningful but also comfortable to wear. The wrist is a tender spot, and it shouldn't be dressed with anything that is overly restrictive.
Also, you shouldn't be conscious of your bracelet when wearing it or worry about it coming off accidentally.
Most of our picks have a bolo tie closure, which also doubles up as an embellishment feature. It's stylish and also functional.
You will notice that most bracelets have a finial bulb or closure bead that holds both ends of the chain.
This eliminates unsightly knots, and you will not have to worry about the closure spinning or snagging on your clothes or other things.
The sizing of your bracelet also determines your comfort when wearing it. We went for subtler designs that are designed for most women's wrist sizes.
Most of the bracelet features an adjustable closure. This way, you can adjust the size to a snug fit to avoid unwelcome sliding of the bracelet down the wrist.
Style
The evil eye might be symbolic and attached to cultural beliefs. But, we can't deny the appeal and the charm of evil eye jewelry.
We aimed at getting options that will look classy and stylish and cast an evil eye all in one piece.
We included a variety for your choice, from bangles to cuffs, beaded to tennis bracelets.
We didn't leave out the gemstone bracelet because a little sparkle goes along in elevating your style and your outfits.
The beauty of a bracelet is simplicity. That's why our picks feature a simplistic style.
You can wear most of these options as a solo piece, or mix the metals and have fun stacking your bracelets to create a layered look.
As you can see, there is a myriad of styles going on with our picks. Your bracelet choice should match your personality and your sense of style.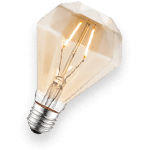 Evil Eyes in Various Cultures
✓ Greece
In Greek culture, the Evil Eye is called Mati. It began appearing on drinking vessels as decorative story-telling elements as far back as the sixth century BCE. The Greek Mati is cast not by looking on someone with anger but with overmuch admiration. Because of this, you can even cast a Mati on yourself if you are not humble.
There are many ways to ward off the unfortunate effects of the Mati Evil Eye. The first of which is to wear a mati charm. A mati charm is most often made of alternating layers of blue and white glass, colors synonymous with Greece. Another way is to spit. Greeks will say, ',I spit so that I won't give you the evil eye and spit on the ground.'
✓ Middle Eastern Nations
In the Middle East, the evil eye, or Nazar Utana, is thought to be cast when a person receives too many compliments in a day. They will wake up sick the next day as a result. There are two ways to ward this off. The first is to offer all compliments along with the phrase "With the Will of God."
Second, one may wear a nazar boncuğu of Old Turkish tradition to ward off the Nazar Utana. Afghan tales call the talismans cheshm nazar while Persian tradition refers to them as nazar qurbāni.
These are typically rounded or teardrop-shaped beads known as eye beads with concentric circles of blue, white, and gold, although other colors may appear.
✓ India
As with other cultures, India's evil eye traditions stretch back centuries. More prevalent in the Northern regions, the evil eye is called Drishti or Buri Nazar. Indian traditions believe that a Buri Nazar is cast when someone stares with malicious intent, thinking bad thoughts about a person while looking at them for an extended period.
The phrase is "buri nazar wale tera muh kala", translated as "O evil-eyed one, may your face turn black."
Unlike Greece and the Middle Eastern states, Indians believe black is a powerful color to ward off the curses of Buri Nazar.
✓ Brazil
Brazillian lore holds that the evil eye or mal-olhado begins in childhood. While babies cannot become the victims of the mal-olhado, children who are well behaved and live up to expectations when young and then turn into maladjusted youth are said to have been cursed.
Parents who looked at the well-mannered child with envy when their children were not behaving as well accidentally cursed the young one.
The evil-eye wards in Brazilian culture are not jewelry-based, however. According to Portuguese tradition, a specific layout and type of garden arrangement will suffice to protect children from the mal-olhado.
Frequently Asked Questions
q:

What does the evil eye bracelet mean?

a:

Evil eye bracelets are far more than an everyday accessory in many cultures, although they are fashion-forward.

This symbol is often regarded as a talisman, protecting the wearer from an assortment of superstitions. Most notably, evil eyes help to protect against bad luck and evil spirits.

Some cultures, such as creole culture, believe this talisman can protect you against ill-will. If you have negative energy in your life brought on by an outside influence, the symbol will shield you.

Some cultures believe it assists with bringing power to the wearer, allowing you to make your own good fortune.
q:

Is it bad luck to buy yourself an evil eye bracelet?

a:

There isn't any evidence to support that buying yourself an evil eye bracelet is bad luck. However, there are some instances where groups believe buying one reduces the power the talisman holds.

They are often given as a gift by someone who thinks you need protection from specific elements.

You'll find they are most often gifted to newborns, pregnant women, and other people who could need protection.

If you think someone in your life is experiencing bad luck and ill-will, an evil eye bracelet will make the perfect gift.
q:

What hand should I wear my evil eye bracelet?

a:

It's possible to wear evil eye bracelets on either your right or left wrist, depending on what you need to protect.

On the left wrist, it's known to protect your personal life and emotional strength, such as relationships and feelings.

If you choose to wear it on your right wrist, you're protecting material objects like money, your belongings, and projects.

This theory stems from the idea that each arm is "connected" to separate sides of our heart.

Alternatively, you could wear one on either wrist to have complete protection against all harmful effects.
Finally...
The eye might be a tiny biological organ in our body, yet it is mighty enough to harness a tremendous potential that goes beyond the biological function.
Ever managed to "win" yourself the only available spot on a fully packed parking lot? If so, then you already know the wrath of a vicious look. Perhaps, it's for this reason that some cultures believed that an envious glare could cast curses and misfortunes.
Superstitions and beliefs surrounding the evil eye may vary from one culture to another, but the visual amulets have a special appeal.
They have evolved with contemporary fashion to become a mystical design in most jewelry pieces.
Today, the evil eye jewelry, especially bracelets and evil eye necklaces, are designed elegantly, and we love them.
Most people, including celebrities like Megan Markle, are wearing evil eye bracelets as a regular accessory to put together their outfits, and perhaps ward off evil glares.
So, why not get yourself a lovely bracelet that does more than just look good on you? We believe you could spruce up your lovely outfit with a bit of protection, don't you think so?
Whether you choose to go for a turquoise cabochon, diamond or Swarovski crystals as embellishment for the evil eye, our top 10 picks are sure to add just the right amount of sparkle to keep all eyes on you.
Most of our picks feature a simplistic design that will go well with your everyday look. You can wear these bracelets solo, or stack them with other pieces.
Our evil eye bracelet selection signifies elegance, simplicity not to mention protection. So, time to add to your cart!