Shopping for a Jade Necklace? Check out Our 10 Favorite Picks
last updated:
Mar 04, 2020
Minty and cool, jade is popular in fashion. Costume jewelry glass pieces, enamel wear, and polyresin pieces are sometimes called jade even though no actual mineral is present.
In our opinion, all three options for jade necklaces are fine choices. A piece need not be made out of a rare or expensive stone to be beautiful, wearable, or appeal to good taste. It is important, however, that you understand what it is you are purchasing and adjust your expectations accordingly.  
You should not pay a nephritis jade price for a jade-colored piece of plastic. On the other side of that, if the price is too good to be true, do not expect to receive a quality jadeite necklace.
For our purposes, we have selected pieces of true jadeite or nephrite jade, although some may be treated to enhance color.
Jade Necklaces We Love!
1

. Seta Jewelry Genuine Jade Necklace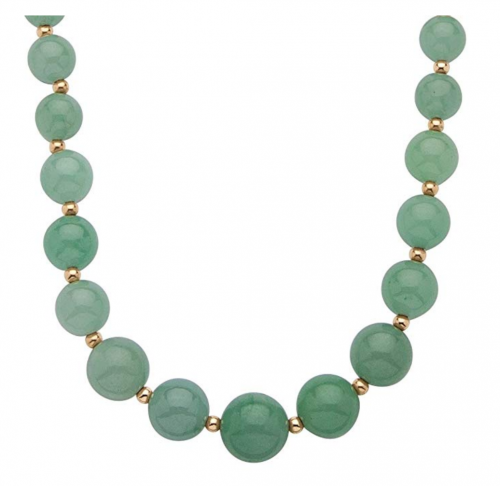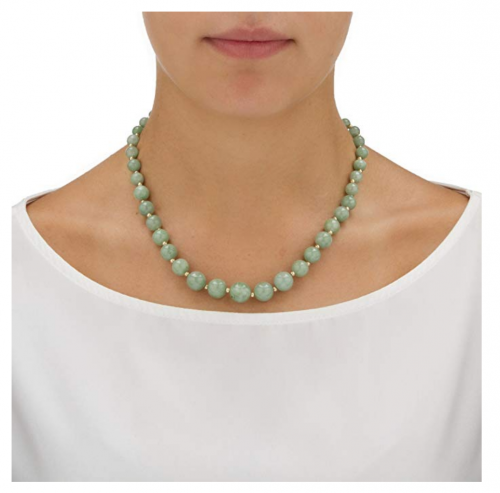 Jade first appears in history as early as the Neolithic Era around 3400 BCE.  It was used for both trading and ceremonial purposes. Since nephrite jade is a very hard stone, working with it would have required a tremendous amount of time, effort, and skill. Most of the earliest excavated jade pieces were carved or etched pieces. Pearlesque beads, like the forty-three in this stunning necklace, would have been nearly impossible to achieve with such perfection.
Read more
Luckily, we are not in Neolithic China and we get to enjoy this piece with all its round, polished perfection. In between each jade bead a tiny bead of 18k yellow gold peaks out, giving a warm glimmer to the cooler stone necklace.
The beads are graduated in size, a lovely touch that adds just a subtle line for the eye to follow. The stone at the point of the necklace is 12 millimeters and they fall in size to 6 millimeters as the beads move upward toward the neck.
Because this is natural jade, there may be some color variations between each stone and even within each stone. Natural nephrite jade can range from pure white to the classic and popular minty green with stops at lime, citrine, forest, and emerald greens in between.
There is also a variation of jade that is a marbled look of brown and white. Yellow jade, a yellow-green that leans harder to the yellow side, was also available at various points in history but this is much harder to find outside an archaeological dig site.
This necklace will be best worn against the skin. At eighteen inches, it will hang just below the collarbone for most people. We recommend you wear this piece any time you would wear a set of pearls for a lovely pop of color.
Pearl necklaces are lovely but this necklace will mix things up. Swapping out a classic piece of jewelry can turn any outfit into a brand new look. We love this necklace paired with that little black dress of yours and a green clutch. Cap off the bold look with a pair of bright gold or sandy yellow shoes for a head to toe homage to the necklace that inspired it all.
As with most beaded necklaces, this does not have the strength of a chain. These beads are suspended by jeweler's line (similar to fishing line) with a fish hook clasp.
The line is incredibly strong and can withstand quite a bit of pulling before snapping. However, if the line does snap, all the beads are strung on the single line and they will all go flying. You'll not want to lose a single one of these jade beauties so exercise caution and save this necklace for special occasions.
2

. Belacqua 14k Gold Natural Jade Necklace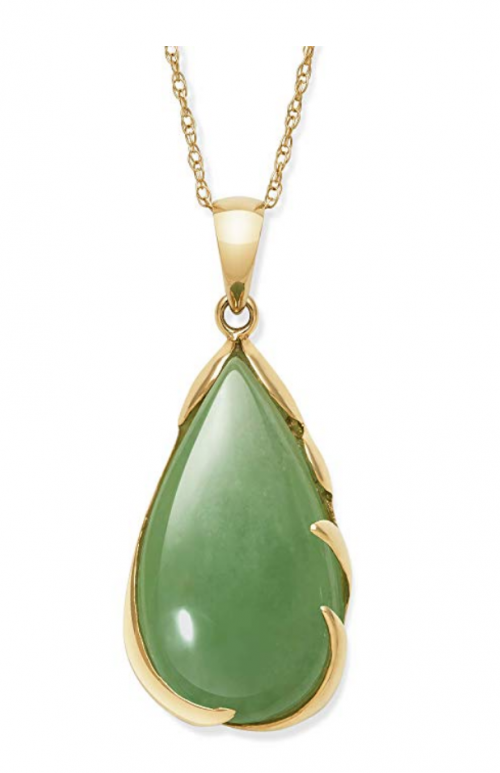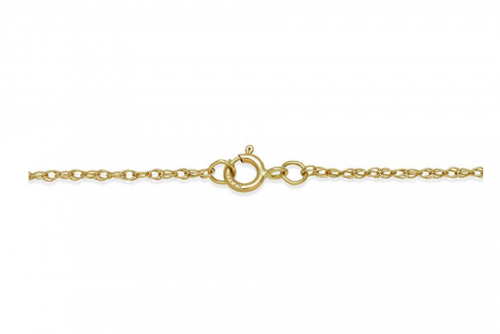 This simple piece is just as incredibly stunning. A genuine jadeite stone is cut and polished into a gleaming teardrop-shaped cabochon and delicately set into a 14k yellow gold pendant. Delicate tendrils of gold then lift up across the bevel of the stone to gently hold it in place. It gives an almost windswept effect to the gold work and we adore it.
Read more
We are big believers that sometimes a simple piece can make a big statement. This necklace is a shining example of that. Elegantly crafted this piece does not need other stones or intricate embellishments to stand out.
The eighteen-inch chain will hang this jade pendant right over the sternum for most people. It will look amazing paired with a sweetheart neckline. The sweeping curves of that collar cut will highlight the brilliant use of curves of the pendant.
This is natural jade but it is dyed to bring out the naturally pale color of the stone. It also means that the piece will be fairly uniform in color. Naturally colored jade often has a swirling gradient of color and can be difficult to predict from stone to stone. Untreated, naturally colored jadeite is known as "A" jade.
There are two primary methods for dyeing jadeite. The first is acid bleaching the stone and adding a colored polymer to it. This polymer seeps into the microscopic cracks naturally present in jadeite, allow the color to shine through the naturally translucent stone. The color is enhanced but still slightly varied within the jade, as it would be in nature. The tone can also be controlled using this technique. Stones dyed in this manner are known as "B" jade.  
The second method is to bleach it, add the polymer and the dip it into dye so both chemicals are "soaked" into the stone. This creates a very uniformly colored stone with little to no variation in color. In the controlled setting of the lab, this allows the jewelers to create a very predictable color. Jade treated in this manner is known as "C" jade.  
The jeweler, Belecqua, opted to dye the stone so each piece is unique but uniform.  The dyed stone is a little less minty than other pieces on our list. It is a bit deeper in color, almost a cool olive tone.
It will play nicely off warmer colors like rust, chocolate brown or elegant ivories. This shade of green is a perfect pairing with the yellow gold.   
3

. Lux Jade and Pearl Shell Pendant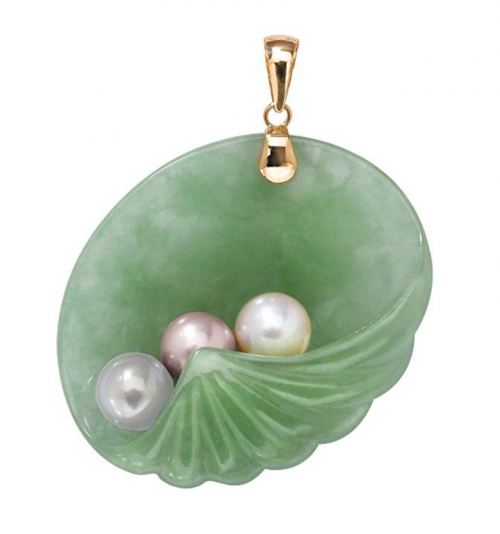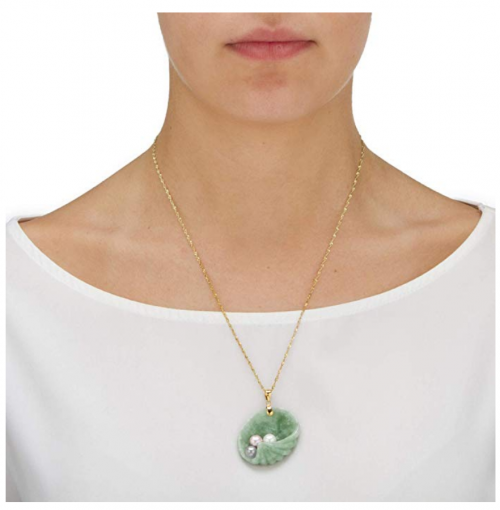 This creatively unique pendant is one of our favorites. Jade and pearl are a gorgeous pairing of gems. They are both cleverly used here. A piece of natural jade is carved into a clamshell shape. It clutches three freshwater cultured pearls in black, rose, and white. A 14k yellow gold bale is gently affixed to hang it from your chain of choice.
Read more
The freshwater pearls are cultured, meaning while they are naturally occurring, they were created with the influence of man. Pearls are formed when a clam gets a piece of sand or rock in their shell. To defend their delicate systems, they coat the offending intruder in a protein that hardens into a pearl. The longer the pearl stays with the clam, the larger it gets. Naturally formed and hunted pearls often have a swirling texture. They are also often a little random in their shape, sometimes slightly lopsided and more oval than spherical.
Cultured pearls can be coaxed into that perfect orb we expect of pearls. The color is influenced by the type of clam forming the pearls and elements present in their shell.
This pendant includes three of the most popular colors of pearl. However, color differentiation is very subtle. While called a black pearl, this creation features a very subtle silver-grey pearl. The rose color is equally subdued. While some might wish for more vibrantly colored gems, we think it works wonderfully for the pendant. It allows the star of the piece to remain the jade.
Because this is sold as a pendant only, you have options for how to wear this. We recommend a slightly longer chain, in the twenty-four to thirty-inch length range. The clamshell is detailed enough and large enough, measuring 30 millimeters by 12 millimeters by 37 millimeters to hang mid-body.
Peak this beauty out from a coral-colored scarf or over a paler blue or ivory top for a very beachy feel, even in the deep of winter.  
4

. NOVICA Artisan Hand Made Fang Necklace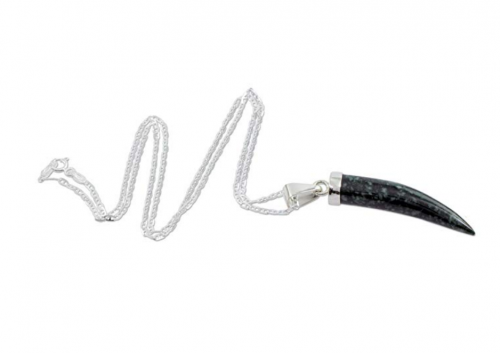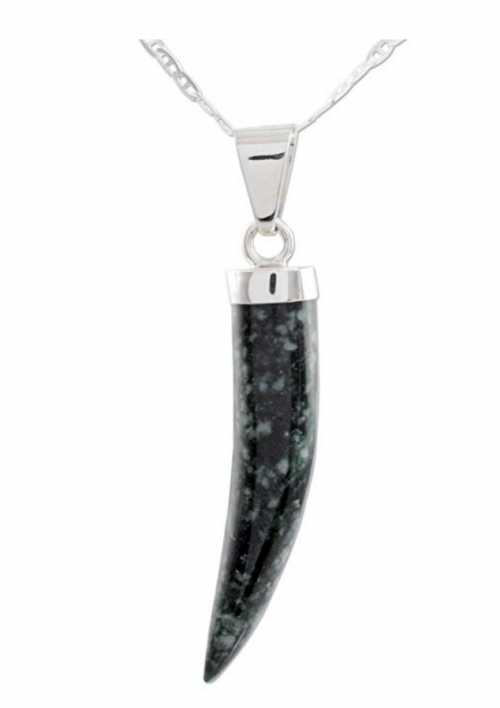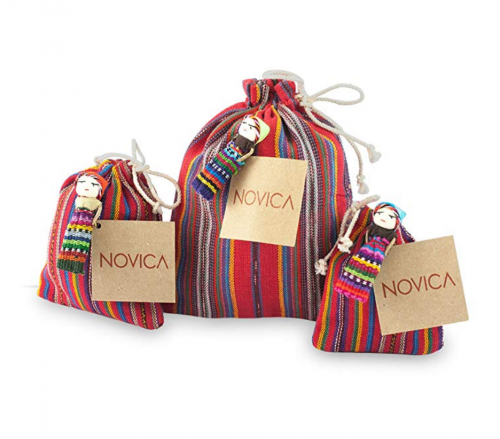 While jade is most often favored in women's jewelry, we love this use of it for a men's piece. The jade fang is hand-carved by jewelry artist Zandra Lorena Sajbin. She works in association with the fair trade organization NOVICA. Sajbin works out of Guatemala and pairs with NOVICA to market her handmade pieces to the global market. She calls this piece "Invincible."
Read more
NOVICA, the creation of National Geographic, sources handmade goods created by artisans all over the world. Traditional jewelry makers create stunning pieces with techniques that have withstood the test of time. NOVICA helps these artists get their creations into the hands of jewelry lovers all over the world.
Of course, NOVICA finds artists of all craft and art, not just jewelry but we are all about the wonderful wearables they've sourced from all over the world.  Most especially we love this jade fang.
While jade use is most strongly associated with China, it has been used by several cultures around the world. This piece is based on the Mayan tradition of working jade. Carved into the fang of a wolf, it represents the spirit of the animals of the night. According to Mayan custom, wearing the fang allows you to conquer your darkest fears, living life as fearlessly as a wolf.
Jade was rarer in ancient Mesoamerica, but it was popular nonetheless. Jade pieces figured prominently in the religious relics, art, jewelry, and clothing of several cultures including the Olmec and the Mayans. The ancient Mayans called jade Ya'ax Chich. It represented life, fertility, and power.  
This necklace will be the perfect gift for any man in your life. As always, just because it is labeled a men's piece, does not mean we do not think it will be perfect for the strong, tenacious woman as well. The bright sterling silver mount and deep green jade fang begs to be paired with a collared shirt, laid flush against the skin.  
It comes on an eighteen-inch chain, ideal for a man, However, we recommend that if a woman wears it, she move it to a sixteen-inch chain for a stunning hang right at the collarbone.
5

. OVALBUY Hand Knotted 108 Jadeite Beads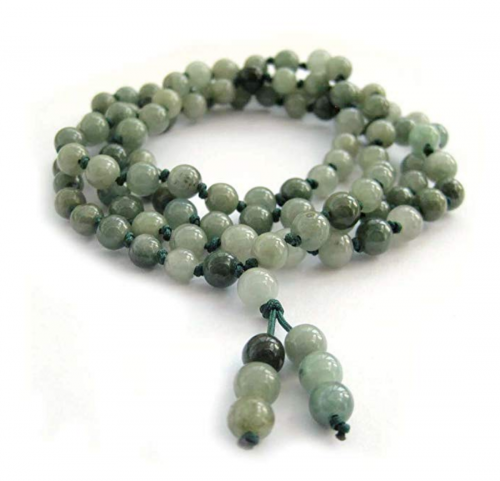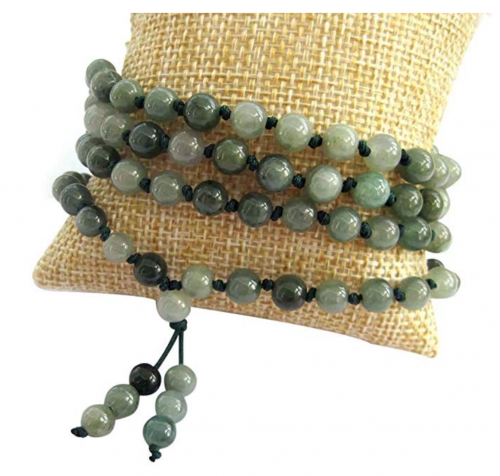 Jade is revered by numerous cultures as a stone with healing properties. It was believed by the ancient Chinese to heal emotional energy, granting a calmness to the bearer. Whether jade by itself can heal emotions, we do know that positivity and self-encouragement can. What better way to give yourself a little pep talk and emotional boost than with this strand of prayer beads.  
Read more
This arrangement of one hundred and eight jadeite beads, separated by hand-tied knots is known as a japamala. It is a common piece of jewelry among Buddhists, Hindus, Jains and even some practitioners of the Sikh faith. A japamala is used to help count of recitations of a mantra or a prayer, similar to rosary beads or prayer beads.  
If these faiths are not part of your lifestyle, you can still make use of the concept. Every time you catch sight of these gorgeous, polished beads, tell yourself something positive. Easiest to remind yourself is what great tastes you have to have selected this beaded beauty to add to your collection.
This can be worn as a necklace. The colors of the bead are varied, with everything from light spring green to a deep, muted forest color. Contrasted against the black knotted cord, it proves that the beauty of jade does not need precious metals and accent stones to really shine. We recommend it as a part of a layered effect.  
It will add texture and colorful pop to the tiers. Alternatively, while it is a necklace, it could also be coiled around your wrist to function as a stunning, chunky bracelet.
6

. NOVICA Pearl and Jade Necklace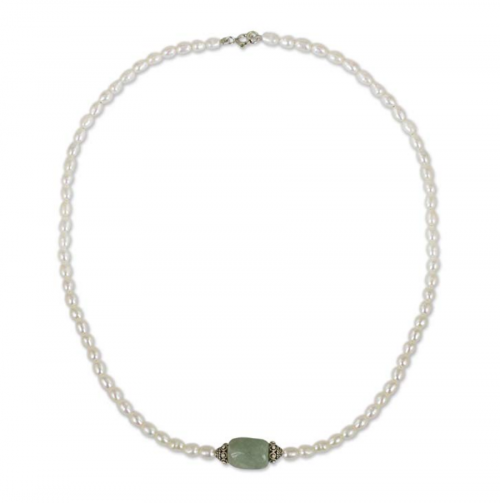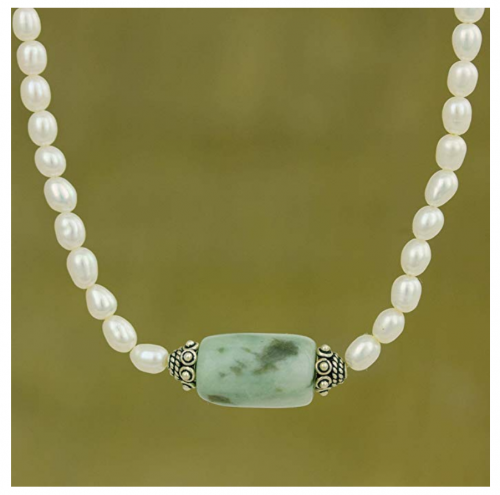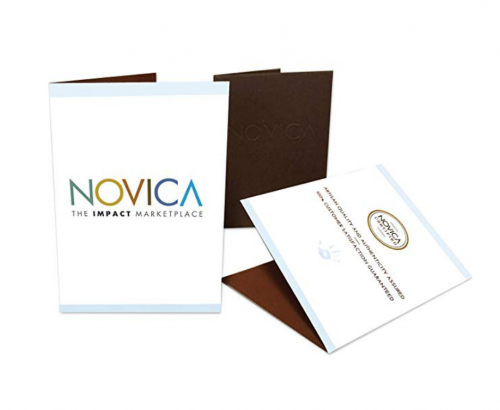 A second of our recommendations comes from another NOVICA partner. Handmade by artist Matta out of Thailand, she calls this piece Touch of Life. This is also our second pairing of pearls and jade. The combination is just right. For this creation, a strand is freshwater cultured pearls is crowned with a 14 millimeter by 11 millimeters round jade bead. The ends are capped with dainty 925 Sterling Silver filigree beads. Put together, Matta produces a modern and exotic take on the classic strand of pearls.
Read more
The jade featured here is a bleached and dyed stone so the color is consistent throughout. The minty green looks fabulous next to the lightly blued hues of the freshwater pearl.
Thailand borders Myanmar, formerly known as Burma. Myanmar is the source of a significant portion of the finest jade in the world. Large deposits of nephrite jade mean that Thailand produced jade pieces are high quality at a reasonable price.
Myanmar's nephrite jade entered this history books around the fourteenth century and quickly overtook the Chinese sources as the most desired pieces of jade for art, architecture, and adornment.  
Jade is one of the hardest gems to work with. It is a very hard stone and requires precision tools and constant repetitive motion to refine it. Nephrite jade is partially translucent. This means light passes through it and the waves of green and white colors are highlighted.  
The Touch of Life necklace features sixty-one pearls on jeweler's line. These pearls are oblong, referred to as oval or potato since the shape resembles a potato. In this piece, the oval shape and slight irregularity of the pearls gives a nice break in uniformity. Each necklace is, therefore, unique. Add to this the fact that it is handmade and you can own a truly one of a kind piece to your collection.
We recommend wearing this anytime you would wear a strand of pearls. At nearly eighteen inches it will hang perfectly over the breastbone for most people. It is slightly longer than the classic sixteen-inch strand of pearls but we think that just highlights the wonderful jade bead.
7

. Lux Good Fortune Elephant Pendant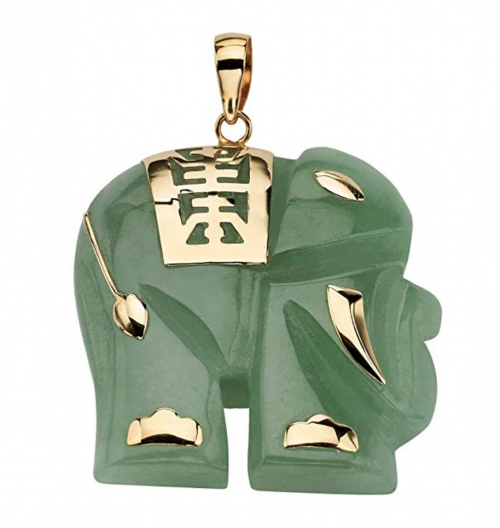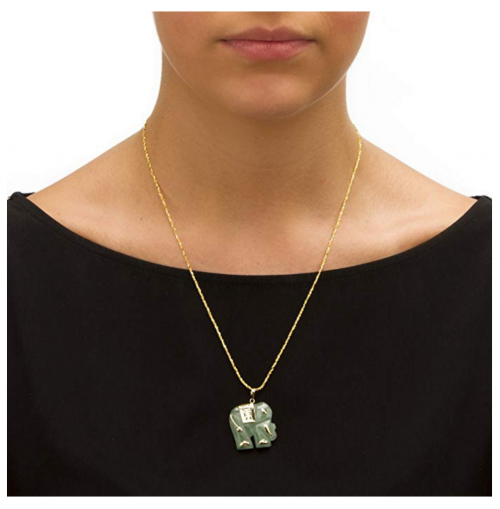 We simply could not do a list of our favorite jade necklaces without including a jade elephant.  
Elephants are rich with symbolism for many East Asian cultures. Representing strength, protection, humility, and perseverance, among other meanings, wearing an elephant is said to bring good luck.
Read more
You will certainly feel lucky when sporting this gold-accented elephant. Carved of dyed jadeite, the carving itself is very simple. The real stunner of the piece is the 14k yellow gold accents. A saddle blanket, tail, tusk, ear and the most adorable little feet are securely affixed to the pendant. The bail and eighteen-inch rope chain are also of 14k gold, making this good luck charm worth the price.
The position of the trunk on an elephant charm is important according to the ideas of Feng Shui. When the trunk is up, it represents good fortune. A pair of elephants with their trunks entwined celebrates friendship and platonic love. A mother elephant with her calf shows the protective nature of the charm.
This piece features the trunk in the down position which is sometimes associated with fertility and overcoming struggles. When an elephant has its truck lowered, it is ready to tackle formidable obstacles. Wearing this piece could imbue a sense of strength and readiness to tackle obstacles.
This elephant necklace could be worn solo but we think it is perfect for layering, specifically in a tiered arrangement. Three or four pieces of yellow gold, Asian inspired chains with small baubles would complement this traditional use of jade wonderfully.  
8

. Ross-Simons Green Jadeite Fu Symbol Circle Necklace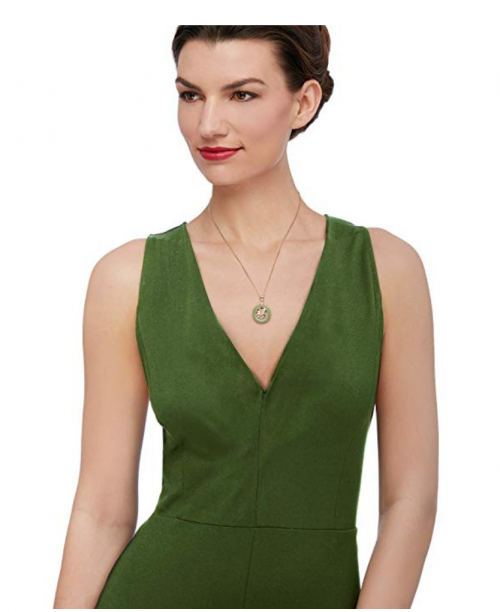 This is another piece on our list that is not technically a necklace, rather just a pendant but we cannot get over how gorgeous it is. This twenty-three millimeter round pendant features a ring of C Jade surrounding a 14k yellow gold charm showing the Chinese character for "Blessed". And what a blessing it is!
Read more
Jade has figured prominently in Chinese culture since before written history. Men of great prominence were even buried in complete suits constructed of the precious stone.
The pieces were held together with the thread of gold and silver. Some East Asian cultures once placed a jade bead in the mouths of the dying to help their breath, or soul, escape their body.  
It only makes sense that some of the most appealing uses of jade center on Chinese art and writing. Made by jeweler Ross Simon, this pendant is elegantly crafted. Add it to a yellow gold chain already in your stash and this piece will be perfect!  
We suggest a mid-length hang around twenty or twenty-two inches. For more of a rustic traditional look, tie it to a red cord, keeping the charm right at the hollow of your throat for a chunky choker.
In Chinese culture, the color red symbolizes good luck. And we can all do with a little more blessings and a little more luck.
9

. Dahlia Jade Fortune and Prosperity Dragon Necklace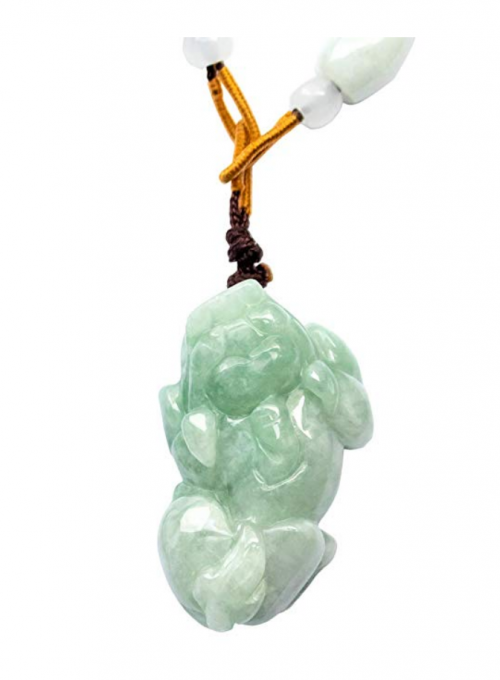 The last piece on our list is a carved piece of "A" grade jade. Sculpted into a traditional Pi Xiu dragon, this necklace is a fantastic gift for men or women. The jade necklace is all about the jade and the carving as it comes on a simple cord to wear. The hand-carved figure of the traditional Chinese symbol for wealth and prosperity, Dahlia, the maker certifies the use of untreated, natural jade. Because of this, each piece is truly one of a kind. Between the hand carving and the natural variation in color and consistency from stone to stone.
Read more
The Pi Xiu dragon is a Chinese mythological creature. It has the head of a dragon and the body of a winged lion. According to lore, it feeds exclusively on silver, gold and fine jewels making it the perfect bringer of wealth. It knows how to find food and it will bring you wealth as it hunts.
There are a male and a female version, typically determined by both the number of antlers and the way it sits. The male version of the Pi Xiu is said to bring wealth. The female version of the Pi Xiu is said to bring the wisdom of wealth, meaning you will know how best to use all the wealth the dragon brings. Either is available from Dahlia.
While we rarely recommend our favorite pieces be hidden, we completely understand if you wear this piece just for you, tucked inside your shirt, secretly influencing your wealth, wages and earnings. But we think it is pretty enough to be displayed as well. The cord is adjustable, from twelve to twenty-four inches so you can wear it wherever it feels most comfortable.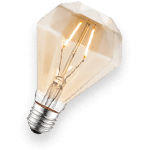 About jade
Jade jewelry is an exotic and richly colored semi-precious stone. Jade appears in written history as one of the earliest precious stones, sought after and revered in Ancient China. At one point in Chinese Imperial history, jade was even named the yu or royal stone. There are sure ways of showcasing this beautiful gem, and for sure one of those ways is jade necklaces.
Types of jade
Jade can refer to one of two types of naturally occurring minerals; nephrite jade and jadeite jade. It can also be used to describe a handful of other less precious stones that have jade inclusions. These include jade agate and jaded amber. While often green in color and some percentage of the stone does contain jade, these are not formally considered true jade. Finally, jade can be used to describe the distinct shade of green jade is known for. 
Buying tips
In our opinion, all three options for jade jewelry are fine choices. A piece need not be made out of a rare or expensive stone to be beautiful, wearable, or appeal to good taste. It is important, however, that you understand what it is you are purchasing and adjust your expectations accordingly. You should not pay a nephritis jade price for a jade-colored piece of plastic. On the other side of that, if the price is too good to be true, do not expect to receive a quality jadeite necklace.