Men / Mix / Women
We Found 10 Magnetic Earrings We Think Are Pretty Cool and Deserve a Place in Your Collection
If ear piercing was invented on a Sunday, then clip-on earrings were invented on a Monday. Using piercings and jewelry to adorn the ear is an ancient practice. But not everyone is completely comfortable with piercings.  Some just cannot handle the piercing process – way too much ick factor. Others have religious or personal beliefs that prevent piercing. It was for these people that the clip-on and magnetic earrings were first invented.
A Brief History of Earrings
Earrings date back to as far as the Minoan and Mycenaean peoples, cultures dating back before Ancient Greece. Ear piercing is one of the most enduring forms of modifying one's body. Evidence of people adorning their ears with hoops, studs, or bangles has been found in nearly every culture.  
When Dr. Howard Carter unearthed the tomb of the famous Egyptian Pharaoh, Tutankhamun, he discovered his ears were probably pierced. Although the famous mummy was not buried wearing earrings, his earlobes were perforated in a manner that would suggest he wore earrings at some point. His burial mask also had perforations as if earrings were to be included but those holes were covered by gold disks. This may mean the fashion had fallen out of favor around the time of his death. More likely the earrings may have gone missing before the burial and the death mask was altered to reflect this. And we all know how it feels to lose an earring just before an important event. Adapt and react.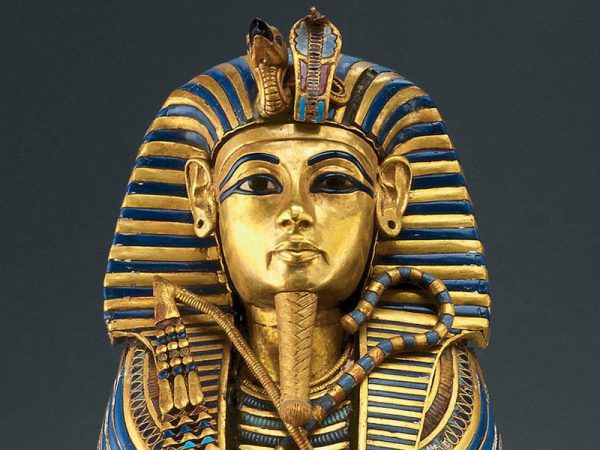 When folks say that the gold hoop is a classic look, that "classic" goes back farther than most imagine. Stylized hoops were popular in Persia which dates back to the 6th century BCE. Persian soldiers were depicted wearing earrings meaning then, as today, earrings have been worn by both men and women. This said trends have flared and faded wherein it was popular for only one gender or the other to wear earrings.
Historians have collections of Roman hoop earrings that do not feature closures. Instead, the two ends of the hoop loop up, taper lightly and lay next to or on top of each other. Given the hardness of the metals used, it appears they may have been threaded on by the piercer or jeweler and simply not removed until the wearer wanted to, or was able to, purchase a new pair. That is a commitment to a style right there.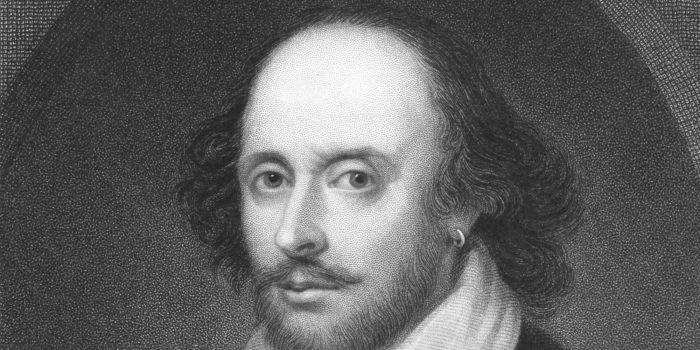 William Shakespeare wore a simple hoop earring when sitting for the famous Chandos portrait. Earrings were popular among poets in the Elizabethan age and more popular among men than women for a few centuries after that. While there certainly were collections of earrings for women post-dating the sixteenth century, women's styles were not terribly conducive to wearing earring given the trends to hairstyles and the use of bonnets, drapes, and headcovers for religious, modesty or style purposes.
The practice even faded for men shortly after the start of the seventeenth century. It was relegated to the ranks of soldiers, sailors, and brigands and even then, only a select few were allowed to pierce their ears according to tradition. An eighteenth-century sailor could only sport an earring if he had, in fact, circumnavigated the globe, that is to say, sailed around the world.
No Holes Barred
As ancient as earrings for pierced ears is, the history of clip-ons is a little shorter. We have to fast forward from the time of Shakespeare in the sixteenth century all the way to the late nineteenth century. As bonnets and hats faded from the favored fashion, hairdos switched from simply being tucked away to let the fanciful hat shine, too far more complex and sweeping updos. Beyond marking a significant shift in women's fashion and signifying an important move into women's independence, this also exposed the earlobe. A need was felt to adorn that bare lobe.
However, as the practice of piercing had somewhat fallen out of fashion among those "with taste," many women were loathing to puncture a hole in their ear. Thus, enterprising women, wanting to don jewels but not willing to modify their bodies to do it, created the clip-in. A wide range of pressure-based closers was created and a boom of clip-ons was created.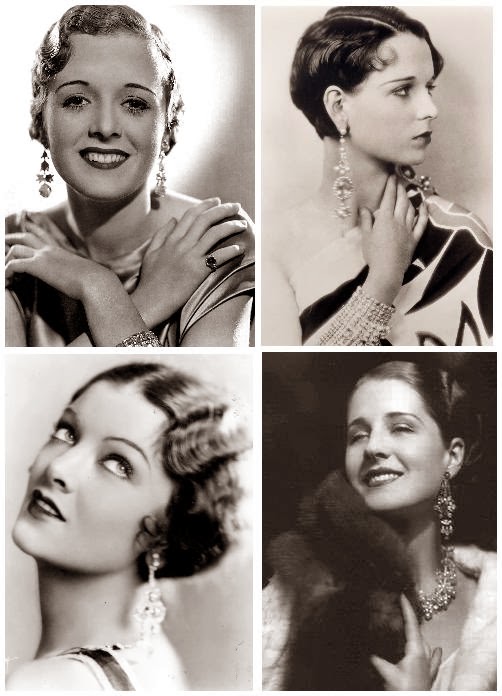 In the 1920s, that boom went nearly nuclear as the hair fashions came to the iconic flapper bob, leaving the ears constantly exposed. Combine that with the bold fashion demands of the age and earrings were large, heavy and flashy. A pierced earlobe can only support so much weight before beginning to tear. A clip-on allows a little more weight to be carried since the closure disperses the load of supports those larger stones and settings across the whole lobe. The flashy, complex statement pieces were popular without needing the permanent commitment of a couple of holes in the head.
A Magnetic Personality
By the 1950s piercing had reemerged in popularity but the clip-on endured, the technology remains relatively unaltered.  Of course, the earrings themselves waned and waxed with the fashion of the time, but there remained the crushing, pinching, pressing presence of clip-on earrings. It wasn't until the 2000s, the false earring experienced its first true evolution. Magnetic earrings began to appear after the turn of the twenty-first century as magnets strong enough to hold through flesh, but not so strong as to cause injury became more widely available for cost-effective price points.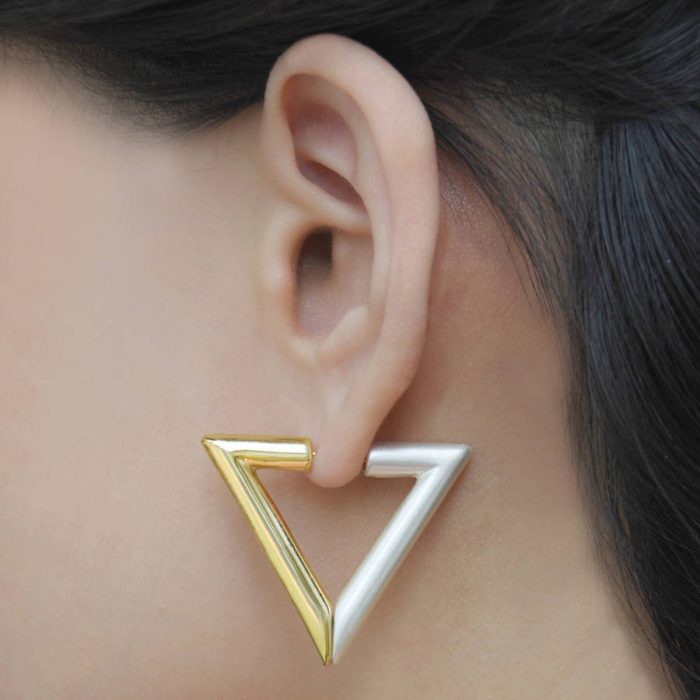 These became far more popular with the counterculture crowds in short order, allowing for people to get the "gauged" look without actually going through the hassle, or permanence, of stretching the earlobe.  Most feature a small stud style earring with a magnet inside or under the jewel. A separate magnet is placed behind the earlobe to affix the stud in place.
We have selected ten our favorite magnet earrings and honestly, we think they are pretty cool. Even if you have pierced ears, these should be a part of your collection. You can use magnet earrings to sport a multiple-pierced look for an edgier ensemble or you can use them to experiment with alternative piercing locations. If you are considering adding a new piercing, use the magnet earrings to place around with the look and feel of the new jewelry.
Here are our top ten magnet and pressure hold earrings for your perusal!
Our 10 Favorite Picks!
1. Pearl Earrings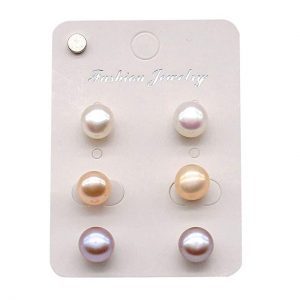 We will start with a simple classic.  The pearl stud is a timeless treasure that can take any look and elevate it instantly. Whether you prefer the dainty studs for a hint of pearl or the larger, more ambitious pearls to really stand out, this set of three is perfect for you.
Unlike traditional clip-on earrings that allow for a lot of weight, magnet earrings tend to stay in the stud style, featuring only a single stone or surface. This prevents accidental slippage and reduces the risk of a pinch if the magnets slide too far down the lobe.
These magnet earrings will clip seven-millimeter freshwater pearls "studs" to your ear.  The set offers three color ranges. One is in the white to the bluish-white range. The second is in the cream to the ivory range. The third is in the rose to brown range. The variation is caused by the natural production process of freshwater pearls while the color in influenced by various elements introduced to the clam producing the pearl during the formation process. Every effort is made to match the pearls for the pair but there may be a subtle difference.
We actually love these feature of natural stones. We think it adds a one-of-a-kind panache to our jewelry collection.  Of course, other people have pearl studs but theirs will always look a little bit different than ours. Everyone strives to have that one look that is unmistakable and pearls studs go a long way to helping create that.  
2. Dual Sided Pearl Earrings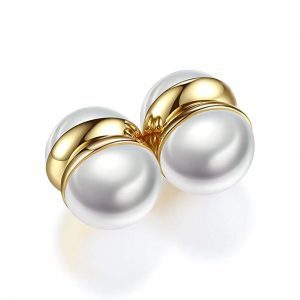 Our second pick is another set of pearls but these feature a dual-sided decor. Sculpted pearls are capped with your choice of polished stainless steel or bright yellow gold alloy caps. The nickel-free metal will rest against your ear and hide the magnet. Unique to this pair is that both the front and back magnet is adorned with the alloy covered pearl.  
We love this idea. While some high fashion jewelry adds a bit of flair to the back of the earring, most just use some sort of butterfly post end and leave it at that. Molike, the maker's of this pair of magnet earrings, take attention to detail to the next level, adding a matching backside.
It is genius. These are perfect for days when you wear your hair in a ponytail or if you tend to prefer super short pixies. For those of us with shorter 'dos, the back of our ear is as visible as the front. We think it is perfect having a little decor there too!
These pearls are sculpted polyresin set in a compound alloy so unfortunately there are no fine materials used in this pair of earrings. Luckily the price tag reflects that. To us, while we adore the fancier stones and materials, it is all about the look. If we can get a cute concept for an ultra-low price, we are completely game.
We think these earrings would be perfect for that awkward space between leaving your home and getting to the gym for a workout or the studio for some yoga. Of course, you are in your work-out gear but there's no reason you can't add some jewelry to the look.
Magnet earrings are perfect because you can slide them right off when it is time to get your sweat on. Once you are all finished you can pop them right back on! This pair, in particular, is great as the white pearl will go great with even your brightest work-out tee and the backs will show with your hair pulled back.  
3. Cubic Zirconia Magnetic Earrings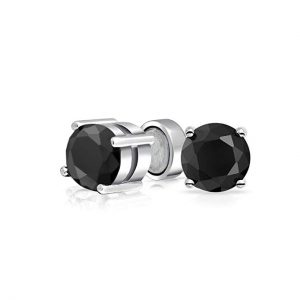 We move from one classic to another with our third entry. There is nothing more elegant than a pair of uncomplicated diamond earrings.  And there are few things better than getting the look of diamonds without the hefty price tag to match. Cubic zirconia is the lab-created equivalent to diamonds. They are very similar in chemical structure and come in twice as many brilliant colors. Since cubic zirconia stones are man-made the creators can strictly control the color saturation. In natural diamonds, color is dependent on specific conditions and the presence of particular elements and minerals to affect the color.
These magnet studs allow you to choose your favorite. Although at that price point, we would probably scoop up all of them.  You can choose from a beautiful sapphire blue, white in rose gold, rosy pink in rose gold for a trendy monotone feel, white in brilliant sterling silver, onyx black, white in classic yellow gold, and peridot green. The settings and magnet casing are high quality 925 Sterling Silver. The stones are round brilliant cut for maximum twinkle and securely held into a four-prong setting.
Ideal for adding a pop of sparkle where you do not currently have a piercing, these sets are ideal for men and women alike. Toying with getting cartilage pierced?  Pop one of these on and wear it for the day to get a sense of what sort of reactions you'll get.
4. Princess Cut Square Magnet Earrings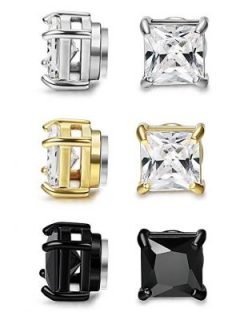 Next up we switch from the round brilliant cut to the much more modern princess cut for the cubic zirconia. The princess cut for stones is newer cut, developed late in the twentieth century, but its scientifically engineered precision gives an unprecedented glitter in any stone.
This set comes as a set of either three or four in your choice of sizes. Sizes range from a dainty 5mm to a hefty 8mm. Each set will come with at least one yellow gold, one silver, and one black metal. Settings are crafted from surgical grade stainless steel and electroplated to ensure the color stays on over the life of the earrings. Some methods of coloring stainless steel are little more than a bit of spray paint and a safety coating. This leads to high occurrences of tarnishing and eventually the color will rub off after repeated handling. Electroplating reduces the risk of the slightly less brilliant stainless peeking through the coating.
Once more these are perfect for a little experimentation with more risque looks.  Choose the smaller 5mm and you can "pierce" your nostril or labret, the small divet just below your lower lip. For a bolder, edgier look consider placing these on the philtrum, the flat spot just above your upper lip, below the septum of the nose. This is known as a medusa piercing. Or if you want to be really trendy, simulate a dimple piercing, otherwise known as a beauty mark piercing. The flat back magnet is perfect for pulling these looks off.
It should be noted, we advise the labret, Medusa and dimple but executed with extreme care. The backside of the magnet must be placed inside your mouth to make these faux piercings work. Be sure to sanitize the pieces well before attempting this. Additionally, this may create a choking hazard. Please wear with care and remove them before eating or drinking.
5. Square Cut Magnetic Set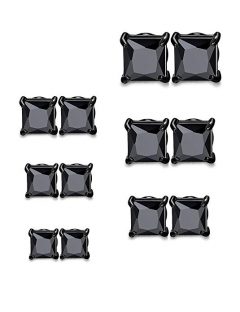 Our next pick is similar to our last but we've chosen it because it gives you the chance to narrow down what sizes you prefer.  On the other hand, it gives you options for how flashy you want your earrings to be.
This set of six cubic zirconia magnetic earrings feature a princess cut stone in a four-prong setting. Once more surgical grade stainless steel has been used. Stainless steel provides the strength of the gold and gold alloys without the high cost associated with those finer metals. Stainless steel is also hypo-allergenic meaning those that struggle with nickel, zinc or cadmium allergies need not worry that these pieces will irritate their skin.
You have the option to purchase a set featuring onyx black stones in black electroplated steel or white stones in silver-plated steel.  The black stones will give a very dramatic look however or wherever you choose to wear them whereas the white stones will provide wonderful glimmers and plays of color.
6. Magnetic Faux Gauging Discs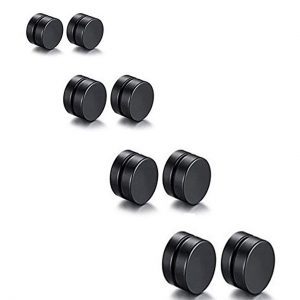 Now we will move into the edgier, more modern pieces of jewelry, a place where magnetic jewelry really shines. Right now gauging your earlobes is all the rage. Gauging is the more modern term for stretching the skin of your earlobes. Stars like American Idol's Adam Lambert have been spotted sporting gauged ears.  
Gauging any piercing is a long and slow process. Done too quickly you risk forming scar tissue, thinning the skin too much, tearing the hole, or displacing the jewelry.  It can take years to get some of the larger gauges. Additionally, those brave enough to gauge beyond 10mm have received the point of no return. A piercing stretched to 10mm will not be able to close back up on its own.
The difficulty and permanence of gauging make these magnetic faux gauges perfect!  You get the look of a solid "plug" without the commitment. If your style fits in with extreme piercing and gauged lobes but you aren't ready to take the plunge, grab a set of these and fake it till you make it.
We suggest you start with the smaller "gauges", just as you would if you were truly stretching your piercing. Over the course of a couple of weeks, switch up to the larger sizes for an authentic feel. These magnetic earrings come in a set of four in sizes 6mm to 12mm and are available in black and silver stainless steel.
7. Black Spike Magnetic Faux Gauges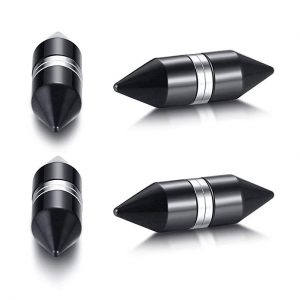 In keeping with the gauging trend, the next suggestion on our list is a bit more stylized version of the faux plugs. Black ion plated surgical grade stainless steel spikes can take your rocker look and push it just a bit further.
Ear gauging is almost as old as piercing. Those piercings they found on Tutankhamen were gauged. Now we cannot know if this was intentional or the direct result of wearing very heavy pieces, but nevertheless, he was pierced and gauged in his lifetime. Otzi the Iceman, a mummy discovered in Germany, is dated back to 3300 BCE, had stretched earlobes in a manner consistent with intentional gauging.
The practice of stretching one's earlobes is a well-recognized part of the Maasai Tribe of Kenya. The would use jewelry made of wood and bone, among other materials to stretch the lobes of their ears to positively epic lengths. The giant statues on Easter Island, once called the Easter Island Heads, although now we know the rest of their bodies had been buried over time, sport stretched earlobes as well.  n fact, when another tribe arrived on their island, the "Long Ears" classified them as the "Short Ears" and warred with them until all the "Short Ears" had been killed, enslaved, or fled.
Great for men or women, when you are done with the look, simply slide them off and put them away. Pair one spike with a flat magnetic back to add an extreme look to a facial piercing. A reminder though, practice caution with using the magnetic back inside your mouth or nasal passage. This is most recommended for the sake of a great selfie. Then, for your safety, please remove the magnet earring.
8. Magnetic Pictogram Faux Gauges

These are similar to an earlier recommendation in that they are electroplated black stainless steel faux gauges, otherwise referred to as plugs. However, these feature four pictograms often associated with the emo, goth, punk and rock scene. Stark white images of a skull and crossbones, a star, a cross, and a scorpion grace these pieces. These are 10mm sized magnetic earrings.
The skull and crossbones have been associated with a darker side of culture since the Late Middle Ages. Appearing in association with death, grave illness, plague and on tombstones of the era, the meaning has always been clear.  
The cross figure is a variant of the St. Thomas Cross or the Cross of St. John. Traditionally the cross was used as an execution device but was later adopted by the Christian church as a symbol of religious significance.
We think these pictographs are just perfect for adding to an Instagram worthy rockabilly or pin-up look. It will add a bit of grunge and dark edginess to the classic "bad girl" with a style look. Even if you are wanting to add a bit of incognito punk to your look, pair the star pair of faux gauges with some victory rolls and a gingham shirt with jeans and chunky boots. It isn't so far out there that it will look like a costume but it does have a lovely shout out to the forbidden sexy looks of the 1940s and 50s. The earrings add a modern flair to it!
9. Magnetic Faux Gauging Taper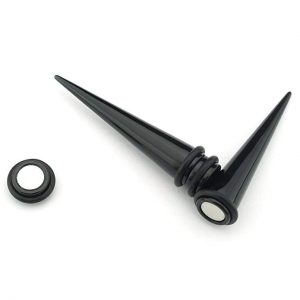 One of the methods for gauging a piercing is to use a taper. This cone-shaped rod allows the user to slowly push the rod further and further through the hole over the course of a couple of weeks. This stretches the hole out to the desired size. While this method is not recommended by professional piercers, it is a common way to gain a few millimeters outside the piercing parlor.
While wearing tapers when actually gauging your piercing, they are held in place with two silicon or rubber O rings. One goes in the front of the piercing and one goes in the back. These are pushed close to the skin to prevent the taper from sliding around and undoing any progress. These faux tapers include the detail of the O-rings.
Wear these with the pointed end in the back of the earlobe, toward the hairline and the thinner piece on top of the earlobe, toward the face, to get the look of having recently taper gauged your own ear.
10. Silver Stainless Steel Magnetic Earrings by Orazio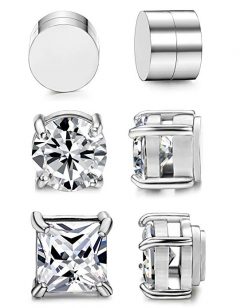 Our final entry wanders back to more classic styling. This set of three magnetic earrings includes a plain silver stud, round-cut cubic zirconia, and a square, princess cut cubic zirconia set in silver stainless steel. The jewels are held by four-prong settings.
We think this set is fantastic as a "trial run" baby or pre-teens who are wanting to get their ears pierced. They can get into a habit of caring for their ear properly while wearing earrings with the risk of improper healing, infection or dealing with the initial pain of the piercing.
Children can practice taking them off and putting them away properly. They also get the attention of wearing these 8mm earrings to see how that feels. If during play, something snags the "piercing", the magnetic studs will simply pop off safely.  Your child may need to find the pieces on the playground but at least they will have the opportunity to learn how to safely play while pierced.
A word of caution, magnetic earrings, as with standard earrings, can present a choking hazard. Please do not allow children under the age of six to wear magnetic earrings for their safety.