Best Stud Earrings for Men We Are Loving More Than The Ones We Own
last updated:
Mar 25, 2021
We want you to find the best stud earrings for men that match your style. That's why we compiled a list with options that are not just suitable for men but would also look super cool on women!
Men with studs are back, and this time they have taken the fashion industry by storm!
There is absolutely nothing metrosexual when it comes to men's jewelry nowadays.
When well worn, stud earrings give character to a man's face. They are a perfect choice for that guy who is ready to express his individuality.
There is power in these tiny pieces of accessories. They have a minimalist and classic design, which are qualities that make them a go-to-accessory choice for both men and women.
Also, studs are the most versatile pieces of accessories you will ever come across. Time to start shopping!
Top 10 Stud Earrings for Men
1

. Dazzlingrock Collection Diamond Kite Shape Stud Earrings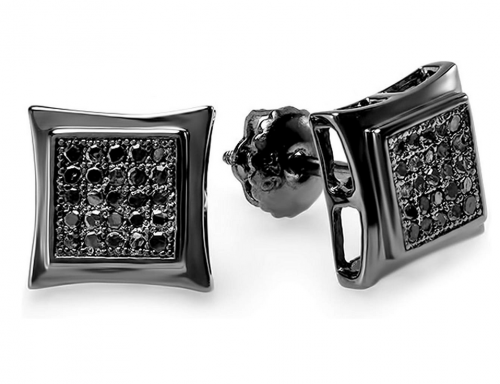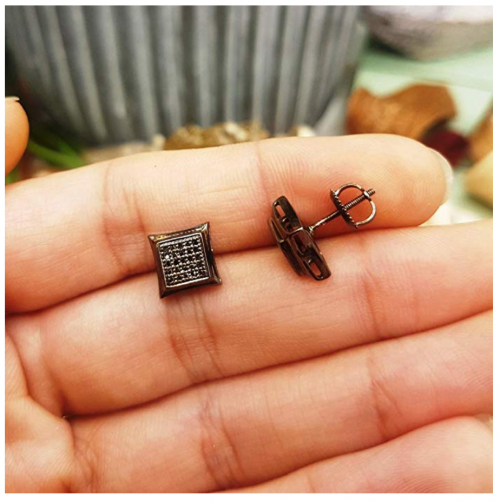 Crafted in rhodium-plated sterling silver
Real black color enhanced diamonds
These studs are dark and bold. They would look stunning on a man who loves to keep his look classy. There is nothing average with this pair of stud earrings!
Read more
They ooze class and quality. If you want to look confident and command your presence like a boss, the real black diamond used in making these studs will deliver exactly that.
The fabulous pair of stud earrings are crafted in black rhodium and plated in sterling silver, which explains the bold black color.
They come in a kite-shaped form and dazzle subtlety with the 0.15 carat real black diamonds.
The stones have been hand-set in a micro-pave-setting for an exceptionally stunning look.
Also, these are screw back earrings, so you are assured of a secure backing.
The diamonds are real and color enhanced to add an extra charm and create the focal point for these pieces. You will surely fall in love with the sparkle!
If you are looking for stud earrings that will send a bold message and grab attention without much effort, then this pair would be an excellent choice.
You will need to dig deeper into your pocket to get these. But, then again, they are so stylish, they will truly set you apart from the crowd.
2

. Beiiuxa Gold Earrings For Men And Ladies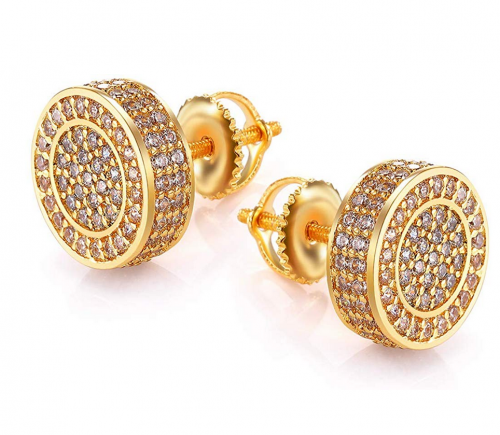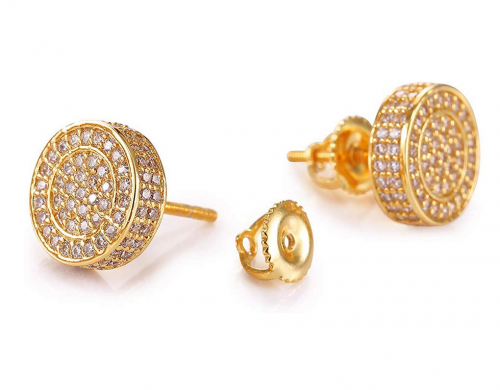 Made of 14k gold plate and quality cubic zirconia
Designed with screw-on backings
Unisex
Sparkle and dazzle with these gold plated CZ stud earrings. They are high-quality earrings for a guy who wants to stand out.
Read more
If you are a lady and you can't take your eyes off these little beauties, worry not. These studs are unisex, and they will go well with a variety of your outfits from a cocktail dress, denim to office wear.
The gold gives these studs a bit of versatility and everyday elegance.
The gorgeous round-cut cubic zirconia stones in a micro setting are a sight to behold. They sparkle and shimmer like real diamonds yet come at a fraction of cost.
Have we mentioned that the posts and the screws are made of 14K yellow gold plate and no other metals mixed?
And to seal the deal, these earrings have been designed with screw-on backs for added security so no risk of accidental loss.
There is no reason why you shouldn't have these studs in your collection. They are so well priced you will be tempted to grab more than two pairs, especially now that they are available in yellow, rose, and white color.
Besides, unisex studs make an excellent gift to give on those last minute and unexpected occasions that come your way!
3

. The Black Bow Jewelry & Co Diamond Domed Stud Earrings
Made of polished platinum with round cut natural diamonds
Feature a unisex design
30-day return policy
Combine diamonds and platinum, and what you get is a timeless and elegant piece of jewelry like this pair of diamond domed stud earrings.
Read more
These earrings will effortlessly dress up your look and add a splash of elegance to your outfit.
They ooze simplicity and beauty. The pair will create a clean but edgy look that every man out there deserves.
The studs are crafted with polished platinum. You will certainly love the smooth feel of them on your earlobes. We can guarantee that they are comfortable.
The unique dome style is super eye-catching. The studs radiate with a spectacular sparkle that comes from the full round cut diamonds at the center.
They are unisex. For the man who wants to look classy yet keep it simple, these are a must-have.
And for the woman who loves the minimalist style, these would be a fantastic addition to her wardrobe.
The price tag attached to these timeless pieces matches the quality. We believe they are a great value for money!
4

. Lanroque Cubic Zirconia Stud Earrings For Men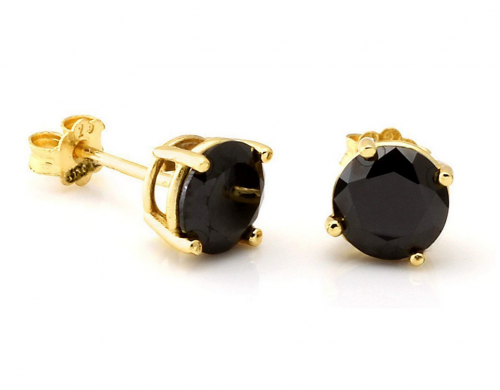 Made of 14K gold plated 925 sterling silver
Round-cut black CZ in prong setting
Can we pause for a moment and briefly reflect on how elegant and how gorgeous the combination of black and gold is?
Read more
These stud earrings for men by Lanroque Jewelers are all the proof you need that these two colors combined are perfect!
We particularly love the way the round cut black cubic zirconia stone fits snug in the gold fitting and a solid prong setting. It's spectacular and dramatic, with just the right amount of sparkle.
The studs are made of 14K gold plated sterling silver. This is a high-quality material that is nickel-free, hypoallergenic, and doesn't contain any harmful elements.
The post features butterfly clasps that ensure a secure and comfortable fit.
Because of how spectacular these earrings look and the unisex design, we believe they would look fantastic on both men and women. They are ideal for everyday wear and will go well with casual outfits.
We are happy to report that these studs are a steal! The price is unbelievably reasonable and quite good value for what you get.
They even come in a jewelry gift box that makes them easy for gifting.
5

. The Black Bow Jewelry Co. Diamond Screw Back Stud Earrings
Made of genuine full-cut natural diamonds
30-day return policy
We can't have enough of diamonds, and this time we present to you these round-cut, screw back earrings in 14K white gold. To say that these pieces are timeless is an understatement.
Read more
These are perfectly and beautifully designed just for you! They will grab the attention of the crowd, and effortlessly put the focus on your face, neck, and ears.
Solitaire diamonds are simply outstanding. They have a unique appeal and create a spectacular sparkle when light shines on the surface.
The pair of classic diamond stud earrings will gleam on your ears through the ¾ round cut white diamonds displayed in a three-prong setting on a threaded post with a screw back.
Measuring approximately 4.5mm, the studs will look fabulous on both men and women.
The style speaks for itself. They will make you look all put together with a catchy and elegant look.
We must admit that this pair of stud earrings is one the most expensive option on our list, but then again, we are talking diamonds here!
Get the pair for yourself because you deserve it or make it an outstanding gift for an anniversary or birthday!
6

. The Black Bow Jewelry Co. Rope Cross Post Earrings
Made of polished 14K white gold
Highly recognizable rope cross design
These small studs feature a nice decorative design of a cross which represents faith with a twisted rope that stands for hope.
Read more
These two symbols come together to express the harmonious nature of having faith.
Whether you are a spiritual person, or someone who just appreciates religion and cultural art, these inspirational studs will be a great addition to your collection.
They are high-quality studs crafted from polished 14K white gold. The studs have a friction back post, which ensures that they don't lose hold on your ear.
Measuring approximately 9mm, these are adorable and stylish and a perfect way to dress your everyday outfits.
We would consider the studs as slightly expensive. However, they have a lovely design that is sure to catch the eye of anyone who appreciates and recognizes the lovely rope cross design.
7

. Charles & Colvard Forever One Moissanite Stud Earring
Moissanite stone in a four-prong setting
Made with 14K yellow gold
When it comes to earrings, men have an advantage over women. They can wear one stud on one ear and leave the other ear empty, and they will not look out place.
Read more
We have seen lots of celebrities wearing just one stud, and they look super cool.
So why not rock this single round Moissanite four-prong stud earring crafted in 14K yellow gold?
This single stud is a show stopper. It beams with elegance showcased by the moissanite stone in a basket setting design.
The traditional setting holds the glistening stone firmly in place and extends to a post that fastens the stud with friction backs.
The stone features a brilliant-cut and a total diamond equivalent weight of 0.23 carats.
However, the seller offers a variety of weight options depending on what you want (and how deep your pockets are).
Super classy, elegantly made, this earring will be a dream come true for any man looking to stand out from the crowd.
The price point for the single moissanite stud is creeping high, but don't you think it's great value for what you get?
8

. The Black Bow Jewelry Co. Beaded Cross Post Earrings
Made of polished 14K white gold
The posts have friction backs for a secure hold
Here is another fantastic pair of spiritual studs featuring a beaded cross design. The two styles that include the beads and the cross combine to form an eye-catching accessory ideal for everyday wear.
Read more
These elegant stud earrings are crafted from polished 14K white gold.
Measuring approximately 9mm, the pair has friction back post style that ensures a firm hold and keeps them secure as you move around.
You can't help but admire the unique design showcased in these tiny beaded cross-post studs. They are simple pieces with a refined sense of timeless beauty.
Even though you will need to dig a bit deeper into your pockets to get these studs, they are so worth the price.
9

. The Black Bow Jewelry Co. Antiqued Dagger Cross Earrings
Made of antiqued stainless steel and black epoxy
Post style with friction back
These antiqued dagger cross post earrings are the perfect choice for the man who is not afraid to express his style.
Read more
The pair will surely bring your outfit to life and suit your charming character quite well.
You have to admire the skill and precision details that are pretty evident in these little masterpieces.
They look amazing, and you must admit that these have a daring look, you will love it.
The pair is crafted from antiqued stainless steel finished with black epoxy, which accounts for the bold, smooth finish.
Like most of our picks, these earrings studs have a post with friction back for a secure and firm hold.
The medieval-style infused in these studs gives them an edge over most options here.
And that's not the only thing that sets them apart. The price is super friendly compared to most of our other picks.
These dagger cross stud earrings would look excellent when combined with other bold accessories.
10

. LIEBLICH Black Round Stud Earrings Set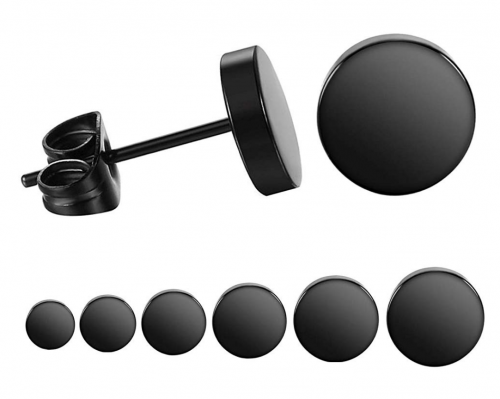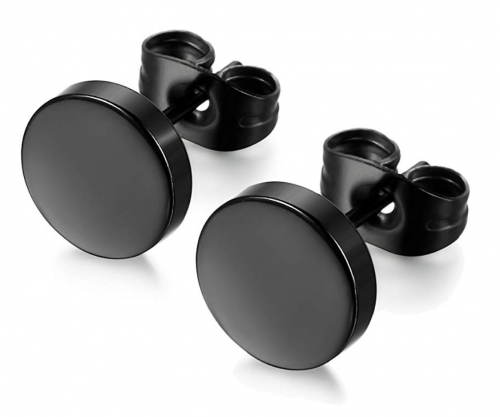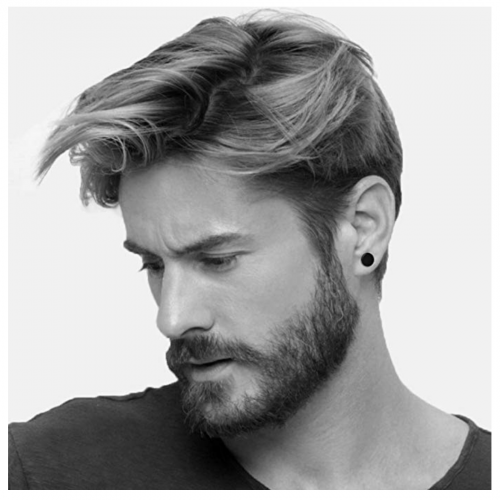 Made 316L surgical stainless steel
Available in different sizes
Step into the limelight and stand out from the crowd. Black and bold, these round stud earrings exude masculinity like no other pair in this list.
Read more
If you are looking for an accessory that brings out your boyishness style, go for this option.
The stud earrings are made of 316L surgical stainless steel. Your ears will truly thank you because these are hypoallergenic and absolutely safe for skin.
Stainless steel also stands out for its quality and durability. You can be sure you will rock these stylish studs for years to come, and they will still look exactly as the day you purchased them. These will not rust, bend, or scratch.
The earrings are designed with butterfly earring back and grooved friction post. This ensures secure fastening and makes it convenient to put them on and take them off.
They are suitable for the men who prefer an edgy look with a simple touch of sophistication.
These come with lots of amazing features, and yet, they are inexpensive and one of the cheapest pick on our list.
For only a couple of bucks, you get not one pair but six pairs!
Criteria Used for Evaluation
Jewelry Metal & Gemstone Quality
Stud earrings never run out of style. That's why we picked studs made of high quality and long-lasting materials.
Most of our options come in 14K gold plated 925 sterling silver, polished platinum, rhodium-plated sterling silver, and stainless steel. These are some of the most durable materials likely to last you a lifetime.
The majority of our picks are designed with natural cut diamonds, which are precious stones with incredible durability.
Some options are crafted with zirconia stones, and we only picked the ones made from high-grade quality CZ.
Price
Our list included highly-priced stud earrings for a reason. Diamond studs have a special appeal and are the most preferred options when it comes to men's earrings.
Diamonds are precious and are equally expensive. They sell at a high price. But when you buy just one pair of diamond stud earrings, you are buying a piece of investment jewelry that carries great value.
We wanted you to get great value for your money and at the same time, get pieces that are timeless and will last you a lifetime.
Wear Comfort
We picked studs that are safe on your ears and comfortable to wear all day long. You won't experience skin irritations, allergies, and other skin-related issues.
All our picks are made from hypoallergenic metals and are absolutely safe for the skin.
In addition, most of the studs we picked are designed with screw backs or friction backs for a secure hold. You won't have to worry about losing your precious earrings.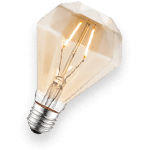 Style tips
Men's stud earrings have seen a huge revival, and they are now more stylish than ever. 
With all the amazing designs available, there is no reason why men and even women shouldn't rock stud earrings.
Most men's studs are classic, stylish, and elegant and go well with every outfit you choose to wear.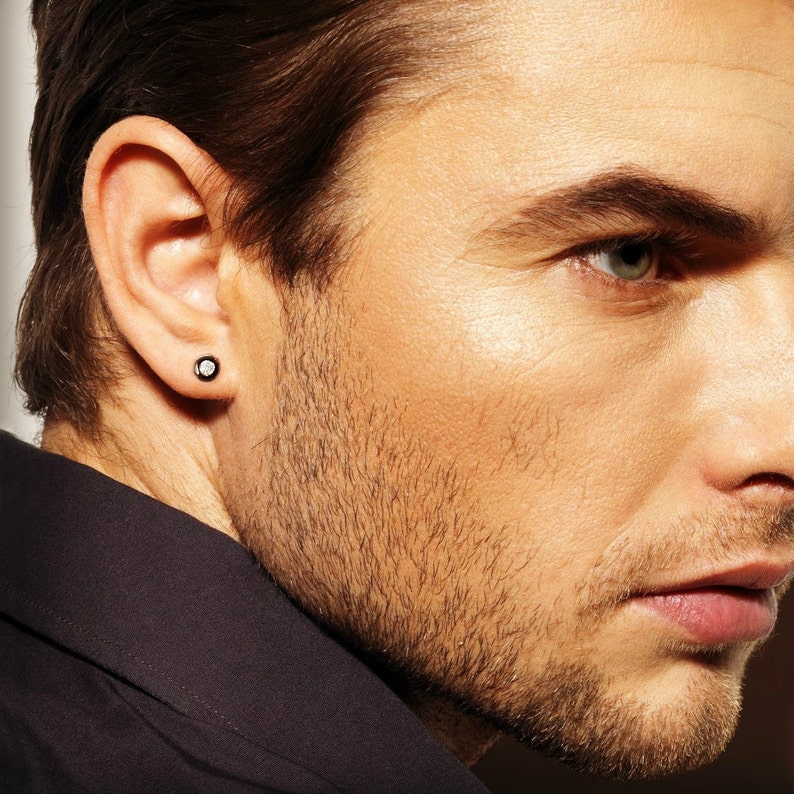 No matter your style, our top 10 picks will definitely complete your outfit and your overall look.
Diamond studs have a special appeal. They have a mysterious ability to draw attention to your face, neck, and ears. The stone speaks for itself and can make you look all put together.
We have seen several celebrities rock diamond studs, and to be honest, they looked super cool. David Beckham, Justin Beiber, and even Usher have been seen several times wearing studs.
Style tips
Justine Bieber prefers black studs, which are incredibly stylish and glamorous. If you are bold and want to show off your boyishness, go for black diamond studs.
A majority of men prefer wearing one stud earring, and they still look fabulous. Look at celebs like Jamie Fox, Cristiano Ronaldo, and Michael B. Jordan; they frequently sport one diamond stud.
Another stud earring that looks amazing on men is the kite stud earrings. These have an interesting shape and are mostly made of several rows of diamonds, CZ, or other unique gemstones. Jay-Z has been spotted wearing these unique style stud earrings.
Men, the good news is that you don't have to be a musician, a rapper, or movie star to rock your studs. You have the looks, the character, the attitude to pull it off. Our word.
FAQs
q:

What are stud earrings?

a:

Stud earrings are accessories made of a jewel and a metal, such as gemstones attached to a post that goes through the ear.

A stopper is positioned on the back part of the earlobe and fastened to keep the earring in place.
q:

What metals are suitable for stud earrings for men?

a:

Most stud earrings are usually set in platinum, white/yellow/rose gold, sterling silver, rhodium, titanium, and stainless steel.

These are some of the safest metals that are less likely to react with your skin.
q:

How do I take care of my studs?

a:

Taking care of your studs is quite simple. However, in some instances, maintaining studs might depend on the metal and stone used. Here are a few useful tips:

✓ Avoid using corrosive cleaners like acid or bleach when cleaning silver and gold studs

✓ Do not scrub your stud earrings with hard bristle brushes as they can easily get scratches on the surface

✓ When you take off your studs, keep the locks on the studs and store them in a small jewelry bag to avoid losing them because of their small size

✓ Gold and silver studs are very soft. Take it easy when putting them on or removing them and avoid exerting unnecessary pressure; they can easily bend or break when handled roughly

✓ When you accidentally wet your studs, lay them on absorbent wipes or tissue; avoid storing your studs when they are damp as they will lose their luster
q:

Will studs with big diamonds feel heavy on my ears?

a:

Studs are usually small and cute and rarely put unnecessary pressure on your earlobes.

Some people are more sensitive to weight on their ears. This means an overly large and heavy stone might affect their ears.
Finally...
Men's stud earrings are no longer associated with rebellious or ostentatious teenagers.
Nowadays, they are worn by modern men as an expression of style and personality.
Diamond stud earrings are the most popular option, and that's why we picked quite a few options featuring real diamonds.
If diamonds are out of your price range, you will find affordable options that look equally good and are made of high-quality CZ gemstones and sterling silver.
Are you a man who loves stud earrings? Can your man pull off the stud look? So, what's stopping you from rocking this trend?
Start browsing our top 10 picks and adding to your cart! Time to shop guys.