Men / Mix
Best Men's Stud Earrings We Are Loving More Than The Ones We Own
Marianne 28 Nov 2018
1054
Earrings have always been viewed to be an accessory made for women, and that is because they have been the ones who dominate the jewelry market. This theory is not going to change soon, since women will always take the lead when it comes to earrings, but men are really giving them a run for their money these days. Manufacturers are also noticing that men are getting deeper and deeper into the consumption of earrings, which has led them to give extra attention to the making of unisex and male type of earrings.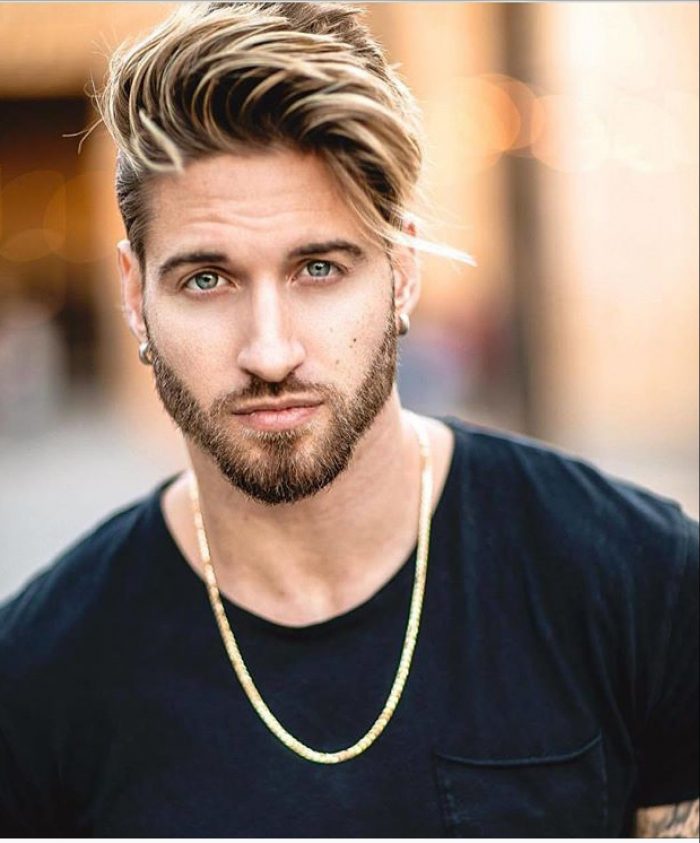 Unlike women, it is not in all cases that men can actuary wear earrings, at least, if they want to look responsible. There are still some parts of the world where the male consumption of earrings is still seen as a sign of irresponsibly, so men from those highly religious pats do not wear earrings. In the remaining parts, the only set of people who will have issues with men wearing earrings are interviewers. If you are going for a job interview, or any other formal gathering, you should know that earrings are not welcome. Unless you are in the entertainment industry or you have made a name for yourself in sports which qualifies you to wear anything that will turn heads.
The set of men that really patronize the male jewelry market are young celebrities who look as hot as can be when the earrings are on them. Stars like David Beckham, Cristiano Ronaldo, Zayn Malik, and almost every other male entertainer never fail to stun us with a new set of earrings at every event or interview. If you want to join them in making heads turn whenever you walk into a scene you do not only need to wear earrings, you also need to make sure you have the best gracing your ears.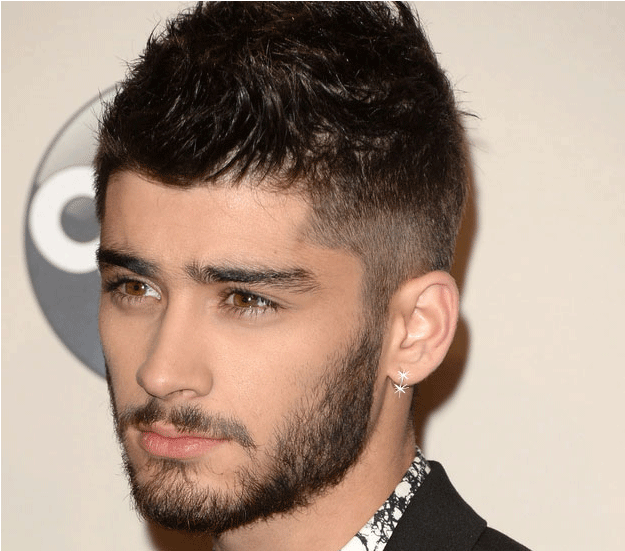 The reason is that a low quality earring will not give you the desired effect you wish to have on your audience, which is usually the female folk. The women you are trying to impress know more about fashion than you do, at least in most cases, so if you are wearing something of low quality as a fashion item, they will be quick to notice, and you most likely won't get that woman drooling over you.
Apart from the obvious reason stated above, you should only wear high-quality earrings because of your health as well. If you ask us, this is even more important than your appearance. Most of these earrings that are not made of good quality products end up hurting you by irritating the skin of your ears and even leaving scars. Sometimes it gets more serious than mere scars and you could get swellings or feel a lot of pain, in which case you have to rush to the hospital for treatment. Because of all these hazards that could come from the usage of low quality earrings and because we really want you to look stunning, we have complied a list of 10 breath-taking earrings that will help you steal the show every single time.
Our 10 favorite picks!
1. 0.15 Carat Black Real Diamond Kite Shape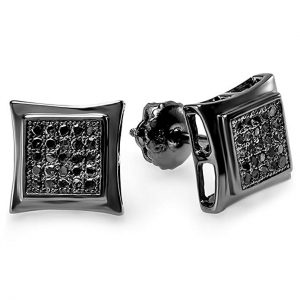 It is dark, it is bold, it is stunning and oozes high quality. We just couldn't help but start with this moderately priced hip hop iced earrings which look nothing below absolute brilliance. As a man, you need to look as confident as possible, you need it to certify your place like a boss, and the real diamond used here will give you exactly that.
This black elegant jewelry comes in the shape of a kite, and they are made by hand to achieve the microwave setting. The dark and bold color of this jewelry can be attributed to the black rhodium sterling silver used to plate the excellent stud.
You should know that the manufactures of this product, Dazzlingrock, have out a 90-day warranty on the earring, so if within those 90 days of your purchase, you notice anything you want the sellers to know about, do not hesitate to reach out to them and they will do whatever you ask for free.
Though at first glance this may not be obvious, the material used in making the 0.15 carat black real diamond kite shaped earring for men is white gold, and the metal stamp is 10k. The total number of stones used in production is 50, and the package has a total weight of 204 ounces. Since the length and width of the earring both measure at 8mm, with a metal weight of 3 grams, you can understand why it looks so coordinated.
To show that this piece is really worth the price, the back finding is, screw back! What a way to seal the making of an incredible product, by giving it the most secure backing in the entire jewelry market.
2. 14k Gold Plated Men's Earrings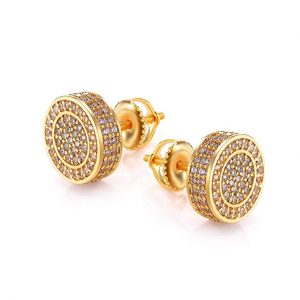 Get It Here
This high quality elegant male jewelry is for men who know the value of pure art and want to make heads turn at every opportunity they get. It is a product of Everyday Elegance company and as you can tell from their reputation, this earring will take your fashion game higher than it has ever been before.
The gold goes well with any type of outfit you choose to wear, as long as it looks good for the occasion, the earrings will support it. The backing is screw back type, so you can dance all you want at that party without ever worrying about losing your jewelry. The product weighs 0.64 ounces, and it was designed using a micro setting. The package comes in a really cute box, and the affordability of the product will blow your mind.
3. Star Trek Stainless Steel Studs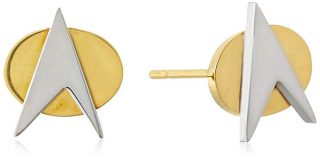 The stainless steel stud earring is a product of the Star Trek brand. It does not come with your regular design and has two colors that blend so well to make your ears irresistible. The earring has a mixture of silver and gold and the very figure of the jewelry is the Star Trek logo. The back of the earrings is secured with the very popular friction backing, and the item is 3.70 inches.
For such a friendly price, this earring is really worth it and can last you as long as you can maintain it, because the materials used are original and 100 percent safe for your skin. The golden part of this jewelry make up the base, which is not exactly circular in nature but is round, you can liken the roundness to that of an egg…a horizontal egg.
The silver part of it, which looks really good on the gold is placed right in front of it and has a totally different shape from the circle. It is a figure that looks like the letter A, but written in such an unusual front, so it looks like a star.
This product is loved by men all over the world and is not new to the fashion market. These stainless steel stud earrings have been around since the year 2014, and since it was launched, there has been a massive rush for the Star Trek product. Some say it is because of the friendly price, others say it is because of the cute appearance, but whatever your reasons, this will surely be a good addition to your fashion life.
4. Lanroque Jewellers – 14k Gold Plated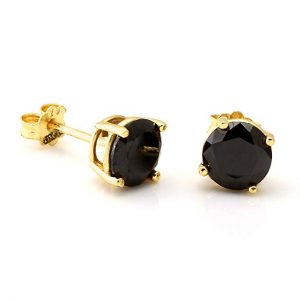 Black and gold is always a good combination, but what the Lanroque Jewellers brand have made out of it is simply jaw dropping. We can't stop loving the way they have put the black stone into the gold fitting, and made the yellow-black blending look like it was made for this earring set alone. Because of how great this earring looks, a lot of women have also started wearing it, so do not express shock when your wife, girlfriend, or sister makes away with your precious earrings when you purchase the package.
The golden part of this earring serves as the clasp which holds the black part, it is also the constituent of the post which has a butterfly backing set and is long enough to keep the jewelry secured no matter how much you sweat around the ears.
All sensitive ears will find this earring comfortable, it has been tested to cause no allergies, so feel free to rock it to your neck party. The entire package weighs 0.64 ounces, and the earring has a 4 prong setting. To show you how much of a stunner this earring is, you can be the first to ever wear it among your friends because it was launched just a few months ago.
5. Gemstar USA Silver Sterling Simulated Opal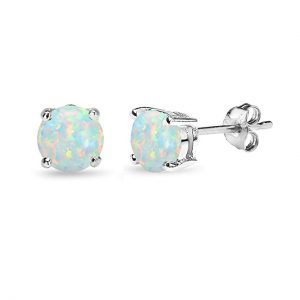 These stud earrings will just bring all the attention to your ears with their effortless shine. The round cut gemstones do all the sparkling you will ever need to stand out, and what's more masculine about it is the blow color that was used to design it. The 6mm you see at the title of this jewelry is the measurement of the earring studs, they are 6mm in diameter, which is the perfect size for you.
The makers of this product, Gemstar USA, are known for high quality fashion items, and they have crafted this stud earring with 925 sterling silver that is tarnish free and good for your skin type. They also offer you a money back guarantee of 30 days, so if you buy the silver sterling simulated opal 6mm stud earrings and do not feel it is giving you the sparkle and confidence you want, you can get your money back. This guarantee is there but men hardly ask for their money back after they buy this product, which tells you how much it is loved across the globe.
The product has been enhancing the appearance of men for more than two years, and it is not too late for you to join the party. These earrings are secured with the very well-known friction backings, so go ahead and do whatever you want to do without worrying about your earring's security.
6. Round Stud Earring Set for Men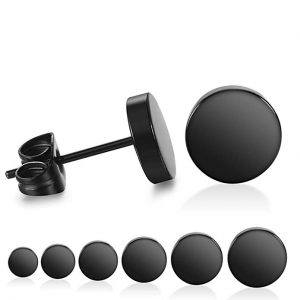 What do you love most about this set? Is it the fact that it is black in color, which makes it come off as 100 percent masculine? Or is it the incredibly affordable price? Whatever your choice, you are about to fall deeper in love with this highly popular set of male earrings.
This product of LIEBLICH weighs 0.8 ounces and it has a lot of amazing features, one cannot help but wonder how it got so affordable. Your sensitive ears will have no problem rocking these earrings because the materials used to manufacture it are hypoallergenic. They are also more durable than their gold or silver neighbors in the jewelry market, they are string enough not to get bent easily, so that shape is maintained for a very long time. You can also use them for years without getting a single scratch, they are that durable and long lasting.
To top all the features above, the black round stud earrings for men are rust proof. The surgical steel used to make them have this amazing quality which another reason why it can last for such a long time and not give you any discomfort. You get to save a lot of money with this earring, as you will have all you would have gotten from a far more expensive alternative, and still use it for a longer period of time.
7. CZ Simulated Diamond Black IP Plated Studs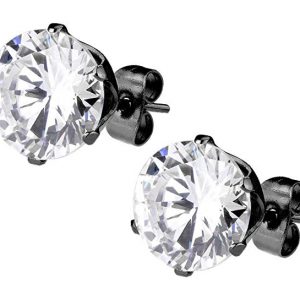 If you are on a budget and also want to look good every day of your life, you can buy these earrings since one of the main reasons people are crazy about them is their affordability. It is a product of Forbidden Body Jewellery and will make you look bold and sexy with the cuteness and dark sparkle it emanates.
Your ears will thank you, as well as your pocket, for getting such a stunning piece of jewelry without breaking the bank. The earring is made out of 316L surgical steel, and the dark sparkle mentioned earlier is the result of the black titanium IP plating. The crystals used for the earrings are nothing short of AAA quality round cubic zirconia, and they have a friction back on the post to ensure that the item is secure and safe to jump around with.
When you wear this jewelry, smile. The just adds to the beauty and charm of the earring, this is also a way to attract people to yourself, especially the female folk. The package size is around 0.3 by 0.3 by 0.3 inches, and the total weight is just 0.32 ounces.
For those who are seeing this for the first time, you have really been missing a lot because the CZ simulated diamond black IP plated stud earrings for men has been in the market for almost five years now, which is quite a long time to dominate the male fashion market.
8. One Pair of Nightmare Skeleton Studs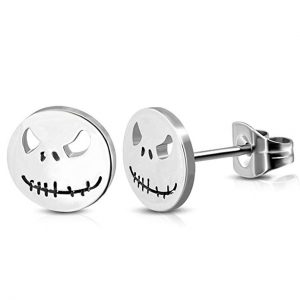 Get It Here
As a man, you have certain advantages over a woman in the fashion industry, and one of them is the ability to adorn only one ear and leave the other empty…without looking incomplete. A lot of celebrities have been spotted doing this and you can join them by leaving the second ear out of the issue when you want to rock these night skeleton earrings.
It is a product of Coins Stamps and More brand, measures up to 10 mm, and has been around for a little over three years. The face of this earring looks really unusual, some may even find it gothic, but that is the beauty of it, we love the uniqueness.
For such popular piece of jewelry, you should add it to your collection as soon as possible so that you can rock it, preferably one ear after another, just because it has a gothic nature and we want you to make the most out of it.
Made with mixed colors of white and black, you can even give them as a gift to your younger siblings who will fall in love with the unusual look and use the light weight. The earring is secured with friction backing, and both young and older guys can rock it. You should already know from the design and general gothic look of this earring that it is not for formal gatherings, only wear it for informal occasions and steal the show.
9. Golden Round Ball Earrings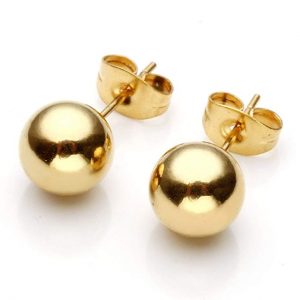 For those men that want to look simple while having a massive effect on people with their looks, the golden round ball stud earrings are going to fit your life like a glove. It is just as simple as can be, with the right amount of color and substance to do just as much stunning as a heavily priced gold alternative would do.
The design is just a ball, as the name implies. It is a small ball, no more than one-quarter of an inch or 6 millimeters, that will sit at the base of your earlobe to enhance your face and neck. The earrings are actually a mixture of materials, these material being gold and some precious metals. The gold used is up to 24k, and guess what? This jewelry is guaranteed for life.
To ensure that this product, which comes with a lifetime warranty is safe for all types of skins, they have been plated the posts with surgical steel, which will guard your piercings from allergies and all the hazards known to know with it. The 24k gold over semi-precious metals is ten times more gold than electroplate.
As a man, the balls earrings show you are reserved and can also save you so much pocket money, as well as hospital bills since they pose no threat to your skin. The posts are really long, so when you use the friction backing, you will enjoy a lot of comforts, coupled with zero worries about security.
10. White Gold Round Solitaires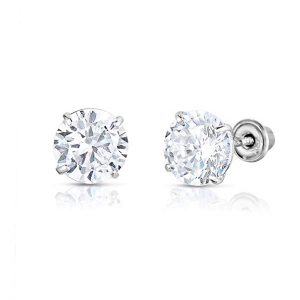 You will find this product of the famous Ioka brand to be a big addition in your fashion life, the round stone cut looks like what you see every day but the entire package of sparkling white gold makes it stand out as a number one show stopping jewelry.
The stone type used to make this earring is the very famous cubic zirconia, but here, the grade is up to AAA. It has a basket setting design, and comes in various sizes that you can pick from. The earring shines the minutes you open the box, and no matter the size you choose, the same sparling effect will emanate from it. If you really want to enjoy this earring, wear it with dark colored clothes, the way it will sparkle out of the contrast will drag so many faces towards your direction.
One cannot help but admire the skills of those experts that were picked to realize this masterpiece, it looks amazing and you can gift it to your friends on their birthday or any other special occasion. To top all the amazing qualities of this white gold round solitaire cubic zirconia earring, the back fitting is screw back type.
There is an option for those who really like the push back fitting, so you have the freedom of picking the style you want. We can assure you though, that the screw back type is far more secure, even if it takes a little longer to wear, it secures your jewelry 100 percent.