Moonstone Engagement Rings: Check Our Fave 10 Picks!
last updated:
Mar 25, 2021
A moonstone engagement ring is just one of the ways to show your loved one what they mean to you.
Have you found that special one? The person that you wouldn't mind spending eternity and beyond with?
If your answer is yes, then all that is left is a candle on the table, a knee on the floor, and words from your heart to tell her just how much she means to you.
Moonstone engagement rings are one of a kind pieces of jewelry featuring the amazing moonstone, a stone with healing properties and amazing dazzle!
Take a look at the 10 moonstone ring picks we fell in love with right away and we believe are perfect for any lady out there.
Our Top 10 Picks!
1

. T-Jewelry Moonstone Engagement Ring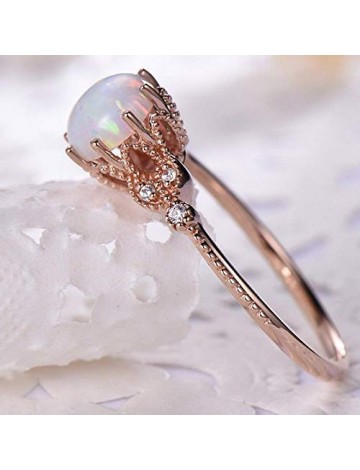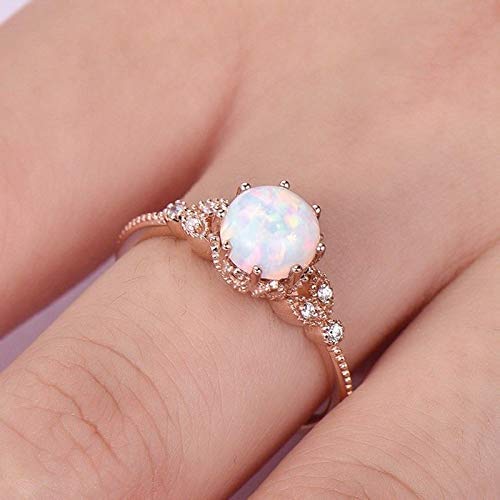 This beauty is one of our favorite ones; it has so many amazing features that we don't even know where to start. With the robust build and an excellent combination of durable metals, this is a winner.
Read more
Engagement pieces are known to be bedazzling, and they are there for everyone to see you've taken.
That's exactly what this moonstone ring does; it has a grade AAA iridescent moonstone encrusted in the band.
There are also 6 crystals set around the alloy rose gold band. The ring is an outstanding piece of jewelry, and the moonstone becomes a dancing stone of various colors when it hits the light.
Both the stone and crystals are arranged in a bezel setting.
The best part? It comes at a super affordable price!
2

. Finemall Faux Moonstone Engagement Ring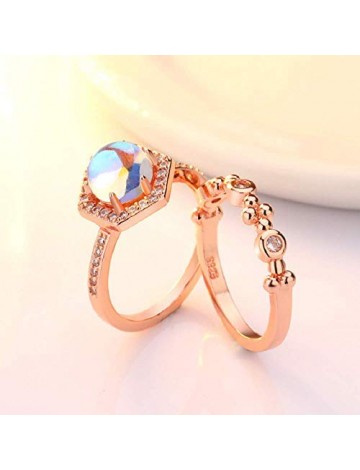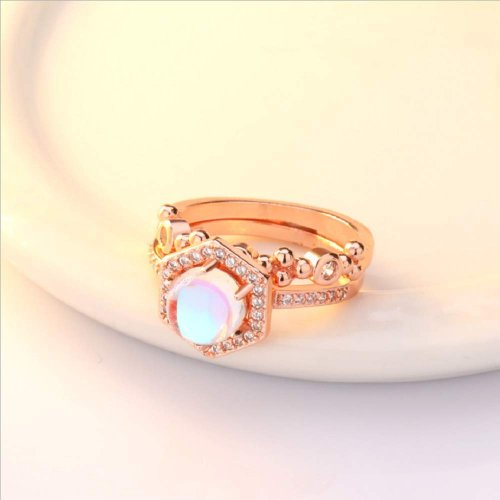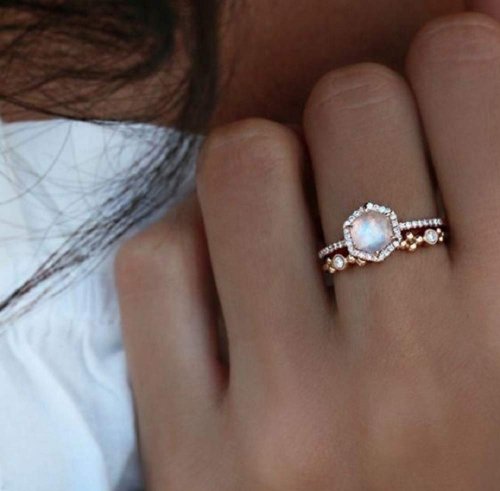 This piece comes with a combination of a faux moonstone and an alloy rose gold band. Now we know this sounds affordable, and honestly, when looking at the price, it is. However, the ring looks everything except cheap!
Read more
The ring is designed as a rose gold solitaire, and to accentuate it, you also get a second band with gorgeous crystal inlaid along with the band.
This means you get 2 beautifully sparkling rings at the price of one and, you get to choose whether to wear them both at the same time or one at the time.
If you're looking for a sparkling and super affordable piece, this is the pick for you!
3

. Chuvora Sterling Silver Moonstone Ring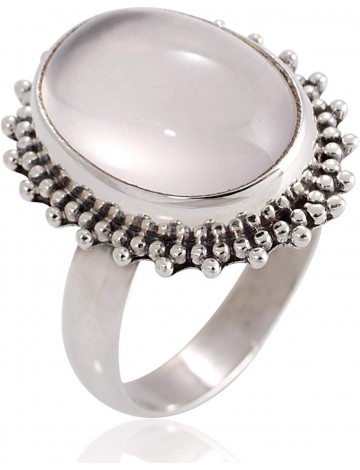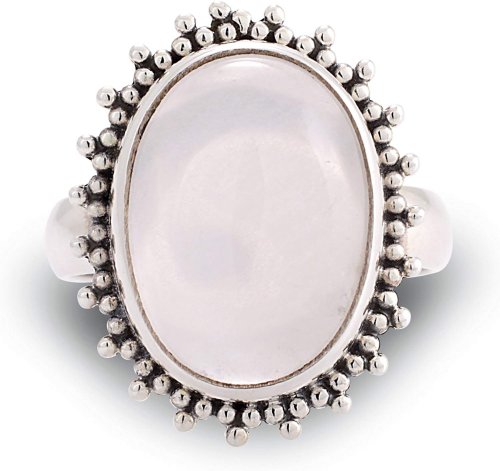 This pick is shaped like a crown for the finger, with its oval gemstone and an intricate halo of sterling silver details all around it.
Read more
The ring is certainly a bold one and works perfectly for those who love statement jewelry.
It's made with 925 sterling silver, and you will find a stamp as a testament to its authenticity.
Keep in mind sterling silver is a durable material tarnish and scratch-free. It's also great for people with skin sensitivity.
The moonstone is a natural one meaning it's the highest grade and will show all of its dazzling colored hues when hit by light.
When getting this ring, you also get a jewelry box with it, which makes it perfect for gifting!
4

. Sac Silver Heart Halo Moonstone Ring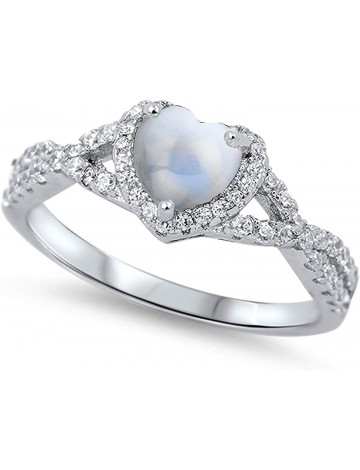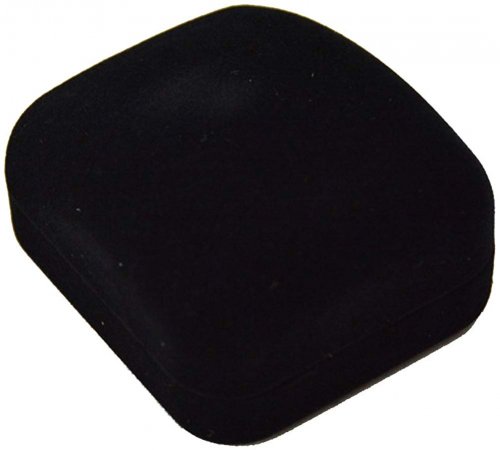 With this enchanting ring from Sac Silver, any lady would shed a tear of joy when getting it. Crafted with a genuine and iridescent moonstone, the gemstone is then surrounded by dazzling crystals that continue all along with the silver band.
Read more
The metal used to create this beauty is 925 sterling silver, which means it's a durable piece of jewelry.
The moonstone is a non-treated one, and it's highlighted so well by the sparkling CZ stones all around it that we almost think it's too much to handle.
The heart-shaped front of the ring is just so romantic and perfect as an engagement piece, anniversary, or pretty much any other occasion when you want to gift a ring symbolizing your love.
5

. BlackTree Moonstone Ring Set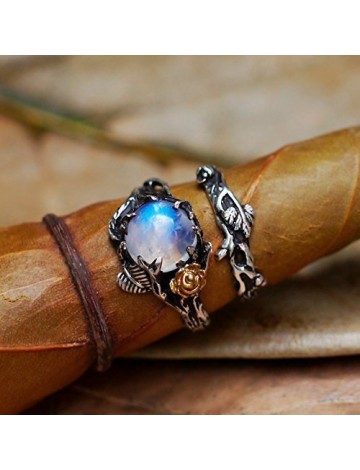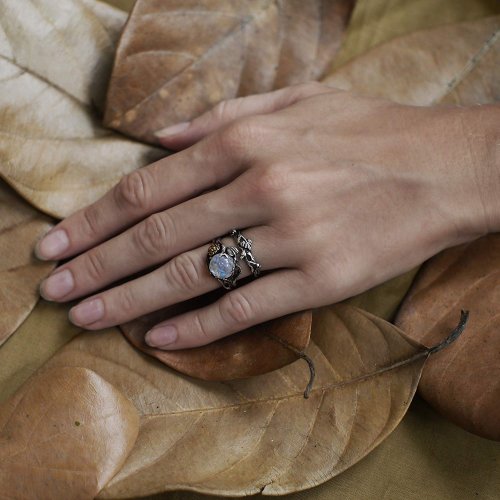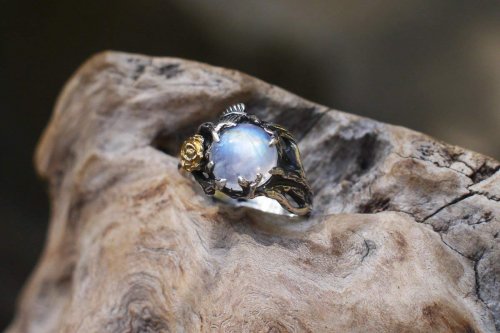 When choosing a ring for your engagement, you don't want something understated, do you? Now, this engagement ring set is not just amazing, it's almost over the top, and that's why we love it so much.
Read more
Made with 14 carat gold over sterling silver, the rings are called Cleo and Mio.
Handmade with an oxidizing process to give it that vintage and boho look we like so much, you can be sure this duo is nothing less than perfection.
The metals used make it super durable and resistant to scratches or tarnishes, and the moonstone is a natural one of quite a big size. It certainly won't go unnoticed.
The price for this set is higher; however, considering the metals and the intricate details in the design, it's worth every penny!
6

. The Black Bow Jewelry Co. Moonstone Ring
As dainty and simple as this ring may appear, it fits the bill perfectly when it comes to a classy engagement ring.
Read more
Made with 14k gold plating over sterling silver, the band is super smooth and polished.
The cabochon moonstone is a natural one, and it sits in a simple prong setting with a yellow gold flower-like halo holding the stone.
The solitaire works perfectly as an engagement piece as well as a moonstone ring perfect for stacking with other gemstone pieces.
Sold by The Black Bow Jewelry Co., it'll arrive in a beautiful gift box, and you'll also get a 30-day return policy in case you miss your ring size or for any other reason you may want to send it back (honestly, we can't think of one!).
7

. Koral Jewelry Moonstone Ring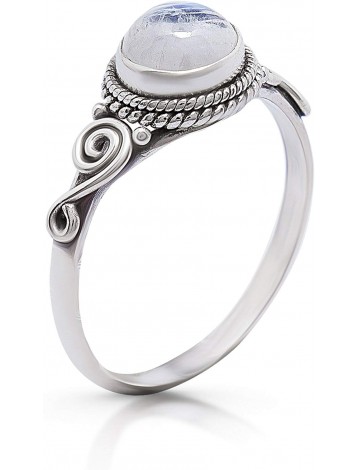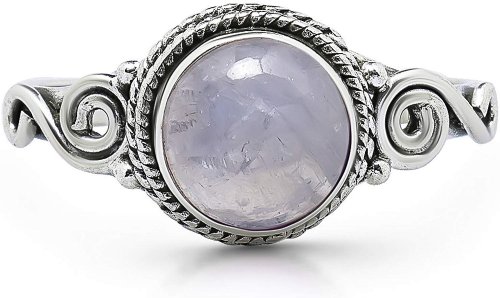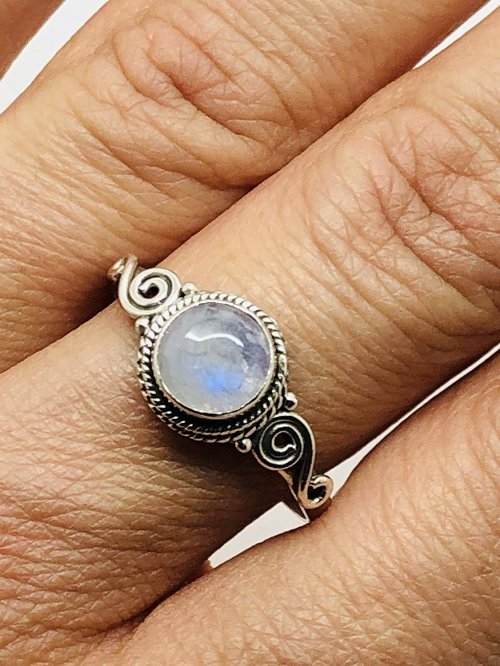 Let's be honest; moonstone brings a touch of beauty to any jewelry it is used to accent. This particular piece has the stone at the center of a halo, and it makes the ring look outstanding.
Read more
The band is anything but simple with intricate, oxidized silver details all along it.
The stone is a non-treated one and cut into a cabochon, and the metal used to create it is 925 sterling silver.
It comes in a gorgeous velvet black pouch, and you can choose among 5 sizes ranging from 5 to 9.
8

. Celtic Trinity Knot Rainbow Moonstone Ring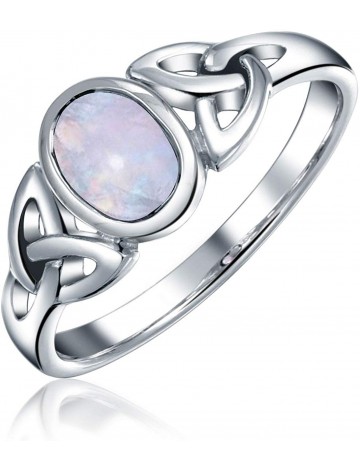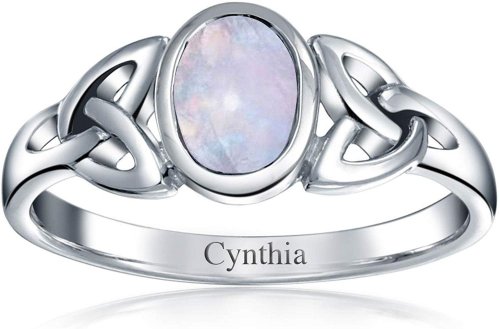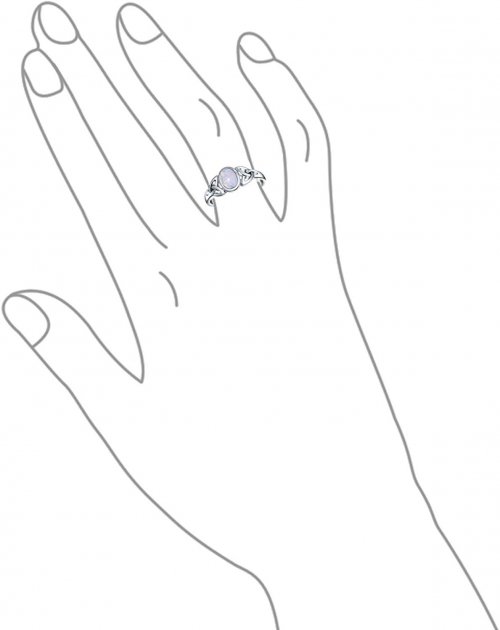 Textured bands lined up with a beautiful rainbow moonstone is such a delight to behold, and that is what we have right here.
Read more
The piece was crafted by professionals who have years of experience in using 925 sterling silver and molding it into intricate designs; now this ring features one of these designs: a Celtic-inspired band.
The moonstone-accented ring is one of a kind, and the stone is a heat-treated moonstone weighing 0.48 carats.
While being quite simple, the trinity knots at each side of the stone make this piece unique.
It comes with a gift box and a 30-day money-back guarantee as well!
9

. Shine Jewel Princess Cut Rainbow Moonstone Ring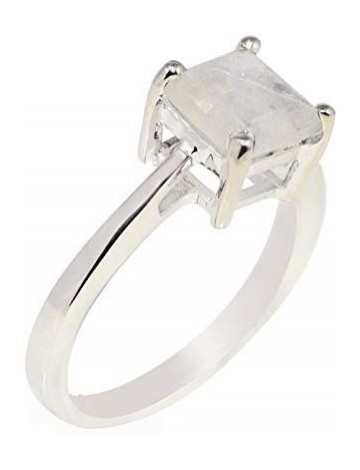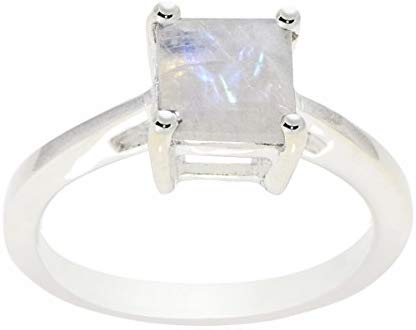 Finally, a princess-cut pick as classic as they come. How beautiful is this solitaire ring? Simple and classy, we think it's perfect for all of you looking to get a sophisticated piece that won't cost a mint!
Read more
The natural, non-treated moonstone looks almost like a diamond, and it's set into a white rhodium plated silver band.
The stone lies in a four-prong setting keeping it in place.
The price for this ring is less than a dinner for two, and it'll will arrive in a velvet box and 30-day money-back guarantee!
10

. Silvershake Flower Moonstone Engagement Ring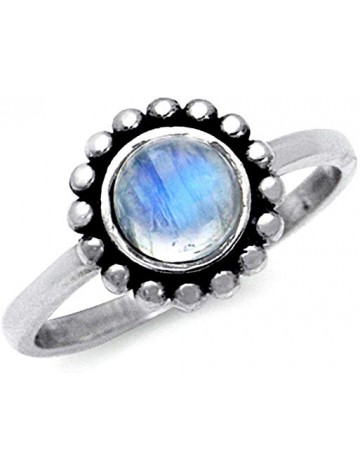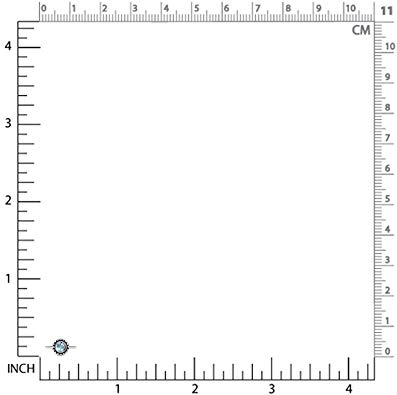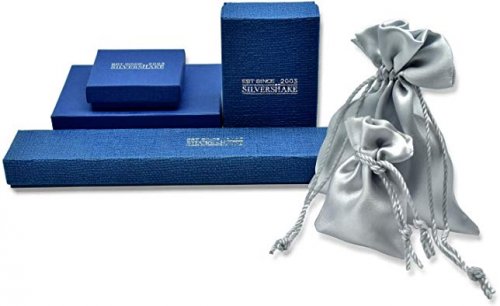 Now what about this sweet flower-like moonstone engagement ring? Designed by Silvershake, it features a simple polished band made from rhodium-plated 925 sterling silver.
Read more
The moonstone is a rainbow stone and is completely natural and non-treated.
The stone weighs 1.02 carats, and you can find it in sizes 5-9, meaning it will fit any ring size as long as you nail the right measurement.
The price is super affordable, and your ring will come in a sweet box ready to be given as a gift!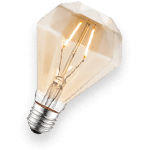 Moonstone as an engagement ring
When it comes to engagement pieces, there is an array of styles and gemstones you can choose from.
You can choose from gold rings to diamond rings, and even silver would look quite right.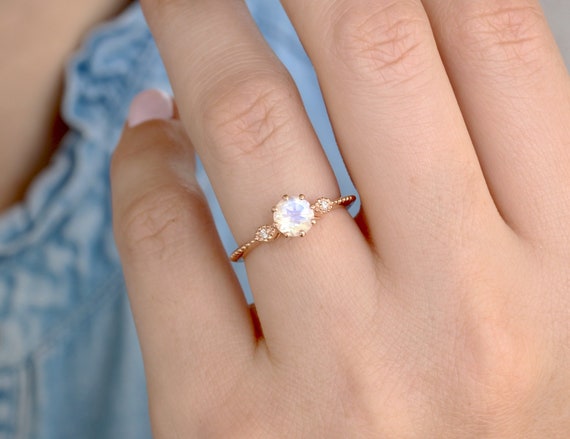 Today we decided to talk about moonstone engagement rings as they are so beautiful and unique you simply can't go wrong by choosing one.
Moonstone jewelry is fantastic and would look charming on just about anyone.
Moonstone properties
This gemstone is mystical, stunning, and won't fail to please any lady out there.
This gemstone is known for its healing properties, mainly for providing calmness, reducing stress and being a positive energy stone.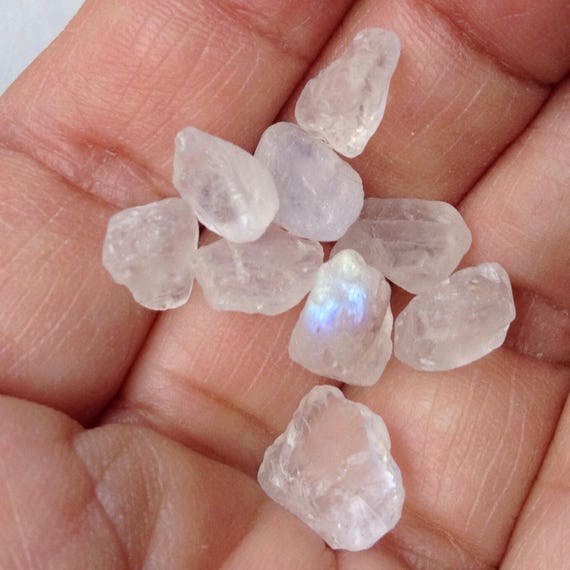 It's also a symbol of strength and growth, and it promotes intuition, good fortune, and inspiration!
Frequently Asked Questions
q:

How tough is moonstone?

a:

Moonstone is really strong. However, it is susceptible to cracks and chipping if not properly cared for.

Make sure to avoid wearing your moonstone ring when exercising any activity which involves rubbing your hands.
q:

How do I store my moonstone ring?

a:

Keep it safe by storing it in a soft pouch when you not using it.

You can also use mild soap and water to clean it.
Finally...
A moonstone engagement ring is as unique as they come. This stone is known for its iridescent hue which reflects all the colors of the rainbow.
A moonstone also symbolizes energy, calmness, intuition, and balance. It's the stone promoting feminine energies so what better gemstone than a moonstone for your engagement ring?
We picked 10 options we think are perfect when it comes to engagement jewelry and the best part is we made sure to include affordable rings which still look stunning.
Time to shop!