Rings / Women
Princess Crown Rings Your Fingers Deserve To Wear Because You Are a Queen
Marianne 18 Mar 2020
7388
Bold, beautiful and a heart that is as big as the world, all women deserve to be called a queen. They handle so much, and the bravery with which they face everyday life is quite remarkable. In this article, we found something that celebrates that and makes sure that their queen status is emphasized. If you are thinking a crown, you are almost there. But it's not necessary a crown be worn on the head any longer, and this is why we found princess crown rings that bring out the queen in you.
Each piece of the ring we found is beautiful and has an intense look about them. You can use this category of jewelry as it fits any plan you choose to follow for the season. We also checked some details and added them to convince you that crown rings are worth their hype.
Our 10 Favorite Princess Crown Rings!
1. Chic Code Yellow & White Ring
We love this ring category for a lot of reason, and one of them is the amazing style they add to your fingers. This product from Chic Code is exquisite, and it says so in all shade of dazzling beauty. From the metal base to the finish, all materials used to fashion the products are top quality, and you would love the ravishing effect that it brings when you wear it.
Rings always have a base on which all the other fantastic items are hung. This one comes with a 925 sterling silver base and is plated with a white 18K gold. It's a perfect combination of colors, and its silvery color is further accented using tiny diamond stones to fill up every part of the crown-shaped piece. You get to add an all-time-classic look to your outfit when you use the ring.
Exclusively for women, it is perfect both as a gift and as a timeless addition to your jewelry collection. With the cute little pouch that it comes in, it is easy to believe the "you are my princess" statement that the ring symbolizes. All this impressive quality comes in such an affordable price that you won't need to think twice before ordering yours.
Other Info: The rings come in different bad size, and you also have a choice between two beautiful platings.
2. Jewever Original Princess Moonstone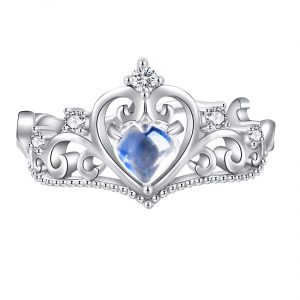 In folklore and bedtime stories, princesses are always recognized by their crown and the stunning aura that dictates their appearance. Well, we think crown rings are just like that, with their majestic appeal and incomparable beauty. You can look at them and feel the prowess, similar to that of royals raring up inside of you. Get ready to feel like someone special princess with this piece on your fingers.
Made with 925 sterling silver, this ring from Jeweler is made of the highest quality possible. The materials are excellent and won't have any adverse effect on the skin of whoever wears it. To make the piece even more beautiful, there is a blue moonstone set into the middle to make sure that anyone who looks at it gets the message immediately.
You would love the crown-like shape given to the band, and the beautiful polish used to make sure that it glistens when hit by light.
If you have a girl dear to your heart, this is the perfect gift to tell her that she is the most special person to you in the world. The price is very low, and you have a money-back guarantee if you don't like it. But we assure you; you wouldn't be returning it any time soon.
Other Info: The ring is only available for those whose finger size is 6-8.
3. Presentski Gold Plated Tiara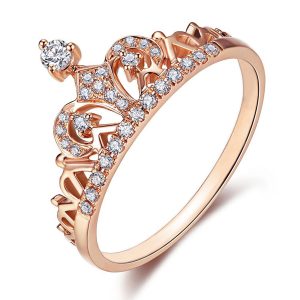 Crown rings are shaped like a crown to show that every woman is a queen. Bold, beautiful and perfect are the description that the products in this category reflect and we couldn't agree with them more. This piece from Presentski is handcrafted to perfection. Each detail is made with delicate care so that you don't only have a symbol of your bravery but also something to go with your everyday outfit.
For starters, the band is made with an 18K rose gold plated metal. The color glimmers subtly but still does it enough to grab enough attention. For more aesthetic pleasure, there is grade AAA cubic zirconia set into the front of the band, making it spectacular to behold. It's all about allure when it comes to women jewelry, and the way each component was blended accurately in this piece make it unique.
For Valentine's Day, Christmas, anniversary or even prom night, this is the perfect gift to wrap up and send to the one special to you. You can also use it to make your jewelry collection versatile, but trust us when we say it would be your favorite among your other jewelry. It's available in various colors, so click the link and select the one that suits your best.
Other Info: You can get it in a gift bag but check for the one that would fit your fingers perfectly before going ahead to order up.
4. LWLH Tiara Ring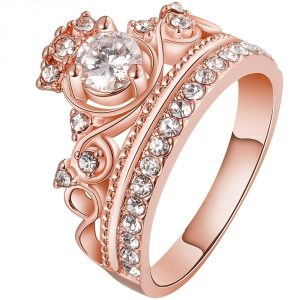 All our jewelry for any category we select is always checked to make sure that they aren't harmful to you when you wear them. And this is the same thing we did for this product from LWLH, the ring is crafted from a hypoallergenic material which is not only durable but also wouldn't lead to a doctor's appointment. It is also a stunning piece that makes a bold fashion statement with its dazzling look.
The band has 18k plated rose gold metal as the metal used. You can see the beautiful CZ stones set all-round the bottom of the band, while the biggest of them sits proudly on the top. The arrangement looks like that of the Disney princess and wearing it can make you feel like one of them.
You can use it for proposal, and we are confident that her answer will be yes as she looks at the beautiful ring or it with a sundress on a day out on the beach.
It comes with a velvet bag that carries the name of the brand, and you can use it as safe storage when the ring is not on your hands. For wedding band or just a casual accessory, this is one of the best crown rings to signify your queen status.
Other Info: You can get the ring in 5, 6, 7, 8, 9, 10, and 11. In case you have any doubt about the CZ stone, it was made with grade AAA+.
5. AllenCOCO Heart
Some people love their jewelry simple, with no extra layers or complicated geometry. And we also have something for them. This piece from AllenCOCO is made to be as simple, chic and gorgeous as possible. It's one charming piece of fashionable ornament that would go well on any outfit. The brand made sure that you wouldn't have any complaints with this one and that is why it's on our list.
All the components were crafted from 925 sterling silver which is one of the best grades of material used for crafting jewelry. There is also cubic zirconia set into the front of the band to make sure that you are seen as the queen you are. The fantastic thing about it is the way it looks charming even though no extras were added to it. It would look good sitting on your fingers, and we want you to have just that.
You can be sure of the quality, and it won't rust anytime soon even if you wear it to the gym, the pool or in the bath. It carries an oxidized silver design too and doesn't contain any tarnish or lead. You can enjoy all this nice feature for such a low price.
Other Info: It is available in different band sizes.
6. Oxford Diamond Co Sterling Silver Ring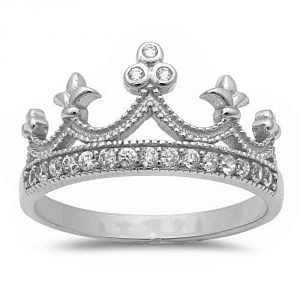 You have seen some of the finest pieces of jewelry on this list already, but before you pick one check out the rest of the products we have for you. Diamonds have always been held in high esteem, and any name that has that tag is known to make sure that they meet up with top standards. Well, that is what Oxford Diamond Co is all about, and they have proven that again by making this ring.
Talk about stylish, stunning and splendid; there is no negative feature to point out in this one.
A princess tiara is always the finest in the kingdom, and that is why this brand used the 925 sterling silver in crafting the band of the piece. There are three platings available for the ring to make it more versatile and easy to make a choice. Each style is iced with glistening cubic zirconia all around, and you can count on the charm to keep you going all day.
There is so much we can say about this piece, but you would look at the picture yourself and have a glimpse of the magnificence about to enter your finger. Additionally, the band is created to give the wearer, maximum comfort such that you won't even know it's there until the compliments start trooping in. This is a piece definitely worth your money, so get yours now.
Other Info: You can get whichever size you want, take a tape rule and measure the circumference of your finger before you order.
7. Similanka Rose Gold Plated Ring
There are ways to show people that you love them without having to say the word too many times. And this ring is one of them. For birthdays, anniversaries, Hanukah, New Year and any other celebration that require spending time with those that are special to you. The piece is simply amazing, and the only thing we can say is that this one would look superb with any casual or formal outing.
It is made with 18 k gold plated metal; you can rely on it not to start fading any time soon or cause any hazardous reaction with your skin. You can easily store it in the bag it came in for longevity and have it back on your fingers when going out. This is one of those products that is simple, elegant and comes with a classic setting. Everything used for crafting it is well tested for your enjoyment.
Rest assured, when you click on the order button and make this purchase; you are getting one of the most exquisite jewelry you have ever seen. So get one today for yourself or use it as a surprise for mother's day and any other anniversaries.
Other Info: The ring has four various design you can choose from and different band size.
8. Guliette Verona Ring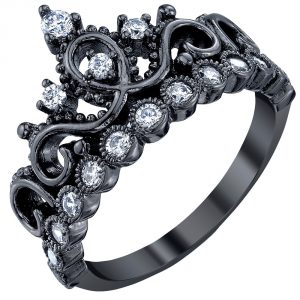 We found this black rhodium plated ring and thought of how unique it would look on you. It features a unique design that allows it to retain a cool dark color while still looking like the "the stuff of dreams." There are no imperfections in the making, and with such level of skill displayed by craftsmen at Guliette Verona, you can be sure that you are getting a masterpiece.
Crafted using 925 sterling silver, it is plated with black rhodium plated silver. The combination of such high-grade materials allows it to retain qualities that are top of the line. It has about 17 cubic zirconia set into prong patterns designed all around it. Each stone is both round and synthetic to make it a worthy investment. Here is proof that you don't have to spend a fortune to draw attention.
Finally, it comes in a small box that could serve as a proposal box. Exquisite design with memorable resplendence is what you have with this ring. It's great for anyone, and the bezel setting makes it convenient.
Other Info: The band size varies for each person.
9. SILVER MOUNTAIN Ring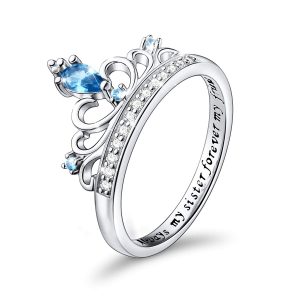 Silver Mountian are famous for creating pieces of jewelry that rule the jewelry world. One thing about their product is that it is affordable yet they make sure that there is no compromise in quality. The "forever my friend" ring is indeed a symbol of pure love, and how undying it can be if heartfelt. You would be able to look at the ring and remember the vow you made to those you promised you would always be there.
From start to finish, it was made with 925 sterling silver without infusing any tarnish, lead or cadmium. The ring itself is shaped like a crown with blue cubic zirconia standing proudly in front of the bend. You can see the 'Always My Sister Forever My Friend' carved into the inner surface of the band. It is suitable for long-time wearing without any signs of wear that may cause it to look shabby.
If you all about an ornament that gives you the beauty that you so desire, then go for this one. It is also sold for a considerably low price that makes sure that anyone can afford it.
Other Info: The band size of the ring is only available for those with 5-9.
10. GEMSME Opal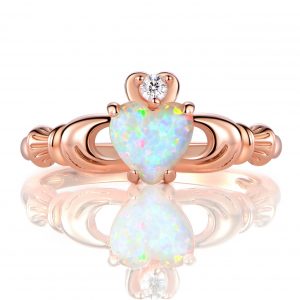 True love is felt when you show your better half how much they mean with actions rather than only words. Well, we found something that infuses the crown design with a love symbol and is from the very best of GEMSME. It has a design that speaks volume about loyalty. You can get one for your woman, mother or daughter and they would undoubtedly love it at first sight.
For the band it was made with brass and finished with high polish. There is a beautiful opal set into the front to create a magical effect and exude purity. The ring is rumored to be simulated like the one that belongs to the queen of tarot. And that it keeps returning to whoever owns it if they lose it. With so many exciting tales surrounding the ring and the shiny aura around it, you definitely want to get one.
It is 6 mm in width and is perfect to fit your hands without causing any pain or discomfort. You can click the link and order for one, and we are sure you won't regret it.
Other Info: Available in various sizes and each of them weigh an average of 2.1 grams
Why You Should Choose Crown Rings
Crown rings are just one of the very many sets of rings available in the jewelry category. But they stand out because of the special meaning they infuse into your dressing. With their crown-like shape and sparkling accent. They glimmer on your finger and make you feel special. For the ones we have here, they are decorated with all sort of gemstone, and you would think we pulled them straight out of a fairy tale movie.
This category of rings isn't new and dates back to about the 1700s. They were called Irish Claddagh ring at that time, and the earliest piece was crafted by Richard Joyce, a silversmith. It was used as a token of love and exchanged during engagement and some other special season for lovers.
Now with so many gemstones and new materials, the ring has now taken a more exquisite form and can be gotten in different varieties.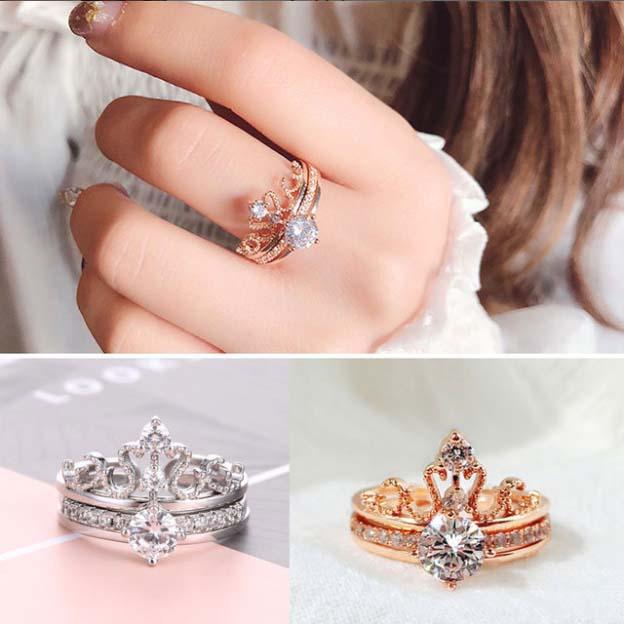 You would love the sight of them, and you can tell that their charm should not be undermined. They will be one of the best things that have ever happen to your jewelry collection, and as the year spins on, you would love what they bring to your fashion table. They are widely accepted by both celebrities and royal.
After all that detail, the crown ring should now appeal to you, and we found ten pieces that would fit you perfectly.
How to Take Care of Your Crown Rings
Like any other jewelry, crown rings would serve you for a perfect time if you take care of it well. So we added this section to give you maximum value for your money.
They should be properly clean and store when they are not in use, and if you need to do a heavy-duty job or go to the gym, it is advisable to take them off. You shouldn't also have the rings on your fingers when you are inside a chlorinated pool or about to take a shower, except for some specific products that listed it among their specifications.
A lot of the rings in this article comes with a box or small pouch; they are safe for storage in these items. And if you need your rings to look as good as new, you can search for a jeweler around you and ask that the ring is ultrasonically cleaned. These tips will help you enjoy the ring even better.