Earrings / Kids / Mix
Disney Jewelry Pieces We Are So Loving in the Office!
Despite the fact that we're all considered adults in the real world, Disney has made a huge impression which we doubt just anyone can keep up with. From the likes of Beauty and the Beast necklaces to a pair of Lion King paw earrings. Everyone wants a piece of the Disney jewelry that reminds them of their favorite cartoons. But the one little thing that holds them back from doing just that is flexibility. Thus, you think of just how much the public will accept.
No one wants to walk down the street and be stared at because of earrings that allegedly look childish. Also, there's nobody who wants to spark conversations which will challenge your own fashion tastes. So the topic of "Growing Up" is something even we wouldn't want to hear from anyone except another fan. So, to avoid that minor thing, we started looking through what we could personally wear.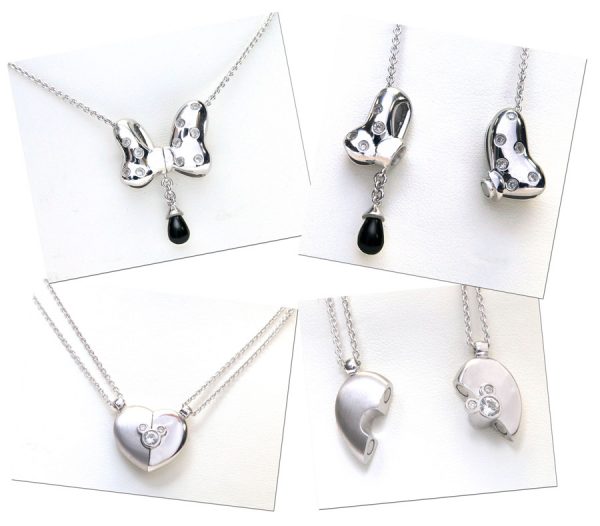 Are there Mickey Mouse shades that can rival our other more grounded sunglasses? Can the Beauty and the Beast earrings be worn even to work? All of these questions were taken into consideration and we made sure to find really good answers in the form of different Disney jewelry pieces. The whole aim of having a personal wardrobe filled with such unique accessories is to actually surprise people. Not to earn bad scores.
Our 10 Favorite Picks!
1. Stainless Steel Tiny Mouse Stud Post Earrings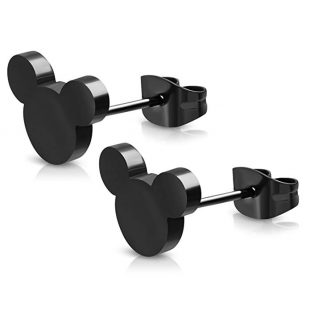 Our first expression when we first saw these pair of studs was "Wow!". There are just some simple combinations in front of all of us that we don't really see. Just look at this design: the pair of studs mimic Mickey's head, but then that's where the similarities stop. Everything is done in stainless steel that's been painted a deep, unblinking black. As expected, the decision by the company to 316L stainless steel means it comes with all the usual features like durability.
Moving on, the earrings most definitely do not weigh a ton. You'll feel their presence (no problem there)—but it's not something that'll attempt to tie you down.
When it concerns how you can wear black studs, you have no limit here. And that's after taking into consideration (the fact) that most people will recognize the silhouette. It's entirely modern and the simple use of a popular color literally makes it eye-candy. Now, the benefit of this little fact is that it's really easy to use the studs as a gift. You have no clear boundaries in terms of who you're going to give it to. On that, let's say that everybody has at least a friend who they share hobbies with—which coincidentally includes watching the cartoon. In as much as you know their birthday, this is a nice gift for them. At the same time, we have to say that it has a simple look which anybody would love. Even people who aren't fans.
2. "Believe in Magic" –  Beads Charms Bracelet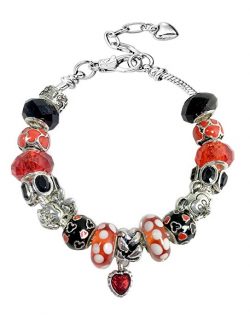 Another exotic Disney piece of jewelry is this mix of European beads and flair. The bracelet has Disney's own personal touch through the Minnie Mouse depictions. They stand for the pattern of Minnie's clothes throughout the various episodes. For your daughter who doesn't quite love the idea of retiring from certain cartoons that made her childhood fun—it's certainly a wear with a tone full of nostalgia. Alternatively, that daughter can be changed to your wife (with the same interests). She'll love the fact that you listen to her enough to buy jewelry that fit her specific tastes. Some of us love a mix of cartoon accessories that are fashionable.
With that said, one of the biggest issues of a bracelet is whether or not it will slack. Anyone that has that thought would obviously think about the hassle of the bracelets snapping after some time. And then after that, the issues of messing up a nice gift idea (though simple) or wasting cash if you're buying for yourself comes up. It's normal, so it's a good move that the manufacturer created a silver-tone snake chain that's tough enough to handle most, if not all of your activities. By doing this, we think they've essentially made the bracelets a'Holy Grail' type of object for Disney fans.
So, it looks great since the idea of adapting Minnie's color works, it won't slack since the manufacturer invested a lot of time in the chain's durability, and you get to satisfy any fan's childish side. All of this combines into a gift that she'll use for a long while. Heck, with its kind of looks, it'll easily be her favorite after some time. Of course, this is if you're planning on using the bracelet as a gift. Like we hinted, you might just be craving some new accessories that focus on your hobbies.
3. Sterling Silver Mickey and Minnie Mouse Earrings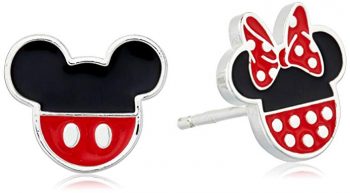 We decided to include another Minnie Mouse themed jewelry piece (earrings again) because of two things. The first reason is that the earrings are distinctly different in terms of looks from the previous one. The pair is its own man and the black, red, and white color scheme is a really good sign of that. The second thing is that the pair is made from 925 Sterling silver, which is known for its durability. Literally, the material doesn't know when to give up the ghost and will instead keep up with your activities. Or the activities of the person you're giving it to. Included in that, the silvery-white looks of Sterling silver also doesn't damage quickly. That's a suitable template (surface doesn't get dents) for the color scheme (red, white, and white) we mentioned before.
Now that the part of looks and durability is done, let's now talk of their combined application. Anyone that you know, who passed through one of the greatest ages of classic cartoons (this one for example) would love this. That could be your baby sister, mom, wife, cousin, niece, daughter. The options are limitless—and another example of what we mean here specifically is that you can give your friends too. It's not a family thing and everyone that you know can have one. If that person has multiple piercings, you could combine this pair with the other one. It's a nice gift idea that you could tell her as you give her the gift.
4. Mickey Mouse Hands Forming A Heart Pendant Necklace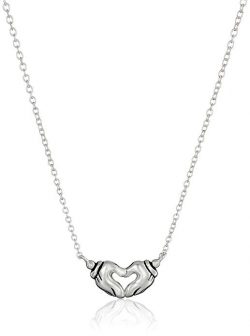 Unlike the last three Disney themed toys, this one takes a nice and welcomed change. The object is a necklace this time around and there are no Mickey ears. Here, you'll find Mickey's fingers forming a heart symbol. It's that kind of lovely tone that we would advise that you try to give your partner. First, she is a fan of Mickey Mouse and his antics. The second thing is the tone here is love and it's written through the use of a diagram. The combination of those two will definitely catch your girl by surprise. If not because there's a follow-come gift box that looks expensive and implies you were detailed in your preparation, then because of your thoughtfulness. Otherwise, you can give any guy you know around a freebie that'll allow for a slight, but meaningful interaction with his woman.
The necklace is made of 925 Sterling silver and this includes the hands too. It's one single entity that is very hard to break by stress. The fact that they didn't paint it means it's not going to fade too. All you have to do in this case is polish once in a while and you're good. You can even send a microfiber cleaning cloth if it's going as a gift.
As for occasions where you can apply it as a gift—it's perfect for birthdays, vacations, trips during anniversaries, and even the usual surprise packages. Give it to your granddaughter, sister, mom, or girlfriend. Make sure not to give this single necklace to everyone as you can just mix it up with the others (Disney jewelry). Alternatively, you can give this and any other on the list to your partner.
5. Belle's Rose and Heart Diamond Pendant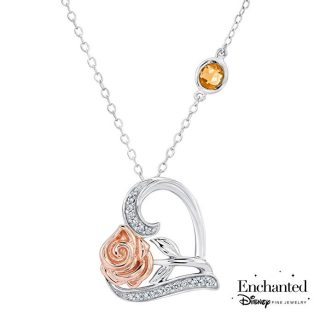 This Disney themed piece of jewelry doesn't use any of Mickey or Minnie Mouse's characteristics as inspiration for the design. It instead depicts Beauty and the Beast's Belle and her due rose. The pale pink color of the pendant is definitely one of the most beautiful we've seen. It's also simple and carries a famous message. Anyone you give the necklace to as a gift will know you mean love—and we're talking about the romantic one. You're telling her thanks for giving you a chance to love her. Even with all of the more child-like tendencies at times (which is very ok as men will be men).
So, you can give the necklace to your partner during dinner. You could give it to her during your anniversary or maybe just to surprise her and have fun. The latter adds a dynamic tone to the relationship that women simply love.
Having said that, the whole thing is made from Sterling silver. This means both the chain and the pendant know how to shrug off a rough beating any time. So if you're concerned about the long-term use, don't be. It's not going anywhere anytime soon. Going back to the looks, the enchanted rose (light pink) is one area we love since it is rose gold plated for added appeal. After that, we love the diamonds embedded along the edge of the pendant.
All of these are just things that most women love.
6. Little Mermaid Swarovski Crystal Necklace with Pendant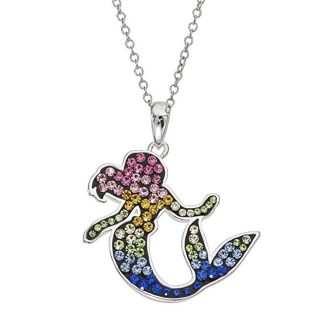 Like the last product, this one also doesn't have any of its design depicting either Mickey or Minnie Mouse. Instead, you'll find the silhouette of one of their most popular topics, Little Mermaids. The design is studded full of Swarovski crystals across a specific color range. Blue, white, yellow, and pink are just some that'll attract attention. Now, you have to know that with that kind of impressive choices in design, other pendants might suffer in the durability department.
Fortunately, this manufacturer thought about the benefits of using a strong base for the crystals. The metallic silhouette is made of brass, but then to drastically reduce brass's single weaknesses (strength is never one) of causing coloring, they plated it with Sterling Silver. That gives it a thick shell to cover everything up and at the same time, mix in more appeal as the silver accents along the edge of the depiction creates a nice contrast of colors with the rainbow design. One other of all this is that the crystals forming the rainbow-esque design won't be falling out anytime soon.
In the case of using the pendant necklace as a gift, you don't have to worry about one or more of the crystals popping out mid-use. That'll cause an embarrassment that'll most likely kill the moment created when you gave the gift in the first place. Just try to think what your little girl will think if that happens. In their innocent eyes that you love so much, they can only point their fingers at you. So let's try to avoid that. On the other hand, you can give your self-acclaimed 'grown-up' daughter or you could just pass it off to a friend you have whose birthday is coming up. You could also give your little cousin/granddaughter/niece next time you visit her. It's a good plan in as much as she's a Disney fan and she, in the case that's she's an adult now, doesn't wear it to formal occasions. It'll diffuse the somewhat tense environment there—and despite what you're thinking, it's not in a good way.
7. Sterling Silver Laughter Is Timeless Dreams Are Forever Pendant Necklace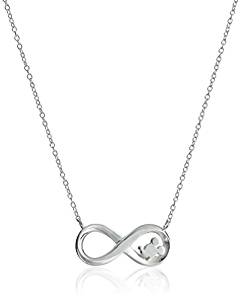 Here, we particularly noticed the keywords "Timeless" and "Laughter". With both of them, we thought of the applications thereon. When you give it to a family member like your daughter or little sister, that's you telling her that you love spending time with her and handling her things. You're essentially telling her you have her back (in terms of happiness). If it's the love of your life, giving her a necklace with that kind of meaning is telling her timeless love. The infinity loop design definitely tells the same story. Just pack in a cake, some candles, and a spot near the house for dinner. Make it extra romantic for her and be loose.
After that, we found the whole thing completely made out of Sterling silver. Down to the infinity loop and the 18″ chain that the pendant hangs from. It is highly durable and should keep up with anyone. Work, play, casual, physical, etc—anything that you can think of, it'll keep up. The only exception is if you actively try to test its limits, and even at that, it's going to be slight dents that can be ignored since it's not colored. With all being said and done, the necklace has a nice set of features that'll make it an instant favorite of Disney fans. Finally, it comes in a good-looking box to make the process of gifting easier. You just need to represent a bit of your humor through words on a card and you're good.
8. Sterling Silver and 10k Gold Mickey Mouse "If you Can Dream It You Can Do It" Pendant Necklace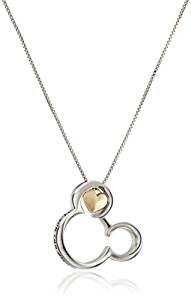 Yes, it's another Mickey Mouse inspired design, but as simplicity works a little too well, we all just have to move on from that fact. And in this case, it's a pendant necklace which shows the head of Mickey. The metal that forms the shape (chain as well) is Sterling silver, and as everyone knows by now, that stuff is durable enough. To an extent that you'll feel comfortable giving someone a gift made out of the stuff. Or at least that's our own thoughts on the matter. This feeling isn't even particularly subtracted from, despite the "If you can dream it you can do it" engraving around the design. In one of the Mickey ears, there's a 10k yellow gold heart that really adds spice to the overall looks. But while it does that, it creates another topic that we definitely have to talk about.
Who do you give the pendant necklace to? Literally, you can give it to any girl or woman you know (make sure to mind the chain length here). There's no requirement for her to even be a fan of the Disney cartoon since the message that little gold heart sends out is immense. It's a little bit of love to your partner, a bit of care and joy at what your daughter represents, or even a gift to your best friend. One simple word that sums up everything is "Adoration". And everybody gets to apply that meaning in one way or the other, and that's without thinking of the occasions you can take advantage of.
You have a birthday coming up, this is a nice gift to try out. If one of your old pals calls you up for a meet after a while, you can arrange this for her in a jiffy since you don't even need to buy any box as it comes in one. After this, you then complement everything with a box of cookies. A very nice idea if she's one who particularly loves the antics of Mickey and Minnie. Your granddaughter would also love an idea like this too. It's cartoonish and beautiful. Also easily applied to any scenario she finds herself in at that age.
9. I Love Mickey Heart and Crystal Bead Charm Bangle Bracelet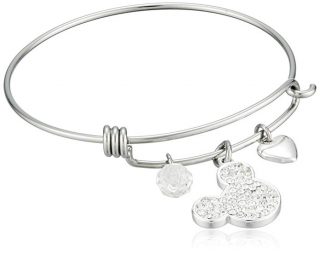 It's a bracelet that looks like it has a mini-hanger where you'll see different objects. A shape of Mickey Mouse's head hangs and it's completely made out of stainless steel. An engraving of "I Love Mickey" is visible on the Mickey-themed silhouette. Besides the shape, there is a heart figure (also made from stainless steel) and a simple crystal that shines a lot. With one on both sides, they complement the message a lot. Now, what this essentially means for you is that only a devote Disney fan should wear something like this. Everything that it stands for screams about loving the times enjoyed by watching Mickey and Minnie prance around.
So, you can give your daughter, granddaughter, little sister, niece, or even your friend's daughter who has quite a lot of love for Disney characters. If anyone applies to you, give her immediately or on her next birthday. Make it a set of 3 together with any necklace and pair of earrings that you find above.
We think you should go for the all-black Mickey head and the infinite loop necklace to tell her she's your favorite little girl. Even if she doesn't understand it, she should feel your intentions. As for where the bracelet can be applied, we would like to say anywhere. She can take it to school, church, or simply just wear it at home. We discovered it has more than enough durability to keep up with all of her rougher plays at school, still look great enough for church, and look simple/casual at home. It's a great mixture that you should take advantage of, for any little girl in your life. The fact that it comes with a little nice box means you're going to skyrocket to the top of her list of favorites.
10. Vintage 3D Rose Necklace Flower Pendant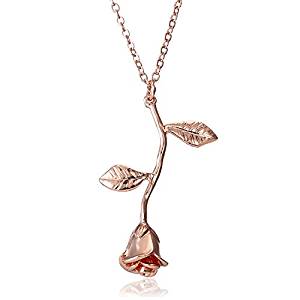 It's a bit of a rarity to see a pendant necklace of this rigidity and length. Though, that's in the case that you're giving the necklace to a little girl. It might be a little too big for your daughter if she's still young. But if she's grown quite a bit, it's simply perfect for anything you have planned. Take her out for a meal and give her the gift there. Or you can give it to her on her birthday. Anything works here. And that includes whether or not you're even related to the person you're giving it to.
Moving on to the design itself, the pendant comes in the form of a rose, that stands for Belle in Beauty and the Beast. The color throughout both pendant and chain is rose gold. But underneath that gold plating, you'll find brass there. So while the pendant necklace is nice looking and all that, the durability is nothing to scoff at either. Additionally, the rose itself isn't limited to children only. Any friend of yours can have one the next time her birthday comes up. Just keep this gift idea in mind. In the case of your partner, you're essentially confessing your deep love for her in the form of the meaning of the film.
Everyone literally knows how much Beast loves Belle. The thing is, despite his oddity from his curse, she still decided to see past all of the dirt to see the gem inside. That is really romantic, no matter the direction you take—since she'll know you're telling her a simple but perfect "Thank You".
Common Questions about Disney Jewelry Pieces
How much leeway do I have in wearing pieces of Disney-themed jewelry to formal settings?
You don't really have that much leeway, though everything really depends on the Disney jewelry you choose. If it's the black pair of earrings, that one will thrive well in any setting. Including when you're working or just on a simple date with your partner.
On the other hand, wearing studs that are colorful (black, red, and white) won't be possible in formal scenarios. It's a risky move that we advise nobody to take. The only thing you need to do is just check how simple looking the piece of Disney jewelry you're choosing is.
How would you look if you wear any of the Disney-influenced accessories above?
By picking up the earrings, you'll look simple, but that kind of simple doesn't translate to formal settings too much. If it's a dinner party that's arranged at work, make sure the requirements aren't too high before you try giving the necklaces out. If it's the earrings, you'll look a bit cartoonish.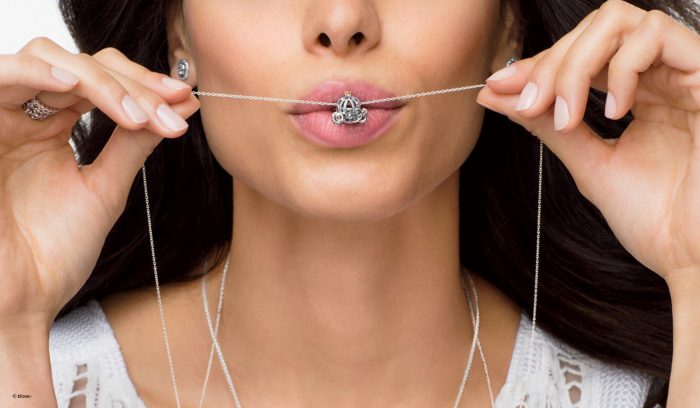 Though the fact that it comes in the form of a pair of earrings really reduces the effects significantly. If you combine earrings, that's just a mix of unique that most people won't have any problem with. Finally, if it's the bracelet, that's practically applicable to any simple scenario you have. Wearing a bracelet that contains a heart piece in a formal setting doesn't quite match up.