Are Thumb Rings a Thing of The Past? 10 Thumb Rings We Think Are Not!
last updated:
Feb 22, 2021
Thumb rings are a precious addition to your jewelry collection that you never knew you needed. They have a delicate and decorative nature that accentuates your fingers beautifully.
You'll also find they have a modern appeal that adds an edgy aesthetic to your everyday outfits.
Let's review some of the most unique thumb rings you can use to your advantage to showcase your personal style.
Our Top 10 Picks!
1

. Swarovski Symbolic Collection Moon Ring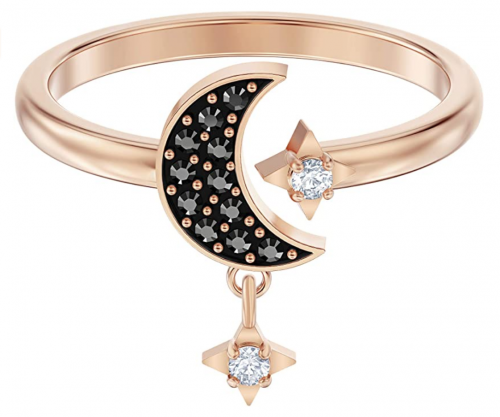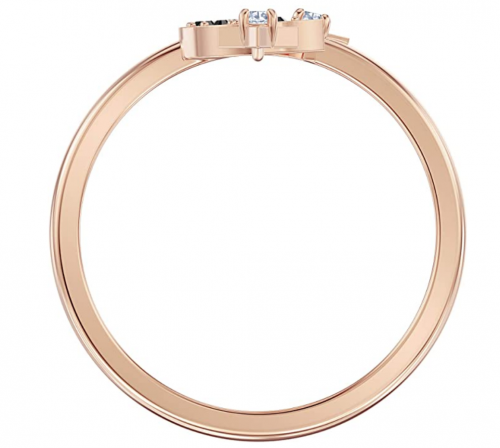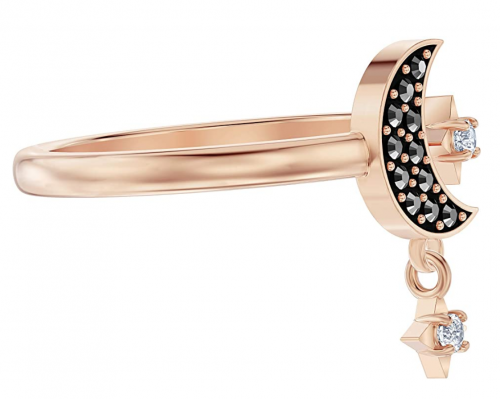 Prismatic Swarovski crystals
Black pave crystals
Rose-gold tone band
Customizable sizing
Swarovski is one of the world's top tier jewelry designers and manufacturers. The Symbolic Collection is filled with radiant accessories, including this dainty moon ring. It's the ideal pairing for your thumb, as it's edgy, elegant, and features stunning sparkling crystals.
Read more
The Swarovski Symbolic Collection ring has delicately reflective Swarovski crystals.
Its simple aesthetic boasts a rose-gold tone open ring combined with a black pave moon motif. Along with the moon, there's an eye-catching star pendant that gently trails down the length of your thumb.
The vivid nature of the piece is what sets it apart from the crowd, especially if you want to draw eyes to your fingers. It has a prismatic luxury that embellishes the beautifully set natural crystals designed to maintain their sparkle over time.
What makes this ring the perfect gift for yourself or a loved one is its superior quality. Each aspect of the piece is designed to maintain its cutting-edge style throughout the years.
With proper care, the ring is bound to look brand new, even if you wear it daily. As with most Swarovski pieces, you'll want to ensure it's kept away from lotions, perfumes, and sanitizers.
What we love the most about this sassy accessory is that it's easily worn on any finger. It's available in a number of customizable sizes, so you can wear it on your thumb, index finger, or even your pinky.
You can also opt to pair it with other statement pieces, such as stacking rings. As an added touch, the ring ships in a quality Swarovski ring box, making it ready to gift upon arrival.
2

. PAVOI 14K Open Twist Ring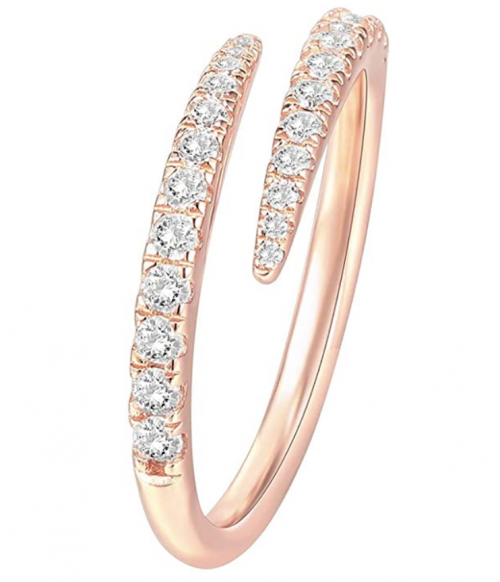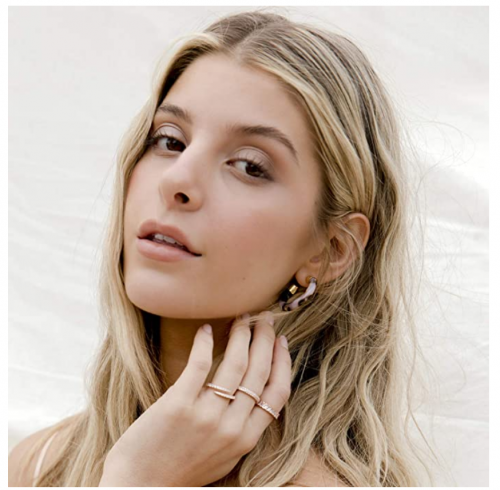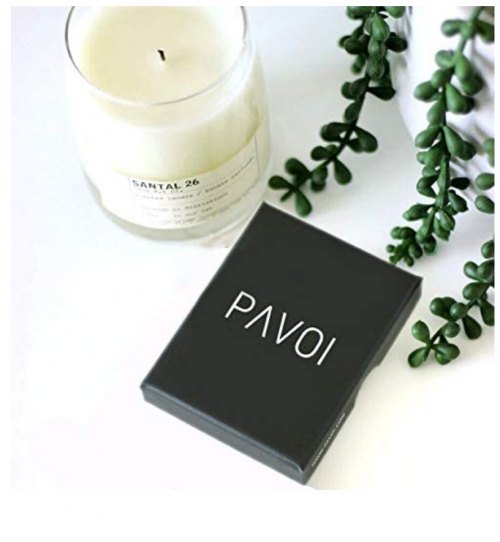 14K gold-plated
925 sterling silver core
Cubic zirconia gemstones
Hypoallergenic materials
The PAVOI 14K open twist ring has a versatile design that makes it an exceptional thumb ring. You can also consider using it along with your existing wedding band for a more modern display. As one of the most versatile rings on this list, it's easily one of our top choices for any wearer.
Read more
The elegance of this ring cannot be understated, which is what makes it so easy to style. You can dress it down by wearing it on your thumb along with your other modern accessories. It can also be worn along with your wedding jewelry to add a touch of luxury and sparkle.
The beautiful 14K gold plating adds a stunning shine to the sterling silver band while adding durability. Over time, you'll never have to worry about tarnishing, as the gold plating withstands plenty wear and tear.
The cubic zirconia gemstones are uniquely cut to closely resemble diamonds at a glance. The gemstones sparkle effortlessly in the sun, which makes them a phenomenal eye-catching addition. Also, it has a versatile design that allows you to customize the positioning of the ring for a variety of styles.
One of the largest advantages of the ring's materials is that it's hypoallergenic. If you're sensitive to fake jewelry, the gold plating will sit comfortably against your skin. It also gives you the assurance that the ring is both nickel and lead-free.
The sizing of the ring makes it simple to adjust depending on where you want to wear it. As a thumb ring, it's engineered to feature a delicate and decorative aesthetic to compliment your other fingers.
You'll be able to quickly tell that it's made from premium-grade materials, as it doesn't scratch easily.
3

. Jeulia Rhombus Open Ring
Sterling silver
1 year warranty
Open ring
Fits any finger
Double the spark and the style with Jeulia's gorgeous open ring. Made out of 925 sterling silver, the ring features 2 tiny rhombs at each end of the band where the ring opens.
Read more
The rhombs are encrusted with beautiful, diamond-like crystal stones that sparkle gorgeously.
The rhombs are set into a filigree halo, meaning a beautiful intricate silver filigree highlights the shapes of the rhombs.
This is an adjustable and stackable ring. You can wear it on any finger no matter your ring size.
It comes with a 1-year warranty and 30 day free returns!
4

. HONEYCAT Super Skinny Ring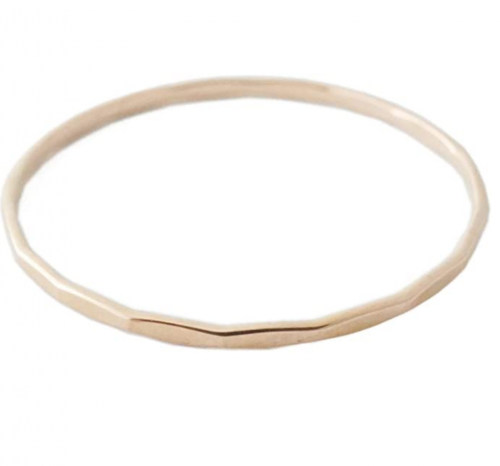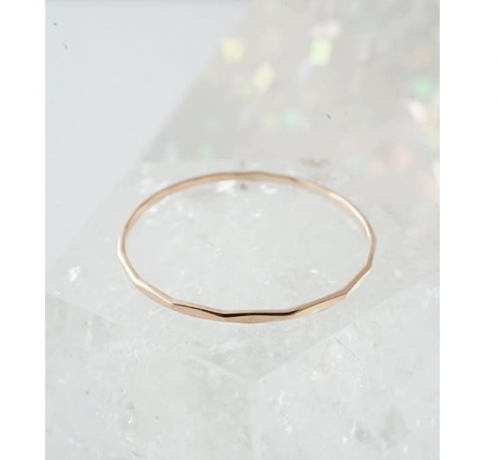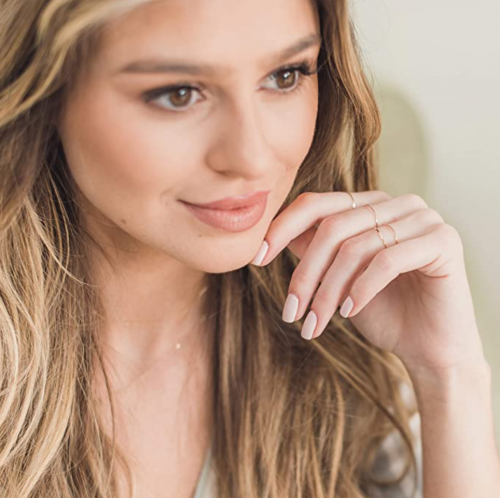 14K gold filled wire
Multiple size options
Anti-tarnishing materials
1.2 millimeter thickness
Stacking rings are one of our favorite styles for thumb rings as they're simple and straightforward. The little dainty ring has the perfect width for an unobtrusive fashion statement. You'll find it's one of the best options to pair with other rings, such as a statement piece on your thumb.
Read more
The precise engineering of the ring offers a polished appeal that looks phenomenal displayed on its own. It can also be paired with other designer pieces, whether you like dangling pendant rings or edgy modern pieces.
The most impressive feature is its thinness. If you're a fan of minimalistic pieces, this is the perfect option for you, as the ring is only one millimeter thick. Also, it has a hammered textured finish, which adds to its radiant and slender design.
You'll be glad to know there isn't any plating on the ring, which ensures its durability over time. Instead of plating, it boasts 14K gold-filled wire, which also helps to prevent tarnishing. You'll easily be able to wear your new ring in water, with lotions, and even hand sanitizer.
The extensive list of ring sizes is what makes this the perfect option for your thumb or any other finger. You'll find sizes ranging from two to ten, which makes it easy for both men and women to wear. It also has the unique benefit of being manufactured in the United States, so you can guarantee its quality.
Wearers that want a more unique size can easily contact the manufacturer to receive half sizes. You might find a custom size that makes the ring more flattering and easier to pair with your other accessories.
5

. Silbertale Adjustable Thumb Ring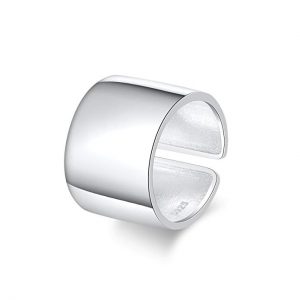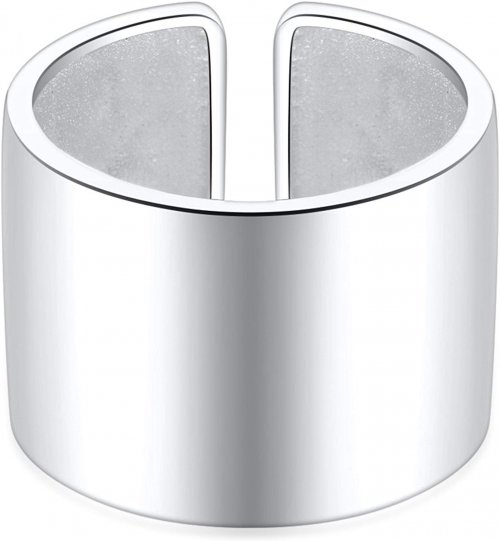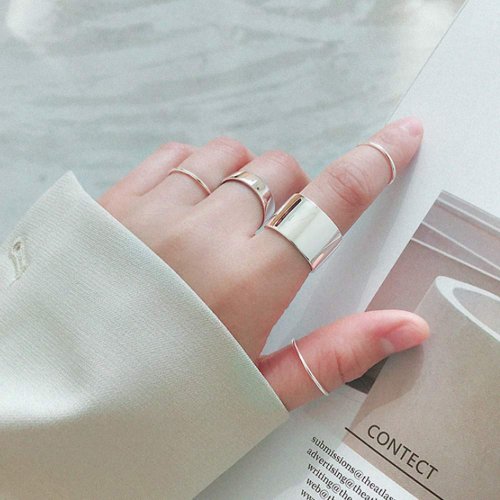 Sterling silver
Adjustable size
Comfortable fit
Affordable
The design of this ring is all about a single wideband which is adjustable since the back of the ring is open.
Read more
There's no color scheme in play, nor is there any precious stone on it. Instead, the design is completely minimalistic, and what gives it a unique feel is the width as well as high polish.
The band is carved out 925 sterling silver, and it comes with the 925 stamp of authenticity.
Being adjustable, you can wear it on any ring you wish. Now that's what we call a multipurpose jewelry piece.
The price is super affordable, and the ring comes in an elegant dark blue gift box.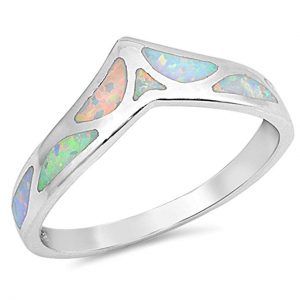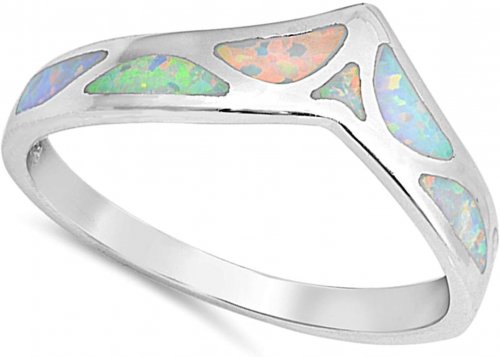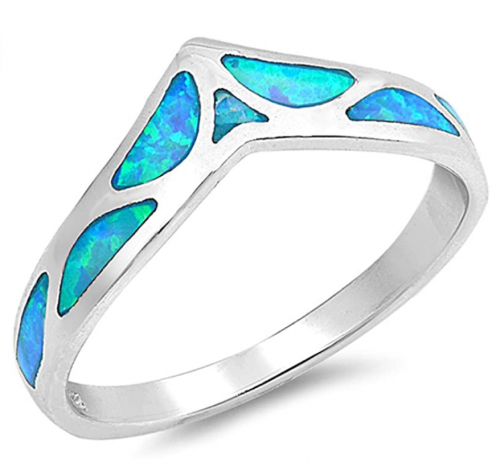 Sterling silver
Simulated opal
2 color options
Variety of sizes
This is another option crafted from .925 sterling silver, but where things are different is that this ring uses opal instead of CZ. The result is gorgeous as the iridescent colors of the opal stones change depending on the angle from which the light hits the ring.
Read more
It's perfect for most women because we all love eye-candies, and this takes the crown!
The ring is made from sterling silver is shiny and smooth while the opals are lab-created. However, don't let this fact disappoint you. The opal gemstones in the ring look just the real deal while you'll be paying only a fraction of the price.
You can get it in sizes 4-12, so you will definitely find the perfect size for your thumb, or any other finger. You can also choose among 2 options, white opals and blue opals.
The ring is designed and crafted in the US, and you'll get a refund policy in case you feel it doesn't fit.
7

. Sac Silver Chevron Set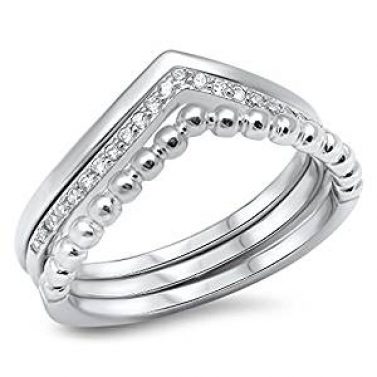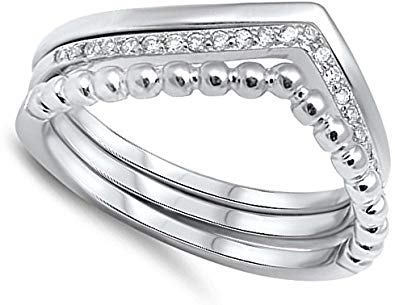 3 ring set
925 sterling silver
Cubic zirconia
Affordable
The Chevron set piece is all about style and stacking. Two more rings are added to the base model, which is a simple, tiara-shaped silver thumb ring.
Read more
One is encrusted with cubic zirconia; the other one is shaped into the form of a beaded ring.
Point said, all 3 rings are made of sterling silver, which delivers both comfort and quality as well as the assurance your rings won't chip or tarnish in time.
This is the perfect pick when looking for choices, 1 thumb ring, 2 or 3 to stack up together?
Isn't it just great to have choices all for a super affordable price!
8

. Thin Wave Eternity Stackable Ring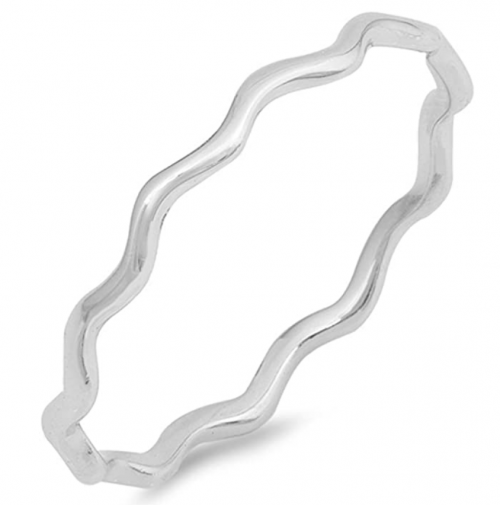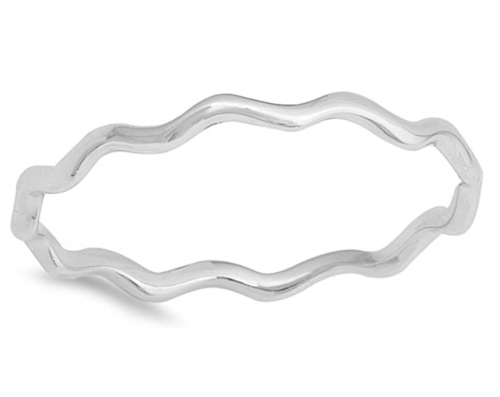 Unique wave design
925 silver
Snag-free edges
Feminine and modern
The Thin Wave eternity ring is another minimalistic option with a feminine flair. With the introduction of a fashionable wave design, this piece is iconic for everyday wear. You'll be able to adorn it on your thumb as a solo piece or pair it with another favorite ring.
Read more
The streamlined engineering of this ring adds to its simplistic nature, offering structural elegance. It has a flirty waved design that looks absolutely flawless and delicate, complementing your personal style. Also, the comfortable metal feels sophisticated and solid on your thumb.
As there aren't any dangling pendants or large stones, you can guarantee it's snag-free. This feature is one of the primary reasons as to why we love it as an everyday easy-to-wear piece. It also has an exquisite style that's slightly more exotic than many other minimalistic pieces.
The ring is crafted from pure 925 silver, which is hypoallergenic while also being lead and nickel free. 92.5% of the ring is made from silver, while the remaining percentage is a mix of skin-safe alloys. You'll find it's one of the sleekest and durable options that won't warp or bend over time.
Overall, it's one of the most simple yet expensive-looking jewelry pieces we would recommend for your thumb.
9

. Jude Jewelers Retro Leaf Ring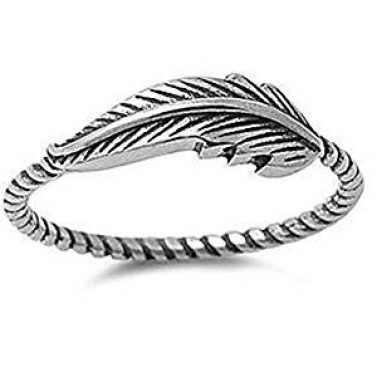 Stainless steel
Hypoallergenic
Comfortable fit
This option stands out from all the others because of its vintage and almost retro appeal. It's made from stainless steel, which is braided to create a comfortable-to-wear band and a leaf.
Read more
It weighs just 0.64 ounces and combined with the build quality, you have a piece of jewelry that's fit for daily use. Still not in perspective?
Think about this then; the ring doesn't have any plating, nor is the maker's choice in metal non-hypoallergenic. So it won't fade, and it won't cause any reaction like skin discoloration.
This is another super affordable thumb ring that would be perfectly combined with other boho rings with the same vintage feel.
10

. Smartsilver Thumb Ring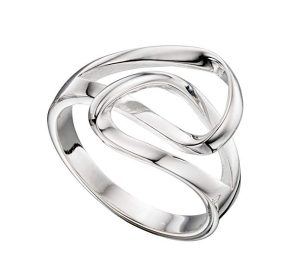 Sterling silver
Adjustable size
Interesting design
This thumb ring has a clever design that fits all sizes (fingers as well) from 7 up to 11.5. It comes in the form of twisted loops that gently hug your thumb.
Read more
This is more of a statement piece of jewelry and a solo ring. Made from 925 sterling silver, the band is smooth and shiny; it will not rust or corrode in time.
The design of the ring assures a super comfy fit as long as you nail your size!
The price is mid-range, meaning you may have to shell a bit more in comparison to some other options on this list.
However, for such a gorgeous statement piece, it would be a crime to cry over money.
Frequently Asked Questions
q:

What does a thumb ring mean?

a:

Did you know that there are traditional meanings applied to the fingers you wear your rings on?

The thumb is one of the most influential, as it signifies power and influence. When you see someone with a thumb ring, you instantly feel like they're in control and have the most power in the room.

Thumb rings also have a secondary meaning, friendliness. Typically, if these rings are gifted it means the recipient is a close friend and their relationship is highly valued. It's also important to note the unisex value of thumb rings adds to their popularity.
q:

How to measure thumb ring size?

a:

When you're not looking for an adjustable ring, you'll need to figure out the appropriate size of your thumb.

Fortunately, the process takes a few minutes and requires a couple of household items. You'll need a ruler with millimeters and a piece of dental floss to get an accurate measurement for your ring size.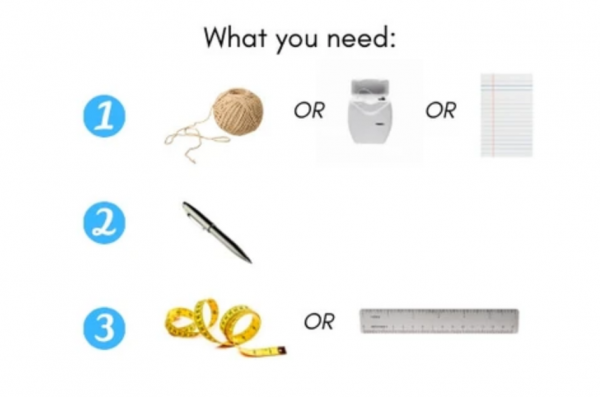 Pinterest
First, you'll want to cut a four to five-inch long piece of dental floss and wrap it around your thumb. Make sure the floss is placed at the section of your thumb where it's the widest, as this is where your ring will sit. Once the floss is wrapped, hold where the two ends meet with your other hand and remove the floss.
Using your ruler, measure the dental floss from the end to where your fingers are holding it in place. This length is the width of your thumb that you'll then use to find your size. You'll need the length in millimeters and then use a thumb ring sizing guide to find your true size.
q:

Can you wear any type of ring on your thumb as long as the size is right?

a:

Absolutely! Jewelry is always about personal style and you'll want to showcase your individuality as often as possible. You can wear any ring on your thumb, whether it be a promise ring, an adjustable ring, or a piece of costume jewelry.
Finally...
The above list includes some of the cutest and most affordable thumb rings made of super quality metals and with a comfortable fit.
All of our picks feature jewelry from brands known to sell durable pieces that will stand the test of time.
We also paid attention to choose options that are versatile, meaning that a lot of the thumb rings on our list can be worn on other fingers as well.
Whether you love boho jewelry, stacking rings, or you're simply looking for a more unique type of ring as a thumb ring is, we got you covered. Time to shop, ladies!