Collar Necklace - A New Twist on Chokers
Coming back from the original 90210 days, we see trendsetters wearing the infamous collar necklace left and right. Big name celebrities to streetwear worshippers, the choker is back in the game and we are in love with it! Chic flirty styles to edgy wear, all trends have a purpose for collar necklaces to be added to them.
Pearl Collar Necklace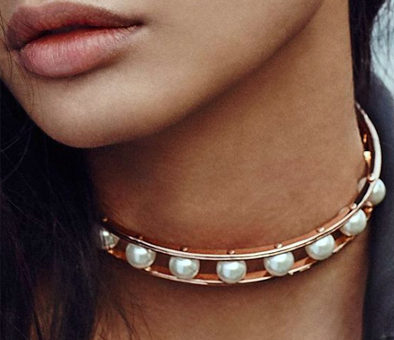 A pearl necklace just stepped up its game in the form of a collar. The design of a pearl collar necklace makes it versatile for a variety of different clothing trends. If you find a gold-framed pearl collar piece like the one pictured, you have basically struck gold! Personally, gold and pearls are my favorite pairing!
Throw on a pearl choker with a two-piece boho festival outfit or with a fitted little black dress, both will look just as good as the other. Although a simple pearl design can look very singular, it will be a stunner to any outfit you combine it with.
Velvet Collar Necklace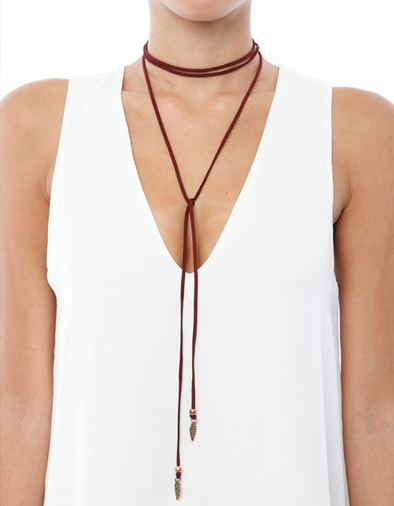 An easy go to for chokers is with the velvet collar necklace. If you walk into any Urban Outfitters or Free People, a velvet wrap necklace will be seen on about every mannequin. I'm sure you also saw this necklace all over Instagram during Coachella.
Easily accessible and effortlessly stylish, like most chokers, you can combine this design with any outfit. Leaning more towards chic western wear or a boho ensemble, this necklace looks trendy with even just a plain white tee. The best part about this style is that it is lightweight and can go with you just about anywhere.
Some have beaded designs such as leaves or feathers on the ends of them to add a tad more flair.
Leather Collar Necklace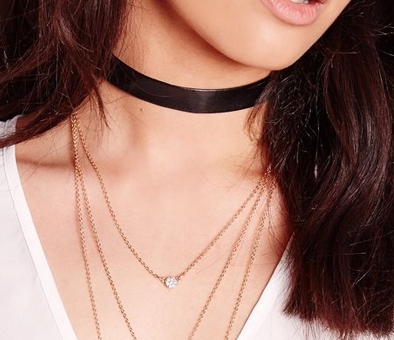 This next one goes way back to the Buffy the Vampire Days with Sarah Michelle Gellar… we are talking about the leather collar necklace or in this case… choker!
It is beyond simple but looks chic as can be. Not to mention you can simply make one on your own. The leather choker goes great with of course a leather jacket or with a cute floral print maxi dress, there are no limits. You can add multiple necklaces to achieve a fashionable layered look, the more the merrier. For further tips, read Stack Them High: How to Layer Jewelry to Perfection. Just about every well-known blogger and it girl has been photographed with layers of necklaces on and one being a choker.
A leather collar necklace has come a very long way since the '90s!
Mesh Collar Necklace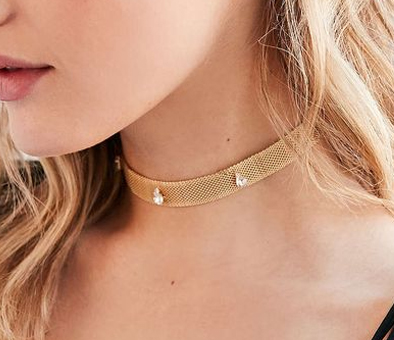 With this next trend making a comeback in all categories of fashion and accessories, a collar necklace looks flawless in mesh!
Once again, most popular fashion stores such as Nasty Gal or Urban Outfitters have been ruling the fashion game when it comes to chokers. Mesh chokers in any color make for something delicate and different. Gold mesh with jeweled accents creates a stunning piece that will make your neck candy glisten. If you flip through any magazine full of celebrities today, you will see at least a few rocking this specific look.
Basically, you will look like a rock star if you are wearing a mesh choker.
Detailed Collar Necklace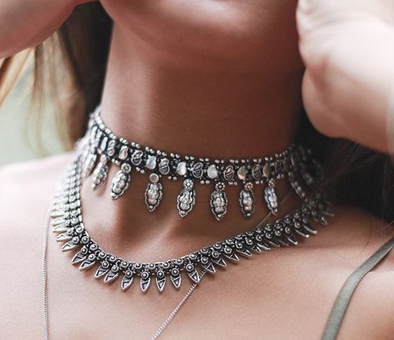 When it comes to collared designs, a lovable favorite is one with details.
Delicate designs to teardrop charms put the ultimate choker look to the test. Especially perfect with any summer outfit, detailed motifs can be worn with on or off duty attire. This particular style also is a reminder of the 90's style type jewelry everyone used to rock back in the day but now it is a lot more stylish… These necklaces didn't come out of a quarter machine in a plastic bubble container.
If there's one thing I know is that the 90's fashion hits will always be back for a second round. There are so many necklace styles out there but chokers have to be the trend that is making its way back in full force. Collared necklaces have proven that history does repeat itself more often than we think.