Mix / Other Accessories
Best Earring Holder Stands To Keep all of Your Earrings Stored Securely
Do you find you have too many earrings and not anywhere to put them? Well, we've decided to select the best earring holder stands available at the moment that will help you store your earrings securely and safely.
From jewelry boxes to tabletop stands and wall hangings, there's plenty to choose from when it comes to earring holders. They come in a variety of materials including metal, wood, paper, and plastic.
You may prefer to wear dangly earrings or simple studs so it's best to do your research and choose the best earring holder for your earrings. The great thing about earring holders is that there is a vast variety available so you're bound to find one that suits you, your lifestyle, bedroom and most importantly, your earrings!
Our 10 Favorite Earring Holder Stands!
1. MICOM Earrings Display Holder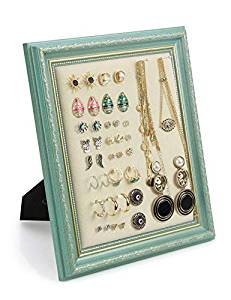 What better way to show off your gorgeous collection of earrings than in a vintage frame! This simplistic but classy turquoise frame is something special and unique. We love the thought and design process that has gone into this earring holder.
Using a vintage style frame like this one will really make a feature of your stunning collection of earrings. The vintage style frame used to hold earrings is a very unique concept that we think works really well!
As mentioned, this earring display holder has been made from a vintage style frame which is approximately 9.84 inches by 11.8 inches, making it a rectangular shape. This beautiful piece would look gorgeous displayed on your dressing table or bedside draws.
The frame itself has been made from plywood that has been colored in turquoise. This choice of color gives the frame a lovely vintage vibe to it. A gold pattern has also been added to the frame to give the frame an added aged effect. The combination of the turquoise and gold detail also gives this piece a retro feel which we really like.
The center of the frame has been created by using linen fabric with a thick pad. This plain linen background not only helps you to organize your earrings conveniently but it balances the look and feels of the frame, making the turquoise color stand out. The linen fabric also prevents the earrings from getting scratched.
Some useful things to point about this lovely earring holder are that the piece comes with 40 pearl pins. These stylish pins cleverly allow you to fix your earrings to the frame along with other pieces of jewelry like necklaces and bracelets – very useful!
Another great thing about this fame is that is can be displayed in a variety of ways. It can be placed on your table horizontally, vertically or even flat if you'd like to save space. This, therefore, provides you with plenty of options when it comes to displaying your earrings. The frame offers you quick and easy access to your earrings!
As mentioned before this earring stand is perfect if you want to use it at home in your bedroom but if you've got your own business this vintage style earring holder would make a great stand for a shop or jewelers as it showcases the items perfectly!
We love the turquoise color of this frame, however, if you don't like the color the designer sells this earring holder in a beige colored frame or a burlywood style frame. This lovely piece is being sold for a low price so buy your earring holder now before its too late!
2. Shabby Chic Ivory Rose Earring Rack
This is another earring holder that would make a great addition to your dressing table. The shabby chic style stand definitely suits a girly room!
We love the attention to detail that has gone into this stand. It consists of a rectangular metal frame that is held up by a jewelry dish. The structure of the stand includes individual shelves which allow you to hang your earrings from.
The dish located at the bottom of the stand gives you a great place to store larger pieces of jewelry. The size of this earring holder is approximately 6.8 inches wide by 12.5inches tall.
The length of the tray located at the bottom of the stand is approximately 3.7 inches in length. The great thing about this stand is that it doesn't take up too much room but is big enough to hold your earrings and other accessories safely and securely.
There are a lot of features that we love about this earring holder stand. Firstly, it's made of a polyresin and metal which means it won't tarnish. The metal is very strong and good quality so it's very unlikely to tip over unless the holder is unbalanced.
The organizer will hold a lot of dangly earrings so this is great if you own quite a few. The structure of the earring holder allows the metal wire from the earrings to be securely pushed through so they can dangle freely. The stand also has a tray at the bottom which allows larger accessories to be stored if required.
The design of the earring stand gets a big 'thumbs up' from us! Colored in a white ivory shade the stand has been beautifully crafted to give off a shabby chic elegant feel. It has been decorated with handcrafted roses along the top and bottom of the weighted base which makes the piece look absolutely stunning!
The earring holder is also large enough so it allows 33 holes for earrings to be spread along with the stand, over three tiers. We guarantee you'll love this earring holder so much you'll want to buy a second one straight away. It's also being sold for a low price which makes this holder a great bargain.
3. Brotrade Hanging Jewelry Organizer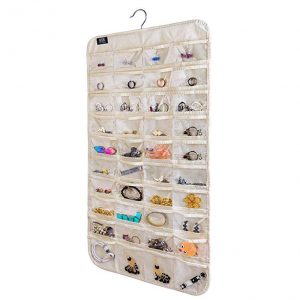 If you love your earrings so much that you don't know where to put them because you have so many, then this earring organizer may be the answer to your problem! You may feel this jewelry organizer looks unattractive and cheap but if you take away the aesthetic qualities, you'll be amazed at the benefits it offers!
This earring holder has been made from a transparent PVC material. It is approximately 16.5 inches wide by 31 inches high. What's great about this holder is that it is attached to the hanger that can be easily hung onto a closet pole, wall or door.
This means it can be easily hidden away if you don't want this organizer on show. Another quality that we want to shout about is that this earring holder has been made from a PVC plastic that has transparent windows, allowing you to easily view your selection of earrings while they're still in the holder.
The organizer is also very durable and you can guarantee that your accessories will be protected. This organizer offers you 80 pockets, 40 on each side, where you can place your jewelry in.
The pockets are a decent size, allowing you to place larger items in the pockets if you'd like to store your necklaces, bracelets or hair pieces. You could even have one side for earrings and the other side for necklaces, keeping your jewelry very organized. This is an extremely useful organizer which is being sold for a low price by brotrade, take a look now!
4. Glenor Co Classic 50 Slot Box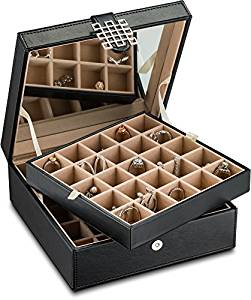 If you'd prefer a traditional style earring holder then we've selected this jewelry box organizer. Designed as a black leather box, this organizer holds two separate trays which have small individual compartments that will store and keep your earrings safe.
This box has been created using black leather material. The size of the organizer is approximately 8 ½ inches by 8 ½ inches by 3 ½ inches. It includes a bottom compartment which is 1 ½ inch by 1 ½ inch by another 1 ½ inches.
It also includes a tray compartment which is the same size. What's great about this item is that it includes lots of compartments that you can store your jewelry in.
In fact it features around 50 compartments in total. Each tray can hold enough earrings as well as necklaces and rings so you don't have any jewelry lying around which may get damaged.
This jewelry box has a magnetic snap which allows the box to be open and closed easily. The traditional style earring holder has been made with a lot of attention to detail. The box has a beautiful buckle that is very elegant. Inside it features a large mirror.
There is a lot of attention to detail that has gone into this box. The PU leather used gives this container a smooth exterior that has a belt with lovely stitching detail. Even though it has been designed with a traditional style in mind, the designer has tried to give it small modern touches. This has been done in a few ways by adding a modern metal on the closure belt.
The box interior has been covered in a soft velvety fabric which gives it a fresh modern feel. This velvet fabric also protects the jewelry content against scratches.
Although the holder is being sold for a medium to high price it is well worth the money due to the quality and attention to detail that has gone into creating this piece. A lovely addition when buying it is that comes with a gift box and black card.
If you are giving this as a gift this means you don't have to worry about buying any special box or gift wrapping because the item comes with this, completely free! This would make the perfect gift for your mum, girlfriend, fiancée or wife.
Another bonus with this item is that if you're not 100% happy with your purchase the seller will give you your money back. We're sure this won't happen but it's great to know that they've made this promise!
5. Jewelry Organizer, Portable Earring Holder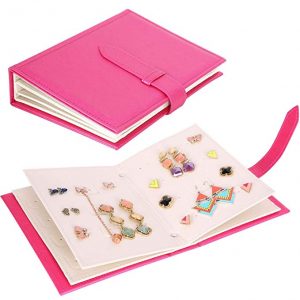 Now if you wanted variety, this product oozes variety. If you haven't already noticed from the image, this earring holder is actually a book which makes this option very interesting
. This could be used on an everyday occasion to hold your precious jewels however we thought this earring holder made out of a book would make a fantastic option when you're traveling anywhere, what do you think?
This organizer has been made from a PU leather which is colored in bright pink. Not only does the choice of leather make this jewelry organizer a durable choice it also comes as a very bright pink color which stands out beautifully, we simply love it!
The organizer has been designed as a book and is approximately 7.3 inches by 5.5 inches by 1.75 inches. The book also weighs approximately 9.7 ounces. What's great about this leather jewelry organizer is that holds approximately 42 pairs of earrings which are the perfect number if you're going away somewhere or on a daily basis.
If you're using this for a holiday occasion, what's great about this option is that the box will easily slip in your overnight bag or suitcase and won't take up much room. There are a couple of things to point when it comes to this travel organizer.
Firstly, the book doesn't have a snap close attachment. Instead, it has a flap one which may not hold the leather insert and leather book firmly closed when this item is in your bag.
You, therefore, may be at risk of this item opening in your luggage. This leather book is quite delicate so you need to make sure you don't place too much weight on it because this could damage your precious earrings.
We'd also keep it somewhere safe because it could be easily mistaken for a book and be placed on a shelf. Even though we've pointed out some negative elements of this organizer we do think it works great as a portable jewelry holder.
As long as this is packed correctly before you go on holiday you can rest assured your earrings will stay safe on the journey away. We also love the bright pink colored leather, this is a great design quality! Let us know what you think.
6. Ivosmart 24 Section Velvet Glass Display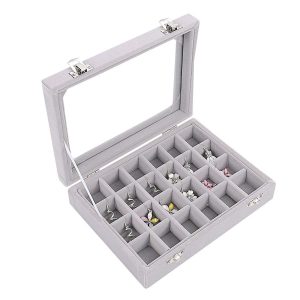 This time we have chosen an earring display box because we liked it so much! If you want something to store your earrings properly but not take up much room this is the perfect option.
This box makes a very elegant piece. Even though it's smaller then some of our other jewelry boxes this earring holder is very strong. The size of it is approximately 22cm by 15.5cm by 5cm.
The structure of the box consists of the main compartment that has smaller compartments within it that are approximately 3cm by 3cm – the perfect size for your earrings. The great thing about this jewelry box is that it is lightweight in size so it can be easily carried and would make a very nice gift for someone.
The earring holder has a clear glass lid that allows your earrings to be clearly displayed in the box. You won't have to open the lid to remind you what collection of earrings you have to choose from.
This glass lid also keeps the earrings dust free which is brilliant news. The box is complete with 2 integrated locks giving your jewelry box that added security if required.
When it comes to the design of this box it is a very elegant piece. The box has been beautifully covered in a velvet material which gives it a stylish and sleek finish and will make your jewelry look more gorgeous than it actually is. We've chosen this jewelry box in a lovely grey color however the supplier also offers this jewelry box in black, beige, red and purple color.
This is a top quality item that would make a lovely present to yourself or a birthday gift for a friend. Take a look for yourself!
7. Mini 2-Tier Fountain Style Hanger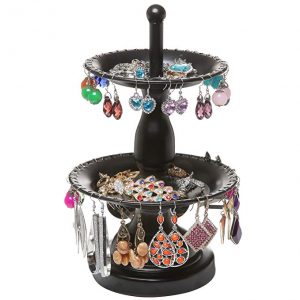 If you're open to having a less conventional earring holder then take a look at this unusual fountain style earring hanger.
This earring holder consists of a two-tier fountain style earring hanger that has been made out of black metal. This sleek black metal will bring a unique modern design to your room. If you like gardening then this unique design also represents a garden charm, bringing the outside into your living room.
The fountain that is featured at the top and bottom of the pillar also gives you a great place to store your rings or larger jewelry. The edge of a fountain allows you to securely attach your dangly earrings so they hang comfortably.
This fountain style earring hanger is wonderful because it can hold lots of jewelry and saves plenty of space on your dresser. To give you a better idea of the size this item is approximately 6.7inches in length, 6.3 inches in depth and 6.3 inches high.
What's great about this item is that the fountain features hooks for 40 pairs of earrings. However, it is important to point out that this item is more suited if you have lots of dangly earrings to store rather than stud earrings.
But apart from this the fountain earring is likely to transform your collection and will make your room extremely organized and a little more beautiful than it already was!
8. Rustic Wooden Wall Mount Organizer
Next, we decided to choose this fantastic wooden wall mount. This rustic wooden mount really is a statement piece. The designer has opted for a piece that has plenty of character and depth and this accessory will give your bedroom that wow factor you've been looking for!
This gorgeous wall mount has been cleverly crafted using a high-quality rustic wood to make this lovely feature. It will without a doubt showcase your jewelry beautifully.
The ingenious design not only organizes your beautiful earrings but will also organize your bracelets, necklaces, and rings so you are tangle free and very organized! The designer has also thought a lot about the size of this piece.
Designed to fit perfectly on the wall in your bedroom, this jewelry mount is approximately 17.5 inches by 10 inches. It has been made with 3 shelves and has 16 storage hooks.
The wall mount features a wire metal netting, allowing you to hang as many dangly earrings as you can fit. The space available on this cleverly designed wall mount is endless!
If the rustic wall mount is a little dark for your home then this designer is also selling this beautiful piece in a variety of colors and styles including espresso, rods, shabby chic green and white. Take a look at their selection because you'll definitely want to take one of them home.
9. Angelynn's Stud Earring Holder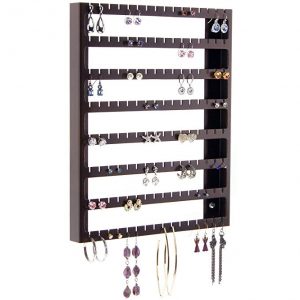 We've decided to choose a more sleek and simplistic wall hanging this time.
This smart wall hanging has been created using a carbon steel metal which is very strong and durable. It has a baked on powder coat finish to give the wall hanging a black colored finish.
What's great about this piece is that it has been handmade in the USA by skilled tradesman. This design will make a fantastic option for your jewelry because you will clearly be able to see your accessories and they will be stored out of harm's way. Your dangly earrings, necklaces, and bracelets will also be tangle free which is brilliant.
This smartly designed holder is approximately 11 inches tall by a slim 9 inches wide which make it the perfect wall mount if you have narrow slim wall space available.
Also, if you want to make the most of the little space you may have. When fixing it to the wall this jewelry mount is offset from the wall by approximately 1 inch. This jewelry organizer is a fantastic way to store your jewelry because it will display up to 64 pairs of earrings.
This jewelry mount has been designed to hold small to medium size stud earrings, hooped and dangly earrings of up to 1 inch long. However, the bottom row of this jewelry mount is limitless when it comes to the length of your jewelry.
When it comes to fixing this item to the wall, you don't just have the option of attaching this to the wall. If you preferred it could be fixed to the inside of your closet, dressing room, bedroom door or on a mirror using adhesive strips.
You'll be happy to hear that it is very easy to install onto your preferred surface. This jewelry wall mount is slightly more expensive then the other items which we have reviewed however we feel that this item is very strong and sturdy so for those extra dollars you're getting more for your money!
10. Earring Display with 58 Hooks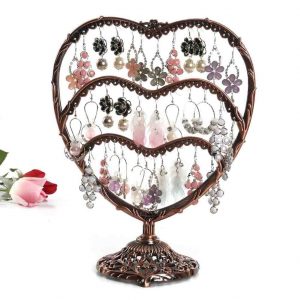 To finish off our line-up of the best earring holders we thought we'd opt for a more decorative and romantic style earring holder like this one!
As you can see this pretty earring holder is a free-standing jewelry holder that has been made into a heart shape. Made from a sturdy metal that has a classic copper finish to it, this stand has been created with a lot of love and care.
The stand also has heaps of character which we like. This heart-shaped stand has been designed with a heavy solid base that will keep the stand from falling over. The heart structure includes two tiers within the heart, giving you plenty of space to hang your gorgeous earrings.
The structure of the heart contains metal hoops allowing you to hang your earrings on. This is definitely a decorative and chic jewelry stand that you don't want to miss out on!
The great thing about this metal stand is that it's not too big so it will fit perfectly on your dressing table or bedside draws but it also looks very stylish so will stay in keeping with your girly bedroom.
We think this is a lovely gift to surprise your girlfriend or wife with on Valentine's Day or her birthday. The price also isn't too expensive so you'll be getting a bargain with this item!