Inspiration / Jewelry
Emerald Meaning, Healing Properties & Prices
One of the four precious gemstones, emeralds are especially gorgeous gemstones that are beloved by many. The brilliant green color makes them so unique from other gemstones, and perfect for anyone who wants to invest in statement pieces of jewelry. 
In addition to their gorgeous color, emeralds also have a variety of different meanings, and even healing properties!
How much do you currently know about emeralds? We will be putting your knowledge to the test as we share everything there is to know about the gemstone – including their history, appearance, and how much they cost, the ever-important question for anyone looking to purchase some new jewelry. 
Once you've learned all there is to know about emeralds; we will also be sharing some awesome jewelry pieces that you can shop right now! 
What is an Emerald 
Like we mentioned above, emeralds are one of the four precious gemstones (along with diamonds, rubies, and sapphires). They are actually the green variety of the mineral Beryl (blue varieties of Beryl are known as aquamarine), with a hardness of 7.5-8 on the Mohs hardness scale.
While emeralds are fairly hard gemstones, they are more susceptible to chipping, which is why you do not see as many emerald-based engagement rings. However, emeralds are a gorgeous choice for other types of jewelry that you do not wear daily. 
The striking green color that you associate with emeralds actually comes from small amounts of chromium and vanadium found in the mineral. While there is some color variation within emeralds, true emerald stones will always have an overall green color to them. Some may be a deeper green, while others may be more of a yellow-green or blue-green. Of course, the more true green in color the emerald is, the more valuable it is.

 Emeralds are popular today not just because of their beauty, but also because they are the birthstone for the month of May, as well as the traditional anniversary gift for years 20, 35, and 55. 
While there are other gemstones out there that have a green hue, like tourmaline, jade, and peridot, emeralds have always remained in a class all their own thanks to their bold coloring.
They are easily noticeable thanks to their deep color, and for that reason, they have remained popular and very sought after for jewelry.  
Emerald Meaning
Now that you know about the technical aspects of the emerald, what about the emerald stone meaning?
As for the name itself, it is derived from ancient Greek and Latin words meaning 'green gem.' A very fitting name! 
Emeralds have been popular gemstones for thousands of years; in fact, there are records that seem to show that emeralds were sold as far back as 4,000 BC!
Throughout history, and in cultures from all over the world, emeralds have been mentioned and thought to be very powerful gemstones. The Egyptians loved emeralds and believed they helped with fertility. Cleopatra, in particular, loved emeralds.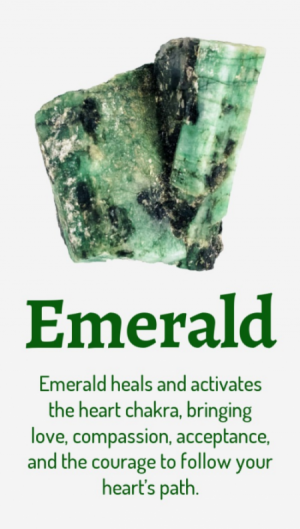 In China, emeralds were thought to bring good luck, and the people would wear emeralds for that reason. Other countries around the world also believed that the stones are associated with good luck. Additionally, they are associated frequently with relaxation, and many believe that they would help to calm the mind and help relax eyes from eye strain. 
Overall, emeralds are associated with goodness and have been thought to bring good things into your life- whether that means money, health, or love.
There is a very positive and powerful association with emeralds, one that has been recorded for many years across cultures spanning the globe.
Emerald Healing Properties
In addition to all of the positive associations and meanings tied to emeralds, they are also associated with various healing properties. Having an emerald in your possession or wearing one on you is thought to bring you all sorts of positive things. Emeralds are thought to help protect your heart – both emotionally, and even physically. 
The gemstones are also known to help balance the mind and body, bringing total peace and harmony to your life. They are also thought to increase your mental capacity, even possibly enhancing certain psychic abilities, as well as simply increasing your focus and strengthening your memory. 
When it comes to love, specifically, emeralds are known to protect loved ones from unfaithfulness. Lovers who were loyal would find their emeralds a brilliant shade of green, but if they were unfaithful, the emerald would dull and even change color. Imagine if you could date someone and know if they were faithful based on the shade of their jewelry! 
Finally, as mentioned earlier, they are known for their eye healing properties – helping to improve vision, and even decreasing inflammation of the eyes.  
Emerald Pricing 
Emeralds are precious gemstones, and in fact, they are often more expensive than diamonds on a per carat basis!
The majority of emeralds that you will find on the market will have a good number of inclusions, and in fact, there are fewer perfectly flawless emeralds in the world than there are diamonds. A truly flawless emerald without any inclusions would be incredibly expensive.
They are so known for their inclusions that they actually have a name! Referred to as 'Jardin', which is the French word for garden, the inclusions look like branches or vines due to their green color.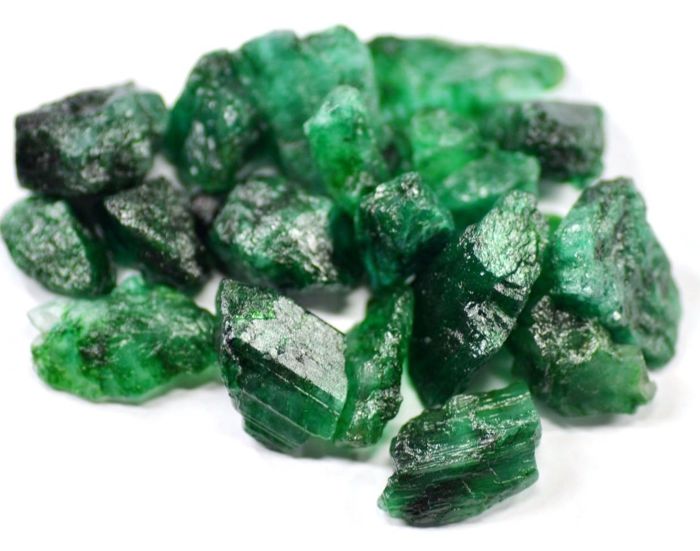 The more inclusions that emerald has, the less valuable it will be. Overall, their value is determined by the 4 c's- cut, color, clarity, and carat – just as diamonds are.
Color is very important when pricing an emerald, as that brilliant green shade is what is desired. Clarity is also very important given the prominence of inclusions in most emeralds. 
Emeralds are pricey gemstones, but given their beauty and meaning, many are willing to pay the price to add them to their jewelry collection. 
Shop Emerald Jewelry 
Looking to buy some emerald jewelry now that you know all about its beauty, history, and healing properties? Here are some awesome pieces that you can shop right now. 
Rigant Oval Shaped Swarovski Necklace
Emeralds are a perfect choice for a necklace, as they make such a statement and are great to wear either with a high necked solid dress or shirt or with a lower cut option. We love the combination of emerald with rose gold – it is a very vintage style that has come back into style again.
The halo of clear crystals helps the emerald to stand out. Keep in mind that these are just crystals (however, they are Swarovski!), so the center stone has an emerald color but is not actually a real one. This is perfect for anyone who wants the look of emerald but doesn't have the budget for it. 
Jeulia Leaf Design Emerald Cut Bracelet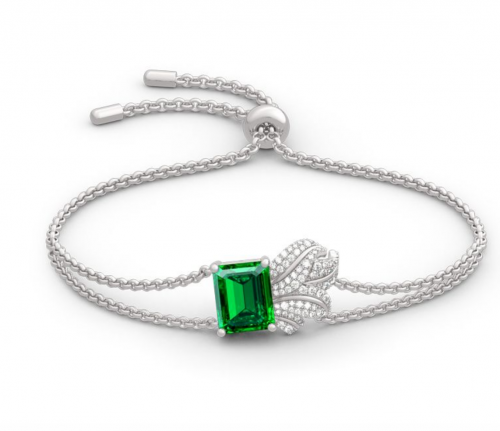 Slide bracelets have become popular again lately, and we love this option that features a gorgeous emerald-cut stone (our favorite shape for emeralds!) along with plenty of clear diamonds that don't distract from the main stone.
The bracelet itself is sterling silver, and the brightness of the silver and the diamonds give a lot of contrast to the emerald, which is perfect for anyone who wants the gemstone to really stand out and pop. Next to the emerald is a nice leaf-shaped design that gives this bracelet a nice touch; it is very unique and totally eye-catching!  
Ruby & Oscar Emerald & CZ Drop Earrings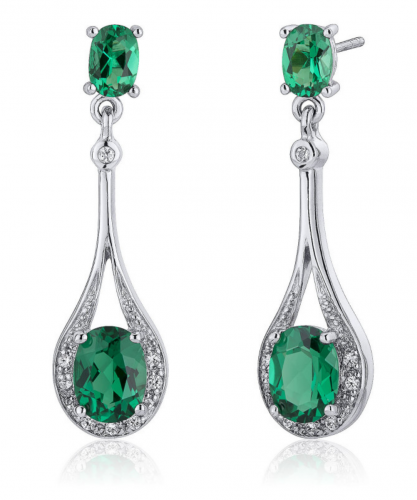 Get it here
If you are looking for something elegant, it doesn't get much better than these drop earrings! Perfect for any formal occasion, these earrings are absolutely beautiful.
The subtle diamond accents help give these earrings some extra sparkle without taking attention away from the main emerald gemstones. The oval shape of the gemstone help give this a perfect elegant appearance; we just love them!
Jeulia Two Skull Emerald Ring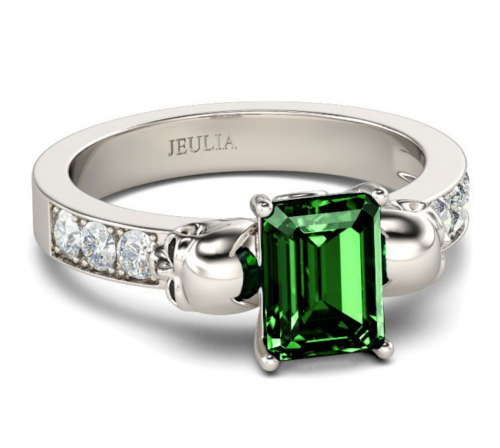 You can't go wrong with an emerald ring, but this isn't just any emerald ring. It's a skull ring; At first glance, it might seem like any other ring, but the side detailing is actually two skulls!
While this might not be the right ring for just anyone, it is certainly the perfect gift for any woman who loves unique touches. It doesn't get more unique than this. This ring is a perfect conversation starter, but more than that, it really is gorgeous!
The center emerald is still the main focus of the ring, but the side skull detailing and the side round diamonds just make it so unique.

Black Bow Jewelry & Co. Emerald & Diamond Necklace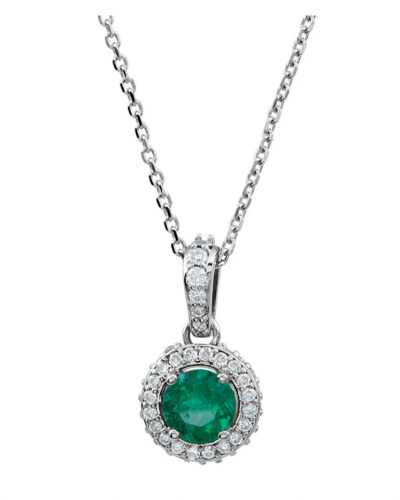 This necklace is perfect for anyone who loves vintage scrollwork designs in their jewelry and maybe doesn't love a lot of color with their jewelry. Totally understandable!
This necklace features a gorgeous emerald in the middle that adds just a touch of color without being too much.
This is a perfect statement necklace to wear against a black dress or blouse and is appropriate for any formal occasion or just a fun night out! 
Black Bow Jewelry & Co. Stackable Ring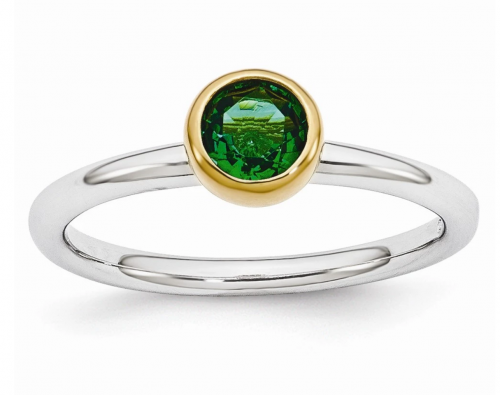 Just because you have a gemstone in a bold color doesn't mean that you can't have a simple, more minimalist design!
We love this minimalist piece of jewelry, and the mix of the metals with the emerald makes it totally one of a kind. This is a great way to do something a little more unique and bold without being overpowering.
The ring is less noticeable than a larger necklace, but it is still enough of a statement that you can wear it on its own (or stacked with others!) 
Wrapping Up
Emeralds are some of the most beloved precious gemstones due to their rich history, gorgeous appearance, and potential powerful healing powers. While these are very hard gemstones, they are prone to chipping, so if you do purchase jewelry with emeralds, be sure to treat them with care and be very gentle. 
If you take care of your emeralds, they are sure to stay in your jewelry collection for decades to come. Best of all, these timeless gemstones never seem to go out of style!
You can feel confident investing in emerald jewelry, as you will be able to wear it no matter how the trends change. 
Whether you are born in May and emerald is your birthstone or not, or if you have a major anniversary coming up, emeralds are for everyone!