The Top 10 Harry Potter Jewelry WE ADORE!
last updated:
Mar 02, 2020
For diehard fans of the franchise, there is always the option of Harry Potter jewelry! Still waiting for your Hogwarts letter to arrive? We know we are!
You may be a young kid who likes to pen their own Harry Potter fan fiction, a new adult whose imagination is abound with the magical world of wizards and witches or a busybody who can never manage to say goodbye to the iconic trio of the Potter universe, in classic J.K Rowling fashion, this tale always reels us in, by screen or print.
Why should it end there, though? Pop culture merchandise is a craze of its own, and when you throw in the spell of Potter, it is more than just for the niche.
We selected 10 Harry Potter jewelry items we think rock and deserve your attention; start browsing ladies!
Top 10 Harry Potter Jewelry Picks
1

. Hermione's Time Turner Necklace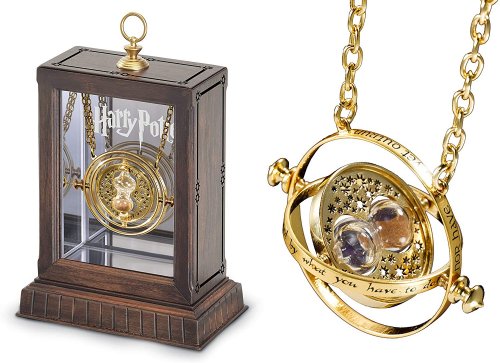 The time turner, when it comes to Potter accessories, is a total favorite. It's subtle, it's classy, and you instantly get the reference.
Read more
What could be better than a classic time turner necklace, you ask? One endorsed by Warner Brothers themselves, that's what!
The time turner necklace brought to us by Noble Collection (the licensed creators of movie merchandise), is hard to resist for anyone who's a fan of minimalistic appeal in their jewelry.
Oh wait, it has "magical" properties? All the more reason to buy! With 18 inches of gold plated, exact to the T authentic recreation of the brainiac Hermione Granger's neckpiece, we are ready to time travel.
The miniature hourglass, fitted intricately into inner rings, twirls smoothly, and so does the outer rings, just like in the movies! Prying your fingers away from it is definitely going to be very hard.
This time turner necklace is also a master of details. The original inscription is engraved in the twirling rings in vintage font, as real as it gets.
"I mark the hours, every one, Nor have I yet to outrun the sun. My use and value onto you, Are gauged by what you have to do." Sounds magical, doesn't it?
This is admittedly a little bit on the pricier side. But this time turner necklace is a true collector's item.
Display it proudly on your Potter galore or wear it to fancy dinner, it fits in your life perfectly.
Besides, they claim it will last you at least a solid 3 years. Now, that's a great buy!
2

. Hermione's Yule Ball Earrings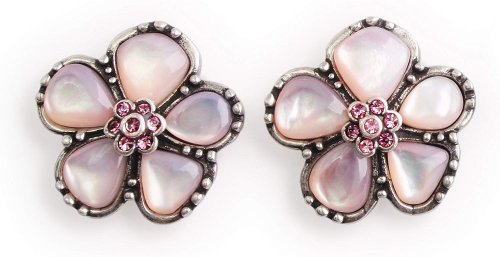 The witch extraordinaire Hermione Granger is more than just a smart brain. When she chooses to, she can be the perfect ravishing beauty-turning heads wherever she goes.
Read more
We get a glimpse of what's underneath the typical nerdy exterior of Hermione for the first time in the Yule Ball, and we were stunned. She was a vision in pink.
With her hair up, her chin held high, a gauzy princess pink gown and shimmering pink droplet earrings, gosh, those earrings, as her only jewelry, she simply stole the show. And ladies, now, you can do the same.
Does Hermione Granger fill you with inspiration? She is, after all, the "one of the brightest witches of her age" and we could all learn a lesson or two from this woman's steely determination. Besides, who doesn't want the title of being a beauty with brains?
Well, if Hermione is your Woman Crush Wednesday just like ours, you can start by getting this beautiful pair of earrings, exactly like the ones she wore to the Yule Ball.
Silver-plated and set with sparkling pink crystals in two sequences for a blooming flower effect; this is top-notch, Warner Brothers authorized recreation of our favorite statement earrings.
When you are getting a pair of earrings so good you can wear them to the Oscars; you are going to have to splurge a little.
It's completely worth it, though. Just wait when the light hits your sparkling new earrings. It's basically magic.
3

. Hermione Red Crystal Necklace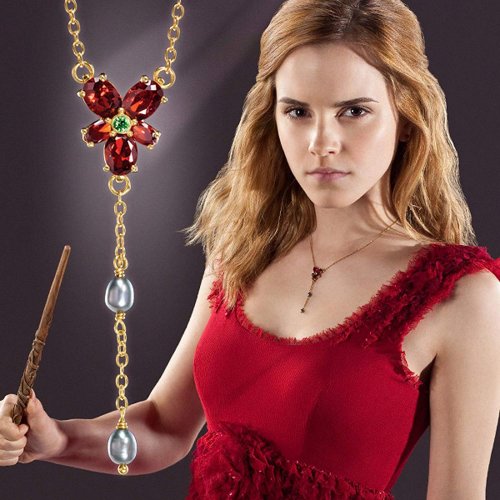 So, we've established our case for Hermione Granger. Stunning, smart enough to give anyone a run for their money and just the right amount of sass, nobody can resist the organic, no-spells-involved charm of good old Granger.
Read more
We've seen how she cast her spell for the first time during the Yule Ball. Let's fast forward to a few more years.
Hermy, as she was lovingly called, is not a nerdy little girl anymore; she has grown up to be a wonderful young lady, beautiful and determined.
We mean, we've seen the wedding scene in The Deathly Hallows, haven't we? Jaw-dropping, to say the least.
Hermione Granger is the queen of minimalism. She never overdoes it with her accessories and doesn't go for gaudy pieces.
This is a classy girl, and her looks sure match up. In the wedding scene, for instance, she pulls off a bright red dress, offsetting it with a dangling necklace of the same color.
Clean and minimalistic, we became fans instantly. You can wear this look to a wedding yourself or even a simple date night.
This necklace is nothing if not versatile. Another great piece of jewelry from the Noble Collection, it's set with red crystals, faceted glass, and freshwater pearls. It looks as enchanting as it sounds!
Gorgeous yet lightweight, this necklace makes for a perfect gift for the Potterhead lady in your life.
Heck, you can even choose to treat yourself with this statement piece. If you want to look like a daydream, get this steal right now.
4

. Harry Potter Earrings 6 Pair Set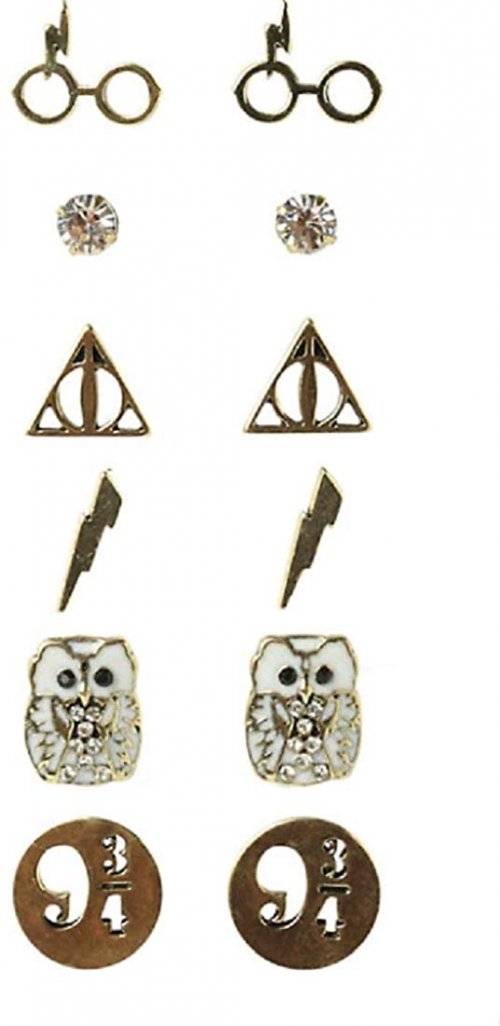 We love our earrings and never shy away from experimenting with them. Black studs or crazy big hoops, we've tried them all. Why stop there, though?
Read more
With just a pair of simple earrings, you can send out a message to everyone, loud and clear: that you are an insane Potterhead. And if you look great while you are it, well, that's a win-win, right?
The WB Harry Potter earrings sets offer you six different pairs to play with. That's right, 6 more Harry Potter mementos that nobody can say no to.
Crystals, snowy oils, lightning, 9 ¾, the symbol of Deathly Hallows and finally, the round spectacles of Potter topped with the lightning scar, each of these six pairs holds a very special nook in the Potter universe.
With so many options, you will never be at a loss when choosing accessories. Besides, it's simple and subtle, perfect for running to get the groceries or heading to work.
Some days, you'd rather not look like you are dressed for PotterCon. You'd like to don some jewelry from your favorite fictional world but also keep it low key.
These earrings, all of them, are perfect for such days. They are small enough to just get by the non-magical creatures (we don't call them Muggles here) and distinctive enough for any Potterhead in the zone to spot you.
And for the price, you can't let these pass you by!
5

. Joyplancraft Owl Wings Bracelet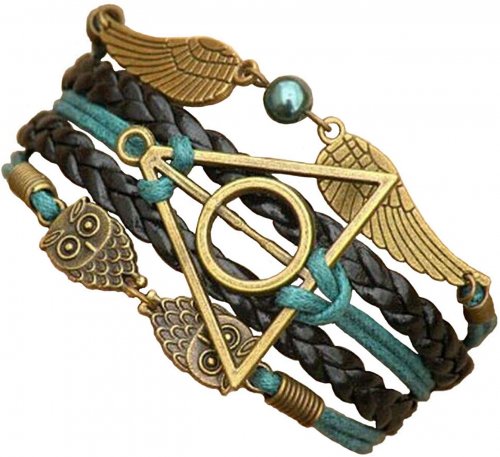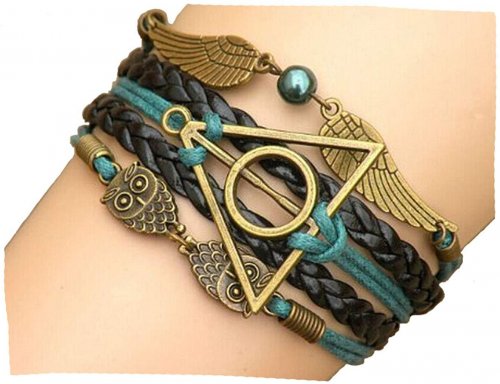 When Friendship Day's right around the corner and you want to get your bestie a sweet gift they will always cherish, the Joyplancraft Multistrand bracelet is your answer.
Read more
The entirety of Harry Potter is spun around the bond of friendship.
The Harry, Hermione, Ron trio, or the mischievous Marauders, what friendship can achieve is at the heart of the story's plot and even its subplots.
So, what better way than some Potter accessories to let your friends know you are in it for the long haul?
Of course, you can get them any Harry Potter merchandise- the most exclusive ones and pricey too. But are they going to be chock full of references? We guess not!
We believe the Joyplancraft bracelet is the perfect wrist accessory for not just any Potter fan, but anyone who likes to keep their hands full and in a stylish way.
First off, it's beautiful. The antique gold color entwined in black and teal rope makes for a killer combination that we never imagined.
Even if you aren't part of the Potter fandom, you can rock this anytime to channel a mystical hippie vibe. Beware, though, Potterheads might just swarm to you.
The charms on the bracelet include owls, a teal snitch with golden wings, and as the centerpiece, we've got the symbol of the Deathly Hallows.
Wondering if so many references crammed in together look like a sore for the eyes? The artistry of the bracelet brings all the charms together perfectly; even a non-fan can't disagree.
How often do you find something unique at such a low price? The Joyplancraft bracelet is a true treasure!
6

. Harry Potter Golden Snitch Pendant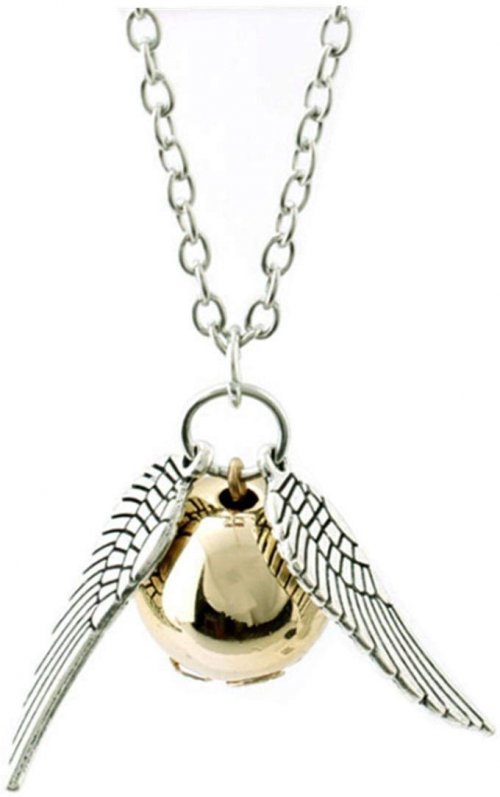 In the non-magical world, we live in, sadly, there's no Quidditch. That doesn't mean you can't deck yourself in it, though.
Read more
You might have a jersey of your favorite football team or a baseball cap in your team colors.
Let's take it a step further and get some goodies of the world's favorite magical sport. You don't need to fly on a broom to make this work.
The Ankry snitch necklace is a beauty. And certainly more aesthetic than having a football dangle from your neck.
A small golden sphere flanked by wide silver wings makes for a great neckpiece, and Ankry knows it. It's lightweight, durable, and overall, a must-have for any Potterhead.
Nobody can resist a Potter accessory at such an affordable price. Besides, this is one of the more low maintenance items on this list.
For a casual day out or even a sports game, this snitch necklace makes you look like a total winner.
7

. Harry Potter Ravenclaw Diadem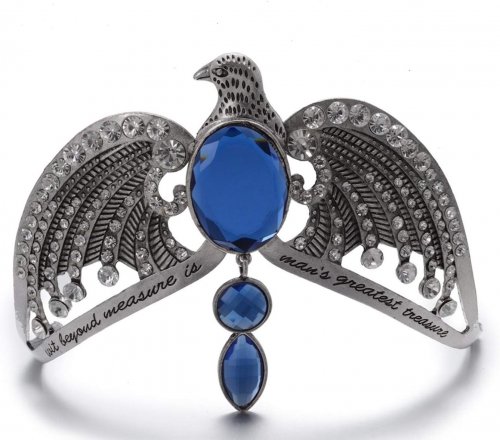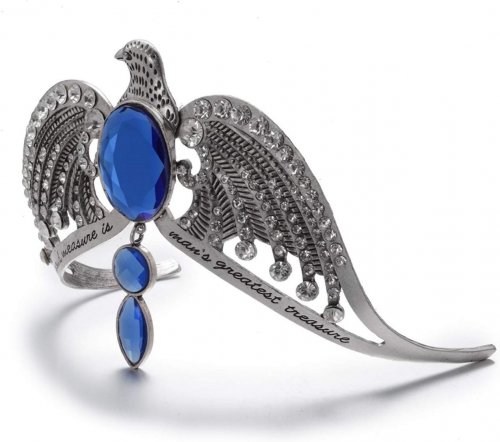 This is one of the fancier jewelry. Heading to a gala night or a wedding where you aren't going to shy away from stealing the bride's thunder?
Read more
Perhaps it's your wedding, and you'd like to flaunt your fandom without a Howler.
The Ravenclaw Diadem is fit for a queen. And let's face it. We've had our eyes on this one since the minute we saw it in the movies.
This diadem is another great gem from the Noble Collection. Featuring a falcon studded with white crystals with three sea blue jewels set in the center, this is an exquisite replica of the tiara we are in love with.
Wear it when you want to look like royalty or display it proudly as part of your Potter collectibles, this is a masterpiece.
"Wit beyond measure is man's greatest treasure." That's the Ravenclaw house motto, and it's etched boldly onto the diadem.
If you belong to this legion of quick-witted ones, this stunner is worth the hefty splurge.
And if that's not your house, this is still a stunning piece of head jewelry anyone would kill to own.
8

. Gryffindor Crest Necklace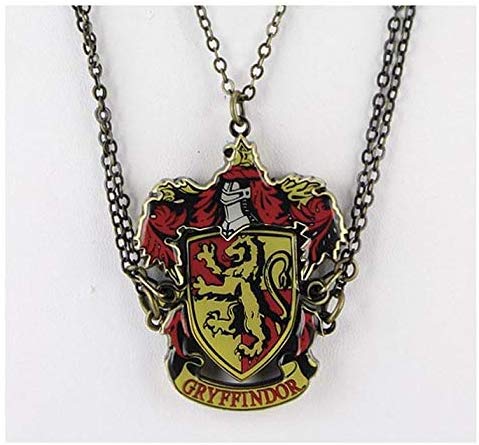 Gryffindors are not known for being low key. Loud, brave, and daring, they are the ones who take the world by storm.
Read more
Which is why we imagine the Harry Potter Gryffindor crest necklace to be just the right accessory for them. It's bold, in your face, and doused in the colors Gryffindor is proud of.
This is basically three separate necklaces, the three parts of which can magnetically connect to form one necklace, replete in Gryffindor's house crest, if that's how you'd like to wear it.
So, what you are getting is 4 neckpieces any true Gryffindor would love to own. Go light with a subtle red and yellow if you feel like or bring out the big guns with the crest nobody can miss.
When it's the kind of day you want to proclaim allegiance to your Hogwarts house loud and clear, this necklace is perfect for sending the message.
If we are choosing, Gryffindor is the star of the show. And with this crest necklace, you can be one too.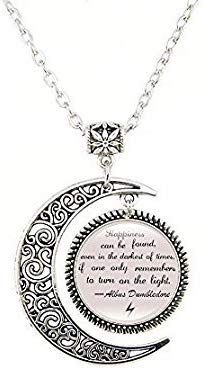 On gloomy days, it was the quirky Dumbledore who picked us up. Wise and brimming with optimism, Dumbledore is the professor we wish we had.
Read more
And when it comes to our favorite Harry Potter quotes, this man is unbeatable. There are way too many to enumerate.
Even years after closing the book on our favorite magicians, we keep coming back for these pearls of wisdom.
Scribbled onto our notebooks, highlighted, framed, and hung over the bed, Harry Potter's greatest gift to the world is definitely an inspiration.
What if you can always carry a bit of this positive energy with yourself? This beautiful moon pendant necklace might be what you need in your life.
A glistening silver crafted by hand, an ornate crescent moon, and our favorite Dumbledore quote encased in glass, this is beautiful jewelry with a lot of heart.
The quote reads, "Happiness can be found in the darkest of times if one only remembers to turn on the lights." Wise words, indeed!
This necklace makes for a beautiful reminder when you are out and about on a regular day. A pick-me-up for one of those down days, this cute rendering of positivity is all we need.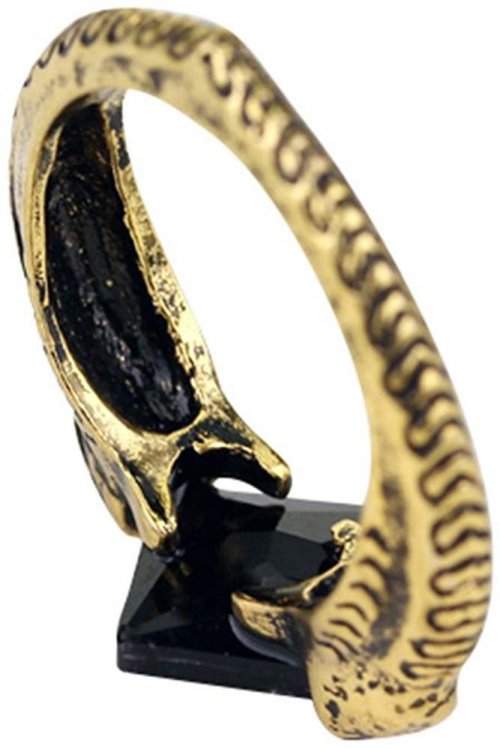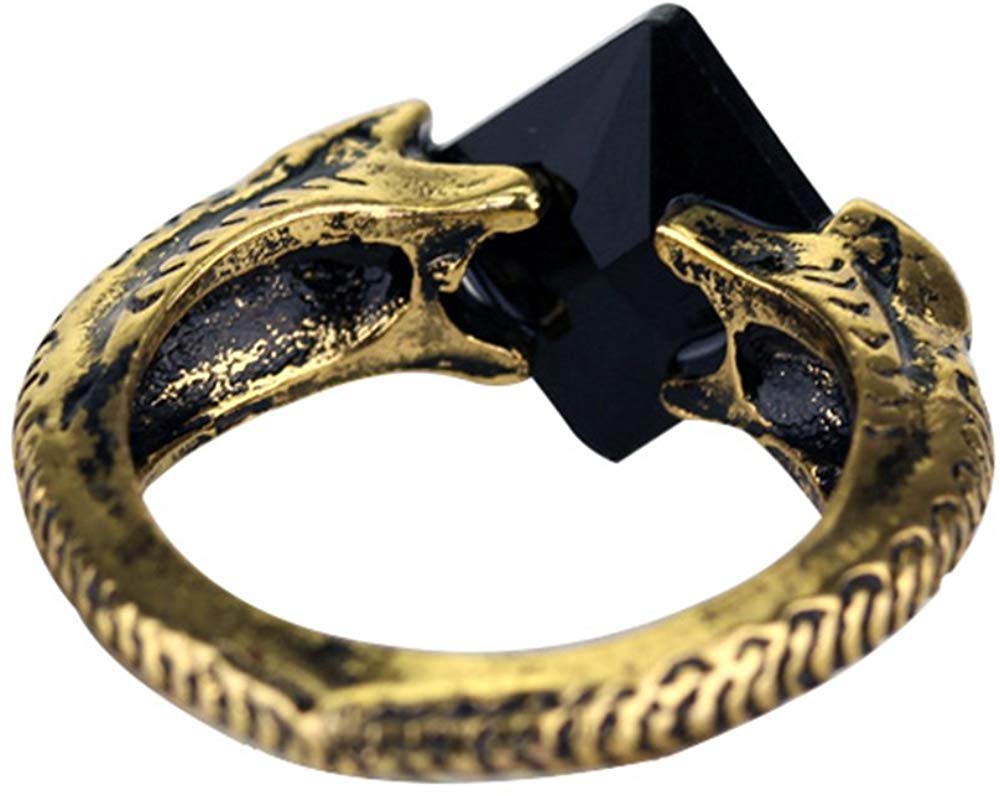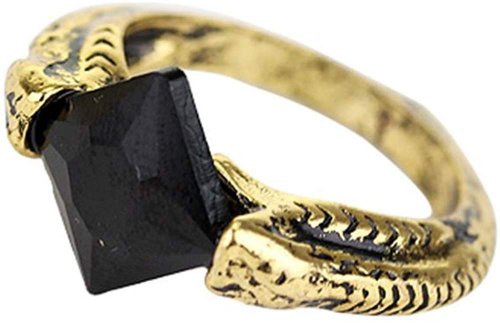 Fascinated by Dark Magic? Wonder what it's like to own a Horcrux? We've got just the perfect jewelry for you!
Read more
Have a look at Marvolo Gaunt's ring, prized heirloom of the Slytherins, and one of the Horcruxes of the big baddy of the Harry Potter series, Voldemort.
When you are in the mood for a goth vibe, wear this on your fingers, and you may just lure in fresh prey.
The ornate golden metal ring with a coal-black stone set in the middle is a treat for the eyes. And who says you should just deck yourself in Hogwarts house colors?
The biggest Potterheads know how to stand apart from the crowd and collect anything that's Harry Potter.
Besides, this is a relic with a great story. Hey, maybe you can even pass it on to your kids, just like the Gaunts did.
Harry Potter is not all charms and Patronuses. There's a lot of darkness looming throughout the series and this ring belongs to anyone who's been through it all.
Besides, for any man or woman who loves to keep it mysterious, the Marvolo Gaunt ring is a keepsake.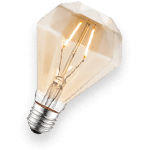 When wearing your Harry Potter jewelry...
Congratulations! Now you have a bunch of Harry Potter accessories that you're just dying to flaunt. Let us tell you how you can get the best out of these.
✓ Unless you're cosplaying or meeting up with some likeminded people, it's best if you go light-handed with the accessories.
Wearing all your Harry Potter jewelry and clothing at once might be a little too much for the eyes. And anyways, just one little trinket is all you need to get your fellow Potterheads to flock to you.
✓ Many of the items mentioned on our list here are gold-plated. While they make for stunning jewelry, it is indeed difficult to keep them shiny.
To keep their color from fading, clean with lukewarm water and just a few drops of dishwasher liquid.
✓ Sterling silver products, too, are on the list. Just grab a jar of silver polish from any drugstore or jewelry store and rub it onto your silver jewelry. It will keep your gems lasting for a long time.
When wearing your Harry Potter jewelry...
✓ This may seem like a no brainer, but storing your jewelry properly is the key to their longevity.
Some of the accessories here come along with a box you can safely store them in, and they are great to look at too.
✓ For the ones without a case, find a spare soft lined jewelry box for them. Even a shoebox will work just as good!
✓ Here is the most common error jewelry owners make; wearing their accessories to the shower or going swimming with them. If it were up to us, we would never part with our jewels.
But exposing them to water or any sort of chemical can cause discoloration and tarnish this beloved possession.
We don't want that, do we?
Frequently Asked Questions
q:

I'm not a Harry Potter fan. Can I wear these?

a:

Hey, this fandom doesn't judge. Have a look at all the products, and you will see that these are beautiful jewelry that absolutely anyone can rock

Rest assured, you will be getting a lot of compliments.
q:

Are they safe to wear?

a:

You bet! All the mentioned Harry Potter goodies on our list are hypoallergenic. You don't have to worry about any sort of allergic reactions.
q:

Replica products don't often last long. Are these worth it?

a:

We curate our lists with a lot of care. The jewelry here may be replicas but are of superior quality and the best of the heap.

Some of them are even endorsed by the Warner Brothers! Being super Potterheads ourselves, we know we'd like our Potter merch to last as long as they can.
Finally...
We, for one, have an insatiable need to tell the world of our obsession. And what better way than a subtle piece of jewelry to proclaim our identity as a Potterhead!
Us Potterheads like to flock together. And when we see a fellow fanatic (besides our super hush-hush magical detection, a bit of Potter insignia always helps), we are definitely causing a storm; yes, even in a grocery store.
Don't own a single Harry Potter jewelry item? Not even a measly ring? If you want your membership in the fandom taken seriously, get one now.
But first, we hope you know your Pottermore house. Gryffindor, Slytherin, Ravenclaw, or Hufflepuff- there's something for everyone. Accio, trendy Harry Potter accessories!