Gemstones / Mix / Necklaces
Labradorite Pendant Selection!
This stone is commonly used to create rings and labradorite pendant jewelry. Although it is a softer stone than others the gemstone is still quite durable and not brittle. The hardness of the stone is 6 – 6.5 on the Mohs scale. It is softer than quartz but is still a durable material.
One of the special qualities of labradorite is its amazing play of color known as labradorescence. The labradorite stone is known for being a member of the Feldspar family and usually comes in a black, greyish white color, gray-green color, and dark grey. These colors are composed in aggregated layers which refract light as iridescent flashes of gold, coppery red, peacock blue, and pale green.
Interestingly, the labradorite was first discovered by Moravian missionaries in 1770 while they were in Labrador, Canada. The gemstone then became very popular in Europe in the eighteenth and nineteenth century. The stone can now commonly be found in Madagascar, Australia, and Finland. Rare varieties of labradorite include a champagne color, transparent gold, golden labradorite, and spectrolite.
The most valuable type is the one that shows the full spectrum of color in its labradorescence. However, labradorites don't exhibit labradorescence but they can still make a beautiful stone. There are three types available including rainbow moonstone, andesine-labradorite, and spectrolite.
Rainbow moonstones are an intense blue schiller and come from Madagascar. Andesine-labradorite is created by enhancing the color of the labradorite and spectrolite are rare labradorite from Finland. The stone is known for displaying a spectral play of color called "spectrolite".
What's great about these gemstones are that they are extremely versatile when it comes including them in pieces of jewelry. The stone can be cut into fancy shapes and placed in a setting with gold, silver or rose gold.
Our Favorite Labradorite Pendant Picks!
1. Teardrop Labradorite Pendant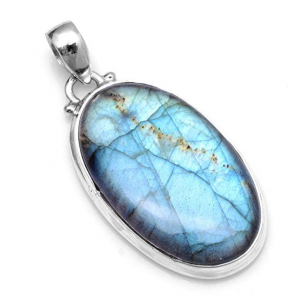 This stunning labradorite pendant is from Silver Palace's Jewelry collection. The gorgeous stone resembles similar to that of a midnight blue color and has been perfectly cut to resemble a pearl shape.
If you look at this stone closely you'll notice how the stone consists of different shades ranging from dark blue to light blue. When you view the pendant from different angles it will give off a unique midnight glow that will catch people's attention straight away.
We also think this piece is best worn with a low or wide cut top because wearing this necklace will certainly show off your beautiful neck and bone structure.
This pendant really does reflect various tones and acts as a lovely centerpiece. This is a genuine and iridescent stone that has been set on a sterling silver base.
What's great about this blue stone is that it looks beautiful alongside the sterling silver metal. To give you an idea of the size, the striking pendant is approximately 2.22cm by 3.49cm and the stone is approximately 18mm by 25mm.
The jeweler has pointed out that the shape and length of the stone may vary because the pendant is handmade. We think this is a special feature because you can guarantee that no one has the same pendant as you, making the piece special and unique.
What's fantastic about this jeweler is that the labradorite has been handpicked especially for this piece and the pendant has been handmade. The jeweler has been crafted to a very high quality by the expert team of jewelers. This pendant is being sold for a medium price which we think is an absolute bargain!
An interesting gesture that Moon Magic Jewelry offers is that for every single piece of jewelry sold, the jeweler plants one tree. Last year the jeweler planted over 133,000 trees with the Trees for the future organization. What a fantastic jeweler!
2.  Oval Stone Pendant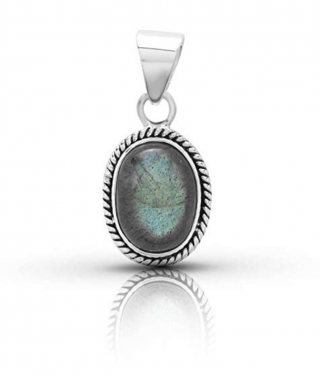 This is a Koral Jewelry pendant with a breathtaking labradorite captures a spectacle of green color, making this piece extremely unique! When you look closely at this pendant you'll see how the stone contains a variety of green.
The different shades of green vary from light to dark green. The stone has been cut into a lovely oval shape which achieves in framing this beautiful stone.
One of the special qualities of this piece is how the light reflects on the stone. Therefore, whichever direction you're looking at the stone it gives off a mesmerizing color. You'll never get bored with this piece. It's a lovely signature piece that you'll just have to have as part of your jewelry collection.
This stunning pendant depicts an oval shape which is approximately 2.22cm by 3.81cm. To give you an idea of the size of the stone it is approximately 18mm by 25mm. This unusual type of labradorite can be found in Russia, Mexico, Italy, Greenland, USA, Madagascar, USA, and Scandinavia.
On receiving your pendant you'll see that it has been crafted to the highest quality by the team of jewelers at Moon Magic Jewelry. They have meticulously created this piece by handpicking the beautiful stone and placing it in a lovely oval setting.
You'll also notice the great medium price that the pendant is being sold for. What a bargain! If you don't think its true take a look for yourself!
3. Sterling Silver SUN Solitaire Pendant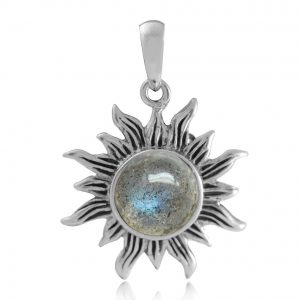 We all love a bit of sunshine and out next item means that you can enjoy a little piece of sunshine every day! This is a very attractive piece of jewelry and makes perfect use of the labradorite gemstone. Shaped like a large sun with flares of light escaping from every angle.
We love how well the black of the stained sterling silver works with the lighter silver color.
At the heart of this necklace is a beautiful natural rainbow gemstone which gives this pendant a really nice shape. It's instantly recognizable as the shape of a sun, although you would be forgiven for mistaking this for a large sunflower!
Regardless of what you're reminded of, this is a stunning pendant which is sure to add that extra sparkle to your outfit.
It's important to remember with this item that you're only getting the pendant so you will need to buy a chain separately. But not to worry, the pendant will fit most thin chains. We really love how the upper hoop can be used to attach the pendant to a chain and works well with the sun design.
Perhaps the best feature is the beautiful gemstone which is the centerpiece of the pendant. This gem is classed as an SI1-SI2 which means that the gem has some inclusions.
Although it's unlikely that you can see all inclusions within this gemstone with your naked eye, you may notice some inclusions within the gemstone which will really help to give this gem an extra level of depth. This gemstone catches light really well and the small inclusions add some really nice detail.
This item is sold by Silvershake who also offer a range of wider silver jewelry including some stunning Celtic rings. We highly recommend that you take a look!
4. Natural Crystal Stone Healing Charm Pendant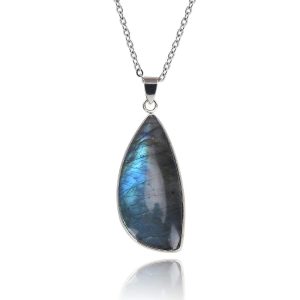 Our next choice is a bargain! With this necklace, you can see just how versatile the gemstone really is. When we saw this necklace we were instantly reminded of the shell of a muscle, not only in shape but also due to the deep blue colors which effortlessly reflect light. This necklace almost looks like a beautiful shell that you would find on a golden beach.
The metal that surrounds this gemstone is actually silver plated brass but for such a reasonable price tag we're not too concerned that this is plated silver. The seller of this necklace mention that the necklace you receive may be different in color and shape to the image shown, so it's important to bear this in mind if you are looking for a necklace which is exactly the same as the one shown.
However due to how versatile and attractive the gemstone is, we're sure that the other gems will be equally as attractive.
The pendant is attached to the chain with a simple eye hook which adds to the simplicity of its design. We think this is a great choice for a low priced necklace that will match with any outfit. What's not to love!
5. Genuine Labradorite & 925 Silver Plated Pendant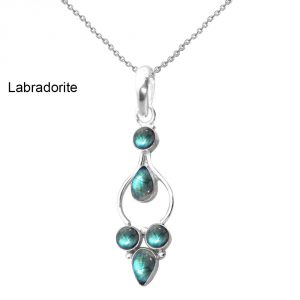 If you're looking for a more elegant and decorative piece then you've come to the right place with this pendant!
This dainty pendant consists of five blue labradorite stones that have been cut into circular and pear drop shapes. You'll see that the pendant has been carefully designed to feature a circular stone at the top of the pendant with a pearl drop stone positioned below it.
A silver loop then joins this stone to two circular stones and a pear drop stone. This pendant is definitely a unique piece that will add length to your neck.
The gemstones used to create this gorgeous necklace are genuine labradorite stones. The color of the stones represents an aqua midnight blue color which would be perfect worn at night with the light of the moon reflecting on the stone.
To give you an idea of the size of the stones, the pear drop gemstone is approximately 7mm by 10mm and the round gemstone is approximately 8mm by 8mm.
The metal used to create the piece is a silver-plated base metal. What's great about this material is that it gives the pieces a lovely smooth shiny finish that makes this piece extremely elegant. We'd definitely describe this pendant as being pretty and would best suit a girly girl. The pendant also comes with an 18inch anchor chain that has been silver plated over brass.
This piece is being sold by Sterling Silver Jewelry for a low price. If you take a look at their extensive collection you'll notice that they offer a beautiful collection of silver pieces containing unique gemstones. There's definitely something for everyone with this seller. You're bound to find something you like!
6. Healing Crystal Pendant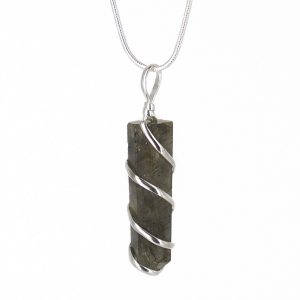 We've already touched upon the fact that labradorite pendants hold many healing qualities and this pendant is no exception which is why we simply love it!
This rustic looking pendant gives you a great insight into how the stone would look like in its raw state. This jeweler has clearly left the stone in its original rustic state, making it look like it has just been discovered from the ground. The stone has been cut into a long piece, similar to that of a cuboid.
The size of the stone is approximately 1 to 2 inches long by half an inch wide. The picture depicts the ruff gritty edges and there is no shine to the stone, making the surface look very rough and authentic.
A piece of shiny silver-plated metal has been cleverly wrapped around the piece of gemstone, containing it safely and allowing this stone to dangle free from the necklace chain.
The contrast between the shiny smooth silver and the dark rough stone works really well to enhance one another and make the overall pendant stand out. We'd say the design of this necklace is extremely minimalistic.
The pendant comes with a lovely 18-inch silver plated chain that has been crafted to a high quality. It's important to point out that the chain has an easy put on, take off lobster claw clasp which makes it very easy to place this on your neck. The design of the clasp also has a long-lasting quality.
The labradorite pendant is being sold by Ayana Wellness for a low price.
Looking at the seller's website they specialize in different pieces of labradorite jewelry that carry special healing qualities. Each individual piece is inspiring in design and extremely unique which is what we like to hear!
7. Mix-Stone Heart Shape Pendant with Silver Chain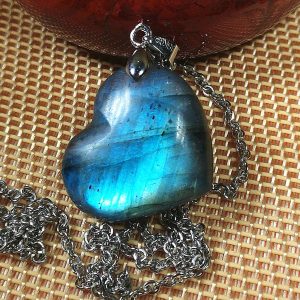 Love is in the air with this pretty heart-shaped pendant so if you're looking for something special to buy the love of your life then take a look at this gorgeous pendant.
One of the things we love about this pendant is the vibrancy of the gemstone. The stone has been cut from a gorgeous blue color.
When the light shines on this beautiful stone it gives off a lovely shimmer. The piece also features interesting fractured lines in the stone which gives it a lovely depth.
You'll notice that this pretty pendant has been crafted into a heart shape. When it comes to the size the piece is approximately 30mm by 25mm with a thickness ranging from 8 – 12mm. The heart weighs approximately 10 – 20g making this a good lightweight piece to wear.
This will be very comfy to wear!
The magical heart pendant comes with a silver chain and is being sold by Mix-Stone for a low price. If you take a look at their collection of pieces they offer a variety of necklaces ranging in different shapes, colors and sizes. This particular piece would make a lovely Valentine's Day gift or anniversary gift for the special lady in your life.
They'll simply adore this necklace. The light blue tone is utterly breathtaking, you'll get every body's attention wearing this piece of jewelry!
8. Purple Flash Pendant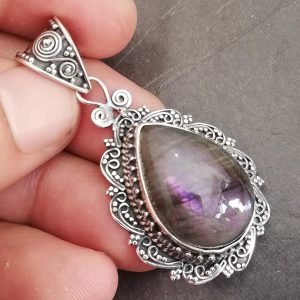 If you love the color purple just as much as we do then we're certain that this purple piece will be exactly what you want!
This gemstone has been cut into a pear drop shape. The beautiful shape and purple color make this stone very unique.
You could go as far as to say that the misty purple color gives off a spiritual, witchcraft vibe. We'd suggest that the color of this stone would be better suited to someone who likes wearing dark purple, grey and black clothes.
The pretty stone has been mounted onto a decorative panel of sterling silver metal. The outer design consists of an intricate detail framing the inner purple gemstone. This also joins to a larger attachment where a chain can be passed through.
What's great about this sterling silver is that it's free from a nickel which means it's safe to wear if you have sensitive skin. What's special about this pendant is that is has been carefully made by hand. You can tell this from the detail that has gone into the piece.
It's important to point out that this lovely pendant doesn't arrive with a chain so this will be an additional cost to consider. It is being sold by Handmade jewelry for a medium price.
If you like the sound of this purple pendant you'll definitely want to treat yourself to something from their website. Enjoy taking a look for yourself!
9. Flat Chakra Pendant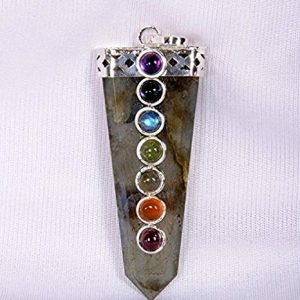 This is one of the more unusual pendants that you'll either love or hate. We love it though!
This stone is very different from the other stones that we've reviewed. It has been cut into a long thin shape and has been kept in its original state. The color of this stone is noticeably rustic and authentic. It is also made up of a dark grey and green color with a hint of brown, giving the stone an earthy color.
To make the pendant even more interesting the designer has chosen to feature seven circular stones on it. These gems include a purple, dark blue, light blue, green, grey, orange and dark purple color. The long thin labradorite stone also includes a sterling silver strip at the top of the stone,.
The genuine labradorite that makes up the base of this pendant is approximately 2 inches long. It has been handcrafted to a high quality by the team of dedicated jewelers.
The pendant is also known to hold many healing qualities and metaphysical properties. This makes this pendant a fantastic piece of jewelry that you'll want to wear all day and night.
This pendant is being sold for a low price by Jet International. If you have a look at their extensive collection you'll see they offer a wide selection of healing stones. They sell a number of pendants, necklaces and unique charms that are known for carrying special energies and healing qualities. Have a look today!
10. 14K Gold- Filled with Black Leather Labradorite Pendant
The final choice in our shortlist is perhaps one of our favorites! This necklace features a stunning oval-shaped gemstone and it is one of the prettiest we've seen. This natural gemstone measures 3.25 inches from top to bottom so you're getting quite a large pendant here and one that is definitely worth the price tag (which we think is very reasonable!).
You'll notice straight away that this pendant reflects a range of colors and it's hard not to notice the beautiful deep green color of this gemstone. The dark veins that run through the gem give the pendant extra depth and this looks great as a necklace.
The gemstone is wrapped in a 14k gold wire which has been elegantly twisted around the gemstone and molded to form a border around the gem, as well as a hoop at the top of the pendant so that it can be attached to a chain. This design gives a very secure feel to the pendant and it's clear that this is a very well made piece of jewelry.
The gold wire that surrounds the gemstone works really well with the deep green hue of the gem. It gives this pendant a very rustic yet elegant feel. It's worth mentioning that you don't get a chain included with the pendant so you'll have to choose one to match the design.
However, we're sure that you'll have no problem finding something to match as this pendant is sure to work well with a range of different styles and colors of a chain.
Your pendant will come in its own decorative gift box. This is a great option to buy as a gift and also gives peace of mind that you have somewhere safe to store the pendant if you're planning on keeping it for yourself.
The designer of this pendant, Rocks2Rings, notes that each pendant will be individually handmade so you can expect each to be unique. This is an important consideration, it means that the pendant you receive may differ slightly compared to the one shown in the photo.
This does, however, mean that you're getting a unique piece of jewelry!
Healing properties of the gemstone

Labradorites are considered magical stones with awesome properties. It is known to protect the wearer and help them find their true path in life. The gemstone can bring the wearer a lot of positivity and can work in calming a person's mind that may be overactive.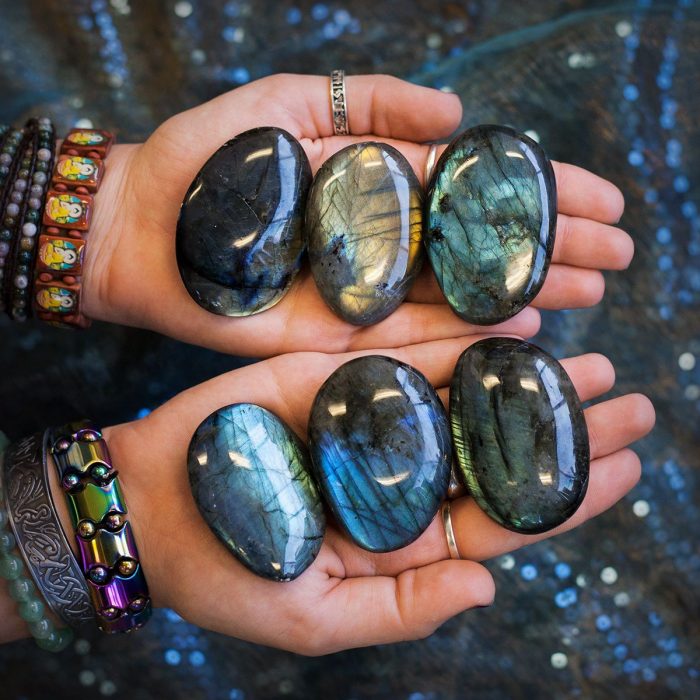 When it comes to your health the labradorite is known to aid lung disorders, help with digestions, prevent cold, regulate blood pressure and soothe menstrual problems.
Caring for your labradorite pendant

It's important that you look after your labradorite so it stays looking good as new, like the first day you bought it! The best way to clean it is to simply use soapy water and a soft cloth. It's best to rinse the item thoroughly to ensure the soapy residue is washed off. It is not recommended that you use cleaners and steamers when cleaning your pendant.
Another top tip is to remove your pendant before you go in the shower, have a bath or do any physical sports activities. When you're not wearing your labradorite pendant it should be stored in a separate place to your other gemstones to avoid any scratches occurring. We suggest the best place to store your pendant would be in a fabric-lined jewelry box.