Gemstones / Rings / Silver
A Killer Lapis Lazuli Ring Selection
In this guide, we selected our top ten picks for lapis lazuli ring options. We are certain you'll love them as much as we do!
Lapis Lazuli is a gorgeous metamorphic rock and used as a semi-precious stone. It's no wonder it's used for all sorts of jewelry. It's also believed to have healing properties. And, we haven't been using it just recently, either. This stone has been around for ages, literally. The history of Lapis may date back to 6000 BC. when it was first discovered in Afghanistan.
It was greatly valued for its fierce blue color and was even found in the burial mask of King Tutankhamun. It has been highly valued by many cultures and has had many different uses. The fabulous color seems to draw you in and we love it.
In the Middle Ages, Lapis was called sapphire and in the Old Testament, the references to sapphire were probably to that of Lapis Lazuli. Whatever it's called and however it's used, we like it in a ring!
Lapis Lazuli Ring Selection
1. 925 Sterling Silver Oval Lapis Lazuli Oxidized Ring
This is a handmade piece and has no sharp edges. All of the edges on the ring are rounded. This ring is inspired from a solitaire cut and the gem is embedded in a designer, bezel, setting made of 925 sterling silver.
The setting is oval and the outline appears ropelike. On each side of the setting, there are two swirl embellishments. They are attached to the band. The setting is slightly raised from the band and has a hole in it, allowing the stone to touch your skin.
In this way, you will be able to take advantage of the healing properties offered by Lapis Lazuli. The natural, deep blue, the stone is 2 carats and it is untreated.
It comes in sizes 5-11.
This piece is a sweet deal! This handmade statement ring is very budget-friendly and easy on your wallet.
The stone weight, of this piece is 2 carats and the metal weight is 2.27 grams, or 0.08 ounces. You won't even know you have it on!
2. Blue Lapis Lazuli Stone Ring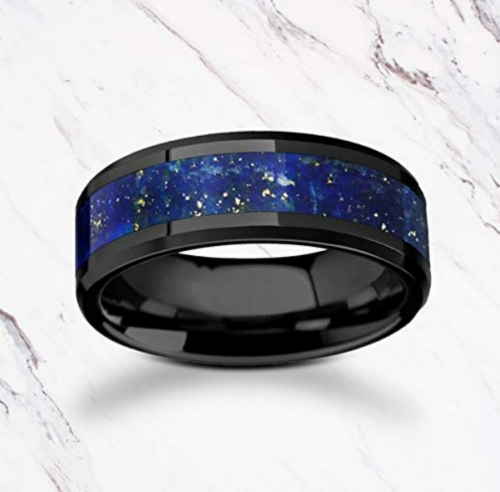 Any girl or guy would be honored to wear this ring. Real Lapis Lazuli is a natural stone, and for this ring, it is harvested, veneered, cut and directly inlaid into tungsten carbide. And, it's all done by hand, using wheel saws and grinders!
The color is a vibrant and astounding blue, with all of the yellow, white and cloudy effects you would expect to see in Lapis Lazuli. The coloring almost reminds you of a starry night; it's that pretty.
The inlaid Lapis Lazuli spans the circumference of the ring and is uninterrupted by any metal. You get the full effect, the beauty, of this stone.
The ring is a simple band and it is designed with quality, beveled, rounded edge… so very comfortable.
This impressive ring comes in sizes 6-14 and half sizes are available.
The ring is 8 mm, or 0.31 inches wide. That's a bit more that ¼ of an inch. It's resizable by a jeweler, only.
This piece is our favorite pick and we think it's well worth the price!
The piece is one of the more expensive on our list, but it truly makes a statement and causes you to fall in love with it. For most of us, it's going to take some thought before purchasing this beautiful ring. We think it would make a great tungsten wedding band.
3. Carolyn Pollack Sterling Silver Band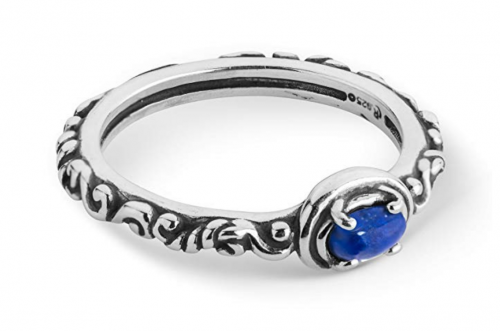 We think this ring would make a perfect purity or promise ring, but it's really perfect for any occasion. It is a dainty piece and subtle, simple and stylish.
The Lapis Lazuli is a cabochon or uncut, beautiful blue stone and you can see some flecks of the color that is characteristic to Lapis. It is an oval cut and lays on its side, delivering just a tiny pop of color for the wearer.
It comes in a setting of 925, nickel-free, sterling silver. If you are environmentally conscious, the silver is recycled in New Mexico. There, it is handmade by the artisans. It almost looks as though it is lying in a bed of silver.
It is stamped for authenticity. This means it is hypo-allergenic and safe for sensitive skin. It is held in place with a prong setting. Around the setting, there is a pretty scrollwork that encompasses the entire ring. It almost looks like a Celtic design.
We think it's worth the money you pay for this little ring. We classify it as having a less expensive to mid-price point… affordable, however.
This very lightweight ring is not resizable. It does come in whole sizes, from 5-10.
4. 925 Sterling Silver Plated Genuine Gemstone Three Stone Ring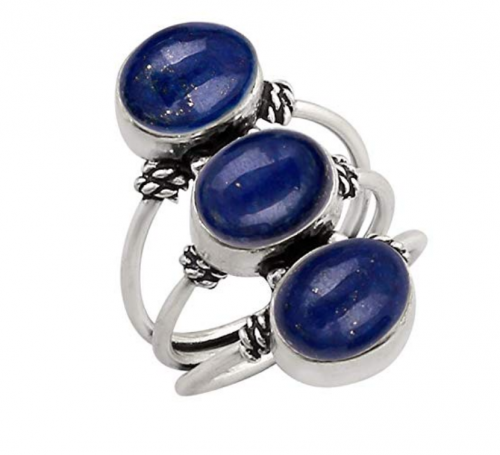 This Lapis Lazuli ring has three natural stones. It appears as though you are wearing three different rings, each stacked upon the other, resembling a knuckle ring. It does take all the space in the lower middle finger, from the base to the knuckle.
All of the stone is of an oval shape and each is 8 x10 mm, or 0.31 x 0.39 inches. They are inlaid in a raised setting of 925 plated silver (over brass) and the three rings are attached, on the underside, by metal shaped like a rope.
The middle ring is straight up and down and the other two rings are angled for fit. All of the rings are attached, to each other, at the top, as well.
On the side of each setting, is a two-layer rope, or chord. The construction gives this ring a Boho vibe.
This pice comes in sizes 5-12.5 and all of the half sizes in between.
The combined stone weight, of this piece, is 8.40 carats.
The price on this piece is fantastic! We would call it extremely affordable.
5. American West Sterling Silver Blue Denim Floral Ring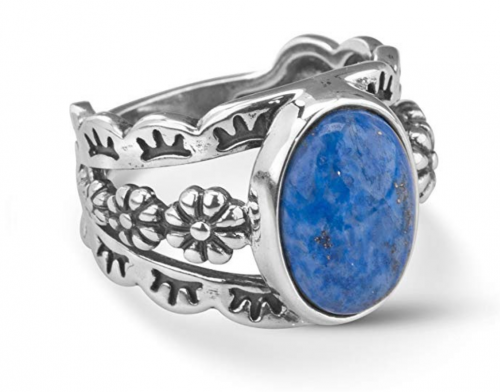 This piece pays homage to the Native American and Spanish design of centuries ago. There is a bezel setting for this 0.625 inch long x 0.75 inch wide cabochon Lapis. It is set in a stamped 925 sterling silver setting.
The stamp lends authenticity to this piece. It is nickel-free and hypoallergenic, for folks with sensitive skin. The band is an open three-row band and looks as though there are cut-outs in the piece.
The middle band has four etched flowers with the largest at the top and descending in size toward the bottom. On the other two bands, there is what looks to be native etching, symbolizing the sunrise, or sunset.
While wearing this piece, you may think, "The sun rises and sets with me!"
The first and third bands are scalloped almost to the back and the middle band is the shape of the flowers.
The Lapis Lazuli stone is very pretty and you can see the variations in color that are characteristic to Lapis. The stone is inlaid in the bezel setting, in the center, of the piece.
Expect to pay more for this piece. The ring makes a statement and so does the price.
It comes in sizes ranging from 5-10 and can only be resized by a jeweler.
6. Carolyn Pollack Gemstone Band

This ring says pretty and elegant with a bit of a western flare. The metal is 925, recycled, sterling silver and it's stamped which adds to the authenticity of the piece.
At its widest, the ring is ½ an inch. There is a rope texture as well as open scrollwork on the band. Both overlay the band, making the detail look raised from the ring, almost the entire way around. It stops where the back of the finger begins.
We think this ring is merging Celtic and Western in the design. It almost looks like there are cut-outs in the band, but without the sharp edges.
There is a cushion-shaped, oval Lapis cabochon at the center of this piece. It is held by four prongs. There is rope in a diamond shape that surrounds the Lapis as well. This is a sturdy, yet delicate piece of jewelry.
The ring is mid-priced. This Lapis ring as about ½ an inch tall and is offered in whole sizes 5-10.
It is not resizable. However, a jeweler may be able to resize it for you.
7. Gem Avenue Southwestern Style Lapis Lazuli Ring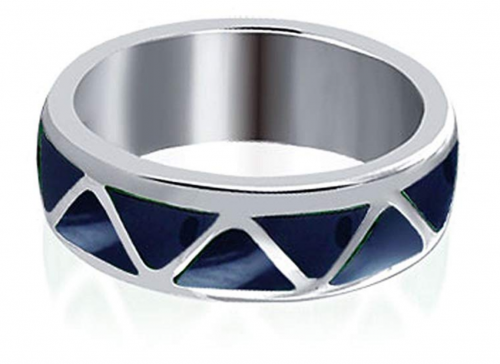 This Lapis Lazuli band is a unisex ring. There is absolutely nothing that says both male and female can't wear this wedding band style ring.
The band is made from 925 sterling silver and is stamped for authenticity. The band has smooth edges, making this piece very comfortable.
Simulated, triangular-shaped Lapis is inlaid in the band giving this ring a stained glass effect. Strips of sterling silver are laid between the stones to separate them and create the look of this piece.
The lapis triangles alternate position giving a pattern to this piece. If the first triangle is on its base, the next would be inverted and so on. This effect gives this ring a southwestern feel.
The price for this piece falls in the upper affordable range.
The band is 6mm, or almost ¼ inch wide. The total weight, of the metal, is 2.5 grams, or 0.17 ounces; very lightweight.
The Lapis band is offered in sizes 3 to 10.
8. American West 3-Stone Friendship Ring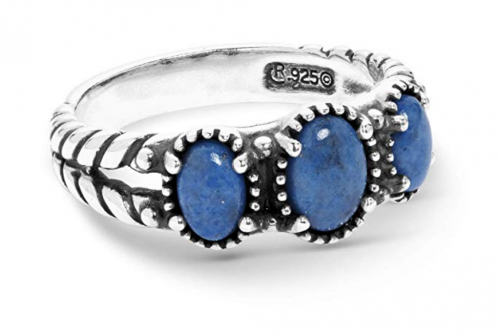 This American West ring does look western and it is made of recycled sterling silver. It has the 925 stamps of authenticity to prove it. The metal is partially oxidized, which gives it an almost antique effect.
The design on the band looks like leaves and the three oval Lapis Lazuli in this ring mimic flowers. The largest cabochon stone is placed in the center and the two smaller cabochon stones sit beside it. They all look elegant in their prong-set design, but at the same time, they still look western.
All of the stone settings are open in the back and your skin may make contact with the stone. This way, you can take advantage of any healing properties the lapis may have.
This piece is a bit expensive for a friendship ring unless you have a really, really, a good friend you want to give a sweet gift to.
We would classify the price as mid-price point.
9. Gemondo
Art Deco Lapiz Lazuli & Marcasite Ring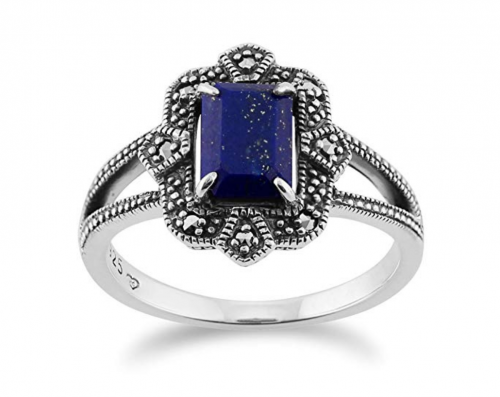 Now, this is a real beauty designed in an art deco style. This ring is handmade. The lapis is natural and dyed. It is oval-shaped and lays on its side, in a 925 sterling silver bezel setting.
The color of the stone is a dark blue and we think this piece has almost a hippie vibe. It is dainty, simple and beautiful with a flower like setting for the central stone
For all intents and purposes, you also get a black leather display box with this ring. This makes it a perfect gift for any occasion.
And when it comes to the price, you won't have to shell out a fortune for it.
Size 0.4 inches long x 0.2 inches wide x 0.1 inch in diameter. We think this means the width around the band. With a stone weight of less than a carats, this piece is going to be so comfortable on your finger.
It comes in sizes 3.5 to 13 and the best thing is that you get a certificate of authenticity as well as a 30-day money-back guarantee upon purchasing the ring!
10. BillyTheTree Gemstone Jewelry Ring with Lapis Lazuli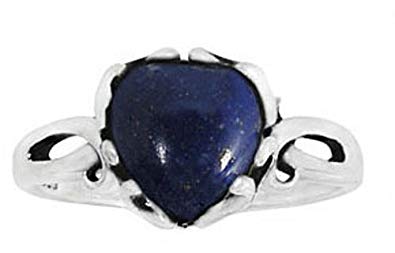 There isn't anything standard about this piece. We think this it conjures feelings of the Elvish. The band and setting for this lapis lazuli ring is all scrollwork and very pretty.
The band weaves its way around and under the stone and its almost as though there are little 925 sterling silver fingers cradling it. They aren't fingers, however, but prongs.
The prongs are varying widths and not at all the same. The lapis is an irregular shape and it gives this ring a very organic feel.
We think the shape looks much like a heart. As a matter of fact, this ring would be the perfect Valentine's Day gift!
The piece is well worth the affordable to the mid-priced point we give it. It runs a close second on our favorite pick of the ten.
Ring sizes are 5-12 for this piece. However, this ring comes in ¼, ½ and ¾ sizes as well.
Wow, that's a feature you rarely see!
Style Tips
How do you accessorize your lapis lazuli ring? If it's thin enough, try stacking it with another lapis ring, or stack it with a plain silver band. You can also wear a ring beside it on both sides. Don't forget the bracelet, necklace, and earrings.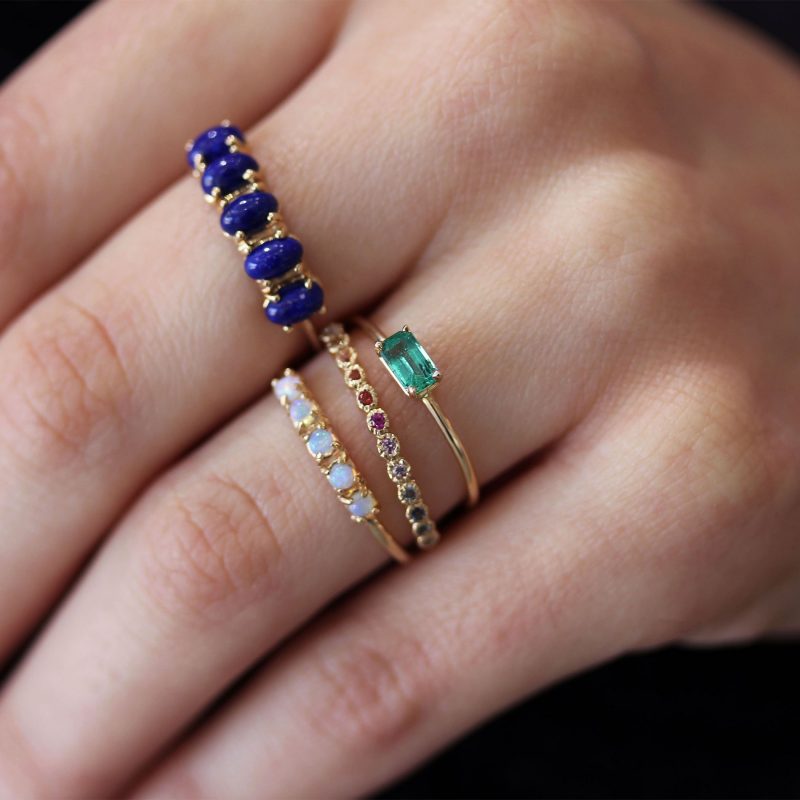 If you want a more Boho look, stack some silver and Lapis bracelets to accompany your lapis lazuli ring. Then, layer some strands of silver necklaces and top it off with some lapis earrings. They can be set in silver, or just be a plain stone. If you want to make a statement of simplicity, well, keep it simple.
And then, there's the question of how to use a lapis ring. Some of the picks we have shown are perfect for wedding and even engagement rings. Others of them can be used as sweetheart rings and yet others, like costume jewelry. A little bit of imagination goes a long way.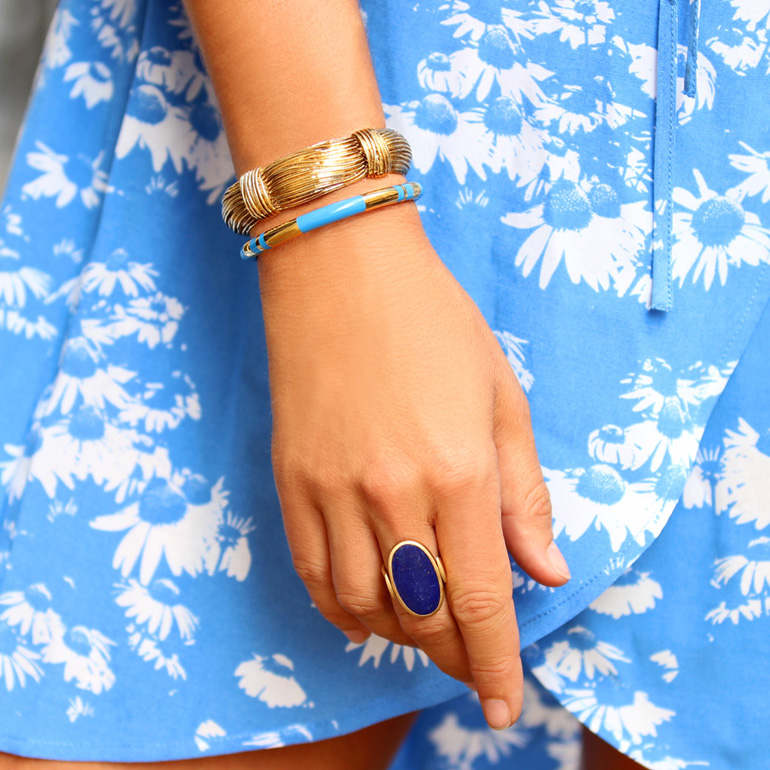 We think an indicator of how to use the rings may be the price you pay. Often the price indicates the quality of the piece and gives a clue as to how it might be used.
However you decide to wear it, you'll be in good company. We have spotted Jada Pinkett Smith, Kate Middleton, Ashley Greene, Jennifer Lawrence, Shaun Robinson and Penelope Cruz wearing Lapis Lazuli in some form or another.
Criteria for Evaluation
The picks we have presented have been meticulously chosen. Primarily, we picked them because of the material quality. All of the metals are 925 sterling silver. Some of them are even eco-friendly and are made from recycled sterling silver.
The majority of the stones are natural and not synthetic. Some are polished and cut and others are organic looking. They all, however, are beautiful. What is a ring if it doesn't last? Pieces that stand the test of time, are made from great materials.
They are durable and you won't feel like you've wasted your money. We also tried to present you with pieces that had great sizing options. Sizing is the springboard to comfort and ease of wear. If it doesn't fit, you won't wear it and it's no good.
FAQs
1. What is Lapis Lazuli?
A. Lapis, for short, is a feldspathoid silicate mineral with calcite, sodalite, and pyrite in it. These other minerals give it its unique and sometimes cloudy colorings.
2. Does lapis have any healing properties?
A. Yes, several, both physical and emotional. Emotionally, it is purported to guard against psychic attacks, release stress, bring inner peace, harmony, and self-awareness to name a few.
Physically, it may boost the immune system, cool and sooth areas of inflammation, purify the blood, and lower blood pressure.
This stone is a real powerhouse!
3. Are the rings made in America?
A. Some of them are, yes.
4. Can some rings turn green over time?
A. Yes, some can. It is important to care for your ring properly and clean and polish it regularly.
5. Where do you get Lapis lazuli?
A. You get it several places, but it has been mined in Afghanistan for over 6,000 years.
You also mine it in Canada, Chile, Mongolia, Italy and the Andes Mountains. You can also harvest it in the USA.
6. What makes it so blue?
A. The presence of trisulfur radical anion.
7. Can you polish lapis?
A. Yes, excellently. The shine will be brilliant and you can use the stone for all kinds of purposes.
In the Middle Ages lapis was exported to Europe where they ground it to powder and used it as a pigment for paint and other artifacts.
8. Does lapis lazuli look the same all the time?
A. No, it doesn't. Because of the other minerals found in lapis, each stone will be individual and unique.
Conclusion
Lapis is the Latin word for stone and lazuli the word for the place where lapis was mined. Lazulum, in word speak, is the root word for the color blue in some languages. In Spanish and Portuguese, "azul" is the word for the color blue.
However the term was derived, lapis has been around for centuries and we can see why. The stone is a gorgeous shade of blue and the so-called imperfections make it, perfectly, imperfect. They give it unique and beautiful, qualities.
And, you can use this stone for all sorts of applications not just for rings. You can even grind it for use as a pigment. It can be used for trinket boxes, ornaments and in small statues as well. They make very nice eyes. We have seen it in carvings, and vases, too.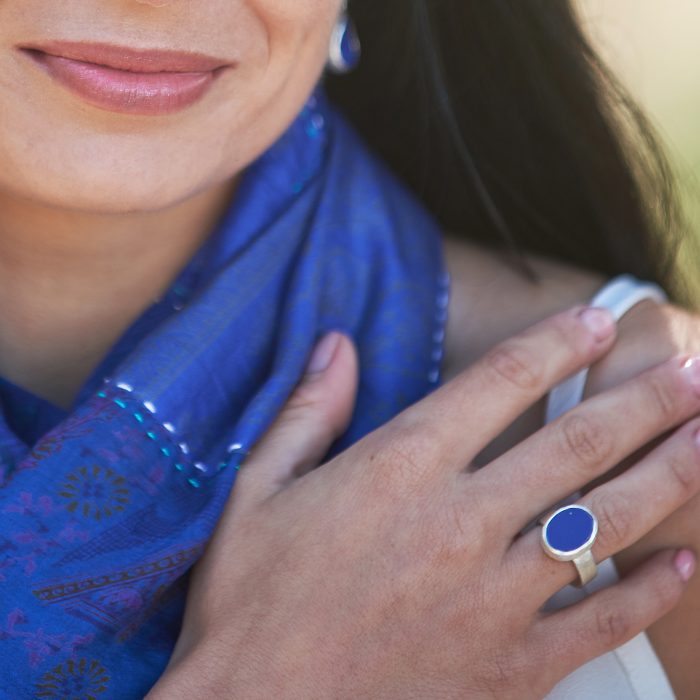 Lapis lazuli is known for more than its beauty in jewelry. It is said to have healing properties, both emotionally and physically, that are almost too good to be true!
Regarding emotional healing, some of the benefits are: it helps the wearer to speak the truth and gives confidence, bonds relationship, feelings, and emotions, encourages self-awareness, reveals an inner truth, and allows you to express yourself.
It also: brings harmony and self-knowledge, releases stress and brings deep peace. Physically, it is thought to: clarify the blood, lower blood pressure, boost the immune system, alleviate insomnia, and overcome depression.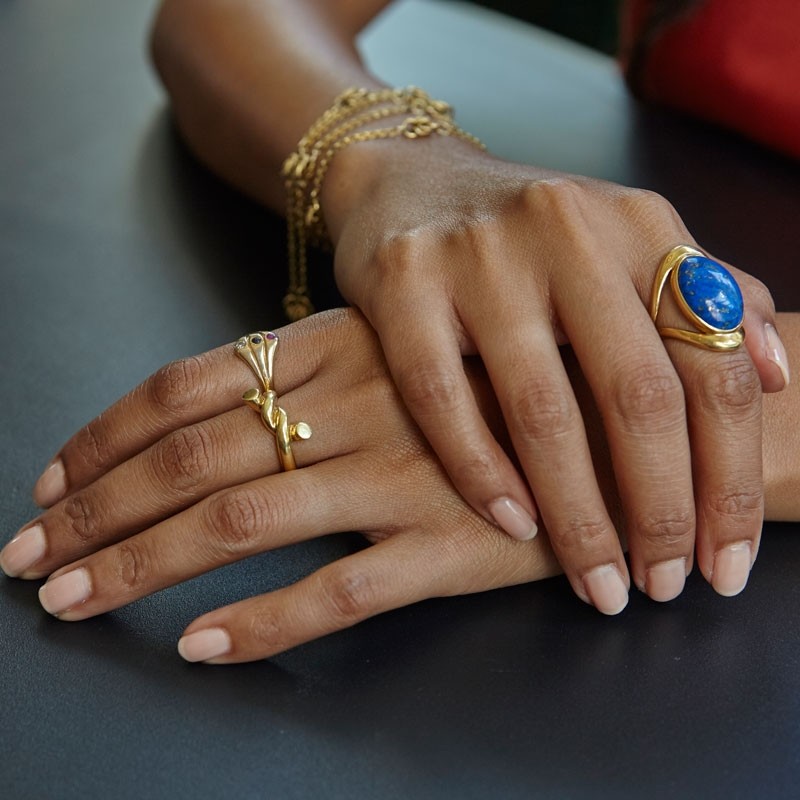 This stone really packs a punch! If you want to keep it working hard for you, you need to care for it properly. Avoid rough handling with all gemstones and organic substances.