Our Editorial Team Voted on the Best Men's Sapphire Rings!
last updated:
Feb 26, 2020
Sapphires are incredible stones of beauty. Blue is well-known to be a very popular choice of favorite color – especially among men. So, what stone could be more perfect for a great men's ring other than a blue sapphire?!
We feel like men's sapphire rings are a simple and sexy way for guys to show off their masculinity and confidence. After taking a vote, here are our picks for the top ten best men's sapphire rings for the guy in your life!
10 Men's Sapphire Rings
1

. JewelryPalace Created Blue Sapphire Ring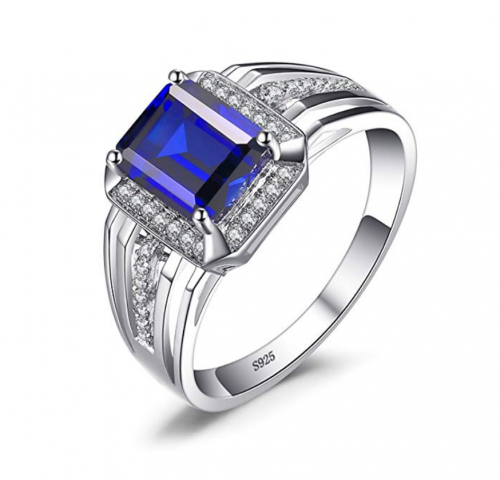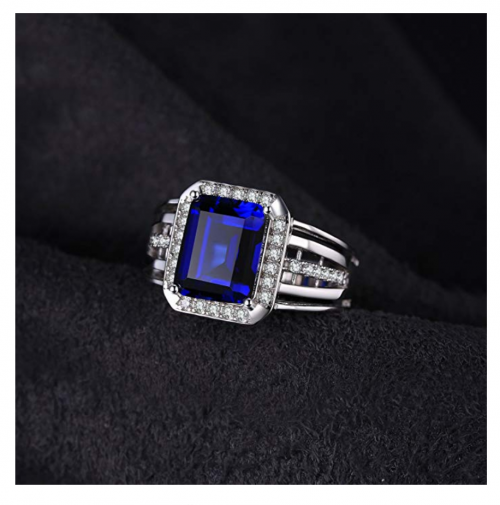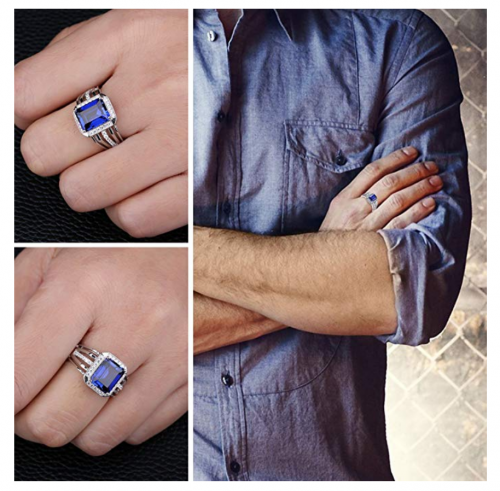 The top choice to make the cut is this stunning option from JewelryPalace! This piece is unbelievably beautiful with an incredibly classic design full of lovely details – and all at a super affordable price-point that will work for almost any budget. The main feature is the large lab-created sapphire in the center. The sapphire is bright blue with amazing clarity and a perfect emerald-cut. The emerald cut is a big part of what helps bring the masculinity into this ring with smooth and sharp edges that shine beautifully.
Read more
The emerald-cut sapphire is mounted securely onto a base of solid sterling silver. The 925 sterling silver is 92.5% pure with added alloys that help to ensure long-lasting durability without detracting from the amazing shine of the ring.
A special plating of rhodium on the solid sterling silver provides that ideal long-lasting shine that will keep grabbing attention over and over. The base of silver that the sapphire stone is mounted onto is the same rectangular emerald shape as the stone itself.
On each of the four sides of the stone, there is a perfectly straight row of tiny cubic zirconia stones that look just like real diamonds to the naked eye. These rows of sparkling cubic zirconia accent the larger center stone in an amazing way!
The widest part of the silver base that the stone is mounted onto is 22mm. This is very broad and perfect for a man. At the very top, the actual band starts out nearly as wide as the base of the sapphire stone. Then as it nears the bottom of the finger, it slowly narrows.
Near the top of the band on the sides, large openings are cut out of the ring in straight line patterns. This reveals some of the skin underneath the ring and provides a unique, detailed look.
In-between the cut-outs on each side of the main stone's base, there are more tiny cubic zirconia stones inlaid in the band for even more sparkle and brilliance!
This piece is available in men's sizes 7 through 13, so it shouldn't be any trouble choosing the right size for the man in your life. It also has S925 stamped on the inside of the band to show that it is, indeed, authentic solid sterling silver.
This is truly an amazing men's sapphire ring that exudes confidence and sophistication in a very strong and manly way.
2

. Gem Stone King Men's Solitaire Ring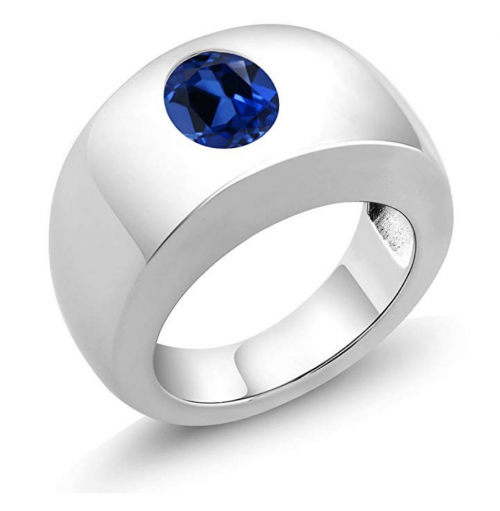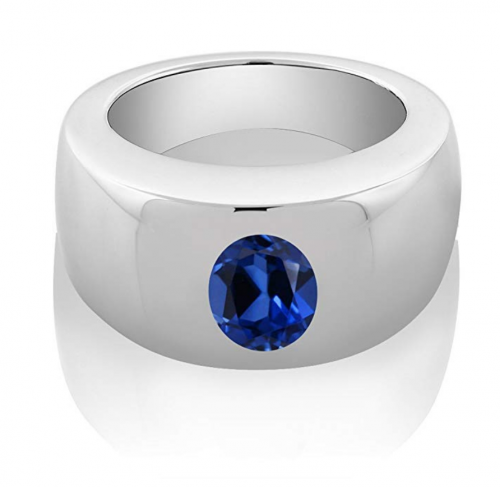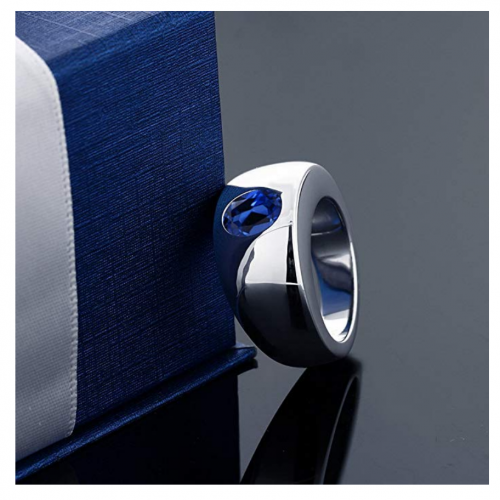 As a much more modern sapphire men's ring choice, this lovely option from Gem Stone King was impossible to pass up. The minimalistic jewelry design gives it a feeling of simplicity and strength. It features a broad band that is completely smooth. The band is made of 925 sterling silver. This, again, adds amazing strength and durability to the beauty that is pure silver. It isn't just broad, though, the band is also quite thick. This really helps to add to that manly look you're going after.
Read more
The smooth, thick, curved band also provides the most ideal level of comfort. In fact, it is so comfortable that it is easy to even forget that you're wearing it!
The band is broad all the way around it, but it does get a little narrower towards the bottom of the finger. This adds just a bit more interest to the piece overall. Right at the center of the band, there is an absolutely stunning blue sapphire inlaid perfectly.
The sapphire is simulated but still holds onto a gorgeous realistic look with amazing cut and clarity. The cut is a multi-faceted oval that provides brilliant shine from all sides.
The round oval shape goes well with the smooth curves of the rest of the ring's design. Each piece is custom-made in the USA with customer satisfaction in mind.
Gem Stone King offers this ring in men's sizes 7 through 13 and they even provide a lifetime warranty on it. This really shows that they stand behind their product 100% and can give you peace of mind in purchasing.
3

. Metal Masters Co. Cobalt Men's Sapphire Ring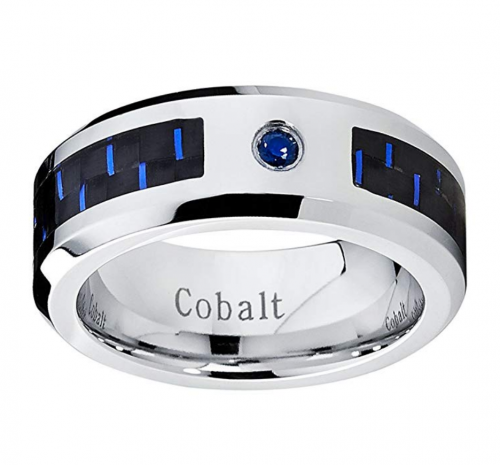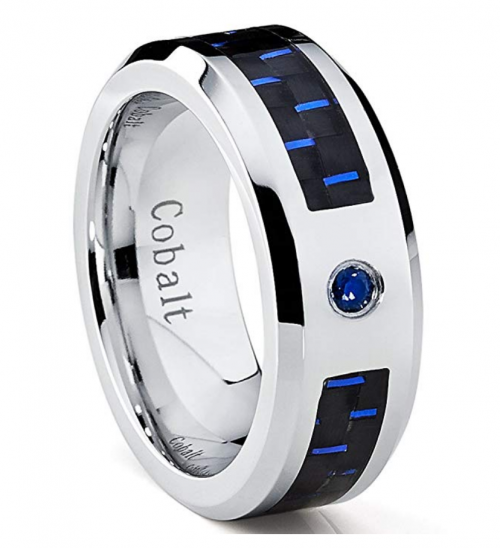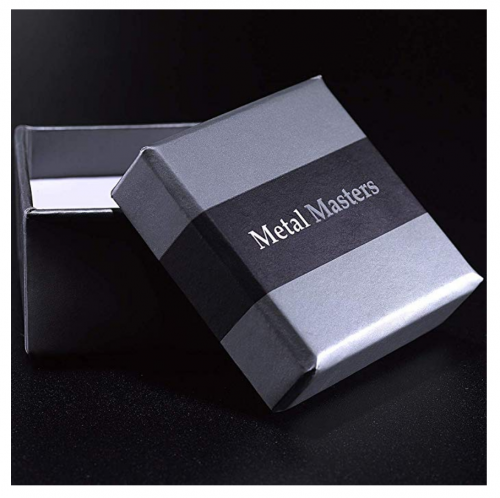 Here is a more unique option of a men's sapphire ring that is offered by Metal Masters Co. It is made of solid cobalt chrome. This is a very strong and durable material that is also relatively inexpensive to use. It has a beautiful silver appearance but is stronger than even 925 silver. It features the same broad bandwidth all the way around it. This is a nice feature that adds to the manlier look of it.
Read more
A special comfort-fit design means that the inside edges of the band are specially curved in a way to provide a comfortable fit all day long. At the very center top, a small blue sapphire is inlaid deep into the cobalt chrome band.
The sapphire is a real natural blue sapphire that measures at 0.05 carats. It is just big enough to be noticeable and give the perfect detail to it. The natural sapphire has been heat-treated.
This simply gives it more quality and the perfect appearance that will last even longer. Starting on one side of the sapphire stone and wrapping all the way around the ring to the other side of the stone, there is a handsome carbon fiber inlay within.
This part of the band dips down below and is filled with the inlay. The colors of the inlay are a mixture of black and blue which go amazingly well with the overall look.
The inlay as well as the sapphire both contrast perfectly with the bright cobalt chrome. The edges are beveled to create a more sophisticated and high-quality appearance. It is mid-priced and should fit decently into many budgets.
This is especially great considering that the sapphire of this ring is a real, natural sapphire stone.
This ring comes in sizes 7 through 13 with many half sizes also available. It also comes in a black ring box perfect for gift-giving!
4

. Palm Beach Jewelry Men's 18K Yellow Gold Ring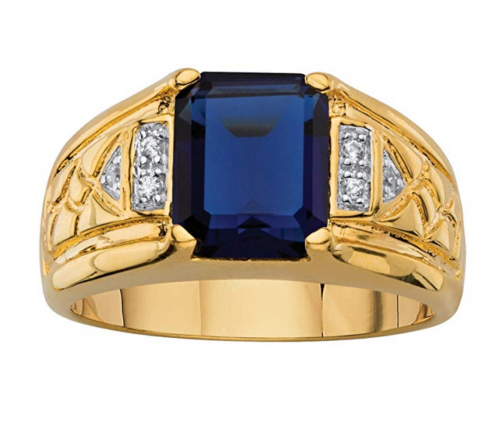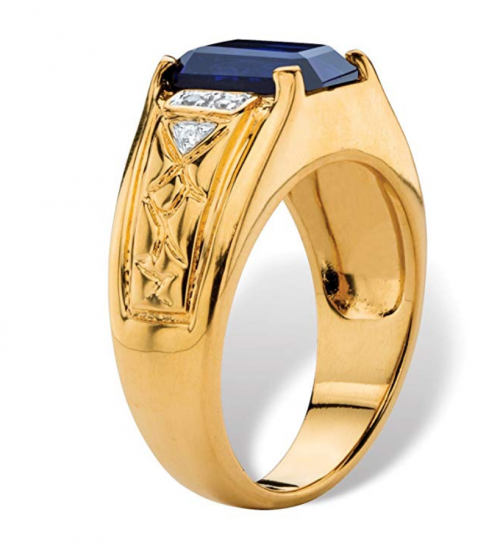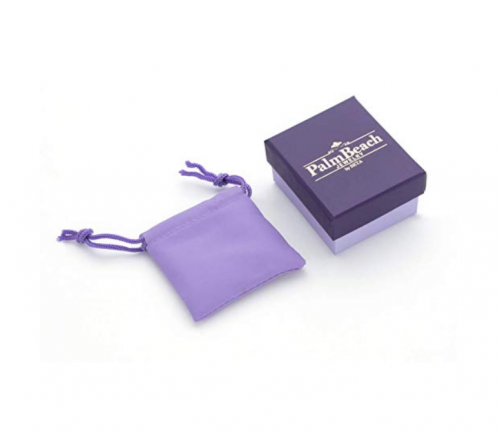 Up next is this Palm Beach Jewelry piece! The ring is plated in 18k yellow gold for a unique look among most options that are more often paired with silvery-tone materials. The way that the yellow gold pairs with the bright, deep blue of the sapphire is almost mesmerizing. We feel like it creates a very royal look that is perfect for the king in your life!
Read more
The large 2.2-carat simulated sapphire stone stretches all the way across the wide gold band for incredible attention-grabbing drama. It has a great emerald cut with wonderful clarity that shines in a very dazzling way. The edges of the band curve up at each corner of the emerald-cut sapphire to hold it securely in place.
The gold band itself also features a ton of amazing detail. It starts very broadly matching the width of the 2.2-carat sapphire. Then, it narrows just slightly for a smooth, curved look that enhances the overall comfort of the wearer. Right up against either side of the sapphire stone, there is a small rectangular cut-out in the band.
These cut-outs each house 2 stunning little round natural white diamonds. Then on the outside edge of each of these pairs of diamonds, there is a small upside-down triangular cut-out.
This smaller triangular cut-out houses one more of these natural white diamonds on each side. This brings it to a total of 6 small natural round white diamonds. These little diamonds are placed in a unique way that brings more interest to the ring and, of course, sparkles in a beautiful way that accents the large sapphire perfectly.
Details etched down the side in a somewhat rough crisscross pattern bring a tougher feel to this masculine ring. You can choose this Palm Beach Jewelry piece in sizes 8 through 13.
5

. Palm Beach Jewelry Men's Navy Ring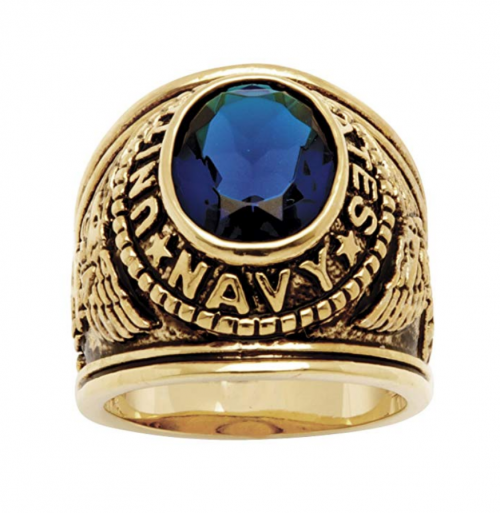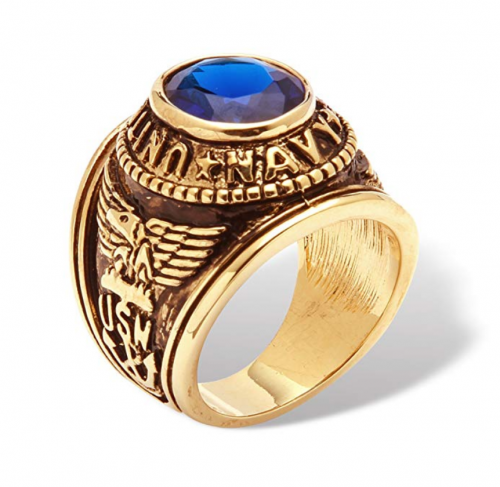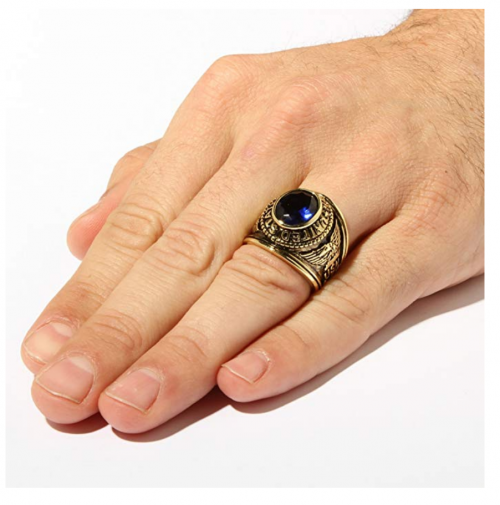 Another lovely men's sapphire ring from Palm Beach Jewelry is this one. Now, this is the most expensive option on our list so far, but that is thanks to the natural 1-carat sapphire in the center. That means that even with a slightly higher price, this ring is still a very worthwhile option that is high-quality and beautifully designed.
Read more
The 1-carat natural blue sapphire is the perfect size to adequately capture attention and create a great focus-piece on the ring. It features a very pretty, multi-faceted, oval cut. A deep, strong midnight blue is the perfect color of this sapphire.
The band that houses this lovely natural sapphire is made from solid 925 sterling silver and even features the 925 quality stamp on the inside of the band.
The band dips down in the center to allow the natural sapphire to be mounted in a way that doesn't leave it sticking out way past it. Raised sections in the center of each side of the sapphire come close to matching its width on the band.
Within each one of the two raised sections, you'll find beautiful rows of sparkling cubic zirconia stones with brilliant clarity and quality. Each side features 8 of the cubic zirconia stones for a total of 16 on the entire ring.
Above and below the sapphire and cubic zirconia stones, smooth silver sections cascade down and around to create the rest of the smooth silver band. This is another option that does get a bit narrower around the bottom of the finger.
That design helps to keep it from spinning for increased comfort and easy visibility of the focus-pieces. It should fit most men well coming in men's sizes 7 through 13.
6

. La4ve Diamonds Diamond & Blue Sapphire Ring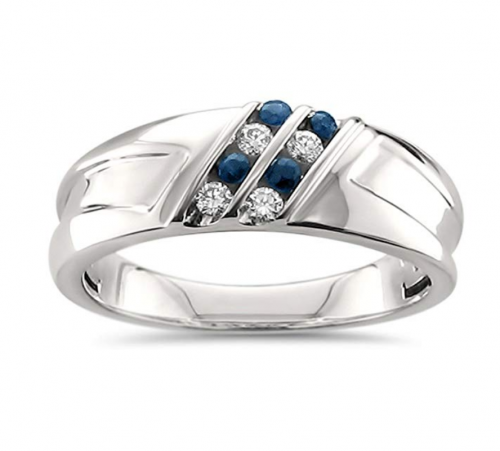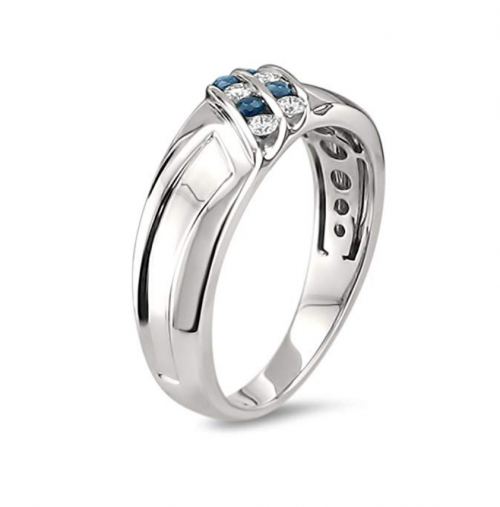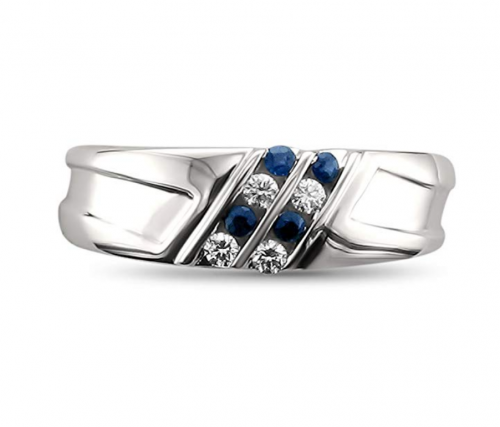 This incredibly high-end and high-quality option is unique among other choices on our list. You should know that this piece is not one that will fit well into just any budget. This option is just for those looking for a really special life-long piece that they are willing to pay for. It is, by far, the most expensive option on our list but for good reason. All of the materials of this ring are completely genuine and natural.
Read more
This is the only option of our top picks that includes both real, natural sapphires as well as real, natural diamonds. The ring is even made of solid 14k white gold. It really is a very special piece that will mean so much to the man you choose to give it to.
While actually one solid piece, the band has the appearance of two bands crisscrossed over each other. This provides a gentle curve and detail for an elegant base perfect for these lovely natural stones. On the top section of the band in the center, there are two canals that run diagonally across the ring in the opposite direction of what appears to be a second band underneath the first.
These two canals run parallel to one another with a thin strip of the white gold passing between them. Inside each canal, you'll find the gorgeous natural stones. Both the natural diamonds as well as the natural sapphires feature a perfect princess-cut.
The squared look adds the perfect subtle touch of masculinity to the overall design. It also allows the stones to line up perfectly together within the canal. Each canal features 2 natural white diamonds and 2 natural blue sapphires in an alternating pattern.
This means the entire piece has 4 natural princess-cut diamonds and 4 natural princess-cut sapphires. These stones paired with the 14k white gold create a timeless look that will match perfectly with any style ranging from traditional to modern.
All half and full sizes from 7.5 to 13 are available in this unbelievable option. La4Ve Diamonds goes above and beyond with all of their jewelry and this stunning men's ring is no exception. It is a perfect choice if you need something truly special.
7

. Star Retail Men's Blue Sapphire & White CZ Ring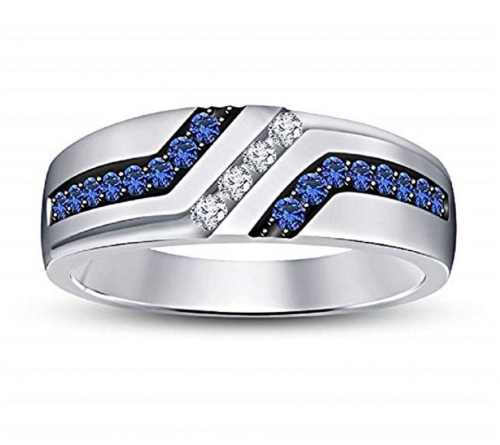 If you like the look of our La4Ve Diamonds pick above but you need something more affordable, this option from Star Retail might be a perfect choice. It has a similar feel to the La4Ve Diamonds ring but is a nice, mid-priced choice that is much more affordable. This is a solid sterling silver band that is plated with mesmerizing white platinum.
Read more
The band features 3 canals carved into the front and sides of it. The center canal runs diagonally across the middle and then makes a sharp turn at the top and bottom before tapering off along the sides.
Parallel to the diagonal part of that center canal, there are two more canals – one above and one below the central canal. Each one of these canals moves from the edge to the center before turning and moving down the sides of the ring parallel to its edges. The center canal features 4 cubic zirconia stones inlaid into the center of it. Then, each of the other canals features a black inlay that is then filled with simulated blue sapphires.
Each of these canals features 8 individual sapphire stones for a total of 16 sapphires on the entire piece and 20 total stones on the ring once you include the cubic zirconia stones as well. The black paired with the bright blue of the sapphires contrasts amazingly with the platinum paired with clear cubic zirconia.
It starts in size 7 and goes all the way up to size 14. That means it is a great choice for men that have particularly large fingers. This is a beautiful and sophisticated ring with a perfect touch of modern design.
8

. Sterling Manufacturers Princess Cut Sapphire Ring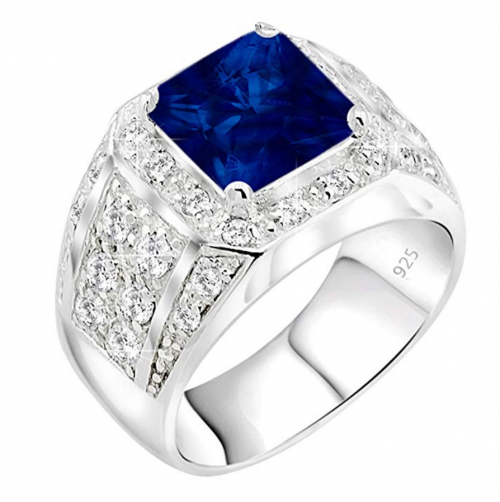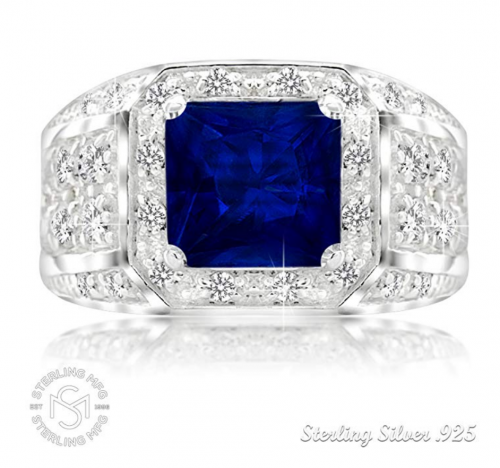 A great option from Sterling Manufacturers is this amazing piece that is full of robust shining detail! It is the ideal choice for a man that really loves his bling. This solid 925 sterling silver ring features 32 total individual stones. That means it has considerably more sparkle than any of our other choices for men's sapphire rings. The main stone on this ring is the center sapphire. This sapphire features a lovely princess-cut with a multi-faceted design and deep blue glow.
Read more
The gemstone is simulated, which helps keep it at a relatively affordable price. The simulated stone is mounted onto a squared section of silver with the corners cut off and slightly rounded. Inlaid into the silver squared piece, all around the stone, there are small cubic zirconia stones.
The shape and number of inlaid stones give the ring a great sophisticated and masculine look right off the bat. Each side features three more inlaid sections of cubic zirconia stones.
The center section on each side is the largest with a solid rectangular shape that houses 6 slightly larger cubic zirconia stones. Then on each side of that rectangular section, there is a section that starts at the corner of the squared center and tapers down the side to a sharp point.
Here, you'll find a line of cubic zirconia stones that gets increasingly smaller the closer to the tapered point that it gets. Again, altogether, there are 32 of these brilliant cubic zirconia stones that all sparkle almost just like real diamonds.
This is a really elegant choice that even comes in an extra-wide variety of sizes starting as small as size 6 and moving all the way up to a large size 14.
9

. Metal Masters Co. Blue and Rose Tone Tungsten Ring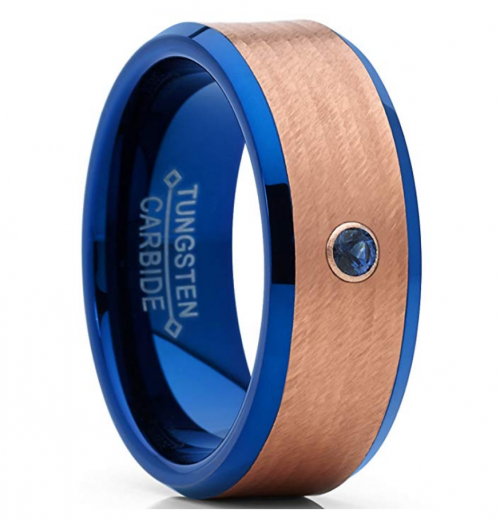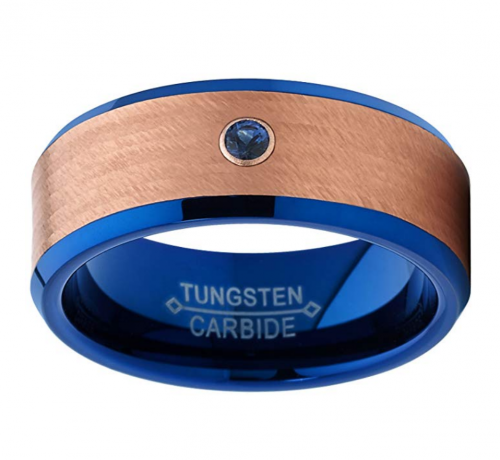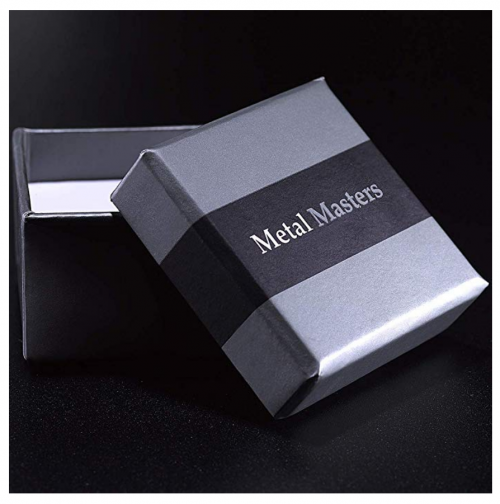 Possibly the most unique option on our entire list, this amazing tungsten sapphire band is perfect if you want amazing style at an affordable price. The Metal Masters Co. piece is a solid band of tungsten carbide. Tungsten carbide has become a popular choice for men's sapphire rings because of its incredible durability and strength that remains looking fantastic even with higher levels of wear and tear.
Read more
This particular option features bright blue tungsten carbide that really stands out among other pieces of jewelry. This is a band-style ring, so the width stays consistent all around it. Also around it, you'll find a lovely inlay of rose-toned tungsten within the blue band.
This inlay or rose-tone tungsten looks just like rose gold and has a great hammered finish for excellent detail and a satin-matte color that contrasts perfectly with the bright polished shine of the blue band.
Right at the very center, there is a small sapphire inlaid within the rose-tone tungsten inlay. A beveled edge of rose-tone gives the little sapphire the perfect halo accent. This sapphire is also a real, natural sapphire which is especially impressive considering the relatively low price.
The natural sapphire has a beautiful blue color that goes perfectly with the bright blue band. You can get this piece in sizes 7 to 12 with some half sizes being available as well.
10

. BONLAVIE Created Sapphire Ring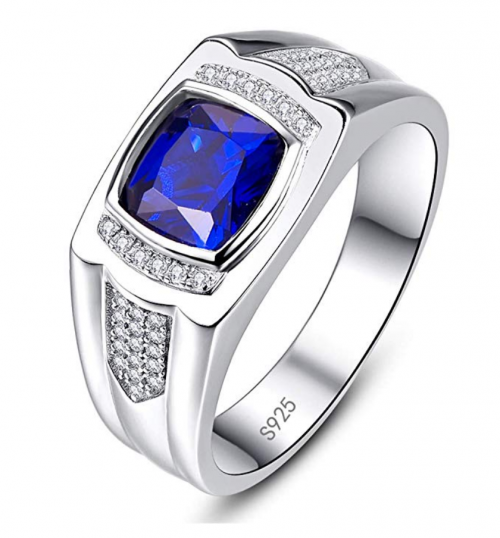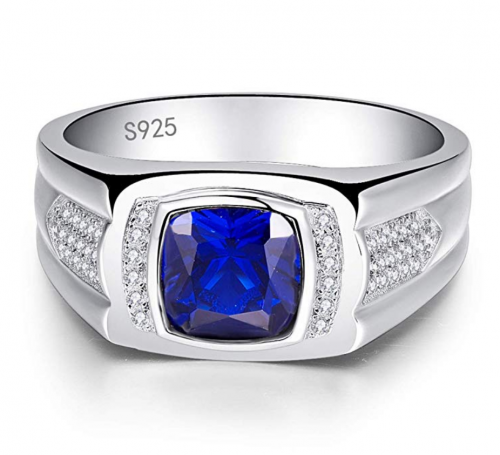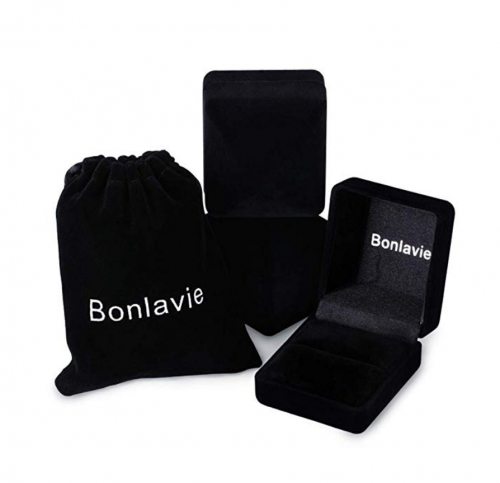 To round off our list we have this beautiful choice from BONLAVIE. We love this option because it provides a cheap piece for anyone on a super tight budget but still maintains a nice quality overall. This is another solid 925 sterling silver ring. This is a really special feature considering the low price. It features a fairly large flat section that defines the top. The sides of this flat area are curved due to the details of silver that curve and cascade down the sides of the ring and around the bottom.
Read more
At the center of the flat top section is where you'll find the lovely created blue sapphire with a stunning princess-cut. The sapphire stone is inlaid within this section for a more flush look with the rest of the ring. A beveled edge of silver all around the sapphire creates a great seamless look as well.
This beveled edge is slightly curved for a smooth appearance. On each side of the beveled edge, there is a line of tiny inlaid cubic zirconia stones that look just amazing next to the large stone.
Once you get past the flat section on top, there are more tiny cubic zirconia stones on the side centers. The inlaid design of the stones on each side creates a simple flag shape that gives the perfect amount of detail to finish.
Available in sizes 8 through 13, this is a great sapphire ring for a man if you are on a tighter budget.
FAQs
q:

Why Men Wear Sapphire Rings?

a:

Sapphires used to be very popular among kings, so they definitely make sense as great gemstones for men. When styled properly, a sapphire provides a robust manly look that gives off a wonderful sense of confidence.

Sapphires are considered to protect the wearers of them from envy and can even increase luck. In fact, it has long been thought that these gemstones bring good fortune and wealth to those that wear them.

That isn't all that sapphires are known for, though. Sapphires are seen as a romantic symbol of love and devotion. This makes them an excellent gift for a man from his significant other.

Finally, sapphires are said to help increase one's faith and purity while also promoting honesty and even peace of mind.