10 Best Pear Shaped Engagement Rings
last updated:
Nov 22, 2019
Pear engagement rings offer a beautiful alternative to traditional round brilliant cut and princess cut engagement rings.
The pear shape makes a stunning centerpiece in an engagement ring.
It draws attention to your lovely fingers and creates a unique silhouette that is sure to capture everyone's attention.
Also referred to as "pendeloque" or "teardrop" shape, the pear shaped ring can make your fingers look slimmer and longer because of the elongated shape.
Because a pear shape is the fusion of the round brilliant cut and the marquise cut, it contains many facets.
As a result, it acquires higher levels of brilliance and fire, more than you could ever find in any other cut stone!
We have scoured the internet for lovely pear shaped engagement rings that you don't see every day.
If you're after a pear shape ring, check our top 10 fave options!
10 Best Pear Shaped Engagement Rings
1

. Jeulia Double Halo Pear Shaped Diamond Ring
Made of sterling silver
Features a 1.9ct double halo pear-cut stone
Backed with a 1-year warranty and 30-day return policy
To kick off the list is this stunning double halo pear shaped sterling silver ring from Jeulia. If you think the stone is big, it's because it's actually huge and weighs an astounding 1.9ct.!
Read more
The simulated diamond ring white stone features a pear cut and sits at the center of the ring in a glittering double halo frame of round shimmering stones.
As a result, the pear shaped stone creates a lovely sparkle that dazzles with so much fire we think it's irresistible.
This ring has an additional round of sparkling stones spilling over on the ring's shark. They glitter perfectly with the same brilliance as the primary stone!
The shank is crafted with sterling silver, which goes to show you that this piece is durable and super gentle on the skin.
All we can say is that it's a timeless beauty; whether worn solo or with other accessories, this ring will always stand out as a statement piece.
It is available in different US ring sizes and can be customized for a more personal touch.
The best thing about it is that it looks incredibly expensive, yet it's reasonably priced!
It could be given as an engagement ring or worn as an accessorizing piece for those of you who like serious dazzles.
2

. Charles & Colvard Pear Micro Pave Ring
The moissanite features a brilliant pear shape cut
Band crafted from 14K white gold
Here is another elegant and timeless piece all about shimmers and sparkles. This ring by Forever One glitters from every angle, the more reason why we like it!
Read more
Elegantly detailed and so brilliantly designed, it features pear-cut moissanite held in place in a traditional prong setting.
As if that's not enough sparkle going on, the designer adds more glitter with extra round-cut stones in a micro pave setting on the ring's shank.
The pear shape cut moissanite (which is huge!) weighs an amazing 2.45 carats and measures approximately 10.0mm x 7.0mm.
The band is crafted from 14K white gold. A size chart is available with ring sizes ranging from size to 5 to 9.
We love moissanite rings because these shine with unrivaled brilliance; they're super sparkly and hard as a diamond; the best thing? These rings don't cost nearly as much as a diamond does!
The price for this option is a little bit higher than most of our picks but completely reasonable considering what you are getting in return.
3

. Lemon Grass Pear Shaped Cubic Zirconia Solitaire Ring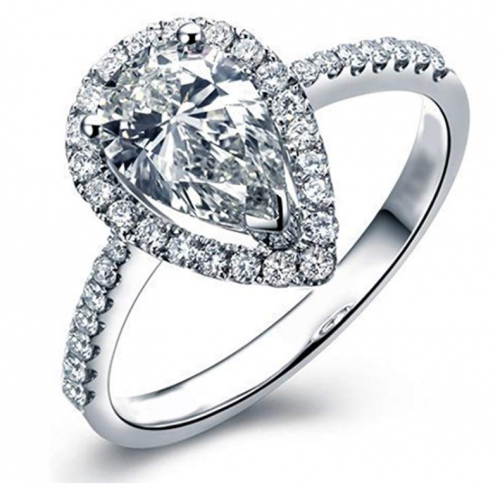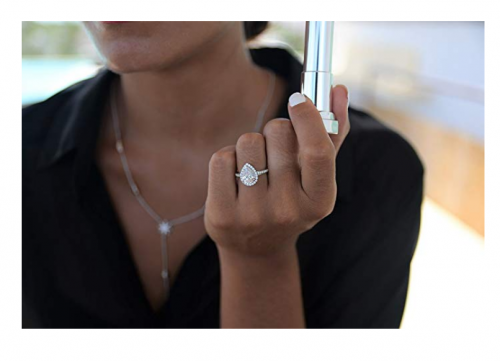 Crafted from 925 sterling silver plated with rhodium
Features pear-cut cubic zirconia in pave setting
Available in different ring sizes
Set in a delicate sterling silver band, this 3ct pear shaped cubic zirconia solitaire engagement ring proves that CZ sparkle just as any other precious colorless gemstones.
Read more
The pear shaped engagement ring is all about the huge cubic zirconia gem that sits delicately in a pave setting surrounded by a round of sparkling side accent stones.
The band is crafted from 925 sterling silver plated with rhodium.
Not only does the rhodium coating protect the silver from tarnish but it also makes the piece of jewelry super durable, meaning it will last you a lifetime if taken care of properly!
Just by looking at this piece it screams expensive! Yet, it comes to you at an incredibly low price tag, so low it will leave your jaw on the ground; you have our word for it.
4

. Black Bow Jewelry Co. Pear Shaped Blue Topaz & Pear Diamond Ring
Made if rhodium-plated sterling silver
Features a faceted pear shaped light blue topaz
Accentuated with 0.16 ct diamonds
Don't you just love the gorgeous dazzles emanating from this breathtakingly stunning pear shaped blue topaz ring!
Read more
The ring features a pear shaped blue topaz gemstone in a 3 prong setting.
The topaz, which represents December's birthstone, provides a lovely backdrop to the natural diamond accent stones and the shining sterling silver shank.
We love the sparkle coming from the topaz and the pear shaped diamond which complement the center stage gemstone.
The light-reflecting is almost blinding, but hey, that's why we picked it! Simple, elegant, and classy, you will never want to take it off.
The band is made of rhodium-plated sterling silver, meaning it will last ages and that it's super friendly to the skin.
This is an awesome choice of jewelry, and the fact that it's accentuated with real diamonds, you should expect to spend a little bit higher on it.
5

. Clara Pucci Teardrop Ring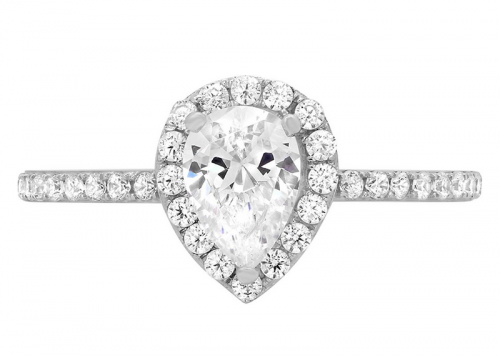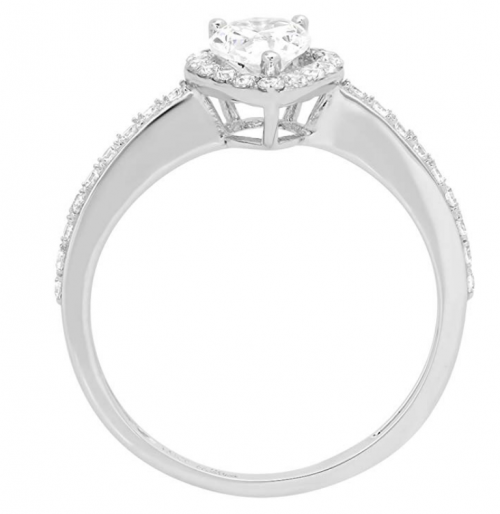 Crafted from solid 14K white gold
Features a 1.12 carats simulated cubic zirconia diamond
The pear shaped engagement ring by Clara Pucci is simply stunning and very romantic.
Read more
The center stage stone, which weighs 1.12 carats, features an excellent pear-cut simulated cubic zirconia diamond stone.
We can't get enough of staring at the center stone, which actually looks like the real diamond but costs a fraction of a diamond.
Its beauty's complimented and uplifted by the glittering halo of simulated diamonds surrounding it.
The teardrop ring's structure is made of solid 14K white gold. The smaller gemstones have been positioned around the pear cut center stone, so you get a lot of bling for the money you pay.
The jewels literally spill over to both sides of the band!
This ring has a modern twist to it, so if you're looking for something less classic, this is it.
It is reasonably priced, which makes it an affordable option if you're on a budget.
6

. Ruby & Oscar Ruby & White Topaz Open Halo Ring
Pear cut 1.5 ct ruby and a round-cut natural topaz (0.29ct)
The band is crafted from solid 9 carats white gold
Love, passion, friendship, happiness, hope, and life are some of the deep emotions that ruby and white topaz stand for. Something great for those born in July or November or just happen to have a deep liking for red.
Read more
We can't have enough of this combination and the resulting pear shaped ring that is super gorgeous as well as dainty.
The beauty of the rich color of ruby, which shines through like a tulip in spring, is well complemented by the white sparkle from the white topaz gemstones.
The piece has a distinct, simple style. The combination of these two gemstones is just right and brings about a brilliant sparkle that's not overbearing.
The shank of the ring is crafted in 9 carats white gold (solid), which provides a lovely backdrop for the colorful gemstone.
This pear shaped engagement ring is a classic and with a high-quality design that matches the upper affordable price tag attached to it.
7

. Ruby & Oscar Sapphire & CZ Teardrop Engagement Ring
Made of sterling silver
Designed with simulated sapphire and cubic zirconia
We love sapphire because of its simplistic beauty. Or maybe it's the fact that sapphire is an insanely popular gemstone when it comes to engagement rings (think Kate Middleton or Victoria Beckham).
Read more
This is why the option screams royal elegance, and we like it!
The primary stone features an oval-cut simulated sapphire gemstone weighing 1.5ct. It's held in place in a three-prong setting.
The beauty of the sapphire's rich color, just like bright clear skies in summer, is complemented by super sparkly round-cut cubic zirconia.
The sapphire's intense glow and the CZ look perfect against the silver of the ring.
This is a beautiful sapphire ring for a September birthday and a lovely something blue for her royal wedding.
With all this beauty, this teardrop ring is more than reasonably priced!
8

. Charles & Colvard Signature Pear Engagement Ring
Crafted in solid 14K yellow gold
Features a pear cut 1.12 ct moissanite stone
If you are looking for a sophisticated option, our next pick fits the bill! This super faceted pear-cut engagement ring by Forever One is a find we are so proud of.
Read more
Timeless and classic in its design, this ring casts sparkles in every direction.
With scintillating pear-cut moissanite surrounded by a halo of glimmering accent gems, this piece is truly is such a beautiful sight to behold!
Made with 14K yellow gold, the band is highly polished and showcases an irresistible satin finish.
It's gracefully structured. We are pretty sure it will feel super smooth around the finger.
The moissanite takes the center spot in a traditional prong setting. It's then surrounded by a shimmering line up of gems decorating the scalloped edges of the primary stone.
This is an incredible high-end looking ring with a price tag that matches its beauty!
9

. Clara Pucci Brilliant Pear Shaped Diamond Ring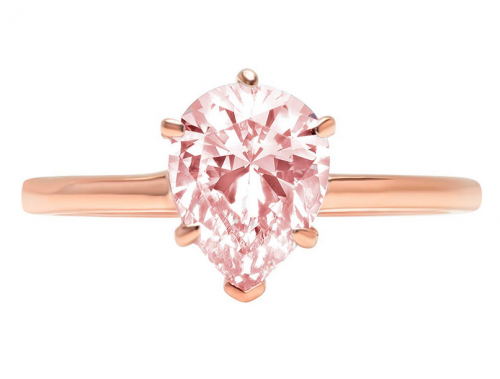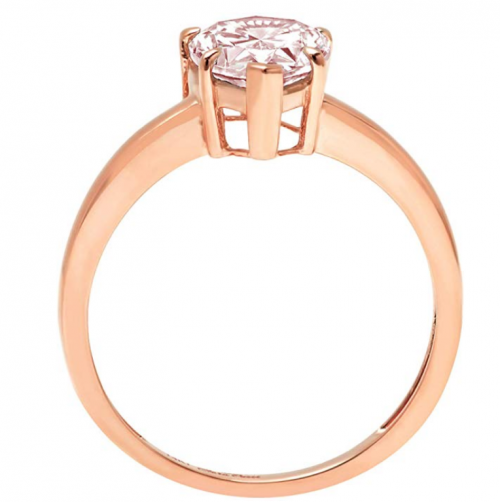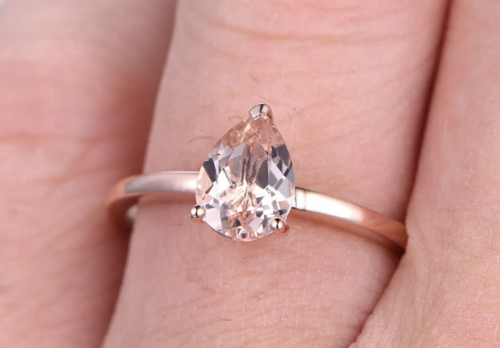 The band is made of solid 14K rose gold
Features a pear shaped pink simulated diamond
Clara Pucci is one of our favorite jewelry brands, and so is this super sweet and romantic teardrop ring.
Read more
It is also evenly rounded and has a noticeable smooth finish. You can trust it to feel super comfy around the finger.
The eye-catching detail here is the pear shaped pink simulated diamond wrapped in a six-prong setting.
The pink accent radiating from the stone complements the rose gold band just perfectly.
The delicate band gives it a minimalist design, but the rose gold is a game-changer!
The band is made of solid 14K rose gold, which accounts for the lovely shine.
This combination gives it a feminine appeal mirrored throughout the entire piece; it's just the perfect girly teardrop engagement ring.
The stone features an ideal cut and has great clarity; you could easily mistake it for a diamond.
What you can't mistake is the price; my all means affordable for a great pear-cut engagement ring!
10

. Houston Diamond District Pear Shaped Diamond Engagement Ring


Crafted from 14K gold
Designed with 100% natural white diamonds
Our last pick is this incredibly detailed classic prong set pear-cut diamond engagement ring.
Read more
The classic prong setting gives the white diamond maximum exposure, allowing light to radiate and travel freely within the stone; this means the sparkle is almost unbearable (yes, you heard us right!).
The band gets the attention, too, as the diamonds extend further in a pave setting to frame half of the shank.
If you are all about center diamonds, she will also need a few side accents for extra oomph, and this stunning piece delivers this look to the boot.
They add more sparkle to this ring and do not take away attention from the center stone. Instead, they add more drama to this stunning piece.
What we have here is a very classy and sparkly pear-cut diamond ring. It's a hybrid of traditional and modern design, giving us a teardrop ring that is quite remarkable.
This option is one of the priciest picks on our list, which is understandable, especially since you are getting 100% natural white diamonds – conflict-free.
Criteria Used for Evaluation
Jewelry Metal & Gemstone Quality
Pear shaped engagement rings allow you to either keep things simple or more extravagant. This style comes with a variety of cuts and settings, which provides plenty of options to choose from.
From our list, you can see we went for minimal solitaires, classic designs, and even included unique gemstones and vintage-inspired styles.
The rings feature a variety of gemstones from natural white diamonds, moissanite, sapphire, ruby, cubic zirconia, simulated diamonds.
We also included pear shaped engagement rings with accent stones for added sparkle and a modern twist.
Your pear shaped ring will make an impact when set in the right metal. We chose a variety of metals, which include yellow gold, white gold, rose gold, and sterling silver.
Price
Our list is great for every budget. If you want to go big and splurge on an engagement ring, you will find options with real diamonds in our listed options.
If you have set your heart on sparkling and sizeable pear shaped diamond engagement ring and you are on a budget, we feature diamond alternatives with killer gemstones.
Most have an expensive, high-end-look with so much sparkle. You will get the majority of these options at a fairly reasonable price.
Style
Pear shaped rings are incredibly versatile, and this is one of the reasons why we picked this style of an engagement ring. It is one of a kind and ideal for everyday life.
But why is this so? The pear shaped works best in all worlds and suits unique settings.
The curve and the pointed end create a cut that presents itself to a variety of settings and styles.
For example, our list showcases several simple solitaire rings featuring a pear shaped gem in the traditional prong setting.
We also have options that sport a pear shaped gem with a halo and pave gemstone band. They are sparkly and stunning too!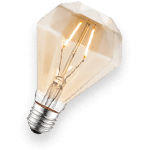 Styling tips
No matter the gemstone or its size, or whether worn pointed out or towards your hand, a pear shaped ring always gives a little more sparkle and shimmers more than its counterparts.
Ariana Grande, Victoria Beckham, among many other celebrities, have certainly made the pear shaped engagement ring popular, and it's all we want to wear now!
From minimal solitaires in traditional settings to unique gemstones and vintage-inspired styles, it all boils down to what your personal preferences are.
For those of you who don't want a classic solitaire ring, you can go for a coordinating band or a ring featuring side accent stones.
These extra details will make the ring look like it was taken out from a princess fairytale!
Styling tips
Also, the side stones add extra sparkle, complement the center stone, and create an illusion of a much bigger ring.
Don't shy away from the color. Go for rubies, sapphires, and other precious gemstones.
Because of its elongated shape, a pear-shaped ring visually slims your fingers and makes them look longer, giving you a feminine and flattering look.
There is no conventional way of wearing your pear shaped engagement ring.
You can wear it with the pointed end facing towards your hand, or outwards, sideways, or a bit off-kilter; it's your choice!
FAQs
q:

Do pear shaped diamond and gemstones sparkle?

a:

The pear shape is a brilliant cut, and this means it maximizes sparkle. The pear cut is a combination of two cuts, which include the brilliant round cut and the marquise.

This creates a modified cut with 58 facets. These individual facets account for the exceptionally brilliant sparkle associated with pear cuts gems and a teardrop ring shape.
q:

How should I wear my pear shaped ring?

a:

Traditionally, pear shaped engagement rings are worn with the pointed end facing towards the hand.

However, there is no right or wrong way of wearing this type of teardrop ring.

The advantage of having the pear shaped ring with the point out is that it can visually slim the fingers and make them appear longer.
q:

Do pear shaped rings have special meaning?

a:

There are no traditional or official meanings associated with the pear cut gems, but the shape can symbolize raindrops and tears of joy (that's why it's also called a teardrop ring).

Some traits are also attributed to those who wear pear shaped rings.

For example, it's believed that women who wear pear shaped engagement rings are romantic because the teardrop means there will be tears of joy in that union.
Finally..
Call it a comeback or a resurgence, but pear shaped engagement rings are here, and we love this style.
Also called a teardrop ring, It is one of the most elegant choices when it comes to engagement jewelry. It's classy, timeless, and truly stands out.
No matter the shape, the gem, or how it's worn, a pear shaped engagement ring always seems to have more sparkle than any other type of ring.
The pear cut offers more options from simple settings such as minimal classic solitaires to unconventional and non-traditional settings.
A pear shaped gem can be set in a traditional prong setting, pave, bezel, tension, melee.
Its brilliant-cut, otherwise referred to as a modified fancy cut, will show off the gems shape the best.
Whether set in yellow, rose, or white gold or even sterling silver, a pear shaped gem always makes an impact.
Its signature silhouette is so recognizable and lovely it is one of the most popular choices for truly beautiful engagement rings!
Our 10 favorite picks range from dainty options to bold, super sparkly rings, and whatever your personal preference is, we still think there is something on our list that with make your heart flutter!