The Most Affordable Platinum Rings for Men (Dupe List!)
last updated:
Dec 30, 2019
When it comes to jewelry for men, some designs have a class that can be compared to royalty.
The quality and appeal are so good that it seems to be accessible only to people who can spend some serious cash.
Platinum rings for men fall into this category, and we know how unaffordable this type of jewelry can be.
You might have been eyeing a specific piece of jewelry for a while now, but getting one might mean breaking the bank.
This is the reason we looked for some options that are made from materials resembling platinum, but you can get at an affordable price.
Our Top 10 Picks!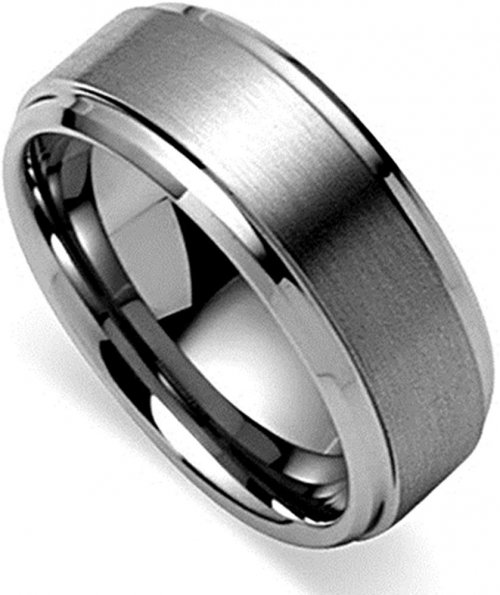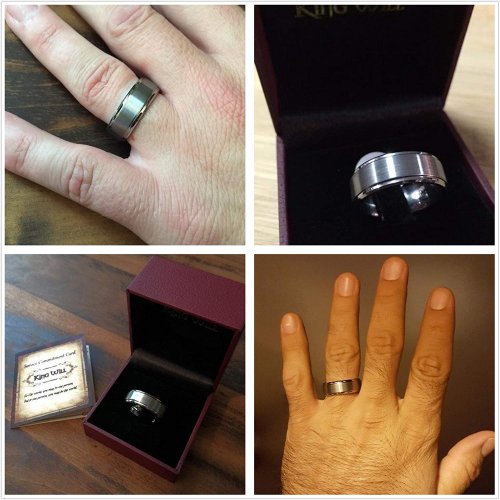 The first item on our list is for men who love to keep their look simple, yet classic. This ring is made to fit in an understated way while glimmering off slightly on your fingers.
Read more
It was created to meet the highest standards when it comes to its sleek design and the smooth polish used for the finish is something that would get you hooked.
Platinum is very rare, and when it comes to price, it's exorbitant! So King Will designed a ring with a super durable base and plated it with real platinum.
The base was crafted with tungsten carbide known as one of the strongest materials out there.
You wouldn't know the difference between this ring and a 100% platinum piece. You have our word!
It is 8 mm in width, it is scratch-resistant and made to sit comfortably on your finger.
It comes with a gift wrap so it's also the perfect pick if you want to get your bae something for his birthday or Christmas!
Other info: available in different sizes.
2

. Sterling Manufacturers Unisex Ring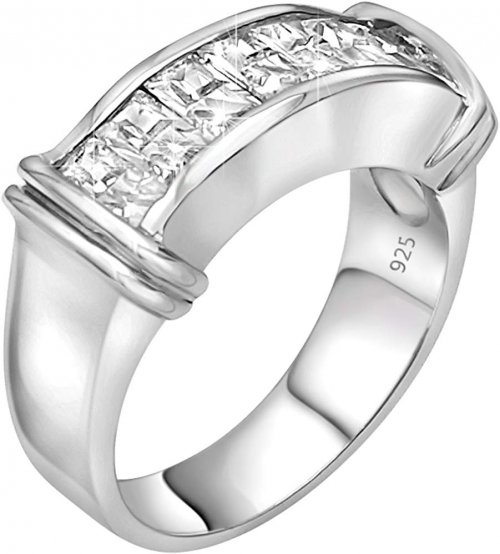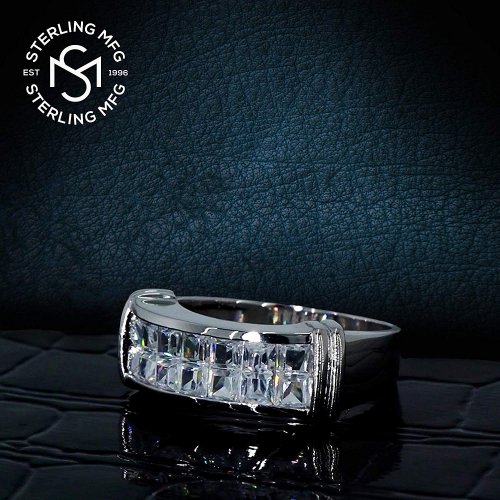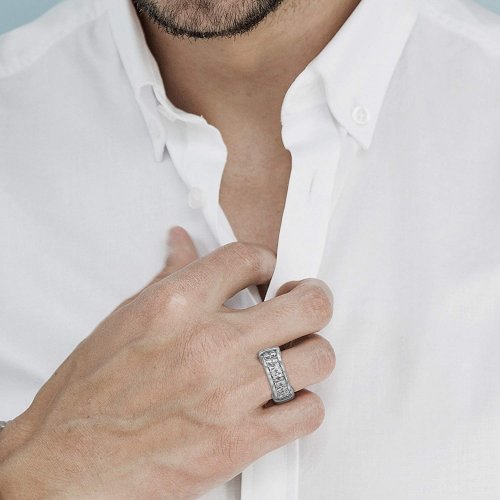 Here we have a piece that combines quality materials to make one gorgeous masterpiece. The ring is perfectly crafted into a polished band and cubic zirconia stones to add a bit of sparkle to it.
Read more
It was made with a 925 sterling silver base metal, which is the safest metal when it comes to skin and the perfect choice for those who are allergic to certain types of jewelry.
There is a fine layer of rhodium plating on the base, and the platinum was used to polish it up and give it the ultimate brilliance.
You would love the smooth feel of the metal when you run your fingertips over it!
The CZ stones were used to add a focal point and some dazzle to it making it glimmer fantastically.
It isn't prone to tarnish, and the reflection it gives off is quite similar to that of diamonds.
It looks exactly like the real thing, but it's much more affordable.
So if you want an option that grabs attention without digging too deep into your pockets, then this is your perfect choice!
Other info: the ring is available in sizes 9 to 14.
3

. GESTALT COUTURE Unique Claddagh Ring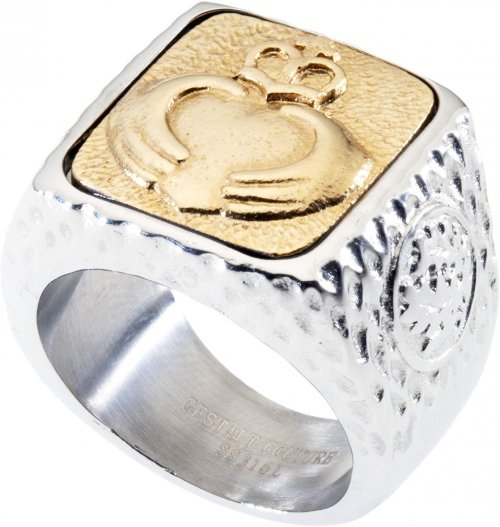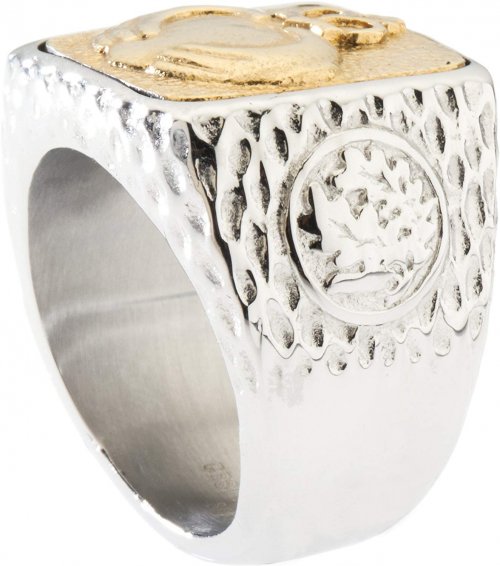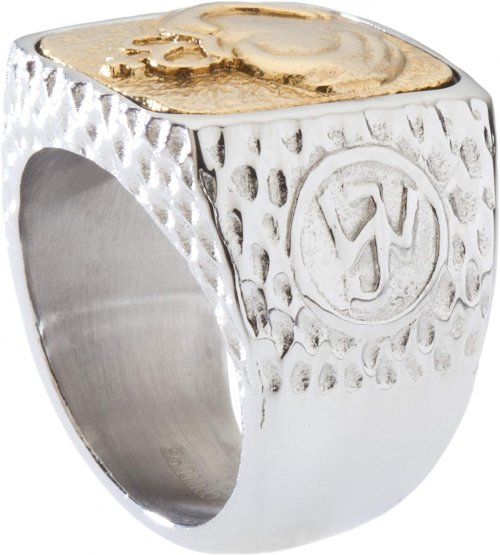 The masculinity that comes with the design of this fantastic Claddagh ring has not been lost on us!
Read more
It's bold, elegant and at the same time super masculine. Gestalt Couture threw in a lot of expertise to make sure that what comes out is of top quality!
Crafted with solid platinum over 316L surgical stainless steel, the focal feature on this ring has also been dipped into 18kt gold making the contrast between platinum and yellow gold its main feature.
Considering the metals and the plating, the designer did not compromise on the quality or looks of this piece.
It is absolutely gorgeous, and there is a carving of hands holding a noble heart in the front.
It is also uniquely large without being overbearing, just the perfect size for a piece of jewelry that will certainly add to your personal style.
The piece is 18mm x 16mm and tapered to be 9mm thick. You can get one now for a very affordable price and trust us when we say you won't regret adding it to your cart.
Other info: you can choose the band size.
4

. Amazon Collection Round-Cut Pave' Ring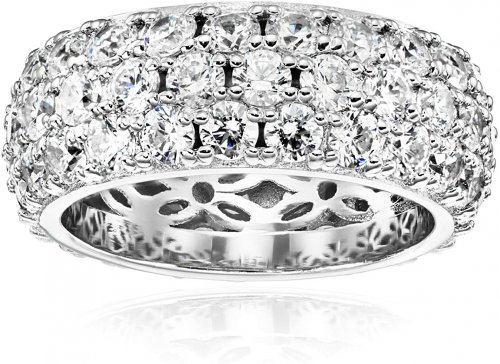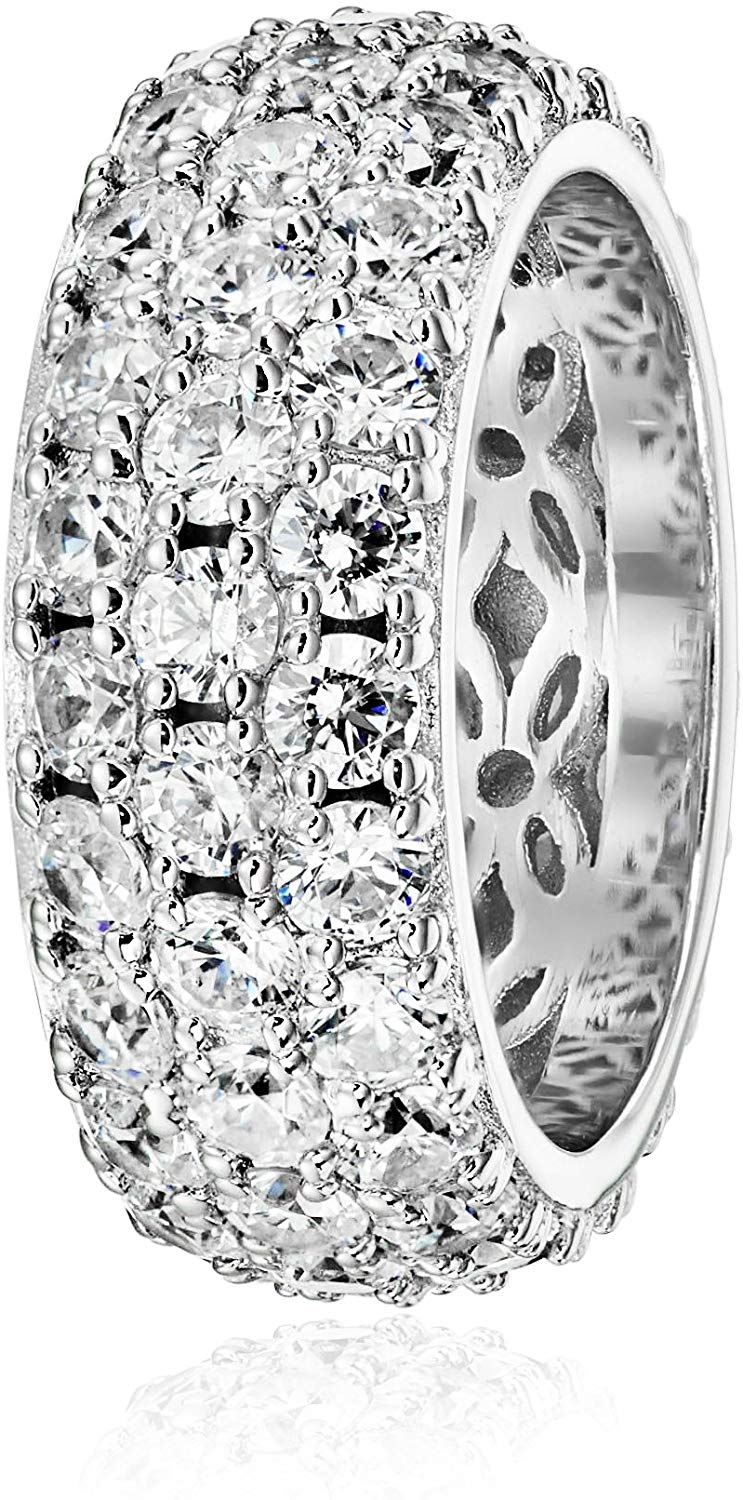 Amazon Collection features some of the best jewelry you can find online. This piece is part of the collection, and just by looking at it you get the appeal.
Read more
The ring is encrusted with crystal perfectly aligned just to create a remarkable piece of statement jewelry.
Made with a base of sterling silver, it is plated with platinum to give it durability and sleek shine.
You'll also notice a decorative filigree on the inner band of the ring to enhance its aesthetics.
There are three rows of Swarovski crystals that give off such shimmer you'll just be dazzled by it.
The crystal stones come in a pave' setting and the seller guarantees the quality of the work giving you peace of mind since you can be sure the sparkly stones won't come off that easily.
The ring is available in different colors, and you can choose the one that best suits your personal preferences.
Other info: it is available in size 5 – 9, so it might not fit those with larger fingers.
5

. DOVEGGS Platinum-Plated Unisex Ring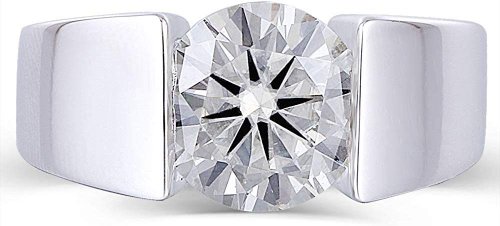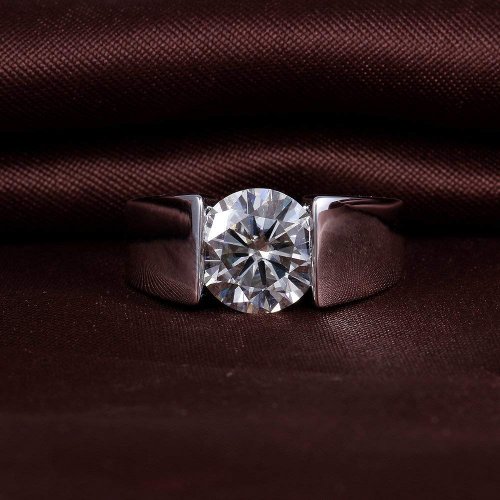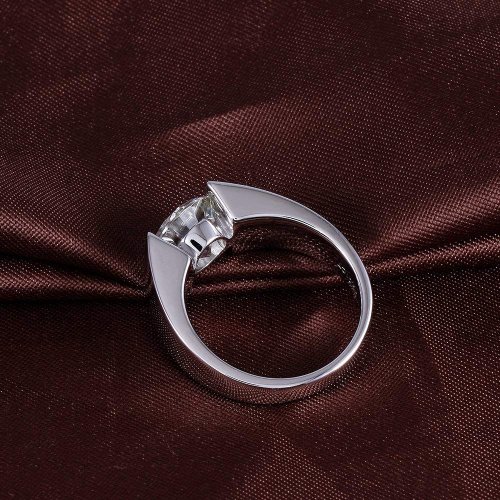 Excellently cut to perfection, this option from Doveggs is what we call 'exquisite.' From a top of the line brand, meet one of the best affordable dupes when it comes to platinum rings for men!
Read more
The piece was made with a 925 sterling silver base and a platinum finish.
There is a big shiny 3-carat moissanite stone at the center of the band, and you can bet this baby shines so much you'd spot it even from a mile away!
You can count on it not to tarnish, and it's hypoallergenic and skin safe. Additionally, there is a heart arrow cut that gives it a reflective index that is higher than that of a natural diamond!
Super sparkling, elegant and made with top quality metals, this ring is a dream come true for anyone looking for a ring that shines like a diamond, feels like a diamond, but does not cost like one!
Other info: it comes with a warranty and it's available in different band sizes.
6

. Sterling Manufacturers Ring with Invisible Set Center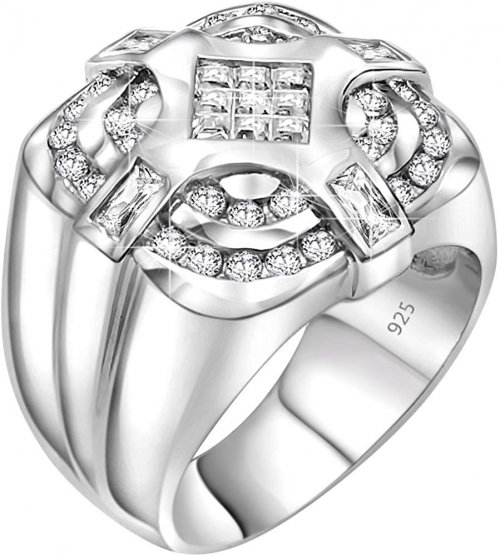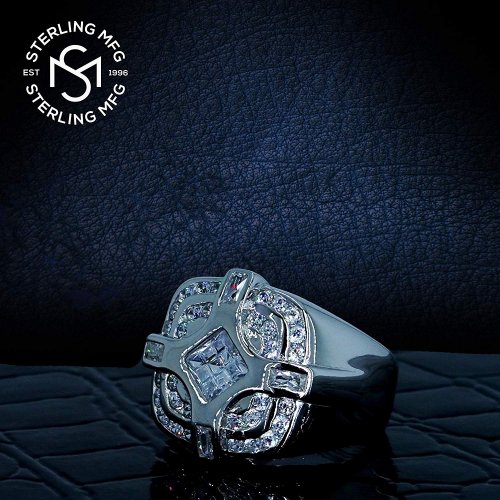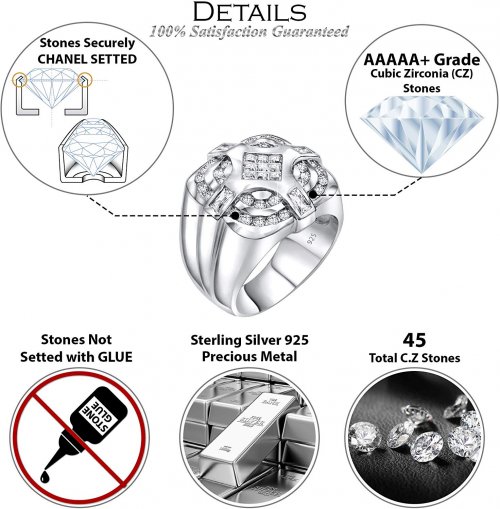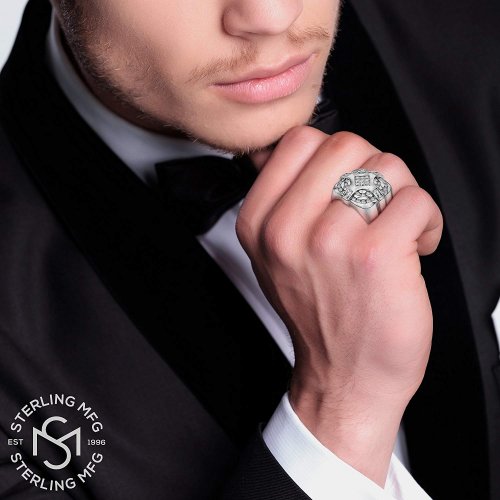 Cubic zirconias are to be found often as these beauties spark like a diamond but come at a fraction of the price, and this ring features cubic zirconia stones cut to the highest standards.
Read more
It was made with a base of 925 sterling silver metal and has cubic zirconia littering the front in a pave' setting for maximum aesthetic appeal. The stones are baguette and princess cut grade AAAAA+ CZs.
It has a gorgeous platinum finish giving it that polished and elegant shine we love.
Being made of silver and platinum, you can count on it withstanding scratches and not tarnishing or rusting even if you wet it!
It also comes with a gift bag to make it a perfect item for gifting.
And the best part? it's a unisex piece so whether for a man or a woman, you cannot go wrong by getting it.
Other info: available in different band sizes.
7

. Seta Jewelry Men's Oval-Cut Blue Ring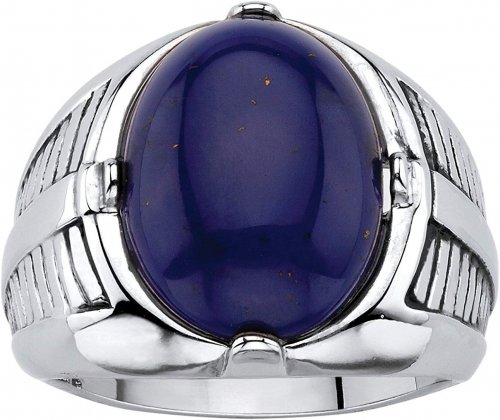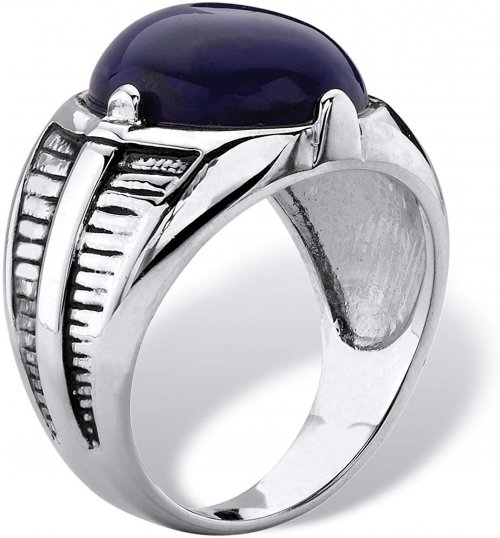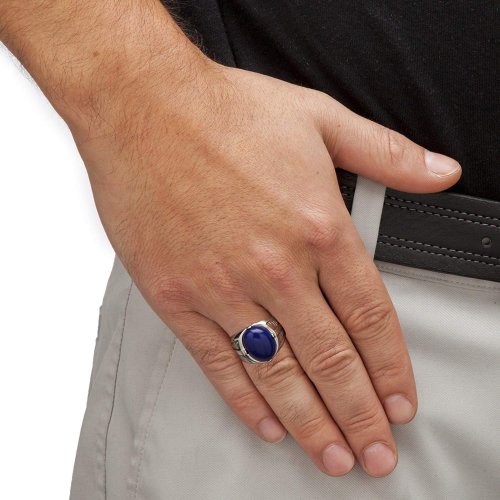 This remarkable ring was crafted using brass alloy and plated with real platinum to give it durability, shine, and making it look astounding.
Read more
To accent it, it has a piece of oval-shaped, naturally cut lapis lazuli smacked into the front of the band.
The deep celestial blue of the lapis lazuli is enchanting and the gemstone is known to symbolize honor and royalty.
The stone is set into a prong setting protruding from the band and making this ring a bold choice of jewelry for those who like something more unique rather than dainty pieces and simple bands.
Lapis lazuli is believed to promote intellectual ability making this ring the perfect gift choice for those with a demanding job.
Other info: it is available in sizes 8 to 13, and the price is very affordable.
8

. GESTALT COUTURE Celtic Cross Ring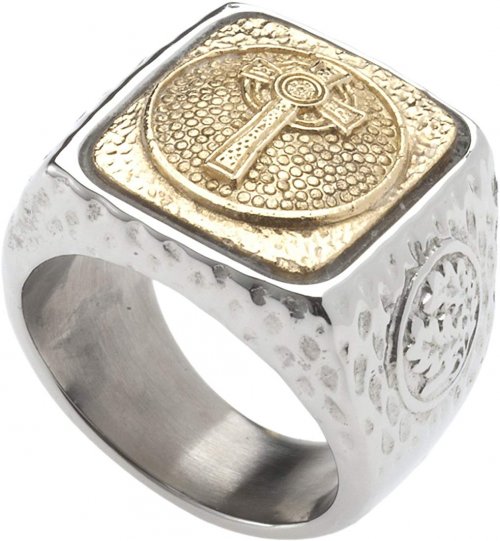 We already included a piece by Gestalt Couture but we just couldn't resist the urge to add this one to our list as well. We just fell in love with the particular design and appeal of this signet-style ring.
Read more
Carved with solid 316L surgical stainless steel, it was plated with platinum and hammered to give it a more rugged rather than polished finish.
You will notice an oak leaf curved into the band and oak leaves were a symbol of status for Celts.
The top of th ering bears an 18kt gold plated Celtic Cross symbol, carved with intricate attention to detail.
It weighs about 28.5 grams which is not overbearing, it will sit comfortably on your finger.
The colors are a timeless mix of silver and yellow gold making this the perfect choice for those of you who like Celtic symbolism, bold jewelry and statement rings.
Other info: 30-days refund policy!
9

. TVS-JEWELS Black Enamel Zodiac Ring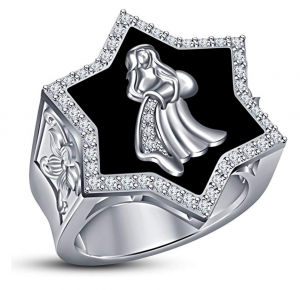 This gorgeous ring was made with stamped 925 sterling silver. If you want something that is intricately designed to look unique, this piece is just for you.
Read more
The round cut of each of the cubic zirconia stones encrusted in the band and at the top is a sight to behold, and there is a black enamel background that complements the beautiful Aquarius symbol crafted on the top of the ring.
There is also the platinum finish to make the ring look just like the real deal and give it the ultimate polished appeal. You can get also get it for other zodiac symbols!
It features a great cut and the design of both the band and the top is neatly done. This gorgeous piece does not come cheap but honestly, it's worth every penny!
Other info: it is available in size 7 to size 14.
10

. Sterling Manufacturers Cubic Zirconia Stones Ring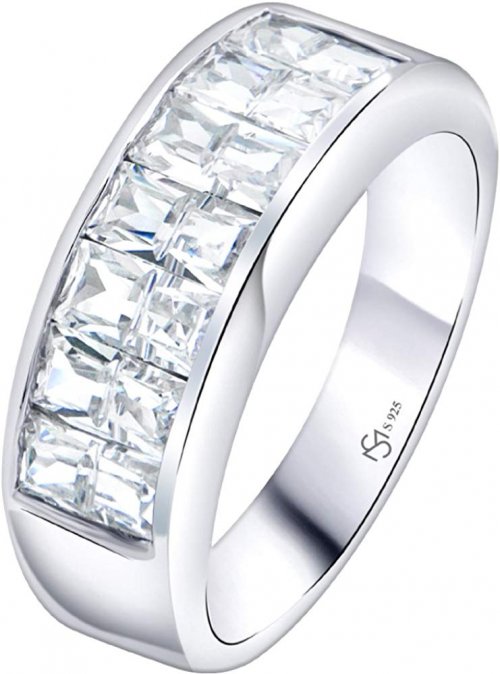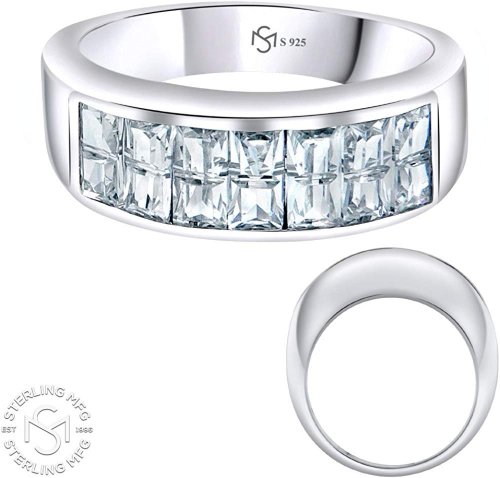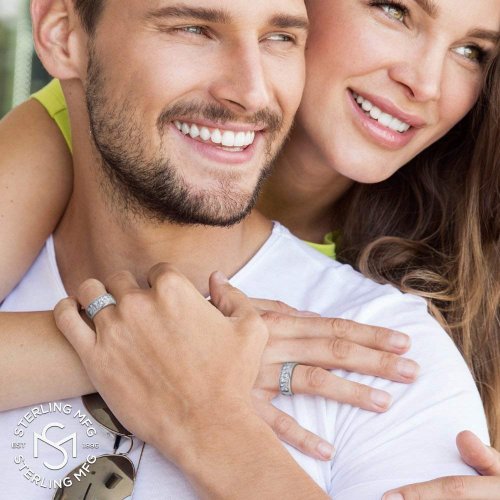 This ring is an excellent choice for those who love simple, chic and intricately designed jewelry. It is intended for both men and women, and the precise cut is evidence of the expertise of the craftsmen at Sterling Manufacturers.
Read more
The first thing you'll notice is the 925 sterling silver band. You will love the smooth feeling of the platinum polish.
The ring is scratch-resistant and very durable, and you also won't need to worry about any skin rashes since it is 100% hypoallergenic.
To accent the ring there is a cubic zirconia set encrusted into the front resembling real diamonds.
The shine and sparkle coming off these fantastic stones are almost unreal, and we can bet you won't be able to tell the difference from real diamonds!
When ordering this ring you also get a metallic jewelry gift pouch for free, making it the perfect choice when looking for an affordable yet gorgeous piece of jewelry to be gifted on a special occasion.
Other info: it is available in different sizes, so check your finger size before you order one.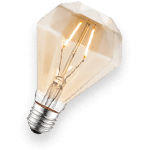 Why You Should Choose Platinum Rings for Men
Platinum is one of the rarest and most precious metals. It beats gold and silver when it comes to quality, and it is so durable you can pass it from one generation to another.
This metal has an incredible luster that makes any jewelry piece in platinum brilliant, polished and super shiny.
Platinum became popular for jewelry in the 19th century. It was discovered by a scientist named Julius Scaliger in 1557.
When European royalty was acquainted with the characteristics of platinum, Louis XVI of France declared that it was the only metal fit for royal jewels.
This same trend was adopted in America in the early 1900s and took the public by storm. Anyone with a certain status and with money just had to own platinum jewelry pieces making this metal a real status symbol among rich Americans with deep pockets.
Why You Should Choose Platinum Rings for Men
Nowadays platinum may have lost the denomination of royal metal, but it is still very much the first choice of jewelry for those looking to buy the best of the best when it comes to any piece of jewelry, from necklaces to rings.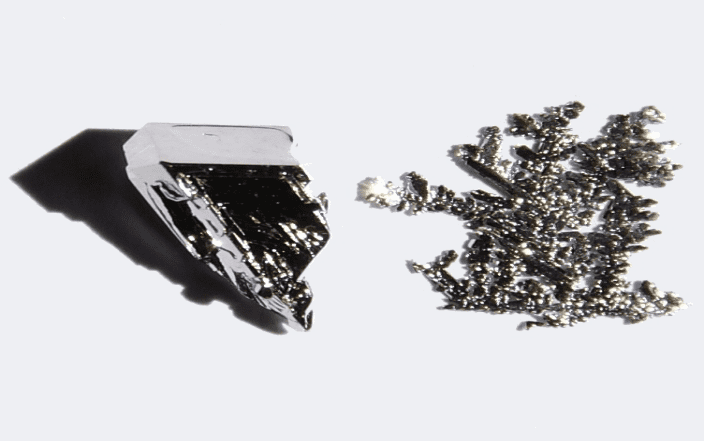 Now platinum comes at a very high price point and that is why in our list you will find 10 platinum-plated rings that look just like the real deal but you will be able to afford no matter your budget!
Frequently Asked Questions
q:

Are platinum rings more expensive than gold options?

a:

Platinum is a rare metal, and it is often said that tall the platinum mined around the world would not fill up a room.

This is due to the intricacies of mining this particular metal. So, platinum is more valuable than gold, and the price is higher when compared to gold.
q:

Will the platinum-plated rings on this list last as much as the real thing?

a:

The answer is no; platinum-plating is done with a base metal which is not platinum. So with time, the platinum might wear off.

But one advantage is that platinum-plated rings are way cheaper than the real thing and they still look like the real deal.
q:

How do I care for my platinum-plated rings?

a:

You can use a soft brush or cloth soaked with mild soap to clean the ring.

Also, make sure to store it in a soft pouch when taking it off. This should keep it looking spotless for a long time.
Finally...
The options we selected are made from outstanding quality, and we wouldn't dare to risk your satisfaction by recommending jewelry that is either anything less than gorgeous or easy to tarnish.
Check our 10 platinum rings for men (dupe list!) and get yourself a ring that will stand the test of time and nobody will be able to tell the difference form the real deal!