Our Favorite Sapphire Wedding Bands for 2023
last updated:
Jan 07, 2021
Sapphires represent everything from good fortune and royalty to wisdom and honesty. Sapphire wedding bands are some of the best ways to showcase this beautiful stone.
Sapphire is as popular as ever and we definitely get why! It is an absolutely beautiful stone that holds so much incredible meaning.
When it comes to choosing these stunning gemstones for your engagement ring or wedding band, they hold even more special meaning.
Sapphire can also represent faithfulness which is a hugely important part of a successful marriage.
Check out our top picks for 2020 below!
Our Top 10 Sapphire Wedding Bands!
1

. TwoBirch Diamonds and Sapphire Vintage Wedding Band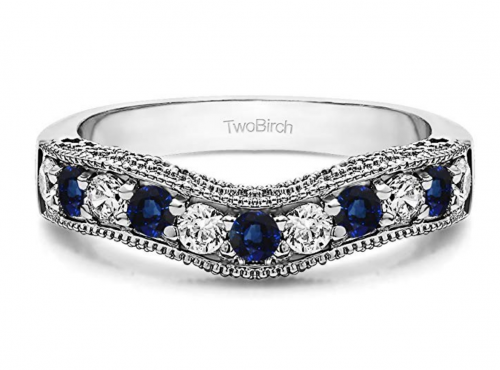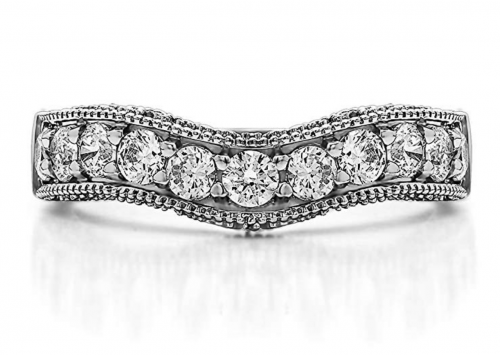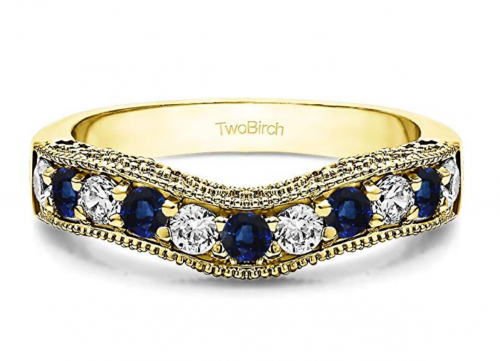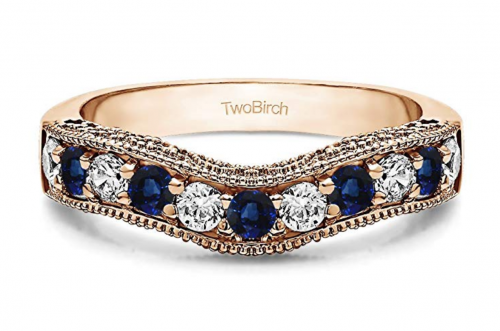 A great medium-priced option is this vintage-style ring from TwoBirch! The ring is very nice with quality materials but comes at a surprisingly affordable price for what you're actually getting.
Read more
This is also a contoured wedding band, which means that the center of the band actually curves out slightly. This allows it to fit very nicely alongside an engagement ring with a middle stone sticking out from the band as most do have.
The band is made from white gold but is also available in multiple other colors. If you prefer, you can choose between rose gold or yellow gold for your band as well. All of them look absolutely wonderful with the blue sapphires and white diamonds.
Speaking of the gemstones, all of the stones are natural and feature a very clean-looking round-cut. Right at the center of the band where it curves out, there is one of the sapphire stones.
Then on each side of it, there are white diamonds, then more sapphires and so on. This gives a total of 5 blue sapphires and 6 white diamonds in the design of the ring. They are all held securely in place in the band by gold mounting prongs in whichever gold color choice you choose for your band.
All along the edges of where this row of stones is placed, there is careful detailing within the gold. This gives it a really cool texture and creates a look similar to a zipper all around the stones.
This detailing extends down onto the sides of the band in the front and back of where the row is placed. This gives it a lot of nice texture and interest. The rest of the band is smoothly polished and very shiny.
With a very impressive range of sizes, you can choose the ring in any size from 3 to 15 including all half and quarter sizes.
2

. Gem Stone King Created Sapphire Wedding Band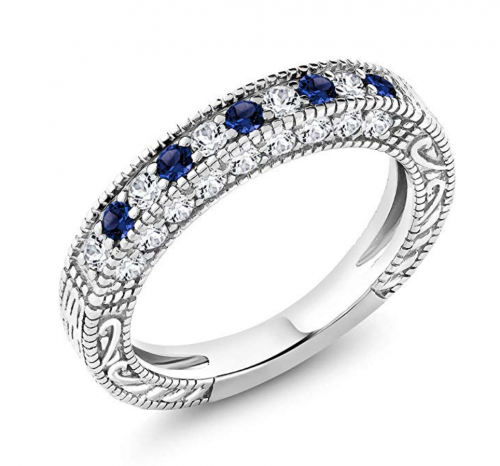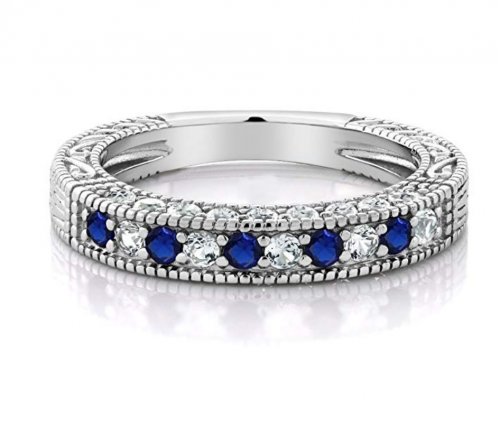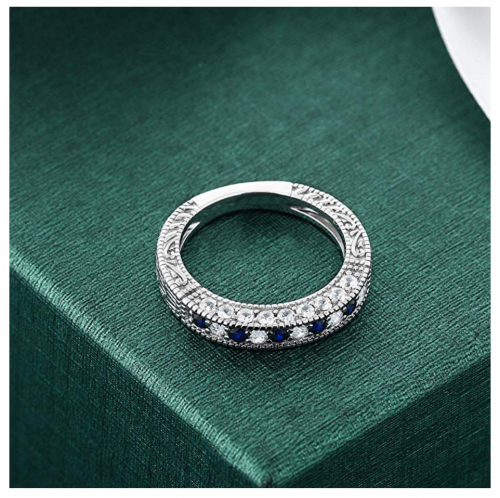 From Gem Stone King, we have this breathtaking sapphire band that is actually much more affordable. That is because they've used lab-created stones in this ring. While this does lower the overall value, these stones are still absolutely beautiful and look very real.
Read more
Since the piece is so much cheaper, it is really just something you need to decide for yourself in regard to what your priorities are with the ring. The design and intricate detailing of the band give so much to take in and enjoy as you look at it.
The band is one consistent thickness all the way around the finger. At the top, there is a combination of lab-created blue and white sapphires inlaid into it. They alternate blue, white, blue, white all the way across the top of the band for a total of 10 lab-created sapphires.
They are inlaid into the band to create a smoother overall appearance. Each of these stones is nearly 2mm across for a nice size that captures attention without becoming too overwhelming. They are held securely into the ring with silver mounting prongs.
What is nice about these is that they are all made to be very even and polished to help keep up the clean and smooth appearance of this wedding band. The entire band is made from the same 925 sterling silver for a perfect combo of beauty and strength.
Along the edges of the band, surrounding the row of 10 white and blue stones, there are little notches in the silver. This creates a curved rectangular shape that appears like silver rope holding the stones in place. More notches all over the band create more rectangular shapes that look to be made from silver rope.
There are sections like this on the sides of the band as well as the front and back of the band. On both the front and back of the band at the top center section, there are more sapphires inlaid. These are only white lab-created stones rather than the combo of blue and white. This keeps the bulk of the attention up at the top of the piece while still creating some really nice accent sections and detailing for the band. There are 9 of these white stones on the front and back of the ring.
As you go farther down from the stone, there is even more intricate detailing on the front, back, and sides. These details are formed by careful engraving within the silver of the band. This creates beautiful curling and curving silver designs all within the rope-style notches on the edged of all sides of the ring.
At the very bottom, there is about ¼ of the ring that is polished smooth for a nice shiny look. All of the detail of the ring perfectly comes together for a very elegant and sophisticated option.
The best part is that it is very affordable – especially for the expensive look you are getting!
3

. Dazzlingrock Collection Wedding Stackable Ring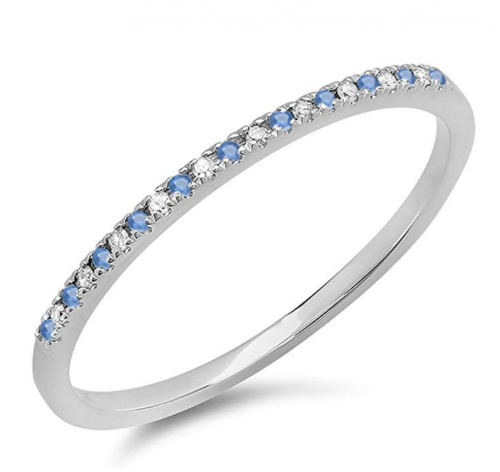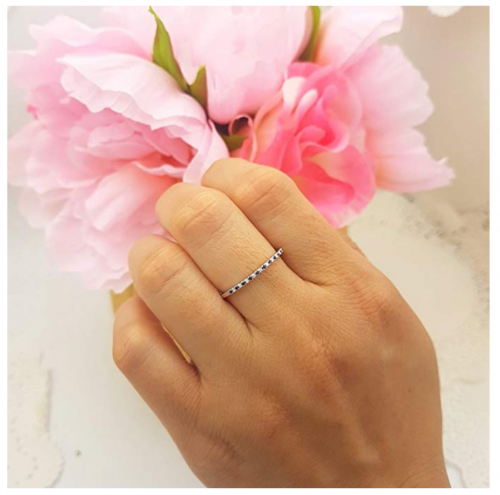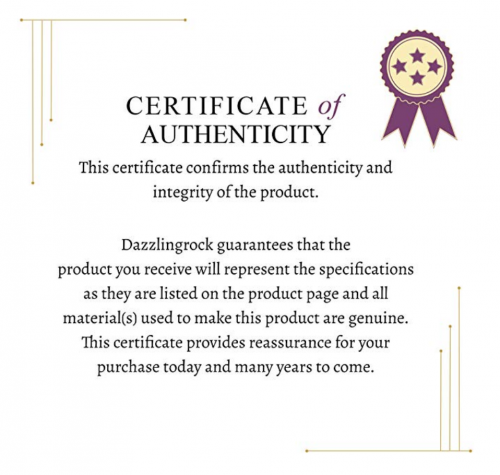 Up next is a much simpler option from Dazzling Rock. This lovely little wedding band is very feminine and has a dainty look to it that is simple and elegant. The band is very thin, which is exactly what helps to create this dainty feminine appearance.
Read more
It is made from 10k white gold for very high-quality design and gorgeous shining look to it. On the top of the thin white gold band, there is a straight row of tiny stones mounted onto the band.
They cover about 1/3 of the entire band and stretch across the full width of the band. The stones alternate between tiny natural blue sapphires and tiny natural diamonds. They look absolutely incredible together even with their rather small size. These delicate-looking little stones are all round-cut and provide lovely sparkle to your ring.
The stones alternate between blue sapphire and white diamond with a blue stone finishing off each end. This means there is a total of 10 white diamonds and 11 blue sapphires.
The band is the same thin width all the way around it. The thinner look with smaller stones makes it a truly great accent to your engagement ring.
It provides additional interest and a beautiful look without being overwhelming or taking all of the attention away from the ring.
You can choose this band in sizes 4 to 10 including all half-sizes as well. This means it will be a great choice for almost any woman.
The white gold and real natural stones do increase the price some but since it is a thin option with very small stones, it is still relatively affordable coming in at around the middle of our list when it comes to cost.
Since Dazzling Rock knows how high-quality their products are, you'll also enjoy their 90-day warranty!
4

. Black Bow Jewelry & Co. Sapphire & Diamond Silver Band
This impressive ring from the Black Bow Jewelry& Co. is actually one of the priciest picks of all of our choices. The higher price is very justifiable, though, and well worth it if you want a very nice and super high-quality piece. The band itself is made of 14k white gold.
Read more
The gold is solid with no plating or dipping whatsoever. It is also well-polished for a smooth and shining look that is hard to beat. The band has a rounded top edge to it with flat sides.
It also features a comfort-fit design that lends to the base of the band being a little bit thinner than on the top. Not only does this make it a little more lightweight, but it also keeps the ring right where you want it on your finger.
At the top of the band, there is a section of the white gold cut out to create an open channel. This channel is then filled with a row of gorgeous natural gemstones. There is a combination of natural blue sapphires and natural white diamonds. These two just go so incredibly well together that the combination has become very popular.
The diamonds and sapphires are all the same size and feature a perfect princess-cut. They alternate between the stones and the diamonds in the row with sapphires on both ends. This leaves a total of 6 blue stones and 5 white diamonds.
Because they are inlaid down into the channel cut out of the gold, you'll actually see that the edges of the gold band come up slightly higher than the actual stones. This helps really well with the smoother look of the band. They are actually held in place in a tight row all against each other by the edges of the gold. This means there are no visible mounting prongs.
It has a very sophisticated feel to it. It is available in practically every size imaginable, too, so it will work for anyone!
The range of sizes goes from a tiny size 3 all the way up to a size 12.25. Every half size and quarter size is even available within the range to guarantee a comfortable and perfect fit for everyone.
There is no questioning that this is an incredible quality band that is very much worth the cost.
5

. Dazzlingrock Collection Swirl Stackable Ring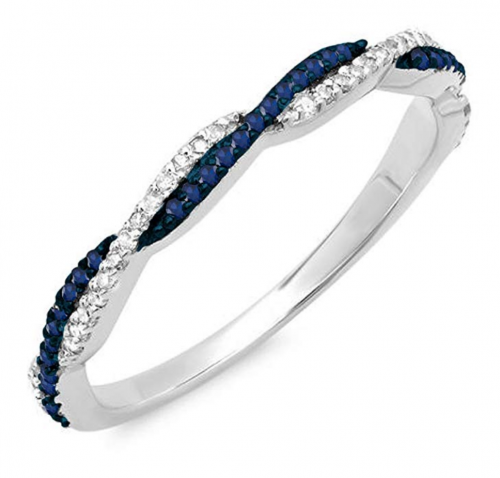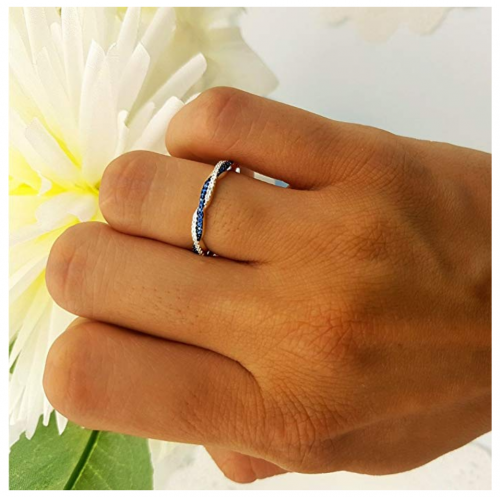 Another lovely choice from Dazzling Rock, this option is a very elegant choice that also happens to be another one of our more expensive choices for blue sapphire bands. The higher price is, again, due to the high quality real and natural materials.
Read more
The band itself is made from solid 14k white gold. The white gold looks absolutely perfect with the natural stones and natural white diamonds that you'll also see on the band. It has a unique design to it compared to most of the options out there.
Rather than having a straight row of stones, it features gemstones that appear to be twisted together. This isn't just very unique, but also gives a highly elegant look with just a touch of fun playfulness incorporated. It makes it very versatile too!
It is designed with one long row of tiny natural white diamonds and one long row of tiny natural blue stones. They curve around each other all along the upper half of the band to create that twisted look that we are talking about.
The diamonds are mounted with little prongs made of the same white gold as the rest of the band. The sapphires, however, feature black gold mounting prongs all along their row. This creates a nice look and even better contrast between the two rows of gemstones.
The band is cut perfectly to fit underneath the rows of twisting stones as to not stick out from the sides. It actually gives more depth overall to the look of the ring this way. The bottom of the band is straight and smooth.
One more awesome feature of the ring is that it actually has multiple gold colors available! If you don't love the more classic white gold look, you can choose the same exact ring in rose gold or yellow gold. Both of these colored golds create a really fascinating and sophisticated appearance with the bright blue of the sapphires.
You can choose any of these gold colors in sizes 4 to 10 including half size options!
6

. VIR Jewels Sterling Silver Blue Sapphire & Diamond Band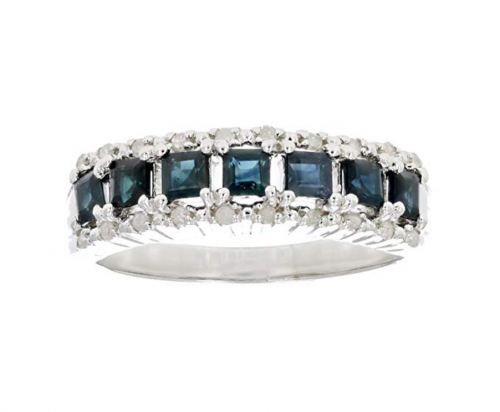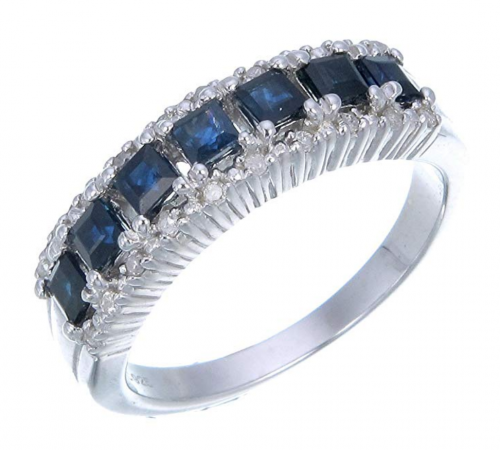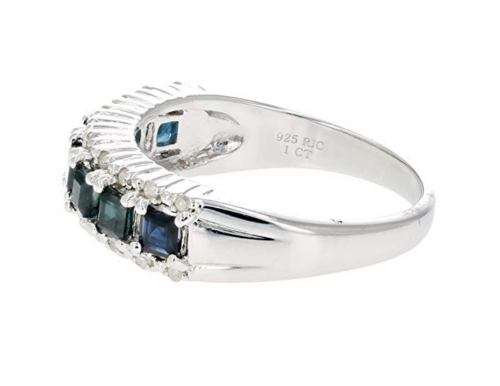 For a piece that easily captures attention, you'll want to check out this gorgeous pick! This ring is incredible quality made with all natural stones. It is thicker than many wedding bands, so it is quite eye-catching and holds a lot of interest. The band itself is made from high-quality 925 sterling silver.
Read more
This simply means that it is almost pure silver at 92.5% with some additional metal alloys in it to give it the necessary strength to stand up to wear and tear over time. It still has that shining silver finish that you'll love.
Again, the band is relatively thick at nearly 5mm across. It thins out some near the bottom of the finger, which helps to keep the ring in the proper positioning on your finger and also makes it more comfortable for you to wear. The sides of the band feature some small details in the form of lines carved into the silver down the sides.
Then, at the top of the band, you'll find the stunning sapphires! There are 7 individual stones on this band and each one features a brilliant princess-cut.
The stones are each about 2mm across, so they are a very decent size for a sapphire wedding band. They're on the darker end for natural sapphires so they have a very nice deep look to them.
The center top of the band is open and the edges of the band come up to create silver prongs that hold each of these 7 princess-cut stones in place with even spacing in-between them. Because of this design, there are openings between each one of the sapphires that expose the finger underneath.
This also lends to the design on the front and back of the band where rows of the silver line the center of the band vertically to create a very nice overall look for the band. On top of these side sections and all along the edges of the row of stones, there are small natural diamonds also mounted onto the band.
These diamonds are above and below the stones. They are considerably smaller than the sapphires and feature a round-cut rather than the princess-cut of the stones.
The little diamonds create the perfect accent and add just the right amount of additional sparkle to this beautiful piece of jewelry.
You can get the band in a wide variety of sizes that should fit almost any woman. It is available in sizes 4.5 to 10 and even includes half-size options as well for a more ideal fit.
Price-wise, this band is closer to the top of our list simply due to the use of natural stones and quality materials. It is definitely a valuable purchase, still!
7

. La4ve Diamonds 14k Baguette Blue Sapphire Band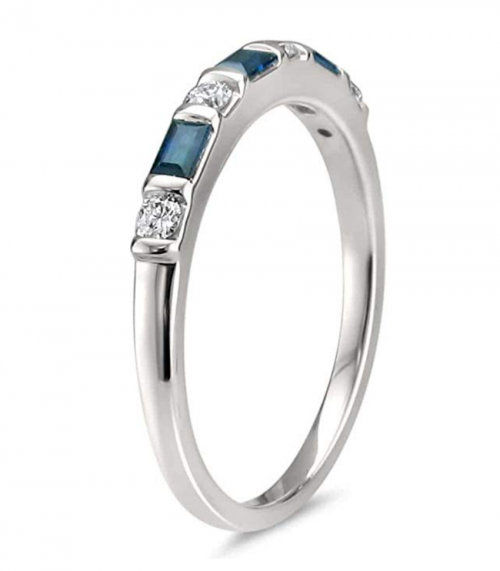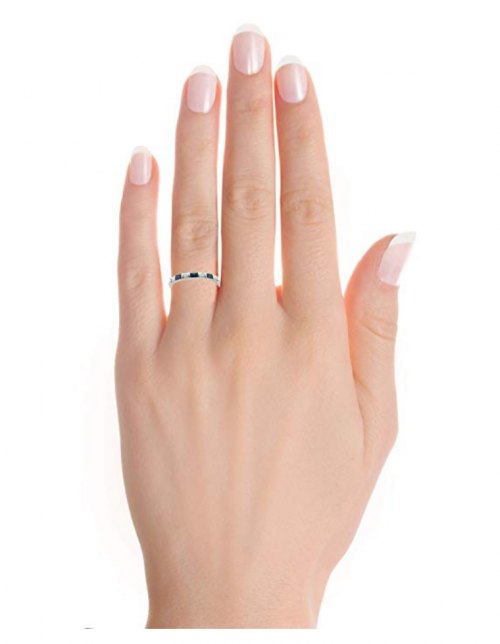 Another super high-quality option from La4ve Diamonds that also comes closer to the top of the list when it comes to the price is this lovely baguette band!
Read more
The ring is made from 14k white gold with a band that is a uniform width all the way around. This creates a smooth and modern look. The top is inlaid with a couple of different types of stones. It features both natural white diamonds as well as natural blue sapphires.
The diamonds have a clean round-cut to them, but the blue gemstones are a little more unique with a baguette-cut!
This cut is much less common but very nice-looking. It is a bit similar to an emerald cut but is simpler and usually found in smaller stones. The center stone of the band is one of these baguette-cut blue sapphires. It is inlaid onto the band horizontally and features a band of white gold running vertically on each side.
Then, out from there, there are round-cut white diamonds inlaid followed by more of the blue gemstones and then more diamonds. Each stone is surrounded by the bands of gold on each side of it separating it from the other stones. The bands of white gold are actually what is holding the stones securely in place.
This means you won't see any mounting prongs on the band, which helps give it that clean and modern look.
It is about 2mm thick and the stones are all a size that puts them at the same width of the band meaning that the ring does not stick out from where the stones are placed.
This option is relatively expensive but very nice. It also has a more limited size range of 4.5 to 8 with half sizes included.
8

. Blue Apple Co. 2.5mm Bezel Set Full Eternity Ring


One of the most affordable options on our list is this precious option from Blue Apple Co. This amazing ring has a really different look to it that we are sure many of you will just adore. It is made from 925 sterling silver, which helps allow it to be much more affordable while still remaining gorgeous and durable.
Read more
The stones in the ring are also cubic zirconia, so that helps tremendously to make this ring so affordable.
The good news is that they still look great and sparkle just like real sapphires and diamonds! It has both blue cubic zirconia to simulate sapphire as well as clear cubic zirconia to simulate diamonds.
The clear stones are round-cut, and the blue stones are princess-cut. They are all about 2.5mm in width and they alternate along with the band.
Something else unique about this band is that the stones go all the way around the entire band rather than just on the top section. Each one of the stones is surrounded by sterling silver with a notched pattern that gives a nice texture. The band is made up solely of these silver shapes with the stones inlaid into them.
This means the edges are not smooth but instead go from curving around the simulated diamonds to straight at the simulated gemstones. It is definitely super fun and cute ring with a unique design.
You can choose it in sizes 4 through 10. The affordable pricing makes it a great option for any budget!
9

. Dazzlingrock Collection Sapphire Band - Unisex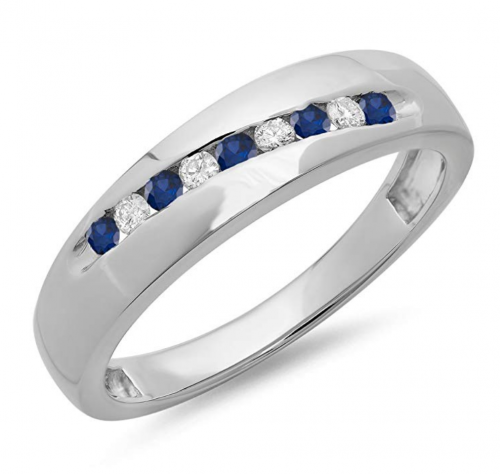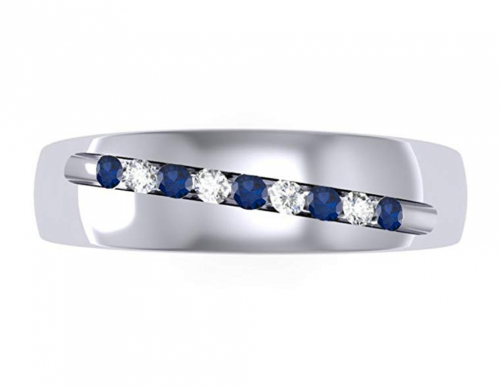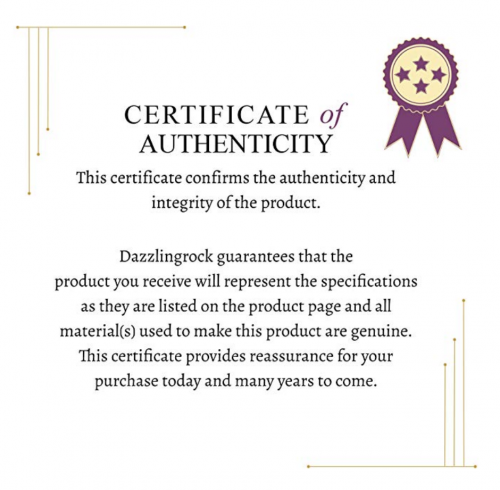 One more incredible Dazzling Rock pick is this super modern option perfect for women or men! This unisex sapphire wedding band is very high-quality and made from sterling silver.
Read more
It is 925 sterling silver like some of our other picks, which just means that it has a beautiful silver look with a higher level of durability that allows it to stand the test of time.
At almost 6mm across, this band is on the thicker side for most sapphire wedding bands but that is part of the reason it works so well for men or women. The band is very smooth with a high polish look that really shines.
It is a little narrower at the bottom for increased comfort and a more secure fit. Across the center of the top of the band, there is a channel cut out of the silver in a diagonal line.
This diagonal channel features a row of beautiful natural gemstones inlaid into it. It alternates between natural blue sapphire and natural white diamonds for a very sparkly and beautiful combination.
All of the stones are round-cut and sit so close together that they are all touching. The sides of the silver channel hold the stones in place securely. You can see the finger through the spaces in-between the stones and channel.
This band is available in sizes 7 through 12 including half sizes. It has a very high-end feel to it but comes at a fairly reasonable price around the middle of our list.
10

. Black Bow Jewelry & Co. Created Sapphire Eternity Ring
Our final Black Bow Jewelry & Co. pick is this high-end, breathtakingly gorgeous princess-cut band!
This band is made from sterling silver. Twenty-one individual stones adorn this stunning band. They cover the entire top half of the band for a full look with lots of interest.
Read more
They are all the same size and feature a lovely princess-cut. This means there are lots of clean, straight lines all over the band.
They are held perfectly in place by white gold mounting prongs. The prongs are also all very carefully made to match nicely with smooth lines to keep the clean look of the band.
Little notches all along the edges of the white gold band create a nice texture and give the edges of the ring a look almost like a silver rope.
The sides of the ring are nice and smooth with a polished shine and the width of the band stays consistent all the way around. It is available in sizes 5 to 10.
It is also very expensive at the top of our list in regard to price. However, if this ring will work for you, it is well worth the purchase!
Finally...
Our selection of sapphire wedding bands includes a variety of styles, designs and metals. We included options in gold, sterling silver and white gold.
A lot of our picks include diamonds as well as a more affordable stone such as cubic zirconia. No matter your budget, you will find options that are affordable as well as high end!
We made sure to feature only brands we trust. This means that you'll be getting a quality product from a brand with high customer ratings.
Finally, our selection is mostly for women however, if you're looking for a man's wedding band, make sure to check out option 10!