Watches / Women
10 Gorgeous Bracelet Watches for Women!
Winter is almost here, and by now you are already picking out your clothes and rearranging the entire collection you had for fall. Yes, you know it's going to be pretty cold soon. Well, we haven't come to tell you about the beautiful daffodils or those lovely lilies that will soon blossom. What we have for you today is a beautiful set of jewelry array that will give your wrist that much-needed sparkle and throw shimmer without the glare of the sun. If you are thinking bracelets, then you indeed guess right. But add a little twist and think of bracelet watches that still tells time. Incredible right.
Bracelet watches are just so lovely when you adorn the hand with their moderate but sophisticated look. What you would love most about them is the glimmer and beauty they carry around. You can use them for any type of occasion – events, red carpets, or even dinners. There are quite many brands to choose from, and you want one that has the absolute best fit.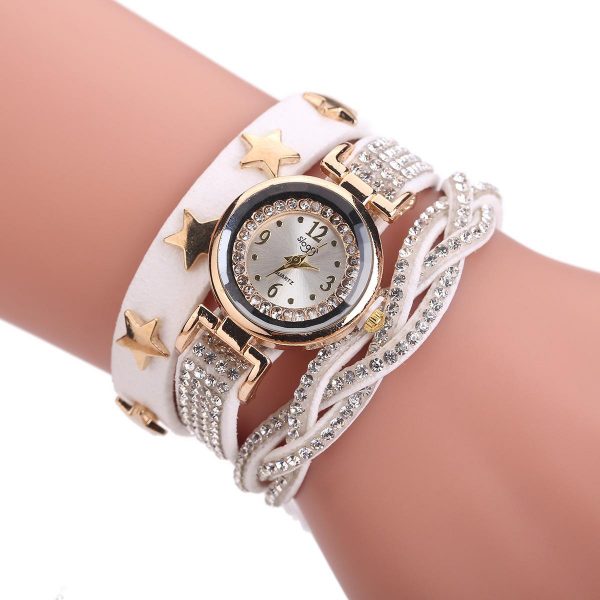 With the season almost upon us, you might be wondering how to get a gorgeous bracelet watch that is the in-thing. You can relax since we already took care of that. The bracelet watches here will have your wrist right at the center of attraction. And with so many of them available, all you need to know is right here waiting for you to explore.
Why You  Should Try out Bracelet Watches
Before the genius innovation that crafted bracelet watches, people often wore bracelet and watches. This combination looked quite good with so much bling all over your wrist. However, it's now 'out with the old and in with the new.' Why cluster your wrist with so much when you can have all you crave in just one product. Bracelet watches are a combination of a timepiece and magnificently fashion bracelet.
The watch combines the design of a regular bracelet and a watch, so you have a watch at the center, but instead of straps, you have a bracelet. It's certainly a terrific idea and one that you would find very attractive but useful. Gold, silver, diamonds, sterling silver, you certainly would see one or two beautiful material crafted with the strap of these watches.
Just check through the pictures of celebrities at the red carpet, and you will undoubtedly see one of this stunner on their wrist. You can see it on the wrist of Julianne Moore as she rocks one of Bulgari Serpenti Tubogas. Kerry Washington, Rihanna, and even Madonna have also at separate times don a bracelet wristwatch. Our famous royal Duchess of Cambridge isn't left out of this trend.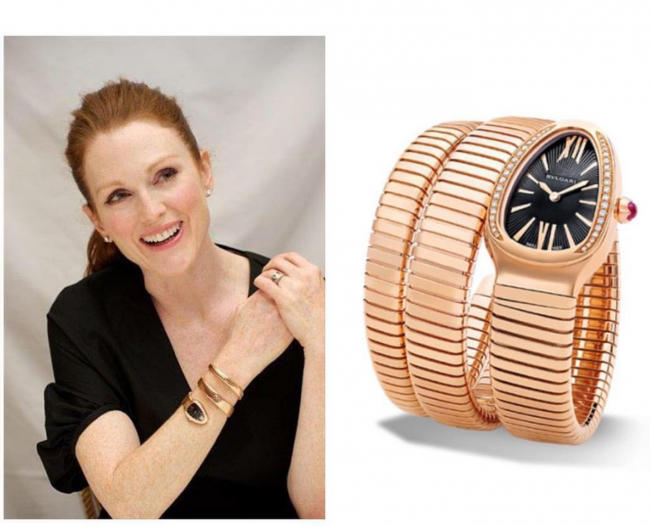 Now that you have decided to do something about the coming summer and pick a bracelet watch for your winter collection. We have selected the best product that you can find in any collection, and here they are;
Our 10 Favorite Bracelet Watches!
1. ETEVON Women's Quartz Silver Wrist Watch with Small Crystal Dial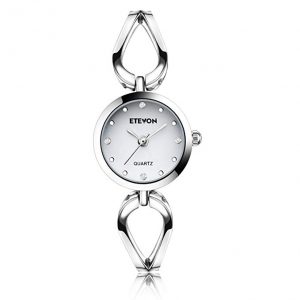 Bracelet watches are usually designed in a way that they look like a bracelet from the side, but when you turn your wrist up, voila, you have a wristwatch. This incredible piece of jewelry is like the ultimate symphony of creativity and luxury matched together. Here is a piece that was crafted by some of the best hands in the fashion world. All its features are entirely great with such a quality build.
Made with alloyed stainless steel, the watch spots a round shape with an analog display time. You can always trust the watch to stay on your hand as it has a 0.2 inches-wide bracelet clasp giving it a simple but chic design. The Japanese quartz system was used for the time movement; which means you don't have to worry about having the wrong time due to a very efficient system. There's still more, and we can't stop without telling you about the water-resistant feature and lightweight that all comes with the elegant package.
You can be the cynosure of any event this winter when you get this watch. Overall, the excellent bracelet watch comes in an awesome package, and you can get it at such a price you want to get one for yourself and another for someone.
2. Anne Klein Women's Bangle Watch and Swarovski Bracelet Set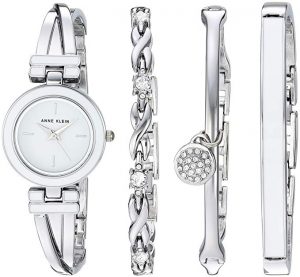 If you love having a ton of jewelry on your wrist and want them to be matching for more glamour, then you want to get this package from Anne Klein. The set features a watch and three great bracelets. Both the watch and the bracelet are made with such finesse that their quality is impeccably high.
Taking the watch first, it comes with a round analog display that uses a mineral type dial window. The white color is quite classy against a silver background and beautiful anti-scratch glass. With the water-resistant feature, you can soak up your hand's deep in water and take a shower without wondering if your watch is going to survive the moisture. One thing to note is that the material is made of alloyed metal so you might want to check if you are allergic to it to prevent skin irritation. There is also a bracelet strap made with silver and given a nice jewelry clasp.
Accented with Swarovski crystals, the three other bracelets have a charm that they add to the whole collection. Their design was made to be in sync and with the fact that the entire thing weighs just about 4.8 ounces you don't need to worry about feeling them hang on your wrist. Anne Klein is all about sophistication, confidence, and adventure, which is what they have captured in this whole jewelry piece.
Get one for the coming winter, and you will undoubtedly enjoy any event you have. They also come in gold and gold/pink, so check the link above and pick the one that suits you.
3. Top Plaza Small Dial Bangle Cuff Bracelet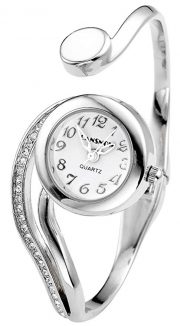 This is another beautiful piece that just had to be in our list of best winter bracelet watches. Top plaza really threw a bit of twist into this one, with its comfortable but elegant design. The look is evidence of careful and skilled crafting which could only have come from such experienced craftsmen.
Made with metal alloy plated with silver, the watch has a pretty simple style. One of the significant things that you will fall in love with is the rhinestone bangle cuff that keeps the watch securely on your wrist. Although the watch is not suitable for long immersion in water, you can still enjoy it for quick splashes.
You certainly don't want a watch that feels heavy on your wrist, and that is why you won't feel the 25gram of this one on your wrist. The length is 6 inches which are just perfect for about any wrist and the analog quartz help you monitor time with high precision. Keeping tabs of the time has never been better this winter, with such gorgeous and affordable watch.
4. Titan Water Resistant Analog Wrist Watch

Watches that have bracelet straps are so beautiful, they come with different beautiful designs to add that bit of charm to increase your wrist appeal. Titan has been in the jewelry business for a while, and their raga collection features a raging amount of quality watch that infuses a timeless masterpiece into the product.
With superior design and beautiful build, this watch was made with gold brass. You can see that every single curve was well polished to accentuate your hand. It comes with a rose gold band strap that employs the use of twisted bands for aesthetic pleasure. The 16-millimeter mineral glass window is clear enough that you don't have to squint to see the accurate time made possible with a fail-proof quartz system.
It's so obvious that so much work was put in such simple-looking timepiece and each of the glimmers you see tells a poetic tale of magical artistry. With a width of just 3mm, you would love to have it strapped to your hand all day. And that is just what you should do since the watch is also water-resistant and can withstand up to 30 meters of water. Don't be disturbed by how amazing it is, it's outstanding quality and for a reasonable price too.
You can choose to enjoy your winter with this masterpiece or get one as a gift for that special one.
5. Charles Raymond Bling-ed Out Oblong Bracelet Gift Set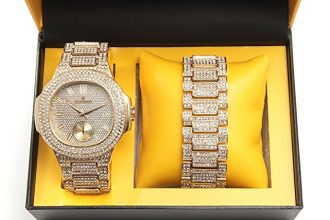 Those diamond rhinestones sure look good on any piece of jewelry they are found. They just catch the light at the perfect spot and throw it back with such fantastic glare it can be quite blinding. And this is what Charles Raymond has created with his intricate piece of a bracelet watch. Go out looking like a superstar when you spot the charming bracelet in all its glory.
Diamonds looking rhinestones were used to fully iced the watch – the face the straps and even the bracelet that comes with the package is fully studded. Assembled in Singapore, the exterior appeal is just as impressive as the quality parts used to assemble the watch. The 9 diameter face was made crafted using a gold plated metal, and the matching bracelet was also made with the same material. You don't need to worry about the size of your wrist as the jeweler was considerate enough to make the bracelet adjustable. There is also a fold-over-clasp for both the watch and the bracelet that makes it secure on your wrist.
With all the bling that comes with the watch, it weighs just about 16 ounces and is 1 inch wide so you can feel comfortable when wearing it. There is also the added benefit of having it come with a gift package and even a perfect storage pouch. So you can get one for yourself, or if your man's birthday falls on the winter season, you just found the perfect gift for him.
6. TAWURS Women's Elegant Watch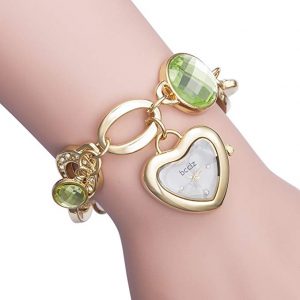 Tawrus has been in the fashion industries for dozens of years now. And you can trust that their great jewelry pieces come with the necessary finesse and setting to make them stand out. With winter close to us, you might just want to take a very serious look at this piece.
The watch was made with a stainless steel material shaped like a heart and is 2.80 centimeters thick. To secure the timepiece in your hand, a chain that has greed crystals embedded into it was used to create the perfect bracelet for your wrist. Been shock resistant is an added advantage as you can use it for such a long time without worrying about damage.
The band comes with a width of 1.2 centimeters and weighs only 1.6 ounces. If you notice a lag or find out the time isn't correct, there is a white dial that can set it back to perfection and give you an accurate reading. You can get one to show that girl how much you care for her, and with the symbol of love wrapped all around the watch, she will undoubtedly get the message.
7. Secbolt Bling Bands Compatible Apple Watch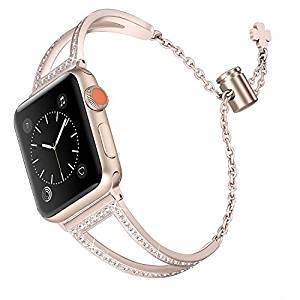 Here is one fantastic product for smartwatch users. If your watch strap is getting old or you think it's boring to have used the same watch strap for a long time, then this what you need. Secbolt made a bracelet that fits the iwatch series perfectly. It supports the 4/3/2/1 series so that you can have this awesome band no matter the type of Apple watch you have.
Made from high-quality steel the bracelet is best for those with 5.5 to the 8.1-inch wrist. And you will agree that it is quite an extensive range, so you shouldn't have trouble fitting it. There is also a push-down button drawback string that makes locking and unlocking it very easy. With an elegant design, the bracelet is all you need to compliment your wrist no matter where you are going.
For more options, Secbolt plated it with several colors which include champagne gold, black silver, rose gold and gold. It also comes in one fits all, so you can get it for yourself no matter your wrist size and enjoy absolute confidence with the 1-year full guarantee.
8. CreazyDog Crystal Flower Bracelet Watch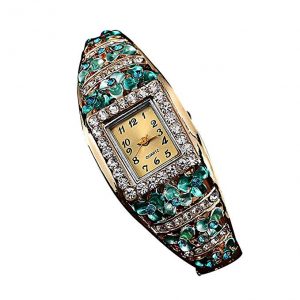 This is one perfect bracelet from Creazydog. With a floral design that merges art with creativity, you will definitely look amazing with one on your wrist. Check out the picture, and you will see the professional level of expertise that was used in crafting this fantastic piece.
Made with a bandwidth of 0.7 centimeters, the watch was made with a highly durable metal alloy. Like most of the watches that belongs to the 'best' category, the watch displays time with a round analog display that uses quartz movement. To make sure that you don't lose the watch outside, you can secure it to your wrist with the lobster-claw-clasp that was fashion into the bracelet.
For that dream look this winter, you can get yours for a very affordable price. You can also give it out as a gift to your loved ones. Overall, the watch is good quality for small money, and there are varieties of designs from which you can pick the one that suits your style.
9. Romanda Essential Oil Diffuser Bracelet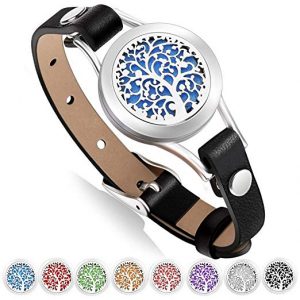 Imagine having a bracelet watch that combines fashion and aromatherapy all in one package. It means you can have a beautiful piece of jewelry on your wrist and still get to relieve that bit of stress and anxiety you got all built up. Which is what Romanda has captured in this beautiful piece of bracelet.
It comes with an oil diffusion bracelet that is hypoallergenic 316L stainless steel, that won't cause any damage to your skin. The lightweight would make you not want to take it off any time soon. There are also 7 other pieces of cotton pads that you can change without washing one or re-using it. There are also additional features like 1.65-inches diameter and a maximum diameter of 2.36-inch diameter.
Although this bracelet only has a middle that looks like a watch, we thought it should be in this list due to all the impressive features that it has. You can add 2 or 3 drops of essential oil to get the best result. You can also count on the best aroma and charm to keep your wrist fresh and take away all the stress to keep you healthy and make you sleep better. Check the collection, and you can get one for yourself or give it out as a gift to your loved one.
10. Cuckoo Nest Art Studio Steampunk Leather Wrist Watch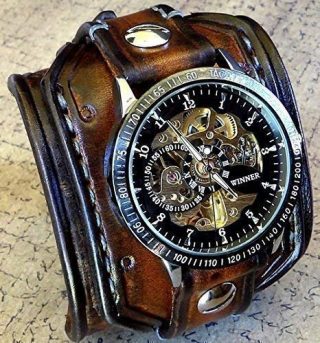 Since this is the last watch in our best winter bracelet watch, we decided to give you something exquisite, vintage and durable. This watch from the cuckoo nest was made with very high-quality leather that is not only durable but highly fashionable.
The timepiece at the center of the bracelet comes in a skeleton design – means you can see all the working components of the watch right from the glass. Its mechanical steampunk engine uses a battery that can be removed and interchange at any time, so you don't need to worry about getting to the repair shop any time the battery goes out. Cuckoo used creativity in making sure that the watch bracelet stars a threaded cuff that looks absolutely amazing.
One beautiful thing about the watch is the fact that you can make a custom order. The leather is two and a half inches wide, but you can determine the length that best suits your hands. For creating a better fashion mix, you can use a screwdriver to remove the watch there and switch it up.