18th Birthday Gift Ideas: Super Cute Jewelry That Won't Break the Bank
last updated:
Aug 21, 2021
Finding the perfect gift for the 18th birthday can be challenging, especially if you want to make the best impression.
You're going to want something that has the perfect amount of sparkle for the particular person in your life.
It's also important to find a gift that they'll be able to cherish forever and wear it every day with confidence.
Let's take a look at some of the most stunning jewelry pieces for men and women to celebrate this massive milestone in their life.
We guarantee there's something for everyone on this list that they'll adore.
Top 9 Picks
1

. Pandora Happy Bday Balloon Dangle Charm
The Pandora Happy Bday charm is an adorable gift to give to a loved one. It's the perfect option that screams "Celebration!" without being too over the top or bold.
Read more
This charm from Pandora is sure to impress, especially as it has a multi-faceted design with many unique elements.
As an added benefit, it's a rather adaptable charm that can fit on many different types of charm bracelets outside of Pandora designs.
On the charm, you'll find three separate balloons boasting white, pink, and red coloring. The unique detailing includes cascading balloon ribbons delicately engraved into the polished metal and a "Happy bday" tag.
You'll fall in love with the vibrance of the hand-applied enamel embellishments as well as the added cubic zirconia. It's a fabulous charm that will always remind your loved one of their special day.
Even the clasp that hangs onto the bracelet features fine detailing that compliments the other charms they have.
2

. Alex and Ani Birthday Gift Box Set
Alex and Ani is a fabulous brand that focuses on trendy and high-fashion charm bracelets. You can easily gift the Alex and Ani Birthday Gift Box Set to take birthday presents to the next level.
Read more
There are plenty of distinctive features to consider with this box set, especially for your special someone.
Not only will they receive an iconic Alex and Ani bangle bracelet but two additional charms.
It's an excellent solution for someone who has been searching for their first charm bracelet or wants to upgrade their existing one.
Along with the multi-faceted bracelet, the Alex and Ani Birthday Gift Box Set comes with two charms.
The first charm is the "Happy Birthday" charm, and you'll also have an accent bangle that adds dimension.
You'll also love how it's ready for gifting, as the bracelet and charms are packaged wonderfully in a gift box.
3

. Katie Loxton A Little Choose to Shine Bracelet
When your loved one takes their first step into adulthood, you'll want to inspire them. With all of the new challenges they're bound to face, an inspirational bracelet is exactly what they need.
Read more
All of Katie Loxton's pieces are known to be some of the most inspiring accessories on the market.
When you gift the Katie Loxton A Little Choose to Shine Bracelet, you'll be telling a loved one it's their time to shine.
It's a delicate reminder that they bring brightness to the world, and they can conquer anything they put their mind to.
When you order the jewelry, you'll receive a beautiful message card that explains the bracelet's meaning.
Aside from its background, the bracelet itself also boasts a couple of spectacular features.
The premium-grade silver plating is designed to withstand plenty of wear and tear with proper maintenance.
With the addition of the disc charm embellishment, the bracelet rests gently on the wrist with a tiny dangling accent.
4

. MignonAndMignon Initial Disc Necklace Coin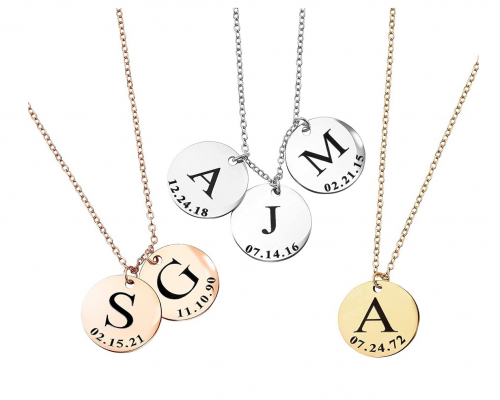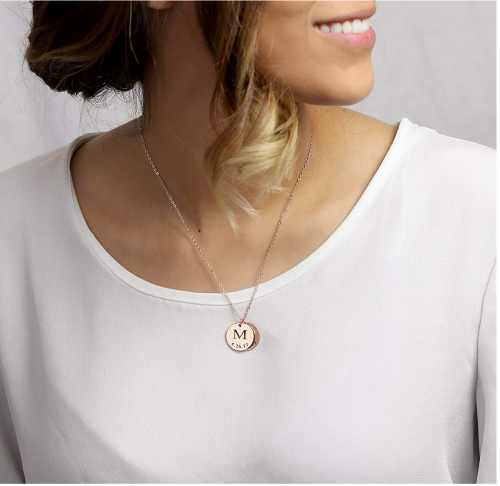 If you can't get enough of personalized jewelry, this range of delicate jewelry may be just what you've been looking for. This necklace includes a coin-shaped pendant on a thin dainty chain.
Read more
Made from a 16k gold plated base, this circular coin-shaped pendant is approx 0.71 inches wide by 0.71 inches high.
What we love about this piece is that's it's available in gold-plated, silver-plated and rose gold-plated metal. On this occasion, we've chosen the gold-plated colored metal because we like it so much!
If you're looking for a delicate piece of jewelry for that special someone, this will be a match.
This coin can be personalized with an initial, name or date of birth to mark their special 18th birthday milestone.
Multiple charms can also be added to this necklace at a later date which makes it even more special.
5

. Kay Jewelers Black/White Diamond Heart Earrings
The Kay Jewelers diamond heart earrings is an intricate addition to any jewelry collection.
The effortless glamour of these diamond earrings is sure to impress anyone with their brilliant finishing and lovely design. If you're hunting for an elegant and subtle set of earrings for a loved one, this set is one of our top picks.
Read more
As low-profile studs, these bound to be a fantastic option for an everyday accessory with optimal comfort.
In the center of each stud, you'll find individually set black diamonds with a beautiful white diamond outline.
Another great highlight is that the studs are perfectly sized to be paired with other earrings as well.
The immaculately polished sterling silver post rests comfortably in piercings, especially for people with skin allergies.
One of the more unique features of black diamonds is that they have been permanently treated. As these stones aren't naturally occurring, they're treated to maintain their darkness over years of wear.
6

. Eve's Addiction Men's Engravable Black Circle Pendant
There's no doubt that adding a little bit of edgy and alternative style to a jewelry collection is ideal. The Eve's Addiction men's engravable black circle pendant is our top choice, as it's perfectly styled for any wearer.
Read more
Our favorite feature is the stunning polishing it offers. The beautiful black circle pendant sits comfortably on the chest, boasting a brilliant reflection that speaks to its luxury.
As the necklace is waxed cotton, you'll be able to wear it on land and in water, making it great for water sports.
The stunning black circle pendant is crafted from a stainless steel washer and measures in at one inch.
You'll find it's perfectly bold without being too heavy or overbearing for everyday wear. Another outstanding feature of this piece is that it's fully customizable.
You can opt to have a name, quote, date, initials, or message engraved for personalization.
7

. FOREVER QUEEN 18 Years Old Happy Birthday Charms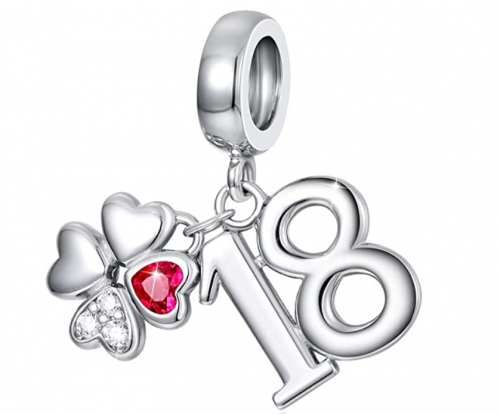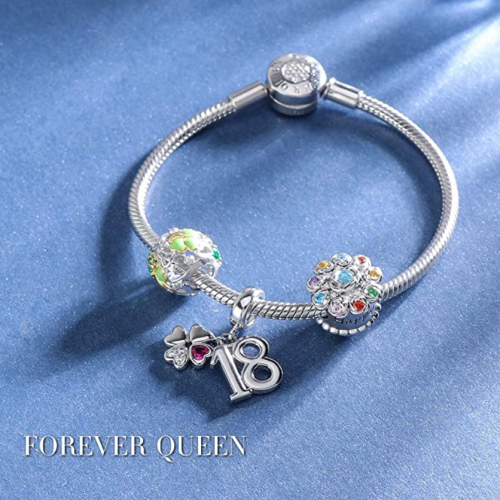 We've selected another charm, but this time it's more in-keeping with the birthday occasion. This gorgeous sterling silver charm consists of a striking '18' number.
Read more
Made from sterling silver, the number '18' charm is approx 0.43 inches wide and 0.47 inches in height.
Designed by NinaQueen, this charm will fit perfectly on Biagi, Chamilia European and Troll branded bracelets as well as necklaces.
One of the many things we like about this ForeverQueen charm is that it comes in a lovely black gift box.
All of NinaQueen's jewelry is made from sterling silver and is created to the highest quality. ForeverQueen pride itself in making pretty, elegant, and unique pieces of jewelry that mark a special moment in time.
This charm is a beautiful piece of jewelry that any 18th-year-old girl would be pleased to receive as a gift on her birthday!
8

. Fossil Jacqueline Watch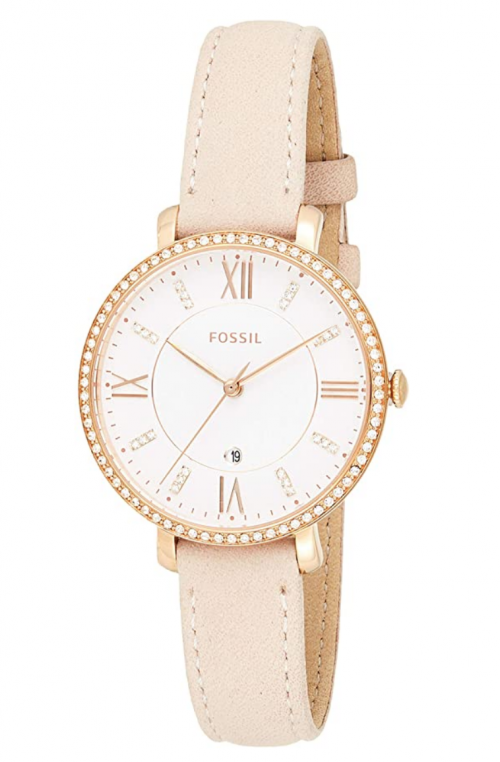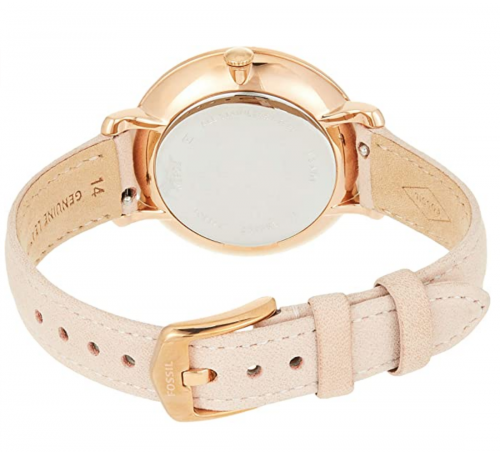 This Fossil women's leather watch would make a fantastic gift for the 18th birthday! Made by one of the leading watchmakers, this stunning watch is very pretty and unforgettably elegant.
Read more
The watch face has a rose gold background, and three rose gold dials. Sparkling gemstones frame the entire watch face and brighten it up, and a rose gold leather strap completes this fashionable watch.
Made from stainless steel, the watch case is 36 millimeters in diameters and 8 millimeters in thickness.
The watch strap has been created from leather calfskin giving it a lovely texture, and the beige color complements the watch face well. The strap offers a good width, 14 millimeters to be exact.
The attention to detail in this women's watch is quite something that makes it a stunning gift to give as an 18th birthday present. This watch is being sold for a medium price.
9

. MVCOLEDY Bangle Bracelet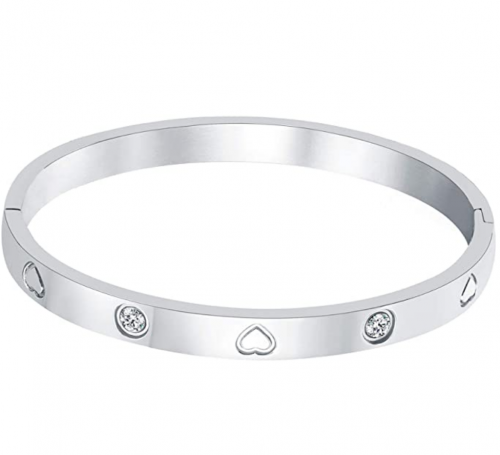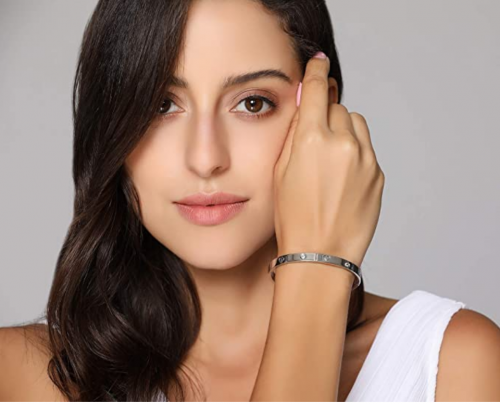 This white gold plated bangle has been beautifully designed, creating a lovely piece of jewelry perfect for a young lady turning 18 years old. Made from stainless steel and coated in white gold, this love bangle bracelet contains quality cubic zirconia simulated diamonds.
Read more
These gemstones certainly make the bracelet shimmer in the light giving the piece of jewelry a feminine feel. The sparkling gems are also broken up by featuring smaller hearts that have been engraved into the stainless steel bracelet.
This circular bangle is made to approx 2.36 inches by 1.97 inches in diameter, making it a great size.
In order to open and close the bangle, it features a push-and-pull mechanism where you squeeze the ends of the bangle in the opposite direction to release the notch.
This simple method makes it easy to put on and doesn't affect the stunning design of the piece of jewelry.
This beautiful bracelet is packaged in a pretty cream gift box with a shiny bow on the lid, giving it that wow factor.