Fantastic Black Diamond Ring Picks That Still Bring Out a Whole Lotta Light!
last updated:
Oct 17, 2019
In comparison to other colored gemstones, black diamonds are relatively affordable. They can also be found in Brazil and the Central African Republic.
A black diamond ring is affordable, yet a highly fashionable piece of jewelry.
A black diamond is known for being one of the toughest forms of a natural diamond. Also known for being called a "carbonado", this gemstone in its purest form consists of graphite, diamond and amorphous carbon.
In recent years, the black diamond has become one of the most popular colored diamonds to own.
Our Top 10 Picks!
1

. Skyjewels Black Diamond Engagement Ring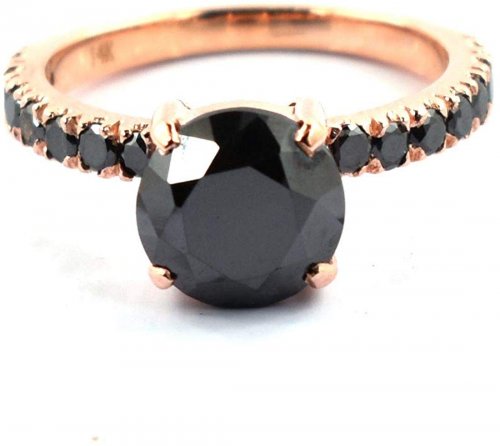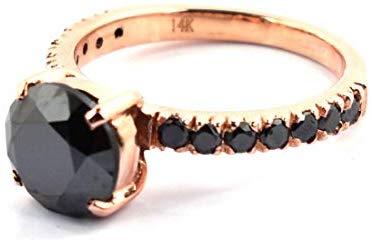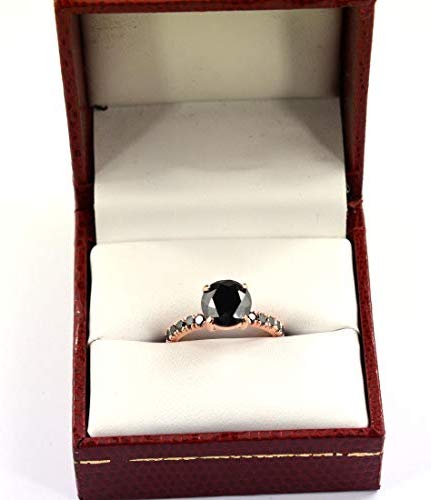 To begin our line-up of the best black diamond engagement rings, we thought we'd opt for this dainty style rose-gold black diamond.
Read more
This gorgeous piece oozes elegance and we simply love it!
The designer's choice to make this piece using rose gold turns this piece from a subtle gem to statement piece which will definitely get heads turning for the right reasons.
Alongside the gemstone, the rose gold band not only stands out but complements the gemstone stone beautifully.
This diamond has a brilliant cut and is a quality stone. What more could you ask for?
The use of black diamonds continues along with the ring's band but this time in a smaller round cut shape. They really do complement the larger stone well.
In total, the diamonds used to create this gorgeous piece equate to 2.5 carats and to make it even better, these are genuine earth mined gemstones.
The piece has also been handmade so you know this will be a quality item that deserves a spot on your finger!
As mentioned, it has been made using shiny smooth rose gold however if you'd prefer something different it is also available to buy in yellow gold, black gold, and white gold, giving you plenty of options. The piece is available in all ring sizes.
It is sold by Skyjewels and will arrive in a lovely red jewelry box. It comes at a high price but we think it's well worth the price.
2

. Dazzling Rock 14K White Gold Ring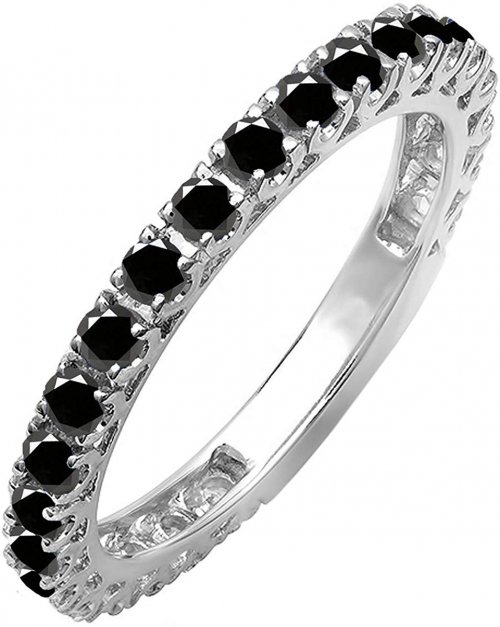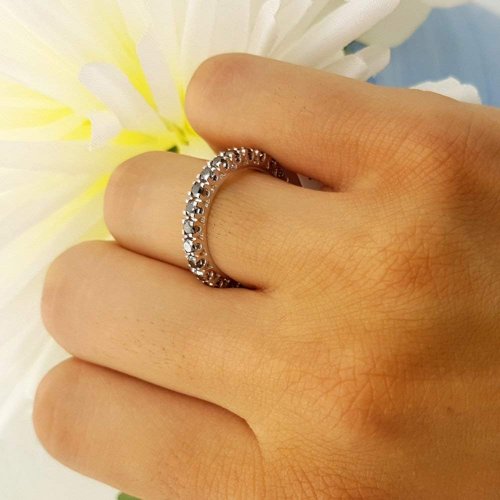 Stackable rings are extremely popular at the moment. The great thing about them is that you can mix and match depending on your mood.
Read more
They can also be worn with different colored rings, shapes, and sizes.
They're one of the biggest jewelry trends at the moment which you can't get away from and who would want to!
Designed by Dazzling Rock, this jeweler has done a fantastic job in creating a minimalistic piece that you'll want to wear all the time.
Even though our favorite is this black diamond stackable band, the ring is also available to buy in a variety of colors, including amethyst, aquamarine, blue sapphire, citrine, emerald, garnet, pink sapphire, ruby, blue diamond, champagne diamond, and white diamond. The variety is so big it's had to choose from!
When it comes to the foundation, it has been crafted out of white gold. This choice of metal gives this piece a lovely smooth shine to it, which we adore.
It consists of a plain thin band that features small round black diamonds throughout positioned securely in a prong setting.
The width of the band is approximately 0.08inches and it features approximately 19 stones.
We think this option would make a lovely wedding band because it can be worn in so many different ways.
The jeweler, Dazzling Rock, has done a fantastic job in creating this piece of jewelry.
All of the stones they use are 100% natural and have a beautiful sparkle to them, which you won't be able to resist.
It also comes in a cute little gift box, so you have somewhere safe to store it when it's not being worn.
When it comes to Dazzling Rock's jewelry collection, they offer a variety of styles ranging from contemporary to classic. You could go as far as to say that their collection is quite eclectic.
3

. Katarina Two Row White and Black Diamond Ring




We like that this infinity style ring, featuring both black and white diamonds, is very different from any of the other options we've chosen to review.
Read more
In the center, we have the iconic infinity symbol which really catches your eye.
This has been created using a beautiful sterling silver material that has a high polished finish.
To decorate the infinity symbol, the designer has chosen to feature small black diamonds along part of the infinity band as well as small white ones.
It is such a special piece, any lady will be lucky to receive it as a gift. What's great about it is that there are a matching pendant and set of earrings that you can purchase for an additional price.
If you're not 100% happy with this option, the jeweler offers a 30-day return policy.
This pretty piece is being sold by Katarina, who is one of the fastest-growing and most desirable online jewelry brands. Katarina uses only diamonds of the highest quality.
They're a fantastic jeweler who creates wonderful pieces of jewelry, this option being one of them!
4

. Glitz Design Princess Black Diamond Engagement Ring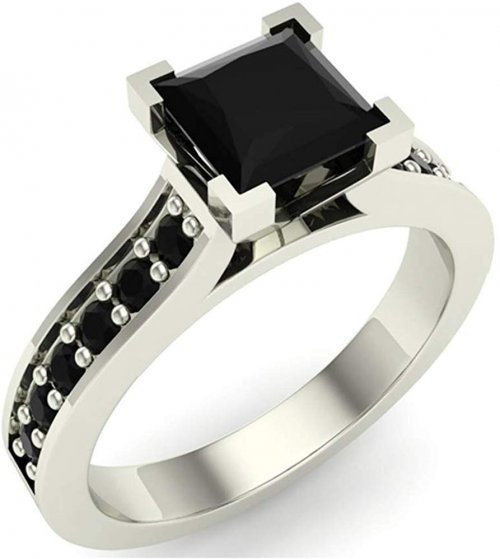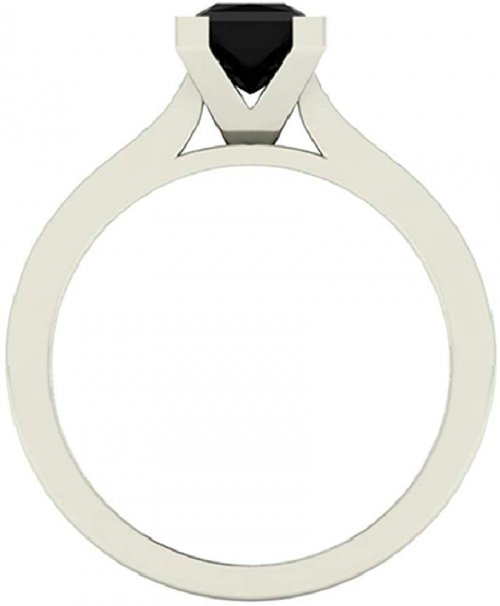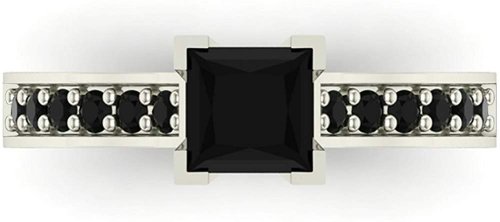 Next up, we have this very stylish princess cut ring that would make a fantastic engagement ring.
Read more
Coming in at a very high price, if you have the extra dollars to spare, this could make a lovely gift for someone special in your life!
It has been designed with a square-shaped princess cut black diamond in the center.
This stone appears slightly raised above the band and is held securely in place by a white gold pave setting.
This setting is, in fact, called a raised cathedral design that works in framing the center stone beautifully.
The band also features a smaller black diamond that has been carefully positioned evenly along the band creating a sea of black sparkle.
In total, there are approximately 12 brilliant round sparkling diamonds that feature along with the band.
If you're looking for a stylish option which is quite unusual,l then this would definitely be it. It will arrive in a black jewelry box, keeping your piece of jewelry nice and safe.
5

. Dazzling Rock Split Shank Halo Engagement Set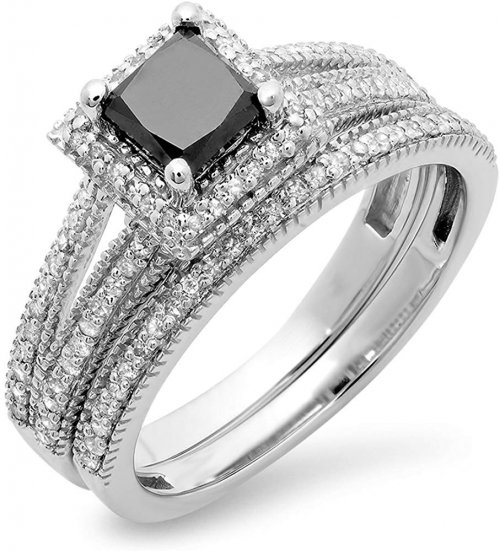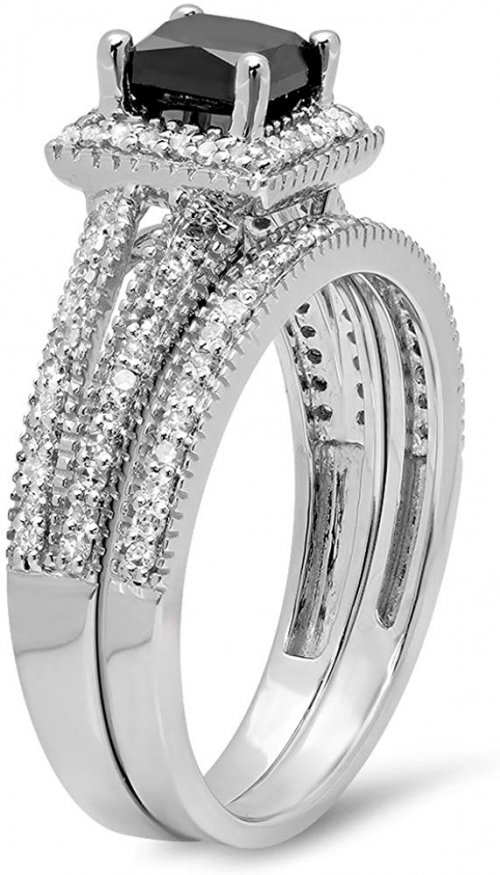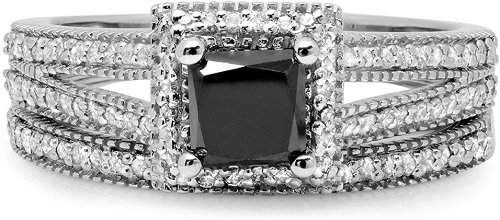 This 14k white gold engagement ring set is out of this world. It consists of a square princess cut black diamond positioned in the center.
Read more
This striking gemstone has been positioned in a halo setting and is approximately 8.3 mm wide.
The stone is then framed by dozens of small white diamonds. These continue to cover the entire white gold band from start to finish, representing a sky of sparkling diamonds.
Along with this princess cut engagement ring, the set also consists of a white diamond wedding band that sits snug alongside the main ring.
These two pieces look stunning, and if you decide to get it as an engagement piece, you're getting a wedding band for free.
The gorgeous wedding set will arrive in a pretty red jewelry box that not only protects your stunning pieces of jewelry but shows them off to their pure beauty.
The jeweler, Dazzling Rocks, offers a 90-day warranty with all their pieces which is great news!
6

. Dazzling Rock Solitaire Bridal Ring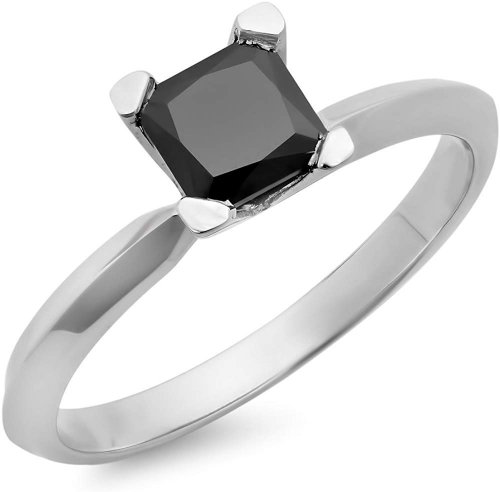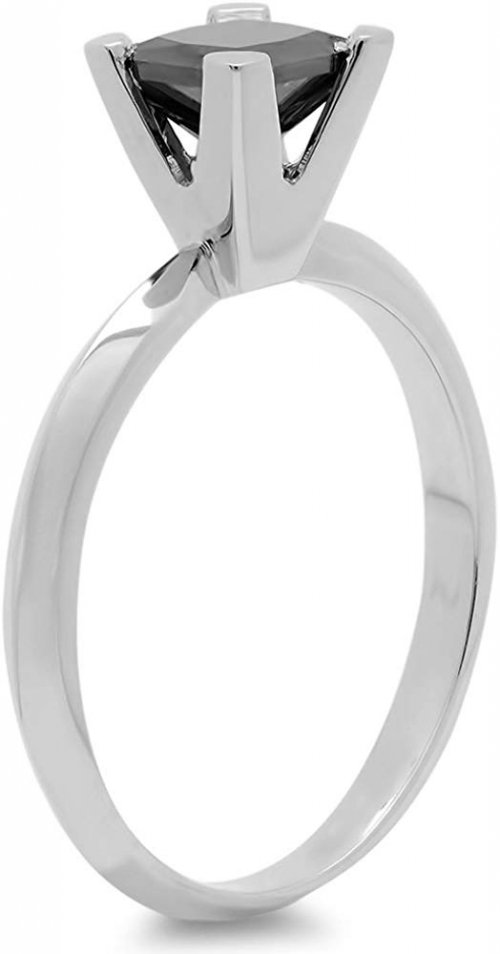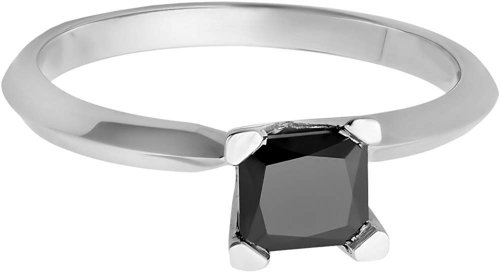 Another of our favorite options comes from the talented Dazzling Rock
Read more
We love this jeweler because they create quality pieces, and each piece of jewelry is unique and individual.
With this piece, the designer has chosen to make it all about the black diamond, no-frills or accessories, simply all about the center stone.
The gorgeous gemstone has been positioned in a solitaire setting along with a plain sterling silver band. The gemstone weighs approximately 1 carat.
When you first catch your eye on this piece, you are immediately drawn to the gemstone before moving your eyes down to the band which has been made from a sterling silver material.
What we love about this metal is that it is elegant, extremely versatile and looks fantastic alongside any gemstone.
If you haven't already, you'll notice the jeweler has opted for a slightly different band.
Instead of the smooth and circular band, it has an unusual pointed edge which gives an understated stylish twist to the piece.
As mentioned before we just can't get enough of Dazzling Rock who creates these lovely pieces of jewelry.
We love that they use 100% natural stones and also use quality materials.
If there's something particular you're looking for in a piece of jewelry, Dazzling Rock will do their best to help.
7

. Dazzling rock 2.00 Carat Halo Ring Set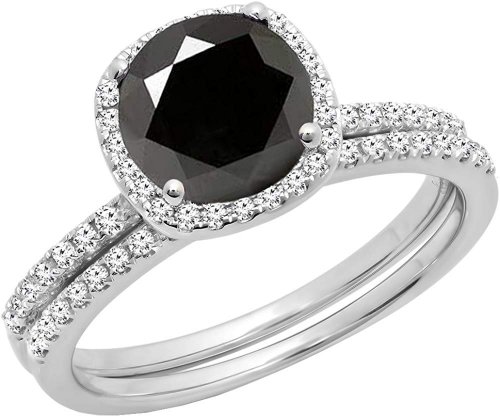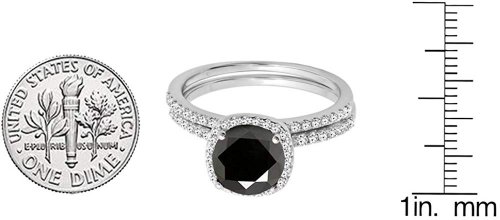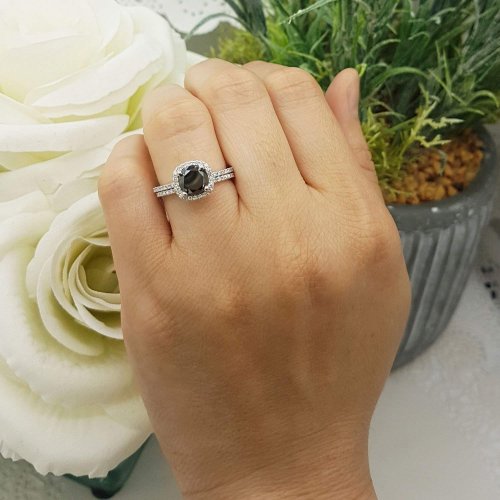 Glamour is written all over this piece! It consists of a round black diamond surrounded by small dainty white diamonds.
Read more
This stunning gemstone has been held securely in place by a prong setting.
The black diamond really does have a gorgeous sparkle to it, it will definitely get heads turning!
The small sparkling white diamonds that surround the center stone have been positioned in a halo setting.
The inclusion of smaller diamonds brings this piece some extra glamour.
The clear diamonds also continue to cover the band, transforming the ring into a glittery field of diamonds. In total, it consists of 2 carats, and the gemstones used are 100% natural.
If you're looking for an elegant ring to give to the lady in your life, this would be a perfect choice!
8

. Dazzling Rock Stackable Ring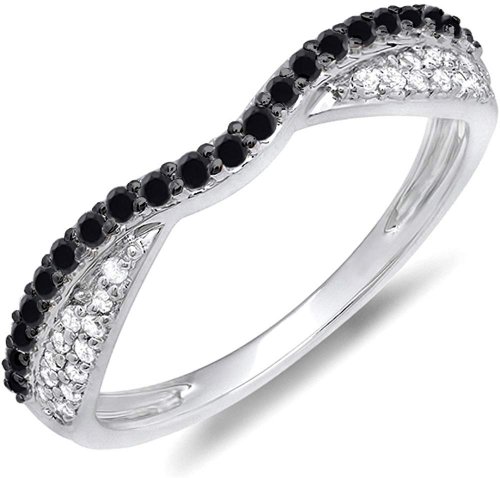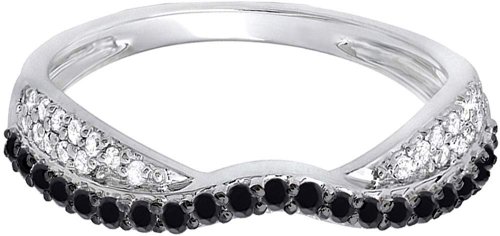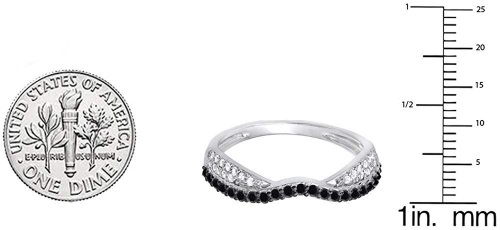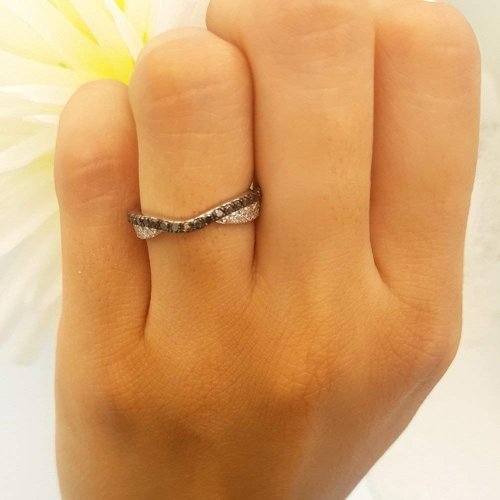 This option is very pretty, sophisticated and truly elegant! The jeweler has cleverly chosen to mix black diamonds with white diamonds, balancing perfectly against one another.
Read more
You'll also notice that this stunning option has a slight curve to it allowing for the ring to be worn alongside an engagement ring.
The curve in the center allows for this band to be worn snug next to this ring making a seamless display of beauty.
When it comes to the structure, the ring has been made from white gold which looks lovely and shiny.
The surface is also extremely smooth on the inner band, making it a very comfy piece to wear.
The choice and pattern of diamonds featured work well in mirroring the curve within the band.
You'll notice that the piece features one strip of white diamonds and the second strip of black diamonds.
In total, the ring includes 47 individual stones that have been cut into small round stones. We'd definitely describe it as being contemporary and classic.
The white gold metal used to create it equates to 14k; the design also allows it to be worn as a stackable ring which is great if you want to show off some of your other rings alongside this one.
When it comes to the jeweler, they offer a 30-day return or exchange policy if you're not 100% happy with the ring.
They also offer a 90-day warranty if the item is faulty however we doubt this will happen!
9

. Dazzling Rock 3 Stone Ring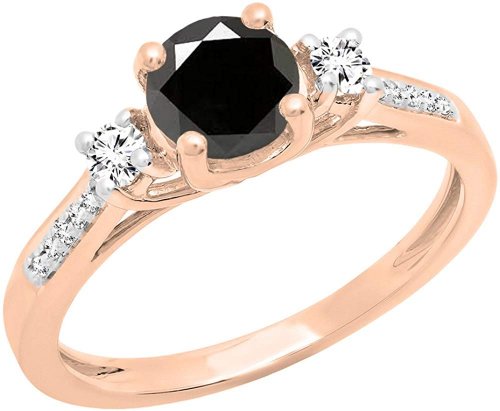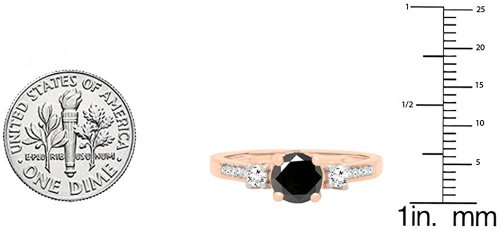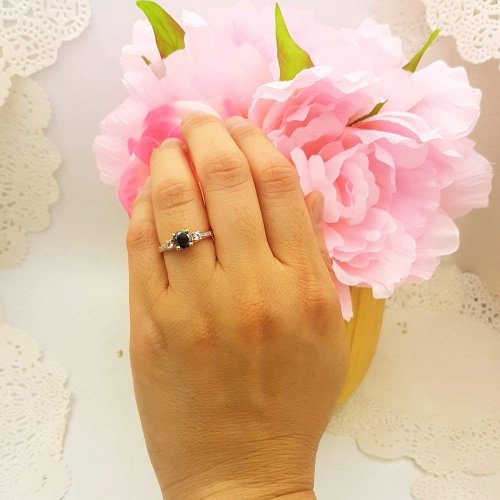 Crafted using rose gold, this pick offers something different to a lucky lady out there who will be pleased to receive it from her man!
Read more
Extremely elegant – the dainty piece of jewelry oozes plenty of class.
It has been designed with a circle black diamond in the center. Either side of this stone the jeweler has chosen to feature a smaller clear white diamond.
This brings a breathtaking sparkle to it which we simply adore! A touch of sparkle is then continued within the band.
When it comes to the gemstone that features in the center, it has an opaque clarity and has been cut into a round shape. The designer has chosen a 10k rose gold material to create it.
This distinctive color works very well in making the black diamond stand out. The incorporation of clear white diamonds also looks beautiful against the rose gold material.
One thing we love about the style of this piece is that it features a 3 stone setting which definitely gives it a classic feel.
10

. Dazzling Rock White and Black Diamond Ring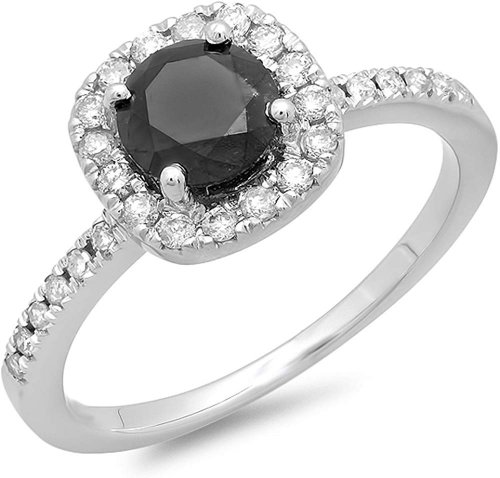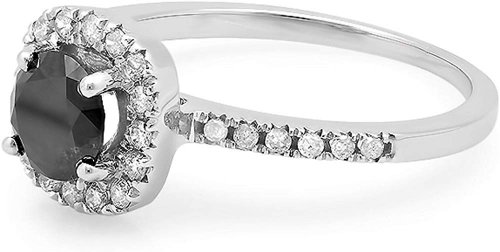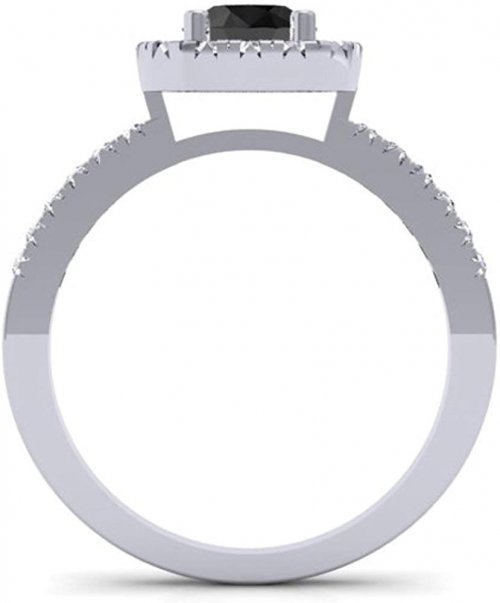 The final option in our shortlist is something quite spectacular. Featuring a stunning 1.15ct round, black diamond, this is a really pretty ring that shows us why the classic halo design works so well.
Read more
The gemstone is beautiful and one that is hard to take your eyes away from.
Surrounding this gemstone are 28 smaller crystals that add that extra sparkle to both the head and the band.
The smaller crystals around the head almost give it a look of a flower and a very pretty one at that!
The smaller details make it extremely attractive; for example, where the gemstone is held in place by a simple four-prong setting which adds to the simplicity of the design.
Moving along the band, you'll notice the shiny 14k white gold band which has a really smooth finish meaning that this is a really comfortable ring to wear.
Another special feature is one that you may only notice when viewing the ring from the side.
It is nonetheless one of our favorite features, and you'll see that the head is held above the band with a gap between the head and the band.
This is a really attractive design and definitely adds character to this ring.
It also means that the ring has a somewhat larger profile than some of the other rings and helps to make the gemstone even more prominent.
This is an important feature to be aware of when purchasing it as it sits higher on the finger than some other options and could easily catch on clothing. This isn't a problem, but it's definitely worth bearing in mind.
What's great about this option is that all of the diamonds used are 100% natural so you can know you're getting a fantastic quality item. The stunning ring also comes with a pretty red ring box that is completely FREE.
Sold by Dazzling Rock for a high price, this black diamond ring is well worth the dollars!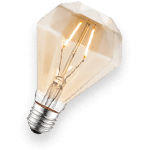 Types of black diamond rings
There are several different types of black diamond rings to choose from including the natural form, the man-made form, and the treated black diamond.
It's key to point out that all of these types of diamonds are real.
However, the different types do vary quite a lot in price so it's important that you've done your research and you know what you're buying.
Black diamonds can be very expensive and you want to make sure you get the best cut for your dime.
Types of black diamond rings
Natural black diamond – this is an impure form of polycrystalline that consists of graphite, diamond and amorphous carbon.

It has a very high amount of inclusions (clusters of graphite inside of them) which makes the stone appear black.
Man-made black diamond – in its simplest form this is a lab-grown stone. We would avoid this form as it is low in quality.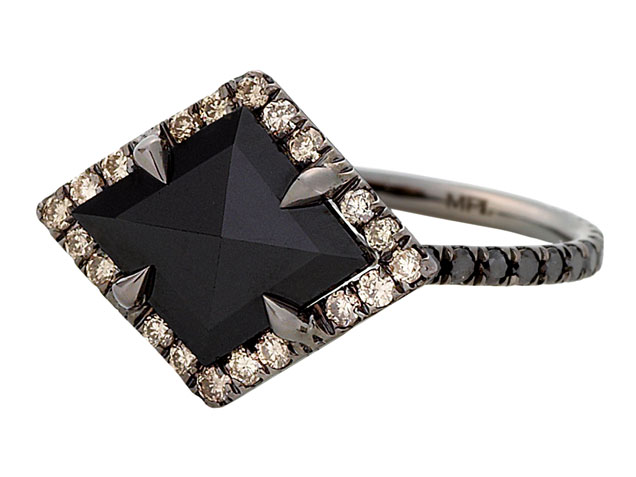 Treated black diamond – these in their natural form begin life as a white diamond, with a high amount of inclusions in them.

The white diamond is then treated through heat or irradiation to create the treated black diamond.
Finally..
We hope you've enjoyed browsing through our list of the most gorgeous black diamond ring picks you can buy online.
We made sure to include options designed by renowned jewelers; all of our picks are comfortable to wear, made of high-quality metals and gemstones; each ring is sure to last in time being made with durable metals.
Each of the picks works well as an engagement or promise ring so if you love the appeal of black diamonds, time to shop ladies!