Our Selection for the Best Floating Diamond Necklaces
last updated:
Oct 26, 2021
Dainty jewelry is all the rage, which is one of the main reasons why a floating diamond necklace is what you need in your collection.
These delicate and prismatic pieces are sure to set the perfect impression for a romantic night out or a casual weekend of running errands.
With a seamless design, they're one of the best options for minimalist jewelry lovers.
Our Top 7 Picks!
1

. Original Classics Diamond Floating Necklace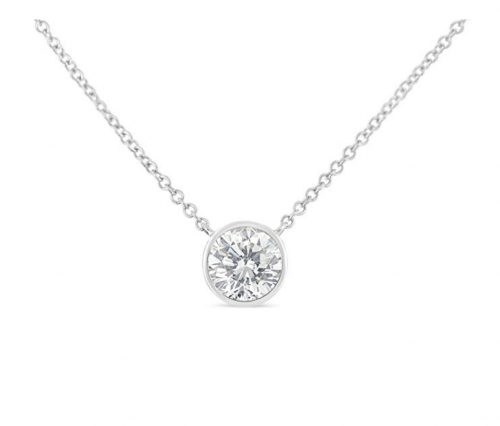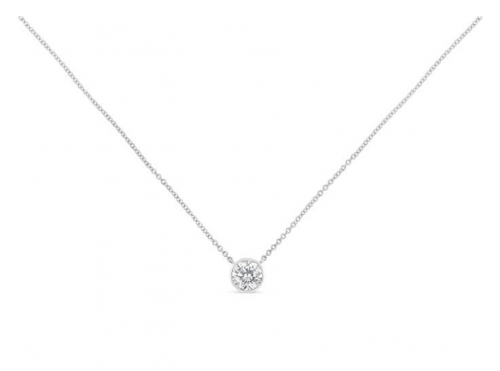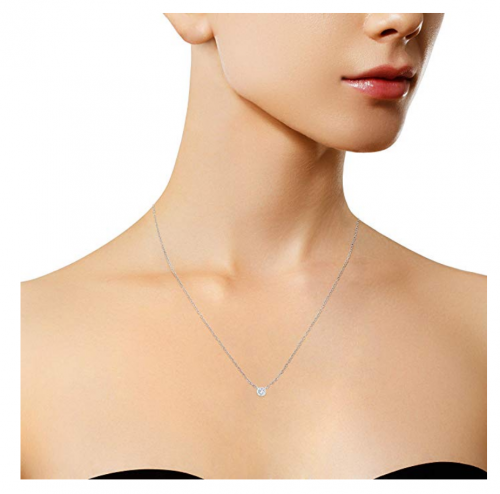 The reason that this design sits at the top of our list is that it is simple, classic, conflict-free, and affordable. If you want something classic that goes with everything in your wardrobe, this is an excellent place to start.
Read more
The diamond found in this necklace is classified as SI2-I1 clarity. YOu have the option to select carat sizes that include .10, .20, .33, and .50. The .10 carat option boasts an affordable price tag, while the .50 cost significantly more.
The gem is held in place by a delicate 10-carat white gold chain. The chain has various settings to change the length of the chain from sitting high on your neck to below your collarbone. It is offered in white gold, rose gold, and yellow gold.
What we loved about this design is that the diamond comes from trusted and ethical sources so you can feel good about the origins of your stone.
2

. The Black Bow Co. Diamond Accent Necklace
The unique style of this design makes it really stand out from the crowd. If you want something that is slightly different than other simple designs out there on the market, this option is worth a look!
Read more
The 9 mm diamond in this design is classified as I2 in clarity and H-I in color. It's accented by a round rhodium-plated sterling silver circular frame. One of the things that we loved most about this design is the chain.
The snake chain is made from sterling silver and affixed by a classic lobster clasp. It measures to be 18 inches long, and you can adjust the length by 2 inches for the perfect fit.
The sterling silver used for this design is tarnish-resistant and will not lose its color even if you wear it frequently. If you want something that has a unique style, this is a great choice.
3

. Mejuri Diamond Necklace
Mejuri is a fabulous destination to get your hands on high-quality gold and diamond jewelry at a fraction of the cost. Their necklaces are one of their top-selling products, especially the Mejuri diamond necklace.
Read more
In this necklace, you'll find a delicate diamond pendant nestled in the center of a thin chain. You'll find it layers perfectly with other Mejuri pieces, which are known to be dainty as well. With the 14k solid gold chain, you'll have a reliable piece of jewelry that will withstand plenty of wear and tear.
The quality of the solid gold helps to ensure the metal never oxidizes or discolors, making it easy to wear every day. Also, with regular maintenance, you can keep the gold sparkling over years of everyday wear. The diamond quality is also important to note, as it adds to the luxury of the piece.
The diamond is ethically sourced from authentic suppliers. You can guarantee you'll own a conflict-free gem that's sourced using socially responsible methods. It also features an SI 1 to 2 clarity, which is close to flawless.
In total, the diamond carat weight for this necklace is .06, and the diameter of the stone is 4.44 mm.
4

. The Diamond Channel Floating Necklace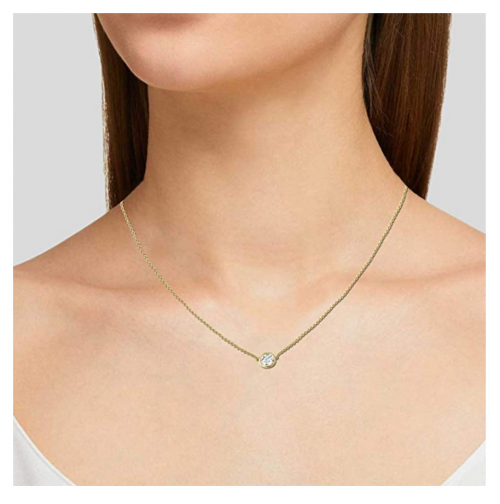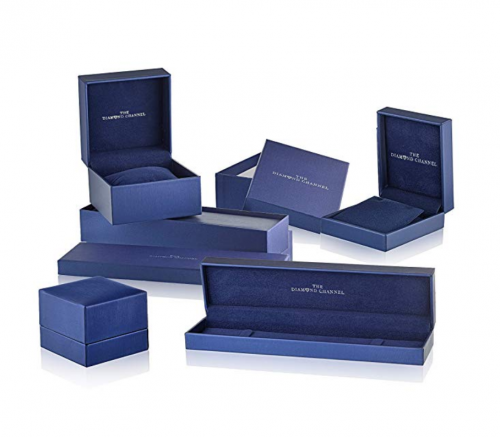 This option from Diamond Channel is classic and simple and comes in yellow gold. It has a timeless floating design that draws attention to the brilliant cut of the diamond on a simple and delicate gold chain.
Read more
The diamond occurs in three different weights: .15 carat, .50 carat and 1 carat. It is important to note that the heavier option has a heavier price tag. This diamond has a clarity of I2-I3 Clarity and the color is classified as K-L.
The chair that hosts this diamond is composed of 14-carat gold on a very delicate link chain. It uses a spring-ring clasp that holds it securely in place without worry. This diamond hails from mines and is not manufactured in a lab.
The diamonds come from ethical and reputable sources so you can feel good about the origin of your stone.
5

. Gorjana Floating Diamond Necklace
The Gorjana floating diamond necklace is a perfect example of a floating diamond necklace that you can wear for any occasion. It's precious and delicate with a dependable, thin chain that's comfortable to wear all day. It also has a professional edge, making it the ideal choice for a business-friendly outfit.
Read more
If you're looking for a premium-grade accessory to treat yourself with, this polished necklace is a fantastic option. It has a sparkling radiance that will capture the light and make the diamond the focal point of any outfit.
You'll love the laser-cut diamond that shines effortlessly against your skin paired with the low-profile chain.
One of the most spectacular features of these necklaces is that the stone looks like it's floating on your collar. You'll be able to pair this piece with a choker or any other necklace you own, making it incredibly flexible. Also, it has a cute flair, making it an iconic gift for jewelry lovers of any age.
If you're prone to sensitivity with jewelry, you'll be glad to know it is made from top-tier materials. The chain is crafted from genuine 18k gold, which is skin-safe. Also, there isn't any plating, so you can guarantee it will withstand plenty of wear and tear.
6

. Adinas Jewels Floating Diamond Necklace
The Adinas Jewels floating dangling diamond necklace is a unique design compared to other floating diamond necklaces. Instead of having a dainty chain with a solitaire diamond, this piece has multiple accents.
Read more
There's no doubt the necklace will be your favorite addition to your jewelry collection. It takes the standard concept of a floating diamond necklace and elevates it with a classic style.
There are numerous small diamonds around the entirety of the necklace, making your entire neck sparkle effortlessly.
With seven round brilliant-cut diamonds, they will capture the light effortlessly and glisten everywhere you go. Each pendant drops gently from the thin, 14k gold chain, making it the focal point of any outfit.
In total, you'll have one carat of diamonds to show off. Also, the chain length is 16" and is slightly adjustable. You can opt to wear the necklace as a choker or a little lower down your neckline for a romantic setting.
7

. Lili & Roo's Diamond Necklace
The Wolf & Badger piece is crafted from solid white gold. The modernism of this necklace makes it a fabulous accessory for any occasion.
Read more
As with all floating diamond necklaces, this piece looks luxurious and exudes classic elegance. You'll love the thin chain that sits effortlessly on your neckline. With the perfectly sourced environmentally-friendly diamond, your jewelry will glisten everywhere you go.
The diamond in this piece also features a bezel setting, encircling the diamond with a thin layer of white gold. Also, the chain is 15 inches with a one-inch extender at the back. You'll easily be able to customize the length of the chain to find the most comfortable position.
If you want to keep your necklace clean, it's a great idea to invest in a jewelry cloth, which helps remove blemishes. Also, it can restore the sparkling diamond to its shining natural appeal, so it can glisten when it captures the light.
Evaluation Criteria
Durability
When it comes to strength, there are few gems as tough as the not-so-humble diamond.
On the Mohs scale, diamonds classify as a 10, which is considered as the hardest naturally-occurring substance on Earth.
As far as the diamond is concerned, there is little room to worry about it scratching, fading, or becoming tarnished even when you wear it every day. It's important to keep in mind that diamonds are a magnet for oils and debris. To keep them sparkling it is we recommend cleaning them at least once a month.
When it comes to the chains, there were two options that we selected for products on our list. 14-carat gold is ideal due to the fact that it is slightly harder than silver. Gold has a reputation of being a hard element, but it only clocks in at about a 3 on the Mohs scale.
What we loved most about 14-carat gold is that it will not irritate your skin, and it will not chip or flake. Plus, it has a sharp appearance and it is incredibly easy to clean.
Sterling silver is another great option, and a little more affordable than gold. Silver on its own is too soft to be used in jewelry, so almost all silver used is composed of 925 sterling silver.
The 925 stands for 92.5 percent sterling silver, while the rest is composed of a hard alloy. Using silver is a great way to utilize a metal that won't irritate your skin and won't break the bank.
Style
Diamonds have a reputation of being a gem that is only invited to fancy events, but we wanted to make sure that we selected styles that go with everything in your closet. To pare down the flash of diamonds, simplicity is key.
Floating diamond necklaces are great because they are incredibly delicate and simple. Most designs accent one central diamond suspended by a simple gold or silver chain. To ensure that these pieces that we selected go with everything in your closet, there were a few things that we kept in mind.
Necklaces that boasted small and simple round cut diamonds were one of the first things that we looked for. The great thing about a simple floating diamond is that when worn alone, it's a perfect way to add a bit of modest sparkle to a pair of jeans and sneakers. With a floating diamond, you can also add more flashy pieces to really elevate your look.
We also wanted to select chains that were made from simple and quality materials such as 925 sterling silver and gold. Delicate chains work well with a casual as well as a classy look.
If you want to rock diamonds with a t-shirt and jeans, simplicity is the way to do it. Keep your diamonds small and simple. We selected designs that sported an 18-inch chain that lands (for most) just below your collarbone. This allows the wearer to rock it alone, or dress it up with even more flashy pieces.
Wear Comfort
We selected products that fit comfortably so it is something that can easily wear all day.
An 18-inch chain is a perfect fit for those that want to wear something that hangs in just the right spot below your collarbone.
Many of the designs on our list are able to be extended by at least 2 inches that allows you to find the perfect fit for your neckline. For some, 18 inches might feel too tight or sit too high on your neck, so extenders may be necessary for a comfortable fit.
All picks are made from materials such as sterling silver or gold that reduces the risk that it will interact negatively with your skin. Cheap metals or coated gold options cause irritation for some users, so we wanted to stick to quality chains that you can wear all day long.
As far as clasps are concerned, these pieces boast the standard spring-ring clasp or lobster claw clasp. These designs are a little finicky to affix in place, but they are strong and secure. While it may be frustrating to clasp your necklace, you know that it will stay in place on your neck and won't slip off.
These necklaces are something that you will want to wear all day long, so they need to be comfortable. Selecting simple frames with quality chains makes for the perfect style to wear all day without irritating your skin.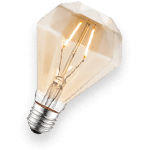 The Kimberley Process
Diamond mining has earned a reputation of using less than ethical methods to unearth these precious gems from mines. However, the Kimberley Process was initiated in 2003 to prevent the sale of unethical diamonds being used for commercial consumption. If a diamond is labeled to be "conflict-free", it means it has been approved as ethical via the Kimberley Process.
Thanks, Volcanoes!
Naturally occurring diamonds live 100 miles in the ground and make the journey closer to the surface due to underground volcanic activity. These diamonds are mined in 35 different countries on the planet, with South Africa leading the pack.
The Carob Tree
Carats are the unit of measurement that we use to determine the weight of a diamond. However, did you know where that term originated? The word carat refers to the carob tree that was used by the Ancient Greeks when weighing all precious stones.
FAQs
q:

What are floating diamonds?

a:

Floating diamonds are simply diamonds that are suspended without the use of channels or prongs. For diamonds to really shine, all points need to be exposed to reflect light. When the diamond is free of prongs, it creates more points to reflect light and create a lot of sparkles.

What's great about a floating diamond necklace is that it's incredibly simple and timeless. They are a great way to add a lot of sparkle to casual or dressed-up looks.
q:

What does conflict-free mean?

a:

For diamonds that are mined from the Earth, some sources use less than ethical means. Until the Kimberley Process was set in place in 2003, wearers knew very little about the origin of their diamonds.

To ensure that your diamond was unearthed via ethical methods, it needs to be considered 'conflict-free'. The good news here is that the natural diamonds that we selected for our list are all listed as conflict-free, so you can feel good about the origins of your gem.
q:

How does the color classification system work?

a:

When diamonds are unearthed, they come in a variety of different colors. The clearer the diamond, the more effective it is at catching the light. Therefore, there is a color system set in place that classifies diamonds in different color categories.

The system starts at D and ends at Z. Diamonds that are classified as colorless, and it is the highest color grade that these gems can achieve. Stones that are classified as Z have a yellow and brown hue to them and are considered less than ideals.

Stones that fall between D-N all have very subtle changes in color. In fact, the small changes in color are often not even noticeable to the untrained eye. This means that even though your diamond is classified as L, the change in color may not even be something that you notice.
q:

Why are diamonds so expensive?

a:

There are quite a few myths surrounding the cost of these dazzling stones. Many believe that diamonds are incredibly rare, but that just isn't true. Gems such as rubies and emeralds are rarer than diamonds but don't boast as high of a price tag.

Others feel that they cost a lot due to the fact that the world's diamond supply is being depleted. Again, that just isn't true. With improved technology, we have discovered untapped diamond minds that have yet to be touched.

The reason diamonds boast such a high price tag can be explained in one word: demand. By far, diamonds are the reigning champion for the most popular gem. The clarity of diamonds and their classic sparkle make it a gem that goes with just about everything you own. You may find it to be a struggle to procure an outfit that doesn't go with diamonds!
q:

How do I clean diamonds?

a:

Diamonds are one of the hardest naturally occurring substances on the planet, but they are a magnet for oils. If you wear your necklace for long periods of time, it may become cloudy as it collects oils from your body as well as the lotion that you wear.

Cleaning your stone is super simple and can be accomplished by things that you have around your house! When we clean our stones, we like to use an old soft-bristled toothbrush and a container with equal parts of water and ammonia.

Using the brush, gently brush away all of the oils and debris from all of the nooks and crannies in your stone. Once it's sparkling like new away, dry it with a soft cloth.
q:

Can diamonds really cut glass?

a:

Yes! All gems are classified on the Mohs hardness scale, which rates items from 1 to 10. 1 is considered soft, and 10 is considered hard. A diamond is classified as a 10, which makes it one of the hardest naturally occurring substances on planet Earth.

Glass is classified as 5-7 on the Mohs scale, which means that diamonds can successfully cut through the glass!
Finally...
A floating diamond necklace is a great way to add a little bit of sparkle to your wardrobe. What we liked most about the styles that we selected for our list is that they go with just about anything!
Wear them alone for a simple and elegant look, or jazz them up with necklaces made from colorful stones. Floating stones catch the light better than those affixed to a frame with prongs and channels, and boast a timeless and classic look that won't go out of style any time soon.
The selections on our list all boast chains that measure to be 18 inches long. This means that it should fall roughly below your collar bones. Many brands also offer extensions to lengthen the chain.
If you want to add more simple and timeless pieces to your collection, these designs on our list are great choices. Plus, many of them come in at price tags that won't break the bank!