A Collection of Flower Necklaces Perfect for Spring Season
last updated:
Mar 17, 2020
Whatever the occasion, a flower necklace is a perfect accessory to brighten up your outfit this spring. From contemporary silver flowers to classic porcelain pendants, we've compiled some of our favorite necklaces to share with you.  
If you like something a bit different, we've chosen a variety of necklaces that you'll simply love. Diamonds, crystal rhinestones, abalone shells, opals, and garnets – we have them all! 
Some of our flower necklaces feature multiple flowers and others just a single one.
Our selection is extremely creative, we've chosen pieces with fabric, beads and even porcelain. 
The fantastic thing about flower necklaces is that they're all very different, allowing us to cater for everyone. 
Our Top 10 Flower Necklaces!
Evaluation Criteria
Durability
The choice of material was an important aspect when it came to the evaluation criteria. We chose necklaces made from materials like 14k yellow gold, sterling silver, and rhodium plating. What we liked about these materials was that they were durable and beautiful.
Necklaces that featured durable gemstones were another important criterion. We chose pieces that featured gemstones that were hard wearing and scratch-resistant.
A necklace is an accessory that is worn a lot so this was particularly important. Some of the necklaces we chose featured opals, cubic zirconia and abalone shells. 
Style
When selecting these necklaces, of course, each piece had to feature flowers, but the necklaces needed to be quality products with a unique style as well.
We chose jewelry pieces that had a nod towards Spring. Our choice of necklaces varied from colorful wildflowers to iconic Spring flowers like roses and daisies. 
Our selection of necklaces represented flowers by featuring unique stones like opals, abalone shells, and gemstones.
One of the necklaces we selected even featured real flowers! This was done through a process whereby flowers were pressed and placed within the resin. This resin then was then cut and used to make a pendant.
 
Quality was once again a high priority. Each of the necklaces chosen had been handmade or produced to the highest quality. It was important to have a piece of jewelry that you could wear repeatedly.
Wear Comfort
When selecting these flower-themed, necklaces one of the most important things for us was that they were comfortable to wear!
Comfort that came from the chain and comfort from the flowers both had to be taken into consideration. A lot of the necklaces featured big chunky flower pendants, so we needed to choose necklaces where their pendants had a flat surface on the back, making them comfortable to wear against the skin.
This choice of material and gemstone closely followed. The materials featured in these necklaces had to be soft and gentle, especially as these pieces were going to be worn for long periods again and again. 
Another aspect of the necklaces that we paid close attention to was the chain. A comfortable chain would make the wearer more inclined to wear the piece of jewelry. Our chains varied in style from large chunky chains to smaller dainty ones. However, we always chose pieces that were made from good materials and had smooth edges.
 
The weight of the necklace was another consideration. Even though some of our necklaces were chunkier than others, they had to be a comfortable weight and we feel that all the necklaces chosen fit these criteria.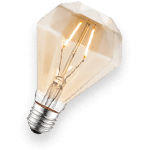 Coded messages
The Victorians used flower charms to convey coded messages. Each type of flower held a different meaning.
Meaning of a flower symbol
The flower symbol is generally known to represent love, hope, and new beginnings, making it a lovely gift for a loved one or friend. 
A flowers origin
Flowers first appeared 140 million years ago. Before this time, cone-bearing trees and ferns dominated the earth.
FAQs
q:

What is natural flower jewelry? 

a:

This is a process by which jewelry is hand-made using real flowers. The pretty flowers are freshly picked and set in acrylic resin.

This delicate process not only preserves the flowers but captures the natural beauty so they can be enjoyed for years to come in the form of a piece of jewelry. 
q:

How can I best look after my flower necklaces? 

a:

Jewelry should last a long time. Here are some top tips on how to keep your necklace looking its best for longer:

✓ Try to wear your necklace with care. If you can, when getting dressed, make sure your jewelry is the last item you put on. If you apply hairspray or makeup before putting on your necklace, this could prevent it from being contaminated. If you applied these items after, they could cause damage by discoloring your jewelry. 

✓ Keep your jewelry away from water if possible as this can cause the piece to tarnish. Soaps, cooking greases and skin lotions can also affect your jewelry by making the material dull. 

✓ Your skin contains a lot of natural oils so it's important to try and handle any jewelry which contains gemstones as little as possible because the oil can damage them. 

✓ Clean your jewelry gently so it removes any dust or oils which could be at risk of contamination. It's always important to follow the jeweler's advice. If your piece of jewelry doesn't come with any information, use water and a little bit of soap and clean your piece of jewelry carefully with a soft toothbrush. 
Finally...
So, there we have it! Who would have thought there were so many different types of flower necklaces to choose from no matter what the occasion. 
We've captured some of the best necklaces for this Spring's hottest look. Opals, abalone shells and cubic zirconia give these necklaces an effortless beauty. 
As well as our reviews, we've also included some useful tips on how to care for your flower necklace so they keep looking gorgeous, ready for next Spring and beyond!