A Collection of Flower Necklaces Perfect for Spring Season
last updated:
Mar 17, 2020
Whatever the occasion, a flower necklace is a perfect accessory to brighten up your outfit this spring. From contemporary silver flowers to classic porcelain pendants, we've compiled some of our favorite necklaces to share with you.  
If you like something a bit different, we've chosen a variety of necklaces that you'll simply love. Diamonds, crystal rhinestones, abalone shells, opals, and garnets – we have them all! 
Some of our flower necklaces feature multiple flowers and others just a single one.
Our selection is extremely creative, we've chosen pieces with fabric, beads and even porcelain. 
The fantastic thing about flower necklaces is that they're all very different, allowing us to cater for everyone. 
Our Top 10 Flower Necklaces!
1

. Jewelry Porcelain Rose Pendant Necklace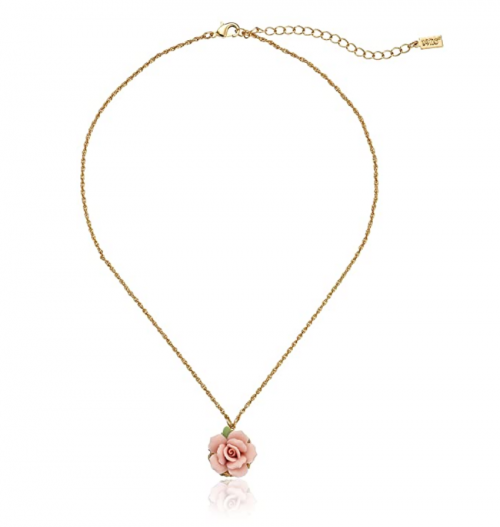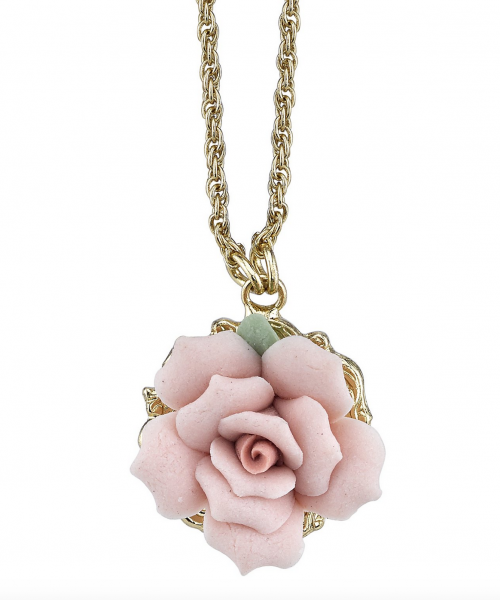 Pink porcelain rose pendant
Gold-tone necklace
Rope chain
Sometimes less is more and that's certainly the case with this porcelain rose pendant necklace.
Read more
Set delicately within a thin gold chain, this elegant pink rose is the first thing that catches your eye. The beautiful pendant which has been made from porcelain, captures the essence of Spring.
Roses are one of the many flowers that come into their own in Spring. The jeweler has done a fantastic job in creating this flower, featuring light pink petals and small green leaves. 
he alloy metal necklace covered in a gold plating complements the rose pendant beautifully. The length of the chain is approximately 16 inches. 
What's great about this necklace is that it would suit most outfits. You could wear it to a special event like a wedding, business event or simply wear it at home. 
The jeweler who has created this piece is called 1928 Jewelry. If you love their vintage style then have a look at their collection, you'll see straight away the level of creativity and workmanship that has gone into making their jewelry collection. 
2

. Black Bow Jewelry & Co. Diamond Accent Flower Necklace
14k yellow gold
18-inch flower 
White diamonds
Gold, gold, gold! We love the simplicity of this golf flower necklace. The necklace grabs your attention straight away because it's made of a smooth and shiny 14k yellow gold.
Read more
This necklace consists of a flower blossom pendant, approximately 12mm wide by 20mm inches. You'll see that the pendant is a hollo outline of the flower, giving it a minimalistic feel. 
Another thing that we like about this necklace is that the pendant features a white diamond. This natural round diamond is I1 in clarity, G-H in color and weighs approximately 0.03 carats. 
Attached to the pendant is a chunky gold chain. This is a cable chain that is approximately 18 inches long and has a spring-ring clasp. We like how the shade of gold used gives this necklace a lovely vibrancy. The color could be mistaken for the sun. In total, this necklace weighs around 2.16 grams. 
This is an extremely stylish piece of jewelry that would look lovely worn with a plain top of simple Spring/ Summer dress. This necklace speaks for itself so it would be best worn with a more understated outfit. 
If you have a larger budget to spend this, would be a lovely necklace to treat yourself to. 
3

. Amazon Collection Sterling Silver Pressed Flower Necklace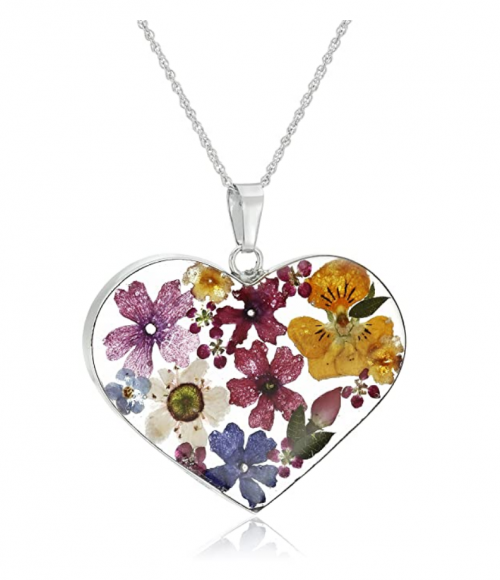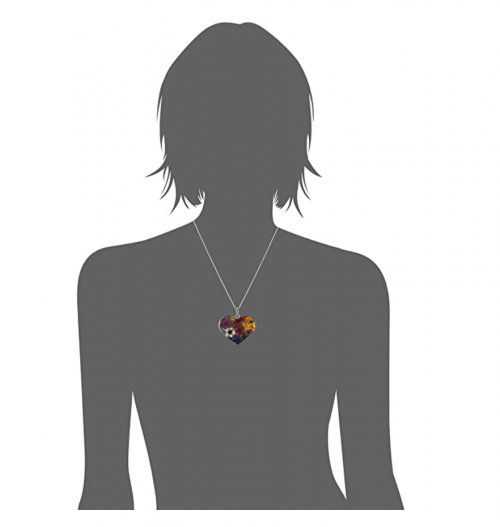 Heart-shaped translucent pendant
Rope style chain
Made in Mexico
This necklace is truly unique by offering you your little piece of Spring. Pressed flowers probably don't come to mind when you think of jewelry, but this piece shows that its possible to merge the two in perfect harmony!
Read more
What we love about this flower necklace is that you're guaranteed one-of-a-kind jewelry piece! 
The necklace consists of a heart-shaped handcrafted pendant surrounded by a sterling silver border. The pendant has been created using dried out flowers that have been placed in resin, creating a translucent pendant.
The nice thing about the necklace is that the pendants will vary slightly in design, due to the types of flowers and composition in which they are pressed. However, don't be worried, the look and feel of the necklace will be similar as seen in the picture. 
These lovely flowers are grown in Mexico and Taxo and gathered by hand. They're then preserved permanently in resin and surrounded by a sterling silver setting. 
The pendant is attached to an 18-inch rope style chain that has been made from a rhodium-plated silver. The great thing about this is that the rhodium plating makes the chain strong, but the sterling silver gives it a smooth and shiny surface, making it look beautiful. The chain also features a lobster-claw clasp. 
To ensure this necklace stays looking good long term, the jeweler suggests storing the necklace in dry, dark and cool pouches or in an airtight container to avoid it rubbing against another piece of jewelry. They also suggest that you should avoid exposing your necklace to perfume or cleaning products.
You'll be pleased to hear that the necklace will arrive in a lovely small box, perfect for giving as a present.  
4

. Betsey Johnson Weave and Sew Flower Necklace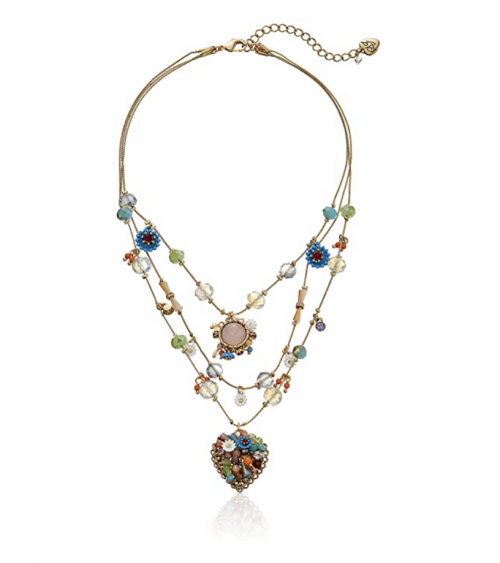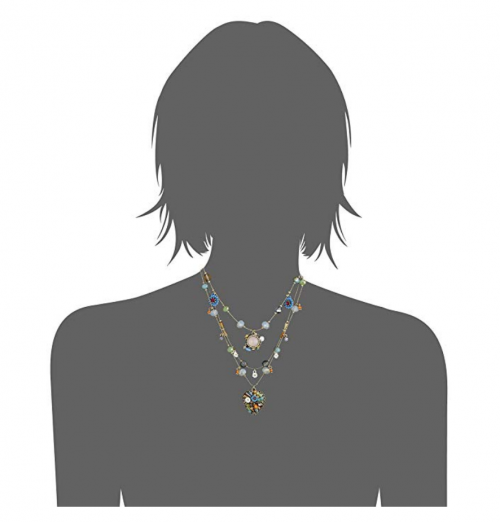 Heart-shaped pendant
Gold-tone chain
Handmade
Where to start… This bohemian beauty has something for everyone. From tiny flower pendants to intricate glass gems, the multiple strands of this gold necklace remind us of a spring meadow, glistening in the sun. 
Read more
At the center of the necklace, we find a heart-shaped necklace that has been intricately decorated with an explosion of colored beads, nodding to wildflowers.
This nod to nature and wildness is also represented through the colored beads and gemstones scattered along the chain of the necklace. The pockets of color come in lots of different forms including crystals, beaded flowers, and even a pink oval gemstone.
This gorgeous necklace is quite a spectacle and will be the point of much talk when you wear it. Everyone will love it! To give you an idea of the size of this pendant it is approximately 1 inch high by 1 inch wide. 
When it comes to the gold-tone chain this consists of two halves, the first part is a three-layered chain featuring a selection of gems, crystals, and beads. The second part is a more simplistic section that gathers around your neck.
What's lovely about the three-layered chain is that it extends the necklace quite a bit making the necklace bigger than initially expected. To make the most of the rainbow of color, this necklace would look best worn with a low-cut top or floaty dress. This would give the necklace plenty of space to shine.
The gold-tone chain is approximately 16 inches long and offers an extender chain which is approximately 3 inches so you can wear the necklace slightly longer. The chain also features a lobster claw closure. 
This necklace has Betsey Johnson written all over it! With plenty of color and character, this beautiful piece will stand the time of trends and fashion.
5

. Nikita By Niki Rose Flower Choker Necklace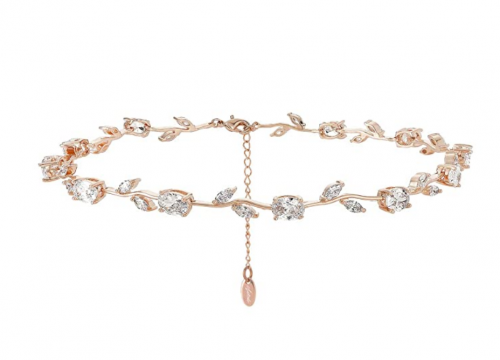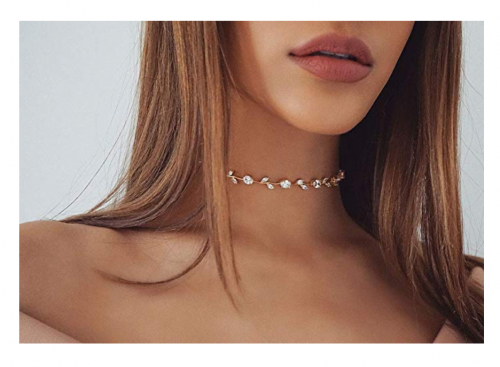 Cubic zirconia rhinestones
18k plated metal base
Extendable chain
This delicate choker will suit any occasion. This necklace features diamonds in abundance! Featuring clear cubic zirconia rhinestones, they have been beautifully shaped into dainty roses to create a stunning display within this elegant choker.
Read more
The lovely thing about cubic zirconia stones is that they have a beautiful sparkle to them. Used as an alternative to diamonds, this man-made crystal is not only much more affordable, but it is a very durable stone.
Cubic zirconia is very easy to cut into interesting shapes like a rose or leaves as seen in this necklace. This necklace is a great Spring-themed piece. 
This crystal necklace features an 18k rose-gold plating that looks wonderful decorated alongside the cubic zirconia crystals. The entire piece holds an effortless sophistication, making it a gorgeous choker to be worn on any occasion even to a wedding. This could be a fantastic accessory for a bride or bridesmaid to wear.
If you don't like rose gold, this piece is also available in a silver- or gold-plated option. The jeweler has made this necklace, so it has an extendable chain. The stunning piece will also arrive in a branded gift box. 
6

. Black Bow Jewelry & Co. Sterling Silver & Abalone Flower Necklace
Abalone stones
Flower-shaped pendant
Sterling silver cable chain
When we first saw this flower necklace, we couldn't help but be reminded of a flower collecting droplets in the rain. 
Read more
Six abalone shells make up this flower pendant which is all held in place by a lovely sterling silver mount.
The abalone is a type of mollusk that clings to rocks by the shore that is normally eaten by other marine life. The abalone shell is extremely durable and displays a beautiful sheen on its surface which holds it in similar regards to a precious gemstone.
Interestingly, the pattern that features on the surface of this shell is often formed as a result of the seaweed diet of the mollusks. When they eat different seaweed varieties, this appears on their shell in different patterns. Typically, the shell exhibits colors like turquoises, bright blues, blacks and browns on its surface. 
The designer has cleverly used six abalone shells to represent the petals of this flower-shaped pendant. Featuring shades of green, blue, turquoise, black and brown, we love that no two shells are the same. To give you an idea of the size, this pendant is approximately 25mm wide by 32mm long.
It has an open back and includes a tapered ball. The pendant also features a polished sterling silver mount and frame around all six shells. It's hung on a sterling silver chain which is approximately 1.25mm long.
The necklace is being sold at a fantastic price and comes with a complimentary gift box. 
7

. NOVICA Garnet Handmade Flower Necklace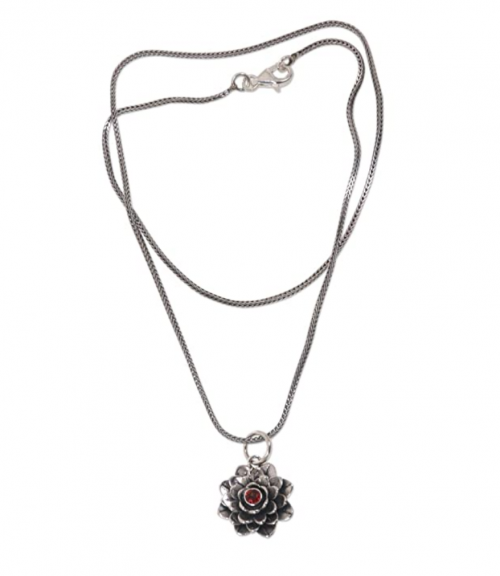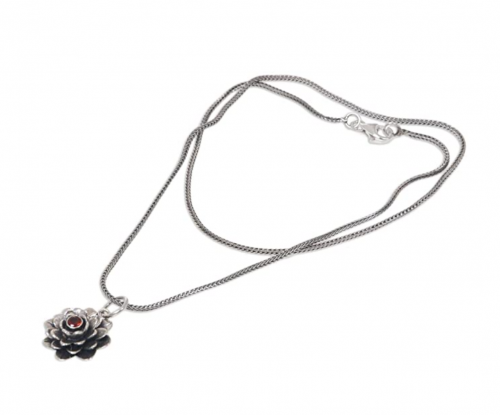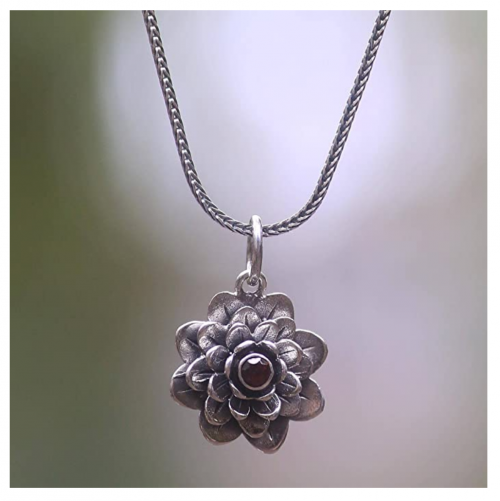 Faceted garnet of 2 carats
Flower pendant
925 sterling silver chain
At the heart of this necklace, you'll find a deep red garnet gemstone. The many layers that make up the petals of this flower provide the perfect backdrop to this attractive gemstone.
Read more
Red garnets are a special gemstone that is known for their deep red color and many people believe that they can help to strengthen your bones and reduce certain diseases relating to blood. They are also known for bringing passion and good luck to love. What's not to like! 
To create this pendant, sterling silver has been cleverly used to make individual petals which give the pendant an authentic feel and a three-dimensional effect. This makes the necklace visually appealing and very eye-catching.
The finer detail on the petals shows that these necklaces are handmade to a high quality and no two petals are the same. 
Approximately 17 inches, this chain is a great length. We like how the choice of chain is suitably thin and acts as the ultimate accompaniment to the pretty lotus flower necklace.
8

. Bling Jewelry Rainbow Opal Daisy Flower Necklace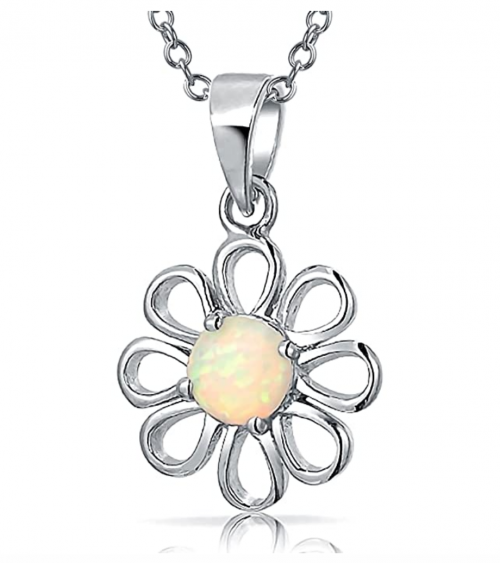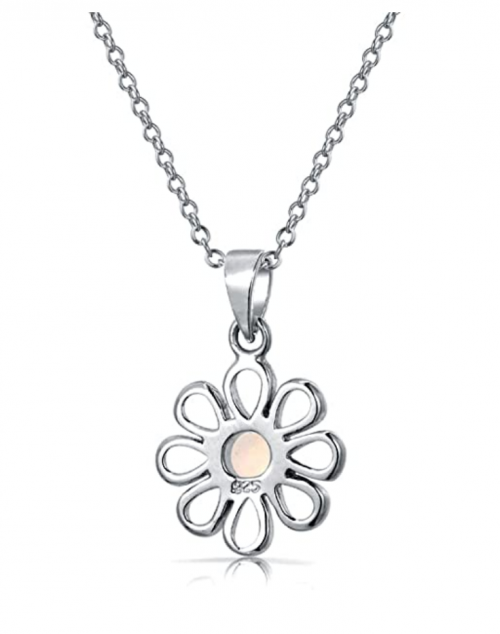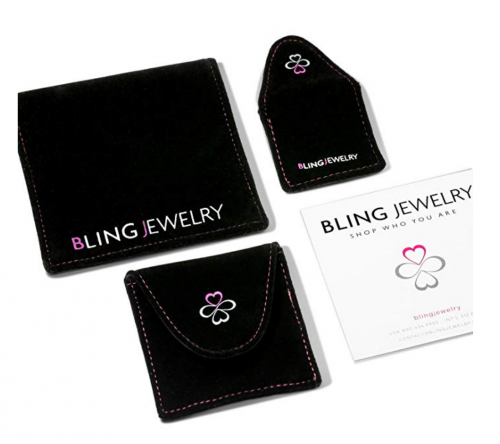 Opal stone
Daisy flower pendant
Rhodium-plated
This is a very elegant necklace which is all about simplicity. The star of the show here is a large white opal gemstone that sits amongst eight silver petals that come together effortlessly.
Read more
The beautiful opal has been cut into a round shape, approximately 6mm wide. We like how the opal is big enough to stand out but small enough to compliment the rest of the necklace.
 
Known for being the gemstone of Australia, opals are a durable and attractive gem, often used as the centerpiece for necklaces and earrings. Opals are also known to represent freedom and for enhancing consciousness. In this necklace, the opal catches the light and reflects several colors within the one stone. Therefore, no two opals will be the same.
Interestingly, the opal gemstone represents the birthstone for October. The delicate and feminine design and the high-quality piece would make a great addition to anyone's jewelry collection.
The petals which surround this beautiful gemstone have been crafted from a smooth and shiny sterling silver metal. To make this silver even stronger the designer has added a rhodium plating.
This is a great choice of metal because it will keep the necklace looking better for longer. The pendant also hangs from an 18-inch-long chain, completing the entire piece perfectly. 
The great thing about this jeweler is that they offer a 30-day money-back guarantee if you're not completely happy with your item. 
9

. Lucky Brand Floral Collar Necklace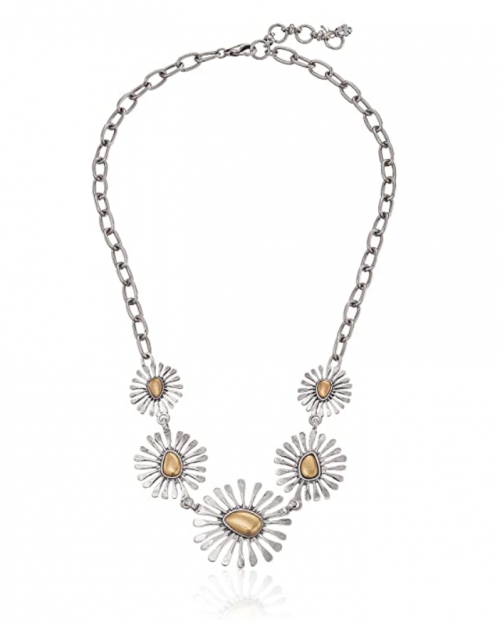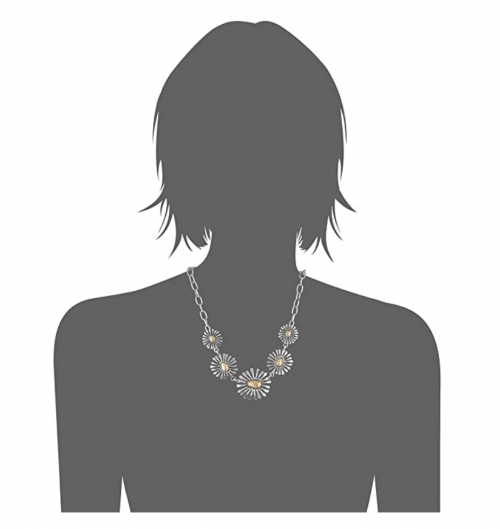 Flower pendants
Silver-tone necklace
Lobster clasp closure with extender chain
If you're looking for an abstract collar necklace, this piece offers a great balance between nature and art. These flowers remind us of wildflowers blowing in a summer breeze and the mix of size and shapes offers something unique. This necklace features five flower pendants, all varying in size. You'll notice that each flower holds a gold-tone center giving it a lovely splash of color.
 
Read more
As previously touched upon, what's great about these pendants is that the designer has captured wildflowers, so all five pendants are completely different and unique to one another. To give you an idea of the size of these flower pendants they're approximately 1.5 inches high by 1.5 inches wide, equating to around 1.8 oz. 
This pretty necklace has been created using a beautiful silver-tone material. The choice of metal makes this necklace extremely shiny. In areas, the silver-tone metal varies in shade. Some areas are light whereas some very dark, giving this necklace an aged handmade feel to it.
When it comes to the chain, this necklace has a chunkier chain in comparison to some of the other necklaces we've reviewed. The larger sized chain works well against the big bold pendants because they create a balance between the two. If this necklace had a smaller sized chain the pendant could be a little too big and overwhelming for the piece.
The length of this chain is much shorter than some of the other necklaces we've reviewed, being approximately 13 inches. This is probably because the five flower pendants make up nearly half of the chain so there is no need for it to be as long. The chain also features an extender with a lobster clasp closure.
10

. Betsey Johnson Crystal Flower Necklace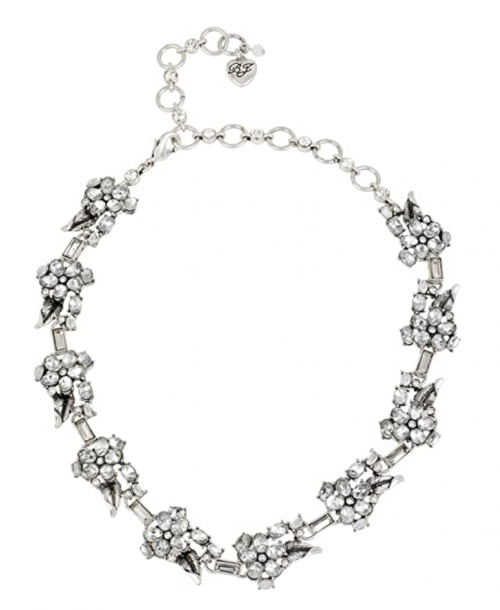 Crystal flowers
Adjustable necklace
Lobster-claw-clasps
Some occasions call for something special and this flower necklace is rather special! From a distance, it stands out for its added sparkle and glitz. But on closer inspection, you'll see that each group of gems includes several intricate flowers each with its leaf. 
Read more
What catches your eye straight away are the flowers that make up this necklace. Each petal that makes up the flower has been created by using clear glass crystals.
The use of sparkling gemstones makes this necklace shine so brightly creating a beautiful spectacle. Leaves that complete the flower are also crafted using a silver-tone metal. The rough surface texture and attention to detail that has gone into making these intricate flowers, give them a handmade feel.  
The flowers are positioned on a chunky chain which is between 14 – 19 inches long and comes with a lobster clasp. The advantage of this chain is that it is adjustable so the necklace can be worn shorter or longer depending on your outfit. 
If you want something unique and will lift your outfit, then this necklace is a fantastic option! 
Evaluation Criteria
Durability
The choice of material was an important aspect when it came to the evaluation criteria. We chose necklaces made from materials like 14k yellow gold, sterling silver, and rhodium plating. What we liked about these materials was that they were durable and beautiful.
Necklaces that featured durable gemstones were another important criterion. We chose pieces that featured gemstones that were hard wearing and scratch-resistant.
A necklace is an accessory that is worn a lot so this was particularly important. Some of the necklaces we chose featured opals, cubic zirconia and abalone shells. 
Style
When selecting these necklaces, of course, each piece had to feature flowers, but the necklaces needed to be quality products with a unique style as well.
We chose jewelry pieces that had a nod towards Spring. Our choice of necklaces varied from colorful wildflowers to iconic Spring flowers like roses and daisies. 
Our selection of necklaces represented flowers by featuring unique stones like opals, abalone shells, and gemstones.
One of the necklaces we selected even featured real flowers! This was done through a process whereby flowers were pressed and placed within the resin. This resin then was then cut and used to make a pendant.
 
Quality was once again a high priority. Each of the necklaces chosen had been handmade or produced to the highest quality. It was important to have a piece of jewelry that you could wear repeatedly.
Wear Comfort
When selecting these flower-themed, necklaces one of the most important things for us was that they were comfortable to wear!
Comfort that came from the chain and comfort from the flowers both had to be taken into consideration. A lot of the necklaces featured big chunky flower pendants, so we needed to choose necklaces where their pendants had a flat surface on the back, making them comfortable to wear against the skin.
This choice of material and gemstone closely followed. The materials featured in these necklaces had to be soft and gentle, especially as these pieces were going to be worn for long periods again and again. 
Another aspect of the necklaces that we paid close attention to was the chain. A comfortable chain would make the wearer more inclined to wear the piece of jewelry. Our chains varied in style from large chunky chains to smaller dainty ones. However, we always chose pieces that were made from good materials and had smooth edges.
 
The weight of the necklace was another consideration. Even though some of our necklaces were chunkier than others, they had to be a comfortable weight and we feel that all the necklaces chosen fit these criteria.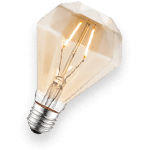 Coded messages
The Victorians used flower charms to convey coded messages. Each type of flower held a different meaning.
Meaning of a flower symbol
The flower symbol is generally known to represent love, hope, and new beginnings, making it a lovely gift for a loved one or friend. 
A flowers origin
Flowers first appeared 140 million years ago. Before this time, cone-bearing trees and ferns dominated the earth.
FAQs
q:

What is natural flower jewelry? 

a:

This is a process by which jewelry is hand-made using real flowers. The pretty flowers are freshly picked and set in acrylic resin.

This delicate process not only preserves the flowers but captures the natural beauty so they can be enjoyed for years to come in the form of a piece of jewelry. 
q:

How can I best look after my flower necklaces? 

a:

Jewelry should last a long time. Here are some top tips on how to keep your necklace looking its best for longer:

✓ Try to wear your necklace with care. If you can, when getting dressed, make sure your jewelry is the last item you put on. If you apply hairspray or makeup before putting on your necklace, this could prevent it from being contaminated. If you applied these items after, they could cause damage by discoloring your jewelry. 

✓ Keep your jewelry away from water if possible as this can cause the piece to tarnish. Soaps, cooking greases and skin lotions can also affect your jewelry by making the material dull. 

✓ Your skin contains a lot of natural oils so it's important to try and handle any jewelry which contains gemstones as little as possible because the oil can damage them. 

✓ Clean your jewelry gently so it removes any dust or oils which could be at risk of contamination. It's always important to follow the jeweler's advice. If your piece of jewelry doesn't come with any information, use water and a little bit of soap and clean your piece of jewelry carefully with a soft toothbrush. 
Finally...
So, there we have it! Who would have thought there were so many different types of flower necklaces to choose from no matter what the occasion. 
We've captured some of the best necklaces for this Spring's hottest look. Opals, abalone shells and cubic zirconia give these necklaces an effortless beauty. 
As well as our reviews, we've also included some useful tips on how to care for your flower necklace so they keep looking gorgeous, ready for next Spring and beyond!