Hoop Earrings for Men: A Selection of the 10 Best – Picked by Our Team
last updated:
May 16, 2021
Hoop earrings for men add a classic elegance to anyone's style while showcasing an edgier side to your personality. They have an intricate design that looks effortlessly glamorous on anyone, elevating the appeal of any outfit. If you're searching for the most stunning and masculine addition to your jewelry collection, we've found some remarkable designs to consider.
Let's review some of the more cutting-edge options when searching for men's hoop earrings.
Top 10 Hoop Earrings for Men!
Criteria Used for Evaluation
Jewelry Metal & Gemstone Quality
Hoop earrings are made from different materials. But we are fully aware of metal reactions.
It's for this reason we picked options crafted from safe and hypoallergenic metals. Most of our suggestions are made of stainless steel, sterling silver, and gold plate.
We picked hoops that are ideally suitable for everyday wear. Now, if you are going to wear your earrings all day, and preferably every day, they better be made from a quality and safe metal.
Durability
we considered the durability of the pieces you get. We wanted our choices to be a wardrobe investment to last years and years of use.
It's important that you get value for your money. Most of our options are made from quality metals that are guaranteed to withstand the test of time and rigors of daily use.
Sizing Options
It's also important to note that the size of your hoops will significantly complement your face.
We picked men's hoop earrings with different thicknesses. The slender ones are quite elegant, whereas the thick ones are appealing and dramatic. Chose thickness that makes sense to you and complements your face.
We also wanted your earrings to look stylish and feel comfortable at the same time.
That's why most of our picks range between 14 mm and 1 ¼ inch (30mm) — this is the standard size for most men and women.
Style
Hoop earrings are an excellent accessory for your daily look and are fun to wear on special occasions. We aimed at picking different sizes and shapes for your selection.
For example, small and petite hoop earrings (12-15mm) are an excellent choice for formal wear and a laid back look while larger ones with color and embellishments are suitable for casual outfits.
Thick hoops will give you a bold look, which is perfect for a professional appearance, while thin hoops are an excellent choice for everyday wear.
We also understand that the shape of your face will come out better with the right shape of hoop earrings. We included round hoops as well as oval ones for you to choose from.
However, our broad selection features hoop earrings that are quite versatile and are likely to match with most of your outfits throughout the week.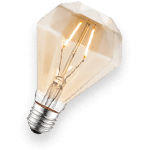 Where did hoops originate from?
The oldest hoops found date back to 2500BC, which is a point in time when ancient Sumerians (now modern-day Iraqi) women wore hoop earrings.
They favored gold hoop earrings for men or women, as well as cartilage earrings, which are a classic hit nowadays.
In Egypt, 1500 BC, even the Egyptians' sacred animal, a cat, wore a hoop as a decoration.
Moving on to Rome, and the trend of wearing hoop earrings for men originated with Julius Caesar; soon enough, the accessory was a status symbol standing for masculinity and wealth.
Heck, even pirates wore them throughout their period of reign (1650 to 1730).
A lot of historians believe hoops originally were designed in Africa around the 4th century. However, there is no certainty of this fact.
Frequently Asked Questions
q:

What are sleeper hoop earrings?

a:

Sleeper earrings are the first pair of earrings you get after a new piercing. And as the name implies, their design is there to make you sleep comfortably at night, right after having your ears pierces.

If you consider the fact that it takes between four to six weeks for ears to heal, you get the idea. Often, you'll find that they're lightweight and rather smaller than a regular hoop.
q:

What are huggies?

a:

Huggies or huggers are earrings that either exists in the form of a hoop or follow the pattern of the earlobe.

They're very comfortable to wear due to their clasp, which really only allows the post to open/close without the use of an earring back.

People call them huggies because their design is there to hug your ear.
q:

What are hinged earrings?

a:

Hinged hoop earrings are basically earrings with a split at the back. You have to pop the joint to open the earrings up whenever you want to wear them.

The first hoop earrings we reviewed on this list use this design, and as we mentioned, they're effortless to put on.
q:

What are gypsy hoops?

a:

Gypsy hoop earrings refer to ultra big hoops. It's definitely a size thing, but the design can range from slim all-wire earrings to wide ones with a decoration.

If you look back in history, these were all the rage in the 1970s and are still worn by the hip-hop community, which translates to a big audience.
q:

What do hoop earrings symbolize?

a:

Hoop earrings are a distinctive way to show off your personal style, but they're also known to have a meaning.
With the infinite circle that hoops represent, it showcases infinite unity, wholeness, and strength.

However, in most circles, they're a clear sign that you're a fan of international fashion as they're popular worldwide.
q:

How big should men's hoop earrings be?

a:

Men's earrings can be as large or small as you want, depending on your style. If you're looking for a bolder look, we recommend larger hoops, while a more minimalistic approach is best with huggies.

There are a wide variety of diameters to consider when choosing the perfect hoops for men.
q:

Are male earrings unprofessional?

a:

Many types of piercings are considered "unprofessional" in a few industries. However, the right men's hoops can work perfectly with formal and business-casual outfits alike.

You will want to consider the occasion before choosing accessories to ensure you choose a subtle high-class option.
q:

Should guys get both ears pierced or one?

a:

When choosing whether to get one or two piercings as a man, the choice is yours. Some men prefer two, as it's more symmetrical and allows for more stylistic choices as you have two piercings to work with.

On the other hand, some men prefer one piercing as it's easier to maintain over time.
Finally...
Gone are the days when a watch or a cufflink was the only acceptable jewelry for a man.
Nowadays, earrings are a fashion statement for men as they are for women. And men are rocking this style perfectly, particularly the men's hoop earrings, which are the most popular choice today.
Hoop earrings are an excellent choice of accessory for men and a jewelry staple for most women.
Think Elton John, and you will agree with us that his cool signature look will not be complete without a pair of his classic and unique hoop earrings.
America's greatest basketballer, Michael Jordan regularly sports a silver hoop on the left ear and looks dope with suit and tie.
This goes to show you that any man can look gorgeous with hoop earrings, whether worn on one ear or both. You have no reason to avoid rocking any of our options.
Nevertheless, hoops are quite versatile and a comfortable option. For men, it's advisable that you stick to a small or medium-sized hoop that doesn't hang too much down below your earlobe.
They are best worn with casual outfits but can also look exceptionally good when accessorized with a formal outfit.
Our list is quite comprehensive. We included thick and thin hoop earrings, oval, and round ones. Whatever style you go for, or whatever purpose you want for your hoops, we truly believe you will find your best match by browsing our list!