Other Accessories
Jewelry Holders to Keep All Your Jewels Organized
Marianne 06 Apr 2021
2220
Owning plenty of jewelry is pretty common for any girl, with the collection only getting bigger over time. And when you have a ton of jewelry and no proper organization, you tend to forget about the ones that eventually end up deep in the bottom of some boxes. Displaying your precious jewelry is always easy with jewelry holders.
You also may occasionally come across an old piece of jewelry that you know would have gone better with the outfit you had worn to a party recently. Regretting the missed opportunity? That's exactly when you should realize that you desperately need a better organization system for storing your jewelry. With the right storage, finding and picking any piece of jewelry becomes a breezy task.
Now, before you purchase any jewelry holder right away, take some time to go through your collection and assess the types of jewelry you have and their numbers. For instance, if you have plenty of necklaces, then you will need a holder with a lot of hooks. In case of plenty of earrings, a suitable earring holder is what you need, and so on.
Why should I get jewelry holders?
Jewelry holders are not just cheaper than regular jewelry boxes, but they also allow you to see your jewelry at a glance while providing easy access for picking and choosing them from your collection. So you can browse through the items on display and pick the one you want to wear.
Furthermore, since jewelry holders are usually placed in the open either on the dressing table, bedside table, bathroom counter, or mounted on the wall, door wherever you wish, they also serve decorative purposes. Let people woo over your impressive collection!
The jewelry holders are usually made of either wood or metal but those made with resins are available too. Their designs can range from simple hooks or bars to hang items to elaborate ones in the shape and form of unusual and cool things like shoes, mannequins and even a hand!
Because of their great convenience, functionality and price ranges, they make fantastic gift choices to present to one's friend, mother, sister, relative on special occasions like birthdays, weddings, bridal showers, Christmas or simply just because you want them to feel loved and special.
What's even better is that you can pick a holder that reflects their personalities, tastes, and ages. The choices range from modern, rustic, fancy to simple, the same goes for colors too. The color choices for wooden items are usually brown, black and white whereas for metals it is bronze and silver. As a result, you are offered a huge number of choices to pick from. The jewelry holders will surely add great value and serve a lifelong purpose.
Here are 10 of coolest jewelry holders that you must check out!
Down below, we have narrowed down some of the coolest jewelry holders that you can get to keep all your jewelry organized and tangle free. With jewelry holders such as these, you will hardly spend any time in the morning digging through boxes looking for that one pair of earrings that matches your outfit or waste any time trying to untangle your necklaces, not to mention having to clear the clutter it creates every time.
1. SoCal Buttercup Organizer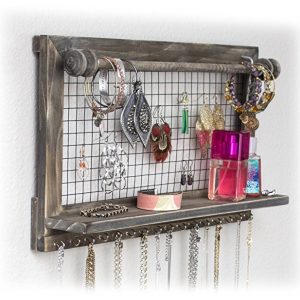 Whether you are into the rustic look or not, this is one jewelry holder by SoCal Buttercup that you will definitely fall in love with! This hardwood jewelry holder that looks like a picture frame doubles as a beautiful eye-catching wall décor once you display all your jewelry in it.
Measuring 17.5" by 10", this jewelry holder is a rectangular frame with a wire mesh backing that gives you ample storage space to hang all your earrings. A removable wooden dowel along the top length of the frame holds bangles and bracelets. A 3" wide shelf at the bottom of the frame supports accessories such as nail polishes, rings, etc. whatever you want. Lastly, the bottom portion of the frame is fastened with 16 hooks so you can hang all your beautiful even extra-long necklaces without worrying about them getting tangled.
There are four different colors of Espresso, Rustic, Shabby Chic Green and White, each equally priced and smartly designed to organize all your jewelry- bangles, bracelets, earrings, necklaces and more. The holder can be mounted on the wall of your bedroom, bathroom even the closet.
Although most customers rave about the product, a selected few suffered issues regarding the packaging.
The product comes with easy installation features such as wall mounting screws and anchors so that you don't have to waste any time assembling and can get right into organizing jewelry. Although it is a bit pricey, they offer a lifetime manufacturer guarantee ensuring that their high-quality product will last a lifetime.
2. Misslo Jewelry Hanginer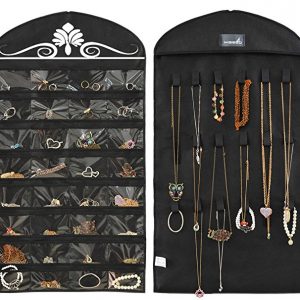 This product by Misslo is one of the most highly sold and rated jewelry holders and therefore rightfully has the Amazon's choice badge. At a very affordable price, this hanging jewelry holder, designed like a garment storage bag consisting of 32 clear vinyl pockets on one side and 18 velcro strap closures on the other side provides much-needed functionality and storage. The clear pockets are 2.75" by 4" with PVC windows that protect against moisture, scratches, and dust while allowing you to easily see and pick the items you need to match your outfit for that day.
The organizer measures 31" in length and is 17" wide which is just the same size as a shirt or top which can accommodate anything from earrings, bracelets, necklaces, rings, nail polishes to hair accessories. For the longer necklaces, the velcro closures suit the best purpose.
This particular jewelry holder works great for those who do not like to keep their jewelry out in the open but rather protected and properly stored away.
Despite being a great product, it is not the best choice for traveling as jewelry may easily slip out of the pockets. Also, the velcro straps might not be able to able to bear the weight of certain heavy necklaces.
The holder comes in three colors of Black, Black-Beige, and pink, each made of 72g non-woven fabric. With the opening at the top for inserting a hanger, it is perfect for hanging it in a closet or even the back of your door. The hanger does not come along with the product but any regular hanger can fit in it.
3. Umbra Trigem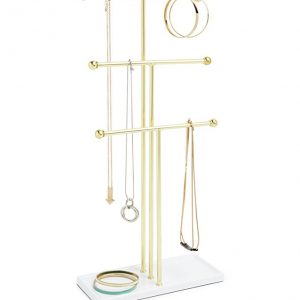 Umbra, an international product design company selling products to over 120 countries, displays creativity and style in all of their products. Their Umbra Trigem jewelry holder designed by Alan Wisniewski is a product that delivers no less.
This jewelry holder is a stunning sleek 3-tiered jewelry holder with steel bars and a white base that sparkles with sophistication. The tallest bar has a height of 19" for hanging all your long necklaces while the base serves as a jewelry dish. This along with the three varying heights of the bars ending in rounded balls allows you to store all your rings, necklaces, earrings, bracelets, watches all in one place. The design features vertical and horizontal bars creating a fascinating visual contrast.
There are a few cases where the customers received the product with bent bars. However, this product is reasonably priced and available in two finishes of Brass and Nickel, the Nickel being slightly pricier.
Its simple design and structure provide a modern, smart look, that you just can't ignore. Place it anywhere in your home and it will act as a great display while the padded base ensures your surfaces stay protected.
4. Inviktus Silver Birds Tree Stand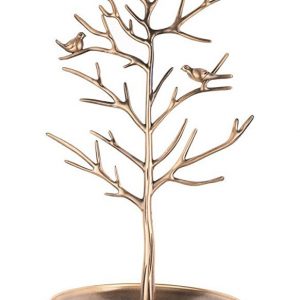 This tree jewelry holder by Invictus offers a unique design for organizing your jewelry in its beautiful metal branches. Moreover, 3 little birds perched atop the different branches further add to the look.
Every one of its branches can be utilized to hang your rings, necklaces, bracelets, etc. creating a magnificent display. The product comes with a round tray that needs to be screwed to the base of the tree for holding any additional jewelry.
The sturdy holder measures 12″ in length and is 6″ wide, the perfect size for placing it on your bedside table or vanity. It is available in three colors of Antique Silver, Antique Bronze and Antique Cyan with the Antique Bronze being the absolute favorite of many customers.
The screw required to connect the tray to the base of the tree was defective in some cases which of course can be returned for a new product. Considering the price, it is an added bonus that you also get such a marvelous décor that you will stop to admire every now and again.
5. Darice 1999-1612 Polyresin Hand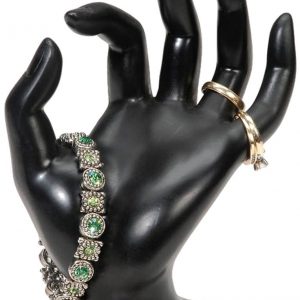 Here's a striking jewelry holder that is bound to catch your attention. Designed in the shape of a hand, this holder manufactured by Darice is best for organizing your rings, bracelets, and necklaces. Also, this particular holder is best for simply storing your go-to jewelry as they do not provide much storage capacity.
Available in only Black color and made of a polyresin material, the shape and position of the slender fingers almost bent in the okay finger symbol coupled with its detailing has an elegant and stylish appeal. You can store all your rings in its fingers and hang the bracelets and necklaces over the thumb and across the palm. This hand form especially looks all the more beautiful when you display all your sparkly, shiny jewelry on its black surface. Although it is not very durable and may break if it falls, this hand form measuring 8" in height and 5" wide is priced very affordably. It is also the right size for displaying it on your dressing table. It is definitely a cool holder to have!
6. Jack Cube Hanging Organizer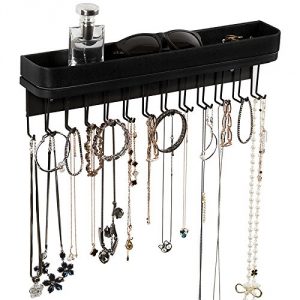 Jack Cube Design specializes in making organizers for every purpose and setting such as office, kitchen, make-up. And so on with the ultimate purpose of providing customers with great quality service. Their hanging jewelry holder is a very modern, posh and nicely finished holder that efficiently stores numerous items in a small space.
Measuring only 17.4" by 3.7" by 4.7", it consists of two slightly different designs. The first type includes 2 separate parts, one part consisting of 25 hooks along a plank whereas the other part is a separable top shelf to be placed over the hooks. This top shelf held by magnets to the bottom part allows it to stay in place without sliding off and to be removed with ease.
The only variation in the second type is that the number of hooks is reduced to 23 and the hooks are directly attached to the top shelf.
Altogether there are 6 items to choose from. Each design comes in three different colors- Black, Brown, and White. The sturdy hooks support necklaces and bracelets while the top shelf holds items like perfume, nail polishes, cosmetics, etc.
This compact and versatile storage system works great not just for storing jewelry but also for keys, hair, fashion, and makeup accessories. The easy installation feature allows the entire holder to be mounted on a bedroom wall, in the bathroom or the closet. You could either hammer a nail into the wall or use a power drill. And for such a great high-quality organizer, it is priced very reasonably.
7. 92 pairs Copper Color Earring Holder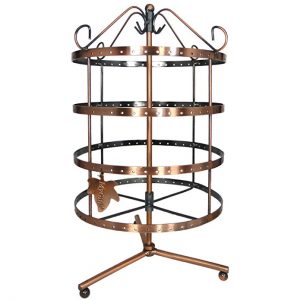 If you are looking for something to store your large collection of earrings, then check out this holder designed specifically for just that.
Sold by MyGift, this is an antique jewelry holder resembling a bird's cage having 4 tiers of metal with holes in it, hence it can altogether accommodate 92 pairs of earrings. It has 360 degrees rotating feature that lets you easily view and access your collection. A bar runs along the center of it that separates into three legs that keep it steady and balanced. At the top of the structure is a simple yet elegant spiraling of the metal that completes the antique look.
So instead of tucking all your earrings in boxes and digging through it every time you need a pair, simply display all your collection in this earring holder. Once each beautiful pair is on display, the holder itself will transform into a wonderful decor item. You will want to spin it all day and admire its beauty.
You can take advantage of the curved design of the metals to use it as hooks to store your necklaces too.
Not only is this jewelry holder suitable for use in homes, but it can also be used to display jewelry at stores and salons due to its large storage capacity. Its sturdiness is also great for accommodating a large number of earrings.
At a price that is totally worth your money, the product measuring 13″ high and 7.25″ in diameter is available in a stunning bronze color. With the complimentary gift-wrap, it makes for an excellent present for someone who owns a lot of earrings. However, it will require some assembly but does not require much skill.
The product, being large will require additional space than some of the other jewelry holders on this list.
8. JewelryNanny 8-Ring Shoe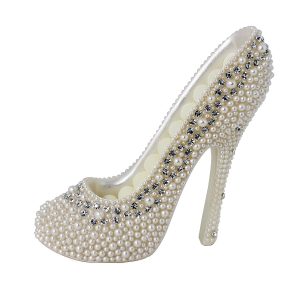 For any shoe lover, this ring holder is like a dream come true! Manufactured to resemble a real shoe, this extremely gorgeous high heeled ring holder, created by JewelryNanny comes embellished with small and big pearls as well as crystals all over it, even on the heel giving it a fancy, sparkly look.
The shoe is available in two amazing colors of Blue and White, the White being slightly pricier. However, it is the White that is picked as Amazon's Choice product.
In each shoe, beige ring slots run down the length where 8 regular sized rings can be stored. When storing rings with wider bands, 5 to 6 can be accommodated. The shoe stands level properly with its bottom part having the sole of the shoe, protecting surfaces from scratches. So apart from being super classy, it is also super functional.
The material of the shoe is resin, measuring 6.5" by 2" by 5". This glamorous ring holder will be the statement piece of your dressing table and is bound to attract attention and start conversations.
Undoubtedly, this ring holder has received a lot of appreciation and admiration of many of its customers. So, you can rest assured that it will be their most cherished present when you can give it with the available gift wrap to your shoe crazy girlfriends on their birthdays or at bridal showers.
9. AISHN Stand Vintage Lady Style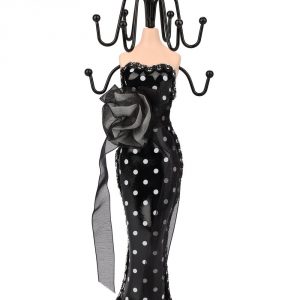 Here is an unconventional jewelry holder designed with a mannequin dressed in a vintage style, wearing a pretty dress set with a tulle flower and frills at the bottom.
On top of the neck is a ring holder, with 6 adjacent hooks surrounding it that resembles a miniature chandelier. In place of the hands are 2 hooks.  The 9 hooks altogether can store and display rings, earrings, bracelets, and necklaces. The top section can be rotated and is great for browsing and picking your jewelry. Cool, right?
Measuring 11" tall, not only is it a pretty little thing. It's also very cute, thus a great home décor item too. Therefore, being small, it is best used to hang smaller necklaces in it rather than long ones as they will just bundle at the bottom and become tangled.
The material is made of resin while the hooks are of iron. The mannequin comes dressed in three different colors of Sky-blue, White and Black, each dress covered with polka dots and a tulle flower. Again, the price of this is also very affordable.
You can present it to your friends, daughters, sisters, relatives whatever their ages, using the gift-wrap and it will surely make them laugh when they first see it.
10. Organizing Jewelry Valet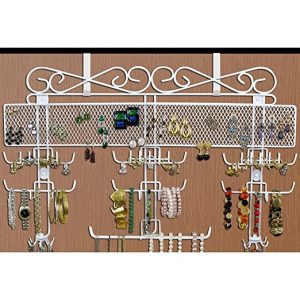 Now, if you have a large collection of jewelry and the other holders mentioned in this list don't have enough space or features to store it all. Then you must definitely check this out this organizing jewelry valet! At a price cheaper than most jewelry holders, you get one that can hold tons of items all in one place.
This holder is the ultimate functional storage system to organize and store literally all your jewelry. With dimensions 24" in length and 14.5" in width, it's definitely bigger than most jewelry holders in this list. Made of coated wire, this smartly designed white jewelry holder consists of a rectangular wire mesh at the top along the width. Below it, 3 rods are present where both roads on the left and right each have 2 wide hooks ending with a rotating head featuring several small hooks. The center rod has 3 tiers of hooks that become wider as you go down.
Lastly, it has beautiful design at the top where the metal rod is bent into antique styled swirls. This holder is one amazing organizer that allows you to conveniently store and display all your jewelry (from necklaces to toe rings), keeping them hanging, neatly organized and tangle free so you can just pick one on the go.
The jewelry rack can be hung over the door or mounted on a rack, therefore it will require some assembling. Since it is pretty big, it will occupy a large section of your wall or door. Either way, it is a great space saver since now you get to keep all your jewelry at one place instead of storing things in several different boxes. That way, your dressing table area stays clutter free.
Some important factors about jewelry holders to keep in mind!
Below is a list of things to be aware of when buying and storing jewelry holders:
1. Since most of these jewelry holders allow storage in the open, it is worth remembering that fine jewelry such as gold, silver, diamond, pearls, etc. will require storage in jewelry boxes. You can never be too cautious with your valuables after all.
2. Jewelry items that you leave sitting on holders for a long time will collect dust. You can use a soft cloth to gently wipe out the accumulated dust once in a while. So make sure to allow some time for your jewelry holders during your spring cleaning season.
3. Keep your jewelry away from direct sunlight.
4. If your silver jewelry starts to tarnish, use a good silver polishing cloth to wipe it down and store separately in a fabric or plastic bag.
5. Do not let your jewelry come in contact with chemicals or products such as lotion, hairspray, perfume, etc.
6. Remove any jewelry items before you go swimming to avoid contact with chlorinated water.
In Conclusion
These jewelry holders can make your life a whole lot easier by keeping all your ornaments organized, saving space, cutting down dressing time as well as preventing any potential clutter so that you can finally leave your home without creating a big mess on the dressing table like you used to. Now that you know about all the different and cool jewelry holders and the ways they utilize space, go ahead get yourself one, or two, maybe three depending on how big your collection is!