Gemstones / Mix / Rings
The Most Beautiful Tanzanite Rings at Affordable Prices!
Below, we have ten of the most beautiful tanzanite rings for you at prices that definitely won't break the bank. Tanzanite is a stone that is known for its combination of beauty and robustness.
The beauty comes in the form of the stone's color, a variety of blue and violet shades. As for its ability to last in time without damages, tanzanite can conveniently go toe-to-toe with stainless steel.
Now, add this beautiful stone to a ring, and you have the perfect design for bijoux classiques (classic jewelry)!
Our Top 10 Tanzanite Rings
1. Silvershake Vintage Tanzanite Silver Ring
With a design like this, we think everyone should get this pick before it sells out. The ring is made from two materials only; four pieces of tanzanite and a band made out of rhodium-plated, 925 Sterling silver.
As you might have expected, there's more. The Sterling silver is set in the form of a decoration that's reminiscent of Victorian-era jewelry.
Though the theme is a flower whose four leaves are marquise-shaped tanzanite stones. Each stone is held in a 2-prong setting, and their total weight is 0.59 carats.
You don't get a design this good at this price all the time, so that's another point in the ring's favor. It's available for purchase in 11 sizes, ranging from 5 to 7.5 to 10.
The packaging is excellent too, with the tanzanite ring coming in a jewelry box and velvet pouch for safekeeping or gifting.
Other highlights include the fact that it's hypoallergenic (free of nickel and lead) and also durable (handles constant wear like a champ!) despite that petite look it sports.
2. Silvershake Genuine Tanzanite Journey Ring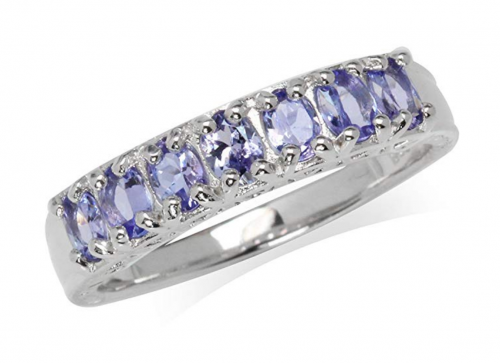 From the brand Silvershake, this ring is made from a combo of 925 Sterling silver – white gold, and tanzanite. It's a great mixture of three of the best materials in the jewelry industry!
In the case of the first two, Sterling silver is not only a robust metal, but it's also more aesthetically appealing due to the white gold plating, and hypoallergenic as well!
Almost the same thing can be said about the tanzanite, but then it's far more appealing to look at due to how it bounces between blue and purple at any slight tilt of the gemstone.
All of these materials combine to form a tanzanite ring with a minimalistic design. Instead of using a pave setting, the ring goes for a channel setting. This means it has genuine oval-cut tanzanite stones with a combined weight of 1.05 carats embedded along its sides.
The rocks are definitely pretty from any perspective, so this should make a solid addition to your collection. You can pick the ring up in five sizes, which are 7, 8, 8.5, 9.5, and 10.
3. Silvershake Angel Wings Ring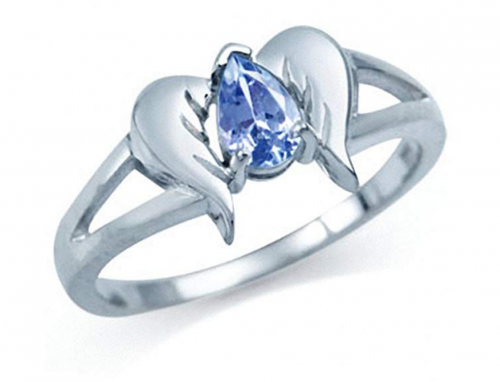 This gorgeous ring reminds us of an angel's wings! The band is made out of 925 Sterling silver (rhodium-plated as well), and it's shaped into a beautiful and quite unique design. The wings create a V-prong setting that holds the pear-shaped tanzanite stone in place.
You can get the ring in multiple sizes so it easily accommodates most people's finger size. Before we forget, Sterling silver is a great choice since it's a metal that's both durable and hypoallergenic, but you already know that The same thing can be said of this gemstone as well since it's a natural, nom treated stone.
Last thing worth mentioning is the packaging; each ring comes with a jewelry box and a velvet pouch for safekeeping.
4. Silvershake Tanzanite & Topaz Gold Plated Ring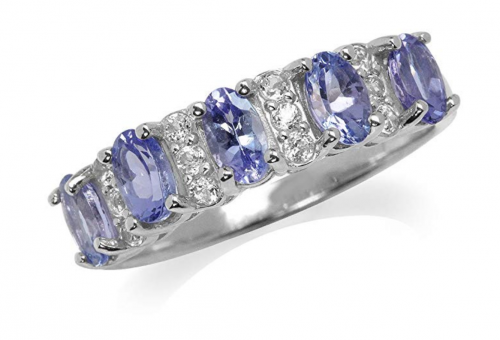 While this piece sort of resembles our last pick, it does throw in a spin on the previous ring on our list. The piece is a combination of white gold-plated 925 Sterling silver, tanzanite (oval cut) and white topaz (round cut).
Starting with the band, the ring (made out of plated silver) features a prong setting. It has five tanzanite stones (differently colored and weighing 1.3 carats altogether) embedded along its circumference; with three white Topaz stones dividing each of them up.
This gives the ring a beautiful and super sparkly appearance without being too overbearing.
The ring comes with a guarantee (return policy) and each piece comes packaged in a velvet pouch and jewelry box. You can get it in two sizes (7 & 9).
Finally, the total number of stones is a whopping 17!
5. BONLAVIE Oval Cut Blue Tanzanite Ring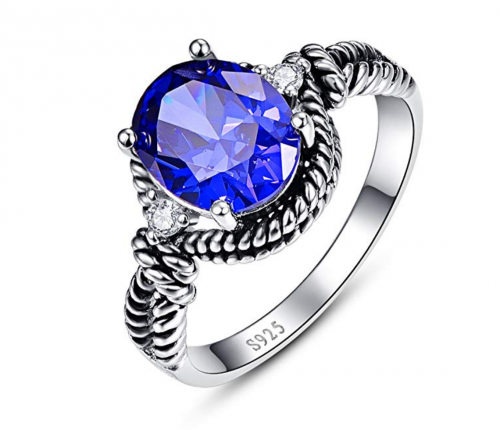 Once more, 925 Sterling silver meets tanzanite to create the design of this beautiful piece. But unlike other similar picks, this one certainly stands out since it entails a black & silver twisted rope-knot shape.
This shape transitions into a 4-prong setting to hold a round cut tanzanite (10 mm wide X 8 mm long), that's flanked by two cubic zirconia (total gem weight 3.50 carats).
At a weight of 4.05 grams, you'll hardly feel the ring on your finger. Having mentioned that, we'd also like to highlight the quality of the materials used. Sterling silver is a super robust metal while tanzanite has a super high Mohs score despite being synthetic.
The great thing about this ring is even though the gemstone is not natural, it looks so and it comes at such an affordable price you simply can't miss the opportunity to get it!
You can get this ring in four sizes, 6, 7, 8, & 9.
6. Silvershake Genuine Stone & White Topaz Petite Piece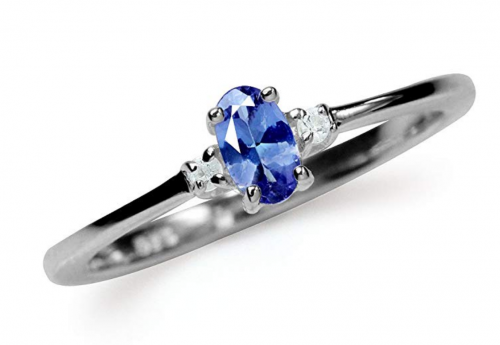 The name says it all. Again, this is a ring made out of three components which are 925 Sterling silver, tanzanite, and white topaz. The Sterling silver comes in the form of a single, petite band, while an oval-cut tanzanite stone is embedded in the 4-prong setting.
Flanking the tanzanite on both sides are two, round-cut white topaz stones also held in a prong setting. This minimalistic type of design never gets old since it's incredibly versatile. In fact the ring works as an everyday jewelry accessory as well as a tanzanite engagement ring!
We must say the white topaz stones are the perfect accents to the tanzanites and this gemstones' beautiful hue which reminds us of the sky just before dusk!
Last highlight is the packaging; it's always good to see the inclusion of a jewelry box for safekeeping of the ring. You can get it four sizes, 5, 6, 7, & 8.
7. Silvershake Petite 3-Stone Ring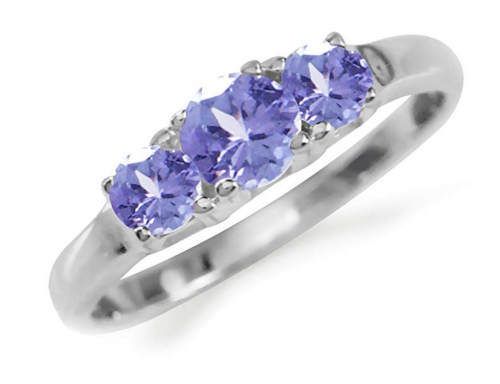 Unlike the previous tanzanite ring from Silvershake, this one does not include topaz stones. Instead, this piece features three genuine tanzanite stones instead of one, placed on a dainty band of 925 Sterling silver plated with rhodium.
The violet-colored stones are arranged side-by-side, with the biggest one at the center. All three stones are round cut and held in a 4-prong setting.
The look is simple, yet the stones certainly do make for a bold statement. You can get this tanzanite ring in 13 sizes between 4 to 10.5. Also, the brand includes a jewelry box and a drawstring pouch.
8. Paz Creations 925 Sterling Silver – Tanzanite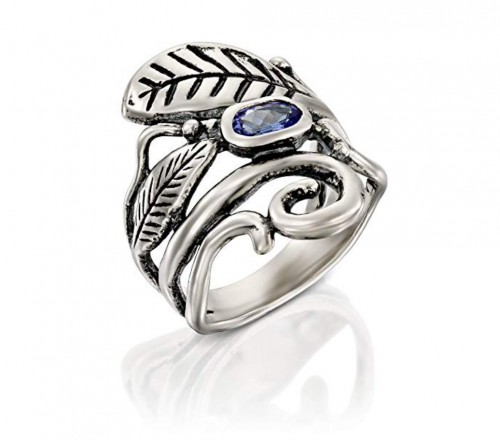 This is another ring made from the union of 925 Sterling silver and the bluish-violet tanzanite, however, this pick is one of the most unique rings on this list!
The band is designed to represent swirls with leaves which will embrace your finger. You'll find the oval-cut tanzanite bezel-set diagonally in the center of the open metal works.
This certainly isn't your classic jewelry piece and it's probably right for younger ladies loving a boho chic and informal look. You can purchase this ring in six sizes. Sadly, the tanzanite doesn't come with a jewelry box, however, the piece will arrive in an eco-friendly pouch!
9. Ice Gems Eternity Band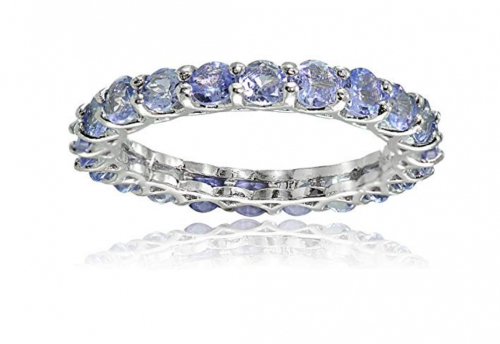 This pick is one of a kind, with an eternity design featuring tanzanite stones all along the band.
The band is made of 925 Sterling silver complemented by 22 round-cut (3 mm in size) tanzanite stones with different shades of purple and blue. Each of these stones are held in firmly by a 4-prong setting.
Design-wise, the ring is quite plain. However, the 22 beautifully sparkling stones make it a gorgeous piece of jewelry, also perfect as a promise or engagement ring!
You can get it in six sizes ranging from 5 to 10. Also, there's the option to get it in gold (electroplated). Lastly, each order comes in a jewelry pouch for safekeeping and gifting.
10. PAVOI Swarovski Crystal & Tanzanite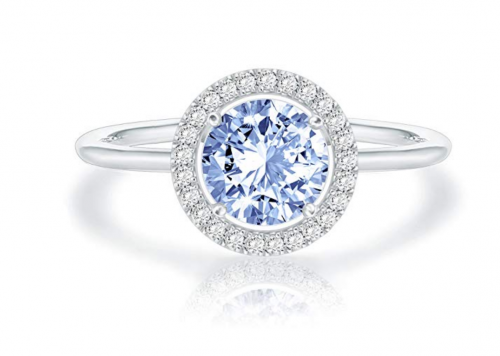 Here the choice is a combination of a white-gold-plated metal and Swarovski crystals. In the case of the metal, we suspect it's bronze, but the real highlight is the 14K white/rose gold plating (your choice!).
As for the Swarovski crystals, you'll find both white and colored stones, with the latter imitating tanzanite's blue hue, whilst being stronger than the tanzanite gemstone itself. We really like the combo, especially as the choices in material make the ring super affordable.
There's a round-cut center stone (obviously the tanzanite) held by a 4-prong setting and surrounding it there are clusters of white Swarovski crystals.
All stones are placed on a dainty band of metal, which, more than any other part of the ring, makes it versatile when it comes to accessorizing your outfits. You don't need to look for sizes in this case as the ring is adjustable.
Frequently Asked Question
What does a tanzanite stone symbolize?
It's a stone that symbolizes trust and communication. As a result of that, the meaning naturally stems from spiritual exploration and compassion. It teaches you how to unite your body and mind in order to achieve tranquility. It simply melts away your worries, and in return, helps you in intellectually interpreting emotional experiences.
What's the makeup of tanzanite stones?
Tanzanite is a blue and violet variety of a mineral deposit called zoisite. Zoisite is a calcium aluminum hydroxyl sorosilicate that belongs to the epidote group. Tanzanite is found only in Tanzania (best spot for mining being Mount Kilimanjaro), which is a country in East Africa.
Are tanzanite rings expensive?
In comparison, if you look at a tanzanite stone with the same quality (cut and carat) as a diamond, the diamond will cost about 20 times the tanzanite stone (per carat!).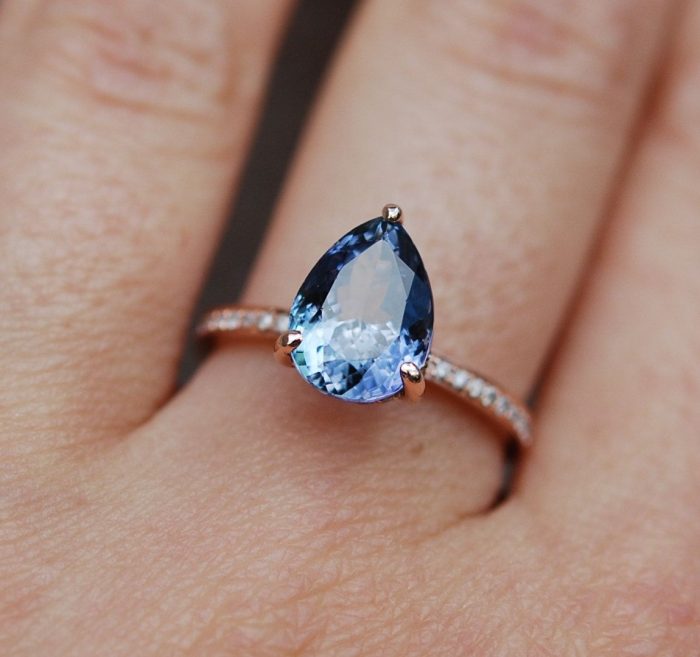 The funniest thing though is that tanzanite is rarer than diamonds, with the only thing keeping diamonds expensive being the controlled price. But as is the trend with gemstones, the more the demand, the higher the price gets. So buying this as an investment could be a solid plan.
Which month does the gemstone represent?
Tanzanite represents the last month of the year, which is December. Albeit, the most remarkable thing about it as a birthstone is that its color-changing character is only seen in Alexandrite, June's birthstone.
If you're looking to get tanzanite rings as a gift for someone's birthday in December, you can combine it with an accessory made with blue zircon, another December birthstone.
Where to buy tanzanite rings?
For the best tanzanite rings, we recommend you visit Amazon. With so many rings to compare and reviews explaining the pros and cons of each, you can't do better than that.
Alternatively, you can check out your local jewelry store for tanzanite rings. Though, make sure you take it to your jeweler to confirm its authenticity.
How to clean a tanzanite gemstone?
To clean it, you need three things; warm water, a bit of liquid soap, and a soft cloth. The first thing you should do is soak the ring in the warm soapy water for 20-30 minutes.
After that, you should use the soft cloth to gently rub the jewelry and dry off excess water. That said, never try to clean your tanzanite ring with an ultrasonic or steam cleaner.
The reason for this is because almost all tanzanite is heat-treated, so using any type of cleaner generally bleaches the color right off.
Is tanzanite jewelry a good investment?
Yes, tanzanite jewelry is a good investment. Seeing as the stone comes from only one country (Tanzania), demand for it will continue to rise until it peaks.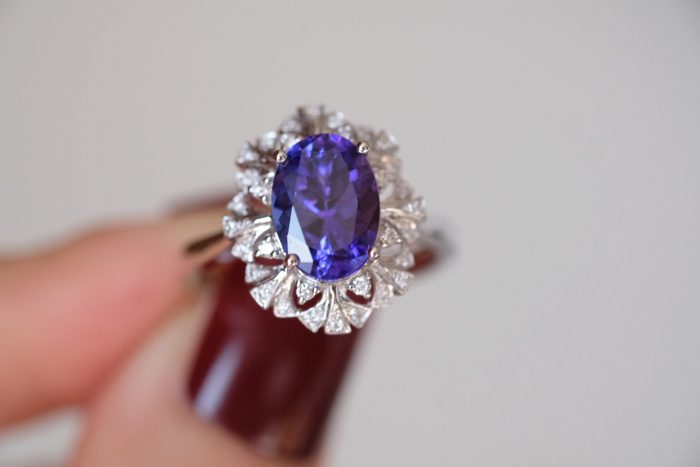 If you're looking to invest in one, go for the best tanzanite stones that you get your hands on. They're the ones that are deep blue in color.
What to look for in this gemstone?
The gemstone is unique because it changes color depending on the type of light you shine on it. The stone is bluer under fluorescent light, while it looks more like violet under incandescent light.
Also, you'll be able to see shades of red and brown in it. As we mentioned before, a great tanzanite stone is a deep blue or dark violet; what we didn't mention is that it's also a Type I gemstone. This means it is visibly flawless, with no inclusions (structural imperfections).