Anniversary Rings for the Sweetest Anniversary Gift
last updated:
Feb 07, 2020
An anniversary is an important date in the life of all couples who have made a commitment. The commitment could be a long lasting friendship or the sacrament of matrimony, and no matter which one it is, it deserves to be celebrated with anniversary rings for both her and him!
Couples who have been married hit milestones such as a five year, ten year, twenty year, or fifty year anniversary - just to remember how they have grown together throughout the years.
Whatever the anniversary milestone, we have selected some of the sweetest anniversary rings for gifts.
We have put a lot of time into this selection of beautiful and affordable anniversary bands for you to view so we're sure there's at least one option you'll be adding to your cart!
Our Top 10 Picks!
1

. Amazon Collection Sterling Silver Anniversary Ring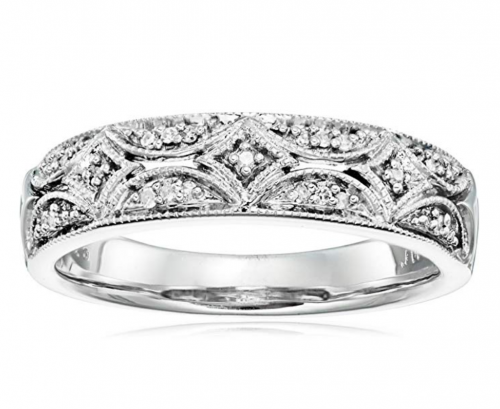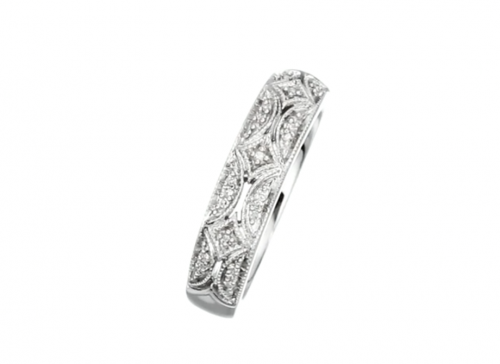 Prong set diamond accents
Milgrain edging
Sterling silver band
This anniversary ring selection is an exquisite diamond band with 1/20th carat weight and high clarity diamonds. The ring is available in three sizes, which are 6, 7 and 8. The band has a 5 star rating.
Read more
It is crafted with .925 sterling silver and milgrain edging that consists of gorgeously sparkling prong set diamonds that accent the band.
The width of the band is 2.8 mm and the length is 5.05 mm. This sensational sterling silver ring with an intricate and unique pattern is well worth the price which fortunately is super affordable; considering it includes conflict-free diamonds, as tiny as they are, the price makes this ring a real steal!
The band is a great gift for all occasions and arrives in a complimentary deluxe small box.
Amazon is excited about their curated collection of fine and fashion jewelry. This band is one of a kind that Amazon offers for everyday wear and value.
2

. Ross-Simons Diamond Multi-Row Ring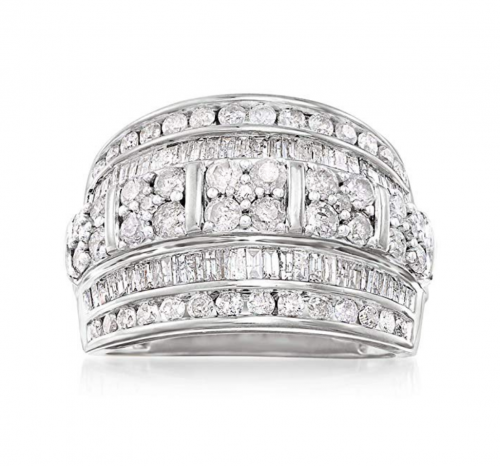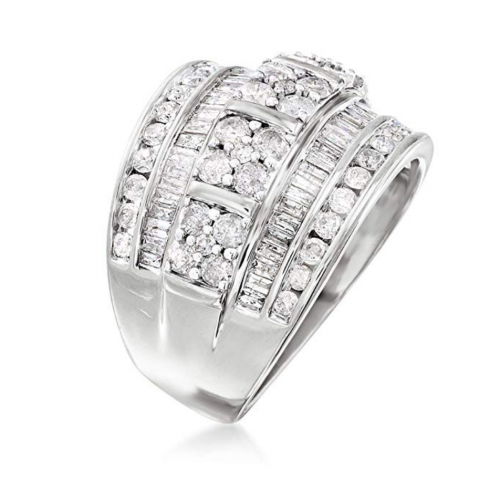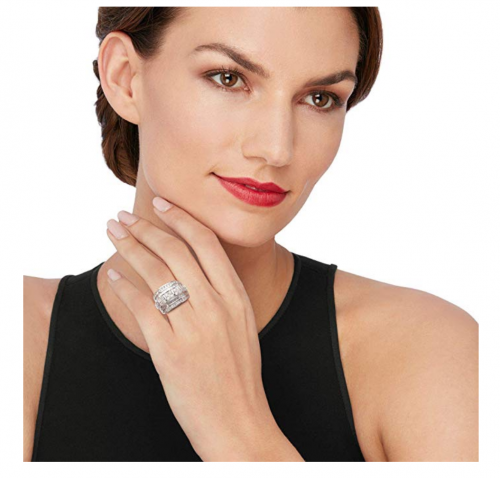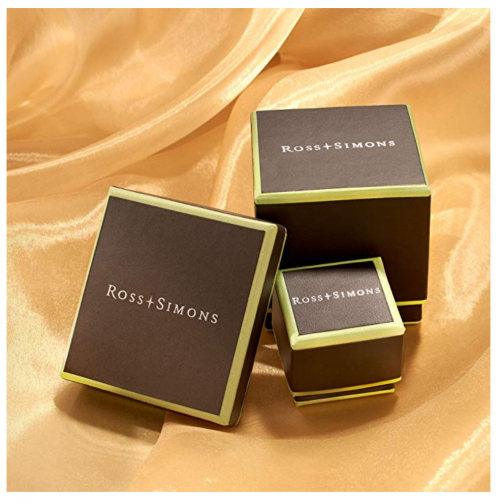 Sterling silver band
2 carat weight
Jewelry presentation box
The second pick we chose is a breathtaking baguette style ring, consisting of 2 carats of high quality diamonds, set in multiple rows with a sterling silver band.
Read more
This ring is for women is ⅝ of an inch wide, with brilliant round & baguette cut diamonds that are sparkling and attractive to the eyes. All diamonds are natural and set in a prong.
In total, you'll get 95 diamonds so you know that by wearing this piece you certainly won't go unnoticed!
Since you're getting so many precious gemstones, the price this ring comes at is not cheap but, it's still worth every single penny.
Ross Simmons will send you the ring in a lovely jewelry box and you'll also get a 30-day money back guarantee which means your purchase is risk free.
3

. Pandora Jewelry Halo Anniversary Ring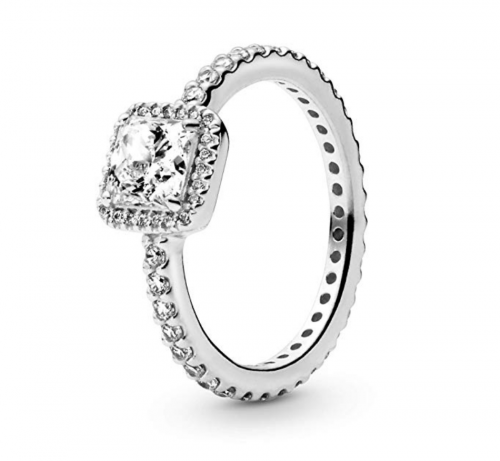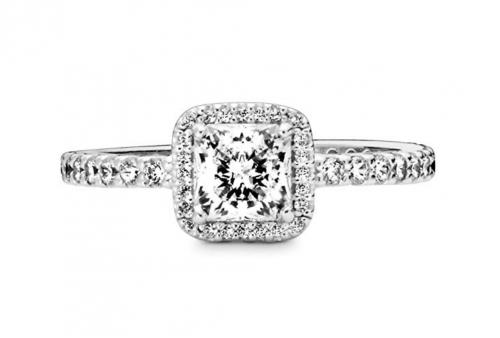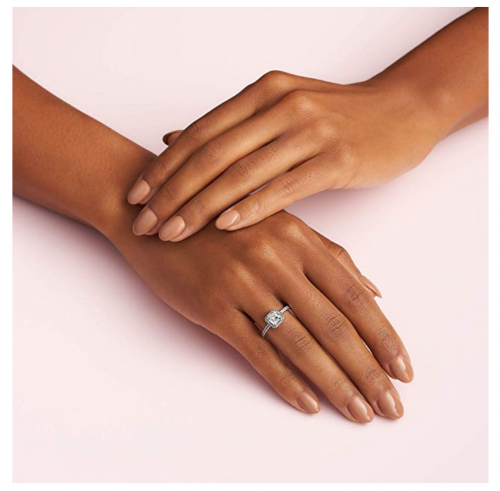 Cubic zirconia danube cut stone
Sterling silver
Free returns
Pandora has created this lovely traditional anniversary ring that's going to appeal to both younger and older women. It's available in a variety of sizes and retails for less than $100!
Read more
The timeless heritage elegance ring is a lavish sterling silver solitaire piece. It features a single large danube cut cubic zirconia, surrounded by sparkling CZ stones for accents.
It has a very vintage, classy look with a modern twist that's perfect for all occasions.
Cubic zirconia is a stone that is cherished for its sparkling appearance and is available in a number of different colors; many consider it the best and most affordable diamond alternative!
This selection is definitely a milestone ring and the perfect jewelry gift that won't disappoint.
Free returns are offered on this selection; however, considering the brand selling it is the very well known Pandora, we seriously doubt anyone would want to return it, if not just to get a different size.
4

. Jewelili 10kt Yellow Gold Anniversary Ring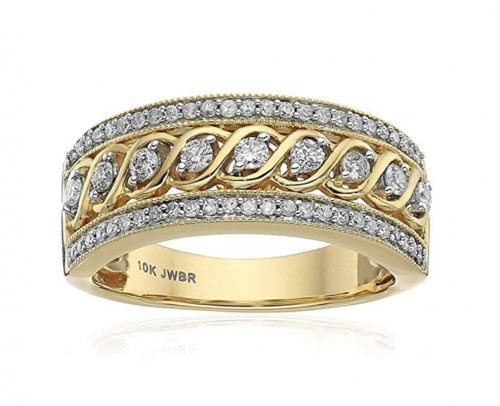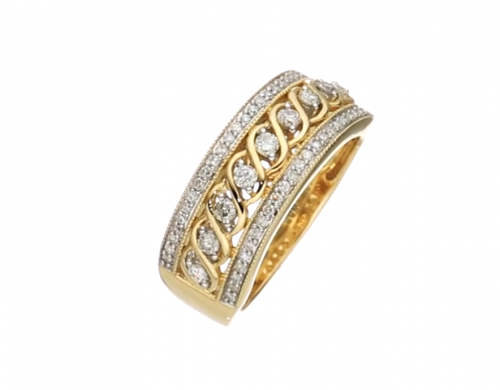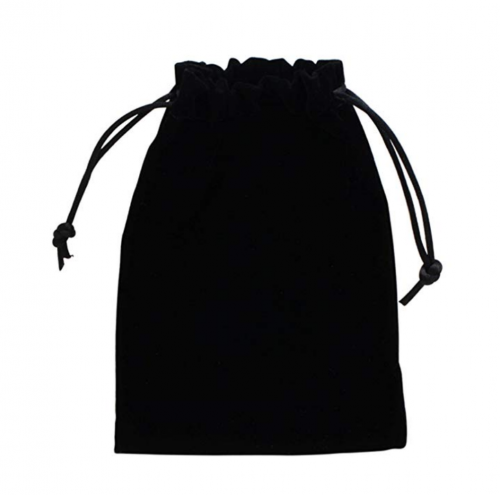 10k gold
Swarovski cubic zirconia
Exchange and return available
This piece is interesting because it can be used as a layer ring but it also works well as a solo ring. It is classic yet versatile and a jewelry wardrobe staple.
Read more
The shiny gemstones featured are colorless round-cut, Swarovski cubic zirconia and we simply love the contrast between the stones and the shiny yellow gold shade of the band.
The ring is crafted by Jewelili and retails for an expensive price but considering the milgrain design, the triple rows of Swarovskis and the polished gold, it's a fair price tag.
The gauge of the band is 6.65 mm and the pave insert ring is 1.70 mm. It's available in sizes 6, 7 and 8.
There is a 15-day period for exchange, return or store credit.
5

. Charles & Colvard Moissanite Anniversary Band
White gold
0.26 carats
Interest free installment plans
You won't believe your eyes because nestled in this delicate 14k gold band is a host of Forever One round cut gemstones. This is a perfect wedding or anniversary band that exudes style.
Read more
You'll get 17 sparkling gemstones set into one half of the band. Bear in mind these are moissanite stones and moissanite is knows as one of the best diamond alternatives as it's almost as hard and sparkling as any quality diamond out there.
The difference? You can get moissanites for a pretty affordable price considering how close this gemstone come to a diamond!
The band is quite dainty but packs some serious dazzle and it can be worn both as a stacking ring or a solo piece, depending on how much you like stacking or keeping it simple.
The price requires for you to dig deeper into your pockets but as we stated before, these are gorgeous moissanite stones so this ring is certainly worth splurging on.
Charles & Colvard offer free shipping and returns. A limited lifetime warranty is also included.
6

. Ruby & Oscar Heart Shaped Ruby Ring
9 karat white gold
Free insured delivery
30-day money back guarantee
Ruby & Oscar's is one of our selected picks for this simple, exquisite, classy heart-shaped ring in 9k white gold. The gemstone style is solitaire and the ruby is 2.25 carats. This is quite a steal considering the beauty of a ring.
Read more
The ruby gemstone was lab-created but this doesn't take anything away from the beauty of the stone or the gorgeously deep red shade it comes in.
The stone comes in a prong setting is quite large, 8x8mm to be exact.
This selection is just perfect for a great anniversary gift or pretty much any special occasion a heart-shaped ring is called for (think Valentine's Day or as a promise ring!).
The ring size measures 17.12 in diameter with a width of 8mm. The height of the piece is 19mm and the length is 8mm.
7

. Ruby & Oscar Alexandrite Ring
Alexandrite
Solitaire
White gold
This piece is another favorite of ours and it's a stunning alexandrite ring set in a prong style. The ring has a sparkling green/blue stone that catches the color of the waves of the ocean. The white gold is 14 karats.
Read more
It's simple yet extremely elegant. The gemstone is a round cut created alexandrite that measures 8 by 8mm. The total carat weight is 2.25, which is a nice size that will easily grab the attention with its blue-green shade.
What we love most about alexandrite is its property to change color; depending on the intensity of the light around you, it will vary on shade - from green to blue to purplish.
While this ring is perfect for any anniversary milestone, keep in mind that alexandrite is also known as the birthstone for the month of June, so it's the perfect gemstone to give anyone born in June!
The ring is quite expensive but splurge-worthy and it arrives in a beautifully elegant, black gift box.
8

. Black Bow Jewelry & Co. Diamond Twisted Band
Sterling silver
Diamond ring
Bow wrapped gift box
This interesting pick is a polished 2.5mm band made of rhodium-plated sterling silver with diamonds in a a prong setting, including white round diamonds that brighten your fingers with sparkle and shine.
Read more
The sterling silver is super polished, showing off the shining diamonds by adding extra brilliance.
We particularly love the twisting rope design of the band which gives it a modern twist, literally speaking!
This makes a sweet anniversary ring for all the ladies who like dainty and classy jewelry. Being quite a thin band, it's perfect for stacking as well.
This option has a carat weight of ¼. It's available in sizes 5 to 10 and you'll also get a 30-day money back guarantee and free returns.
9

. Black Bow Jewelry & Co. Black Diamond Double Heart Ring
Black diamonds
Sterling silver
Stackable ring
This unique stackable features atop a 2mm width band of tarnish resistant, rhodium-plated sterling silver and two tiny 4mm hearts in a prong set. The gorgeous black diamonds which make up the hearts are heat-treated and total .04 of a carat.
Read more
The clarity of the diamonds are between 12-13 (that's a good value!). These are lab-created gemstones meaning they only cost a fraction of a real diamond - still giving you a lot of sparkle and being just as hard as a real diamond.
The two little hearts symbolize the union of a couple and the promise of always staying together (at least we like to think so!).
This is a very affordable piece of jewelry so a great choice for those on a tight budget.
The size is 4x2mm and weighs 1.5 grams. The ring arrives in a sweet little gift box and there is free shipping.
10

. Jeulia Rhombus Open Ring
Open style ring
Sterling silver
stackable
Doubling the sparkle, this shimmering two-stone open ring is so sweet and the perfect pick for those looking for something more modern and different than your usual solitaire or simple band ring.
Read more
The stone and metal colors can be customized to your liking. You get a choice of 11 stone colors, including pink, purple, yellow, and blue, and 3 metal choices - silver, gold and rose gold!
Perfect simply worn alone or as part of a ring stack, you may want to add this item with another piece from this particular Jeulia collection.
The ring consists of 2 stones with a karat weight of 0.08. The shape of the stones is round and the size is 1.7mm.
Jeulia is a brand that lab-creates its own stones to resemble precious gemstones such as diamonds, rubies, sapphires etc, - selling them at a fraction of the price. Jeulia stones are known for being scratch-resistant and extremely hard, meaning they won't break easily.
The band is made from .925 sterling silver, which is an excellent metal that never tarnishes.
The price for this option is among the most affordable ones in this list and the ring comes with a 1-year warranty!
Evaluation Criteria
Style
The 10 beautiful anniversary rings we selected all are very unique and worth the price. The metals are high end and the stones are stunning. These rings are elegant, modern, contemporary, glamorous and go with any outfit!
Some options on our list are suggested for anniversaries only to signify the major milestones a couple reaches. Other picks are perfect for a number of occasions such as birthdays, Valentine's Day or as an engagement/promise ring.
Whatever romantic occasion or couple milestone you are celebrating, you will find at least one option on our list that fits the bill!
Wear Comfort
The selection we have chosen features only comfort fit anniversary bands. The rings slide easily on and off and are perfect for daily wear.
Purchasing a ring that does not sit well on your finger or causes skin discomfort is certainly not a good investment.
We made sure to only include options that got rave reviews and offer a wide a selection of sizes to choose from.
We also paid attention to the weight of each ring on our list, excluding jewelry that we thought was too heavy for everyday wear.
Durability
We have investigated all of the pieces and have found that the gemstones are genuine. The bands are real 14k, 10k or 9k white gold and sterling silver. The settings are made to last.
Only the best materials have been selected for use and the artisans who designed the pieces on our list are all professional craftsmen.
The prices are extremely reasonable for each piece and all the rings come with either a 30-day money guarantee, a free return policy or a warranty.
This means that even if you're not satisfied with your purchase, you will be able to return the ring and get a 100% refund!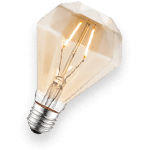 How do you wear your anniversary ring?
A lot of you may wonder whether an anniversary ring replace your wedding or engagement ring. Now that's up to you!
However, we thing that an anniversary ring should be stacked together with your bridal or engagement set.
This is why a lot of our choices fell on rings that are dainty and perfectly stackable!
What style of ring is an anniversary ring?
There is no particular style to these rings. An anniversary band or ring is a piece of jewelry that represents your relationship and the particular anniversary milestone you are celebrating.
While we prefer daintier bands with tiny stones since these are easier to stack with engagement/wedding rings, a solitaire or multi-row stone ring will certainly make any lady out there happy as well!
FAQs
q:

Do Men Typically Buy Anniversary Rings as a Gift?

a:

Anniversary rings have been steadily growing in popularity as traditional anniversary gifts. Regardless of the anniversary milestone you are celebrating, a jewelry item is always a good idea to gift - you just can't go wrong (we girls know!).

The thing to keep in mind is to choose an anniversary ring that will look good stacked with other ring jewelry a woman may wear on a daily basis.
q:

Are Women Interested in Anniversary Rings as Gifts?

a:

Women are always interested in gifts for their anniversary, especially if it's a jewelry item! This is a special day for them and the trend of buying an anniversary ring for a man is growing as well.

The world has changed and so have people's spending habits. Women appreciate modern jewelry and also love to give their man a jewelry gift. This is why you may want to check out some of our men's rings lists!
q:

What are the Ratings on Your Selection of Rings?

a:

The ratings for every company are high. The brands we have selected to include sell high end jewelry and the satisfaction rate is up in the 95th percentile.

Consumers are raving about the sparkling gemstones and the highly polished bands. People who have purchased these pieces are thrilled to see the jewelry still looks brand new after wearing the rings for a year.
Finally...
We always hand-pick every selection we have for you to view. Our choice for anniversary rings includes a variety of designs, metals and gemstones - so regardless of the style of ring you are looking for, we got you covered!
Each piece comes with a warranty and free shipping. Each piece is sold by a brand that is known for good quality products, great customer service and offers risk-free purchases.
We paid attention to selecting pieces in different price ranges; so even if you're on the tightest of budgets, there will be at least a few options on our list you'll be able to afford.
An anniversary ring is so much more than just another piece of jewelry to gift; it's a symbol of what was and what is yet to come; don't miss out on the opportunity to celebrate such a sweet, romantic milestone with a sweet ring!