Mix / Watches / Women
You Can Join the Designer Watch Trend with these Stunning Marc Jacobs Watches
The term watch has been around since the early sixteenth century. Sometime after the first pocket watch was available for use in 1505, sailors began using them to mark their shifts on duty.  Those miniature clocks were watched almost as hard as the ship they were responsible for, hence the term, watch. On of the most designers have crafted his signature Marc Jacobs watches to celebrate this accessory's usefulness and beauty.
Today, these are a lifeline. So integral in both fashion and function that as the reign of smartphones began, a wrist-worn version of them was made available shortly thereafter. Even with the smartwatches, some folks still prefer a good, old-fashioned watch that tells time, date, perhaps a bit about the current weather and not much else.
Timekeeping has been a human necessity since the dawn of time itself, pardon the pun. The earliest known versions of clocks or watches were sundials, set-ups that used shadows to mark the passage of time. The earliest clocks were massive things using complicated sets of gears, weights, sandbags, levers, pulleys and other contraptions to get them to work.
A clock keeper was even employed by some towns to keep their clock working as the engineering was so complicated it took years of training to master. As technology increased, the size of the clocks decreased. Eventually, small pocket watches became a standard of fashion and function for both men and women, and today we decided to share with you 10 fantastic designer watches that deserve a place in your watch collection!

Our 10 Favorite Picks!
1. Marc Jacobs Courtney Gold-Tone Watch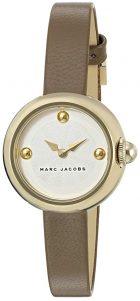 This one is adorable, beautifully simple, and a great everyday piece. It lacks the mildly ostentatious vibe a Marc Jacobs piece can sometimes carry. Nothing wrong with a bit of ostentatious but we love charmingly simple as well. A 24mm gold tone face contains three simple studs at the Twelve, Three, and Nine. The hands float gently over a hypnotic wave pattern.
It reminds us of the careful tracings in a zen-garden and we are not made about it. We can all use a little more zen and if the face of our Marc Jacobs watch provides it, we are game.  
The face is mounted to a faun colored band that will go with any outfit and skin tone. The workings are quartz so the timekeeping ability is reliable. Quartz crystal is a popular method of keeping time. When pressed against a battery, quartz begins to vibrate at a very precise rate; 32768 times a second to be exact. Because this vibration is so predictable, the circuitry in the watch can count the vibrations and use these to know when to move the second hand.  ixty seconds later it will move the minute hand, so on and so forth.
Quartz is one of the most common minerals on earth, easy to find and easy to mine. The predictability makes it perfect for watches. Since gravity, depth, and pressure have no effect on the piezoelectric qualities of the mineral, quartz is perfect for watches.  Aside from pure mechanical failure or a dead battery, not much is going to calm the charged crystal, therefore the watch will keep on ticking.
2. Marc Jacobs The Jacobs Watch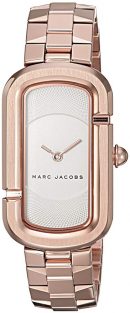 We move onto another elegant, classic women's watch design. This rose gold stunner features the stacked double J design included in many of Marc Jacobs other creations, subtly included around the squared oval face. The face is rather large and for most people will stretch from wrist bone to wrist bone.  
Rose gold hands float over a guilloché carved white face with the Marc Jacobs logo emblazoned just under the fixture. Guilloché refers to a specific carving or cut that resembles braided or woven ribbons. Guilloché is created with a specific type of machine programmed lathe, often called a rose engine lathe, due to the way the finished pattern looks a bit like an open rose from the top view.
To us, it looks like the world's most perfect spirograph picture. The guilloché decor arches around the top and bottom of the face. The whole watch is done in super trendy rose gold that we cannot get enough of. We are coming to believe that rose gold is a fantastic daily wear piece. Just enough of the warm sunset color to look right at home with your best business suit, yoga pants, and drapey tee, or your best night out with the girls outfit.  
The simplicity of the overall watch combined with the surprising little details in the guilloché tucked away on the face and this watch is a wonderful addition to any collection, watch or overall jewelry. If you aren't going to have a selection of watches to choose from, this one would be our recommendation for the one to add.
3. Classic Pink Face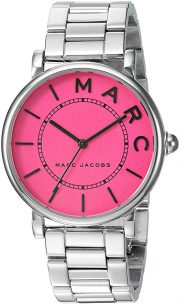 This is a part of the now retired Marc by Marc Jacobs, a diffusion line created by the fashion designer. This watch was released as a part of that line. This watches takes the line between the classic chunky, wide-face watch common on men and the subtle details often found on women's watches and dances across it like a ballerina in her element.
The watch and band are hearty sterling silver with the back made of hypoallergenic stainless steel. Once more the quartz crystal ensures perfect timekeeping and reliability. But the real star of the show is the face.
The face on this classic Marc by Marc Jacobs piece is a stunning splash of bubble gum pink. The brand name Marc graces the face in place of the Twelve, One, Two and Three for a clever little offset, asymmetrical feel. This watch does include the second hand, a feature not included on all Marc Jacobs designs.
While the chameleon-like nature of sterling silver lends itself to wearing with any outfit, this one might present a challenge with the bold pink on the face.  And since the design of the watch makes that face fairly prominent, your color palette with this watch is a little more limited.
Naturally, anything in the red, pink, and rose families will really bring out the bubblegum pop feel of this watch. We also think anything in the warmer green ranges as well as teal and mint would go surprisingly well. Every outfit can be made just that much more complete by adding just a hint of an opposing color, blue with orange, purple with yellow, or in this case, pink with green.
4. Roxy Watch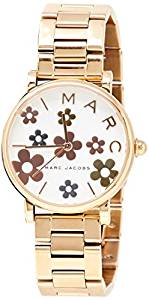 Any fan of Marc Jacobs and the elements of his career will know that aside from his fashion lines, he is also responsible for one of the most popular perfumes on the market, Daisy. The eau de parfume is decorated with an iconic and instantly recognizable round petaled daisy with a bold circle in the center.
This watch is most certainly a nod to that beautiful perfume in his line-up. The bright rose gold watch surrounds a creamy white face adorned with a collection of multi-colored daisies. We can almost smell the perfume just looking at this watch. The flowers come in a gorgeous deep copper, black gold and green gold, all of which play nicely with the rose, leaning toward yellow gold of the watch itself.  
Once more the designer label is prominent with Marc occupying the Twelve, One, Two and Three slots. This watch, like our previous selection, also includes a second hand. While this is not a feature important to everyone, some prefer the three-hand assembly to the two. Additionally, this face features stick indexes.
Indexes are the markers that demarcate each number on the clock face. Not all watches include them for style purposes and this can impede some people's ability to read them.
It would be easy for this watch to have too much going on but we think it is perfectly balanced and absolutely a daily wear watch.
5. Riley Women's Smartwatch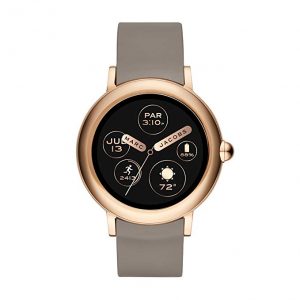 Just because you live for tech life, doesn't mean you cannot sport a designer watch. This Marc Jacobs creation combines all the smart style of a designer piece with all the smart tech of Android-powered smartwatches.
This watch is considered a rose-gold tone but we feel it is more appropriately a beige. This stunning color will go with everything and we love that because if you are going to own a smartwatch, you need it to coordinate well.  
The face is a true smartwatch face. It offers a wide variety of customizable faces to control the data you are shown. Our favorite is a simulated watch face with the Marc Jacobs logos on the clock hands and beige gold-ringed display bubbles with the basic data you really need at a glance; you can select what that data is and include the date, time, steps, emails, and others.  
The watch has a three-hour charge time and an estimated battery life of twenty-four hours so you can wear this all day without fear of it dying mid-day. Link it to any Android phone to receive your calls, text, notifications and other customizable data on your wrist. It is powered by Google so while it is optimized for performance with the Google Pixel, any Android will connect.  And sorry iPhone users, this beauty isn't compatible with the Apple OS.
Hung on a secure peg snap black band, this watch really will wear well and keep you connected.  
6. Riley Hybrid Smartwatch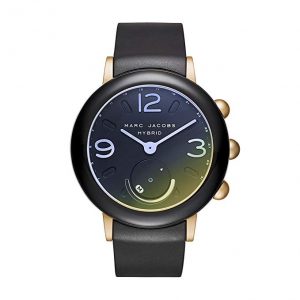 This one is the low-key sister to the full-bore Riley Smartwatch above. It connects to both Apple and Android systems with a few simple clicks.  It has built-in functionality as an activity tracker and can notify you to your set range of notifications.
This watch allows you to control your music, take a pic, and receive notifications. The best part is that it never needs charging.  Marc Jacobs has taken all the best bits of a smartwatch and condensed them into this connected timekeeper.
Overtop the smart face is an actual two-hand assembly watch that will continue to tick away with quartz reliability even if you accidentally let your smartphone get to the battery danger zone.
The sleek design comes in a range of colors from stark black to pure white with rose gold accents with two stops in between: black with rose gold accent and black with iridescent rainbow accents. For a daily wear piece, we recommend the stark black or black with rose gold. While the other two are adorable, you might have issues color coordinating with the iridescent model and white watches are gorgeous, but awful to keep clean! No one wants a grungy white band so we do not recommend the white for daily wear.
7. Riley Classic Watch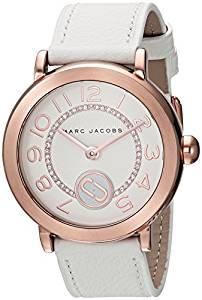 We now present the final member of the Riley lineup from Marc Jacobs. If you compare the three, you can certainly see the family resemblance between the Smartwatch, the Hybrid Smartwatch and the Classic Watch. They all share a name and styling elements but this gal is just the good old fashioned watch.  No connections, no sleep tracking – just date, time, and impeccable styling.
This watch comes with a rose gold-tone metal finish with a white face, once more featuring the guilloché carving. This guilloché is far more prominent than the on the previous watch we mentioned. The guilloché wraps all the way around the two-hand assembly and expands outward to a row of stunning pave set stones. 
The rose gold colored numbers are prominent and easy to read. The Six is replaced with the iconic stack double J symbol from the Marc Jacobs fashion lines. The watch is attached to a white leather band with a faun interior. Again, we don't recommend white bands for daily wear for the possibility of smudging and dirtying the white. That doesn't mean we don't want this piece, though.
We would definitely wear it on special occasions, most especially weddings, anniversaries, birthday parties and holiday gatherings.
8. Marc by Marc Jacobs Gem Index Watch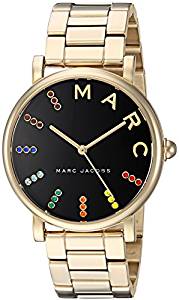 This gold on black classic design from Marc by Marc Jacobs is, simply put, stupidly stunning.  
A satin-black face paints the perfect backdrop for the veritable rainbow of bejeweled indexes.
Signature to many of his pieces the Marc once more occupies the Twelve, One, Two and Three spots will the remaining numerical markers consist of crystal in ruby, amber, citrine, emerald, aquamarine, sapphire, amethyst and garnet colors. This adds a particular sparkle to the face and subdued pops of color we cannot get enough of.
The heavy band, wide width and exaggerated face size could make this watch feel a little overly masculine for folks with more effeminate tastes, but the colored gems on the face give just that effervescent hint of femininity to make it perfect.
Truth be told, we know this is a woman's watch but we really think that a man could absolutely rock this one as well. Of course, just because a label says man or woman doesn't mean only they can wear it. We believe you should wear what makes you happy.  If it makes you happy, it is "for" you no matter how you identify and what label has been slapped on it.
Bonus, we can't help but wonder if Mr. Jacobs used that rainbow as a celebration of his LGBTQ+ culture. The rainbow is a long-standing symbol for the community. The beauty of jewelry is you assign your own meaning.  Love rainbows and fashion? Then snag this one up. A member of the LGBTQ+ community or a loud and proud ally? This one is for you, too.
9. Crystal Accent Watch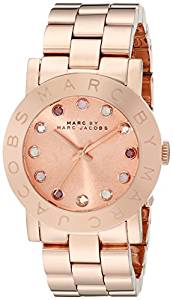 This next to the last watch on our list screams luxury. As one would expect from a luxury brand like Marc Jacobs, this Marc by Marc Jacobs piece is a daring use of a lot of rose gold and a collection of crystal indexes in colors that perfectly complement the dawn-toned metal.
In place of numbers, a collection of wonderfully matched crystals ranging from an iridescent white to a chocolate brown are pave set into the rose gold face. The warmth and glisten from these crystals simply could not be more perfect.
This is another piece we believe could be a daily wear for some people but not all.  If your style aesthetic leans to the casual side, this piece may feel a bit clunky for you, especially with the metal band. However, if you tend to glam it up and even go all extra at every dressing, this watch is absolutely extra enough for you. Super trendy and just the right amount of sparkle, we are in love!
10. Henry Silvertone Watch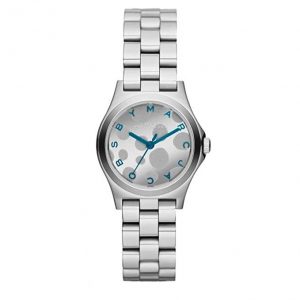 The final watch on our list is another of the silver-colored ones but this one ends up a little more versatile than our selection above.  While this one features a pop of a brilliantly bright blue in the face, it is a little less in your face than the entire watch face being bubblegum pink.
The silver face is etched with a subtle bubble pattern and the numbers and three hand assembly are presented in a brilliant blue, leaning toward aqua. This means it will pair well with cooler colors. This is a fantastic departure from the rest of our list which tends to demand warm colors with all the rose and yellow golds offered.  
This white and blue combo is great for folks whose skin tone is a bit color or whose style aesthetic tends toward the darker side with an accent in blues, greens, aquamarines, and greys. The H-link band is wonderful because it doesn't feel overly girly. If this particular face were attached to a less substantial band, the bubbles and blue might end up feeling a little gimmicky and child-like. On the wider band, it feels just playful and whimsical enough to work for us.
On the Designer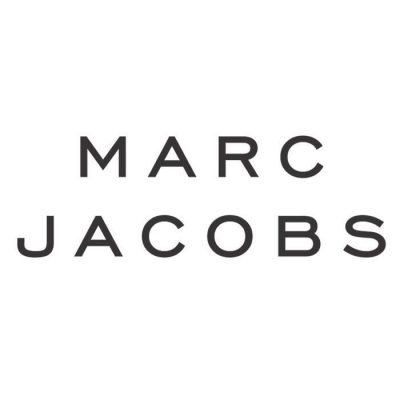 Marc Jacobs is a French-born designer who has followed the dream path for any hopeful fashion designer. He has been around models, fashion and the runway since birth. His father, although he died when Jacobs was young, was an agent with the famous William Morris agency. After the death of his father and struggles overtaking his mother's ability to look after Marc and his six siblings, Jacob moved to the Upper West Side in New York City with his father's mother.
He worked for the avant-garde but now defunct fashion house Charivari at age fifteen and went on to study at Parsons School of Design in New York, even winning Design Student of the Year in 1984. He then began his career with a line of hand-knit sweaters. We think this is brilliant because what is more eighties-spectacular than hand-knit sweaters?
He has worked for some of the biggest names in fashion including Perry Ellis and Reuben Thomas. Perhaps just as important as his own forays into both men and women's fashion was his long stint as head of famed fashion brand, Louis Vitton.  From 1997 to 2014 he was the creative director for the iconic brand. He has also worked for Diet Coke in 2013 to assist with their 30th anniversary light rebranding efforts. Rumors began circling he had considered moving to Christian Dior from Louis Vitton but he worked diligently to squash those.  
He maintained his own fashion line for several decades with both a fashion line and a diffusion line, or a line of clothes made more readily available to the public through price and quality, designed by a big name without the big name price.  His brand Marc by Marc Jacobs boasted, at its peak, over two hundred retail stores in nearly one hundred countries although he closed the line in 2015 to focus on his major fashion brand.
2012 saw Jacobs land at spot number fourteen in Out Magazine's list of most powerful gay men. He has long headed a campaign for melanoma treatment and awareness with is "Protect the Skin You're In" project.  Countless celebrities have agreed to pose naked for the campaign, raising money NYU Langone Medical Center. In 2018 Jacobs famously proposed to his boyfriend Charly Defrancesco with a flash mob performing Prince's song Kiss.