Gorgeous Holiday & Christmas Jewelry Picks!
last updated:
Mar 18, 2020
Christmas is approaching fast and the mystery and magical spirit of the holiday season are everything that sparkles (along with Christmas jewelry!).
People are dressed in their holiday finest with sweaters that glitter, dresses that shimmer, and many shades of red and green!
Why not top off your outfits with some sparkling jewelry to add flair and excitement to the upcoming holiday seasonal parties and family dinners?
If you're looking for some inspiration when it comes to Christmas jewelry and the right way to accessorize with holiday-inspired earrings, necklaces and rings, keep reading!
Our jewelry style guide includes everything you need to dazzle up your holiday outfit with some beautiful jewelry pieces.
Our Top 10 Christmas Jewelry Picks!
1

. Body Candy Handcrafted Snowman Christmas Earrings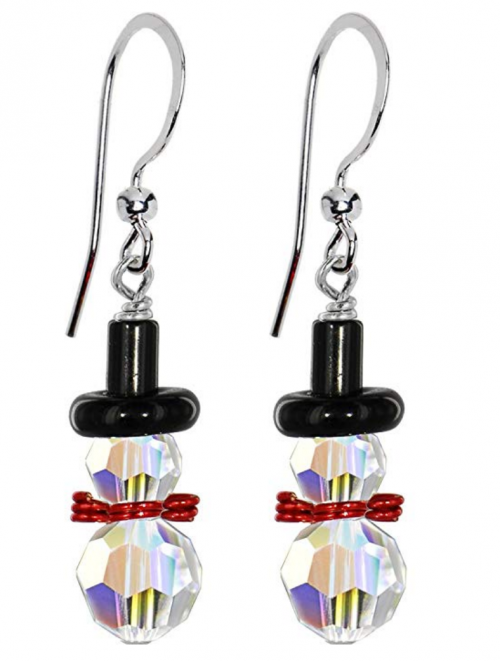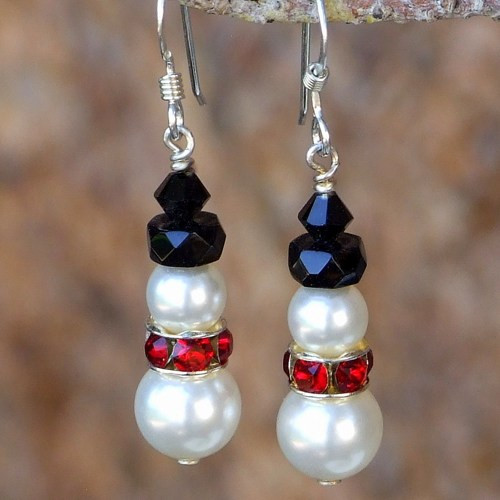 Made with Swarovski crystals
Handwork
Metal base
Everyone loves Swarovski crystals designed by the famous Swarovski Crystal company.
Read more
Snowman earrings is the name of this beautiful pair of Swarovski crystal earrings made by hand into snowmen.
These earrings are unique because the crystals catch the different colors of the light when dangling from ears.
Swarovski crystals are rated on the Mohs scale of mineral hardness between six and seven; this means the earrings may look like they're made of glass but, unlike glass, they're super durable and resistant to scratches.
The earrings come in a shape of a crystal body with a black hat and red ribbons tied around each snowman's neck.
These are very simple to insert using basic metal fish hook ear wires.
The earrings measure 3.20'' in total and are pretty lightweight so they won't weigh down on your earlobes.
We think this particular pick would be perfect worn with any casual outfit, including a pair of black jeans and a red or green shirt (going all out with Christmas-inspired colors!).
Handmade in the US, the Christmas earrings are an excellent buy for either yourself or as a gift for someone who loves to fully immerse into the Holiday spirit.
The price is super reasonable for what you get and there are so many positive reviews from satisfied customers that you know you're getting a good jewelry product that will look awesome!
2

. Jeulia Christmas Monster-Inspired Sterling Silver Ring
925 sterling silver
30-day return
One year warranty
This Christmas-monster ring is similar to the "Cat in the Hat"; however, the colors are silver, red and green and perfect for the holiday season.
Read more
The ring is made with a beautiful sterling silver band. You know you're getting 925 sterling silver since the ring comes with the 925 authenticity stamp.
The sparkling gemstones used are Jeulia stones (produced by the brand), designed to be more durable and scratch-resistant than any natural gemstones.
When it comes to sizes, you get to choose between size 3 and 15, including half sizes. However, keep in mind you'll have to pay an additional charge for sizes between 3.0 and 4.5 and 10 and 15.
The Christmas-inspired ring has a heftier price tag but considering the metal used and the number of crystal stones encrusted, it's more than worth it!
Jeulia stands behind all of their jewelry so you won't have a problem if the stones fall out because the company gives you a 1-year warranty.
3

. Black Bow Jewelry & Co. Christmas Tree Earrings
925 sterling silver
Diamond-cut (enhances shininess)
Money-back guarantee
These Christmas earrings are fantastic! They are made to look like glittering, new-fallen snow on a pine tree, drawing light from a glistening cold winter moon.
Read more
The earrings are diamond-cut to bring out more sparkle and dazzle when hit by the light.
The tiny trees are 1 inch by ¾ inch; the total length is 1 and ¾ inches, meaning the size is medium and the earrings will not weigh down on your ears so you can wear them on a daily basis.
The sterling silver used has a gleaming polished appearance and weighs a total of 2.16 grams (that's a good amount of solid silver!).
We imagine these paired with a nice grey cashmere sweater and a black pair of dress slacks with a red scarf for color.
You can also wear them with any holiday dress in the color of your choice because silver looks good with everything!
The Black Bow Jewelry Company has an excellent reputation with amazing service and the shipping is quick and on time.
They have been in business since 2008 and their jewelry is guaranteed; you'll get any jewelry you order from them in a gorgeous gift box and a care guide on how to clean/store the jewelry pieces.
4

. EVER FAITH Austrian Crystal Snowflake Dangle Earrings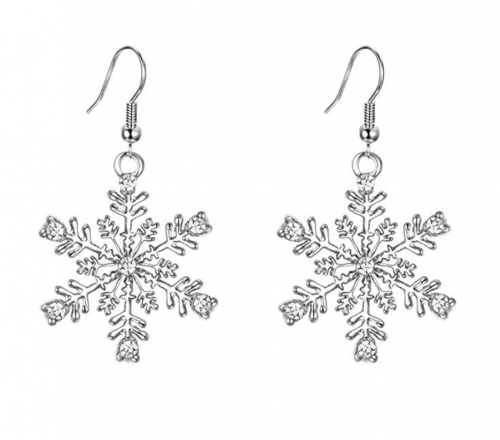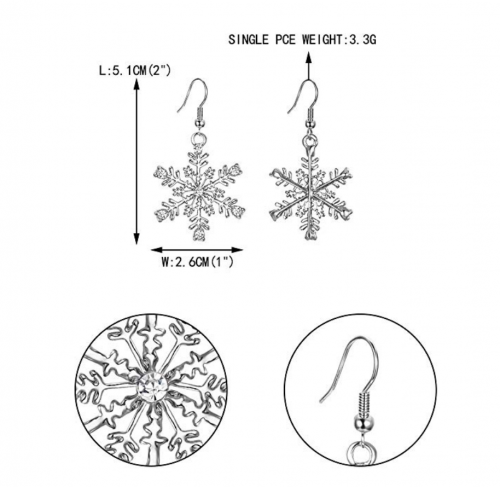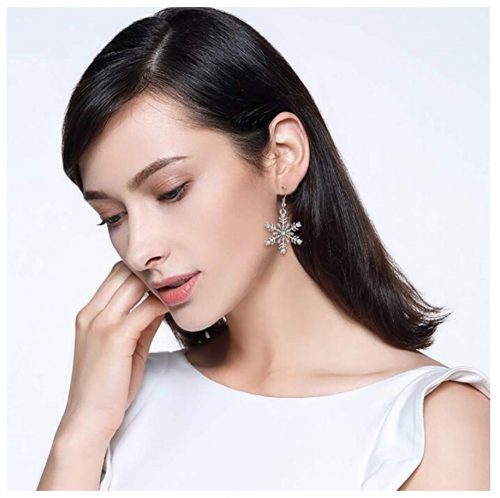 Austrian crystal earrings
Spare crystals included
Comes with a gift box
This is a special buy and we are talking about Austrian crystal snowflake-shaped earrings!
Read more
The earrings are made from a metal alloy and use super-reflecting, round-shaped crystals for the snowflakes. The color is a clear silver-tone and they are 2 inches long.
They come with a simple fish hook which means you'll spend less than 10 seconds to put them and or take them off.
This is a great gift as well and within anyone's budget so if you're looking for something that is super affordable yet looking like a splurgee, this pick is your perfect choice!
The earrings are beautiful and can be worn with dress clothes or casual outfits.
The wrapping includes a nice gift box, some spare crystals just in case a crystal falls off, and a favor bag!
5

. Jeulia "Christmas Reindeer" Pear-Cut Ring
925 sterling silver
Can be engraved
30 day return policy
One year warranty
This is a gorgeous piece and our second pick from the brand Jeulia. Since the reindeer is a special animal totem and represents strength, goodness, love and caring, we think this ring is an all-year round jewelry piece!
Read more
It comes with a 925 sterling silver base. The band is covered with a whopping 99 colorless crystal Jeulia stones.
As we stated earlier, Jeulia stones are lab-created gemstones with a higher grading when it comes to hardness. This makes the gemstones less prone to scratching and breaking!
The yellow-toned, primary stone is pear-cut and glimmers right under the antlers that are created with great detail.
The shape of the main stone is teardrop and the color reminds us of a citrine gemstone.
The best part about this pick is that you can have the ring engraved if you wish so.
Engraving it will cost you an additional $20 though so keep that in mind before adding it to your cart.
The ring retails for a slightly higher price which is understandable considering the number of sparkling stones used.
This style is perfect for the holiday season and the ring is durable and super comfy to wear!
6

. Betsey Johnson Mesh Bow Necklace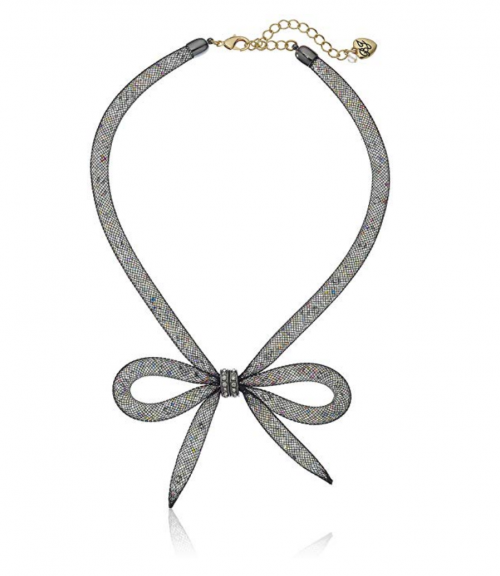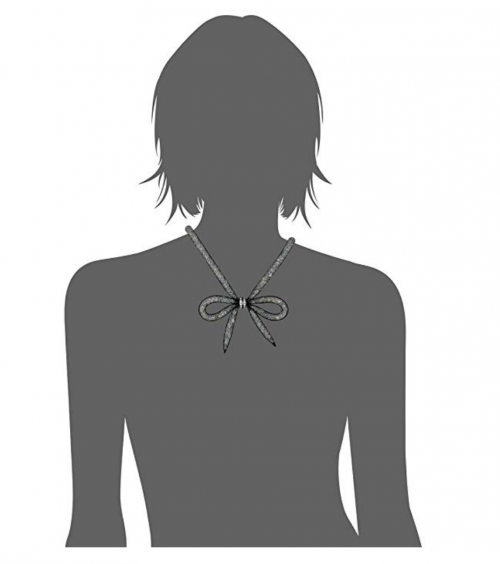 This pick is a beautiful necklace by Betsey Johnson for the holiday sparkle season and one of the top choices for women who want something more unique and super-classy!
Read more
The necklace was handmade out of mesh and the bow consists of fill of beads with facets that are shakeable.
Keep in mind that even though you may not notice it when looking at the product pics, the sparkling chocker necklace is covered in gorgeous glitters so it dazzles like crazy!
It features a lobster claw for added safety so it won't fall off easily.
The price is reasonable and makes for a great Christmas gift, especially since this is a Betsey Johnson jewelry piece so you know you're getting designer jewelry!
7

. Kate Spade New York Square Stud Earrings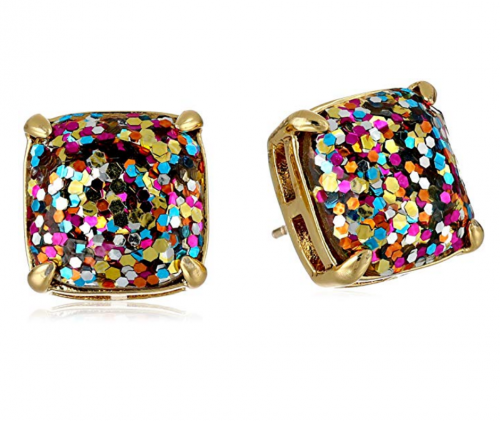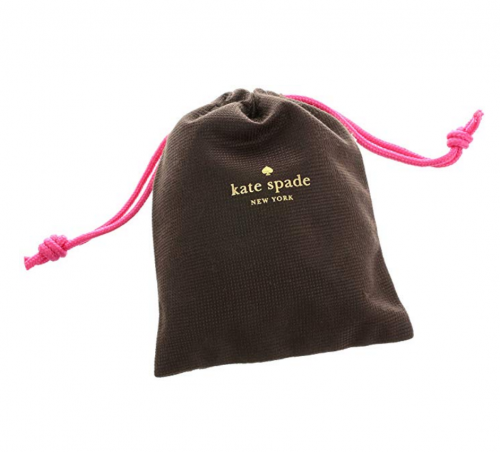 Designer jewelry
Rhodium plated
Gift wrapping available
Kate Spade's mission is to make women the masters of their own universe who want to express their uniqueness through her jewelry. And we love Kate Spade jewelry!
Read more
These multi-color stud earrings are the perfect choice to express the love for the holiday season.
The Christmas earrings come with resin glitters in all colors that catch the light and dazzle like a dancing ball!
The metal is rhodium-plated brass and the resin glitter surface is held in place in a classic 4 prong setting.
These are friction back post studs and the posts are gold-filled!
The studs are strong and durable and one size fits all. You'll get them in a velvety pouch with cute, pink closure strings.
8

. BAMOER Cubic Zirconia Snowflake Set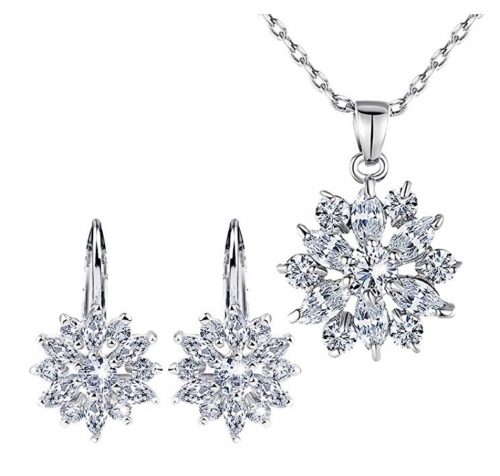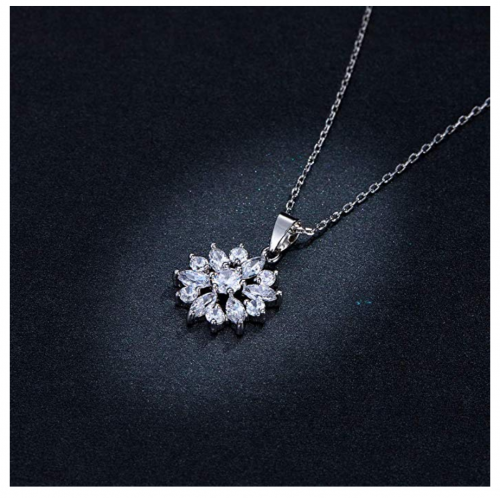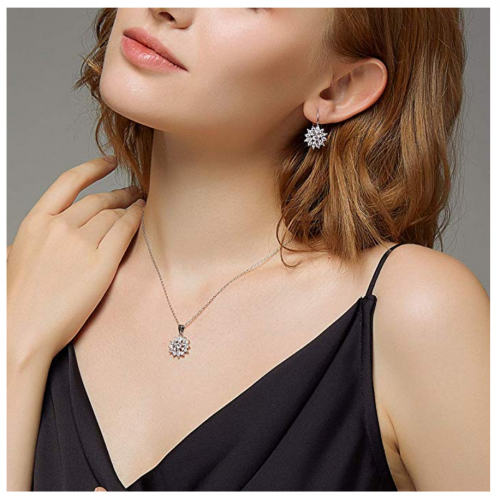 This is a great holiday pick because the jewelry set includes 18k gold earrings and a necklace, all in a snowflake design with sparkling cubic zirconias.
Read more
The setting is a beautiful white gold, consisting of shiny cubic zirconia flower snowflakes.
The necklace and earrings are delicate-looking and the set comes in 3 color options: white gold with white cubic zirconia stones, rose gold and colorful CZ stones, rose gold and white CZs.
The cubic zirconias are triple A's (meaning of the highest quality!) and the length of the necklace is 17 inches so it will hang just below your collar bone.
The earrings are 0.9 inches and come with a lever back closure.
The set is a real steal especially since you're getting a necklace and earrings with so many cubic zirconias!
9

. Black Bow Jewelry & Co. Holly Earrings
The second pick from the Black Bow Jewelry Company that we included on our list is another pair of Christmas earrings perfect for all women who are all about the holiday spirit.
Read more
They are made from polished sterling silver while the colors used is enamel.
The charms that are designed in holly and berry are 1 and ⅜ inches long.
The earrings close with a shepards hook which easily slips into your ear.
The total weight is around 2.81 grams; a little heavier than our previous earring picks but still bearable; you should not have any issues wearing them for hours at a time.
What we love most about this pick is the detailing. The holly and berry shapes are incredibly well done and hand-painted!
The earrings come in a nice gift box and you also get a 1-year warranty.
10

. Jeulia Zero/The Nightmare Before Christmas Necklace
Our final pick is for all of you out there who love 'The Nightmare Before Christmas' movie just as much as we do!
Read more
This necklace features Zero, the ghostly-dog and Jack Skellington's pet companion!
The Zero-shaped pendant, as well as the chain, are made from 925 sterling silver. The pendant is encrusted with 87 diamond-white Jeulia stones.
The dog's shape also features a hand-painted nose and collar. We particularly love the contrast of the red used to paint these details and the super sparkling, colorless stones which make the dog's face shape!
The chain length is 450 mm while the pendant is not exactly dainty; to get the idea of the size, check the last image by using our product image slider.
The necklace comes with a pricier tag but you do get a 30-day money-back return and a 1-year warranty with it!
Evaluation Criteria
Materials
All of our top 10 picks are in style for the holiday season and Christmas parties or dinners and come in the shape of modern materials not limited to metals.
Whether you are looking for more simple Christmas jewelry or statement pieces, we included a variety of styles and jewelry material combinations.
You'll find mesh, enamel coloring, Swarovski crystals, resin glitters featured on our list.
From super dazzling to dainty and minimalist, there is something for everyone on our list.
Wear Comfort
The pieces we chose to include were all picked for comfort. Unless jewelry is comfortable to wear, we think it's a waste of money since it would end up gathering dust in a drawer!
The rings on our list come in full and half sizes so you're sure to find your perfect fit.
The earrings are all easy to put on or remove and feature either fish hook, lever back or post back closures.
The necklaces we chose are standard sizes for comfort and most picks come with an extender so you will be able to adjust your necklace's length.
Durability
The Christmas jewelry featured on our list is made from materials and metals that are durable. This is a criterion we don't compromise on!
Every piece is made either with sterling silver or a rhodium/gold plated alloy base.
The gemstones used are either cubic zirconias or lab-created stones with a good hardness rating which assures that the gemstones won't scratch or break that easily.
All pieces are guaranteed with either a warranty or a money-back option!
Our Tips
Style
When choosing our favorite Christmas jewelry, we picked pieces that could be worn with a casual pair of jeans and a tee as well as with a little black dress.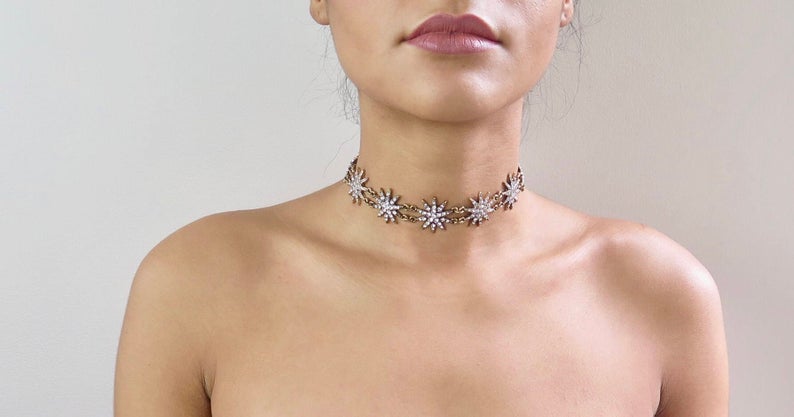 No matter what you choose to wear, any of the 10 picks on our list will look good on you!
Style
If you're one of those ladies who are more than happy to jump on the 'Christmas sweater' wagon, pick number 1, 2 and 10 will be your perfect accessories!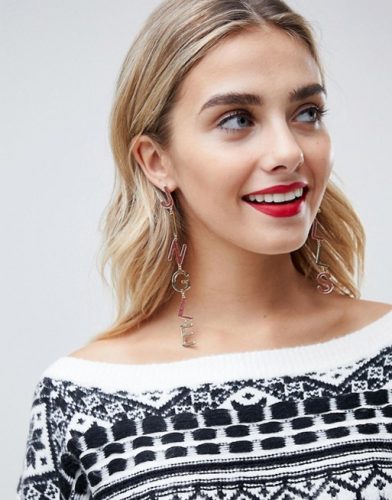 If you decide to go all out and dress up for a Christmas party, picks 3, 4, 6 and 10 are just perfect.
Style
Even though most of our Christmas jewelry picks feature a holiday-inspired design, some of the pieces can actually be worn all year round.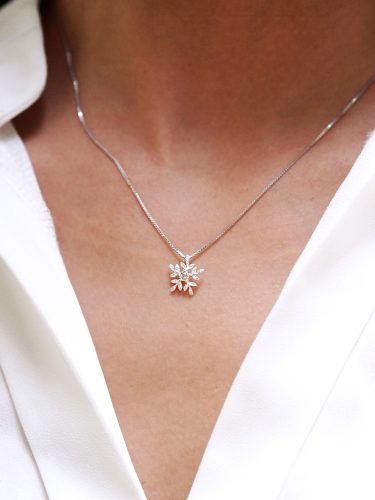 We think pick 5, 6 and 7 will work as the perfect accessories regardless of the season or occasion!
FAQs
q:

How do I clean my jewelry?

a:

The good thing about the 10 picks we chose is that all pieces can be cleaned with warm, soapy water and the stones and metals will glitter like new.

If you notice silver tarnishing, pick up a good silver jewelry cleaner.

Always remember to store your jewelry in a pouch or jewelry box; leaving it around will allow for dust and humidity to affect the metal color.
q:

Can the jewelry on your list be personalized?

a:

The good news is yes, some of the holiday sparkle picks can be engraved.

For example, Jeulia's Christmas Reindeer ring can be engraved for an additional charge.
q:

Can the pieces be mixed and matched?

a:

If you are looking at purchasing a few of our picks for your holiday collection, of course they can be mixed and matched.

The multi-colored stud earrings from Kate Spade that glimmer and sparkle would go along well with Betsey Johnson's mesh bow necklace!

The Holly Berry earrings would look great with Jeulia's monster-inspired ring.

Finally, the snowflake earrings and the snowflake set would perfectly combine with the Christmas Reindeer ring.
Finally...
Our 10 Christmas jewelry picks were chosen to make your holidays a more dazzling adventure.
All of the pieces are as unique as you are, and this is why it's important for you to choose the jewelry options that you feel will match your daily outfits during the holiday season (bear in mind some of our picks can be worn all year round!).
These items also make wonderful Christmas gifts for that special person in your life, are affordable for all budgets, and are absolutely breathtaking when you see how they glitter and shimmer.
If you choose to purchase a few because you love the look, by all means, you are getting a great bargain.
The brands we decided to feature are reputable and most of them will offer you a money-back guarantee or a warranty on their jewelry pieces.
The companies have over a 90% retention rate of returning customers, which tells the consumer a lot.
So, have fun dressing up and wearing your new favorite Christmas jewelry pieces, or enjoy selecting a gift for one of the special people in your life who loves anything Christmas-related!