Other
We Found the Most Elegant Leather Earrings!
When thinking of accessorizing with earrings, silver and gold come to mind. Gems and feathers come to mind. But, adding leather earrings to the list needs a little prodding (forgive the pun).
No longer is leather relegated to cowboys and boot! Popular leathers for jewelry making include: cowhide (hence the prodding pun), goat, and buffalo. A couple of more exotic leathers are snake and alligator skin. These are especially popular in the making of boots.
We, however, aren't going to show you boots. We'll stick with our list of 10 picks for fun and easy leather earrings. You will have no problem accessorizing with these because they are so fun and easy.
We are really, really, excited about them. So much so in fact, we had a tough time choosing a favorite. We hope you'll find your favorite on the list.
Our 10 Favorite Leather Earrings!
1. Silpada 'Medallion' Drop Earrings in Sterling Silver & Leather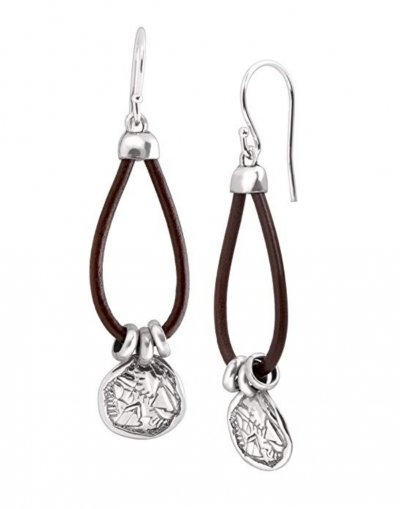 These cute little leather pieces are created when leather and sterling silver merge together. Not to become one, but to complement each other in the best way possible. The leather used is genuine leather, giving the set durability.
The leather is tanned for a finished and unique appearance. This set has a rustic, yet classic look. The earrings can be worn with your hair in an updo or down.
The earrings begin with French wire drops the joiner for the leather loop. The piece that joins the loop looks like a tiny cowbell (imagine that!). On each loop, there is a small medallion.
The medallions aren't perfectly round. Each of them has etchings that look like Native American writing. On either side of the medallion is a thin, small round sterling silver bead. These are as simple as they are pretty.
We are impressed not only with these earrings but with the cost as well. While they aren't outrageously cheap, they are certainly affordable, especially considering the quality of the materials used.
This set weighs only 4 grams or 0.14 ounces. They are ½ on inch wide and 2.25 inches long. They are not resizable. They are not adjustable. One size fits all.
2. Summer Love Faux Leather Earrings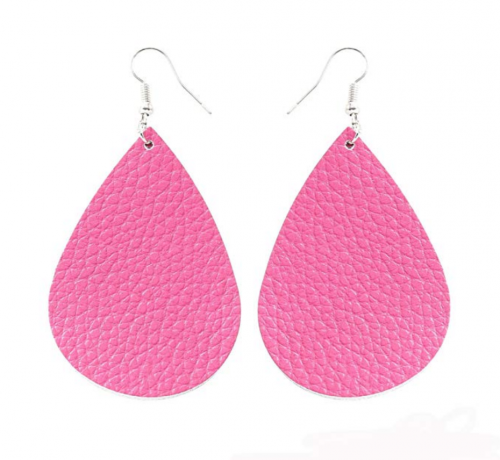 These pretty teardrop, or leaf shape, leather earrings are lightweight and soft. They are handcrafted and the color is a deep rose color.
They are faux leather and made of polyurethane, but have the look of real leather. The pointy end of the teardrop attaches to a fishhook or French wire back.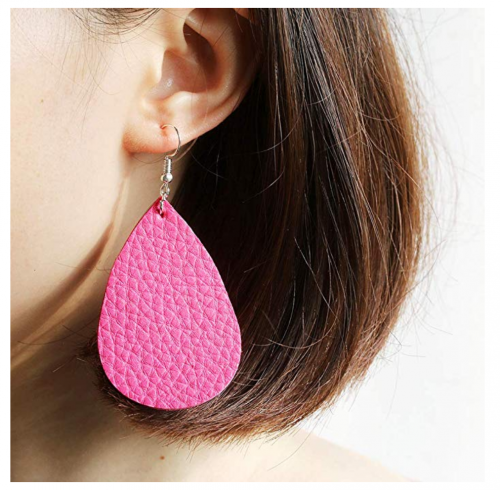 This pair is very simple. There is nothing tooled on them and there are no extra embellishments. They are very comfortable.
For a bit over the price of lunch, you can get these leather earrings. They are very inexpensive.
The earrings weigh 0.03 ounces, or 2 grams and each pad are one inch wide by two inches long.
3. Wear It Well Designs Two Pairs of Genuine Leather Earrings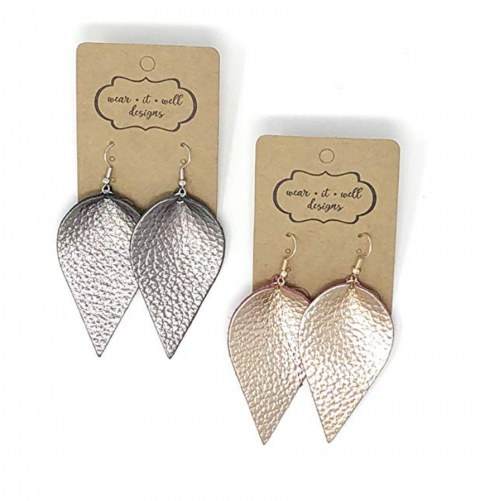 These earrings are one of the favorite picks on the list, for several reasons. They are inspired by none other than Joanna Gaines. And, in typical Joanna fashion, they are a bargain. You get two sets for the price of one!
These leather earrings are just full of surprises because you can also use them to diffuse your most favorite essential oils! They are made of genuine leather and you put the oils on the backs of both earrings. It's a genius.
Now, we move onto the shape of the earrings. The leather is a teardrop or leaf shape. This is attached to a fishhook or French wire. They are nickel and lead-free.
They come in very simple and have no extra embellishments. They come in trendy colors as well. We like the gun metal and rose gold colors.
These sets are a true bargain. You get two for the extremely affordable price that you'd expect to pay for one set.
The set weighs less than ½ an ounce. They are not resizable.
4. Fchen Glitter Handmade Earrings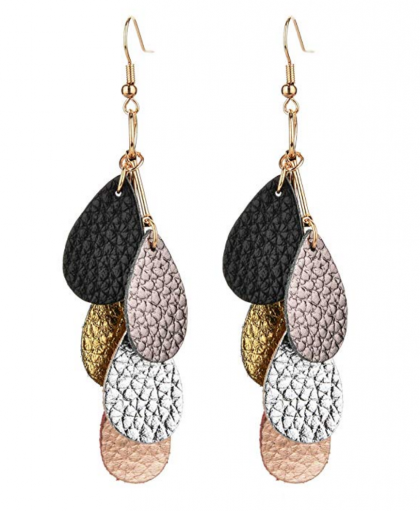 Another set of leather earrings inspired by Joanna Gaines, this set has metallic written all over it. You will get not one color in this set, but five! The colors are rose gold, gunmetal, pewter, gold, and black.
Each teardrop is a different color and if you want to make a statement, this is the set for you. Each real cowhide teardrop is attached to a metal drop, at the pointy end of the teardrop.
Each teardrop has a different length metal drop, giving each its own length at which to dangle. The rose gold drop is the longest, then the pewter, then gunmetal and at the top, is the black. So all the colors are at varying lengths.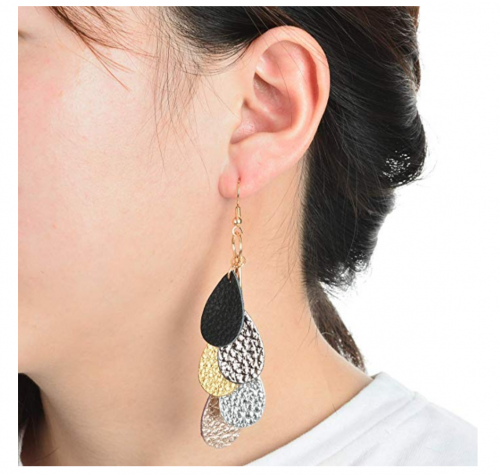 The color lengths are the same on each earring. Each piece of leather is plain, but when you put them all together, they are are stunning!
For so much genuine leather, you might expect to pay an enormous price. Not so, however. These are very affordable, giving you no excuse not to own these leather earrings.
They are 2.75 – 3.7 inches long and about .79 inches wide. They weigh 3.4 grams – 4 grams, or 0.12 ounces to 0.14 ounces. One size fits all.
5. Humble Chic Vegan Leather Earrings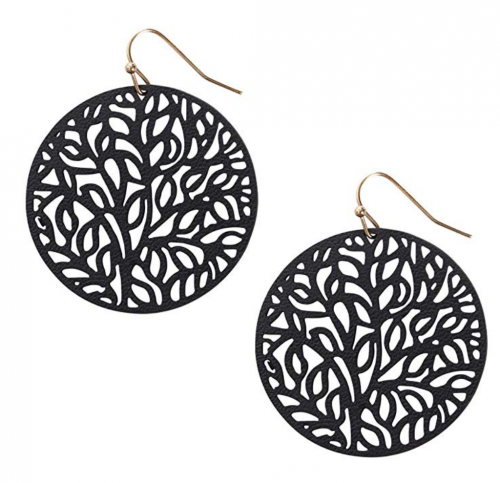 These pretty round earrings make quite a statement. They are made of faux leather, also known as vegan leather. They have a filigree design that's inspired by the tree of life. We had to take a second look to make sure the cut out wasn't the tree of life design.
They are black and suitable to wear both day and night. They have a classy bohemian vibe. These are so lightweight we are sure you'll love them.
We like the price as well. They are definitely affordable.
These earrings are 1.75 inches long and 1.75 inches wide. They are not adjustable.
6. TIDOO Jewelry Multilayer Earrings
If you are looking for a set of leather earrings that are a bit edgy and have an Afro-Centric style, this is the pair for you. There are three pieces of faux leather on each earring. The three of them together, look like a very wide Indian arrow.
The pieces are shaped in a chevron pattern. The middle fits snuggly against the bottom and the top fits snuggly against the middle. Each piece is connected to the other with two copper-colored jump rings.
They are very lightweight and would be extremely comfortable. These would be perfect if you're going for a chic style or a bohemian look.
These are about the lowest piece pick on the list. You won't have to think twice about adding them to your cart!
They are 2.6 inches long by 1.45 inches wide.
7. Riah Fashion Bohemian Genuine Suede Leather Earrings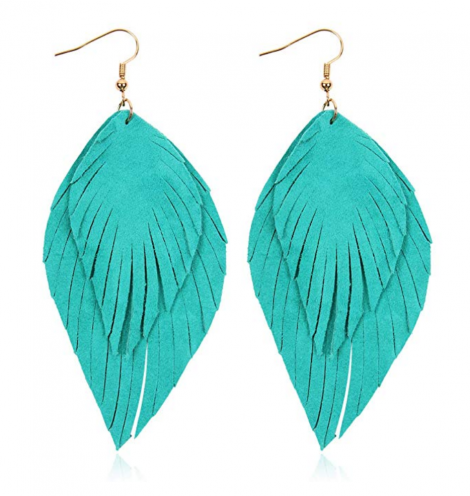 This set is made from real suede. There are two leather pieces on each earring and they are leaf-shaped. The points of the leaves hang down. The bottom leaf is the larger of the two. The smaller leaf lies on top of the larger leaf. All of the leaves are cut to give it a feather effect.
The earrings are a beautiful teal color. They are very simple and suitable for wearing both day and night!
This pair is very affordable. They shouldn't be a problem to purchase.
This set is approximately 3 inches long by 1.5 inches wide.
8. MANZHEN Double Leaf Drop Earrings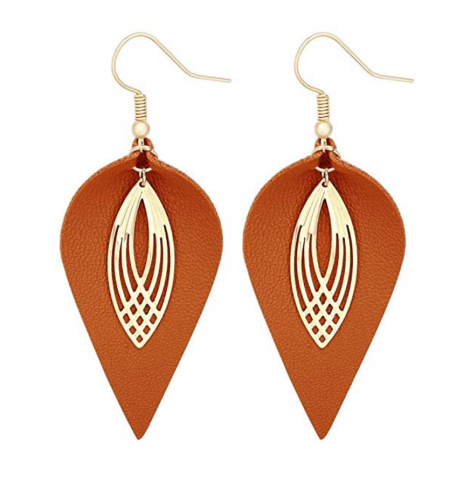 This is a pair of earrings that will make a statement. The set is a great looking set that will transition from office to eveningwear very nicely.
The leather is in the shape of a teardrop or feather. What makes these unique is the elegant gold bangle that lies in the center. The bangle has cutouts that enable you to see the leather through them. They are quite stunning.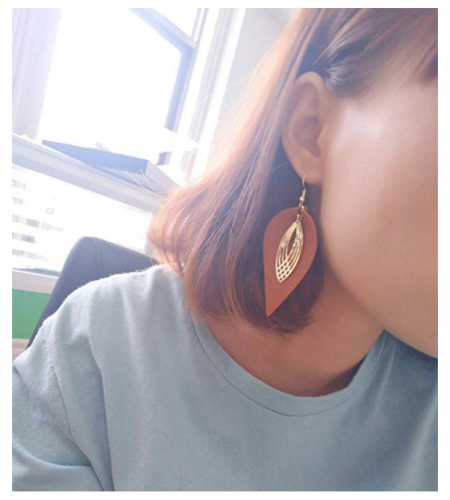 The leather is a red/brown color. At the rounded end of the leather is a jump ring. The rounded part is slightly concave and held that way by a jump ring.
Attached to the same jump ring is the bangle. It is fastened and situated in such a way that the bangle sits nicely in the teardrop and hangs very well.
This set is in the race for being the least expensive on our picklist. You'll have no problem affording these!
They are really lightweight, 3.3 inches long. One size fits all.
9. The Drop Leather Earring with Sterling Silver Hooks from OneWild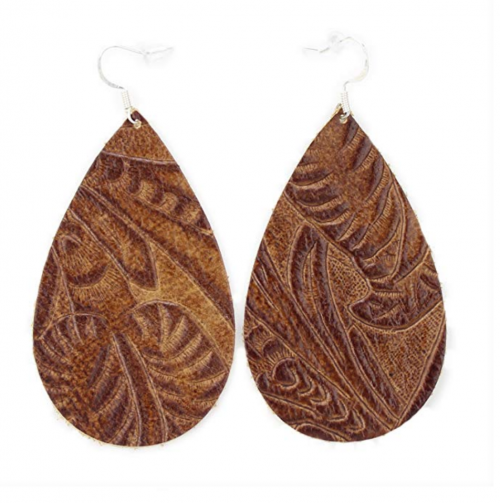 We really like this bold and handcrafted pick! They are a teardrop shape and the top of the earring is the point of the teardrop.
This set is unique because the leather is hand-tooled, giving it a one of a kind design. It is unique to you and it's creative. In fact, each earring in the set may be different. Some remind us of a paisley pattern and others look like they are an African style.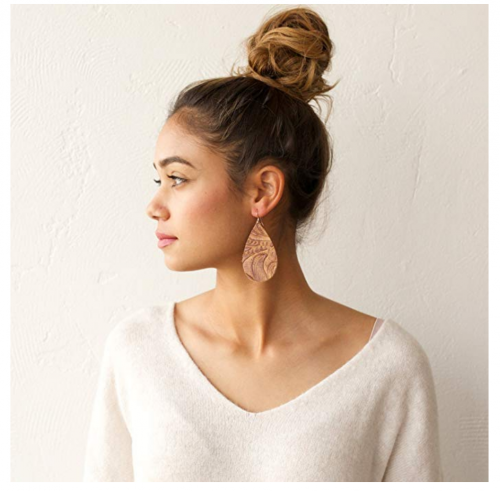 The back of the earring is not finished. A jump ring attaches to the fishhook or French wire back. They are so simple, bold and beautiful.  They are a definite statement piece and will look great day or night.
These leather earrings are a little higher priced. We, however, think they are well worth it.
They are 2.5 inches in length. They are not adjustable. One size fits all.
10. Castle Rock Genuine Leather Earrings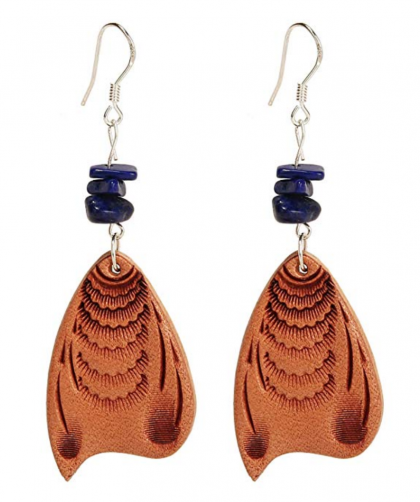 These combine leather and what almost looks like beach glass to make a very pretty set. The pair is made of vegetable tanned leather, making them eco-friendly.
The leather portion is a light brown color and the glass pieces are a deep, almost navy blue. The leather is a teardrop shape, but there is a swooped cut at the rounded bottom.
On the rounded bottom, one side remains rounded and the other side has a point. The leather is hand tooled and very pretty.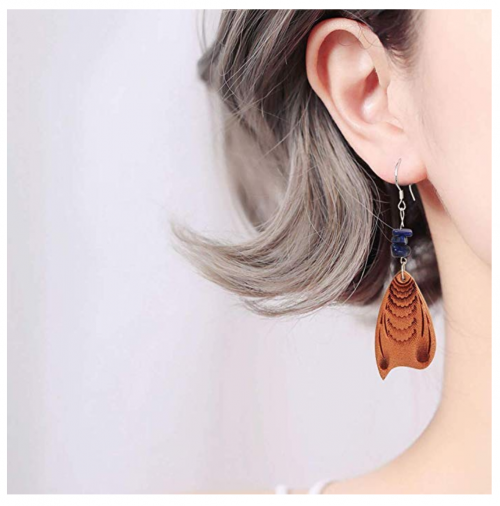 The tooling, from the top down, looks like the scalloped edges of flowers, or an inverted scalloped sunrise. On each side, a flower descends. It's created from what reminds us of a fingerprint. The detailing is very nice
The backs of this set are unfinished.
This attractive set has an equally attractive price. They are definitely a bargain!
The set is and each earring is 2.7 centimeters wide, or 1.06 inches. They are 6.7 centimeters, or slightly over 2.5 inches long.
Style Tips
When it comes to leather earrings, sometimes we all need a little help in order to get into our style groove. We are here and have a few suggestions.
Try your leather earrings with a trendy jumpsuit, a pair of pointy heels, or pointy flats and a cute handbag.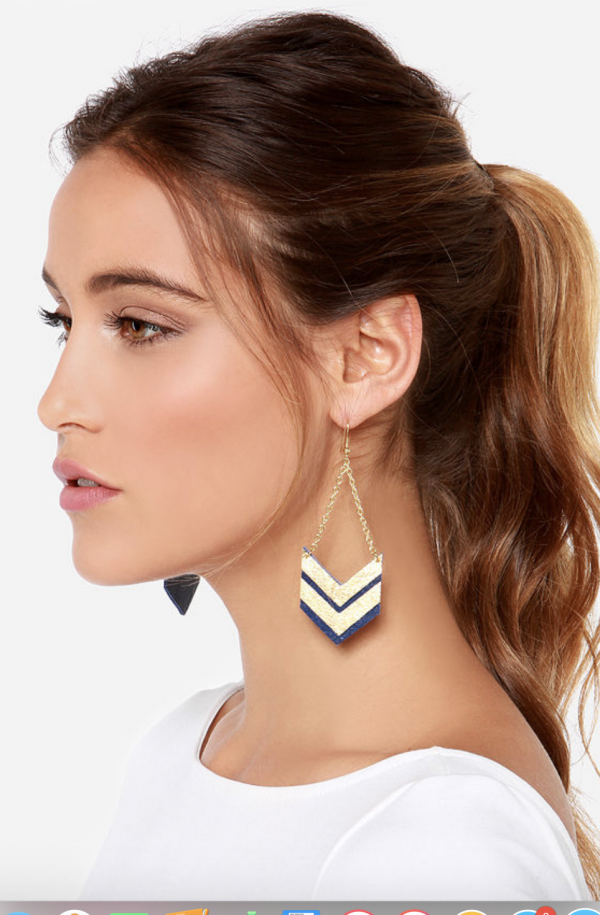 For a sophisticated look, try a couple of our picks with a super chic long dress and a pair of heels. Choose a clutch to pair with the look.
For a street look, try any of our picks with a sleeveless V-neck top, a grungy sweater, a pair of kitten heels, or even sneakers. Choose a funky handbag to complete the look.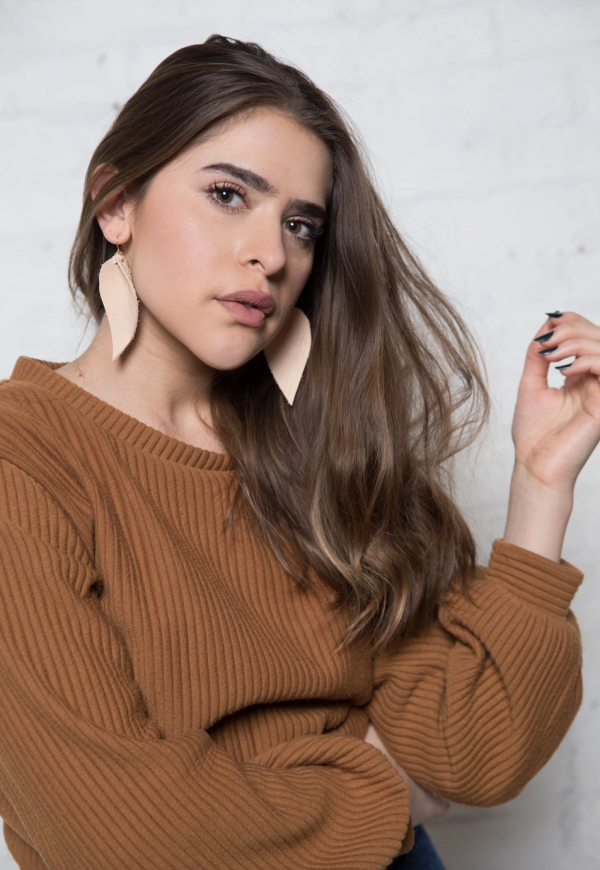 For a grungy vibe, choose an oversized sweater, a large scarf, a pair of ripped jeans and a cute pair of flat loafers.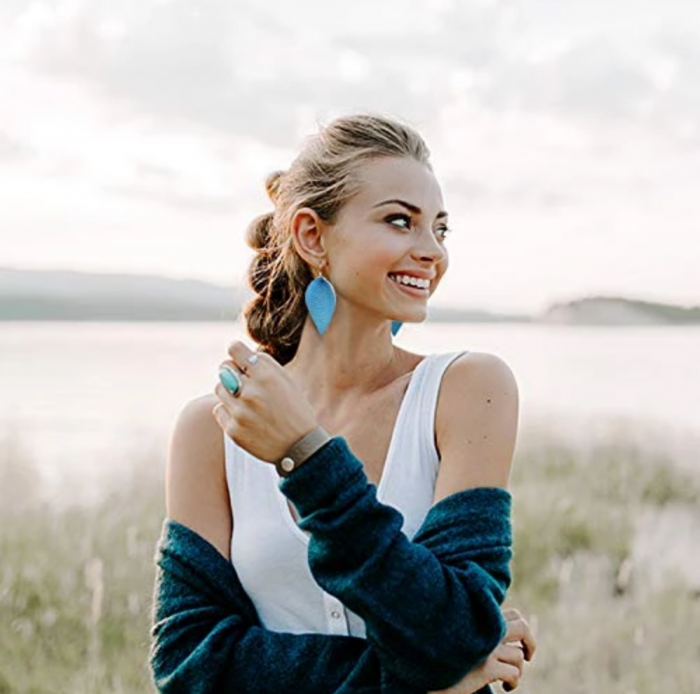 For an every day/casual style, go with a pointy flat shoe, a pair of skinny jeans, a trendy, upper thigh length, lacey and ruffled top and an oversized handbag.
The sky is the limit and if you are comfortable with what you're wearing, you will exude confidence and rock your style. The key is to love what you wear. If you don't love it, don't wear it.
Criteria for Evaluation
Leather is different. Leather is raw. And leather is lovely. When choosing the pieces for our picks, we wanted to bring you something different with durable quality and sets of various sizes. Everything had to be comfortable and easy to wear.
All of our picks are stylish and beautiful. They will be great additions for any of the outfits you wear. Not only will they look great, but they will hold up to wear, as well.
They are quality pieces and if you take care of them, they will last a very long time. We also wanted to give you sizing options. Not everyone enjoys large and bold. Not everyone needs a smaller and dainty set.
While each individual set does not have a sizing option, we brought you both small and dainty jewelry, large and bold, and even a few in between.
Every pick, on the list, is easy to wear because they are lightweight. You won't even know you are wearing your leather earrings.
FAQs
1. Q. What are some of the stages of tanning leather?
A. Some of the stages in leather tanning, are soaking, lining, hair removal, bating, liming, bleaching, and pickling. Not necessarily in that order.
2. Q. Are there various tanning methods?
A. Yes. Some of them and include Chrome – tanned leather, brain tanned leathers, Alum tanned leather, Aldehyde – tanned leather, and Vegetable tanned leather.
3. Q. Are there different grades of leather?
A. Yes. The following are different grades of the leather:
✓ Top grain, or the highest quality leather, includes full-grain leather, corrected grain leather, and nubuck.
✓ Split leather includes suede, bicast leather, and patent leather (this has a high gloss, shiny finish).
✓ Lastly, there is bonded leather.
4. Q. Is leather only made from cattle hides?
A. No. Whether can also include hides from sheep, goats, pigs, snakes, lamb, deer and alligators.
A few less known leathers are a kangaroo, ostrich, and stingray.
5. Q. What is vegetable tanning and how does it work?
A. Vege tanning is an entirely natural method used to prepare leather for use in various products. There are stages in tanning. The leather must be rehydrated and the hair removed. It's then cut into two sides. Next, they go into large vats containing natural tannins.
In our case, these tannins include tree bark. They soak in there for a couple of weeks and absorb the liquids. When removed, the excess moisture is removed and they are shaved to the desired thickness.
Vegan tanned leather is about finished at this point. It will have a pale, or pinkish, color to it. If it gets dyed, that's a whole different process.
6. Q. Do certain religions forbid leather?
A. Yes. Muslims for bed pigskin and Hindus avoid skin. In Judaism, Jewish people are not allowed to wear leather shoes on Yom Kippur, Tisha B'Av and during mourning.
7. Q. What are the names for artificial leather?
A. Artificial leathers are known as synthetic leathers. Nicknames for them and include "pleather" and Naugahyde.
8. Q. What do I do if my leather earrings curl or bend?
A. There are a couple of things you can do. You can massage them with your fingers, or place them under something heavy, like a book. It has to be heavy but gentle.
You can also iron the backside of your leather earrings with a thin cloth, on a warm setting, if there is no metal involved.
Conclusion
The most prominent celebrity we have seen wearing leather earrings is Joanna Gaines of the HGTV show "Fixer Upper".
There will only be a slight amount of fixing up to do in order to keep your leather earrings lasting a lifetime. Most of the guidelines to be followed are standard for taking care of any type of jewelry.
Things like keeping your piece dry and not wearing it while bathing or swimming. Avoid sprays, like perfumes and hair spray, and lotions. Try not to touch them a lot. The grease and/or sweat on your hands may cause discoloration.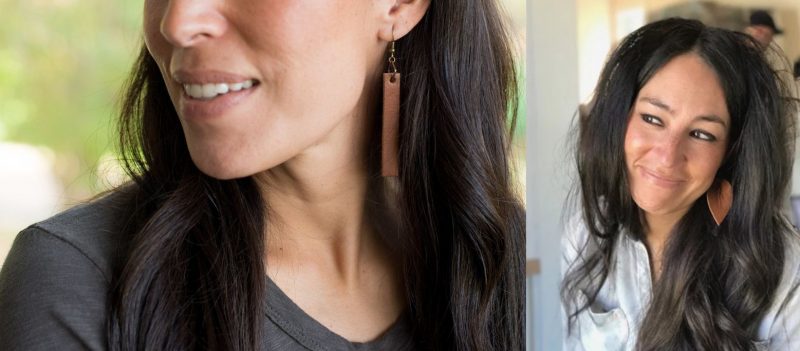 If your leather earrings get marked from lotion or discoloration from the secretions of your skin, you can try staining the entire piece in order to get it to match. We don't recommend this, however.
If your leather earrings curl or bend, you can try ironing them (if they do not have metal). You could try pressing them between the pages of a book, as well.
The best way to avoid misshapen leather earrings is to take care them properly in the first place. Your leather earrings should be the first thing you put on and the last thing you take off, in the morning and at night.
Clean your piece with a soft, dry cloth, or a magic eraser. Lastly, if they are studs, always store your piece in a soft lined container or pouch.
If your earrings dangle or have a drop, the best way to store them is to lay them flat or hang them on some type of jewelry mount.